Our 6 Preferred Professional Indemnity Insurance in NZ
Image credit: Adams Moore
Looking for indemnity insurance? You're on the right page, as we've outlined the options for professional indemnity insurance in NZ right here.
You can find a great number of indemnity policies online by yourself, of course. But to know which policy you should buy can be stressful and take a lot of effort if you don't know what to look for.
That's why we'll walk you through the basics of choosing a business indemnity insurance before we proceed to our main list of insurance options. In fact, let's go over that now!
What to Consider before Buying Professional Indemnity Insurance
If your line of work is very sensitive — like if you're a doctor, business consultant, quantity surveyor, or accountant — it helps to have professional indemnity insurance.
The policy protects your reputation and assets, whether you are proven to be at fault or not. Without it, you will have to spend a fortune in damages and legal assistance in the worst cases when things go wrong on the job.
But some insurance plans are inherently better than others in this area. Our tips below should help you figure out which ones are ideal when buying professional indemnity insurance:
1. Coverage
To know the right cover, you should think about your client and the damage caused to him, legal costs, and the highest compensation cost you might have to pay.
Also, you have to check what the indemnity policy actually covers. By doing this, you will know up to what extent you're covered and won't be taken by surprise along the way.
2. Claim Defence
Claim defence is vital in a policy: you need an indemnity specialist to defend the claim and help resolve the matter for you.
Furthermore, good claim defence can prove that you weren't the one at fault. Or if you are the guilty party, it can minimise your reputational ruin and the settlement for the claimant.
3. Tailored Service
A tailored service means that the insurance agent considers the unique nature of your job in relation to the problem areas and the risks involved.
It means you get advice or service that perfectly fits your situation. This isn't a 'one size fits all' solution, so you will get the policy that you need.
4. Prompt Communication
Behind every great policy is a team that updates you every step of the way. They will answer your questions without giving you any hassle or frustration.
If you need assistance regarding your policy or the claim made against you, companies with great service teams will make it easy to deal with that. It also makes paperwork easier to handle.
5. Policy Limit Reinstatement
Some policies cover you for only a certain amount in the year. That can be a problem if you end up facing multiple charges in one year and don't have enough cover to deal with all of them.
Fortunately, other policies work differently. For instance, some of them have policy limit reinstatement, which means the limit may be reset [usually] after each case.
Being able to reinstate your policy limit lets you have access to more potential funds. This ensures that you'll be able to meet all charges with your indemnity insurance coverage, so you definitely want this feature in the policy you pick.
Professional Indemnity Insurance in NZ
Now you know how to pick an indemnity insurance policy that suits your needs! Now, here are our own picks for professional indemnity insurance in NZ:
1) Dual New Zealand Professional Indemnity Insurance

Dual New Zealand is dedicated to providing comprehensive and affordable insurance solutions to Kiwis. Each year, they insure 10,000+ people against damages and loss.
They have a broad underwriting ability for policies and are focused on the following professions: accountants, consultants, designers, engineers, and real estate agents.
Contrary to other insurers, it's not so difficult when you make a claim with them. This is what they pride themselves on… and the reason customers keep returning.
With their policy, you will be protected from the worst of financial losses arising from legal fees and compensation costs that you're legally liable to pay.
Pros
Comprehensive cover
Personalised insurance solution
Competitive premiums
Outstanding claims process
Cons
Caters to only a small range of professions
2) AIG Professional Indemnity Insurance
For Business Indemnity Insurance for Everyday Protection

What makes AIG's professional indemnity policy stand out from others? It is backed up by a proven team that's willing, ready, and able to defend clients from allegations.
The team not only covers you for investigation and legal costs, but also represents you in court.
They strive to understand the risks and differences for each particular profession. That can be from a small-and-medium business to a large, prominent company.
Breach of trademarks, duty of care faults, or professional misconduct… Through their policy, you can have long-term peace of mind, and they are there to support you in your time of need.
Some insurance companies only set out a fixed covered amount for you in a year. But with AIG, your policy's limit can be reinstated, in case multiple claims have been filed against you within the same period.
Pros
Long-term peace of mind
Protects you from all sorts of claims
Understands the risks involved in different lines of work
Proven track record in defending clients from allegations
Can reinstate your policy's limit
Cons
Some clients complained about the sloth of their customer service
3) Vero Liability Professional Indemnity Insurance
For Professional Indemnity Insurance for Negligence Claims

Your good name and finances could be affected by client claims. Fortunately, Vero Liability's professional indemnity insurance can protect you from those.
You are covered for unintentional damage or injury to your clients. If the claim isn't true, your insurance adviser will put up a strong defence for you in court.
Their core customers for indemnity insurance include: lawyers, accountants, doctors, architects, consultants, and engineers.
Vero Liability insurance products are available through accredited insurance brokers or agents. To find one, you can click the link above and go to the bottom of the page.
Pros
Protects against negligence-based and civil claims
Covers the cost your business is liable to pay and of defending the claim
Caters to a range of consultancy and professional services
Cons
Available only through insurance brokers or agents
4) Crombie Lockwood Professional Indemnity Insurance
For Professional Indemnity Policy with Expert Advice

Crombie Lockwood's business indemnity insurance covers all sorts of compensation, expenses, and legal costs with regard to the client's claim.
They can advise you expertly to protect you against unintentional negligent acts. They can assist professionals that provide advice, opinion, or design to their clientele.
Whether you're a business coach or website designer, they are there to support you by defending the claim to safeguard your assets and reputation.
You can just phone them at 0800 276 624 to discuss your case. One of their knowledgeable and talented teams will assist you and give you a quote.
Pros
Covers the compensation from a claim that a business is legally liable to pay
Also covers the costs of defending a claim
The team provides expert business liability insurance advice
Can help people in a wide range of professions
Cons
Slow response for some clients
5) GSI Direct
For Hassle-Free Professional Indemnity Insurance

You can purchase professional indemnity policy from GSI Direct and it won't take time at all. Quotes will be done in a flash and you can read through the policy in just 4 minutes!
Underwritten by Lloyd's, which is an Insurance Council of NZ member and follows the Fair Insurance Code, it ranks among the most comprehensive indemnity insurance in NZ.
We're just looking at the tip of the iceberg too. With their plan, you will only pay a low excess from $250 when someone takes legal action against you.
Their PI insurance insures you against breaking duty of care, contract breaches, and others. Plus, if your insurance goes smoothly, without any claims or changes, you won't need to reapply for renewal. As such, you can continue your cover for the year ahead.
Did we also mention that as compared with other indemnity insurance, GSI Direct's insurance is more affordable?
Pros
Super-fast quote in under 30 seconds
4-minute cover
Proudly NZ owned and operated
Affordable policy
Underwritten by Lloyd's of London
Covers over 200 occupations
One of the lowest from $250
No need for application renewal
High service standards
Cons
Some clients require detailed explanation of the policy; a 4-minute cover may be too quick
Quote can be inaccurate
Customer Reviews
People have nothing but praise for the tailored product and service from GSI Direct. Most of them stated the team had been understanding, helpful and prompt to them.
Here's a feedback from one satisfied client, Wolfgang H.:
" We have recently had a substantial claim against us in small claims tribunal and needed legal support to deal with it. GSI has been very prompt and professional in getting us the help we needed and the action was successful. You only ever find out how good an insurance is when there is an issue, so we did. We are very pleased and can highly recommend GSI to any small business. Great website, easy to deal with."
Also, Louise from Waimarie Financial Modelling said:
"I recently purchased professional indemnity insurance through GSI Direct. The online application was simple, and my insurance was approved and issued straight away. When I requested a slight modification to the insurance, GSI Direct were quick to reply and make the change. I would recommend this service."
6. Progressive Insurance Brokers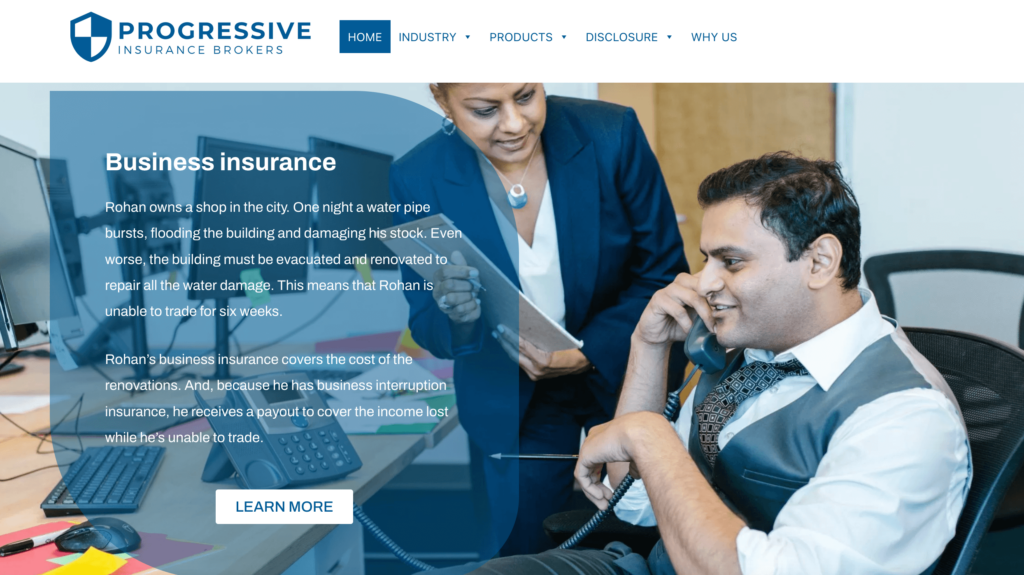 Progressive Insurance Brokers can help you find the best deal that fits your business's budget. From AIG to QBE, their large network of insurance providers can find you the most suitable policy options to match your unique requirements.
They specialise in working with businesses across a wide range of industries. This means that they can help identify risks that are specific to your type of business.
We had to include them here because they can also make claims during your time of need, so you don't have to.
We heard that they can help with the paperwork and follow up on delays, so you can get on with running your business.
So if you're after convenience and affordability, then you might want to consider hiring a broker such as Progressive Insurance Brokers to help you deal with your public liability insurance.
Pros
Large network of insurers
Easy claims process
Assists with paperwork and delays
Cons
No online policy management
No online quoting
And that concludes our list of the options available to you if you want professional indemnity insurance in NZ.
Do you have any questions or comments about the topic? If you have one, you can write a comment below, and we'll get back to you in a bit.
Aside from that, you can check out our other insurance lists. For example, you can read about car insurance in NZ to cover for repair or replacement costs, just in case your car has been involved in an accident or theft.