A Complete Guide to Social Media Statistics in New Zealand
Key Insights
New Zealand ranks among the top ten countries in the Asia Pacific region for social media user penetration (6th overall as of January 2021).
In 2018, Kiwis spent an average of 1 hour and 43 minutes on social media. By 2019, they went up to an hour and 53 minutes — a 7% increase.
In 2021, three-quarters of New Zealand's population is actively using social media.
As of the time of writing, the number of mobile subscriptions in New Zealand has overtaken the number of people living in the country.
56% of Instagram users in New Zealand are female, out of a total of 1,950,000.
The pandemic heavily influenced Facebook and Instagram use in a bid to combat fake news and misinformation.
Between March 2020 and June 2021, Facebook users rose from 70.4% to 80.9% of the entire country's population.
At the start of 2020, LinkedIn users in New Zealand totalled 2,140,000. By January 2021, the numbers spiked to 2,300,000 showing a 7.47% increase.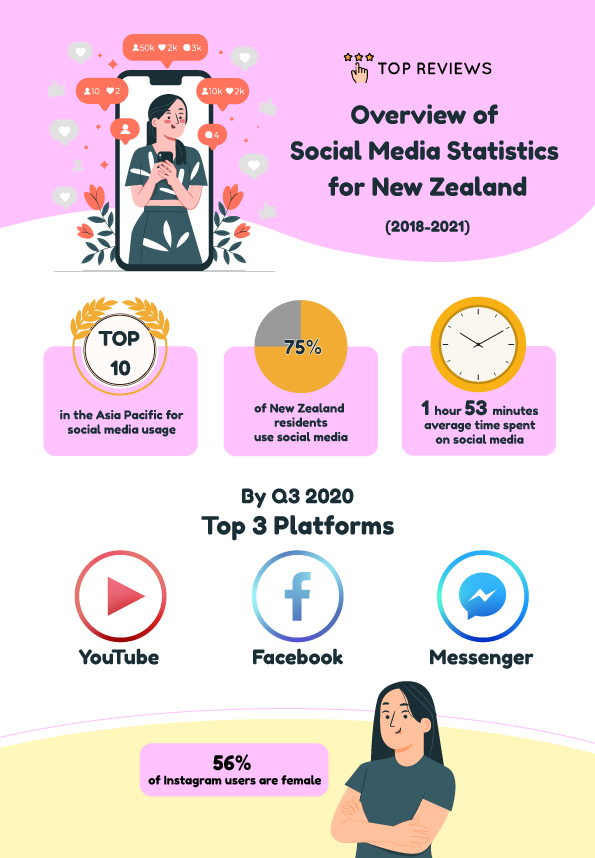 New Zealand's Social Media Habits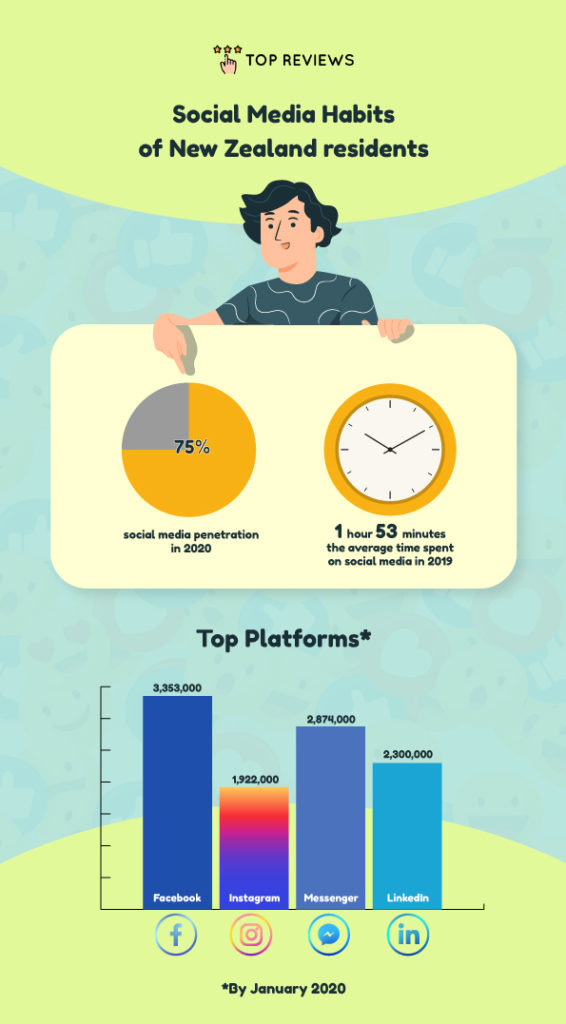 We're not yet done with 2021 but we're already seeing New Zealand among the top ten Asia Pacific countries in terms of social media usage.
In fact, previous years already showed steadily increasing social media usage among Kiwis. In 2018, New Zealand users were clocking in at an average of 1 hour and 43 minutes on social media. The following year, it increased slightly to an hour and 53 minutes on average.
Between April 2019 and January 2020 alone, the number of social media users in the country increased by 123,000. That's 75% social media penetration at the start of 2020!
By 2021, around 97% of New Zealand's population are now considered mobile social media users.
At a glance, here's what NZ users preferred in terms of social media platforms for the last few years.
In January 2019, these were the figures for Kiwis:
NZ Facebook users = 3,155,000
Instagram users = 1,682,000
Messenger users = 129,500
In January 2020, here's how the numbers looked:
Facebook users = 3,397,000
Instagram users = 1,657,000
Messenger users = 101,400
LinkedIn users = 2,140,000
As of January in 2021, New Zealand Facebook users dropped slightly whereas Instagram, Messenger, and LinkedIn users went up. Messenger's userbase in particular ballooned:
Facebook users = 3,353,000
Instagram users = 1,922,000
Messenger users = 2,874,000
LinkedIn users = 2,300,000
The Most Used Social Media Platforms in NZ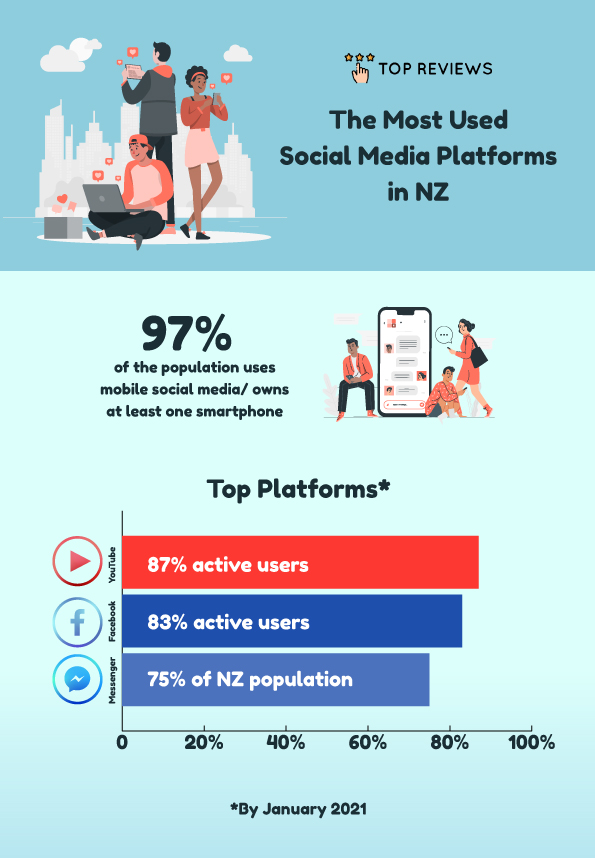 By the start of 2021, YouTube had gotten 87% of active New Zealand users. Facebook continues to be the second most actively used social media platform in the country with 83% of New Zealand's social media users on it, while 75% of the entire population is using Messenger.
Less popular social media platforms in the country include Pinterest and Twitter with only 19.21% and 12.45% users, respectively. Tumblr users only made up 1.31% of the entire population.
And while the TikTok app has recently become wildly popular all over the world (with more than 2 billion global downloads), it doesn't seem to have gone over as well in New Zealand.
Between January and December 2019, TikTok actually saw a rise in app downloads from 46,000 to over 100,000 among NZ users. This spiked the following year (2020) to over 275,000 (with just a month wedged in-between).
However, by the end of 2020, New Zealand users seemed to lose interest in TikTok. The downloads fell to just 50,000 a month.
Mobile Social Media Usage in NZ
With the rapidly increasing use of smartphones and mobile Internet, social media-based messaging apps became widely popular. Social media messaging is now considered the most common smartphone activity in New Zealand.
In 2018, a mere 3.48% of survey respondents were using mobile phones only to make or receive calls. With a majority of the population getting 4G network coverage and messaging apps with minimal data usage, calls and SMS messaging have rapidly declined for smartphone use.
This ties into stats showing that by January 2020, an equivalent of 135% of New Zealand's total population already had a mobile connection—that's more than a 2.3% increase in just a full year. However, that's not at all surprising, considering that social media usage in NZ has consistently shown a year-on-year increase.
At the start of 2021, 97% of New Zealand's population was using mobile social media. Everyone also owned at least one smartphone.
New Zealand's Most Active Users of Social Media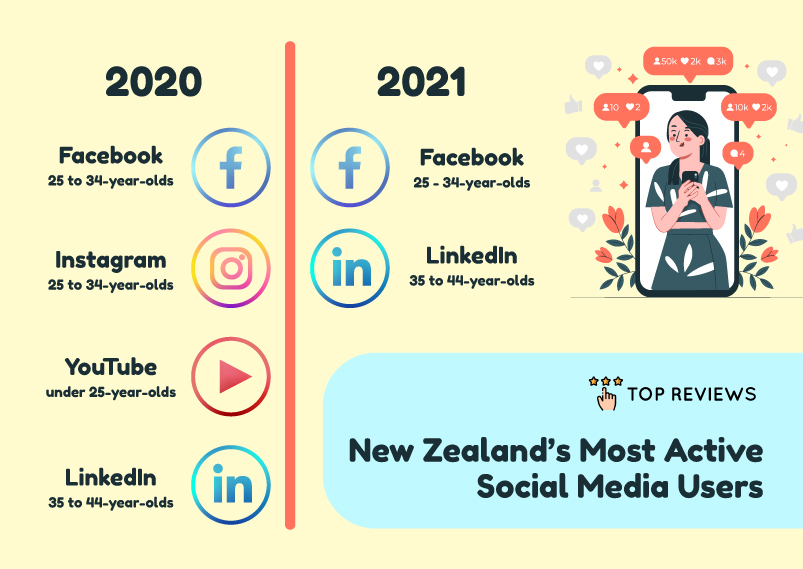 Facebook is currently still the most popular among 25-to-35-year-olds in the country. It reflects last year's (2020) trend, but with a twist: the parents of this age group have joined the Facebook bandwagon.
In 2019, the same age group created a unique audience total of 2,675,000. They also dominated Instagram usage in 2020 with a special focus on influencers. 56% out of a total of 1,950,000 were female users.
Back in 2020, YouTube saw the most use from the under-25 age group. It was closely followed by users aged 25 to 34 years.
Because of its business-related nature, LinkedIn continues to be used mostly by those between 35 and 44 years of age. No longer just a portal for potential job searches, the number of networkers and salespeople have swelled the ranks of its users aged 45 to 54 years old as well.
Social Media Usage During the Pandemic
By early March 2020, the two top social media platforms in NZ, Facebook and Instagram, experienced a sudden surge of new users. Facebook saw 70.4% of the entire population become users in contrast to just 68.7% at the start of the year.
Instagram had 33.5% users from the country's entire population in January 2020. At the beginning of lockdowns in New Zealand in March 2020, the number rose to 35.4%.
A month before this post was written (June 2021), Instagram had 48.1% users and Facebook had 80.9% users from the country's entire population.
To address this rise of new users, both platforms rolled out active campaigns aiming to put a halt to COVID-related fake news and information.
As the country headed toward lockdowns in March 2020, Facebook became a popular platform for addressing pandemic concerns. The country's Prime Minister herself, Jacinda Ardern, used the social media site for an impromptu live broadcast to appeal to solidarity and regular dialogues with citizens.
Instagram Live views also spiked to over 80% in the first quarter of 2020 alone. This platform, in particular, only allowed posts about COVID-19 from trustworthy health organizations to be promoted.
The result has been demonstrated by plenty of New Zealand Instagram influencers in a bid to lead by example. Though not frontliners or healthcare workers themselves, they chose to align their Instagram stories, Live videos, and post messages with New Zealand's endorsed messages about the pandemic.
LinkedIn Usage Before and During the Pandemic
The pre-pandemic statistics for LinkedIn in New Zealand showed 40.8% of its total population by September 2019. This translates to around 2,018,000 users.
At the start of 2020, there were already 2,140,000 LinkedIn users in New Zealand. By January 2021, the number had spiked to 2,300,000 users.
Before June 2021, 47.3% of New Zealand's entire population had registered LinkedIn accounts. Out of those 2,340,000 users, 1,400,000 were between the ages of 25 and 34 years old.
These stats make sense when one considers the 4.9% unemployment rate in the last quarter of 2020 for the country.
And even with New Zealand's considerable $14 billion wage subsidy schemes aiming to protect those who lost their jobs, the atmosphere of uncertainty seems to be reflected on LinkedIn's sudden "popularity" at the height of the pandemic. The growth of other social media platforms ties into the rising need for connectedness amidst social restrictions and quarantines as well.
What the next year will bring for New Zealand's social media remains to be seen. We'll update this article again in a few months to provide further data and insight on this side of Kiwis' digital activities.
---
Notes:
https://www.statista.com/statistics/681840/new-zealand-most-popular-social-media-networks
https://socialmedia.org.nz/nz-social-media-statistics-2018/
https://www.statista.com/statistics/680698/new-zealand-social-media-penetration/
https://socialmedia.org.nz/nz-instagram-statistics-2019/
https://www.statista.com/statistics/1220758/new-zealand-tiktok-monthly-downloads
https://www.adhesion.co.nz/blog/social-media-usage-in-new-zealand
https://datareportal.com/reports/digital-2020-new-zealand
https://www.tvnz.co.nz/one-news/new-zealand/instagram-and-facebook-usage-surges-both-services-roll-covid-19-information-campaigns
https://www.rnz.co.nz/news/national/439092/covid-19-employment-hardship-where-does-new-zealand-stand-a-year-on
https://www.adhesion.co.nz/blog/social-media-usage-in-new-zealand
https://www.stuff.co.nz/national/health/coronavirus/122445029/coronavirus-prime-minister-jacinda-arderns-facebook-live-use-gets-thumbs-up-in-british-study