Our 5 Picks for Travel Credit Cards in NZ
A travel credit card allows you to spend hard and travel harder. If you're applying for this card, we have you covered, as we've collated travel credit cards in NZ for you.
You can find a broad variety of travel credit cards online. As they cater to different needs, it can be difficult to identify which card you should get.
However, we are here to guide you through the fundamentals to help you select from our list later on. You can freely skip this part should you choose to do so.
So if you're ready, let's begin!
How to Choose a Travel Credit Card
Travelling involves a lot of expenses including flight bookings and lodgings. With a lot of benefits and points to earn, carrying a travel credit card is very reliable.
Travel credit cards can give you a lot of value, especially when you use it during your travels. You can earn rewards like free flights, cashback, product rewards and more.
Anyway, here are the things you should consider before applying for a travel credit card:
1. Reward Points / Cashback
Do you want to earn points like Airpoints, Hotpoints, Membership Rewards points, or Flybuys? Or do you prefer getting cash rewards instead?
Each credit card has a spend equivalent to earn a point. For example, 1 Airpoints for every $59 spent or 3 hotpoints for every $1 spent.
With some cards, you can easily earn points, whilst for others, it can take a while. So you have to think about what you can get as you use the card.
The higher your points, of course, the more items or discounts you can exchange them for. Rewards can be anything from gift vouchers to high-end Samsung tablets.
2. Interest Rate
For travel cards, interest rates are high to compensate for the rewards and benefits offered. Normally, this can range from a low 13.95% to a lofty 22.95% p.a.
There are also some that offer zero-interest for 6 months, though the rate (usually 19.95%) will top up after that time.
If you don't mind splurging a little for travel privileges and rewards, go for the ones with a higher rate. However, if you want to save up on costs, credit cards with lower rates will do.
3. Annual Fee
Another thing that you should check is the annual fee of a travel credit card. Fees are more expensive for Airpoints or travel cards than for low-interest or free cards.
The annual fee has to be paid either yearly or half-yearly (for halving the cost and making it seem affordable). Credit card annual prices vary widely from $0 to $390.
4. Insurance Benefits
It's inevitable sometimes that when travelling, there are medical emergencies, travel delays and cancellations, or even lost and damaged luggage.
Being covered by travel insurance gives you invaluable peace of mind and comfort. However, T & C's differ for each credit card issuer so you have to be aware of them.
5. Security Protection
These are features that allow you to secure your card against people with bad intentions. Features like this allow you to do things such as locking and blocking your credit card.
A 24/7 customer assistance team is also a big help. They can monitor unauthorised charges and secure your credit card for you.
6. Freebies and Discounts
This is the fun part of having a travel credit card. Freebies and discounts include lounge access, Koru membership discounts, and bonus offers.
In reality, this is what you pay the steep annual fee and interest rate for. So it makes sense to enjoy the freebies as you travel to far-off and exciting destinations.
With more savings and travel convenience, one can only say, "Why not?"
Travel Credit Cards in NZ
Having gone through the basics, here's our list for travel credit cards in NZ:
1) Westpac Hotpoints World Mastercard Credit Card
For Travel Credit Card for Rewards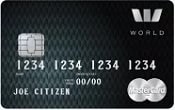 Although the account fee is a killer, the Westpac Hotpoints World Mastercard makes up for it in other ways. One example is the relatively low purchase rate at 16.95%.
Secondly, you get 3 hotpoints for every $1 spent. You can then use these hotpoints for purchases or use them to redeem rewards on Westpac's website.
There are hundreds of rewards you can choose, costing from 180 hotpoints to 783,300 hotpoints. You can even exchange them for an exquisite dining table and benches.
Issued by Mastercard, this credit card provides you with up to 120 days per round trip travel insurance and priority lounge access to 1000 airport lounges worldwide.
As for the security, you can block or unblock your credit card as soon as you notice fraudulent charges on your statement.
Also, if you have an unsettled balance from another store or credit card, you can transfer it over to the Westpac Hotpoints card and pay it off with a 5.95% rate for life.
Pros
Relatively low interest of 16.95% p.a.
Priority pass lounge access
Travel insurance benefit
Purchase protection cover
Mastercard travel and lifestyle services
44 days interest-free
5.95% for the life of the balance(s) transferred
You can block or unblock your card
No FX fee when withdrawing at a Global ATM Alliance
You can pay on the go with contactless technology
Cons
Exorbitant account fee of $390 per year
Very high cash advance rate of 22.95%
Customer Reviews
Apart from what we wrote, the Westpac Hotpoints credit card offers the option of contactless transactions through Tap and Pay functionality or WestPac PayTag.
You can attach the Westpac PayTag to the back of your phone or key, so that you won't have to take out your wallet every time you make a payment.
Also, here's a review from Point Hacks regarding the hotpoints programme:
"All things being equal, the hotpoints programme is competitive with Air New Zealand Airpoints, as the points are flexible and can be redeemed for seats on any airline via either credit for direct purchases, or using gift cards with a range of travel agents.
You can also effectively use hotpoints as a form of 'cashback' for spend on purchases include travel, groceries, fuel, and dining.
However, if you earn Airpoints Dollars from travel and other sources, hotpoints may be less valuable than if you focused on earning points with only one programme."
For Overall Travel Credit Card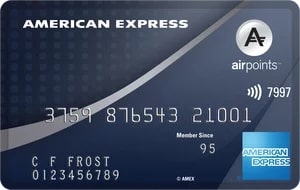 Offering unparalleled Airpoints earn speed, full travel insurance, and loads of travel rewards, the AMEX Airpoints Platinum Card is the ultimate card for travellers.
It's the current leading travel credit card in the market, with no card able to topple it. At 1 Airpoints per $59 spend, it's far easier to travel while earning points.
Everytime you fly with Air New Zealand or its partner airlines, you receive 1 Status Point for every $250 spend, moving you up in status to enjoy more travel benefits.
Furthermore, you'll get 2 American Express lounge entries at Melbourne and Sydney International Airports, as well as 2 VIP Lounge passes to the Strata Lounge in the year.
Also, you get a sizable price cut when you sign up for Koru and renew your membership annually. You also get 55 Interest-free days with this credit card.
AMEX's Airpoints Platinum card has a reasonable 19.95% interest rate and $195 account fee. If you're an avid traveller, this card gives you excellent value for money.
Pros
Fastest-earning Airpoints Dollars
Fair interest rate of 19.95% p.a.
Up to 55 days interest-free
Bonus Airpoints Dollars to new cardholders (conditions apply)
AMEX and VIP lounge access
Koru membership discounts
Smartphone screen insurance
Domestic and international travel insurance
Usable at most shops and places
24/7 customer assistance
Cons
Expensive annual fee of $195
Sharp cash advance rate of 21.95%
3) Kiwibank Platinum Visa Credit Card
For Travel Credit Card for Value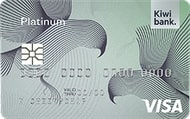 If you're looking for an economical travel credit card, then the Kiwibank Platinum Visa could be for you! It comes with a much less shocking interest rate of 13.95%.
Paying for your travel and accommodation with this Platinum Visa card rewards you with international travel insurance for safety and peace of mind on your trip.
The card also has a credit limit ranging between $8,000 and $20,000. Along with this, you have to pay two 6-month instalments of $40 for the account fee.
Of course, there's an interest-free period of up to 55 days, given that you pay off your monthly dues in full.
Kiwibank Platinum Visa is therefore great for small and big spenders. However, for those wanting more rewards and bonuses, there are better options out there.
Pros
Low interest rate of 13.95% p.a.
Built-in travel insurance
Maximum credit limit of $20,000
Modest annual fee of $80
Great cash advance rate of 13.95%
55 interest-free days
1.99% rate for transferred balance (for 6 months)
Cons
4) Flight Centre Mastercard Credit Card
For Travel Credit Card for Foreign Transactions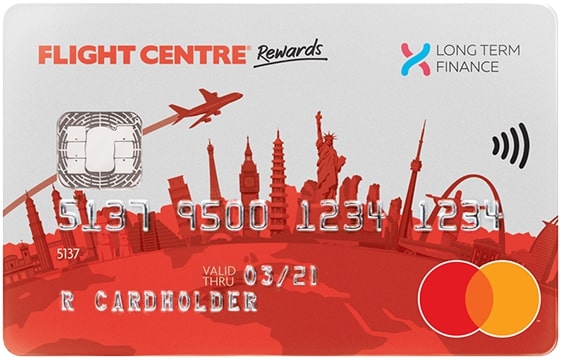 Flight Centre Mastercard makes it extremely easy to earn points. You can earn Flight Centre Rewards on any and all purchases—double the points if you buy at Flight Centre.
It satisfies different buyers with long-term finance options and 44 days zero-interest period. However, you should note that other credit cards offer 55 interest-free days.
Shopping in-store is a breeze with its contactless payment and Apple Pay. Also, you can spend around the globe with no foreign transaction fee.
As good as those benefits are, this travel card also has its downsides. It has a high-interest rate of 22.95%, a steep 24.95% cash advance rate, and a hefty $55 establishment fee.
Nevertheless, thanks to the cutting-edge identity checks and microchip tech, you can rest assured that your card is extra safe and secured to use.
Pros
You can earn Flight Centre Rewards on any purchase
Long-term finance options offered
Reasonable annual fee of $50
Contactless payment up to $200
Apple Pay to pay on the fly
Lots of raffle promos
No FX fee
Secured card with Mastercard Identity Check and microchip technology
Cons
High purchase rate of 22.95%
Very high cash advance rate of 24.95%
$55 establishment fee
Toned-down 44 interest-free days
Customer Reviews
It's noted in the review that the card lets you earn Flight Centre Reward points even in purchasing from Air New Zealand—whose loyalty programme are Airpoints Dollars.
Anyway, Daniel Kinnoch, a Point Hacks reviewer, said this:
"This card is a good option for those looking for an alternative to the Airpoints program, but with more flexibility of where you can redeem points.
The 0% international transaction fee and free Boingo W-Fi are also great features, with both being New Zealand firsts."
5) BNZ Advantage Visa Platinum Credit Card
For Cashback Travel Credit Card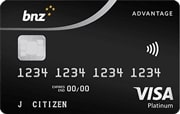 Whether you intend to earn Flybuys or cash rewards, the BNZ Advantage Visa Platinum Credit Card is one of the most unique travel credit cards in NZ.
You have to spend $90 to get 1 Flybuys which you can use to redeem merchandise or gift cards. You can also get a sweet $1 cash reward per every $90 spent.
That's not a bad spend equivalent at all. Aside from that, you can say goodbye to the aggressive interest rates and get up to 55 days of zero interest.
As for the benefits, you get a lot with the BNZ Platinum card, including travel and purchase insurance. The travel insurance has you covered for a maximum of 90 days during your trip.
Plus, you can do it all through online banking such as viewing your statements, setting up an automatic payment, and increasing or decreasing your credit limit.
Pros
Decent interest rate of 18.95%
55 interest-free days
Travel and purchase insurance benefit
Google and Apple Pay ready
Concierge service
Features Visa payWave
Bonus offer: $150 cashback or 1,000 Flybuys when you spend $2,500 in the first 3 months
Cons
Customer Reviews
If you avail of the BNZ Advantage Visa Platinum Credit Card, you get a bonus offer of 1,000 Flybuys or a $150 cash reward when you spend $2,500 in the first 3 months of holding the card.
At any rate, this is the conclusion about BNZ Advantage Visa Platinum from Point Hacks reviewer Daniel Kinnoch:
"If you are a die-hard Fly Buys points collector, this card will offer you the ability to boost your earn from everyday spend throughout the year, particularly at retailers that allow double dipping on points earn. However opting for Cash Rewards may offer better long-term value. Make sure you do the maths to determine what will work best for you.
The range of insurance types available on the card are among the most competitive on the market however be sure to read the fine print to make sure the coverage is right for you."
And that finishes our list of travel credit cards in NZ. With these cards, you'll not only accumulate reward points faster but also totally enjoy and relax in your travels.
Did we miss any quality cards on our list? If you think so, you can let us know by leaving a comment below, and we'll see if we can add it to this list!
Also, you can check out our dedicated list of Airpoints credit cards in NZ. These credit cards are tailor-made for travelling and have excellent benefits as well.