The 17 Best Italian Restaurants in Auckland
Italian restaurants have always been perfect dining spots for family gatherings, events, and even solo dining. This is why there are dozens of Italian restaurants all over Auckland.
Don't know which restaurant you should go to? Don't worry because today, we are featuring the best Italian restaurants in Auckland.
We picked the ones that serve incredibly delicious food and flavoursome wines. We also chose restaurants with warm and comfortable vibes and excellent service.
If you're ready, here are the best Italian restaurants in Auckland!
1) Da Vinci's Italian Restaurant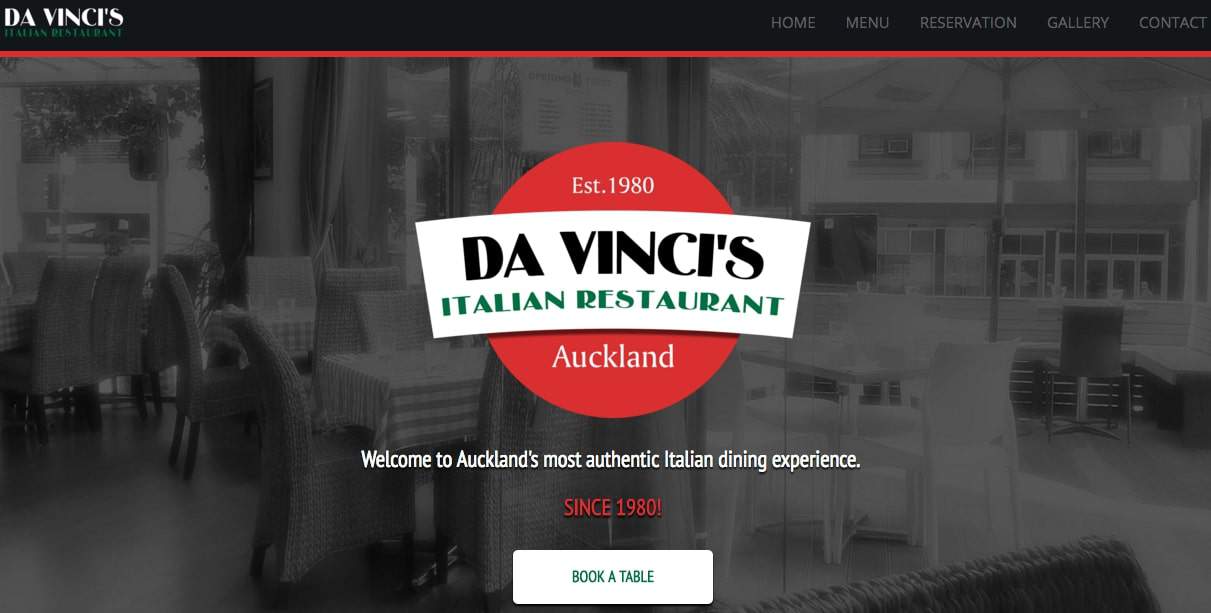 BEST FOR
Authentic Italian dining experience
SERVICES

Lunch

Dinner

Takeaway

WEBSITE
http://davincirestaurant.co.nz/
ADDRESS

Albert Street branch:

87 Albert Street, Auckland CBD, Auckland 1010, New Zealand

City Road branch:

5 City Road, Grafton, Auckland 1010, New Zealand

CONTACT DETAILS

Albert Street branch: 09-365-1266

City Road branch: 09-373-2843

OPERATING HOURS

Albert Street branch

Monday – Sunday: 11.30 AM – 8.00 PM

City Road branch

Monday – Friday:

Lunch – 11.30 AM – 2.00 PM

Dinner – 5.30 PM – 8.00 PM

Saturday: 5.30 PM – 8.00 PM (Dinner)
Established in 1980, Da Vinci's Italian Restaurant is a relaxing dining haven offering tasty meals, drinks, and desserts for lunch or dinner.
Hamburgers and fries, fettuccine mushroom, carbonara, greek salad, minestrone, and tiramisu–they've got everything you want, crave for, and then some.
Large groups are welcome in their Albert Street and City Road branches. So dress your best, grab a table, and enjoy talking with your loved ones over delicious food.
For your convenience, they accept cash, EFTPOS, UnionPay, Amex, VISA, and Diners as payment methods.
Highlights
Delicious authentic food
Relaxing restaurant
Accept cash, debit, and credit cards
Customer Reviews
One client, Mac T., said this about Da Vinci's Italian Restaurant:
"Was beyond 5 stars. Nice chilled atmosphere, amazing chicken fettuccine. Staff were so friendly and didn't break the bank. Our new go to when we in Auckland."
2) Prego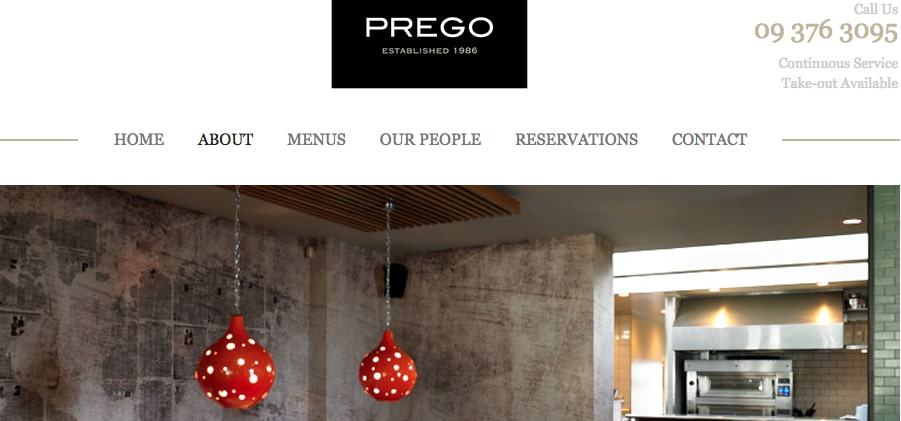 BEST FOR
Warm & friendly ambiance
SERVICES

Pizzas / Classics

Children's Menu

Wine List

Takeaway

Desserts

Vegan or Vegetarian Menu

Gluten-Free Options

WEBSITE
http://www.prego.co.nz/?view_full_site=true
ADDRESS
226 Ponsonby Road, Ponsonby, Auckland 1011, New Zealand
CONTACT DETAILS
09 376 3095
OPERATING HOURS
Monday – Sunday: 12.00 PM – 11.00 PM
If you want to enjoy classic Italian cuisine in a relaxing and warm atmosphere, Prego is a terrific choice! You can dine in their courtyard, bistro, or cosy bar by the fire.
They guarantee quality food made from the freshest ingredients. Vegan, vegetarian, and gluten-free options are available for those with special dietary needs.
The restaurant is conveniently located in Ponsonby, right in the heart of Auckland. However, you would have to book in advance if you're coming with a larger group.
Also, their wine selection comprises local and international brands. For an authentic Italian dining experience, Prego is one of the best Italian restaurants in Auckland you can visit!
Highlights
Warm and friendly vibe
Food made from the freshest ingredients
Convenient location
Offer a variety of local and international wine brands
Customer Reviews
One customer, John P., shared his dining experience in Prego in this review:
"Customer service was amazing from the time we arrived til the time we settled the bill (quality was worth the cost). We were seated straight away and outdoor heating was perfect. Table water was being topped up without waiting to be asked and the food was fresh, tasty & hot when served. Atmosphere was great with music and lighting definitely setting the mood for an enjoyable Sunday dinner. Highly recommend this joint."
3) Piatti Italiani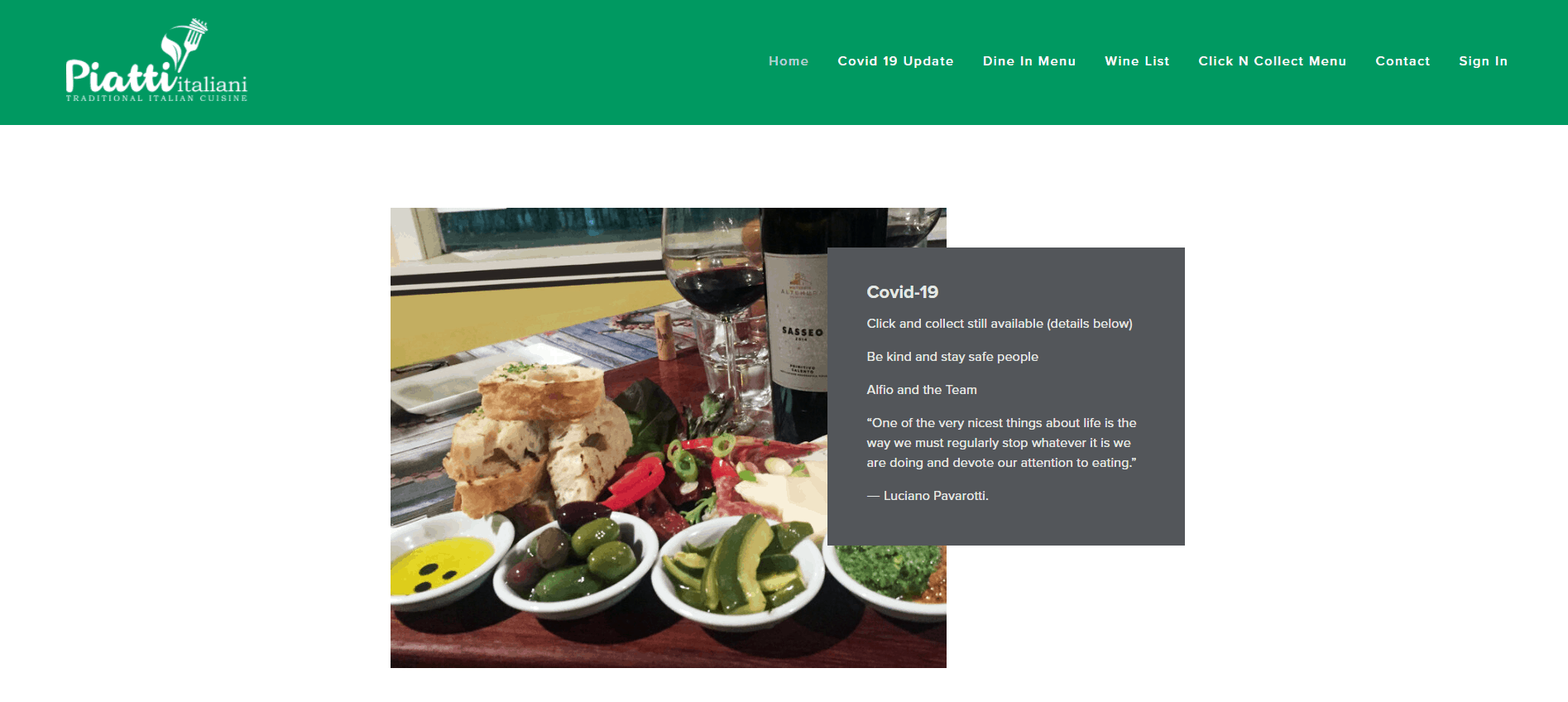 BEST FOR
Food cooked with great passion
SERVICES

Dine-In

Wine List

Click N' Collect

WEBSITE
https://www.piatti.co.nz/
ADDRESS
5 Hebron Road, Waiake, Auckland 0630, New Zealand
CONTACT DETAILS
+64 9-478 6936
OPERATING HOURS
Tuesday – Saturday: 5.00 PM – 8.00 PM
Piatti Italiani was opened out of a passion for Italian food. It is led by a father and son duo, Alfio and Giancarlo, serving authentic Italian meals to families, customers, and patrons.
Alfio's mom worked in the kitchen where the aroma and flavour filled the air back in his childhood days. Alfio would like to share this wonderful experience with you through food and cooking at Piatti Italiani.
His son, Giancarlo, also enjoyed those times and helped his father set up their restaurant. Here, Giancarlo, skillfully prepares flavour-rich coffees and cocktails for diners.
You can drop by at the restaurant from Tuesday to Saturday from 5 PM until 8 PM. In dining in their restaurant, you can just pull up a chair and enjoy true Italian food and great customer service.
Highlights
Authentic Italian meals
Passionate team
Offers Click N' Collect option
Customer Reviews
Check out Wendy W.'s review of Piatti Italiani on Google:
"If you want to experience quality authentic Italian food you have to visit this restaurant. The food is delicious the service is second to none, I guarantee you will not be disappointed. Five stars is not enough. ?"
4) Pasta & Cuore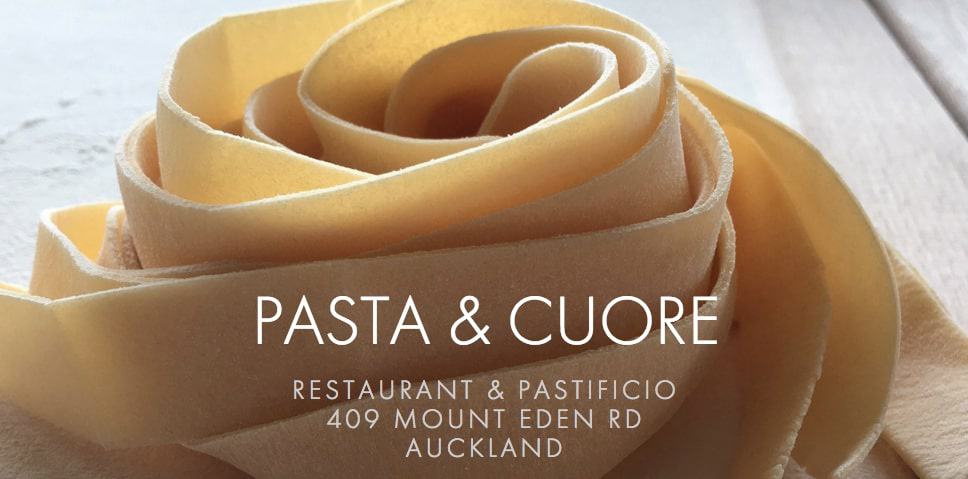 BEST FOR
Handmade, fresh pasta
SERVICES

Pasta

Wines

WEBSITE
https://www.pastaecuore.co.nz/
ADDRESS
409 Mount Eden Road, Mount Eden, Auckland 1024, New Zealand
CONTACT DETAILS
+64 9-630 9130
OPERATING HOURS
Tuesday- Saturday: 11.00 AM – 10.00 PM
If you're thinking of having pasta for lunch or dinner, considering swinging by Pasta & Cuore.
Their pasta is made by hand and heart (from their name cuore, meaning heart in Italian) by pasta artisans using imported and local organic produce. You can watch them skillfully making pasta as you sit at their storefront tables.
They also offer takeaway orders so you can enjoy their meals in the comfort of your home with your loved ones.
Another highlight is their excellent wine selection that enhances your enjoyment while dining. In fact, they have been consistently in Metro Peugeot's list of contenders for the Best Wine List award since 2017.
They are also included in the lists for the Best Chef and Best Neighbourhood Restaurant awards. And because of this, we consider Pasta & Cuore as one of the best Italian restaurants in Auckland.
Highlights
Makes fresh pasta with heart
Seasonal menu
Excellent wine selection
Takeaways are available
Customer Reviews
Check out this review of Pasta & Cuore from one customer named Chanel R.:
"Quality of the food and service is incredible! I literally can't fault anything. I love the little touches of the specials written out and rolled up into a corked bottle on the table. Very cool! I am going to be dreaming about the food until I go back again. 1000% reccomend. Thank you for the wonderful experience and I'll be back."
5) Gusto at the Grand

BEST FOR
Rustic Italian restaurant
SERVICES

Breakfast

Lunch & Dinner

Bar Food

Set Menu

WEBSITE
https://skycityauckland.co.nz/restaurants/gusto-at-the-grand/
ADDRESS
The Grand by SkyCity, 90 Federal Street, Auckland, New Zealand
CONTACT DETAILS

(09) 363 7030

OPERATING HOURS

Breakfast

Monday – Friday: 7.00 AM – 10.30 AM

Saturday & Sunday: 7.00 AM – 11.00 AM

Lunch

Monday – Sunday: 12.00 PM – 3.00 PM

Dinner

Monday – Sunday: 5.00 PM – 9.30 PM
Located in The Grand by SkyCity luxury hotel, Gusto at the Grand offers simple and classic Italian dishes that are perfect to share among your friends and family.
The chefs use fresh and seasonal ingredients to make fantastic-tasting food. This includes their pasta and risottos that are made in-house from the moment that you order.
As one of the best Italian restaurants in Auckland, clients praise them for the restaurant's beautiful ambiance as well as attentive and helpful staff.
You can dine during breakfast, lunch, or dinner on any day of the week. Plus, you can book a private dining room if you're celebrating special occasions.
Highlights
Simple and classic Italian dishes
Uses seasonal and fresh ingredients
Great ambiance
Attentive and helpful staff
Customer Reviews
One customer, Lauren K., shared her experience at Gusto at the Grand:
"Beautiful atmosphere. Nice staffs. Great dishes. Baked eggplants parmigiana was great! It is the best dish for us. Mushroom ricotta gnocci is nice too. Definitely will go back again."
6) The Proper Pizza Company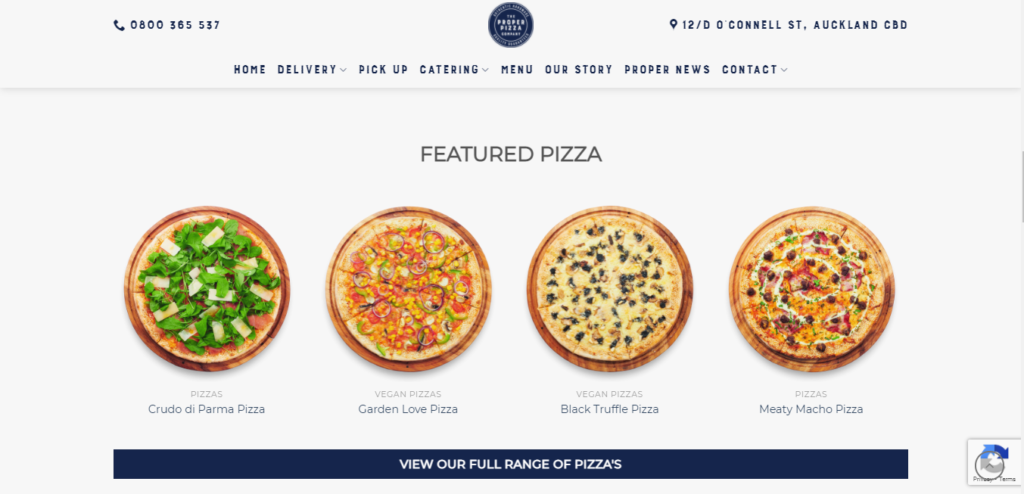 BEST FOR   
Vegan and thin-crust pizza
SERVICES
Pizza
Salads
Soups
Swiss Fondue
WEBSITE
http://www.properpizza.co.nz/
ADDRESS
12 Oconnell Street, Auckland CBD, Auckland 1010, New Zealand: 
CONTACT DETAILS
+64 800 365 537
OPERATING HOURS
Monday – Sunday: 11:00 AM–5:00 AM
The Proper Pizza Company serves more than just the most authentic Italian thin-crust pizzas. Besides sweet and savoury pizza choices, you can also order appetisers, salads, and soups from The Proper Pizza Company.
This restaurant offers pizza with bases that are 100% vegan. Aside from the base, you can also choose non-dairy cheese for your toppings.
To cater to all types of pizza enthusiasts, The Proper Pizza Company offers its services for delivery, pick-up, and even catering services.
Highlights
Thin-crust pizza
100% vegan pizza base
2 locations offering delivery, pick-up, and catering services
Ten savoury and two sweet pizza choices
Customer Reviews
Here's a Google Review to tell you more about The Proper Pizza Company's food:
"Great service, and variations of pizza. The only place in Auckland that makes thin crust and makes the food feel authentic. Delivery was fast and dinning in was even better being placed on a small street near chancery square. Thank You so much! Try the seafood pizza when you go there! Only seafood pizza i enjoyed in Auckland."
7) Romani Cafe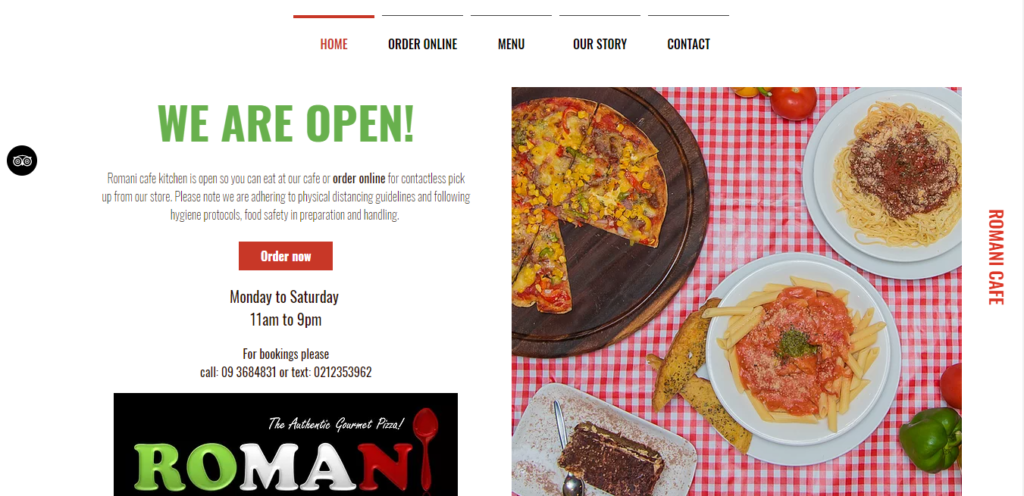 BEST FOR   
Homey ambience
SERVICES
All-day breakfasts
Entrée / Appetizer
Pizzas
Salads
Pasta
Desserts
WEBSITE
https://www.romanicafe.co.nz/
ADDRESS
28 Fort Street, Auckland CBD, Auckland 1010, New Zealand
CONTACT DETAILS
64 9-368- 4831


[email protected]

OPERATING HOURS
Monday – Thursday: 10:00 AM – 9:45 PMFriday: 10:00 AM – 10:00 PMSaturday: 11:00 AM – 10:00 PM
With the owners' rich culture, Romani Cafe serves a mix of classic Italian and Latin American cuisine. Their menu consists of all-day breakfast foods, appetisers, pizzas, salads, pasta, and desserts.
This restaurant also prides itself on its warm and welcoming ambience. But if you can't find the time to visit Romani Cafe, you can still order delivery and enjoy their food at the comfort of your home.
They also cater to all types of customers, so you can also request vegan options for their various meals.
Highlights
Mix of Italian flavours and Latin American spices
Warm and homey ambience
A wide selection of menu
Vegan options available
Customer Reviews
Read this review that tells of Romani Cafe's commitment to delicious food and excellent customer service:
"Love this place so much! Customer service is outstanding and the food is absolutely delicious. Caring, professional owner takes care of every single detail  El mejor pan de jamón y las mejores hallacas de Auckland!!!"
8) Pizzeria Rosso Pomodoro
BEST FOR
Pizza-centric menu
SERVICES

Classic Pizza

Premium Pizza

Pizza Bianca

Italian Classic Sides

Desserts

WEBSITE
http://rossopomodoro.nz/
ADDRESS
357 Dominion Rd, Mt Eden, Auckland, New Zealand – 102
CONTACT DETAILS
Phone: 09 6236653 | (027) 406 3566
Email: [email protected]
OPERATING HOURS
Tuesday-Sunday: 5:00pm-9:00pm Monday: Closed
Their authentic wood fired pizza and an amazing range of flavors to choose from is delectable that makes their clients come back for more. They use no less than the most authentic and fresh ingredients in the market.
Pizzeria Rosso Pomodoro serves a multitude of pizza creations that are sure to captivate any palate. They accept online orders, delivery as well as pickup requests.
Their classic pizza offers Marinara, Margherita, Hawaiian, Formaggi and Rosso Pomodoro. For a more flavourful pizza, they offer Pesto Pollo, Paradiso and Amore. If you prefer simple yet tasty pizzas, you can try our Nuvola, Teo and Italia.
Highlights
Authentic and delicious
Fresh ingredients
Wide-range menu
Customer Reviews
"Amazing range of pizza to choose from. I had a Rosso Pomodoro (mozzarella, EVOO, basil) and my partner got a Formaggi (triple cheese). Deliciso!"

"Great food – authentic wood fired pizza. It has a wide selection of pizzas on their menu too – would recommend."

"Very authentic and fresh. Customer service at its best. Expect very elegant and unique desserts which will just melt in mouth.
A food inn is a must to try."
9) Proper Pizza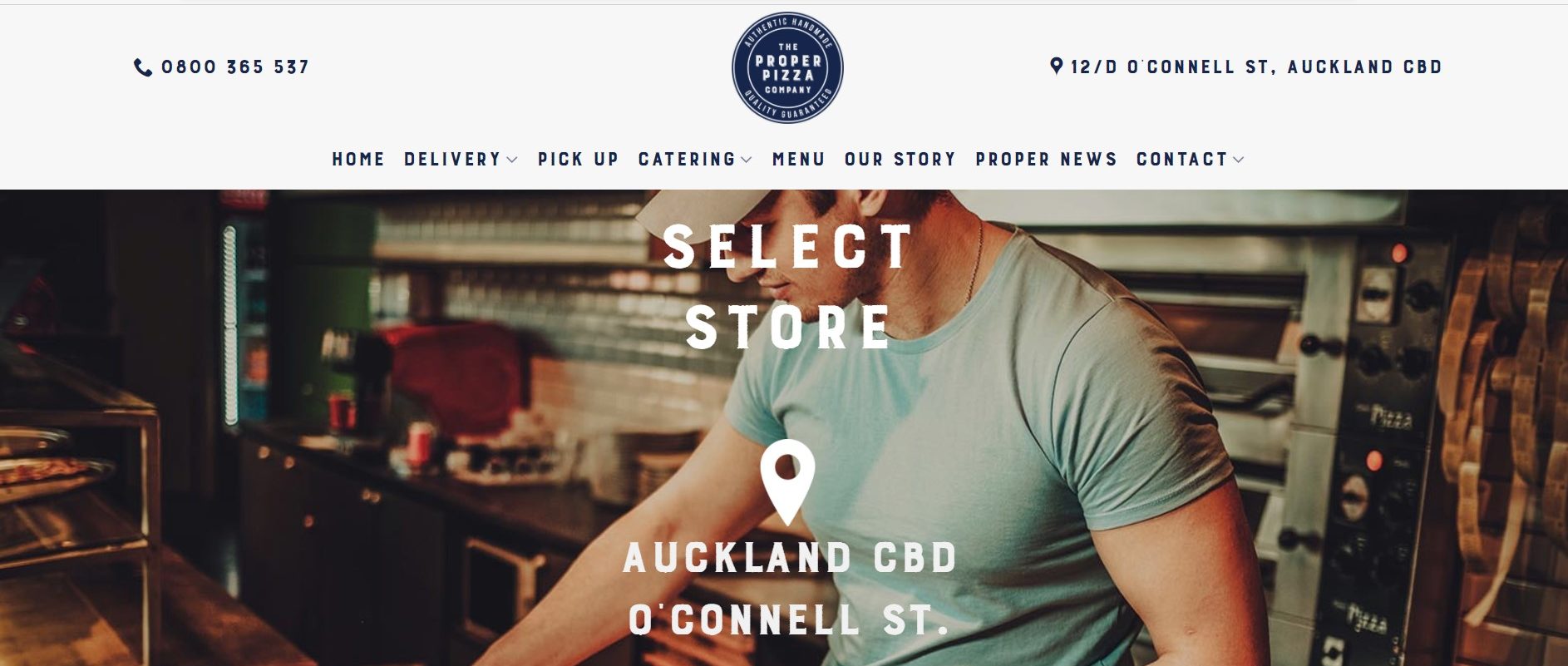 | | |
| --- | --- |
| BEST FOR | 100% Vegan Pizza Base |
| SERVICES | Lunch, Dinner, Catering, Takeout and Delivery |
| WEBSITE | http://www.properpizza.co.nz/ |
| ADDRESS | 12/D O'CONNELL ST, AUCKLAND CBD |
| CONTACT DETAILS | 0800 365 537 |
| OPERATING HOURS | Daily: 11am–5am |
Proper Pizza offers pizza like no other. Using only the freshest ingredients in store, they always provide their customers flavors you won't find anywhere else.
It's perfect for everyone, even for those with allergies as Proper Pizza makes their bases with vegan ingredients and offers non-dairy choices.
Have a taste of the classics and even unique ones, make sure to drop by and try them out!
Highlights
Non-dairy cheese also available on all pizzas
Fresh and delicious pizza
Amazing variation of pizzas
Customer Reviews
Read some of the feedbacks left on The Proper Pizza's google review:
"Lovely spot, off the main road. Really enjoyed the pizza, it was light and had good amount of tomato sauce. Would recommend, for a relaxing casual eatery. I saw cheese fondue on their menu so will be back soon" – Jay Raman
"Me and my boyfriend decided to try something different, was not disappointed~ I believe the lady working there is doing an amazing job as she was working alone while trying to manage everything. I would like to let her know that she did a great job. It was a wonderful experience and for her not to worry because it wasn't a long wait for us at all :)"
10) Romani Café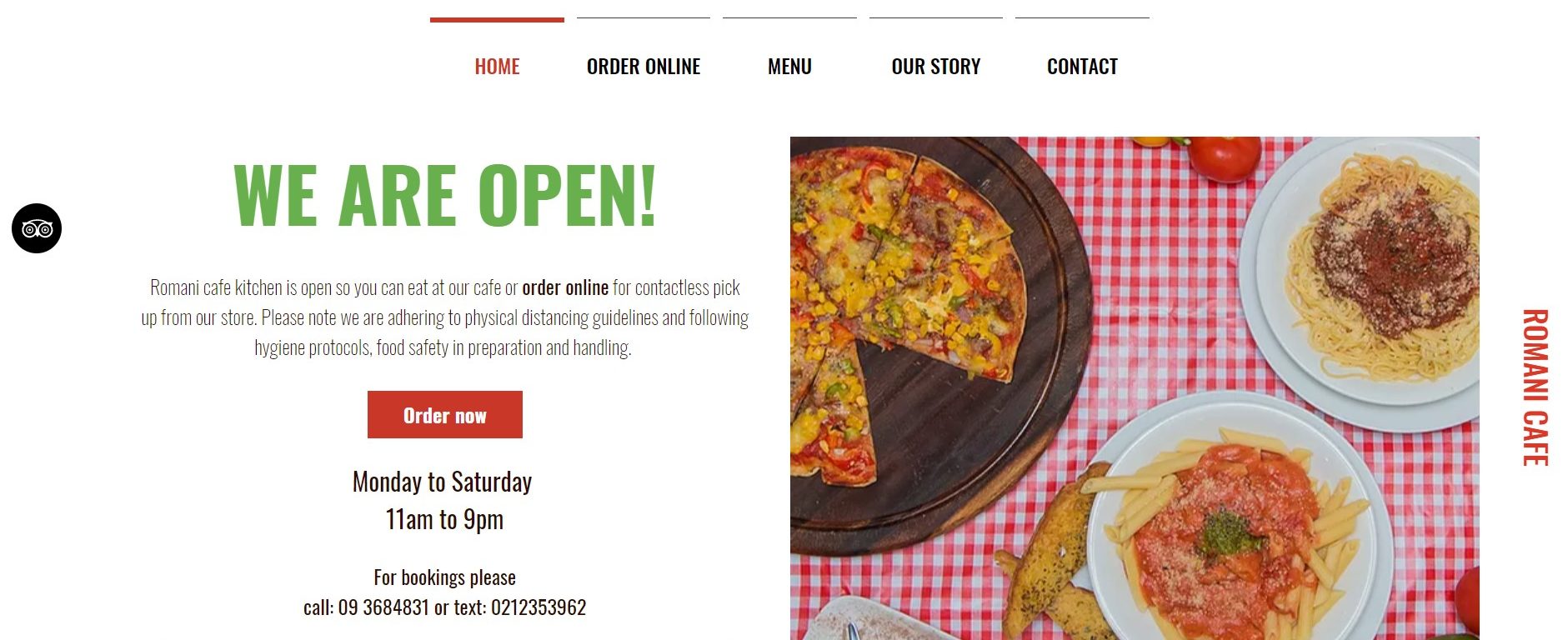 | | |
| --- | --- |
| BEST FOR | Pizza and Pasta |
| SERVICES | All-Day Breakfast, Lunch, Dinner, Takeaway and Delivery |
| WEBSITE | http://romanicafe.co.nz/ |
| ADDRESS | 28 Fort Street, Auckland CBD, Auckland |
| CONTACT DETAILS | [email protected] | 09 3684831 |
| OPERATING HOURS | Monday to Saturday: 11am to 9pm |
Romani Café is the place to go to if you're looking for good Italian food at a good price. Considered to be a hidden gem by many, this little restaurant is definitely proving their worth of trying.
Consider going to the cozy Romani Café if ever you're craving authentic Italian food, and you won't be disappointed.
They're open for dine-ins but you can also order online and acquire contactless pickup!
Highlights
Great atmosphere
Delicious food
Friendly staff
Customer Reviews
Garnering a high rating on google reviews, Romani Cafe has proven that they deserve to be in the top best Italian restaurants in Auckland. Check out some fo the feedbacks from customers:
"I'm surprised it's so quiet! Such a feel good place. The staffs are friendly and attentive. The lasagna was deliciousssss" – Namfon Kumsem
"A wonderful and cozy place …. this time I try the pizzas and I marvel and the dough,it is exquisite as well as its ingredients, I have tasted the pasta and I definitely i will be back! I love this place!!" – Cheryl Vega
11) Papa's Italian Eatery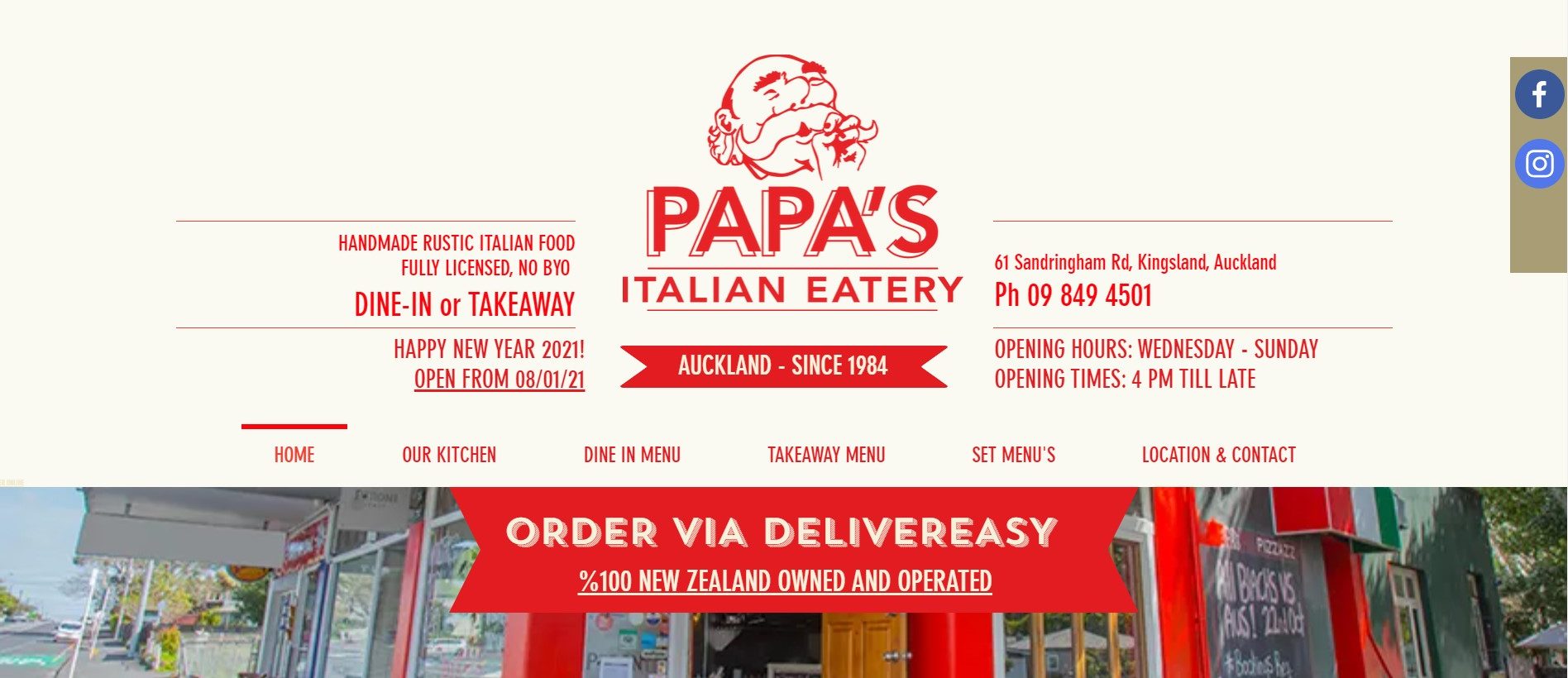 BEST FOR
Wine and Pasta Special
SERVICES
Late Lunch, Dinner, Takeaway, Event Functions
WEBSITE
http://www.papas1.co.nz/
ADDRESS
61 Sandringham Rd, Kingsland, Auckland
CONTACT DETAILS
09 849 4501
OPERATING HOURS
OPENING HOURS: WEDNESDAY – SUNDAY
OPENING TIMES: 4 PM TILL LATE
Papa's Italian Eatery is one of the restaurants in Auckland that provides authentic Italian taste at the right price. They're known for their wide selection of pasta and pizza flavors.
You can definitely go there for a quick meal, or hire them for any event! Their function rooms are spacious and can house a lot of guests.
Simply contact them for inquiries or reservations and the staff at Papa's Italian Eatery will be happy to accommodate you.
Highlights
100% fresh
All natural ingredients
Handcrafted rustic Italian
Customer Reviews
Below are some of the reviews for Papa's Italian Eatery, proving just how amazing their food can be.
"I came in on Saturday night, we came in for a date night. I had the pappardelle pasta and was beyond amazing. My partner had the beef lasagna which was probably the best either of us have eaten. Food here is to die for! Also great service, attentive and fun. amazing atmosphere. I can't suggest this place enough" – Shane Turner
"Thanks for hosting our team! We had a large group of 20+ people and Papa's did a great job in hosting us. They were quick in responding to our queries and requests via email before we arrived. The restaurant has a nice and relaxed atmosphere which we all really enjoyed. We had many different dietary requirements and other requests which they happily accommodated. The staff were friendly and food was served very quickly. Overall it was a really great experience! :)"  – Tina Fu
12) Firewood Pizza Haven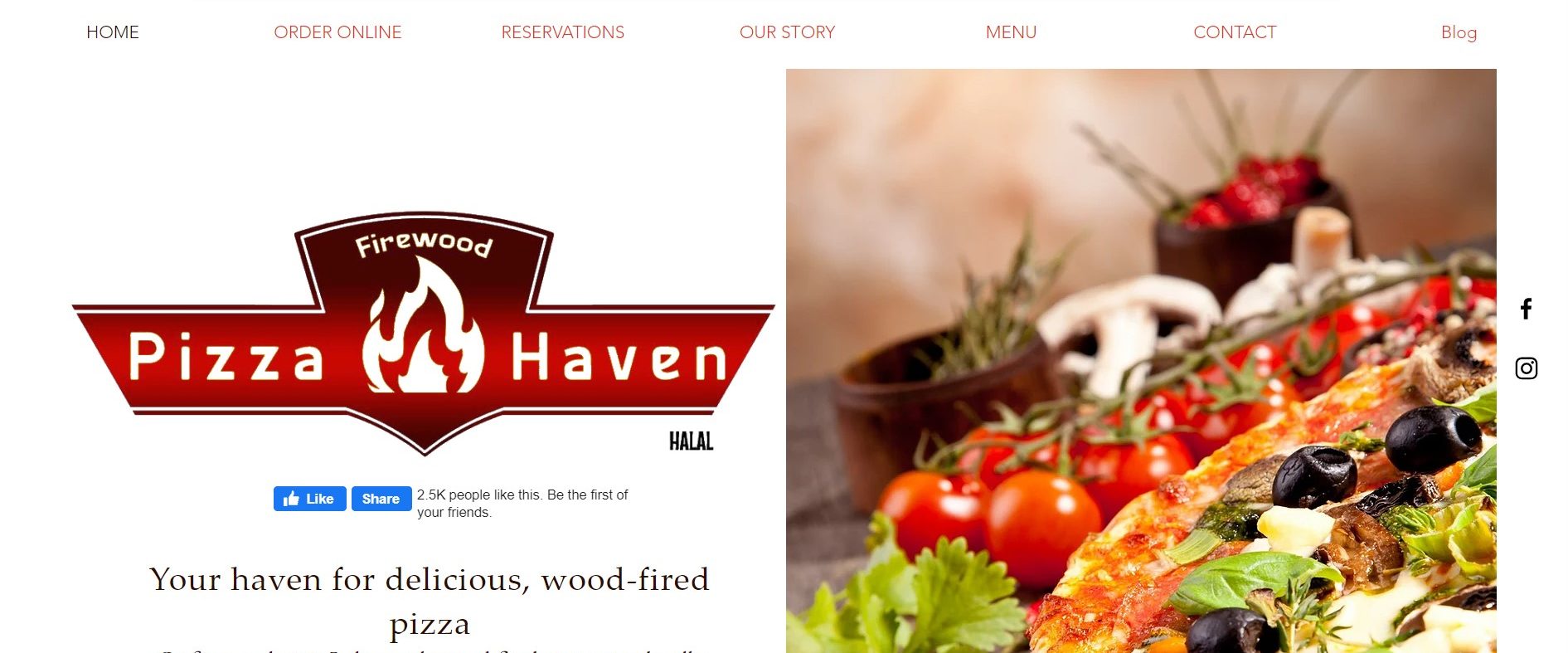 Firewood Pizza Haven has proven to stick true to their name, offering a haven for pizza lovers in Auckland. It's an Italian restaurant you can bring everyone to enjoy good pizza without holing your pockets.
They offer vegetarian, chicken, red meat, and even seafood options. With a large selection to choose from, you surely won't run out of slices to try.
Check out their combination meals to save up more, or simply get one of their flavors to taste. Head on to Firewood Pizza Haven for the ultimate pizza experience you surely won't get anywhere else.
Highlights
Delicious pizza
Wide range of pizza flavors
Easy access location
Budget-friendly
Customer Reviews
Garnering an almost perfect 5-star rating on Google Review, here's some of the feedbacks to prove just how amazing Firewood Pizza Haven can be:
"If you are in this Area, Must try! Seriously this is just too good. Met the owner, Greets with a smile, Served me with these Pizzas. So delicious. Please Support him, its just a hidden paradise..Love the pizzas, unique and tasty!!"
"Food was cooked to perfection. Could definitely taste the difference of Wood fired Pizza and customer service was on point. Highly recommended and will definitely be back "
"Where do I start? Pizza Haven has been my go to pizza spot for months now, Quality is always there, literally haven't had a bad pizza yet. Dare I say the best pizza's in Auckland…. And price wise its reasonable so win win.
If you haven't tried them yet, you must.
PS: the chips also hit different "
13) Ristorante La Spiaggia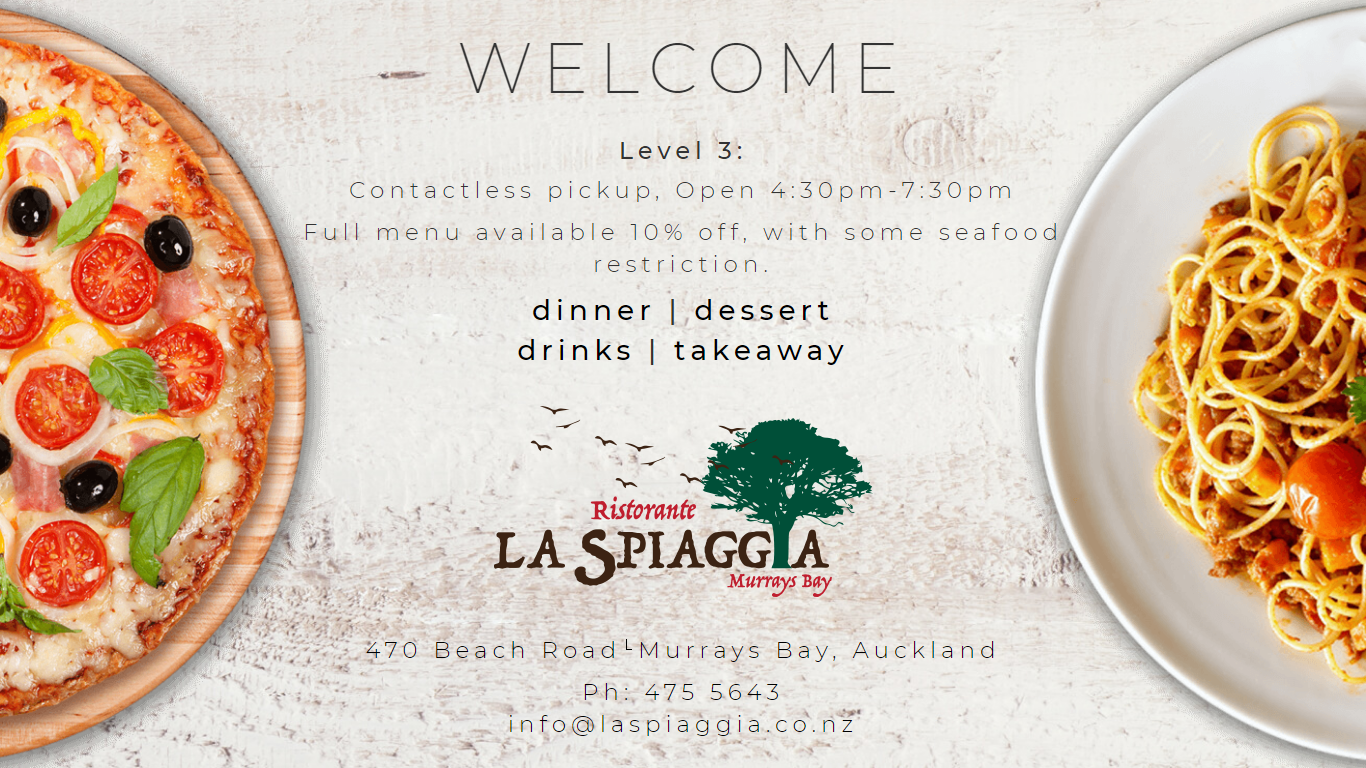 | | |
| --- | --- |
| BEST FOR | Tasty Italian Food & Large Portions |
| SERVICES | |
| WEBSITE |  https://laspiaggia.co.nz |
| ADDRESS | 470 Beach Road Murrays Bay, Auckland |
| CONTACT DETAILS | |
| OPERATING HOURS | Tuesdays to Sundays, from 5 PM till late |
Ristorante La Spiaggia is an Italian restaurant that offers fresh, high-quality food. They provide a diverse menu for diners to peruse, which includes a wide variety of dinner, drinks, and dessert.
Large portions and excellent dishes are all you can expect from them. The food is good, but the view from the restaurant is even better.
They are open starting at 4:30 pm, perfect for dinnertime. If you don't have time to dine in, takeaway is also available. 
Highlights
Excellent view
Diverse menu
Fresh food
Experienced staff
14) Nonna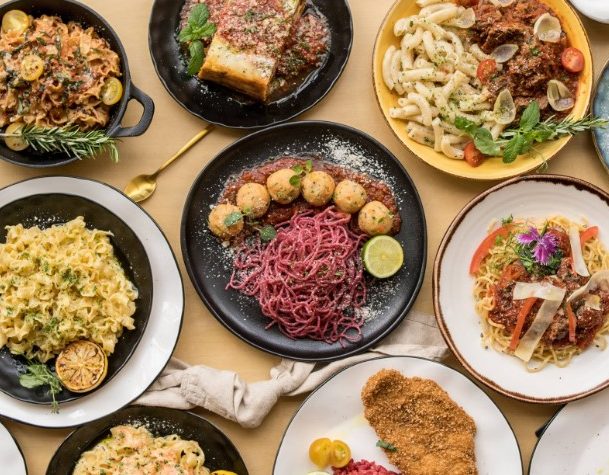 BEST FOR
Traditional Italian Breakfast
SERVICES
Brunch
Breakfast
Lunch
Dinner
Online orders for pick-up
WEBSITE
https://nonna.nz/
ADDRESS
10-12 Teed Street, Newmarket
CONTACT DETAILS
022 644 1466 | [email protected]
OPERATING HOURS

Mon – Wed : 7:30am – 3:00pm

Thu – Fri :      7:30am – 9:00pm

Sat :                 9:00am – 9:00pm

Sun :                9:00am – 4:00pm
"Nonna", when translated to English, means "grandmother". And true to this restaurant's name, they serve homemade, fresh pasta with soulful sauces just like how nonna cooks it in her own kitchen.
They have an extensive menu that highlights their freshly made pasta and a wide range of pasta sauces to choose from.
You may opt to choose either a traditional, regional, gourmet, or special pasta dish. Nonna also offers a breakfast menu that's perfect for brunch, which includes their specialities: Spaghetti Bolognaise, Eggs in Purgatory as well as Salmon & Avocado Smash.
The best part of their menu is that they are inclusive of vegetarians because most of their menu items can be requested to be vegan. Enjoy the comfort of home-cooked food made by Nonna at her very own restaurant.
Highlights
Offers vegan menus
All-day menus
Discount for online orders
Gluten-free options available
15) Zac's Pizzeria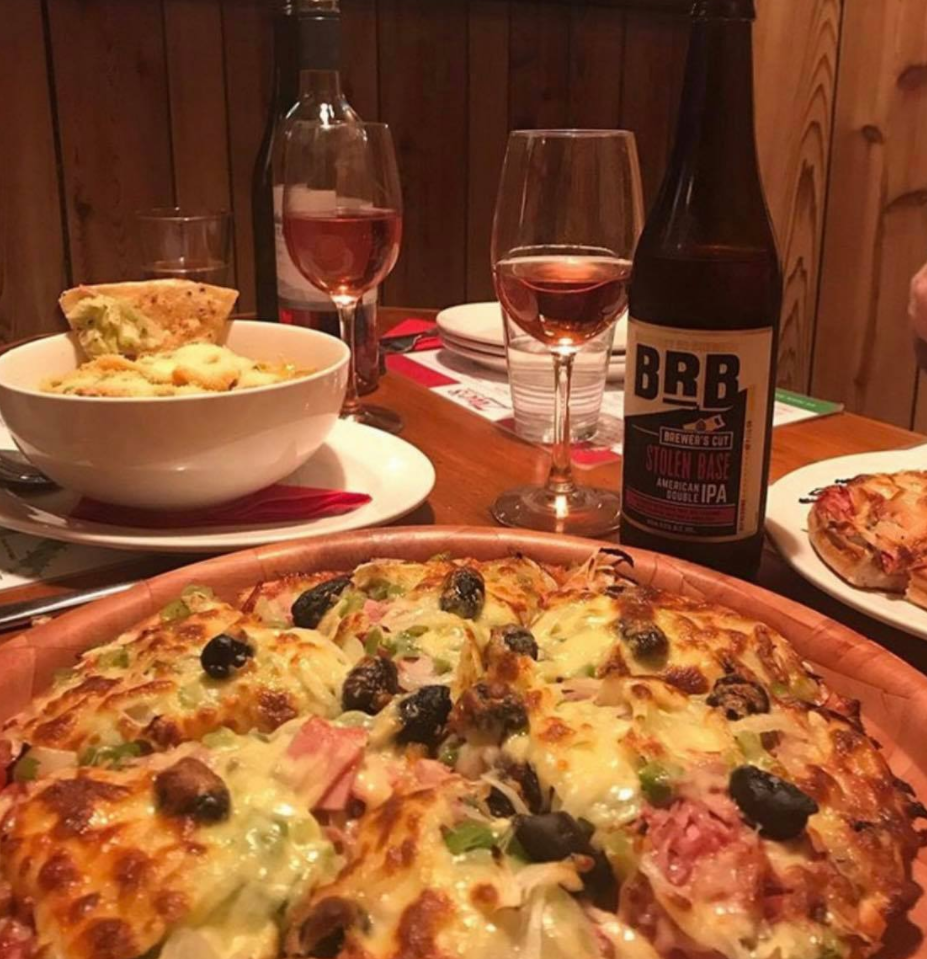 | | |
| --- | --- |
| BEST FOR | Hand-rolled Pizza |
| SERVICES | |
| WEBSITE | |
| ADDRESS | 84C Main Rd Kumeu 0810 |
| CONTACT DETAILS | 09 412 9050 |
| OPERATING HOURS | Tue-Sun: 5pm- Late |
Established in 1986, Zac's Pizzeria is a family-owned and operated Italian restaurant that prides itself on offering great food, good value, and friendly service.
Zac's Pizzeria makes use of authentic Italian recipes for its menu. These recipes, paired with the fresh ingredients in the Zac's Pizzeria kitchen, result in a wide range of delicious food items that are made to order.
Some of Zac's Pizzeria's offerings include pizzas, pastas, and desserts. All of the pizzas are hand-rolled and made with fresh dough, so customers can rest easy knowing that each and every one of them tastes great.
Those who are unable to come in to have an excellent meal need not fret since takeaway is available six nights a week.
Highlights
Pizza and non-pizza options available
All pizza dishes are hand-rolled and made with fresh dough
Quick service
Dine-in and takeaway available
16) Venosa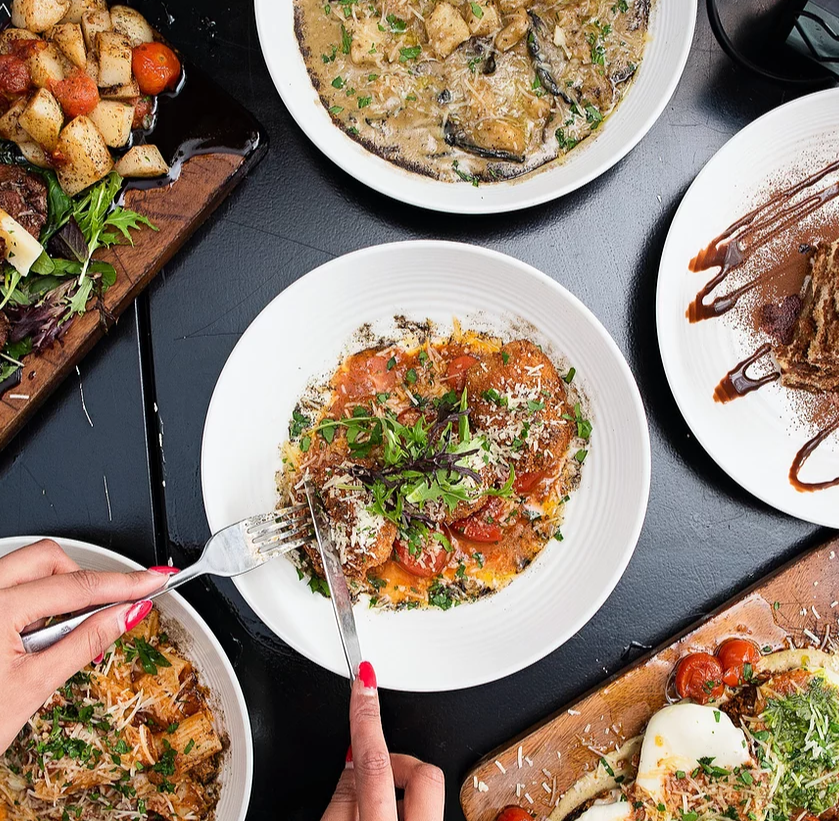 BEST FOR

Authentic Italian Cuisine

SERVICES

WEBSITE

ADDRESS

480 New North Road, Kingsland, Auckland 1021

CONTACT DETAILS

OPERATING HOURS

Tue – Sat: 5:30 PM – 9:30PM

Sun – Mon: Closed
Next on our list is an Italian restaurant named after the small town of Venosa in Southern Italy.
Venosa opened its doors to the public with one simple goal in mind: To provide a place where people can eat pasta, drink wine, and have fun. While many years have since passed, Venosa's goal remains the same.
Currently, Venosa has built up a reputation for providing diners with exquisite food and service. The menu features numerous mouthwatering dishes, all offering a taste of authentic Italian cuisine.
Some dishes to note are Arancini, Melanzane Fritte, and a delicious Rigatoni with nonna's slow-cooked pork ragu! Diners are free to pair it with the various wines that Venosa has to offer.
The joys that Venosa has to offer doesn't stop there, though. While dining at Venosa, diners are also treated to world-class service, with each and every staff member professional, polite, and friendly.
They work to ensure that every customer is satisfied after dining. They're quick on their feet and help ensure quick service.
Highlights
Various wine options available
Closed on Sundays and Mondays
Excellent customer service
And there you have it for the best Italian restaurants in Auckland. Rest assured, you will have a great and pleasant dining experience at these restaurants.
Have you decided which restaurant to go to from our list? If so, share your answer with us in the comments below!
17)  Sal Rose Italian Restaurant & Bar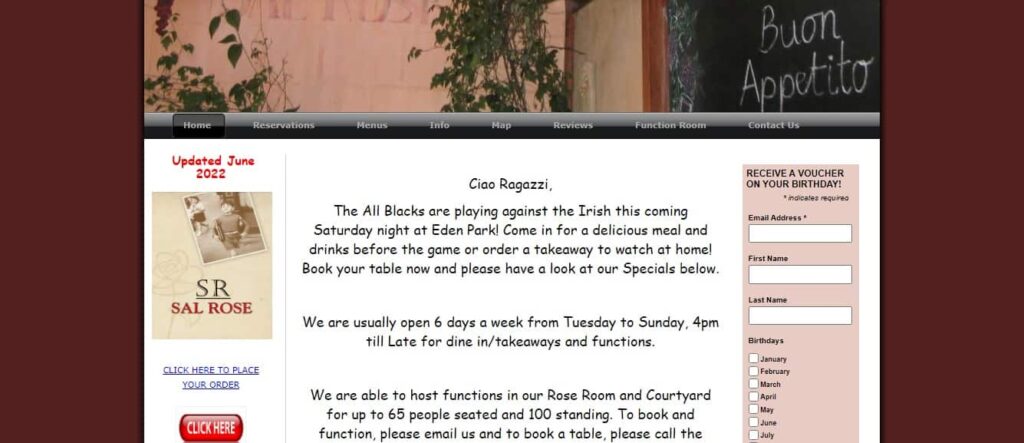 BEST FOR
Casual Italian Dining Experience
SERVICES
Reservations, Function Room Rentals, Dine-In, Take-Out
WEBSITE
http://www.salrose.co.nz/
ADDRESS
1A Alberton Avenue, MT Albert, Auckland
CONTACT DETAILS
TEL. 09 845 5331 | FAX. 09 845 5332
EMAIL: [email protected]
OPERATING HOURS
Tuesday – Sunday: 4pm – late
Sal Rose Italian Restaurant & Bar is a restaurant that offers clients authentic Italian food in the area in a cozy interior to bring to clients a delectable casual dining experience. May it be an intimate dinner for two or a large family gathering, they are able to accommodate such groups in terms of seating and food combination, and bundles.
Specializing in homemade Italian dishes such as pasta and pizza, clients can be assured that all used ingredients are fresh daily to bring the best taste of Italy to their tables.
Aside from this, they also have available a wide selection of Italian wines from which clients can choose and avail themselves to complete the authentic Italian dining experience.
They also have a Vegan menu and Meat and Fish menu to better accommodate the specific diets and preferences of their clients.
However, we think that their website could use improvement and innovation to better help clients online navigate through their options and bookings for convenience.
Highlights
Vegan menu available
Casual dining
Homemade Italian cuisine
Customer Reviews
Here are some reviews from their customers:
"Awesome experience for my family, beautiful menu and dishes, service from a high standard by all staff! Loved how the waitress offered to explain the menu and the catch of the day! What was most impressive is how she remembered our tables entire order without writing it down! We have been to many restaurants where they write it down and still get it wrong! Five stars to Sal Rose, lots of parking and an amazing setting!" – Rehana Sadiq
"Really accommodating staff, gave us suggestions and even offered to let me take a plate over to the park to eat. We ended up staying outside to dine and it was so relaxing and the food delicious! In terms of price to speak against some of the other reviews you get what you pay for and it's value for your money here." – Michael Arthur