The Tourist's Guide: Are there sandy beaches in New Zealand?
Wondering if there there sandy beaches in New Zealand? Yes, New Zealand has a lot of sandy beaches, actually!
After all, this is an island country in the Pacific Ocean with around 15,000 kilometres of coastline. As such, New Zealand is home to some of the best beaches in the world, sandy or otherwise.
With that, let us share some of our favourite beaches in New Zealand. Whether you're a tourist on a guided tour or a local searching for the hottest spots to hang out, this is for you. 
1. Cathedral Cove, The Coromandel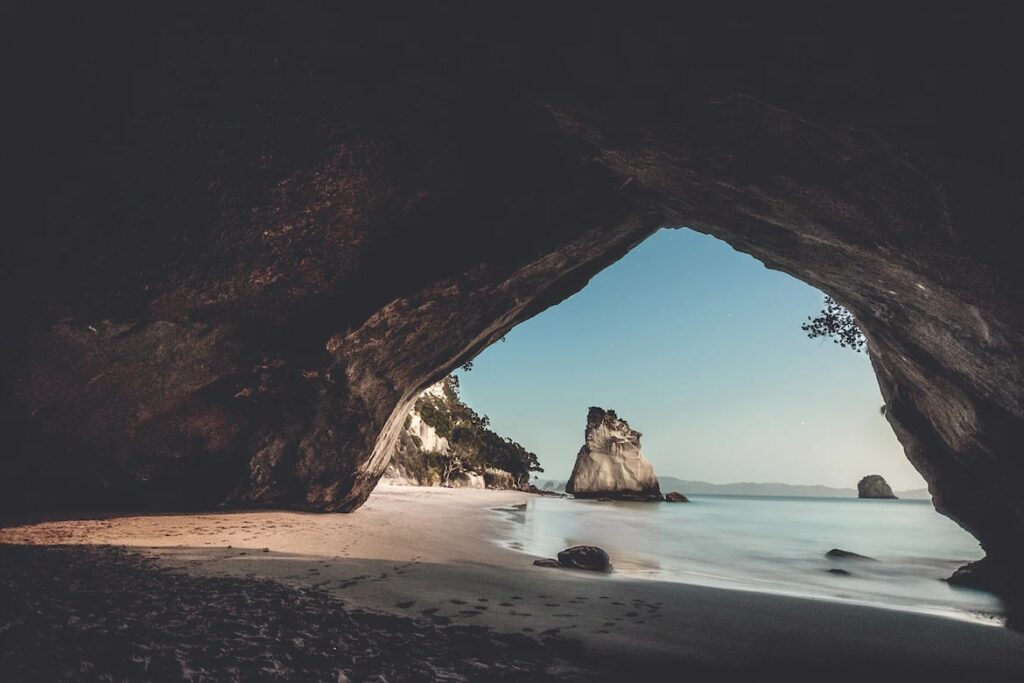 The Coromandel is known for its picture-perfect beaches and forests. But Cathedral Cove is the town's star.
This beach is accessible by foot, boat, or even kayak. We love the naturally-formed cathedral-like arched rock.
Plus, it's only a two-hour drive from Auckland. 
2. Hot Water Beach Waikato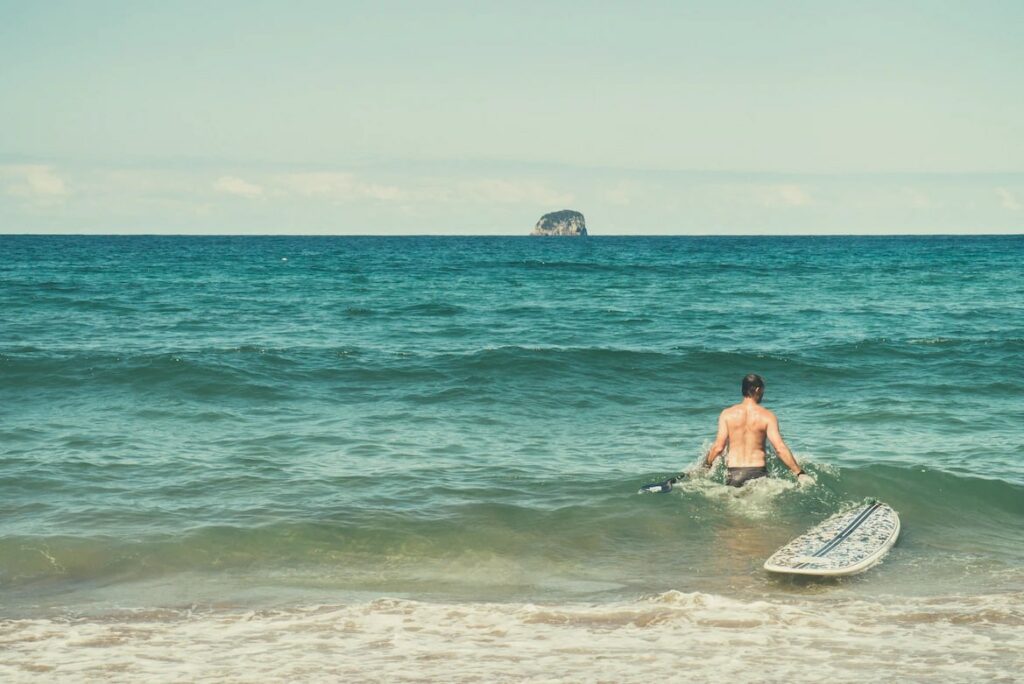 Hot Water Beach is where you'll experience naturally-heated mineral water from within the earth. So yes, it is aptly named.
Beachgoers can dig their natural hot pool or jump in an already-formed hole. The water can reach up to 60 degrees Celsius.
You can also mix the water from the nearby ocean to have the perfect temperature for you. One must always be careful, though, as the area is filled with exposed rocks and strong currents.
3. Karekare Beach, Auckland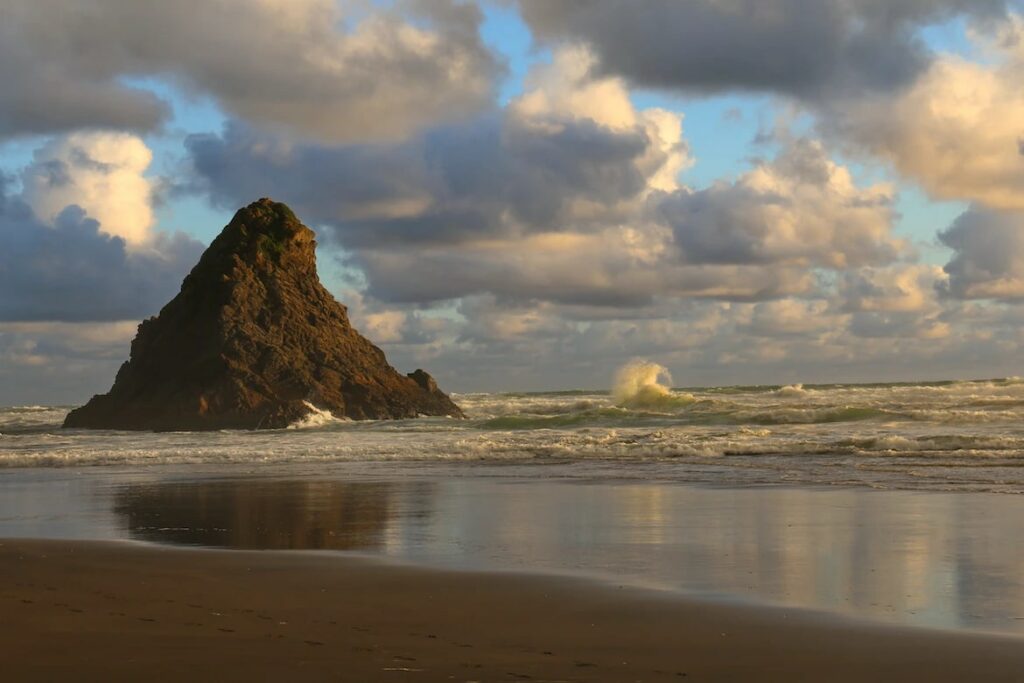 Karekare Beach is one of the best black sand beaches in the country. It also has great waves that attract surfers.
It's only fifty minutes from Auckland, so definitely worth the drive.
The beach garnered attention when it was used for one of the scenes in The Piano, a 1993 film. Its clear waters and great views make it a popular spot among locals and tourists.
Just 15 minutes away from the beach, the falls are also a must-see. You can bring a blanket or mat and relax near the falls, and there are plenty of areas with shade. 
4. Wharariki Beach, Tasman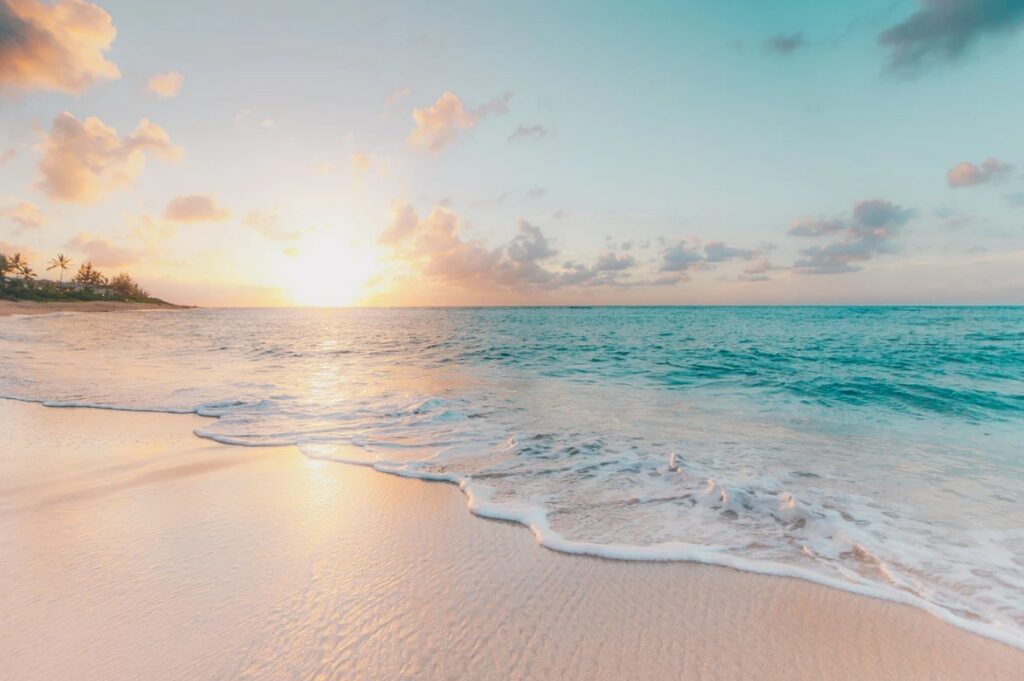 If you just want to be surrounded by wildlife, caves, and dunes, then Wharariki Beach is for you! Swimming is prohibited, though, but you can bask in the glory of the rock formations and take lots of pictures.
You can even explore this beach on horseback. 
5. Koekohe Beach, Waitaki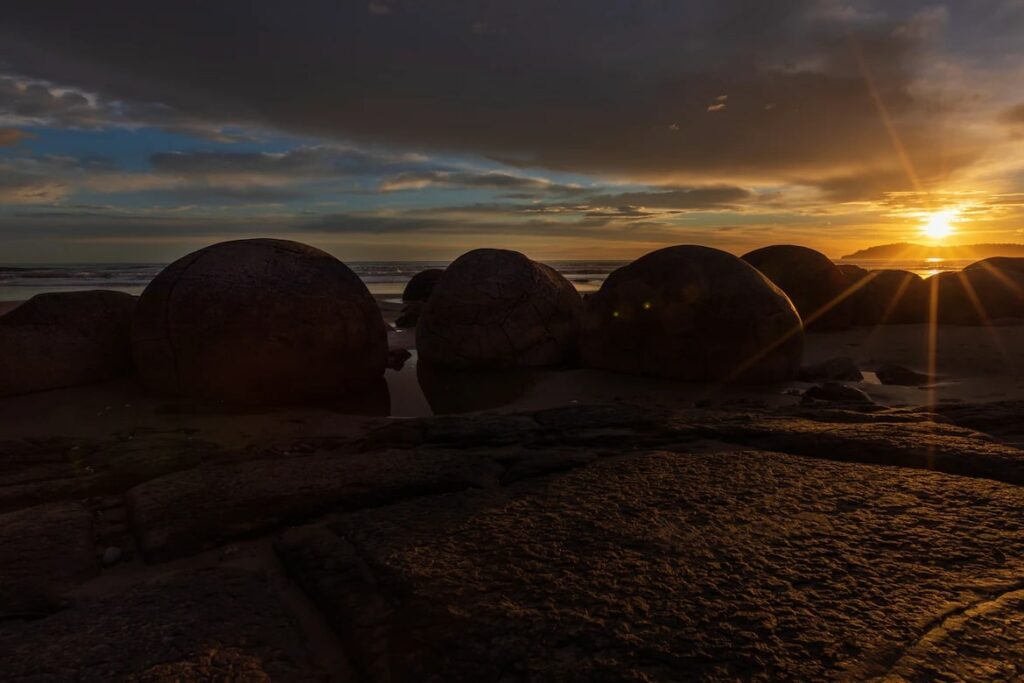 Koekohe is one of the most mysterious beaches in the country. Every time at low tide, several stone spheres appear scattered across the sand.
These stone spheres are called the Moeraki Boulders. They weigh several tons and stand up to two metres.
These boulders are said to have been formed about sixty million years ago. The boulders are smooth and resemble a turtle shell.
If you're curious about what they look like, make sure to check out this beach. 
6. Piha Beach, Auckland
Piha is known for its black sand and big swells. What's great is that it is only an hour's ride from Auckland.
You can pull out a picnic blanket and relax on the warm sand and watch surfers ride the waves. It is regarded as the country's most famous surfing beach.
We recommend swimming only in areas patrolled by lifeguards since there might be strong rip tides and currents surrounding the beach. It is advised that children and non-swimmers avoid the waters.
7. Maitai Bay, Northland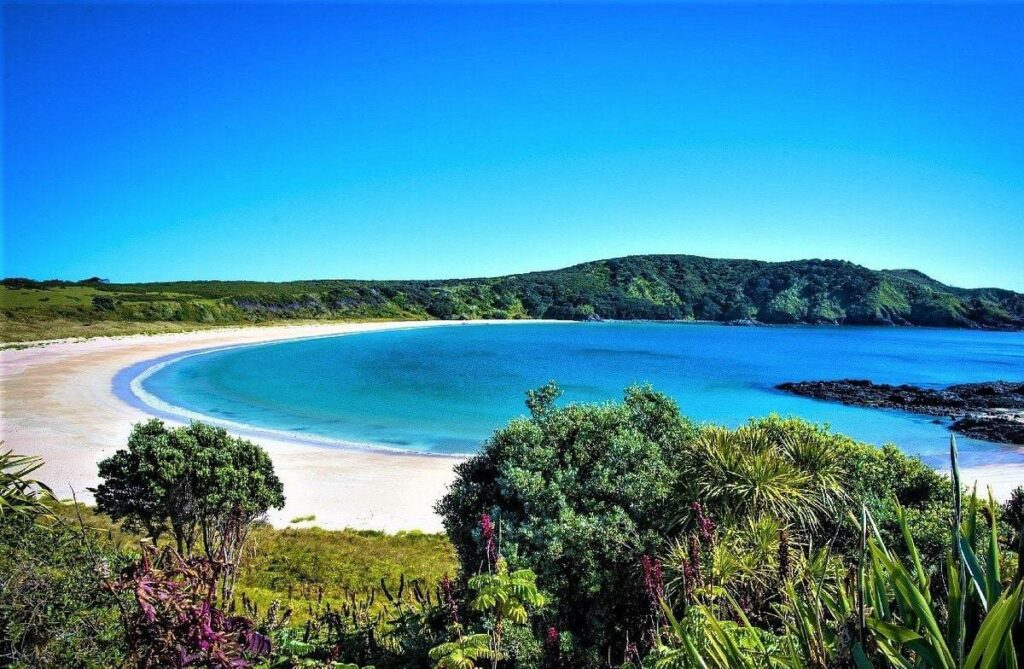 The Maitai Bay has always been compared to the beaches of other tropical countries as it has crystal-clear waters and white sand.
There are plenty of things to do on the beach, such as swimming, snorkelling, kayaking, camping, and diving.
A lot of people also camp out at the Maitai Bay Campsite. If you're planning on doing this, check out the following articles:
8. Ninety Mile Beach, Northland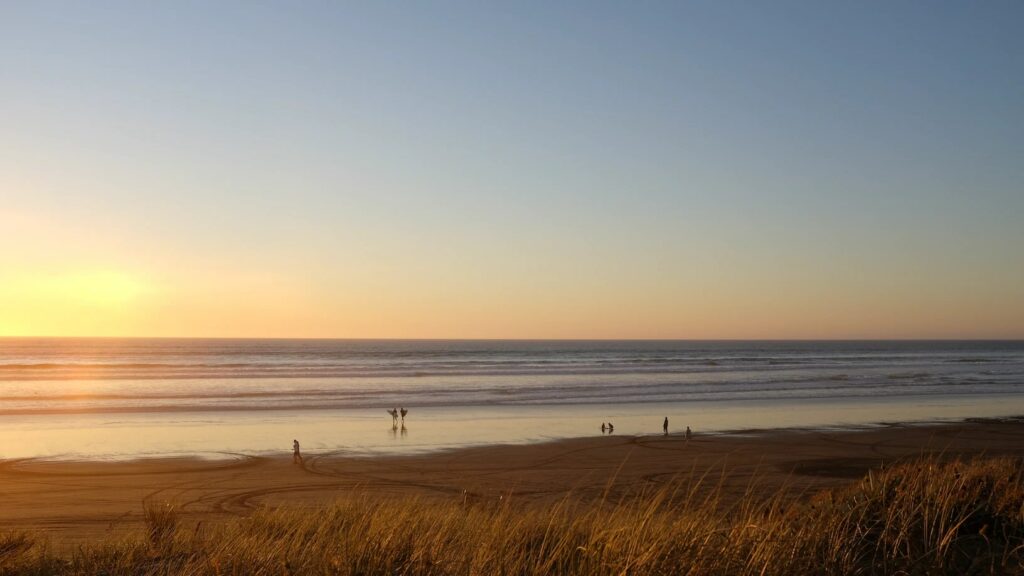 Ninety Mile Beach is a must-go if you want fun outdoor activities such as horse riding, blokarting, or bodyboarding. You can also ride a 4WD to tour around.
Fun fact: Ninety Mile Beach is an inaccurate name for the beach as it only stretches up to 55 miles or 88 miles.
Its golden sand dunes are also worth checking out, we think.
It is claimed to be the biggest beach in the country that stretches from the west of Kaitaia to Cape Reinga, which is the tip of New Zealand in the north.
It is always advised that you swim at the spots protected by lifeguards, as Ninety Mile Beach is an exposed beach with deep troughs and persistent rips.
9. Whale Bay, Waikato
Whale Bay is a laid-back coastal community located near the ocean near Raglan. The beach is great for surfing and is home to many surf schools.
However, if you're a newbie surfer, we recommend against surfing without supervision. There are large rocks in some areas, making it quite dangerous.
Be aware that there is no direct access by car to the beach, so you need to park at the top of the road and walk towards the beach.
There are a lot of activities to do on the beach besides surfing. You can snorkel, picnic, and even do romantic dates because of how beautiful the beach is.
10. Mission Bay, Auckland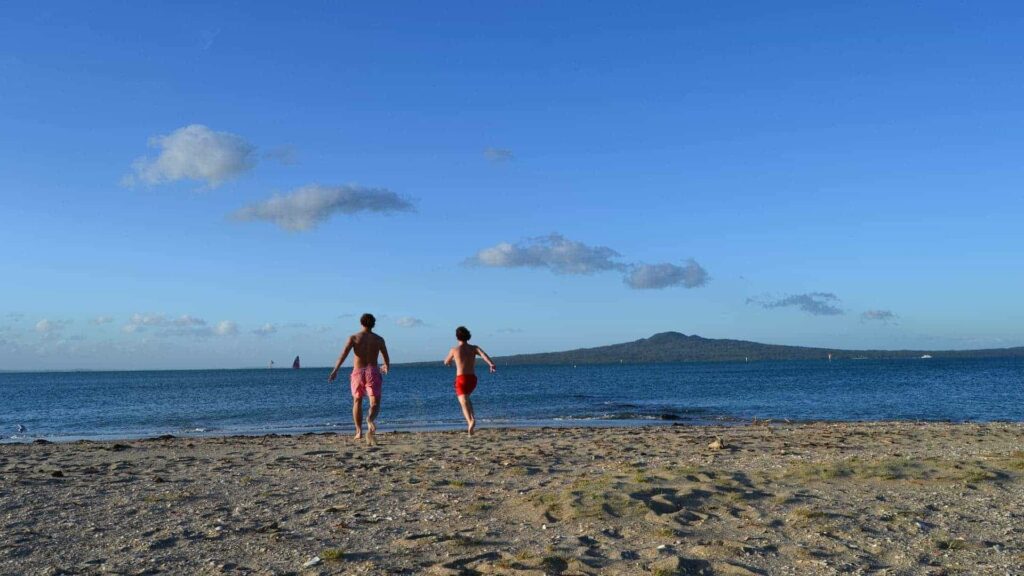 Mission Bay is very famous for its golden sand and grassy areas. It provides a scenic view of the New Zealand Christmas Tree, Pohutukawa.
There are a lot of people playing frisbee, walking, and playing in the ocean. It's a fun and friendly beach where you can enjoy activities.
The beach is only a short drive away from Auckland. So you can enjoy the beach anytime you want if you live in the city.
There are also a lot of cafes, pubs, and ice cream shops near the beach where you can sit back and relax. If you want to do other activities, you can hire a kayak or even swim!
11. Kaiteriteri Beach, Tasman
Kaiteriteri is also a golden sand beach which paves the way to the Abel Tasman National Park. There are a lot of activities such as swimming, sunbathing, and kayaking.
The golden sand is because of the quartz content in the sand that gives a glittering effect. You'd also have a chance to see wildlife, so make sure to be ready for that.
The beach is also known for the highest rate of sunlight in the whole country so make sure to take your sunscreen with you.
12. Gillespies Beach, West Coast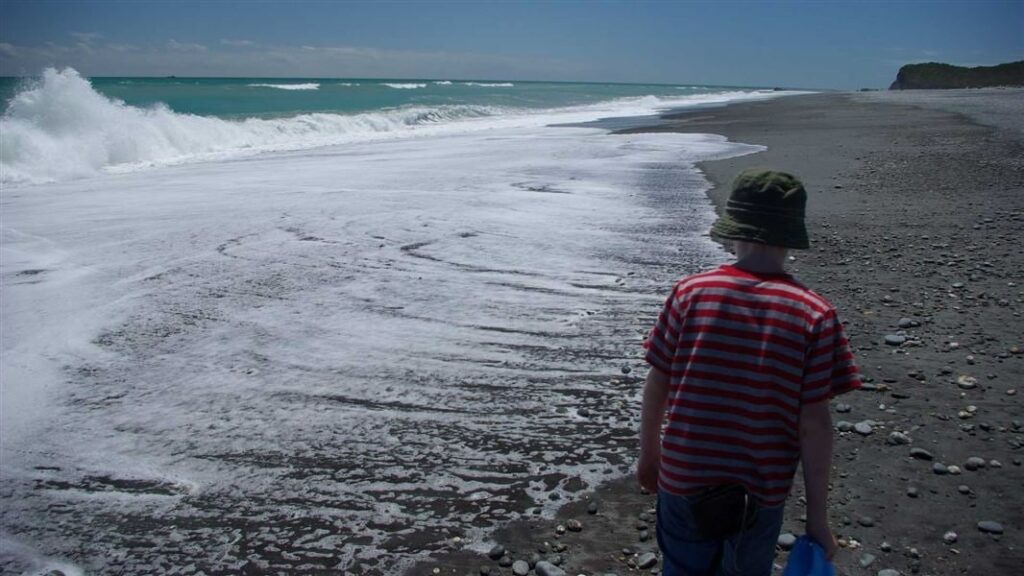 Snowy peaks, wildlife, and a wonderful sunset? If that sounds like something you want to see, then Gillespies is a great place to go! Sunsets here are glorious, so it's a great date place.
It's considered a wild beach, though, so we don't recommend swimming here.
The lagoon at the northern end is a better option for swimming as it is landlocked by the tide, and the water is warm.
13. Rarawa Beach, Far North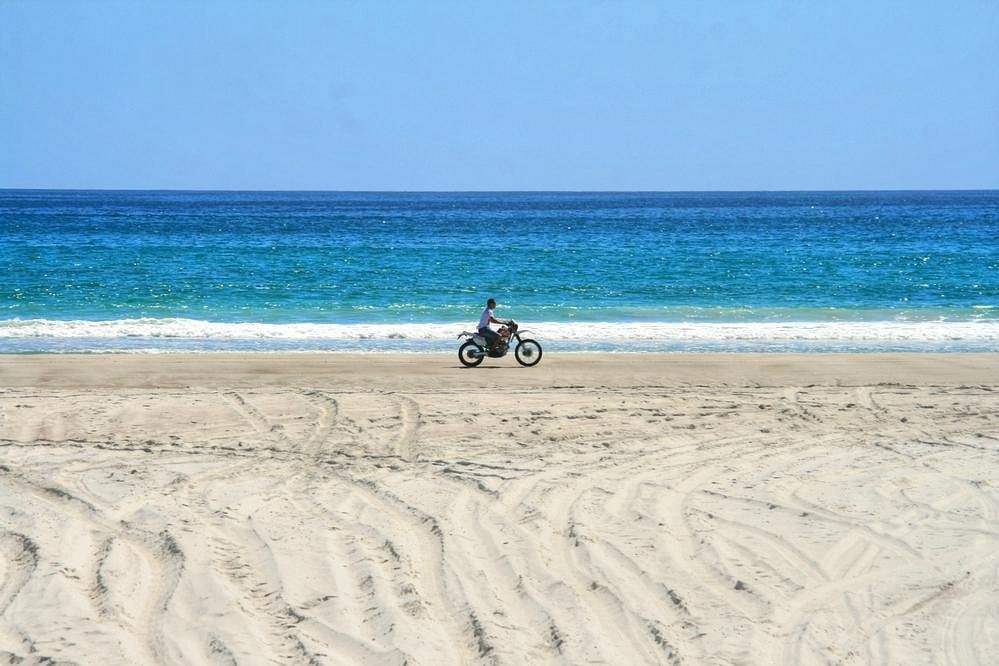 If you want to go to a white-sand beach, then Rarawa is for you. We recommend wearing sunglasses since the white sand reflecting in the sunlight can be blinding.
Behind the sand dunes is a camping ground that you can check out if you want to spend a night under the stars. Please note that there's wildlife here and plenty of birds, so make sure you follow rules and regulations.
You can also swim in the lagoon during high tide at the beach or dip your feet to cool off in the ocean.
14. The Catlins, Otago
We couldn't pinpoint a single beach in The Catlins, so we've included the whole area. The Catlins is one of the country's best destinations if you're looking for beaches – it's teeming with them!
Visitors, however, have to make an extra effort to get there as it is the southernmost tip of the South Island, and the cell phone coverage is also not good. There are also limited ATMs, and there are no banks nearby, so you have to bring all the cash that you need for your visit.
If you're looking for a place to do a social media detox, then this is the best option for you.
The Catlins is also home to seals and other wildlife along the coast. However, it is not 100% sure that you'll encounter them when you visit.
We recommend just taking a picture of them from afar, though, as seals run away when threatened. So don't try to take a selfie with them, okay?
15. Maunganui Beach, Bay of Plenty
Maunganui beach is the perfect beach to relax and is best known for its surf. It has a huge expanse of white sand and the water is perfect for swimming.
"The Mount" is what it is called by the locals. This beach is quite unique as it has both a harbour and ocean beach, Pilot Bay.
16. Awaroa, Tasman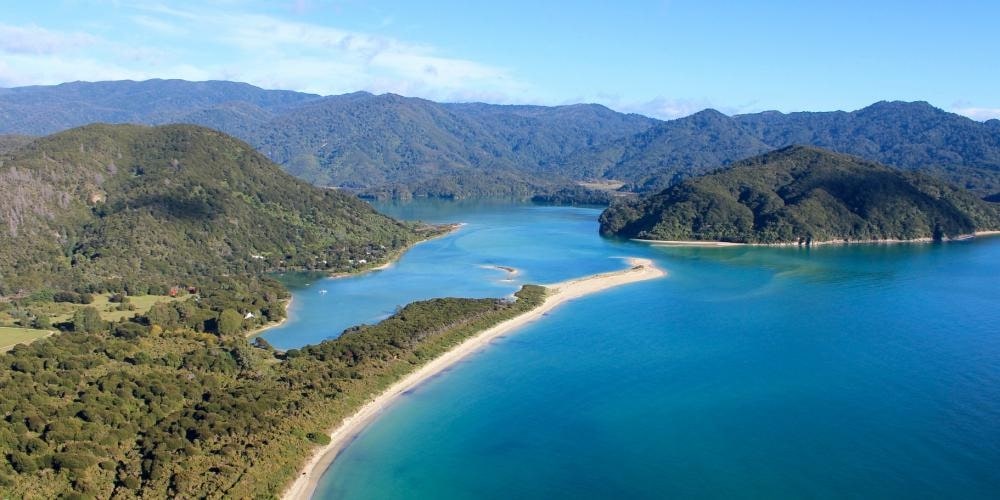 Awaroa is so important to the Kiwis that in 2016, 40,000 of them bought the beach from a private individual for $2 million, give or take. Then the beach was donated to the government to become part of the Abel Tasman National Park.
Visitors have to put in extra work as you have to either take a boat tour, ride the helicopter, or hike for about 7 kilometres to get here. 
17. New Chums Beach, Waikato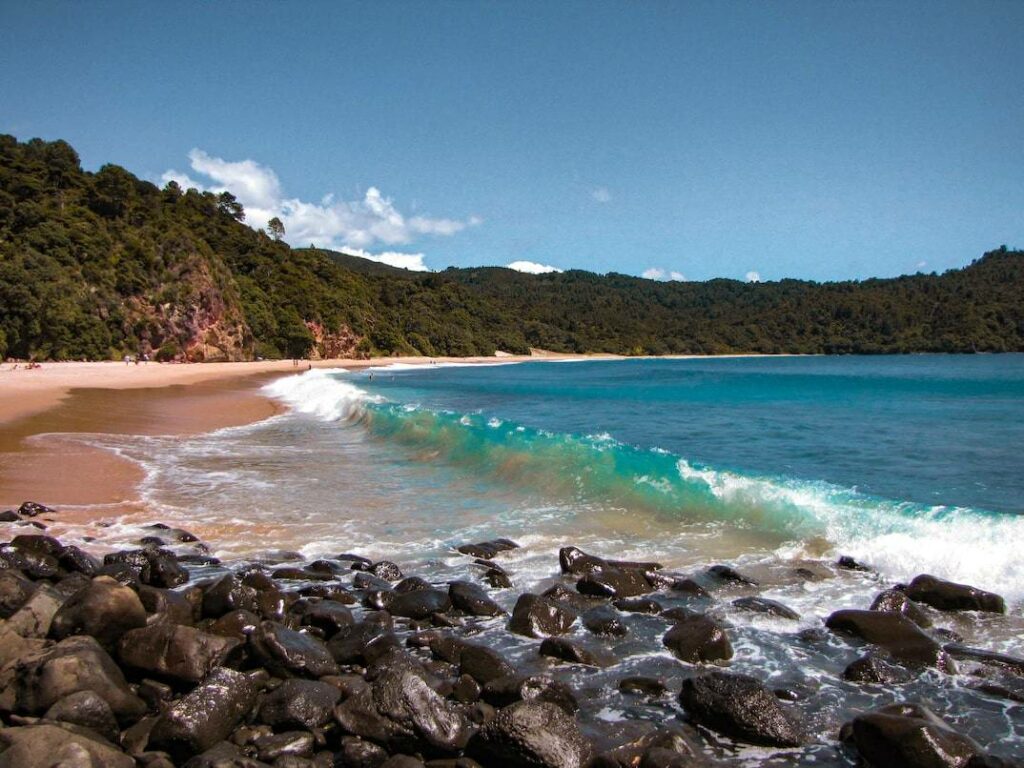 New Chums Beach, otherwise known as Wainuiototo Bay, was voted as one of the world's top 10 beaches. It is a protected bay with a long crescent area of blonde sand filled with native bush at the back.
The beach offers gentle waves so "grommets' or new surfers can easily practise their surfing skills here. It is advised to take all your waste and leave only footprints while at the beach though! 
18. Hokitika Beach, West Coast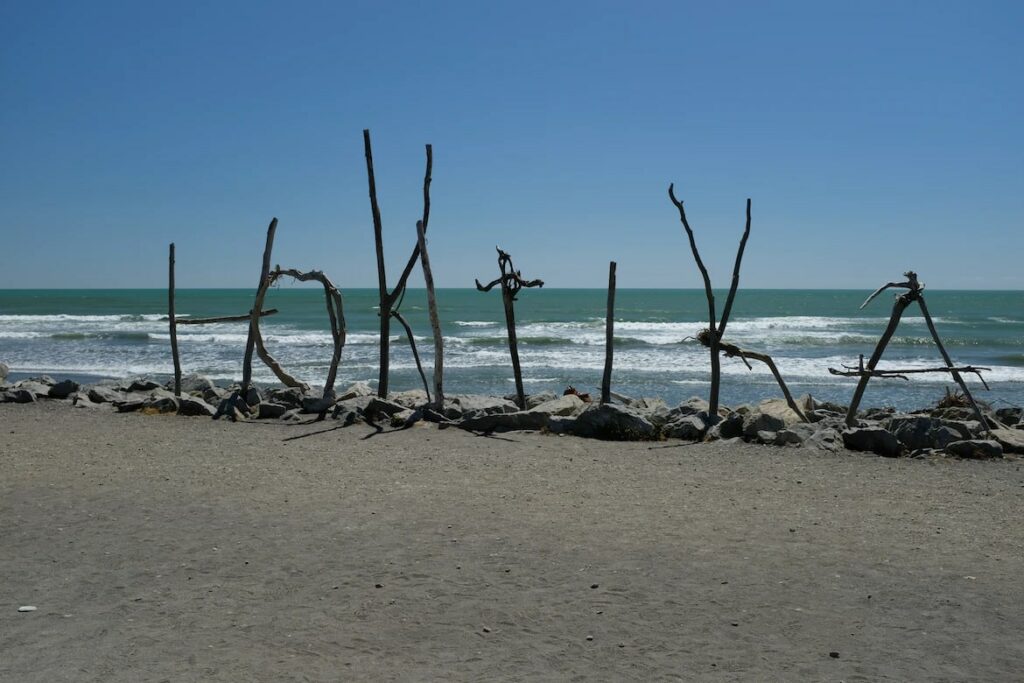 Hokitika Beach is perfect for surfing, walking along the coast, and even fishing. We recommend being careful when swimming here, though, since this beach has no lifeguards and is not patrolled.
The beach can sometimes be dangerous as it has strong waves, currents, rips and drifts. You can also relax here and enjoy the beautiful sunset by the beach.
19. Hahei Beach, The Coromandel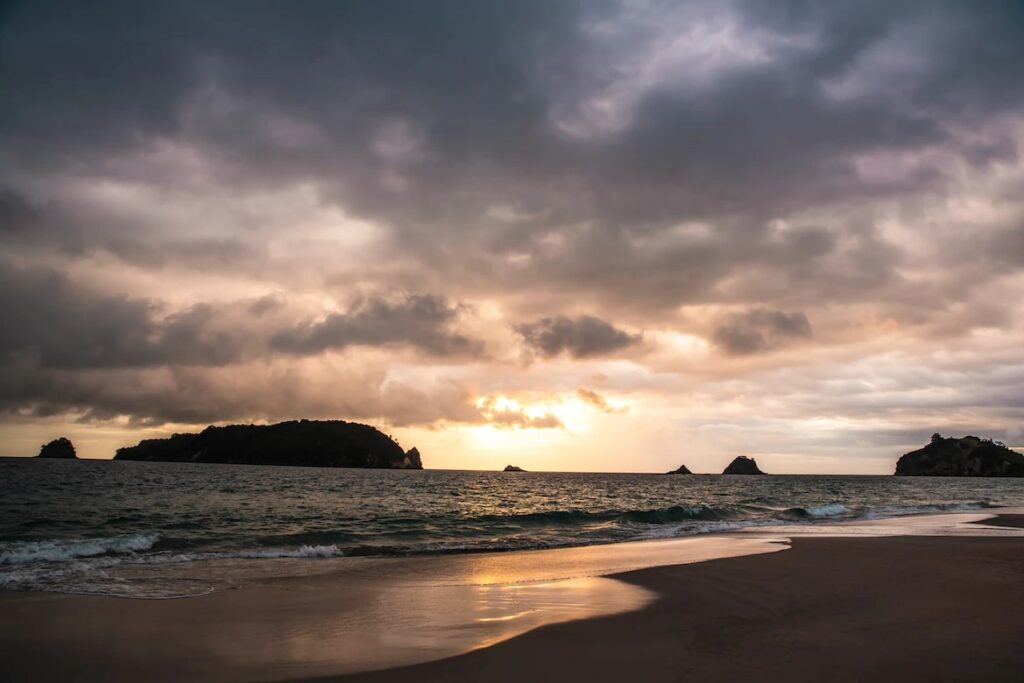 Hahei beach is one of the most famous beaches in the Coromandel Peninsula. It is near the Hot Water Beach and Cathedral Cove. This beach is a good spot for kayaking.
The northern part of the beach is part of the marine reserve which is great for diving, snorkelling and kayaking. While diving, you may be able to see different marine wildlife.
20. Punakaiki, Tasman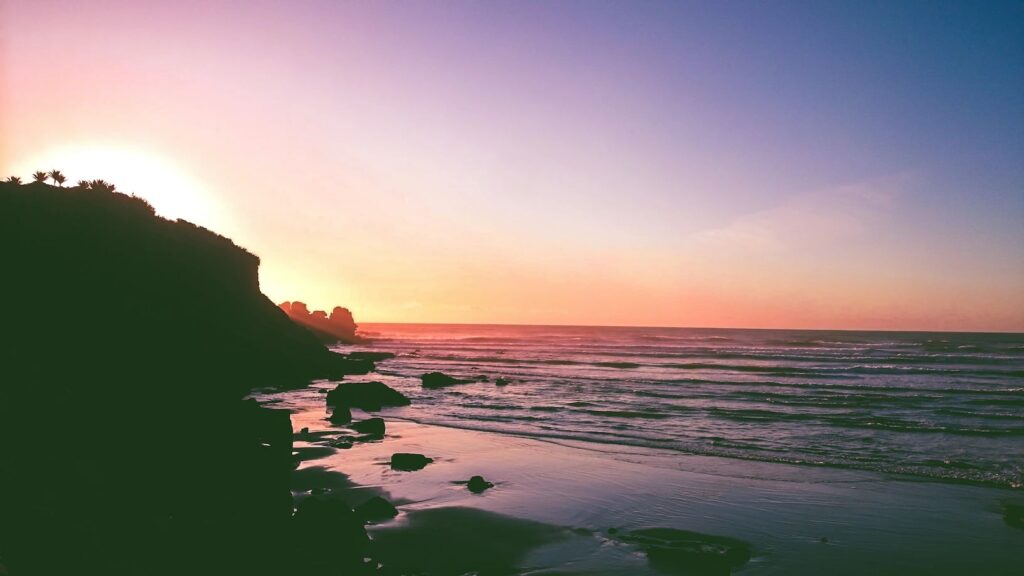 If you've ever heard of the Pancake Rocks and blowholes and wanted to see them, Punakaiki is the best destination for you. The beach is lined with limestone gorges and is best for fishing and kayaking as well.
There is so much to do as it is close to the Paparoa National Park. On this beach, you can also surf, swim, and paddle board.
---
There you have it, a list of some of the best beaches in the country. Where are you going next?
Let us know! We'd love to hear from you.
By the way, check out these related articles: