Our 5 Picks for Balance Transfer Credit Cards in NZ
A balance transfer card is a superb option for paying off your credit debts. If you're looking for such a card, you're right on cue, as we've gathered balance transfer credit cards in NZ here for you.
But first, it's worth noting that banks offer a diverse range of balance transfer cards with various rates, fees, and terms. Given this, how do you know which one you require and should apply for?
To help you there, we'll walk you through the basics of choosing a balance transfer credit card. This will make it easier for you to pick the right card from our list of balance transfer credit cards in NZ.
How to Choose a Balance Transfer Credit Card in NZ
Interest rates are high on an ordinary credit card and can reach up to a whopping 20% p.a. or more. One could end up in debt because of the top-up expenses.
Fortunately, you can transfer your existing account over to a balance transfer card, which usually has low interest rates and minimal to no annual fee. Before long, you'll have settled your previous balance and be totally debt-free!
There are things you should know about balance transfer cards before you get one, though. Here you go:
1. Types of Balance Cards
Coming in a range of types to appeal to different customers, Balance Transfer cards can be low-rate, zero-interest, travel, reward, or a combination of these.
Low-Rate
With ultra-low interest and transfer rates, you can maximise your savings with a low-rate balance transfer card.
There's no end to this, as you have this benefit as long as your card is valid. Rates differ per card, so it's best to look around for a credit card with the best interest rate.
Zero-Interest
Zero-interest cards provide a set period of up to 55 days of zero interest, usually. However, the interest rates will be applied after that period.
Travel
If you want to save Airpoints Dollars and, at the same time, write off remaining debts, then you should look for a travel balance transfer card.
However, in exchange for having insurance benefits or rewards, most cards have high interest and cash advance rates. Luckily, these have low transfer rates too.
Reward
Same premise as travel balance transfer cards—more rewards (i.e. True Rewards Dollars and Westpac hotpoints), but higher rates on interests and balance transfers.
Balance transfer rates for reward cards are about 5.95%. This means that it can cost you more to slash the debts you currently have with these ones.
2. Balance Transfer Rate
A balance transfer rate is the interest applied when your debts are transferred to your new credit card from your old one. The lowest it can get is 1 or 2% p.a.
See to it though that the purchase rate and annual fee are low as well. This enables you to clear out your previous balance faster.
3. Eligibility
Some balance transfer cards don't let you transfer your balance from another card due to certain eligibility restrictions. So, you have to always double-check with the bank before applying.
4. Special Offers
Credit cards often have many special offers that can help you save more. These can be availed of when you first sign up, earn points, or spend a particular amount.
A great example would be a balance transfer rate of 1.99% for 2 years, which we have with the ANZ Low Rate Visa credit card… as you'll see later.
5. Fraud Protection
This is a useful feature that secures against credit card fraud or hackers. The credit card company can monitor odd activities and inform you promptly if any are detected.
Some cards let you block them immediately through the app if you're getting unauthorised charges. Others cover you through a zero-liability insurance policy.
6. Useful tips
Both zero-interest and low-rate cards are great options. But it's more economical to stick with the long-term low-rate cards, even if they have higher annual and transfer fees.
That means that after 6 months, you'll continue to benefit from low-interest rates on purchases and transfers.
Once your debt has been cleared, we suggest lowering your credit limit on your old card. What's the point of having paid your balance and then accumulating new debts again?
By lowering your credit limit, you can still use the old card for emergencies or purchases in addition to your balance transfer card.
Balance Transfer Credit Cards in NZ
Now that you know the fundamentals, here's our lineup of balance transfer credit cards in NZ!
1) ASB Visa Light
For Zero-Interest Balance Transfer Credit Card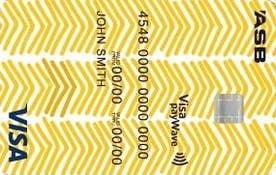 If you're here looking specifically for 0% balance transfer rate for 6 months, go with the ASB Visa Light. This will enable you to pay off your balance from your existing credit account with ease.
Exceeding the interest-free period will mean that the standard 13.50% rate will be levied on the remaining transferred debts, though, until they're fully settled.
The annual fee is nil and the smart purchase rate gives you 0% interest for purchases of $1000 or up.
If you do pick this card, just remember to transfer your balance within the first 30 days of having your card to get the 0% interest period. This is a top-tier credit card for closing your short-term debts, with an attractive interest rate and no annual fee — definitely one of the best 0 balance transfer NZ credit cards.
Pros
0% balance transfer rate for 6 months
0% purchase interest rate for 6 months
No account fee – ever
Great help to pay off your debts faster
Low standard interest rate of $13.50
Cons
2) Westpac Low Rate Mastercard
For Balance Transfer Card for Long-Term Credit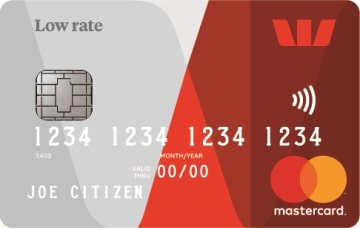 Find it tough to pay your full credit card balance every month? Well, Westpac Low Rate Mastercard is the answer to your problems.
It has a fantastic 13.45% p.a. interest rate and 5.95% p.a. transfer rate. Coupled with them is an affordable half-yearly fee of $12.50.
Additionally, it's one of the best 0 interest credit cards in NZ too with an up-to-55-day interest-free period.
Furthermore, if you're travelling abroad, you can withdraw cash from Global ATM Alliance ATMs for free.
Moreover, the Westpac Low Rate Mastercard also has your security covered. They let you temporarily block your credit card as soon as you notice fraudulent activities.
And lastly, you have the backing of a 24/7 customer support team, if you are having card issues or have general enquiries.
Pros
Ideal for long-term credit
Low 13.45% interest rate
Low half-yearly fee of $12.50
0% interest-free period for up to 55 days
Can be used at more than 35 M locations worldwide
Can link with other Westpac credit cards
24/7 customer support team
Fraud-secured
Cons
3) Co-operative Bank Fair Rate Credit Card
Most Versatile Balance Transfer Card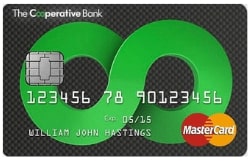 Want to avoid the costly interest rates of other credit cards? Our advice is to apply for Co-operative Bank's Fair Rate credit card.
The interest rate for purchases is at 12.95% p.a., though it's not fixed. The special balance offer is 0% p.a. for 6 months, after which the normal 12.95% rate will apply.
To start the 55-day free interest period, the monthly balance should be paid, and the entire transferred balance has to be settled.
Moreover, the account fee costs $10 half-yearly with a floating interest rate again. You also get 24/7 fraud monitoring to know who's been messing with your card… then again, you can also just block them via mobile app or internet banking.
Pros
0% balance transfer rate from another credit or store card
Convenient mobile app
Up to 55 days interest-free on purchases
24/7 transaction monitoring
Mastercard Zero Liability Policy
Cons
4) ANZ Low Rate Visa
For Low-Rate Balance Transfer Credit Card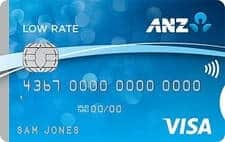 You can pay off what you owe easier than with most other cards with ANZ Low Rate Visa. It offers an unbeatable standard 12.90% interest rate p.a. on purchases and a zero annual fee.
The current special offer is even sweeter, with a 1.99% balance transfer rate for the whole 2 years. You can transfer balance from a different, non-ANZ card as well.
You can even capitalise on the 55-day 0% interest period with purchases. This freedom enables you to save a lot more when you're spending.
Also important is their Visa Zero Liability policy. With this, you receive cover should there be unauthorised charges on your lost or stolen card.
Hence, this is an excellent card for those with considerable credit card debt and who can't completely pay off the balance due each month.
Pros
Leading 12.90% interest rate on purchases
No annual fee
Up to 55 days zero-interest set period
1.99% p.a. balance transfer rate (for 2 years)
Visa Zero Liability policy
Visa Entertainment perks and retailer discounts
Cons
Customer Reviews
No rewards and benefits are offered by the ANZ Low Rate Visa Credit Card. However, you get special Visa discounts and perks.
What's more, Point Hacks, one independent reviewer, concluded:
"The ANZ Low Rate credit card is for those who would like to minimise the interest charged on credit card purchases if they can't pay off the full balance each month.
The current balance transfer promotion is also great for consolidating debt into one account and paying it off over 25 months with no extra interest charges during the promotional period."
5) Kiwibank Zero Visa Credit Card
For Balance Transfer Credit Card with no Annual Fee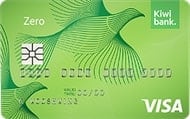 Get 1.99% p.a. for balance transfers for 6 months with Kiwibank Zero Visa Credit Card. However, note that the interest rates are subject to change.
A key highlight is the zero annual fee for yourself or joint cardholders. This lets you rake up more savings over the year and for the next.
The Zero Visa's interest rate is at 13.95% p.a. — fair and low. Furthermore, you get up to 55 interest-free days, as long as you pay your due balance each month.
Note that you should pay 5% of your monthly statement balance or $10, whichever is the greater amount, to continue using the card and avoid a late payment charge.
Still, with zero annual fees and a competitive balance transfer rate, the Kiwibank Zero Visa Credit Card is great for everyday use!
Pros
1.99% balance transfer rate for 6 months
Relatively low interest rate
Up to 55 interest-free days
No annual fee
Cons
Interest rates are subject to change
Short-term low balance transfer rate
Not a lot of benefits
That concludes the list of balance transfer credit cards in NZ. With these, your growing debts will come to a stop through low transfer and interest rates.
Do you have any questions or suggestions about the topic? If you have one, let us know by writing a comment below, and we'll get back to you in a bit.
Since it's already summer in New Zealand, you might want to check out heat pumps in New Zealand. You can use your balance transfer card to purchase one for your home.