The 7 Best 3D Printers in New Zealand
Hoping to bring your creative ideas and designs to life through 3D printing? If so, you're on the right page, as we've outlined the best 3D printers in New Zealand.
3D printers are brilliant devices that let you print out physical items based on a three-dimensional design on your computer. That can be anything from a small model of a horse to one of your own hand!
At the moment, there are a lot of 3D printers available to end consumers. But first, how do you know which of them is the one you really need and is worth the cost?
Well, to help with that, we'll show you how to choose a good printer. Hopefully, this will effectively guide you when it's time to pick from our list of products, which will follow.
Afterwards, we'll show you our top picks for the best 3D printers in New Zealand! At any rate, let's start!
Things You Need to Know Before Purchasing a 3D Printer
Since 3D printers are very costly, it makes perfect sense that you take time to think about what you're getting and ensure it's the right one for your needs. These are the things you have to factor in from the outset:
1)   Type
Basically, there are 3 different types of printers: Fused Deposition Modelling (FDM) printers, Stereolithography (STL) printers, and Selective Laser Sintering (SLS) printers. The types are based on the method of 3D printing used.
Most of the printers in this list are FDM. But we've also featured the second type, stereolithography ones. Let's define each type.
Fused Deposition Modelling – Creates your 3D model via intense heat from the lowest layer and works its way up until the printing is done. This type uses filaments as its 'ink', such as ABS, PLA, nylon, flexible PU, and more.
Stereolithography – This is a method of printing typically more accurate than FDM. It manages to capture the smaller details and complexity of your design.
It works by directing UV light onto a special liquid out of which your model will print. It uses resin as its base material to build your model. As it produces a precise representation, it's commonly used in dental applications as well.
Selective Laser Sintering: From the name itself, this type primarily uses laser and powder. The laser is aimed at the powder to create the model from layer to layer.
This type is the most high-end and can even produce metal printouts, something that the other two types can't do.
2)   Materials
There are lots of materials you can make your figurines in. Your choices include ABS, PLA, PEEK or polyurethane… but not all printers support all the options.
Thus, you have to check the 3D printer if it supports your chosen printed material.
3)   Quality
In our list, you will come across 2 quality indicators: printer speed and printer resolution.
Simply put, printer speed is the rate at which your model will be completely printed. It is measured in microns per second.
Whereas printer resolution refers to the detail it's able to capture. Bear in mind that the lower the micron, the better the printer is able to produce the details of the figurine or model.
4)   Safety
Since 3D printers involve the use of heat burning plastic, fumes are emitted into the air when they're running. This can pose a health risk, especially for the pulmonary system or the lungs, as well as other organs.
Therefore, it comes as a true lifesaver for a printer to have HEPA air filtration and carbon filters. They help to dramatically reduce the harmful chemicals to which you're exposed when using these things.
5)   Software
Software makes it possible for the printer to translate your drawing or concept into logical steps for printing. You want to check that the software is easy to use, naturally.
Of course, WiFi connectivity makes everything easier and convenient, so we definitely suggest looking for printers with it.
6)   Price
For newbies, you can stick to the basics. As long as the printer has excellent usability and a good-enough printing resolution, there's no point in paying for something more costly.
Higher-end models usually boast a better printout quality and build volume, though that depends. Most of them are also very durable.
And FDM models are the least expensive if you're trying to keep costs down. The other types may be more versatile, but not everyone needs that.
The Best 3D Printers in New Zealand
Now that you have an idea of what to consider before investing in a 3D printer, here are the best 3D printers in New Zealand. Apply what we said above when choosing a product from this list:
1)   FlashForge Adventurer 3 3D Printer
3D Printer for All Skill Levels
Price: $750
Check It Out On 3D Printer Store NZ
Print Speed: 10 – 100 mm/s | Print Resolution: ±200 mm | Device Size: 388 x 340 x 405 mm | Software: FlashPrint | Noise: < 45 dB
If you're new to the 3D printing game, then have a look at the FlashForge Adventure 3D Printer. With ergonomics and great print quality, it's the reliable choice for all skill levels.
It's a sleek and compact printer with a decent price… and it delivers the goods. It even features an intuitive 2.8-inch coloured touchscreen to monitor the real-time data of your 3D printer.
You can also access them via the FlashCloud or PolarCloud software included. Even if you're stopping by for your coffee fix or doing an errand, you won't miss a beat!
With a more or less 200-micron print quality, it can produce your 3D model right down to most of the details. This precision standard directly competes with higher-end 3D printing systems.
Furthermore, it's best at printing ABS or PLA (polylactic acid), although it can also print a variety of materials like silk, metal, wood and PET!
Pros
Remarkable printing quality for ABS and PLA
Very simple to load the filament and remove the object
Printer of choice for all skill levels
Prints a variety of materials
Cost-effective price
Cons
Extruder can unexpectedly get stuck in the middle of a printing job
Customer Reviews
A first-time user of the FlashForge printer mentioned he was happy with the result and stressed that it worked well on PLA on standard settings.
Moreover, another reviewer posted his feedback on the FlashForge website:
"Great quality printer! Very low noise printer! Heats up very fast and with handy flex buildplate."
2)   Creatbot F160 3D Printer
Best Overall 3D Printer
Price: $2100
See It Here On 3D Printer Store NZ
Print Speed:  70 – 300 mm/s | Print Resolution: 40 mm | Device Size:  370 x 320 x 490 mm | Software: CreatWare, Simplify 3D, Cura, Slice 3r and others
For ultra-detailed and high-speed printing, look no further than the Creatbot F160 3D Printer. It is among the best 3D printers in New Zealand as it has a 40-micron print quality!
It features a nozzle capable of generating 420℃ heat to create prototypes or figures in a range of filaments — ABS, PLA, nylon, and tough and corrosion-resistant PEEK, to name a few.
Housed in a fully enclosed steel chamber, its durability is supreme, with their first batch production lasting as long as 9 years and logging in 30,000 hours of printing.
What's more, its plate is the perfect heating zone, reaching up to 150℃. This is topped with specialised BuildTak stickers to prevent the object from unexpected melting errors.
And for a unique feature not found in other 3D printers, Creatbot F160 cleverly saves the last point where you left off on your printing. This means fewer re-prints and wasted filaments.
Pros
Ultra-accurate and tremendous speed in 3D printing
Can build in a wide range of filaments
Fast and regulated heating chamber
Minimises noise output
Incredibly durable
Saves the progress of your printing
Cons
No cloud-based connection
3)   UP Mini 2 3D Printer
Safe and Portable 3D Printer
Price: $1,353.78
Print Resolution: 150 – 350 mm | Device Size: 255 (W) x 365 (D) x 385 (H) mm | Software: STL 3D
The UP Mini 2 is a friendly, neat and compact 3D printer that is an upgraded version of its predecessor. It can print out an object with superb clarity at 150 microns per layer!
Its main attraction is the HEPA air filtration system that works to substantially lower your exposure to Ultra Fine Particles (UDF) that can cause lung and breathing problems.
It now features a WIFI connection so you can centralise your UP printers and print from afar. This is also made all the easier with the new touch-screen feature.
Also, it has auto-resume. Suppose the power went out suddenly and halted your progress, for example. With its auto-resume function, the printer can resume its work right where it lost connection.
It also stores your 10 previous sets of data in case you'd like to re-print them.
Relocating isn't a problem either, as it is fitted with an aluminium handle with which you can transfer it to another table or a different room. Simply retract it when done.
In short, in terms of safety, size and value, the UP Mini 2 is a brilliant 3D printer! We strongly recommend it if you need something portable.
Pros
HEPA air filtration technology
Portable, small and nifty design
WIFI connectivity
Affordable price
Cons
Can't build with third-party filaments
Less durable components
Customer Reviews
Although the reactions on Amazon have been mixed, there have been lots of people who noted its quick setup from the first unboxing, topnotch quality (which can compete with top models) and great software.
One customer, Roberta A. wrote this reliable review:
"I ordered the UP mini 2 as a gift for my son. One of my concerns in using a 3D printer is with the fumes from melted plastic. My son's school insists their 3D printers are both enclosed and have a HEPA filter for fumes. This printer is the only one I could find that meets these requirements at a price (well) below $1,000. In addition this printer's advanced features were way beyond my expectations with many unavailable on other machines."
4)   UP300 3D Printer
Largest Build Volume 3D Printer
Price: $3,917.19
Print Speed: 200 mm/s | Print Resolution: 50 – 400 mm | Device Size: 850 x 625 x 520 mm
Making an elaborate World War II battleship or coloured F1 racer? Why not build them in the UP300 3D Printer considering its large build volume and super-fine resolution?
But that's just the tip of the iceberg since there's more to this industrial-scale piece of machinery. For instance, it features changeable extruders to work on a variety of filaments you have loaded in.
In particular, there's an extruder adapted to the high heat for ABS, as well as for lower heat for flexible PU and PLA. This ensures that you get more accurate and satisfying prints.
Then, it has cutting-edge HEPA and carbon filters to minimise the harmful fumes and chemicals present when scorching to mold the plastic in 3D printers.
The robust UP300 also features a dual-sided hotplate for easy removal of the model. And it has a receptacle to collect printing waste under the unit, to keep your space clean and tidy.
Pros
Enormous build volume
Produces a sharp and accurate rendition
Can create from different kinds of filaments
Interchangeable hotplate
Features HEPA and carbon filters
Includes a waste collection tray
Cons
5)   MoonRay Desktop 3D Printer
Best STL 3D Printer
Price: $7,445.79
Print Speed: 25 mm/hr | Print Resolution: 75 – 100 mm | Software: RayWare
If you are serious about 3D printing — perhaps you need to use it for commercial or dental purposes — then the MoonRay 3D Printer is for you!
Unlike the previous printers in this list, MoonRay beams UV light onto a sticky, vibrant liquid within the printer until it solidifies to create the model.
And instead of using filaments, the MoonRay 3D printer makes use of various types of resin in different colours suited for your preference and needs.
The unit prints really fast at 25.4 microns, and it's capable of printing more than one model at the same time. This saves time and effort and increases your productivity manifold.
With the RayWare, it's relatively easy to create your own dream prints. When your figure is ready, you just need to remove support structures to unveil your masterpiece.
Pros
Creates exquisite resin models
Large build volume
High-speed and multitasking performance
Builds well-placed support structures for your model
Resin tank is 25 times more durable than other printers
Cutting-edge RayWare software
Cons
6) Creality3D Ender-3 V2 3D Printer
Price: $477.39
Print Speed: 180 mm/s | Printing Size: 220 x 220 x 250mm | Device Size: 440 x 410 x 465 mm
But if you're still a beginner in this new technology, you may want to consider the cheaper yet functional alternative that is Creality3D Ender-3 V2.
This 3D printer is a level-up from the previous Ender-3 models. With a tempered glass in place of the old detachable magnetic heated bed, the Ender-3 V2 will have less filament residue accumulation, which would then result in neater first layer printing.
Another upgrade of this version is that it uses a meanwell power supply. It can even resume its operations and continue its work even after a power outage.
This version also uses a silent board, with a noise level at a maximum of 50 decibels only. Creality3D Ender-3 V2 also has adjustable belts so you can customise its printing capabilities to your own standards.
And unlike most cheap 3D printers who only use ordinary LCD screens, the Ender-3 V2 uses a color screen with updated user interface.
Pros
Affordable 3D printer
Silent board
Resumes after a power outage
Toolbox for storage of tiny accessories
Tempered glass bed
Cons
Difficult to operate Z-knob
Poor customer support
Customer Reviews
Learn more about what 3D printing enthusiasts have to say about the Ender-3 V2 printer with this customer review:
"The Ender is a great printer for beginners and advanced manufacturers alike. Beginners can use it due to its ease of use, while advanced people can make many modifications to really extract the printer's true potential."
7) CreatBot F430 PEEK Edition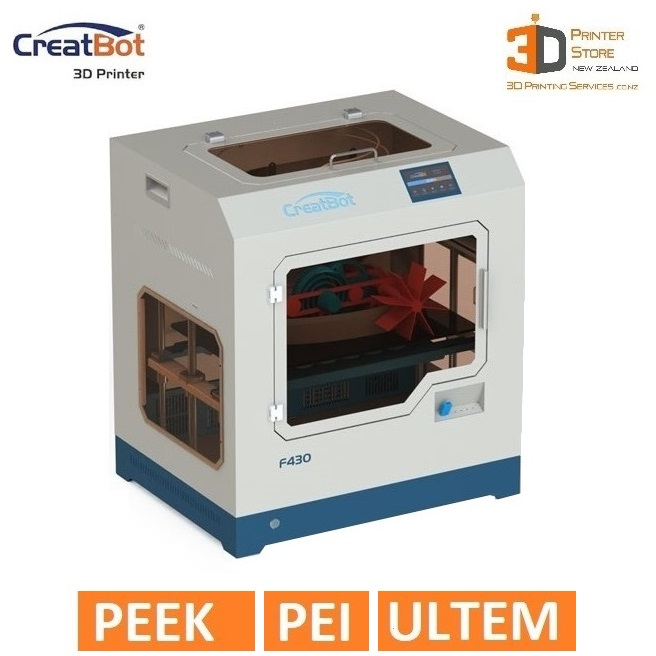 Price: $5,800
Get It Now From 3D Printer Store
Print Speed: 120 mm/s | Printing Size: 400 x 300 x 300mm | Device Size: 400 x 300 x 300mm
The CreatBot F430 is a printer you can rely on to work at all hours of the day, with most of the materials possible. It delivers the best when it comes to both heavy-duty and intricate work.
It is able to work with a wide variety of materials thanks to its hotend, which can withstand temperatures of up to 420°C. Meanwhile, its extruder feeding and guide rail system ensure pinpoint accuracy of up to 0.04 mm. 
The whole-steel body ensures that the machine can serve you for a long time. Best of all, the easy-to-use touch screen ensures that your printer can be calibrated to your preferences with no issue.
Pros
420°C high-temperature nozzle
Can print with various materials
Replaceable hotend
High precision and speed
Cons
And there you have it — the best 3D Printers in New Zealand. As you have seen, there are endless possibilities for you when you have one of these superb printers.
Do you agree about the products we listed here? We'd be glad to know, just send us a message, and we'll get back to you in a bit.
Aside from that, you might like to get a new monitor to help you better work on or preview your designs for your 3D printer. In this case, you can see some of our suggestions in the best computer monitors in New Zealand.