The 8 Best Acupuncture Specialists in Wellington
Acupuncture is a proven and effective therapy that stimulates the flow of energy in your body while helping relieve pain or stress. If you're in pain or stress, you're in luck, as we've outlined the best acupuncture specialists in Wellington for you today.
The acupuncturists we selected are all certified, reputable, and very skilled in the art. Without any delay, let's now delve into our list of the best acupuncture specialists in Wellington!
1)  Nate Wafstet – Acute-Acupuncture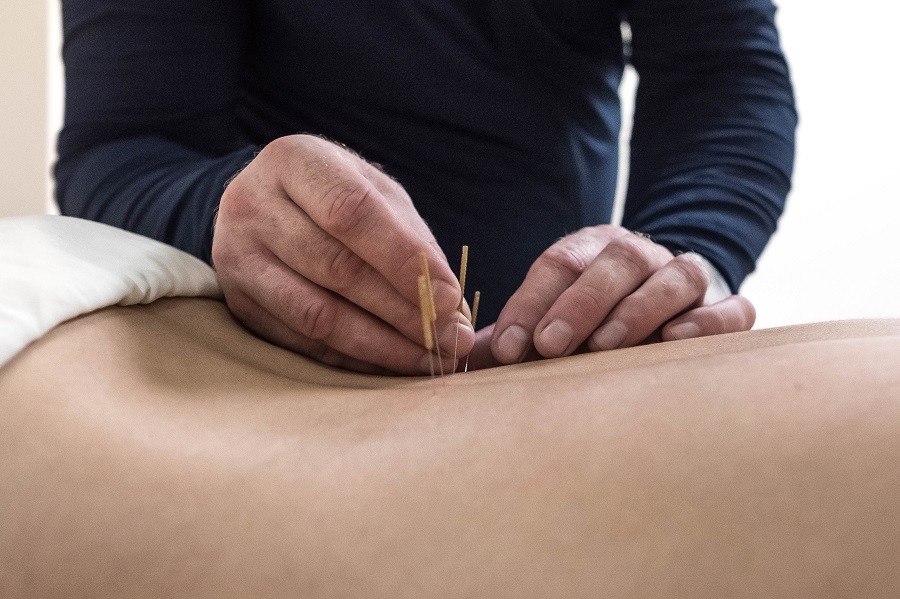 | | |
| --- | --- |
| Best for | All round acupuncturist and tuina medical massage |
| Treatment in | Mental/emotional disorders, musculoskeletal conditions and chronic conditions |
| Address | 163 The Terrace, Wellington Central, Wellington 6011, New Zealand |
| Contact no | 021 908 096 |
| Website | https://www.acute-acupuncture.com/ |
Acute Acupuncture is focused on unlocking the body's power to heal itself and understands the importance of enabling its patients to achieve optimal health and wellbeing.
We specialize in a wide range of medical conditions from mental/emotional problems (including addiction, anxiety, depression and reducing stress) to musculoskeletal problems (including repetitive strain injury (RSI) and any accident covered by ACC). We also support patients with chronic conditions such as chronic fatigue, fibromyalgia, endometriosis, polycystic ovaries, adrenal fatigue, arthritis and migraines.
After gaining a wide range of experience as an acupuncturist and tuina practitioner in different settings throughout the greater Wellington Region including Hutt Hospital Maternity Acupuncture Clinic, a community outreach program at Arohata women's prison, at Bendy Buddha, at Achilles Clinic, and as a Teaching Assistant and a Guest Lecturer at the New Zealand School of Acupuncture and Traditional Chinese Medicine (TCM), Nate Wafstet identified a gap in the market and opened up his own clinic on The Terrace in Wellington Central where he could incorporate the experience and skills that he had acquired to build a thriving inner-city practice.
There's nothing more satisfying than watching the progression of each patient when they embark upon their personal health journey, and Nate has great passion to help facilitate patients to achieve their health goals.
Highlights
Wellington's highest rated practitioner
ACC approved treatment provider
Experienced in treatment of a wide range of heath conditions, including highly complex cases
Specialises in auriculotherapy to treat mental/emotional disorders in particular post-traumatic stress disorder (PTSD), stress and anxiety
Guest Lecturer at the New Zealand School of Acupuncture and Traditional Chinese Medicine (TCM)
Registered acupuncturist with Acupuncture New Zealand
Customer Reviews
Robert Beno on Google Reviews :
Nate is the real deal: Thrilled I found this guy while travelling through Wellington cause he is an accomplished professional and a true expert. Having been to several dozen acupuncturists over the years in various countries from Australia, NZ, the UK and USA, Nate is up there with the best and tackled my head tension and related pain in a new, creative and unique way that many others before did not and this has produced great results and tremendous relief. His keen observation, deep knowledge, clever questions, insightful pulse analysis and tongue diagnosis all worked in concert to bring about a good shift in just 2 sessions. I have great admiration for his ability to get to the heart of the issue and deal with the emotional side that underlies the issues, too. All round, hands down, this is someone who is a gift to the clients fortunate enough to see him. Thanks!!!  
Kayana S on Google Reviews :
I've been seeing Nate for a few months now, and I couldn't recommend him more! As a qualified massage therapist, I am often very sceptical of other therapists. However, I have been blown away by the knowledge and treatments I have been offered over this time. Nate has a deep understanding of the human body and health that puts me at ease. The treatments have almost completely rid me of muscular tension in places that regular massage hasn't, along with relieving stress and aiding my overall wellbeing. Absolutely fantastic job, can't wait to come back!  
2)  Janine Nana – City Acupuncture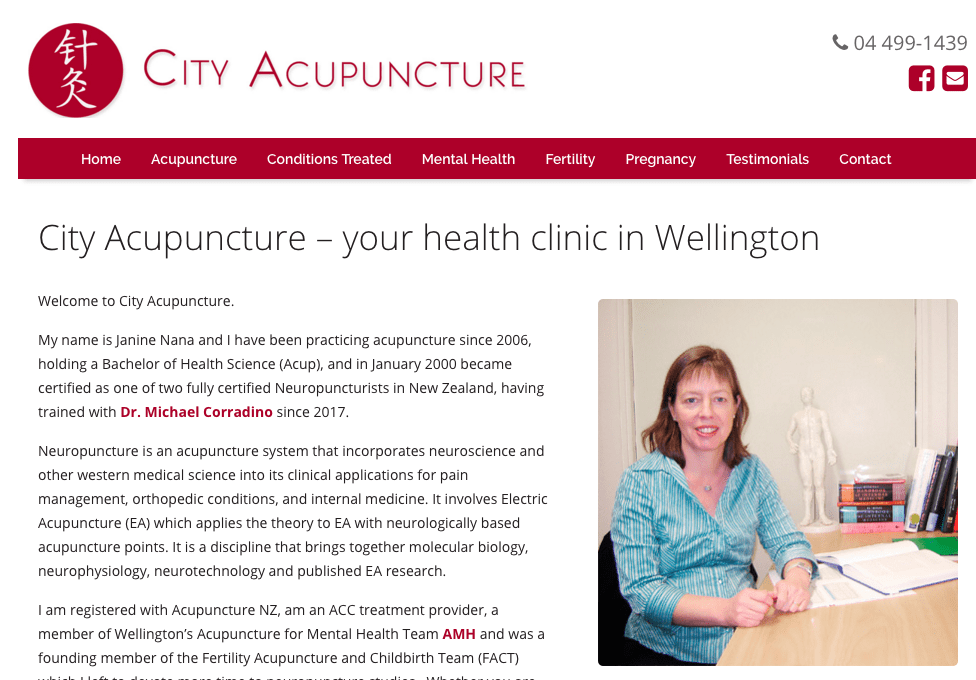 | | |
| --- | --- |
| Best for | Neuropuncture Treatment |
| Treatment in | Women's Health, Sports, Digestive Ailments, Mental Health, Urogenital Disorders, and Cardiovascular Disorders |
| Address | Level 4, 166 Featherston Street, Wellington CBD. |
| Contact no | 04 499 1439 |
| Website | https://www.cityacupuncture.co.nz/ |
Integrating the classical acupuncture technique with modern neurophysiological knowledge, Neuropuncture helps to treat pain, mental health disorders, and disability problems.
Janine Nana specialises both in the new ways and old techniques of Acupuncture and Neuropuncture. She is a certified Acupuncturist and a Wellington Acupuncture Mental Health member.
Basically, you can see her for mainstream or supplement therapy. She also looks after pregnant women to strengthen their bodies and minds in preparation for delivery or labour.
Highlights
Proficient in Acupuncture and Neuropuncture
Can treat a wide variety of conditions
Licenced acupuncturist
Customer Reviews
Meenal said this the testimonials page on Janine's website:
"I went to see Janine for pre-birth acupuncture. We welcomed our daughter on 12th May and it was a really positive birth and not too long as well. My midwife was really impressed with Janine and said acupuncture had done a great job to help me have such an easy birthing experience."
3)  Coco – The Acupuncture Woman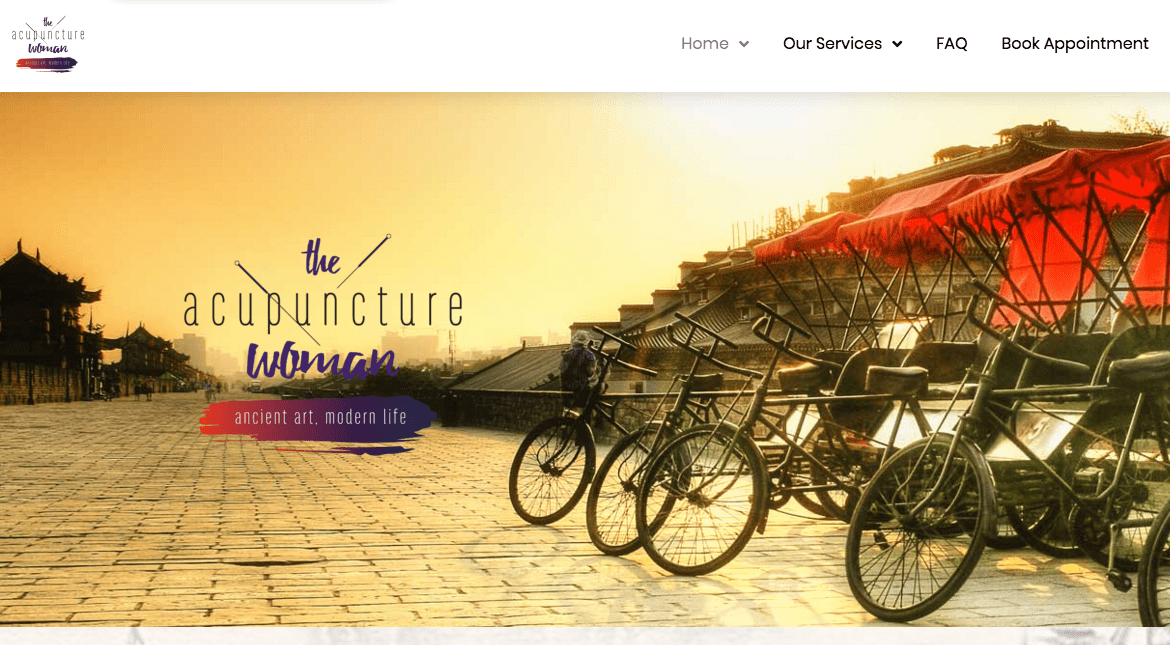 | | |
| --- | --- |
| Best for | Menopause and Fertility Issues |
| Treatment in | Sporting Injuries, Women's Health, General Well-being, Chronic and Acute Pain, Pediatric Health, and Migraine |
| Address | 133/139 Tory Street, Te Aro, Wellington 6011, New Zealand |
| Contact no | +64 210 388 375 |
| Website | https://theacupuncturewoman.co.nz/ |
Coco is trained in Traditional Chinese Medicine (TCM), which has been used for over three thousand years. She graduated with a degree in TCM and offers acupuncture, cupping, and herbal medicine.
She and her team are members of the Fertility and Childbirth Team acupuncture group. They have a particular interest in treating menopause and fertility issues for men and women through acupuncture.
Her goal is for you to feel and live better — and you will by natural means and therapy. Her clinic is located in Central Wellington, hidden inside a yoga studio.
Highlights
Completed a degree in TCM
Wide range of classic treatments
Keen on fertility or women's health issues
Customer Reviews
From Google Business, Nina Fountain writes:
"Coco is nothing short of amazing, she has a great breadth of knowledge and works very effectively person-to-person – such a wonderful combination. I was impressed with her ability to identify the real issue straight away & give me ideas in addition to acupuncture as to what I could do. I have no hesitation in giving a full recommendation for her services – don't wait to see her."
4)  Rachel McGrath – Ascent Acupuncture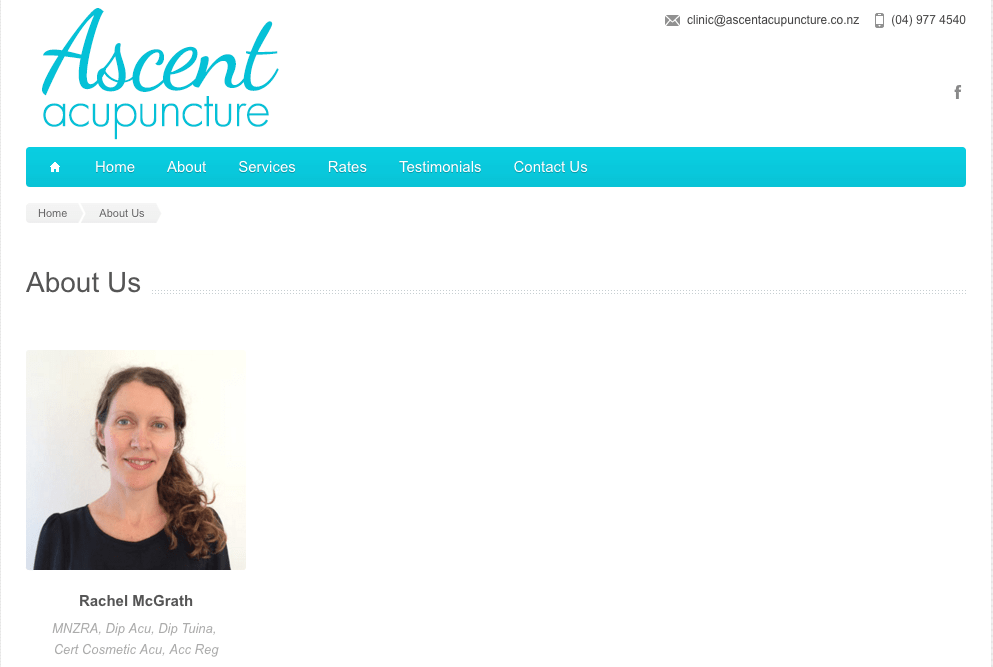 | | |
| --- | --- |
| Best for | Personal and Acu-Cultural Approach |
| Treatment in | Physical and Work Related Pain, Fertility, Pregnancy and Postnatal Care, Migraines, Asthma, Sinusitis, and Neurological Conditions |
| Address | 9 Park Road, Miramar, Wellington |
| Contact no | (04) 977 4540 |
| Website | https://www.ascentacupuncture.co.nz/index.html |
Driven by a passion for Asian treatment and culture, Rachel McGrath is another of the best acupuncture specialists in Wellington. She is a qualified acupuncturist who brings a personal approach to acupuncture.
She has 15 years of experience in treating clients by the use of acupuncture, cupping, and herbal therapies. If you have any persisting aches or issues, have a consultation with Rachel.
Like others on this list, she is also a part of Fertility and Acupuncture Childbirth Team (FACT) that serves to increase awareness of the benefits of acupuncture for future mums. Pregnant women may thus be especially interested in her services.
Highlights
Brings a personal approach
Passionate and knowledgeable
Conducts prenatal classes for women
15 years of experience
Customer Reviews 
A Wellingtonian, Sarah came to Rachel to help her deal with her autoimmune disease. She was glad she went to this clinic and continued:
"Rachel has been incredibly supportive, understanding and patient, and has helped me navigate my way through living with and managing my disease. I also seek acupuncture for the side effects of medication. I would absolutely recommend it."
5)  Sharlene McInnes – City Osteopaths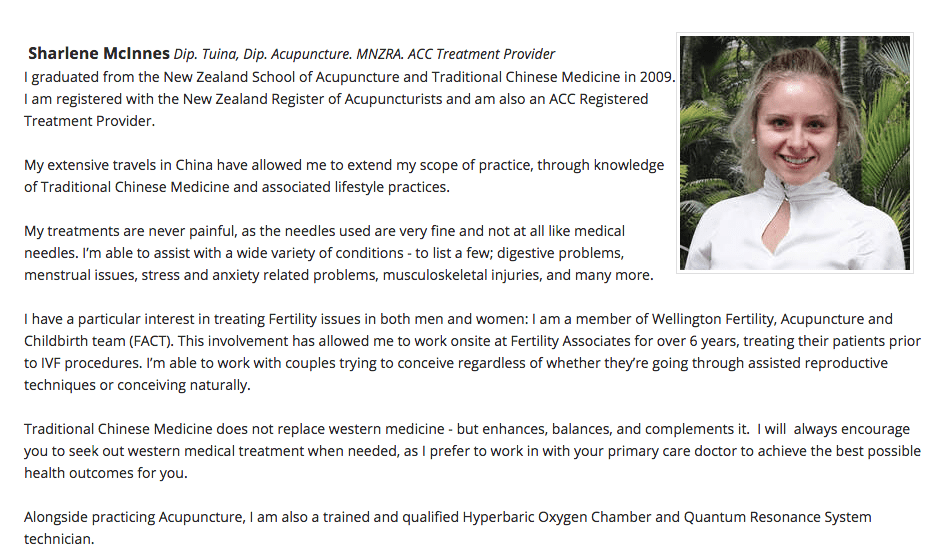 | | |
| --- | --- |
| Best for | Assisted Reproductive Treatments |
| Treatment in | Digestive Problems, Menstrual Pains, Stress and Anxiety, Musculoskeletal Conditions, and others |
| Address | Level Four/166 Featherston Street CBD, 6011, New Zealand |
| Contact no | +64 4 499 1439 |
| Website | https://www.cityosteopaths.co.nz/ |
For an excellent acupuncture experience, set an appointment with Sharlene McInnes at City Osteopaths. Her belief is that acupuncture can work hand-in-hand with western treatments and she can work with your doctors, as a result.
She has treated spouses who had trouble conceiving by acupuncture or assisted reproductive methods such as IVF or fertilising outside of the body.
Aside from that, she can help treat muscle pains and strains, indigestion, stress and anxiety problems, insomnia, and colds, amongst others. Hence, she's one of the best acupuncture specialists in Wellington.
Highlights
Painless treatment
Specialises in men's and women's fertility issues
Can work with your doctors
Treats a breadth of health issues
Customer Reviews 
This came from Kuno van der Post and was posted on the testimonials from the website: 
"Sharlene helped me with a persistent and unsightly skin condition, which cleared up completely after the second treatment. Her approach was friendly and reassuring, the treatment very relaxing, and even the needles were not at all painful. I'm extremely grateful. Thanks, Sharlene!"
6)  Jane Huang – Good Health Acupuncture and Herbal Clinic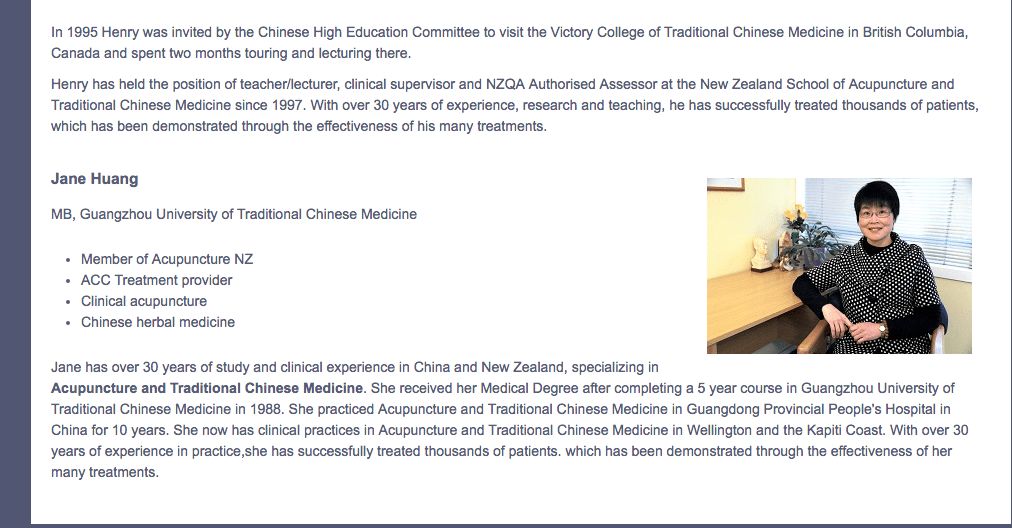 Best for
All-Around Acupuncturist
Treatment in
Sports Injuries, Tennis Elbow, Back Pain, Sciatica, Shoulder Pain, Chronic Fatigue, Migraine, Allergies, Women's Health Problems, Sinusitis, and General Well-Being
Address
Unit 231 A, Level 1 Left Bank Cuba Mall

Wellington New Zealand

Contact no
+64 4 385-8289 or 021 1330025
Website
http://www.goodhealthacupuncture.co.nz/
Jane Huang is a 30-year veteran of acupuncture and traditional medicine. Having earned the recommendations of a grand number of patients, she had to be included in the list of the best acupuncture specialists in Wellington.
She earned her Acupuncture degree from Guangzhou University of Traditional Chinese Medicine. Then, she worked at Guangdong hospital for a decade before she immigrated to Wellington.
Whether you have sinusitis or chronic pain from diabetes, she can treat you with amazing results. Currently, she has offices in Wellington and Kapiti Coast.
Highlights
Qualified and registered acupuncturist
More than 30 years of experience
Can treat a full spectrum of health issues
Customer Reviews
Louise Langdon says on Google Reviews:
"I have been seeing Jane and sometimes Henry in the  Paraparaumu Sunday clinic for two years. I would not go anywhere else. These two are excellent accupuncturists. Highly recommend."
7) Natalie Floyd – Tao Clinic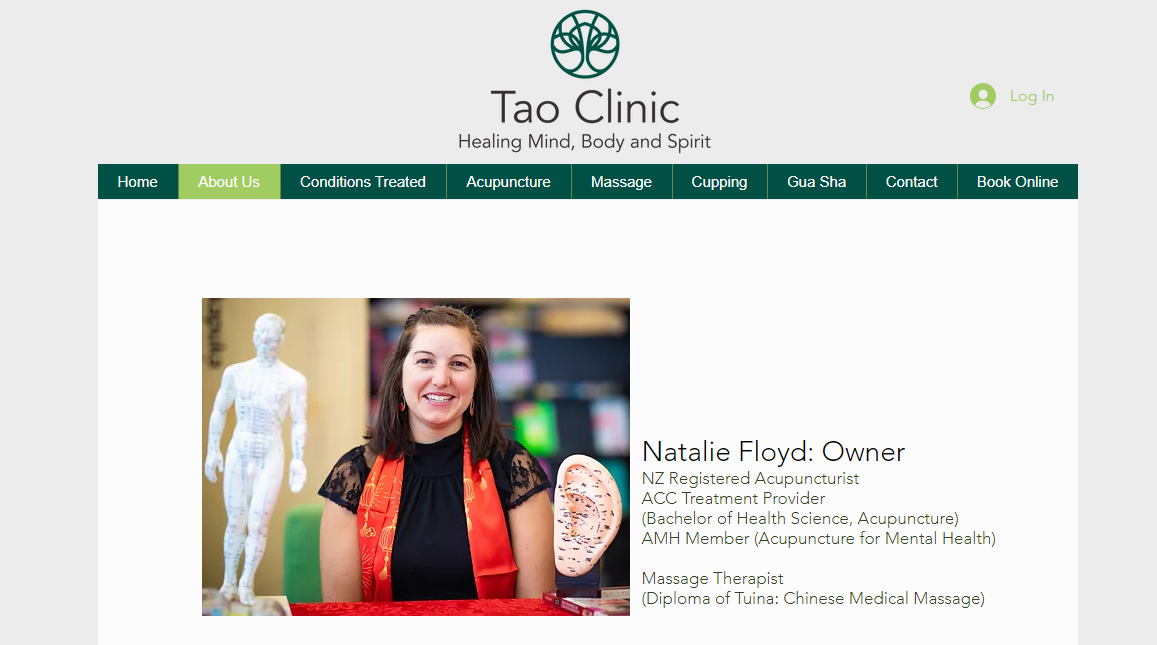 Best for
Chinese Medicine
Treatment in
Pain and Injury
Depression
Anxiety and Stress
Menopause
Fertility Acupuncture
Pregnancy Acupuncture
Address
Level 4/64 Dixon Street,
Te Aro,
Wellington Central
Contact no
027 439 6287
[email protected]
Website
https://www.taoclinic.co.nz/
Natalie Floyd, the founder, and owner of Tao Clinic, is a registered acupuncturist and member of the Acupuncture for Mental Health group. She studied Chinese medicine for four years, specialising in both acupuncture and Tui Na, and has expertise in movement therapy.
The combination of Ms Floyd's background allows her to competently and confidently work with patients who have musculoskeletal issues, other pains, and injuries, or simply need help managing chronic pain. Aside from that, she also specialises in treating a number of women's health conditions such as menstrual issues or menopause, and offering fertility support.
Highlights
Offers acupuncture for mental health
Treats a wide array of health issues including pain, injuries, and menstrual issues
Massage and Tui Na available
Customer Reviews
Here are comments left by previous clients:
"Natalie has a warm, calming presence and immediately put me at ease having not had acupuncture treatments before. Over the course of two months she has helped immensely in healing from a back injury. I would absolutely recommend her to anybody."

"Natalie was fantastic!! I felt much more better on my left shoulder pain after I have done acupuncture and cupping treatment with her. She's very careful about how her patient feel about while doing the treatment. Her patience and professional way of explaining the entire procedures of treatment before actually start did give me lots of comfort. Highly recommended !"
8) Chinza Health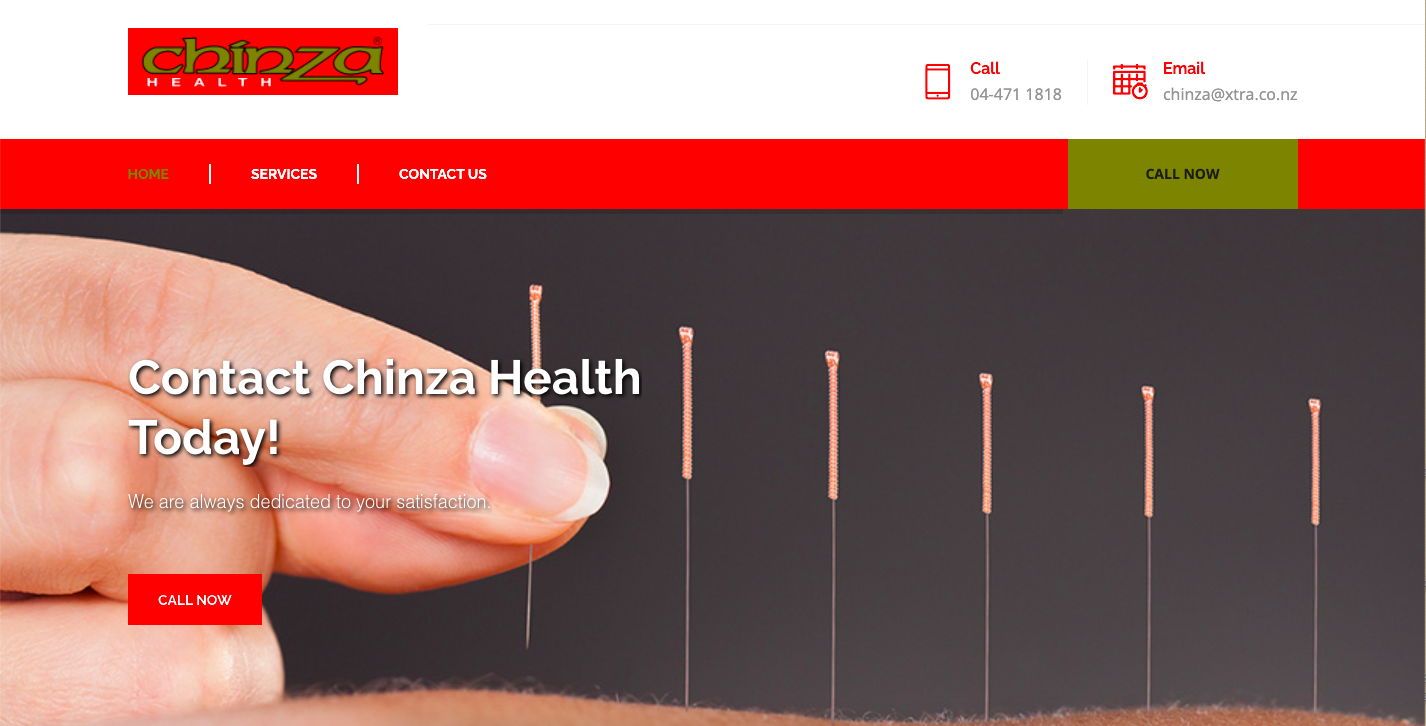 | | |
| --- | --- |
| Best for | Traditional Chinese Medicine |
| Treatment in | All Sports Injuries, Stiff & Painful Joints, Spinal Conditions, Skin Problems, Bowel Issues, Crohn's Disease, Infertility Issues, Migraines & Headaches, Insomnia, Chronic Fatigue, Depression, Menopause Syndrome & Women's Health Issues |
| Address | Level 3/150 Featherston Street, Wellington Central, Wellington, 6011 |
| Contact no. | 04-471 1818 |
| Website | https://www.chinzahealth.co.nz/ |
Dr. Stephen Yan founded Chinza Health with the dream of integrating Western medicine and traditional Chinese medicine.
Located in the heart of Wellington, this centre offers a full range of therapeutic services. Their main services include Chinese medicine, acupuncture, spinal therapy, back pain, sports injury, and women's health and infertility.
They have a holistic treatment approach that combines acupuncture, Tai Chi, and Qi Gong therapy, so follow-ups for their clients are available at a private Dojo in Lower Hutt.
For your first visit, their acupuncture service costs $89. They also accept ACC referrals so you can avail their service for a lower price.
They're trusted by their clients as they've helped manage someone's atrial fibrillation, treated another's psoriasis and infertility, relieved another's chronic injury, and much more. No matter the ailment, the one thing common to clients is that they highly recommend and trust Dr. Stephen.
Highlights
Offers a full range of services

Main services: Chinese medicine, acupuncture, spinal therapy, back pain, sports injury, and women's health and infertility

Holistic approach to treatment

Accepts ACC referrals
Customer Reviews
Here are some Google Reviews from their clients:
"Stephen is treating me for a long-standing health problem and pain,  which is responding well. Stephen has a kind, understanding and patient manner, and I would recommend him to anyone living with pain. Contact Stephen if you want relief…he really listens." – Pamela Gibbs
"Stephen is a great guy, my shoulder has never been better after years with a chiropractor and physio to no avail Steven got it sorted me for. I reccommend him to all my friends and family now" – Mike Clifford
And these are the best acupuncture specialists in Wellington. These licenced acupuncturists will effectively treat your pain and discomfort so that you can go back to living your best life very soon!
Do you agree with our featured acupuncturists? Tell us what you think of them by sending us a message and we will get back to you shortly.
Also, check out the best Wellington physiotherapists, as some of them also offer acupuncture services — and they are fantastic at that. A combination of physiotherapy and acupuncture may do wonders to heal your pain.