The 14 Best Acupuncturists in Auckland
The reason acupuncture is still widely used today is that it's a natural form of therapy with no side effects. If you feel any pain or symptoms you want to have treated by an acupuncturist, don't worry, as we've rounded up the best acupuncturists in Auckland for this list.
Here, we've picked the ones that are very experienced, caring and kind. We also made sure they each have a clean and modern clinic.
At the end of our survey of acupuncturists in the area, we ended up with the ones below as the cream of the crop. So now, without any delay, we present to you the best acupuncturists in Auckland:
1)  Dr Vitalis Skiauteris – Dr Vitalis Acupuncture
| | |
| --- | --- |
| Best for | Infertility Acupuncture |
| Treatment in | IVF, Pregnancy, Pelvic/Period Pain, Endometriosis, Male, Back Pain, Migraine, Neck Pain, Headaches, Anxiety/Stress, Depression, and Insomnia |
| Address | 4/326 Sunset Road, Windsor Park, Auckland 0632, New Zealand |
| Contact no | (09) 486 5111 |
| Website | https://vitalis.co.nz/ |
Dr Vitalis Skiauteris studied Acupuncture and Herbal Medicine at the Beijing University of Chinese Medicine. He has a special interest in curing infertility for both men and women.
To be specific, he looks into issues in relation to assisted reproductive technology, mental health, muscle pains, and chronic pains like asthma, diabetes, and hypertension.
Plus, he's fluent in 4 languages: English, Mandarin, Lithuaninan, and Russian. Surely, there won't be a slightest problem in communication with patients.
Highlights
Specialises in treating infertility through acupuncture
NZ Acupuncture Standards Authority member
Fluent in 4 languages
Customer Reviews
Dr Vitalis has been featured in the Auckland newspaper Sunday Star Times. It reads: 
"Auckland-based acupuncturist and Chinese medical practitioner Dr Vitalis Skiauteris specialises in acupuncture to help treat infertility and has worked alongside fertility clinics"
2)  Angelique Kingsley Smith – Acupuncture Health
| | |
| --- | --- |
| Best for | Thyroid Related Symptoms and Infertility |
| Treatment in | Infertility, Pregnancy, IVF, ACC, Pain Management, and Hashimoto Thyroiditis |
| Address | 182 Mt Albert Rd, Sandringham, Auckland 1025, New Zealand |
| Contact no | 09 629 2787 or 021 203 4203 |
| Website | https://acupuncturehealth.co.nz/ |
For thyroid problems, Angelique Kingsley-Smith would be your best choice. This is because she herself had the autoimmune disease where she felt fatigued and sick for years without even knowing why.
Her qualifications include a degree in Chinese Medicine and a postgraduate diploma in Nursing. She is listed as a member of Acupuncture New Zealand and provides ACC treatment.
Angelique Smith treats Hashimoto's Thyroiditis, recurring body pains, infertility, and pregnancy. Aside from this, she is experienced in guiding couples through In Vitro Fertilisation (IVF).
Highlights
Holds a 4-year degree in Chinese Medicine
Specialises in IVF and thyroid treatments
Knowledgeable and a great listener
Customer Reviews 
Jaleh Edwardson discussed his thyroid problems on Google Business. He writes about his treatment at Acupuncture Health:
"I am struggling with various thyroid related health issues, so I chose Angelique because she has experience in treating these symptoms. I have been struggling with heart palpitations for months now and my heart truly feels calm and the fluttering has stopped. Huge result for my first treatment."
3)  Lee-Ana Lowe – Ana-Med Acupuncture
| | |
| --- | --- |
| Best for | Integrative Acupuncture Treatment |
| Treatment in | Chronic Conditions, Anxiety, Digestive and Respiratory Issues, Injuries and Pain Management, Men's Health, Pediatrics |
| Address | 13 Coyle St, Sandringham, Auckland, New Zealand |
| Contact no | 027 310 7014 |
| Website | http://www.ana-med.co.nz/ |
Lee-Ana Lowe takes an integrative approach to your acupuncture treatment. As long as the treatment is effective for you, she stays with that or can also incorporate other modalities.
She has over a decade of experience of working in Auckland. She holds an Acupuncture degree, Chinese Herbs diploma, and Tuina-Qigong diploma.
Likewise, she is definitely adept in treating infertility issues and women's health. Together with this, she can treat chronic conditions like diabetes, high blood pressure, arthritis, and injuries.
Highlights
Holds an Acupuncture degree and Chinese Herbs diploma
Has been practising for over 10 years
Emphasises a complete treatment approach
Treats children and chronic conditions too
Customer Reviews 
Frank writes a comment from Google Reviews that confirms Dr Lee-Ana to be among the best acupuncturists in Auckland:
"Ana-Med and Lee Ana – Thanks so much for helping me get back on track. Your treatments have been very valuable to my overall health and well being. I highly recommend your service, thanks again. Frank"
4)  Monique van de Elzen – Acupuncture Studio
| | |
| --- | --- |
| Best for | Sports Injuries and Conditioning |
| Treatment in | Digestive Issues, Musculoskeletal Injuries, Stress and Anxiety, Women's Health, Respiratory Issues, Fertility, and Cancer |
| Address | 1234 Great North Rd, Pt Chevalier, Auckland, New Zealand |
| Contact no | 09 815 1551 |
| Website | https://acupuncturestudio.co.nz/ |
Pairing her western knowledge of Physiotherapy with eastern knowledge of Acupuncture, Monique van de Elzen has a large skill set and knowledge base from which to treat a wide array of conditions.
In her own experience, acupuncture and herbs treatment has benefitted her in countless ways. One example was that it cured her irritated and painfully sore skin after she was hit by a toxic spray.
Now she can treat sports injuries, skin disorders, pregnancy, fertility, depression, and anxiety. She is one of the best acupuncturists in Auckland with an east-meets-west approach.
Highlights
Physiotherapy and Acupuncture graduate
Passionate and skilful specialist
Offers a breadth of services
More than 19 years' experience
Customer Reviews
Tanya Eccleston had a terrible pain on her back due to herniated disks. She continued: 
"Monique has a very measured and focused demeanor – her skillful and considered approach to my physical (and emotional) well being was always delivered with kindness, and a plan. When I had made significant progress, she informed me that i didn't need to come anymore – and since that time I have had no recurrent problems."
5)  Selwyn Wong Doo – Wong Doo Health Clinic
| | |
| --- | --- |
| Best for | Down-to-Earth and Caring Acupuncturist |
| Treatment in | Women's Health, Musculoskeletal, Respiratory, Gastrointestinal, Heart, Pregnancy, Neurological, Mental Health, and Addictions |
| Address | 77 Remuera Road, Remuera, Auckland, New Zealand |
| Contact no | 09 524 2133 |
| Website | https://www.wongdoo.co.nz/ |
If you like a caring, witty, and exceptional acupuncturist, then book an appointment with Selwyn Wong Doo. Selwyn is an ACC provider and member of Acupuncture NZ.
His skills are extraordinary, as he is capable of treating a complete range of symptoms and issues in women's health, joint and muscle pain, respiratory, digestive, pregnancy, mental health and even addictions.
He is no doubt one of the best acupuncturists in Auckland, having treated many patients and helped them recover their health and well-being for almost 40 years.
Highlights
Down-to-earth and friendly acupuncturist
Treats a diverse range of symptoms
More than 35 years of experience
Customer Reviews
Kathleen Allison recovered from her surgery and heel pain. On Google Reviews, she said:
"I had surgery for a meniscus tear on my right knee, and I also have osteoarthritis in both knees. The acupuncture treatment, and massages received from Selwyn have significantly reduced the chronic pain and stiffness… 
…Anne & Selwyn are very professional, empathetic, and are delightful to deal with. I would highly recommend Wong Doo for any health concerns."
6)  Claudia Yun – Natural Healing Acupuncture Clinic
Best for
Treatment for a Wide Range of Conditions
Treatment in
Acute and chronic pain such as headaches, migraines, or those resulting from injuries

Stress, anxiety and sleep problems

Fertility support

Gender specific conditions

Cancer support

Skin conditions such as psoriasis, acne, anti-aging, and eczema

Digestive problems such as constipation, bloating, indigestion, and diarrhoea

Any other general health concerns

Address
8 Apirana Ave Auckland, 1072 New Zealand
Contact no
[email protected]

Mob: 021 94 00 11

Tel: 09 528 0277

Website
https://www.nhac.co.nz
Natural Healing Acupuncture Clinic aims to provide a natural and holistic approach to medicine for their clients. With that in mind, they make sure to explore methods that are considered healthy alternatives to traditional medicine.
Their resident practitioner is Claudia Yun, a registered acupuncturist that has a strong passion for healing others. With her help, any condition you're concerned with is sure to be remedied.
Highlights
Natural and holistic approach to medicine
ACC Registered/Accredited
7)  Virginia Jin – Ponsonby Wellness Centre
Best for
Using Acupuncture as an alternative treatment
Treatment in
Before and after pregnancy care, pain management, tendonitis treatments, sports injuries.
Address
43 Brown Street, Ponsonby, Auckland 1021, New Zealand
Contact no
Phone 09 360 1229, 021 0675090

Email [email protected]

Website
https://www.ponsonbywellness.co.nz
Virginia Jin is an experienced Acupuncturist that uses the Traditional Chinese methods and herbal medicines that goes back five generations in her family. Her skills brought some of the worlds famous Hollywood actors and some well known New Zealand sports people to see her for treatments.
Using Acupuncture as an alternative treatment combining with modern medicine to achieve the best outcome for her patients.
Highlights
ACC registered
Can communicate both in English and Mandarin
Relates well with her patients
8) ME Holistic Care
BEST FOR

Medical Acupuncture

SERVICES

https://meholisticcare.co.nz/what-we-can-help-with/

WEBSITE

http://www.meholisticcare.co.nz/

ADDRESS

Remuera clinic

139 Remuera Road, Remuera, Auckland 1050

Norsh Shore Clinic

9C Apollo Drive, Rosedale, Auckland 0632

CONTACT DETAILS

(09) 974 3651

OPERATING HOURS

Remuera clinic

Mon to Sat 8:00am-6:00pm

Norsh Shore Clinic

Wed 8am-6pm
ME Holistic Care is headed by Dr. Michael Mei and Dr. Ella Ji who both completed their PhD in Acupuncture at the renowned Beijing University of Chinese Medicine(BUCM). The school is recognised by NZQA as part of the List of Qualifications Exempt from Assessment. 
Prior to the pursuit of their PhD in Acupuncture, Michael and Ella both successfully obtained their medical licenses by completing their Bachelor's and Master's degrees in Clinical Medicine at the same university. Their achievements incorporated both Traditional Chinese Medicine and Modern Western Medicine that included seven years of study and internship at Wangjing Hospital in Beijing, China.
Highlights
Incorporation of Traditional Chinese Medicine and Modern Western Medicine

Acupuncture
Customer Reviews 
Here's a review from one of ME Holistic Care's clients:
"I am very grateful to Dr. Michael Mei and Dr. Ella Ji for their miraculous acupuncture treatments. I also appreciate very much for their enthusiastic care and concern extended to me. i now realize what holistic care means."
Here's another one:
"I'm suffering from back pain from long time and I was having Physiotherapy and seeing an Osteopath and having zero luck with my back pain. I saw Dr Ella and immediately after two appointments started to notice a difference right away! It's so much better compare to Physiotherapy and now I'm finally getting somewhere as Ella helping me out a lot with skills and care . The acupuncture is helping me to perform normal in my life and getting more mobile. Highly recommend Dr Ella."
9) Dr. Raewyn – Body of Health Acupuncture
| | |
| --- | --- |
| BEST FOR | Ancient art of Chinese Medicine |
| TREATMENT IN | PCOS or PMS, Nausea, Back Pain during Pregnancy, Stress and Anxiety |
| WEBSITE | https://www.bodyofhealth.co.nz/ |
| ADDRESS | Royal Oak, Auckland 1061, New Zealand |
| CONTACT DETAILS | (022) 6009 629 |
| OPERATING HOURS | 24/7 |
If you're looking for an experienced Acupuncturist, then Raewyn is your best choice.
She has a keen interest in providing Women's Health care and is able to assist you in relieving stress and anxiety as well as provide treatment for irregular/painful periods, heavy bleeding, menopause, and many other women's health issues.
She practises the Ancient art of Chinese Medicine for a number of health conditions such as nausea, back pain and breech presentation and past due date labour induction. As well as that you may choose Qigong healing also offered via Zoom.
For any inquiries, Raewyn can be contacted via phone. Consultations can also be made through phonecalls.
Highlights
Free 15 Minute Consultation
Ancient Art of Chinese Medicine
Gives diet and lifestyle recommendation
10) Tineke Logan – Ora Acupuncture
| | |
| --- | --- |
| BEST FOR | Traditional Chinese Medicine |
| TREATMENT IN | Acute and Chronic Pain, Digestion and Bowel Health, Acne, Eczema, Psoriasis, Rosacea, Insomnia, Fatigue. Fertility Issues, Menopause and PMS |
| WEBSITE | http://www.oraacupuncture.co.nz/ |
| ADDRESS | c/o MAMA Maternity 13, Coyle Street, Sandringham, Auckland 1025 |
| CONTACT DETAILS | +64 21 701 113 |
| OPERATING HOURS | 24/7 |
Ora Acupuncture is considered as one of the best acupuncture clinics in New Zealand that provides a wide array of treatments for Acute and Chronic Pain, Pregnancy, Digestion, and Bowel Health, Women's and Men's Health, Skin Health, Mental and Emotional Health.
Their clinic is combined with a Licensed Acupuncturist and Traditional Chinese Medical Practitioner, Tineke Logan. She is a registered ACC provider of Acupuncture in New Zealand. Through her passion for a holistic approach to health and know-how in Traditional Chinese Medicine, you will undoubtedly receive the best quality of patient care suitable for your needs.
Contact them now and become one of Ms. Tineke's satisfied clients!
Highlights
Provides safe practice of medicine
Comfortable environment
Expert in this field
11) Clinic38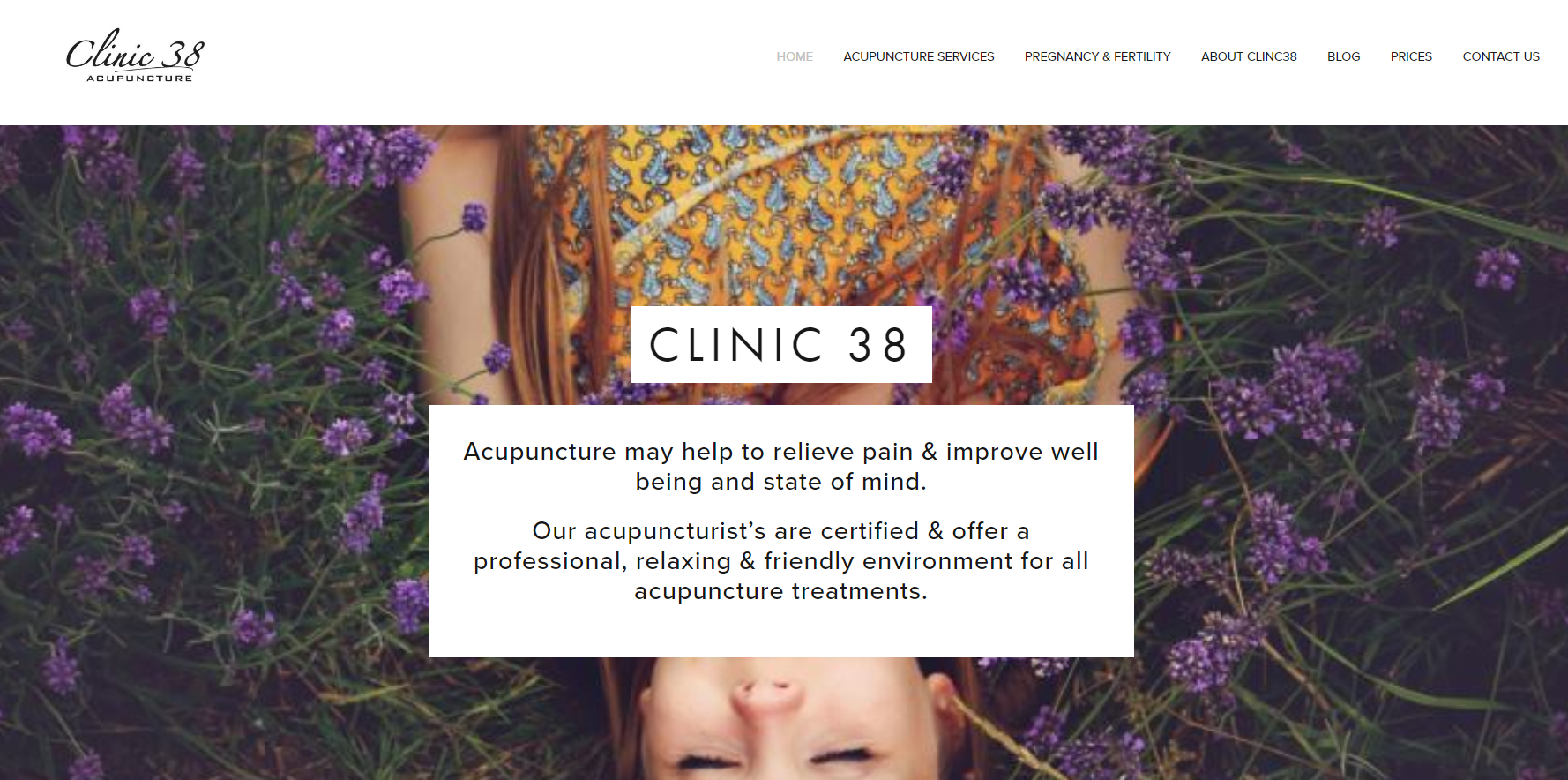 BEST FOR
Acupuncture for Kids and Adults
TREATMENT IN
Neck Pain, Shoulder Pain, Headaches, TMJ Disorder, Smoking addiction, Weight Control, Infertility and pregnancy, Stress Management, Tennis Elbow, Golfers Elbow, Carpal Tunnel, Irritable Bowel, Lower Back Pain, Menstrual Problems, Anxiety, Urinary Infections, Chronic Fatigue, Insomnia, Hip Pain, Sciatica, Menopause, Allergies, Arthritis, Sports Injuries, Sinusitis, Allergies, Sports Injuries
WEBSITE
https://www.clinic38.co.nz
ADDRESS
Orewa Tamariki Plaza
Unit H, 17 – 19 Cammish Lane
Orewa, 0946
CONTACT DETAILS
Tel: 09 424 8537
OPERATING HOURS
Monday 8am – 6pm
Tuesday 8am – 6pm
Wednesday 8am – 6pm
Thursday 8am – 6pm
Saturday by appointment only
A list about the best acupuncturists in Auckland wouldn't be complete without Clinic38. This clinic is most known for offering clients with acupuncture services that have been carefully tailored to suit their lifestyles. Even athletes suffering from sports injuries can benefit from the help of Clinic38.
Leesa Jackson of Clinic38 has deep knowledge of acupuncture, having studied it thoroughly alongside traditional Chinese medicine, massage, and esthetics. Leesa combines Ancient Chinese Philosophy and Traditional Chinese Medicine for the most effective results.
Highlights
Offers acupuncture for pregnancy and fertility
Tailored services
Acupuncture for kids available
12)

Dean Wickenden Acupuncture Yoga
BEST FOR
Yoga services
TREATMENT IN
Acupuncture
Massage
Myofascial Release
Moxibustion
Cupping
Chinese Herbal Medicine
ADDRESS
​Kawai Purapura Retreat Center
14 Mills Lane Albany, Auckland
CONTACT DETAILS
0210347752/[email protected]
WEBSITE
https://www.acupuncture.yoga/
Dean offers a wide range of services from his clinic located in Albany, North Shore, Auckland. He offers acupuncture, massage therapy, myofascial release, yoga classes, and herbal medicine.
Dean specializes in myofascial release and therapeutic massage. He is also an expert in heat therapy, one of the cornerstones of Traditional Oriental Medicine.
Working on the same diagnostic basis as acupuncture, Dean also uses a lot of various techniques. Yoga therapy is one of his holistic approach to healing that can be readily taught to his clients.
Highlights
Acupuncture
Massage
Moxibustion
Customer Reviews
Here are some verified reviews from previous clients:
"I am very lucky to find Dean to treat my back pain. I have been to numerous physios and gps to find no effective treatment for my problem. Sessions with them only lasted 30 mins, with them addressing the issue to a very shallow level and my problem persisted. When I went to Dean I felt like he really took the time to sit down and listen to my complaints. 100% recommend him to anybody."

"Dean helped me with my knee that was in pain since 15 years. Now it's like I had a new knee. I enjoy his holistic approach, combining acupuncture, massages and herbal treatments. I recommend him a lot."
"Dean is the best practicioner I've ever been to – He is the only person in NZ registered and practicing Tibetan yoga and treatment. I would recommend Dean to EVERYONE."
13) Dr Win Huang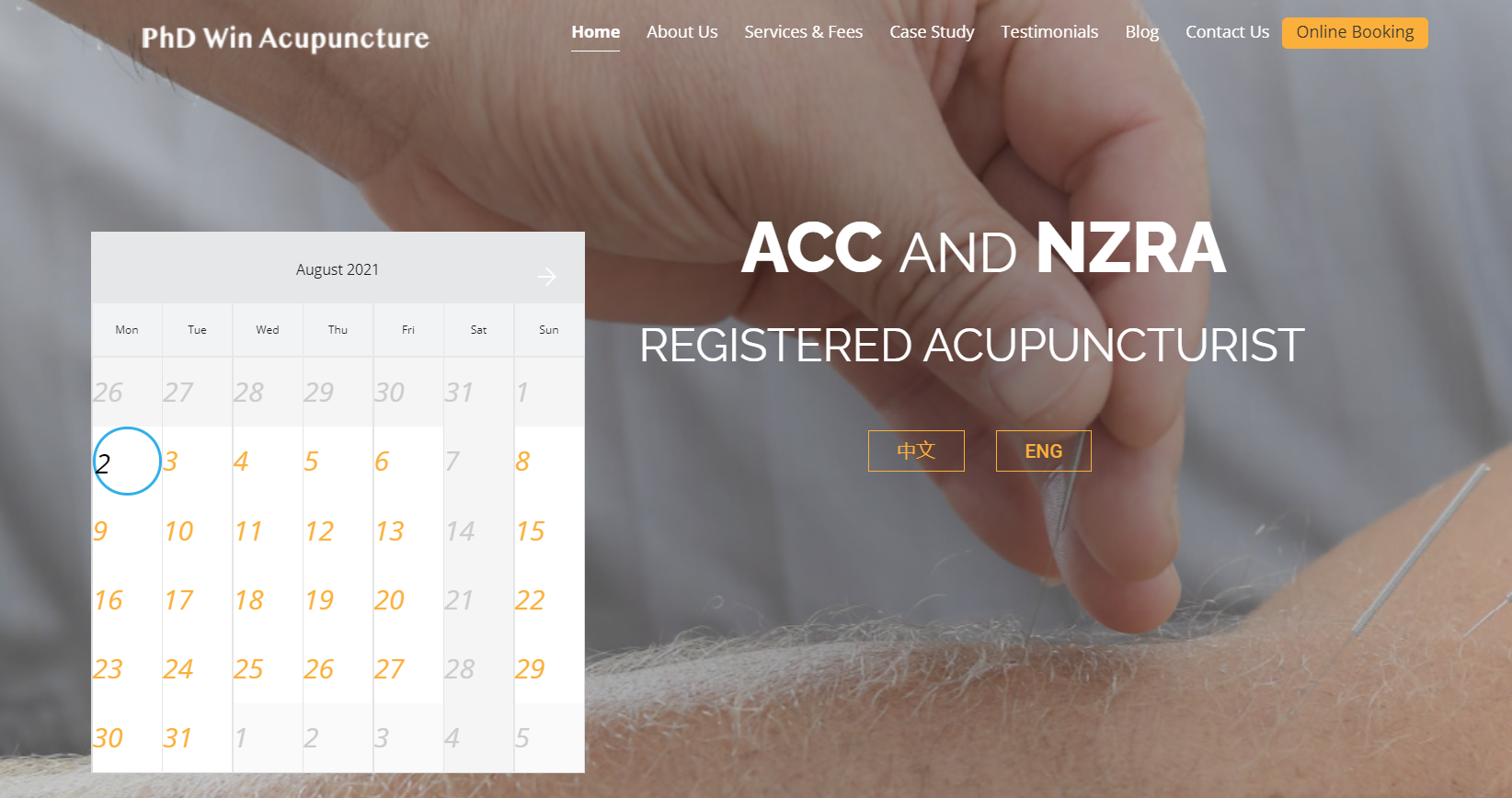 BEST FOR
Acupuncture healing
TREATMENT IN

Severe pains from different parts of the body, urinary tract infection, body pain, nausea, migraine, headache, hemiplegia, facial paralysis, neck pain, shoulder pain, tennis elbow, carpal tunnel syndrome, low pack pain, knee pain, ankle sprain ,chronic fatigue, low energy, low immunity, Repetitive Strain Injury (RSI),migraine, depression, insomnia, menopause and sports injury

ADDRESS
1054 New North Road, Mt Albert, Auckland
CONTACT NO
Tel: 09 8150518 | 0211793736
Email: [email protected]
WEBSITE
http://www.drwin.co.nz/
Dr. WIn Huang is an acupuncture specialist that is an expert in the field of neurology and osteopathy. With over 30 years of clinical experience, his expertise is unmatched, and one that many people recommend.
He learned all his knowledge about traditional Chinese treatment and medicine from another highly esteemed acupuncturist, Shentian Sun. Since then, he has worked at Shandong Hospital in their
Acupuncture Department, and then proceeded to establish his very own clinic after a few years.
Aside from acupuncture, Dr. Win also offers cupping, treatment massage, and herbs. He's definitely one to go to for a holistic service that would guarantee to get rid of pain and discomfort.
Acupuncture services start at $30 which is for the ears, while it starts at $40 for regular cupping. Massages range at about $60 – $90, and the herbs at about $20 – $30.
Highlights
Treats a wide range of bodily discomfort
First acupuncturist with a doctoral degree in Auckland
Provides ACC (Accident Compensation Corporation) treatment
14)

Acupuncture Auckland
Acupuncture Auckland has embodied Chinese medicine (CM), which is more than simply acupuncture. This is because their services are multifaceted approaches to bettering overall health.
It is remarkable that this company provides a comprehensive model to evaluate your signs and symptoms, taking into account your unique body type, current condition, diseases, and surrounding environment.
They are in charge of balancing your Qi using fine single-use needles, either moving or tonifying your energy. I also provide lifestyle and dietary recommendations to assist you in achieving homeostasis, or balance.
Highlights
Rates are available on their website
Provides ACC (Accident Compensation Corporation) treatment
And that's all for the best acupuncturists in Auckland. These acupuncturists will help you get back to health and well-being, no matter what you're going through.
Do you have any questions about our topic so far? If you have any, kindly send us a message and we will get back to you as soon as we can.
Other than that, if you have any feet, achilles tendon, or heel pain, you can go to a podiatrist too. In this case, you can read more about it with our list of the best podiatrists in Auckland.