The Absolute Best Air Fryers in New Zealand
In this article, we will review the best air fryers in New Zealand for a well-prepared, healthy and delicious meal you've always wanted.
We all have our favourite foods that we'd like to have every once in a while. With the likes of French fries, crispy calamari appetiser, lamb souvlaki, or American classics like ham and egg. But a healthy lifestyle calls for us to reduce eating oil-fried foods especially for people with high blood pressure, diabetes, or allergies. Hence the choices of sautéing, grilling, boiling, and broiling serve as a healthier alternative for the early Sunday get-together dinner.
That's not your only option, however, what if there's a way to enjoy your cravings in a much healthier way? Here is where air fryers in NZ comes into play: It cooks your food with little or no oil in a compact container that from the top chamber, the fan releases heated air to flow over completely to the food up, around and under giving it a crispy and indulgent texture and taste without the fatty grease.
Not only can you enjoy those fried foods prepared healthier with an NZ air fryer, but also pizzas, salad, seafood, soup, vegetables, fish, and poultry, you can cook most of them in a good air fryer as long as it has the feature that makes that possible.
Before we list the best air fryers in NZ, let's first explore the benefits of using an air fryer.
Why use Air Fryers?
Your diet and healthy lifestyle count and let's be honest, they will count more in the long run. An NZ Air Fryer assists in that goal. It does it by using Rapid Air Technology, sending heat at a compelling speed to cook all types of food thoroughly (even a chicken rotating on a fork) with little or no oil. This means it is less in calories and less in cholesterol. Therefore, it effectuates in a heathier option than fried foods. And secondly, since air fryers consume far less oil than frying in a skillet or deep-frying, you buy less oil which is economical as well.
Air Fryers have become available in the marketplace since 2017.

What to look for when searching for the best air fryer in NZ
You might have googled Air Fryer and have been overwhelmed by the diverse choice and feedback there is on the kitchen market. We'll focus first on the main things to look for and they are:
Oil-free method– The essence of air fryers is in their ability to cook with little or no oil. Unlike deep frying the food as we see behind fast food counters, it uses convection to allow the hot air to circulate around the food on all sides in the fastest time, letting it cook perfectly while you are occupied for other tasks.
Capacity of the basket– At first look, this can tell how much food can be heated. If you're cooking chicken or turkey or if you're putting a lot of foods together for instance, you should choose maybe a 10L air fryer capacity.
Safety of the air fryer– fryers with a safety lock mechanism that doesn't carry on with the cooking when the lid is not secured is a great plus.
Fast Cooking Time – Some air fryers aren't delivering on their results, as some notice the temperature of the fryer is inconsistent throughout. But chances are a reputable brand has already solved that problem. Besides, that's what rapid air heating is all about. Heating it up evenly and well in under a short a time.
Features– this is important as well as it allows you to toggle your choice for the cooking method. Note that some air fryers aren't specialized for preheating, baking, roasting, or broiling.
Warranty Service– In case you have found a defect weeks or months after buying it or the buttons aren't working like they did just a short time before, a warranty service would help a lot to replace or repair your air fryer.
Now that you know what to look for in an airfryer in NZ, let's begin the list.
The Best Air Fryers in NZ Reviewed
Best for Budget Air Fryer
GoWISE USA 3.7-Quart 8-in-1 Electric Air Fryer
The perfect air fryer for snacks and small meals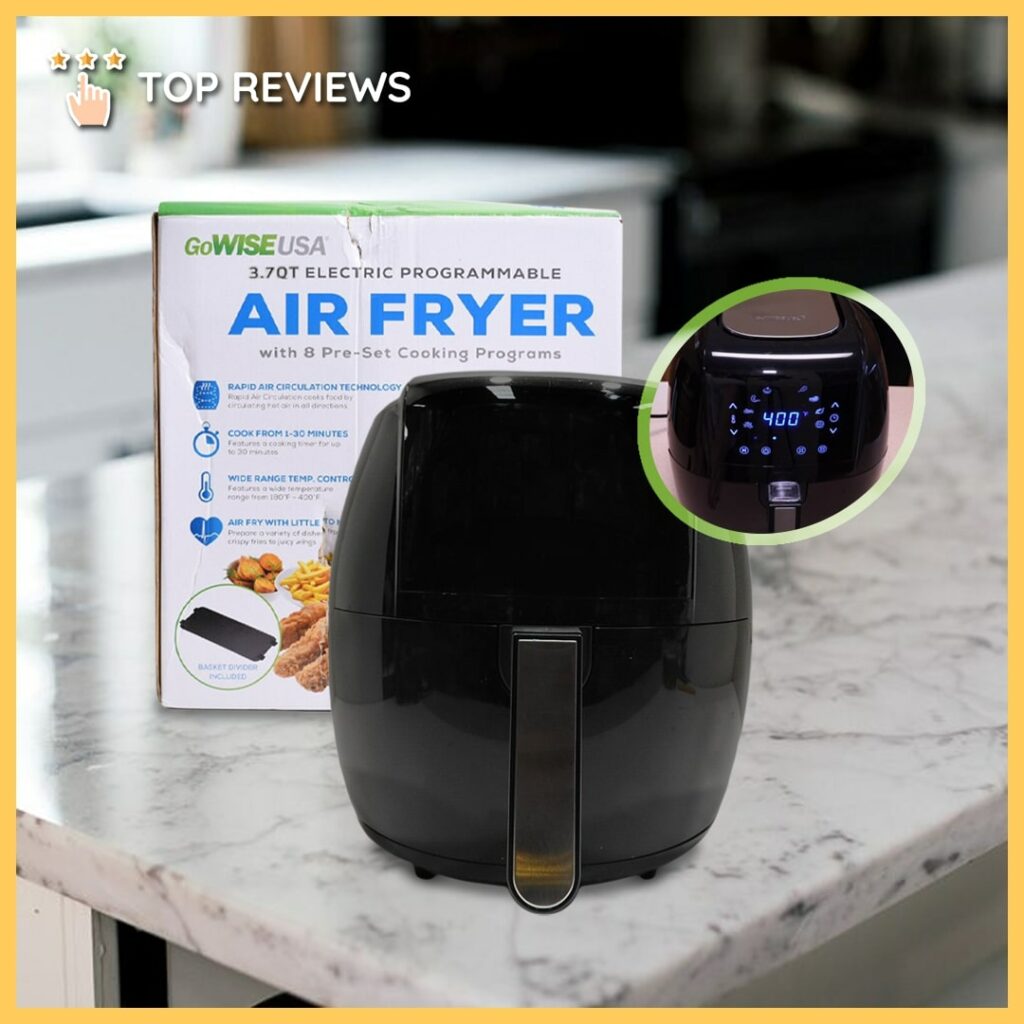 Price $79.99 (before 149.99)
Features
Sleek Touch Screen w/ LED display
8 preset cooking modes
FDA Certified
Fries/Chips, Pork, Chicken, Steak, Shrimp, Cake, Fish, & Pizza
Comes with a free cookbook with 50 step-by-step recipes using GoWise Air Fryer
Pros: Simple interface. Does not compromise the taste if it were fried. Comes with a nice cookbook.
Cons: Your countertop might be hot from underneath the air fryer. Does not cook steak as good in quality as Breville or Ninja.
If you're looking for something that does the job but not at the cost of an arm and a leg, then this could be the best air fryer in NZ for you.
Your kitchen space would suffer no consequence by investing in the smart and compact housing of an air fryer. It delivers with no frills and lets you in on it by the touch screen control to cook in your desired and preferred style.
Getting yourself a GoWISE air fryer instantly cooks a healthier snack/meal in just the right crispiness, heat and texture without compromising taste as one reviewer comments. At 3.7 quarts it is more suitable for your fish fillets, chips, and baked potatoes than the larger fish and chicken recipes. Rapid Air Technology heats it up quickly in 30 minutes or less with 8 pre-programs. You could change the program in the middle of your cooking and it even alarms you every 5, 10 or 15-minute increments to double check your food.
Steak quality however isn't that well after heating and the surface beneath the air fryer gets really hot are two of the drawbacks of this product.
Best Overall Air Fryer in NZ
Philips XL Air Fryer (HD 9240/94)
Delivers pure and unhindered heating that goes hand-in-hand with your best cooking.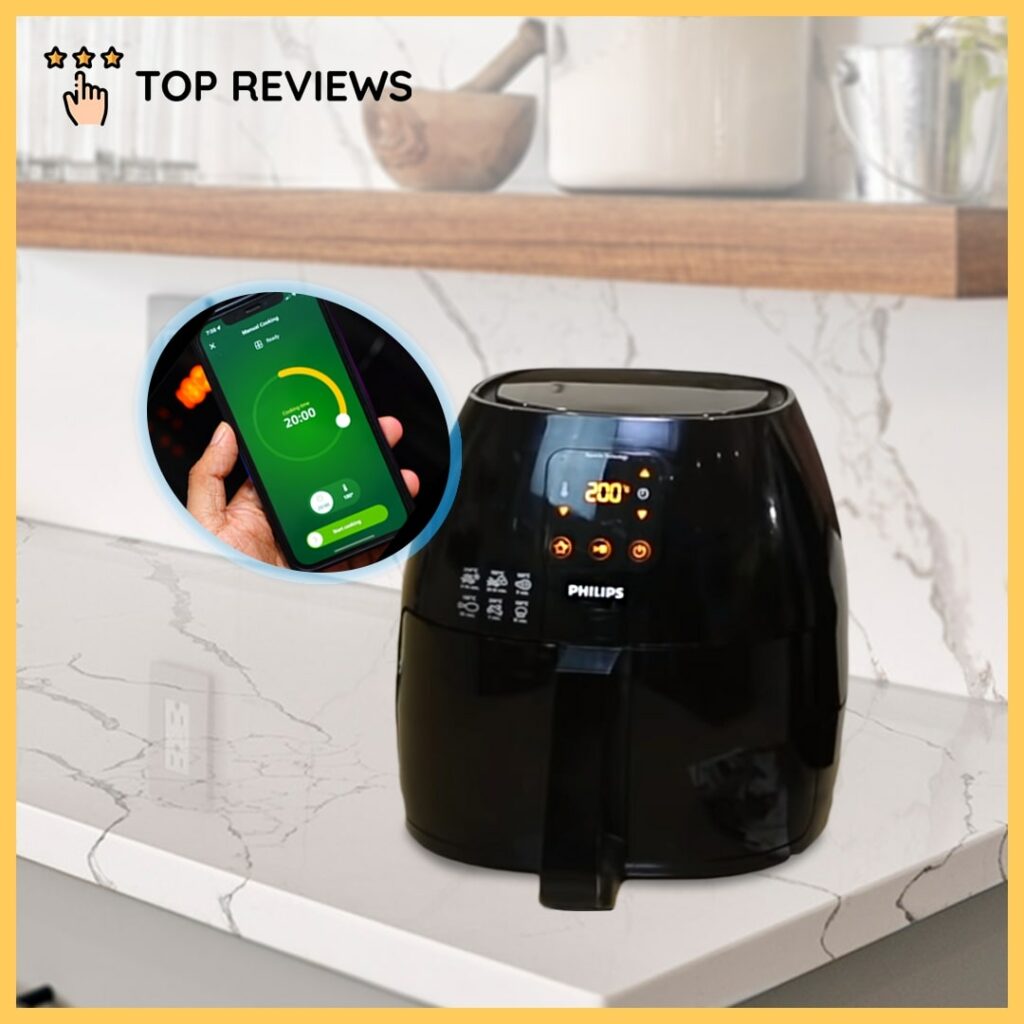 Price $299.95 (before 349.95)
Features
It features 50% more capacity than the regular version
Heats your food perfectly and evenly on all levels
Washable drawer and non-stick basket
Fry, roast, bake, & grill
Pros: Cook more food with Philips Airfryer XL. Complete heating of chicken breast, French fries, spaghetti, soup, etc. Basket is dishwasher safe and easy to clean. Up to 60-minute heating.
Cons: It is pricey and 2100W in power might cost you higher in electricity bills.
Introducing the Philips Airfryer XL with a 50% larger basket, it can cook food for the entire family of 4-5 persons, either you are cooking a tasty lasagna or if you stack it to its brim with chickens and the peas or carrot pair up.
You'll be amazed it can! Because it works at 2100 Watts that could heat up a lot of foods evenly and thoroughly for up to 60 minutes. The brilliant touch screen panel lets you freely set the temperature up to 390F to get them crispy and to its golden brown fried-less perfection. Needless to say, cleaning will be a breeze as the basket is dishwasher safe and non-stick.
It's a little expensive compared to other air fryers in NZ, but if your kitchen is your home and you cook a lot and at the same time want your food to be as tastily and juicily cooked, why not go for this?
If you stumble upon issues or things like that, you may simply turn on the app for instant DIY solutions and get ideas on some recipes you'll never fail to love.
It's easy to use, has a compact design, and is very user-friendly. We're not surprised it always ranks highly in air fryer reviews in NZ.
Best in Air Fry Crispiness
Ninja Foodi (OP302W)
Achieve that fantastic flavor and texture with its Tender Crisper technology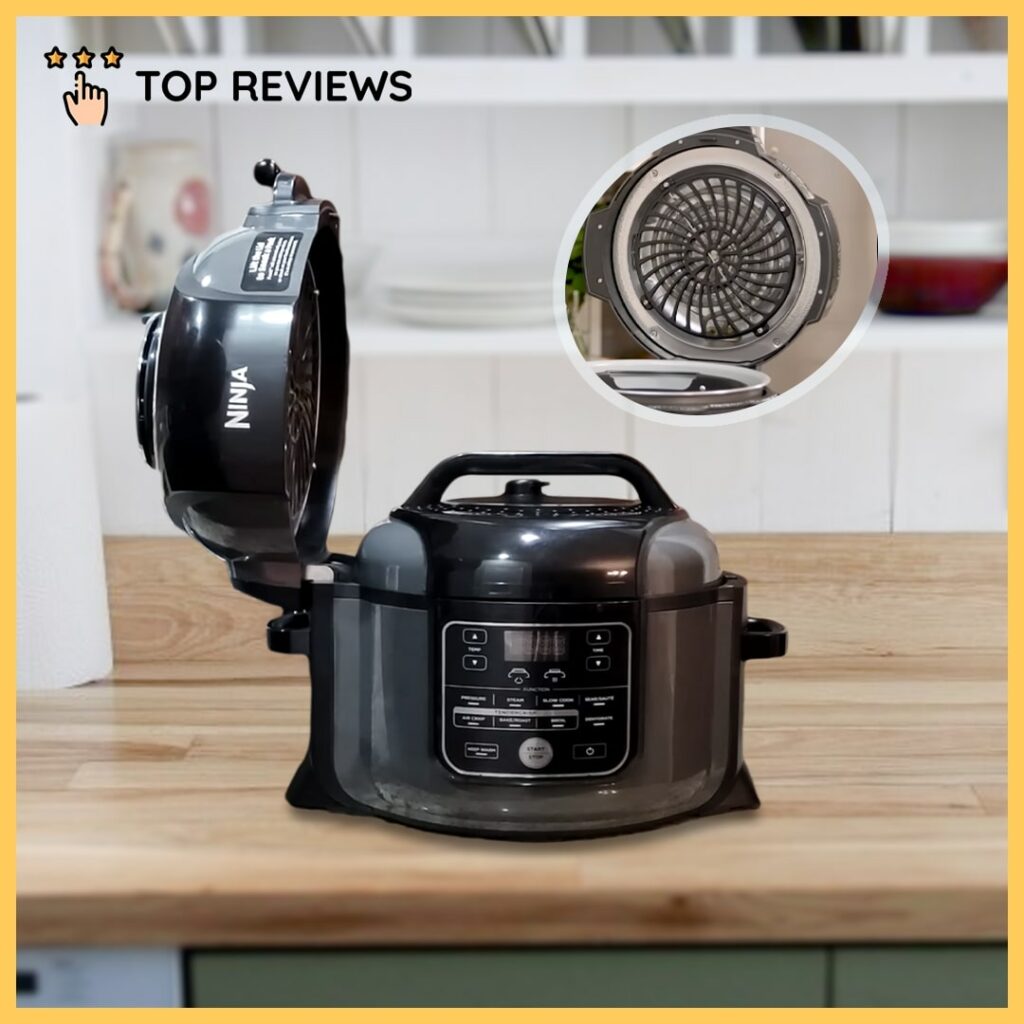 Price $199.80
Features
TenderCrisp technology gives that nicely cooked crispness
2 in 1 pressure cooker and air fryer
Family-sized capacity
Air crisp, bake, broil, roast, steam, slow cook, defrost, and pressure cook
Pros: It achieves the golden-brown look and flavor. You have limitless food possibilities. Create and prepare food as you want and cook it healthily with little to no oil.
Cons: takes up more space than other air fryers. Bulky and heavier to relocate.
If you've been wondering what a Ninja air fryer in NZ is like, well here you go.
With this air fryer in NZ, you don't have to prepare your cooking apparatus one by one as Ninja Foodi has got you covered. Besides an air fryer, it could also bake, broil, roast, sear and on the other hand it could retain the juices of the meat and fish by pressure cooking and steaming. If you are having a family dinner at home, the 4-quart cook and crisp basket and 6.5-quart cooking pot will make sure everyone will have a satisfied stomach. And even that is upgradable to 5-quart and 8-quart respectively.
Also, time needed to prepare your meals are halved compared to using ordinary pots/pans and you'll be less guilty to indulge sometimes in your favourite treats as air frying will be 75% less fat in your diet. The highlight is the TenderCrisp technology. Make your steak, chicken, fish, and stew extra crispy and delicious. All you have to do is use the crisping lid and close it in to get the appetising, golden-brown finish.
Plus, the controls are very simple and doesn't have any presets for you to air fry your meals in however you'd like it to be.
Overall, if you want an 'all-in-one' benefit of an air fryer and most of all, still maintain the succulence of meat and veggies, then this is really one of the best air fryers in NZ for you.
Best in cooking healthy food
Avalon Bay Digital Air Fryer (AB-AIRFRYER220SS)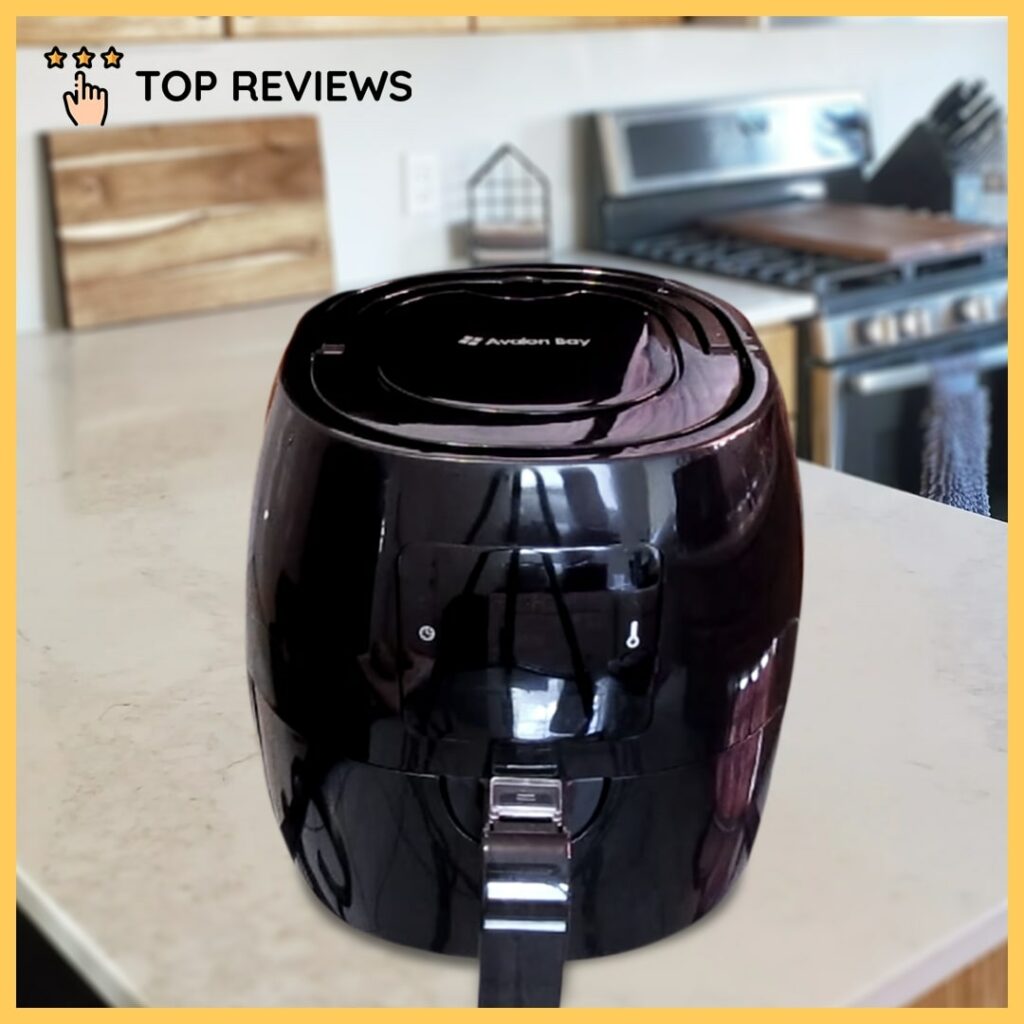 Air Fryer for the health-conscious as well as for those who are looking for safety features
Features
Fans that extract the fats and oils into the drip basket
Non-stick mesh food basket
Automatic safety turn off
8 preset modes – French fries, Pizza, Chicken, Steak, Shrimp, Meat, Fish & Cake
Pros: One can have a healthier selection by using this air fryer. It is very convenient and the touch screen give you a lot of options for grilling, roasting, baking, or air frying.
Cons: The need for trial and error to get the sweet spot of cooking your favorite dishes and foods and heating them at the precise temperature. Avalon Air Fryer is more of a supplement heating appliance rather than the main.
We've been talking about being healthy in this article and most air fryers in NZ are advertised as being one and it's tried and proven. But certainly, an even healthier air fryer has to be Avalon Bay Digital Air Fryer. Its fan collects and removes the last traces of oil and fat into a basket apart from the food. That's perfect for people on their diet programmes and want to enjoy foods that normally hit you with a lot of calories, and makes you insecure for a moment.
The air fryer sends a current of continuous hot air to thoroughly enwrap your food around the basket. This gives it a rich, pure flavor of fried foods without the guilt that may come from it. Simply touch the preset and your cooking is all set! Timer can be set up at 1-minute increments for the precise heating and outcome desired. There's also safety in its blue LED glowing lights while it is in use and the automatic turn off as soon as you are done cooking. Non-slip feet keep it standing on your kitchen table without it becoming slippery or being unintentionally moved.
While it takes away the oil as much as possible, some reviewers have complained that for raw meat it can't totally sear it. And it is said that Avalon Bay Digital Air Fryer should be used to give foods only a heating finish rather than being able to heat it from start to finish. And lastly, since there are presets, it would take some time to figure out to precisely cook your special meals.
Needless to say, if you are quite health-conscious but still want to consume a crispy treat, then this is the best airfryer in NZ for you.
Best in Basket Capacity
Instant Vortex Plus 10 Quart
Great in value and an excellent appliance to have at home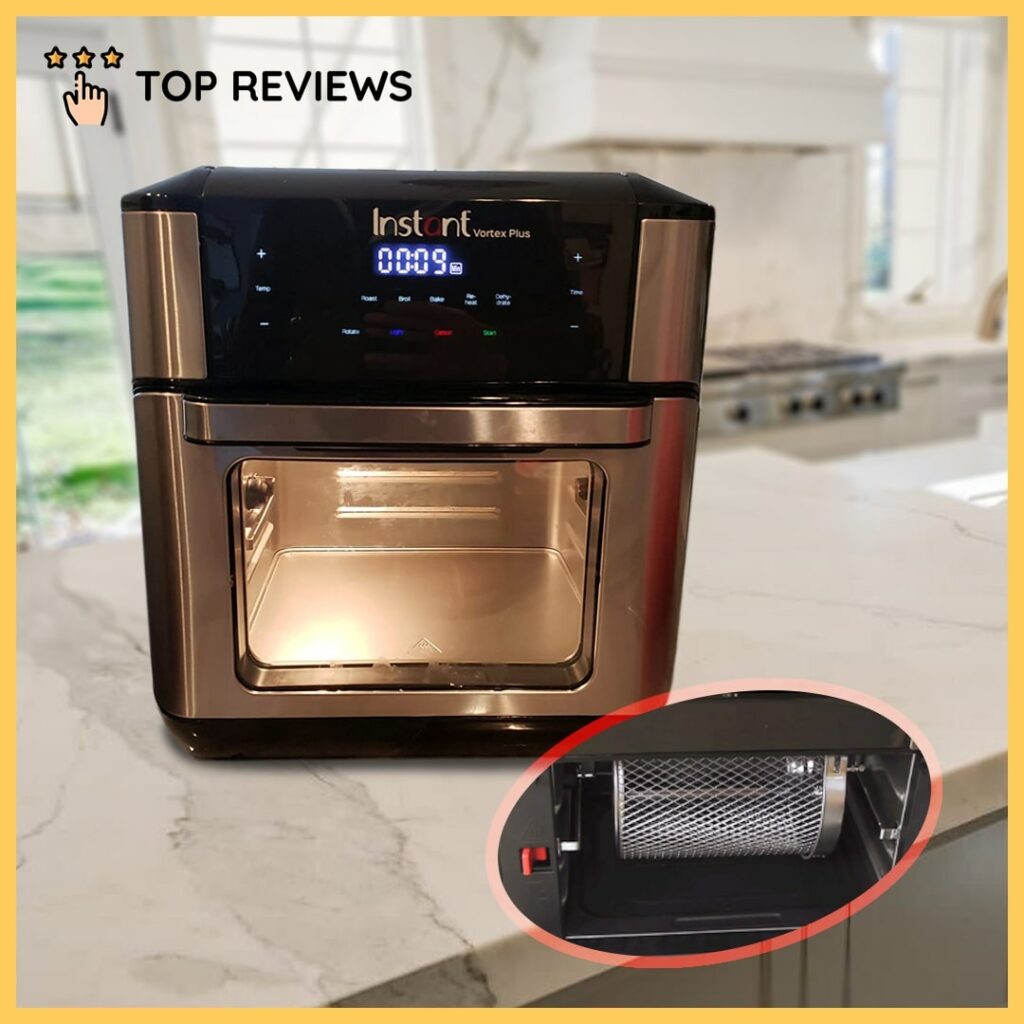 Price: $119.00
Features
7 in 1 appliance (bake, broil, roast, air fry, reheat, dehydrate, rotisserie)
A spacious 10-quart capacity
Tempered glass door is removable and dishwasher safe along with the trays
Cool Dark Touchscreen Panel
Pros: Great heating quality that cooks your favourite dishes. High 10-quart capacity that can cook food for parties and on special occasions. Cleanup is not a problem with the dishwasher removable door and trays. All sorts of cooking can be done with Instant Vortex Plus.
Cons: It might take some time to familiarise yourself with its choices and setups to achieve the cooking you intended.
Garnering wonderful reviews, Instant Vortex Plus lets you have 7 major appliances in 1 that lets you air fry, bake, broil, roast, reheat, dehydrate, and even rotisserie! The 10-quart capacity consists of two trays where you can roast how many pounds of vegetables and meat whilst cooking your crave weakness like falafels on the top. The generous capacity lets you prepare a sumptuous meal for your family and close friends.
Broiling will subject your steak or fish in high temperature that will come out as smoky caramelised with the juiciness and flavor of something done perfectly. Your food will taste even better by its rapid air technology only taking a very small amount of oil and letting the heated air fry your food for a healthier and more enjoyable dining.
You will surely love the design with stainless and sleek body and a modernistic LED touch screen on the top. Cooking has never been much more fun and cooler too!
Reviews have also mentioned how effortless it is to clean up its non-stick basket and accessories. All of them dishwasher safe. The leftover and oil come off smoothly in washing and without any sweat! And if the interior of the oven gets messy, you only have to wipe them and as easily they become immaculately clean.
The ease of use and the budget-friendly price tag and all the nifty features that come with it are what made us consider this to be one of the best air fryers in NZ.
Most unique air fryer design
T-Fal Actifry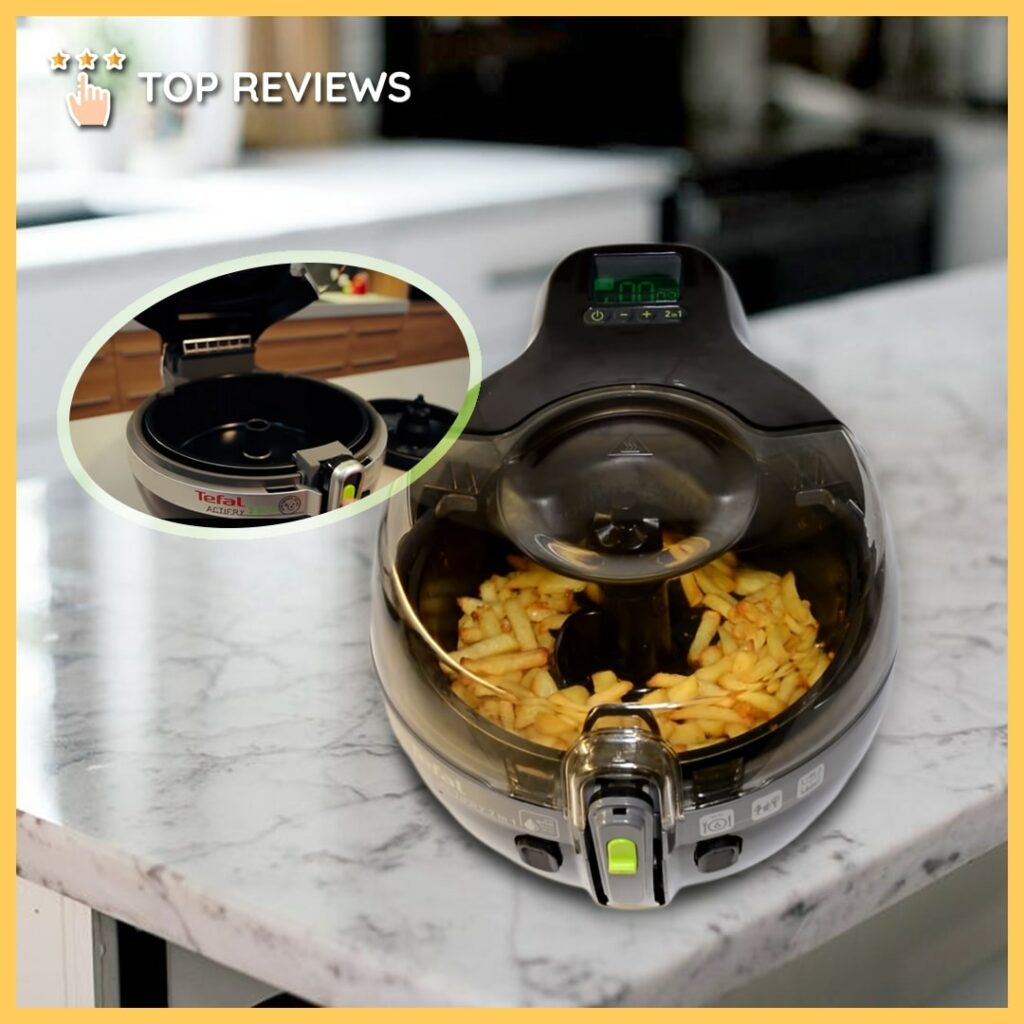 Price: $119.99 (before 126.99)
Features
Stirring paddle to do it for you without shaking, stirring or moving
Unique design with disc shaped air fryer
2.2 lbs basket capacity
lightweight and ergonomic
simple controls (without temperature)
Pros: Good affordable value. Hassle free cook ups and reheats. Easily stored in your cupboard or cabinet. It can hold enough food to serve 4 portions.
Cons: Capacity is smaller at only a kilo. Temperature control is nixed though that makes it simple enough to use.
A household name in the cooking and appliance department, T-Fal keeps making things we could use and be confident of. One of such products is the innovative, unique T-Fal Actifry, with a round disc shape instead of square or bell-shape of other air fryers.
The stirring paddle keeps you hands-free during cooking, with no need of shaking or stirring and if you're lazy to check on your cooking, you could just leave it up to its timer of up to 99 minutes. Other air fryer brands don't even come as close and you know what the perk is about it—with that long a time means you can mix and match your cooking, tailored to the particular recipe you're aiming for. It gives you the upper hand to try out other meat and sweetened French toast dessert.
Not to worry about what you can put in there as it has almost the same capacity as Philips XL and this air fryer is capable of cooking 1 kilogram at a single time. Yes, it isn't that much for a lot of people but it can serve a family of 4. And its basket is ceramically coated, dishwasher safe along with the lid and bowl, giving it durability for many years to come.
Carrying it over to your camping trip is no problem either as it is lightweight at 10.9 pounds which is much lighter than other brands. In addition, you get a recipe book in color about 38 delicious gourmet dishes you can experiment and do with T-Fal Actifry. See if you can dish out a few of them and your prize will be the delectable flavor, with the effort paid off of course.
Best in Warranty Service
Cozyna Air Fryer
This mini barrel shaped air fryer gets your cooking done in 30 minutes or well under and delivers an irresistible fried food that is healthier for you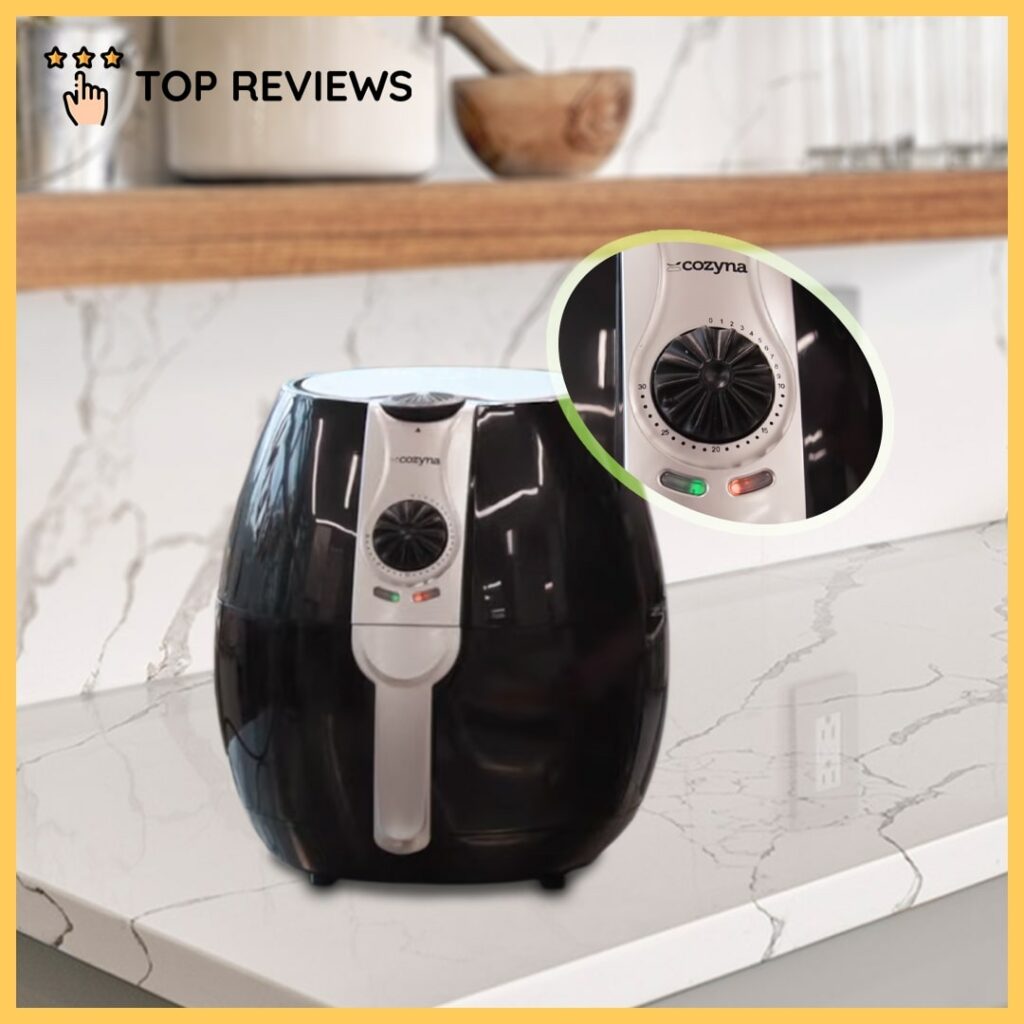 Price: $199.00
Features
Fried foods are cooked with up to 75% of oil and fat removed
3.2L capacity to cook in more portions
Comes with an adjustable temperature
Light and easy to use
Fry, Grill, Roast, and Bake with Cozyna Air Fryer
Pros: Comes with a 2-year warranty service. A user-friendly air fryer. More effective in heating the foods you love.
Cons: Expensive and accessories are sold separately.
Full Savor, Zero Guilt just about says everything about Cozyna Air Fryer. There's not a complex feature of this to figure out. But customers love it in their reviews and from here, let's break down the features and see what's been brewing.
People who enjoy sports and keep in shape will tremendously benefit from the food from this fryer as up to 75% of oil is taken out, perfect for healthy eaters and those taking care of their bodies to stay fit and lean. Like the other air fryers, many sorts of cooking can be done: air frying, baking, grilling, and roasting where they have different pans and holders for that. Its capacity of 3.2L holds more at one time better than T-Fal's 2.9L.
Coming with 1500 Watts, rest assured, your meals will have the savoury flavor and crispy goodness to make you happy. To get the desired taste and texture, the temperature can be adjusted from 170F up to 400F. So, you'll get the medium rare or well-done steak that goes in par with your mood along with a scoop of creamy mashed potato and a side dish of vegetables.
Pull away at the handle safely by its cool touch handle. The dials, basket, and parts are very easy to use, kind of like fun in using it. And being dishwasher safe, cleaning them up is only a piece of cake.
You'll also be given a warranty of 2 years to make sure your NZ air fryer is working without any defective issues or some control errors which is great. They'll cover for everything except when the fryer is damaged by misuse or intentional means.
Plus, if you buy from Amazon you get a free recipe book as well as an e-book to guide you in cooking really awesomely.
Best High-End Air Fryer
Breville the Smart Oven Air (BOV900BSSUSC)
This high-end appliance is very accurate and quick in its heating that are great for huge gatherings and events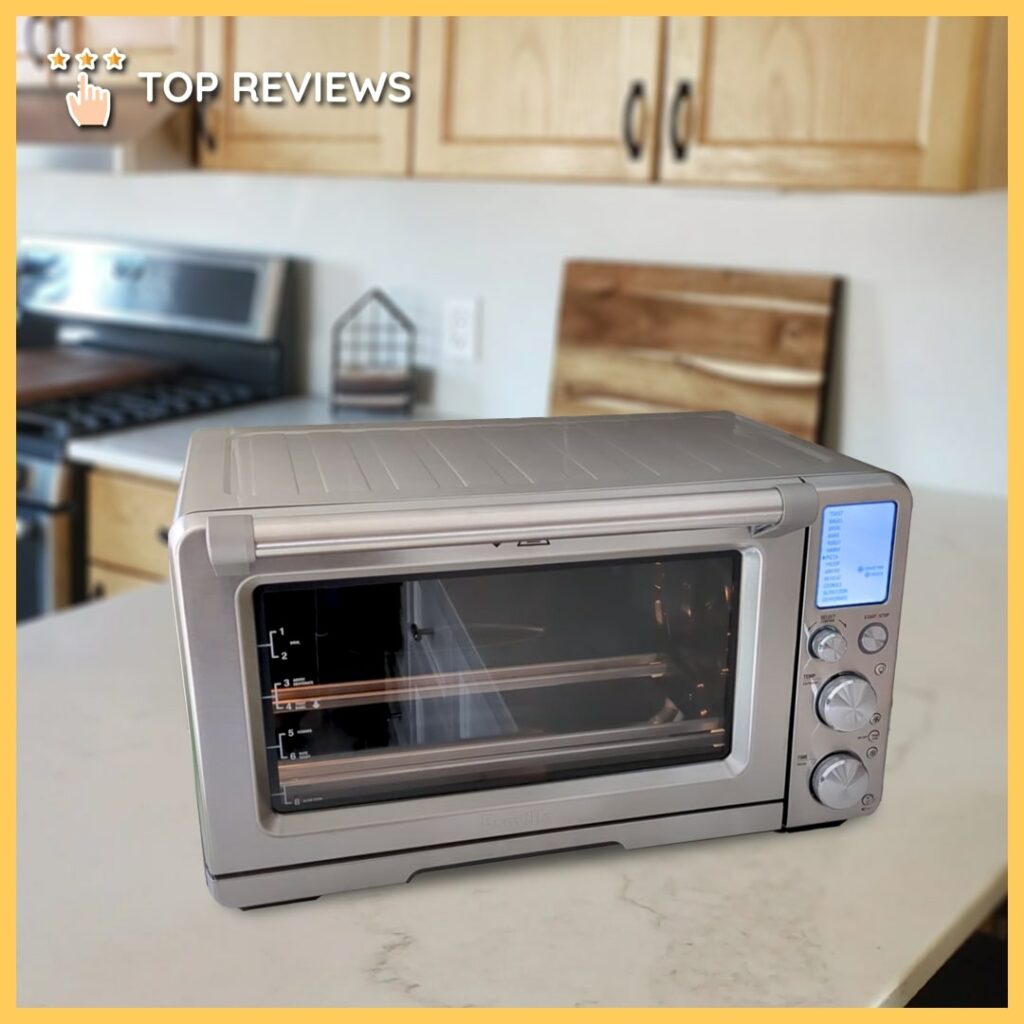 Price: $499.95
Features
Element IQ, Super convection technology
Ultra versatile 13 functions (Air fry, bake, broil, toast, warm, proof, slow cook, pizza, cookies, bagel, dehydrate, roast and reheat.
air fry/oven combination
Pros: Pinpoint accuracy and efficient heat used for cooking. 13 functions with air fry and dehydrate presets. Can hold extra-large amount for gatherings (up to 4 trays at one time). LCD display looks nice.
Cons: Large amount of space is taken up. Very expensive to get.
As it's not backing down in its do as they say features, it's not backing down in price either. It costs 499.95 bucks in the market. But trust me it's more bang than buck. The high-end Breville Smart Oven Air boasts the Element IQ that gives precise and sufficient heating to the food with the right roast-fried color and beautifully cooked from 6 heating elements on top and below. It smartly senses the required heat output and applies it in the direction of the food, saving energy and making it absolutely delicious.
It can also hold foods at a max of 14 lbs such as a turkey. Its interior measures 1 cubic feet from one side to another and from top to bottom. This large oven/air fryer combo can also bake 9 pieces of donuts on a single tray or heat up at least 10 mid-sized muffins for your nephew's birthday party. And add to that an unbelievable 12 more functions of Air Fry, Roast, Broil, Slow Cook, Dehydrate, Pizza, Warm, Proof, Bagel, Cookies, Toast and Reheat.
Another cool feature is its blue screen of LCD display that lets you select the type of cooking method you'd like as discussed in the last paragraph. It lights up in a fiery yellow when started and two dials of temperature and time can likewise be adjusted. Alternately if you'd like, you can go for the air fry or dehydrate presets.
Its designed in a sleek silver finish that will look as good as new even after years of use. Only disadvantage is its format of an oven instead of the common Air fryer. It gives it broader shape that will take some space but being an all in one appliance, this thing can do it all and it's fascinating and just super! just as the Amazon video described.
Some of the complaints are in regard to its door, that it failed to close after months of use. But the two customers were able to send it back to Breville, and they were satisfied they have then gotten their new Smart Oven Air replacement thanks to the intelligent and devoted customer service.
Overall, it may be pricier than other air fryers, but the 12 different functions, not to mention the 6 different heating levels really truly make this one of the best air fryers in NZ New Zealand.