The 6 Best Air Purifiers in New Zealand
If your home has poor ventilation or you notice that it's starting to feel stuffy indoors, then you may have a problem with your indoor air quality. Don't worry, we're here to help you bring back fresh air to your home!
We've rounded up the best air purifiers in New Zealand to help get rid of all those unwanted particles and odors indoors, so that you can enjoy some fresh, filtered air. Our criteria was based on the product's efficiency at cleaning the air, extra features, and feedback from customers.
If you're ready to enjoy fresh air in your home, read on to discover our top picks for air purifiers in New Zealand.
1. Levoit Core 300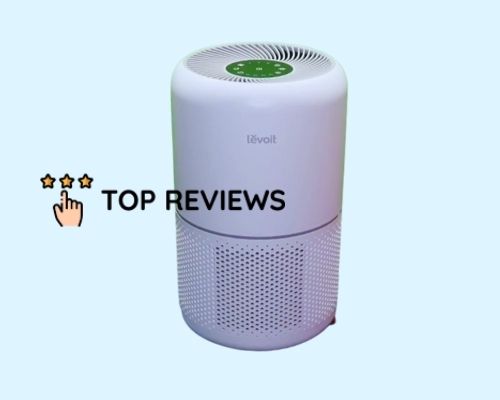 | Test | Info |
| --- | --- |
| PRICE | NZ $174.00 |
| DIMENSIONS (LxWxH) | 22.1 x 22.1 x 41.3 cm (8.7 x 8.7 x 16.25 in) |
| WEIGHT | 3.37 kg (7.48lbs) |
| ROOM COVERAGE | 20 sqm (219sqft) |
| FILTER TYPE | H13 True HEPA Filter, Pre-Filter, Carbon Filter |
| CADR | 135+ CFM; Smoke: 141; Dust: 140; Pollen: 145 |
| NOISE LEVEL | 24 - 50dB |
| WEBSITE | https://levoit.com/ |
The Core 300 uses its patented VortexAir Technology to clean the air in a room five times an hour. It doesn't cover a lot of area but can easily work in rooms as large as 20sqm (219sqft).
So if you want to reduce airborne contaminants that cause sneezing, congestion, and allergy symptoms, the Core 300 is a solid choice. Its True HEPA Filter captures 99.97% of airborne particles 0.3 microns in size along with its pre-filter and activated carbon filter.
With all these features, you would think this purifier from Levoit is priced similarly to other premium products. However, it's surprisingly affordable despite its efficiency.
Affordability (ironically) comes at a cost – you won't find any extra features such as app integration or an automatic air quality sensor. But if all you're looking for is a simple but effective air purifier, then the Core 300 is worth considering.
You won't find various color options either, but it's available in a standard white or black. However, its simple yet sleek design won't take up too much room in your home, which makes it ideal for small apartments or condos.
It features a sleep and timer mode that runs quietly and can be programmed to switch off automatically after up to 8 hours of operation. There are no parental locks though, so you may want to make sure the kids stay away from it.
You should keep an eye on your children because they can easily figure out how to operate this set-it-then-forget air purifier. The Core 300 has an intuitive touchscreen which serves as the main interface for adjusting any of the settings.
Replacing the filters isn't that expensive, and you can likewise clean up the pre-filter with a vacuum if you see too much dust collecting on it. You can replace and "upgrade" the filters too with a choice between the Core 300-RD (Toxin Absorber) or the Core 300-RF (Pet Allergy).
Now if you want to put the Core 300 in your bedroom, its Sleep Mode engages low noise level operations. With a decibel reading of 24dB, you should have no problem having this purifier turned on while you sleep.
In short, if you can live without app integration and real-time air quality sensors, then the Levoit Core 300 is an option worth considering. It's affordable, compact, and gets the job done, making it one of our top choices for air purifiers in New Zealand.
Affordable 
Silent operation
Doesn't have app integration
No parental locks
Customer Reviews
Highly recommended
"LEVOIT air purifier basically saves my life. I was tested to be very allergic to dust mites. This air purifier works magically and keeps the air flow in my room. It is bigger than you will think, it has a touch screen for multiple functions. I love the night function, it is so quiet that I don't even notice it's on. Highly recommended for people like me." – Bo
2. Blueair Blue Pure 311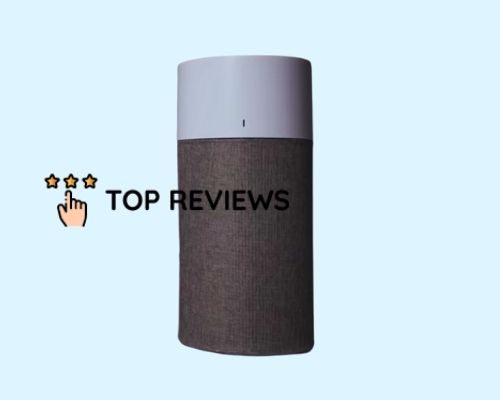 | Test | Info |
| --- | --- |
| PRICE | NZ $624.00 |
| DIMENSIONS (LxWxH) | 52 x 26 x 26 cm (20.5 x 10.2 x 10.2 in) |
| WEIGHT | 3kg (6.8lbs) |
| ROOM COVERAGE | 36sqm (388sqft) |
| FILTER TYPE | Particle Filter + Carbon Sheet, Activated Coconut Shell Carbon, Non-Woven Gradient Polypropylene Fibers. |
| WEBSITE | https://www.blueair.com/ |
The Blue Air Pure 311 is the minimalist's ideal air purifier. It's lightweight, can be transferred around your home easily, but still performs like a heavy duty unit. It can remove 99.9% of particles and can reduce heavy smoke levels in as little as 30 minutes.
It's designed for medium-sized rooms with an Intuitive Auto mode that monitors the air quality in real time. The average interval it actively filters the air is every 12.5 minutes or (4.8x an hour at 388 square feet) when set on its high setting.
We like the sleek look of the Pure 311 which doesn't have any visible physical knobs or settings. A single button is all you have to control all the settings, which also lets you know when it's time to replace the filter.
There are only four main settings: Auto and Levels 1 to 3 which control the speed of the fan and rate of filtration. So if you're looking for a unit that you can customize to your heart's content, this isn't the one you want.
However, the Pure 311's simple operation is what makes it shine and an option worth considering. It's ideal for those that want an inconspicuous unit that easily blends in with any home's theme, motif, or furnishings.
Efficient with particles up to 0.1 micron, we like its HEPASilent technology that can easily get rid of pollen, dust, and viruses. The Pure 311 operates silently at 23-53 dB, thanks to its patented electrostatic and mechanical filtration system.
It has a three-part filter system, with a washable and vacuum-ready fabric pre-filter that serves as the first layer of defense for large particles. You can also choose from five different colors and the standard Arctic Trail shade is included by default.
It also has a Particle + Carbon Filter that's designed to use activated carbon to get rid of odors and airborne particles at the same time.
Having the Pure 311 in your home isn't cheap, and you'll need to replace the filters every half year. It is energy efficient though with a control panel that dims automatically after seven seconds and only uses energy equivalent to an average 2-10W LED light bulb.
Minimalist design
Washable and customizable pre-filter fabric
Easy one button design
Expensive
Cannot customize settings
Customer Reviews
Great for small rooms
"These little guys are great for small rooms and with auto settings and a sensor you can just leave it in a guest room and it will turn on and off based on the particulates in that room so it doesn't waste effort on an already clean room. Even if you leave it on full time it uses barely any electricity costing maybe 3 or 4 usd a year. Compared to the previous two 411 models this has greater range, is cheaper, has auto settings, better prefilter, and has a sensor so there is no reason to buy the old ones."- Ty Nan Og
3. Xiaomi Air Purifier 3H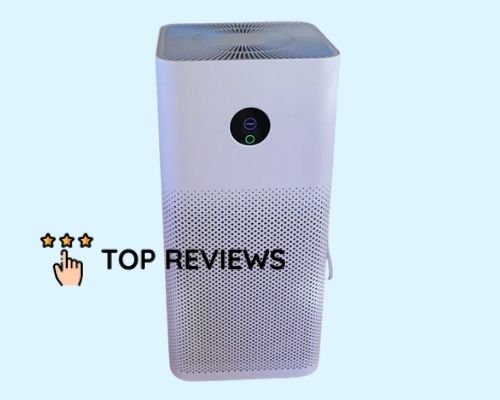 | Test | Info |
| --- | --- |
| PRICE | NZ $289.00 |
| DIMENSIONS (LxWxH) | 24 x 24 x 52 cm (9.5 x 9.5 x 20.5 in) |
| WEIGHT | 4.8kg (10.6lbs) |
| ROOM COVERAGE | 45sqm (484sqft) |
| FILTER TYPE | 3-in-1 True HEPA filter |
| FILTER SHELF LIFE | 6-12 months (150 days) |
| WARRANTY | 12 Months |
| WEBSITE | https://www.mi-store.co.nz/ |
Xiaomi is known for offering bang-for-the-buck products that perform quite well while remaining affordable. The 3H Air Purifier is no exception, offering a range of features at a moderate price point.
The Xiaomi 3H is best suited for larger sized rooms measuring around 45sqm (484 sqft). It also has a minimalist design which makes it ideal to place in a commonly shared space, such as your living area.
The 3H uses a 3-in-1 True HEPA filter which can be exchanged with Anti-formaldehyde S1 and Antibacterial filters for increased filtration. It has an Air Quality Sensor that runs separately from the air purifier, which means you can get realtime information even if the filters aren't powered on.
Before you turn on the unit, you will need to take apart the back cover and remove the short power cord. This limits the places that you can anchor the unit, and it also needs to have a 20-inch space on each side to perform optimally.
Moreover, the 3H doesn't have a handle, so moving it around can be quite difficult. Nevertheless, it feels durable and is made of high quality plastic, so you shouldn't have to worry too much about damaging it during transport.
The OLED display on the front is your method of adjusting settings on the 3H, and it's easy to use and read. The 3H offers voice control with Google Assistant and Alexa, and you can also use the Mi Home app to control it.
If you prefer to customize your own settings, the 3H has a manual mode as well that can only be accessed via the app. This is useful if you decide to place it in a smaller sized room, so you can adjust the filtration speed to compensate for the smaller area.
There are various other options for you to control via the app, and you can create settings that allow it to work based on humidity and temperature. You can even control its lights and engage a parental lock mode so that your kids can't change the settings.
In short, what makes the Xiaomi 3H a top pick is the level of control you have with the smart app. While it provides less tech-savvy users easy one touch operation, those who want to set their own settings also have the option to do so.
Air quality sensor and filter run separately
Can be integrated with Google Assistant and Alexa
Short power cord
Made of plastic
Customer Reviews
Very happy with my purchase and would definitely recommend
Purchased the Mi Air purifier after doing some research on which purifier would be best to help alleviate my husband's allergies and so glad I went with the Mi. In the past we've purchased other more expensive and much more bulkier humidifiers so I was shocked to see how slim and sleek the Mi humidifier was when we unpacked the box. I connected the humidifier in our bedroom and needless to say, my husband woke up this AM and said he had one of the best night sleeps he has had in a while. The purifier is quiet, has a great sleep mode, and automatically shut itself off once we woke up in the AM. I did download the mi app so I automated the system and although I am not the most "techy" of people, the app itself is pretty user friendly and allows you to connect all Mi products in one hub. Today I will figure out how to connect to my Alexa as the purifier has the capability to do so..Overall I am very happy with my purchase and would definitely recommend" – Judy Gonzalez
4. Dyson Purifier Hot+Cool HP07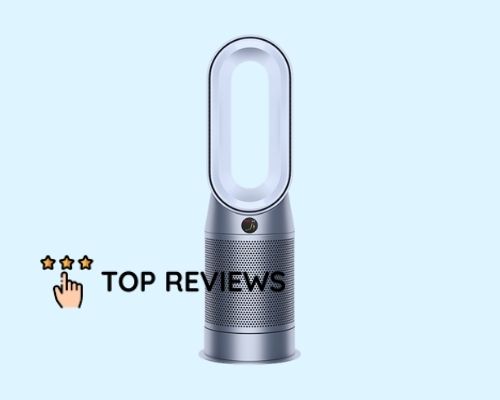 | Test | Info |
| --- | --- |
| PRICE | NZ $999.00 |
| DIMENSIONS (LxWxH) | 76.2 x 25 x 13cm (30 x 9.8 x 5.12 in.) |
| WEIGHT | 5.4kg (12 lbs) |
| ROOM COVERAGE | 81sqm (871sqft) |
| FILTER TYPE | HEPA (H13) and activated carbon |
| FILTER SHELF LIFE | 12 Months |
| WEBSITE | https://www.dyson.co.nz/ |
The Dyson Purifier Hot+Cool HP07 is a multi-functional product that can provide heat, cool, and purify the air. Its fully sealed HEPA 13 filtration system can easily warm up a 35sqm (376sqft) room and can purify up to an impressive 81sqm (871sqft)!
Its bladeless filtration system is an upgrade from its predecessor, delivering more than half the amount of clean air. It can purify up to 99.97% of particles 0.3 microns in size.
Its amplifier is the standout feature though, which innovatively pulls air through its filters and pushes it back out. The purifier base works similarly, pushing air outward through the radial amp.
So this essentially means that if you use its heating function, you'll be heating the room with purified air!
You'll find the familiar Dyson features on the HP07 such as the integration with the Dyson link app, oscillation up to 350-degrees, and their unique sensor display.
However, one of our favorites is the inclusion of a physical remote control, which provides an alternate way of controlling most of the HP07's functions. It even has a magnetized strip so you can stick it on the back of the HP07.
Now while the touchscreen sensor display shows a lot of useful data, the major settings still need to be adjusted by the remote or the Dyson Link app.
Although the HP07 has ten fan speeds, you can use the custom mode to have more hands-on control over the settings. You can likewise adjust the airflow direction and turn on Night Mode for quieter operation, among others.
Now, having the Dyson Link App may seem redundant, especially since you already have a remote. However, it provides other secondary support features such as contacting customer service, getting real-time air quality statistics and connecting it to other smart devices.
Unfortunately, you can't control the heating with the Dyson Link app. This is due to safety restrictions in certain countries, so you need to control it with the physical remote.
The HP07 uses integrated HEPA and carbon activated filters, providing you with an easier way to replace them. The filters can reduce or remove gases and odors such as formaldehyde, benzene, and nitrous dioxide.
As a fully sealed HEPA13 unit, this means the particles are supposedly trapped inside the filters. This means you'll need to ensure to change your filters to avoid blockage and unnecessary stress on the machine.
Nevertheless, you'll only need to change your filters annually, which is much longer than other units in its class.
Now since it's also a cooling fan, the HP07 can work in a variety of settings and seasons. This eliminates the need to have a separate device for each function, which is ideal for smaller spaces such as apartments or small rooms in a home.
For those that are looking for an all-in-one product, the Dyson HP07 delivers. If you can afford it, it's one of the best air purifiers you can get in New Zealand today.
3-in-1 unit that cools, heats, and purifies
Has physical remote control
Bladeless system
Expensive
Can't control heat with the Dyson Link app
Customer Reviews
All in all i really enjoy this unit
"I was really in the fence about purchasing this dyson, purely because of cost…Its super easy to setup and use, and works amazingly. I have not used this in the winter yet, but i did test the heat and i was shocked by how much warm air it put out. The cooling feature is great. It cools significantly better than a normal fan. I dont know how it does it, but it does…I personally dont mind the little bit of noise it makes, but i can see how it couod bother some…All in all i really enjoy this unit. I would buy again, and would recommend to a friend." – Mike T.
5. Coway Airmega 400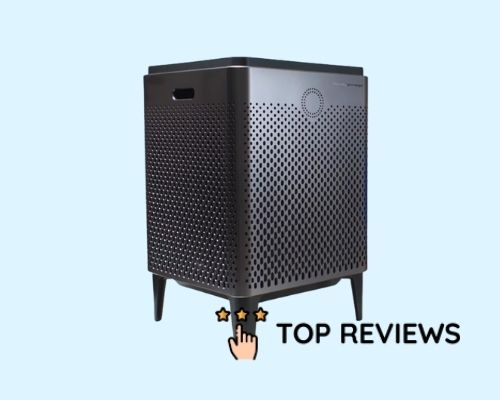 | Test | Info |
| --- | --- |
| PRICE | NZ$ 719.00 |
| DIMENSIONS (LxWxH) | 37.6 x 58.2 x 37.6 cm (14.8 x 22.91 x 14.8 in.) |
| WEIGHT | 11.12kg (24.7lbs) |
| ROOM COVERAGE | 145sqm (1,560 sq ft) |
| FILTER TYPE | Airmega Max2 Filter |
| WEBSITE | https://cowaymega.com/ |
The Coway Airmega 400 is a high-end product that can cleanse a room up to 145sqm (1,560 sq ft). It can purify the air twice an hour with the help of its prominent intake and outake grills integrated on all sides of its body.
This air purifier's design is hit or miss – while it certainly looks modern it is not exactly sleek or streamlined. Its cube shape and weight of 11.2kg (24.7lbs) likewise make it difficult to transfer from one room to another.
Using its combined activated carbon and a True HEPA filter, the Airmega 400S can capture 99.99 percent of particles 0.01 microns in the air. This includes allergens, pollen, fumes, and other pollutants.
The 400S filters may seem expensive initially, but it only needs to be replaced once a year. When combined with its washable pre-filter, this makes it quite affordable compared to other products in its price range.
Now since the 400S is a smart device, it's supposedly best used with the IOCare Mobile app. When using the two linked together, you can receive instant notifications on air quality and filter life as well as adjust settings.
While some people don't find the app intuitive, you can always use the controls and display on the unit itself. Its real-time air pollution sensor can let you know how clean the air is just as good as the app can.
With five fan modes, the Airmega 400S offers Smart, Sleep, Low, Medium, and High speeds. Like other air purifiers, it is almost inaudible at the lowest setting and runs at around 52.2dB at the highest fan mode, which makes it suitable for a bedroom.
We like the Smart mode because it makes autonomous adjustments based on both the room's current air quality and the amount of ambient light. You can even set a timer for up to 8 hours as well to further reduce energy consumption
Moreover, the Airmega 400 consumes only 64 watts of energy and is Energy Star certified. You can further reduce energy consumption by setting it to run on a schedule and by enabling its Eco Mode.
In short, the Airmega 400 is a solid choice for a purifier in your home. It is a cost-effective and efficient solution to clean the air in your space, if you can get past its clunky design.
Large room coverage
Smart App integration
Energy efficient
App can be unstable
Expensive filter replacements
Customer Reviews
"I have the 400S. The air purifier itself is great. Moves lots and lots of air on high. It's really quiet on low. Modern styling is awesome. The app is the opposite. It only halfway works. It appears like it will be an informative app for air quality and all that jazz. Well, you'll be sorely disappointed if you use android. Nothing works except some rudimentary controls. Maybe they will fix the app and all will be rainbows and unicorns." – Keith
Wonderful machine
"What a wonderful air purifier and it runs so quietly that you will hardly notice that it's on. I bought one of these for my daughter and she lives in an area with lots of fires and smog (CA). She has two young babies and this wonderful machine keeps the air clean and fresh. We live in Chicago, where the pollen is unbelievable,. I suffer from hayfever. But this wonderful machine has kept out the pollen, kept the air clean allowing us to sleep and breath so much better." – Fred Pfeifer
6. AirSolutions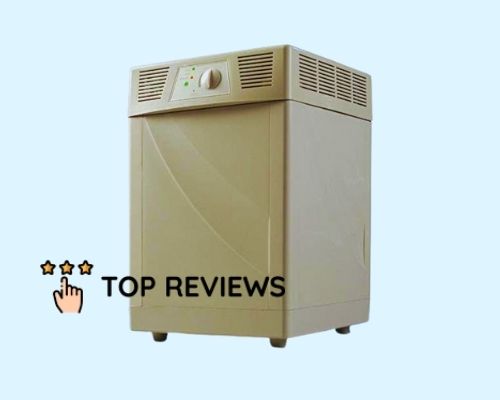 PRICE
Enquire for Information
DIMENSIONS (LxWxH)
W 343mm x D 381mm x H 533mm
WEIGHT
8.6 kg
ROOM COVERAGE
70 square meters
FILTER TYPE
Activated UV-C Filter
CADR
Filters particles down to 0.3 micron in size with 95% efficiency. MERV 16 filter rating – the
highest level for filter efficiency
NOISE LEVEL
Low fan speed – 37 dBA
High fan speed – 57 dBA
WEBSITE
https://www.air-solutions.co.nz/
AirSolutions is a provider of air treatment services in New Zealand for over 20 years already and accommodates both commercial and residential settings. They have their own brand of air treatment products called Steril Zone which has various benefits and effective performance overall.
Each product and service that they offer is easily customizable, energy-efficient, and environmentally friendly solutions in which all of them have a minimum 12-month warranty. This is especially ideal for long-term solutions and products used specifically for air purification and treatment needs.
Clients will be able to work with personnel who have adequate expertise and training in the field which ensures that they are all highly qualified for the job and offer services that are up to premium standards.
Their website is comprehensive and informative regarding each product that they offer along with various online procedure features such as online forms to make contactless transactions more convenient and stress-free.
Price ranges are not available however for their products and rentals but an enquire form is readily available for that purpose for clients looking to avail their products.
Safe and ozone free
Scientifically proven results
Able to cover 1000 square feet
Price ranges not readily available
FAQs about Air Purifiers
---
That's our list for the best air purifiers in New Zealand! We hope these products can get you started to a clean and happy home!
If we missed one of your favorite air purifiers, then please send us a message so we can check it out! We're always looking for ways to improve our suggestions!
Now, if your air quality problem is more than an air purifier can handle, then maybe you need cleaning services instead. If so, then check out the links below: