5 Services for the Best Appliance Repairs in Christchurch
Picture this — your kitchen stove investment failing to produce a flame and it seems and feels hopeless. There's only one thing to do then: try to call the people who do the best appliance repairs in Christchurch!
All it takes are little tweaks or spare part replacement in the hands of appliance experts — with a good repairman, you can avoid the big bang of spending on a new one.
When it comes to appliance repairs then, you should look for fantastic workmanship. Then customer service so that you can get your appliances all restored to working condition.
Join us now as we round up the top options for the best appliance repairs in Christchurch! Here they are:
1)  Smart Way Appliances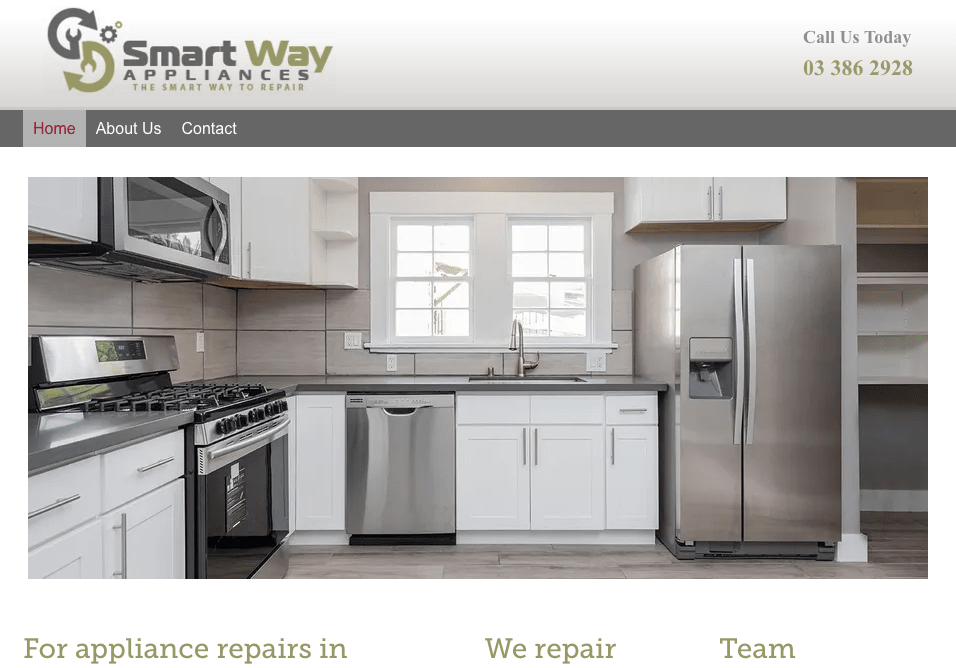 | | |
| --- | --- |
| Areas covered | Throughout Christchurch |
| Services | Repair of Washing Machines, Ovens, Stoves, Dishwashers, Fridge Freezers, Clothes Dryers, Waste Disposal Units, and Cook Tops |
| Address | 8 Wilmington Place, Christchurch, New Zealand |
| Contact no | 03 386 2928 |
| Website | https://www.appliancerepairschch.co.nz/ |
No gimmicks here, just a great service and friendly and qualified technicians that will solve your appliance problems. Smart Way Appliances provides appliance repairs all over Christchurch.
They can sort out a full spectrum of premium brands for your kitchen and laundry appliances. To name a few, those brands are Indesit, Bosch, DeLonghi, Samsung, Smeg, and Hoover.
Since understanding the problem and its causes are vital, the technicians will explain them to you so that you can enjoy your appliance longer knowing how to maintain and take care of it.
They're also easy to contact. In fact, go ahead and reach one of the top services for the best appliance repair in Christchurch by phone today!
Highlights
Efficient service
Team will give you advice and tips
Repairs a prominent range of brands
Customer Reviews
In Google Reviews, Sarah Cummins left a 5-star review saying:
"Mike came to fix our dishwasher and did a great job. There was a tiny crack that was causing all the trouble and he came back twice to make sure the leak was fixed. Prompt every time and great communication. I would recommend this company and use Smart Way for any future repairs."
2)  Tim Stockman Appliance Services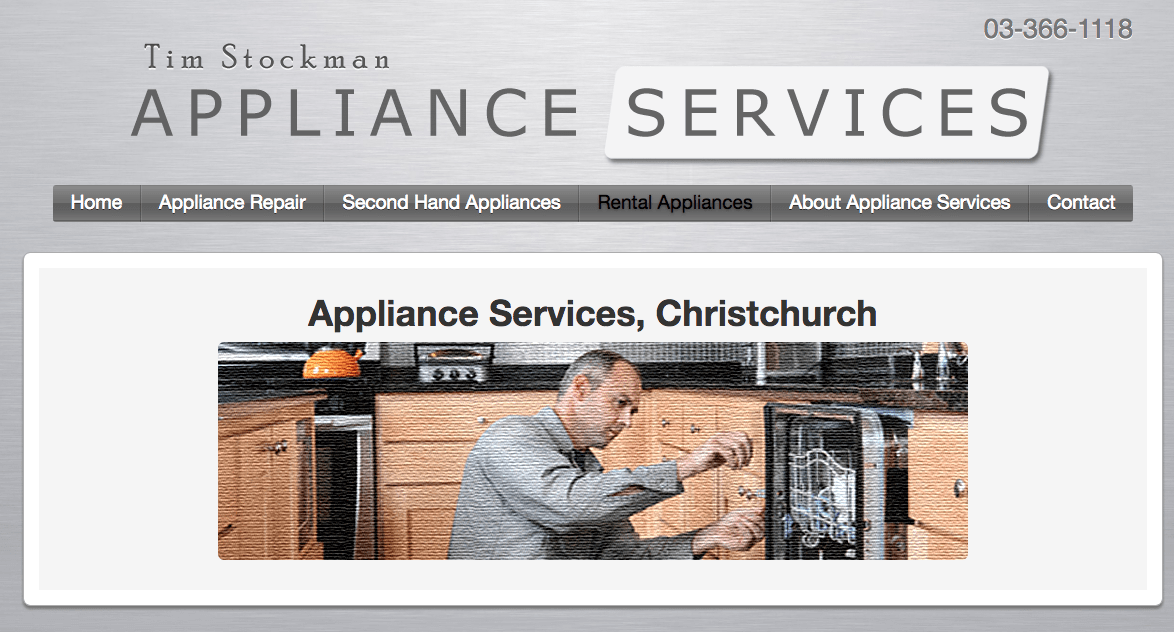 | | |
| --- | --- |
| Areas covered | Greater Christchurch area |
| Services | Repair of Dishwashers, Dryers, Fridge Freezers, Washing Machines, and Ovens |
| Address | 163 Ferry Road, Waltham, Christchurch 8011 |
| Contact no | 03-366-1118 |
| Website | https://www.applianceservices.co.nz |
Looking for a quick appliance repairman to call in Christchurch? You can go for Tim Stockman Appliance Services.
The team members are licenced with Advanced Grade Certificate with adroit skills in repairing your appliance. As such, they are highly trained with years of experience you can trust in.
As for the brands, they service a number of them but not limited to Asko, Atlas, Fisher & Paykel, Haier, Maytag, Westinghouse, LG, and others.
It doesn't come without a guarantee either, as you get a backup 6-month guarantee for the workmanship. If new parts have been used, then that 6 months will double up into a year.
Highlights
Fully qualified technicians
12-month guarantee when a new part was used
Conducts repair on a range of brands
3)  Appliance Guy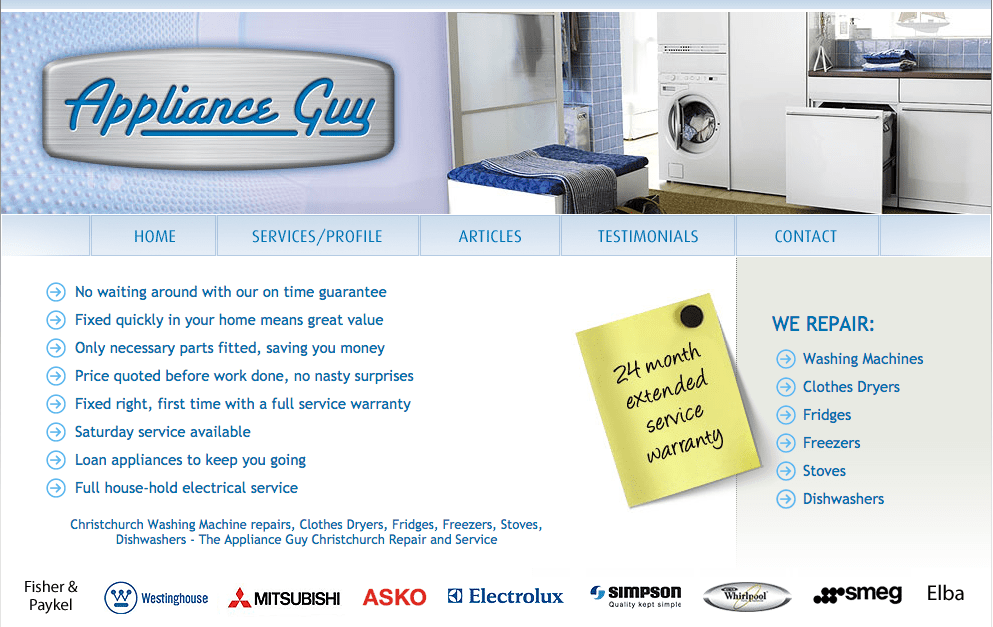 | | |
| --- | --- |
| Areas covered | Throughout Christchurch |
| Services | Repair of Washing Machines, Clothes Dryers, Fridges, Freezers, Stoves, Ovens, Dehumidifiers and Dishwashers |
| Address | 4/8 Vulcan Place, Middleton, Christchurch, New Zealand |
| Contact no | 344 1530 or 0800 233 153 |
| Website | http://www.applianceguy.co.nz/ |
Appliance Guy is fair and competent in their approach to repairing your appliances. You only pay for what you have been quoted and nothing else — all upfront and nothing sneaky.
They are always on time and show up on the day of appointment. Once they arrive, they will get right down to business and bring your appliances back to working condition.
You can ask questions or get some advice by phone or while the technicians are working. This way, you will benefit from it to avoid making the same mistake or to prolong its use for you.
So what makes it one of the top choices for the best appliance repairs in Christchurch? It's because they try to give you value in service and money (i.e. replace the problem part only and not the whole, thus saving you money).
Highlights
On-time promise
Value for money and service
Useful advice about the product
Customer Reviews
From Google Reviews, Neil Bennett shared:
"Called first thing in the morning and very prompt response including a second visit to replace the second component that was required. Very pleased with the service and highly recommend to others."
4)  Dells Appliance Service Centre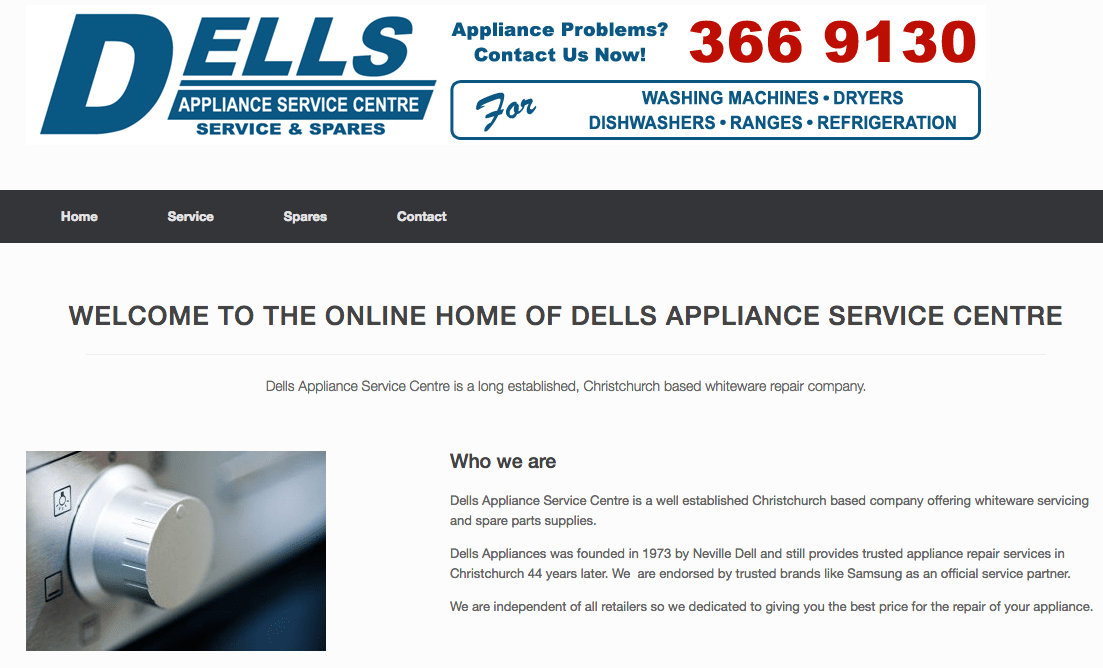 | | |
| --- | --- |
| Areas covered | Greater Christchurch area |
| Services | Repair of Washing Machines, Dryers, Dishwashers, Range Hoods, and Fridge Freezers |
| Address | 1014 Ferry Road, Christchurch, New Zealand |
| Contact no | 366 9130 |
| Website | https://dellsappliances.co.nz/ |
Since 1973, Dells Appliance Service Centre has been repairing whiteware in Christchurch and the surrounding areas for years. It is partnered with famous appliance brands and does their warranty repair service.
Needless to say, their service is of an elite standard provided by registered repair specialists or electricians. You can get spare parts or components from them at a lower non-retail price.
Interestingly enough, their spare parts are counted to have a total of 70,000 items. There are lots on the arsenal of Dells Appliance that will get your appliance up and running again.
Highlights
Almost 50 years of experience
Warranty repair partner for top brands
Has 70,000 spare parts available
5)  Cares Appliances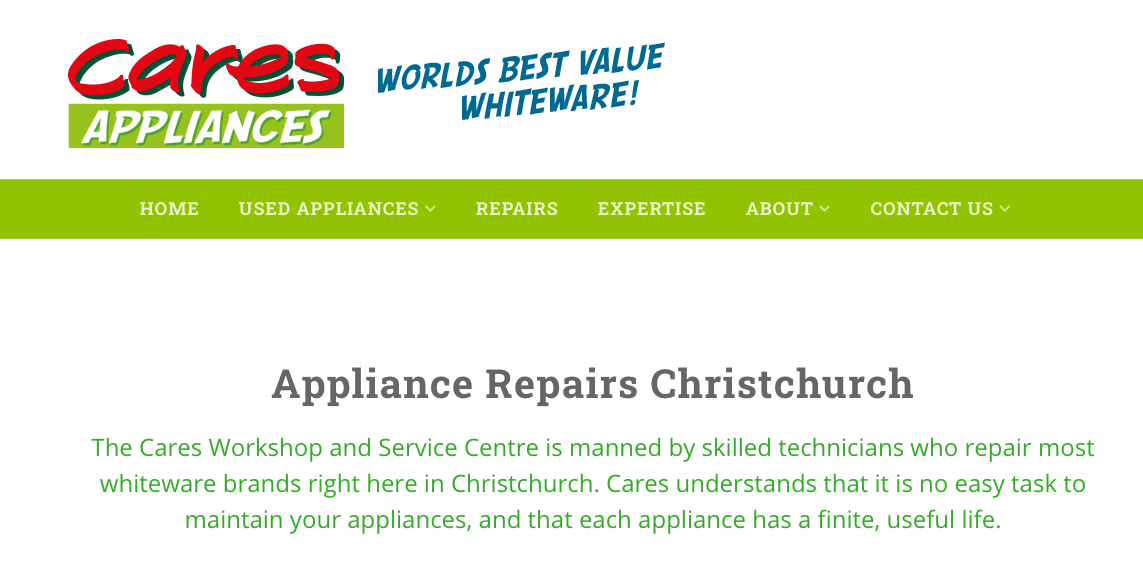 Primarily a whiteware retail store based in Christchurch, Cares Appliances also does repair for your appliances. This includes fridges, freezers, and washing machines as well as dryers and ovens.
They're among the most flexible services for the best appliance repairs in Christchurch. Either you opt that your appliances be restored in Fitzgerald Avenue workshop or for the technicians to conduct a service at your place.
If there's one thing Cares Appliances are great at too, it's their friendly and accommodating customer service. They take the time to explain the issue, what you can do, and how it can last a lot longer.
You can trust them as they have over 10 years of experience that makes them worthy to be in the list of companies doing the best appliance repairs in Christchurch!
Highlights
A decade worth of experience
Excellent customer service
High quality appliance repair
Customer Reviews
What did customers think of Cares Appliances? Gupter99 wrote on Google Review:
"Used for a repair of Electrolux washing machine gasket. Really helpful, got a couple of options for the part, explained process and fixed within the agreed timeframe. Way better than Saxson's service, definitely give these guys a try."
And with that, we wrap up the list of companies for the best appliance repair in Christchurch. Before you discard your appliance, let repair technicians take a look as it might still work and be usable.
Are there any questions about these appliances or whiteware services we listed? Drop us a line and we will get back to you as soon as we can.
If, however, your fridge can't be repaired or you have to get a replacement as per the experts, you can read about the best fridge freezers in New Zealand. There are a lot of sleek fridges that are featured there!