Ever been in a situation where an overgrown tree with gnarly branches started to grow a little too close to your home? If you have, perfect timing, as we've listed the best arborists in Auckland.
Arborists can keep your commercial or personal property tidy with elegantly maintained trees. Don't rule out your hedges and shrubs as they can trim them too.
We looked for the ones that have the best services, equipment, personnel, and guarantees. So without any delay, allow us to present the best arborists in Auckland!
1)  Tree Fellas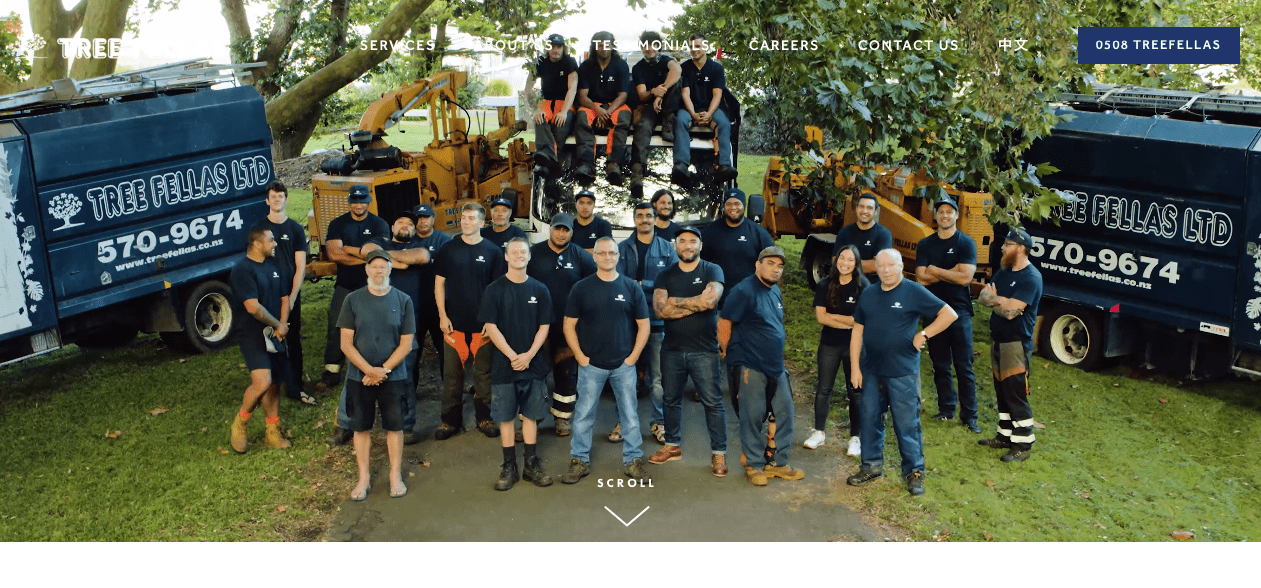 | | |
| --- | --- |
| Areas covered | Greater Auckland area |
| Services | Tree Removal, Stump Grinding, Tree Pruning, Bamboo Removal, Hedge Trimming, Branch Chipping, and Site Clearing |
| Address | 8 Kitson Place, St Johns, Auckland 1072, New Zealand |
| Contact no | 0508 TREEFELLAS or 0508 8733 335527 |
| Website | https://www.treefellas.co.nz/ |
Tree Fellas is an Auckland-based tree services contractor established in 1976. They emphasise their services to be top-standard and safe for both residential and commercial properties.
As one of the best arborists in Auckland, they offer tree removal and maintenance, site clearing, stump grinding, and branch chipping. This keeps the trees by your house tidy and magnificent.
Certified Site Safe and Kiwi Work safe, they understand the value of caring for trees while operating in a safe manner. And they constantly have training to always bring the best service for their clients.
Highlights
Efficient, highly trained arborists
Full range of services
Almost 45 years of experience
Kiwi Work Safe and Site Safe licenced
Customer Reviews
As per the customer testimonials on the About Us page, Esraa said:
"Hi Ryan, I would like to thank the crew: Dale, Kawa, Frank for the great job that they did in my garden . They are very efficient, smart, clever and very polite.
5 STARS. My garden look so beautiful, elegant and clean. I am very happy and I do highly recommend this crew."
2)  Protree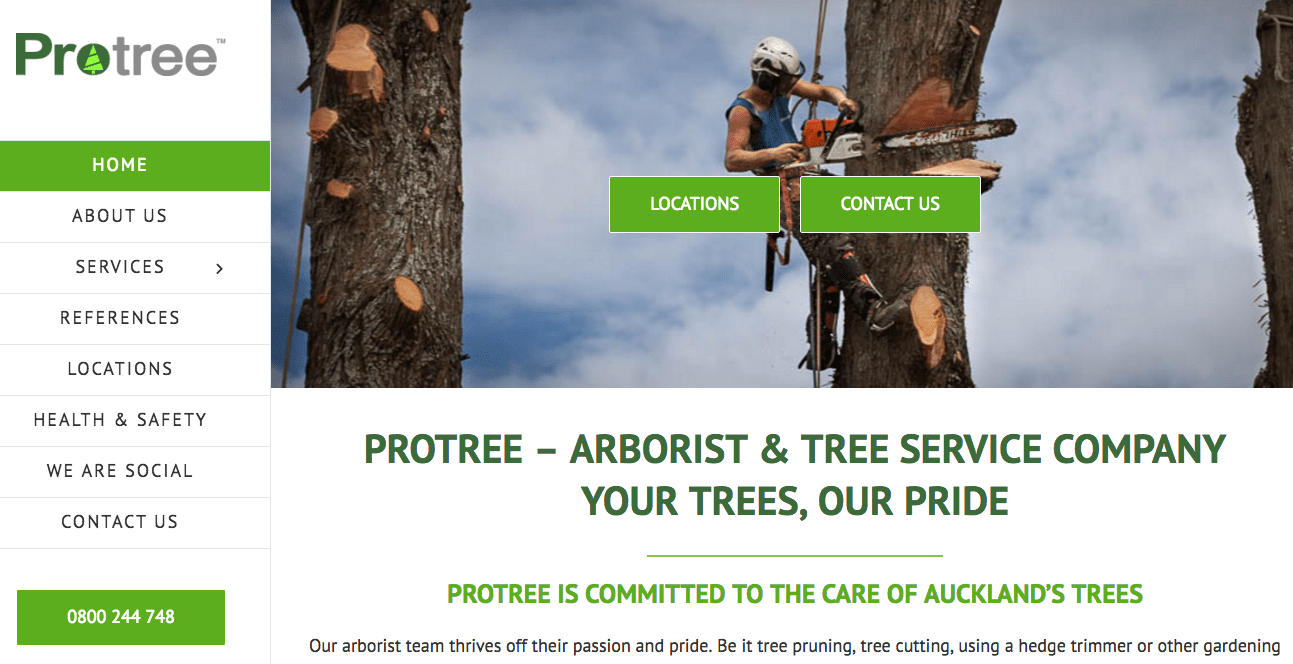 | | |
| --- | --- |
| Areas covered | Auckland and the surrounding areas |
| Services | Arborist Report, Planting, Mulching, Tree Pruning, Emergency Tree Care, Tree Sawing, Section Clearing, Stump Grinding, Hedge Trimming, Thinning Deadwood Removal |
| Address | Auckland, New Zealand |
| Contact no | 0800 244 748 |
| Website | https://www.protree.co.nz/ |
Be it for tree removal or planting, the arborists at Protree can assist you! What makes them some of the best arborists in Auckland is their superbly skilled team, with high tech equipment to match.
They can work from a daring height, hanging by a cable to saw off the invasive branches on your property. Other services include stump and deadwood removal, hedge trimming, mulching, emergency care, and more.
Also, they hold a liability insurance of $5 million to cover your property in case of accidental damage.
Highlights
Well-experienced team
Advanced equipment
Tree cutting and gardening services
Has 5 million public liability insurance
Customer Reviews
Gary Mar writes a review from Google Business:
"Used Protree several times over the years, turns up on time, quick and efficient.  They keep things clean even ring up the trunk for firewood for you.  George and his team do an great job."
3)  Urban Arborists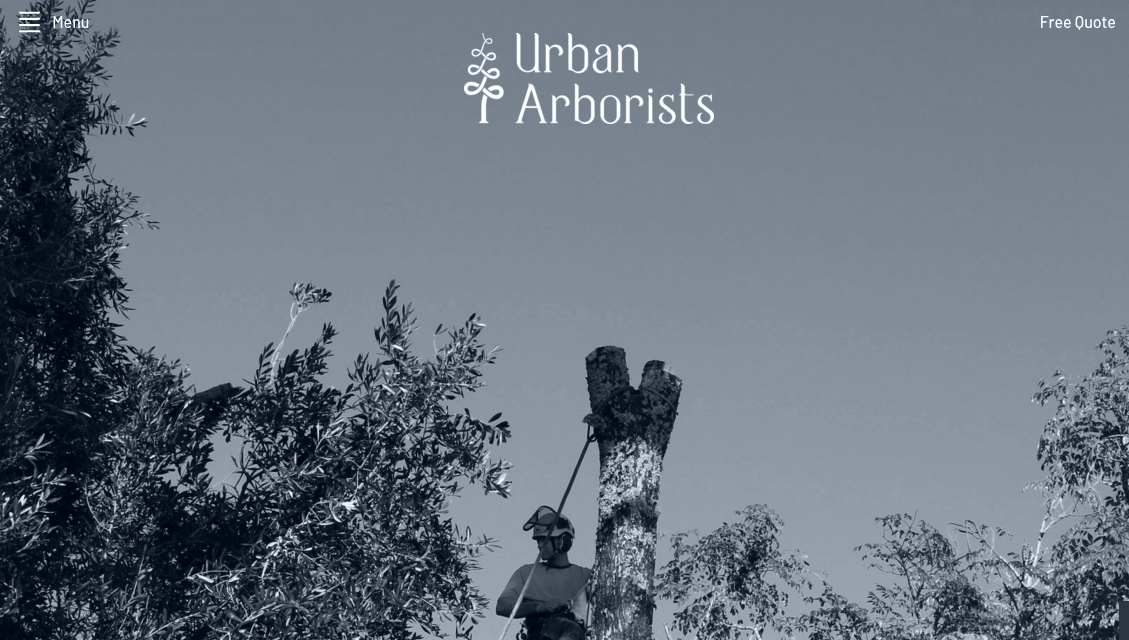 | | |
| --- | --- |
| Areas covered | Auckland and the surrounding areas |
| Services | Tree Removals, Tree Trimming, View Restoration, Site Clearance, and Stump Grinding |
| Address | Auckland, New Zealand |
| Contact no | 021 316 335 |
| Website | https://urbanarborists.co.nz |
If there are a cluster of trees obstructing your view, no matter how high they are, Urban Arborists can remove or trim them. Being well-trained, they can take down the highest trees safely and away from your property.
They also have modern machinery for stump grinding, wood chipping, or transport of fallen branches. Soon you will have a home that's more open, with a breathtaking view.
You won't have to worry too, as they are insured in the unlikely event that your house gets damaged by a tree. You can just count on their talent and experience to get the job done.
Highlights
Lead arborist Jed Copsey has over 10 years of experience
Modern equipment
Keen eye for detail
Reliable and careful
Customer Reviews
Catherine McArdle described how Urban Arborists were at her property:
"Jed and his team did a great job.  Cut down and trimmed a large selection of overgrown trees, hedges and removed a large number of tall Yuccas.  Turned up on time.  Left the property spotless. Highly recommend Urban Arborists."
4)  Auckland Tree Services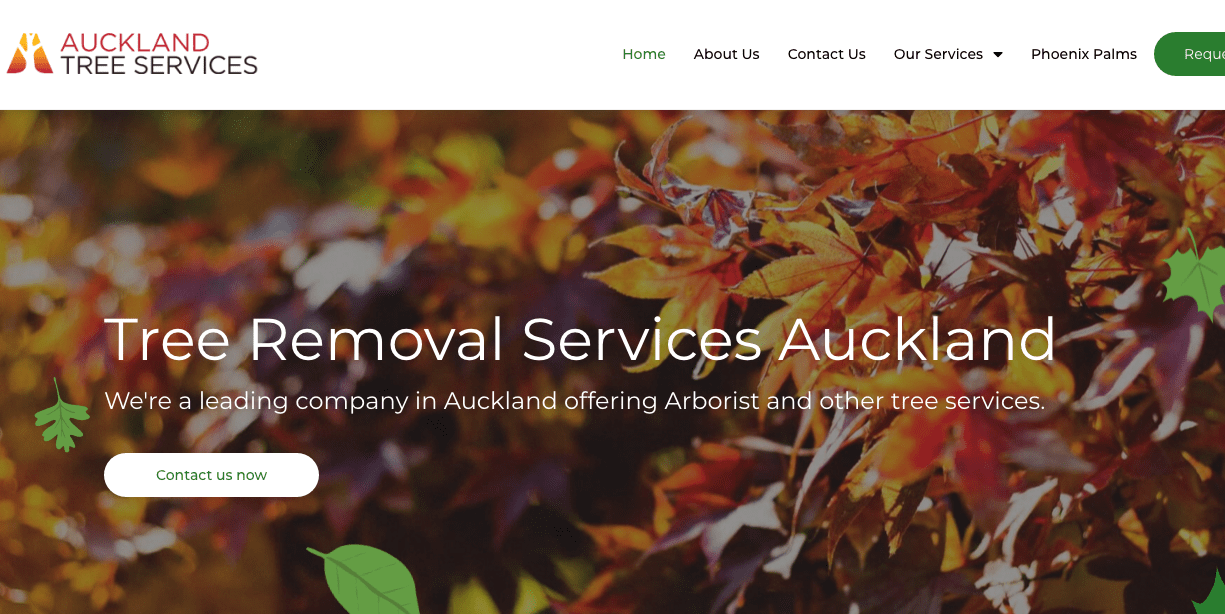 | | |
| --- | --- |
| Areas covered | Auckland and the surrounding areas |
| Services | Site Clearance, Tree Removal, Tree Pruning, Tree Limb Adjustment |
| Address | 10 Waikaukau Road, Glen Eden, Auckland 0602, New Zealand |
| Contact no | 0800 03 03 03 |
| Website | https://www.aucklandtreeservices.co.nz/ |
For sincere advice and safety-centred work, at the top of your list should be Auckland Tree Services. This sets them apart from other companies we included — because they are true and honest to their customers.
They can prune the leaves that are adding weight to the branch so that the tree will look lighter and neater. Also, they can clear the entire path of tree stumps, deadwood, and debris.
The team are hard workers, punctual, and leave their work clean every time. Who could top their arborist work ethic and customer treatment?
Highlights
Honesty with customers
Safe and reliable tree works
Complete tree services
Cleans up the place after the work
Customer Reviews
Philip Rose called the Auckland Tree Services team for mulching, and he wrote:
"Very impressed with these guys.  Simon was the first to come back with a quote (lowest of three I'd obtained) for mulching a decent sized pile of branches from various trees we'd trimmed / cut down.  He came the next day and had the job completed quickly and efficiently.  Superb service!"
5)  Tree Factor Ltd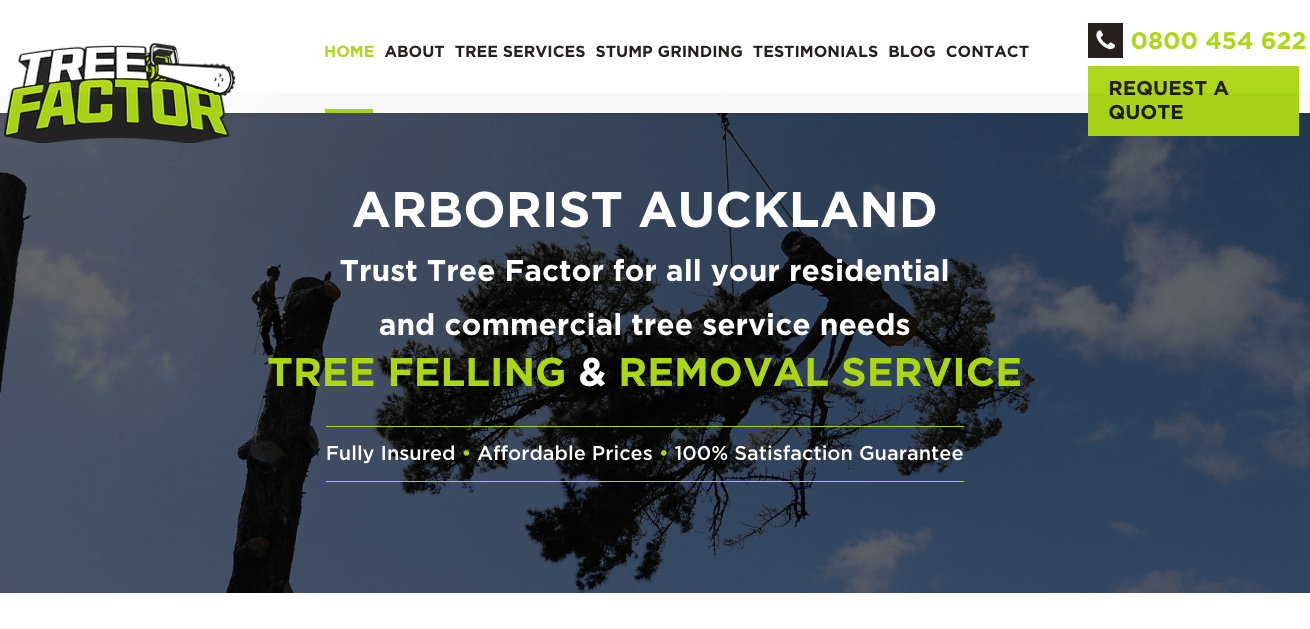 | | |
| --- | --- |
| Areas covered | Auckland and the surrounding areas |
| Services | Tree Removal, Stump Grinding, Palm Removal and Pruning, Tree Pruning, and Site Clearance |
| Address | 30 Springvale Drive, Fairview Heights, Auckland 0632, New Zealand |
| Contact no | 0800 454 622 |
| Website | https://treefactor.co.nz/ |
Tree Factor Ltd is an arboriculture and tree removal firm with a specialised interest in palm trees. They are efficient and safe in their work.
If your garden, hedge, or tree has become unkempt, the team at Tree Factor also does the necessary pruning & shaping to keep your place looking wonderful and pleasing to the eye.
Because the team works expertly and safely, they can give a lower price than others for the service they offer without a drop in quality. Indeed, this is another one of the best arborists in Auckland.
Highlights
Palm tree specialist
Affordable pricing
Offers pruning and site clearing
Complies with safety standards
Customer Reviews
David Owen said on the testimonial page of the Tree Factor website:
"Great service! Worked in stormy conditions to take down a broken tree between 2 sets of power lines and next to the house. Did a great job, and provided some free mulch as well!"
And that's all for the best arborists in Auckland. You can be 100% sure that they will safely remove the trees for your landscaping, construction, or safety of your property.
Any questions so far about this topic we've had? Feel free to ask us by sending us a message, and we will get back to you in a moment.
You can also take it even further and adorn your house with high-quality fences to further improve your yard's looks. For this you can read about the best fencing companies in Auckland.