13 Best Arborists in Auckland Reviewed: The Trusted List
Ever been in a situation where an overgrown tree with gnarly branches started to grow a little too close to your home? If you have, perfect timing, as we've listed the best arborists in Auckland.
Arborists in Auckland can keep your commercial or personal property tidy with elegantly maintained trees. Don't rule out your hedges and shrubs as they can trim them too.
We looked for the ones that have the best services, equipment, personnel, and guarantees. So without any delay, allow us to present the best arborists in Auckland!
1) Hardfell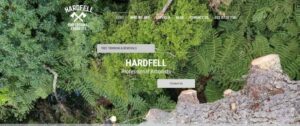 BEST FOR
Tree Trimming & Removals
WEBSITE
https://www.hardfell.co.nz/
ADDRESS
325 Don Buck Road, Massey, Auckland 0610, New Zealand
CONTACT DETAILS
+64 (0) 210 7207 39
[email protected]
OPERATING HOURS
MONDAY – FRIDAY
8AM-5PM
Hardfell is a tree trimming and tree removal company in Auckland that prioritises their customer's needs. They ensure that they provide services that are safe, eco-friendly, and hassle free for their clients.
Their team of professionals are well-versed in various areas in the industry. If you employ them for your property, you can rest assured that Hardfell will get the job done.
Highlights
Satisfaction-guaranteed services
Friendly, reliable, and professionally trained arborists
2)  Tree Fellas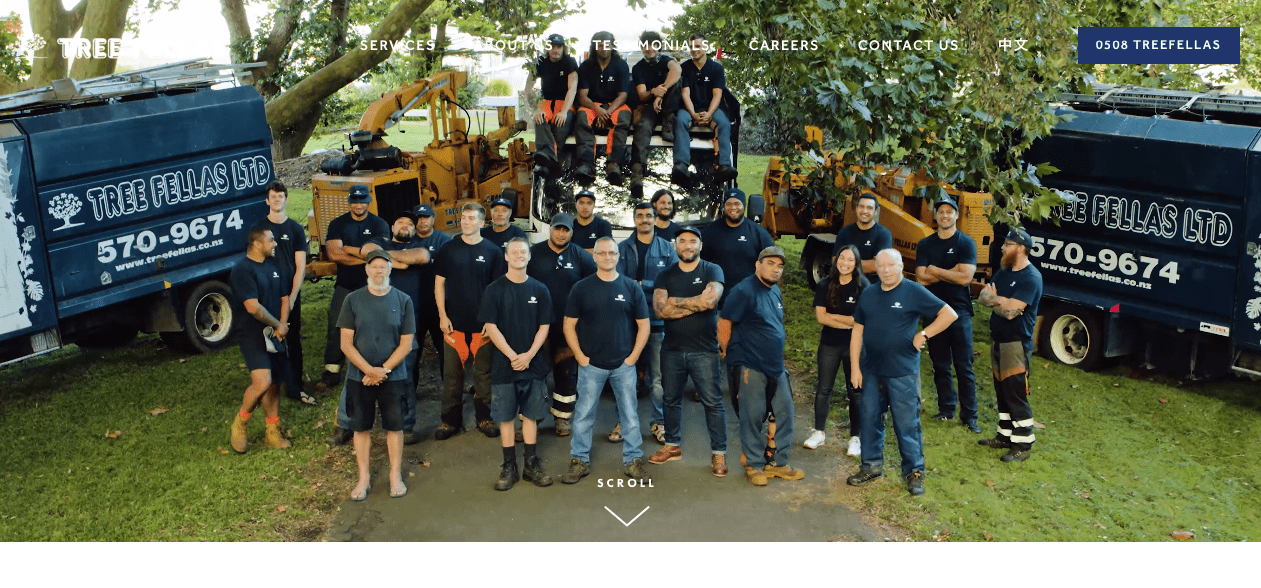 | | |
| --- | --- |
| Areas covered | Greater Auckland area |
| Services | Tree Removal, Stump Grinding, Tree Pruning, Bamboo Removal, Hedge Trimming, Branch Chipping, and Site Clearing |
| Address | 8 Kitson Place, St Johns, Auckland 1072, New Zealand |
| Contact no | 0508 TREEFELLAS or 0508 8733 335527 |
| Website | https://www.treefellas.co.nz/ |
Tree Fellas is an Auckland-based tree services contractor established in 1976. They emphasise their services to be top-standard and safe for both residential and commercial properties.
As one of the best arborists in Auckland, they offer tree removal and maintenance, site clearing, stump grinding, and branch chipping. This keeps the trees by your house tidy and magnificent.
Certified Site Safe and Kiwi Work safe, Tree Fellas understands the value of caring for trees while operating in a safe manner. And they constantly have training to always bring the best service for their clients.
If you want a trusted company that's been around for more than 40 years and are experts in tree removal, tree trimming and tree pruning in Auckland, Tree Fellas could very well be the best arborist in Auckland for you.
Highlights
Efficient, highly trained arborists
Full range of services
Almost 45 years of experience
Kiwi Work Safe and Site Safe licenced
Customer Reviews
As per the customer testimonials on the About Us page, Esraa said:
"Hi Ryan, I would like to thank the crew: Dale, Kawa, Frank for the great job that they did in my garden . They are very efficient, smart, clever and very polite.
5 STARS. My garden look so beautiful, elegant and clean. I am very happy and I do highly recommend this crew."
3)  Protree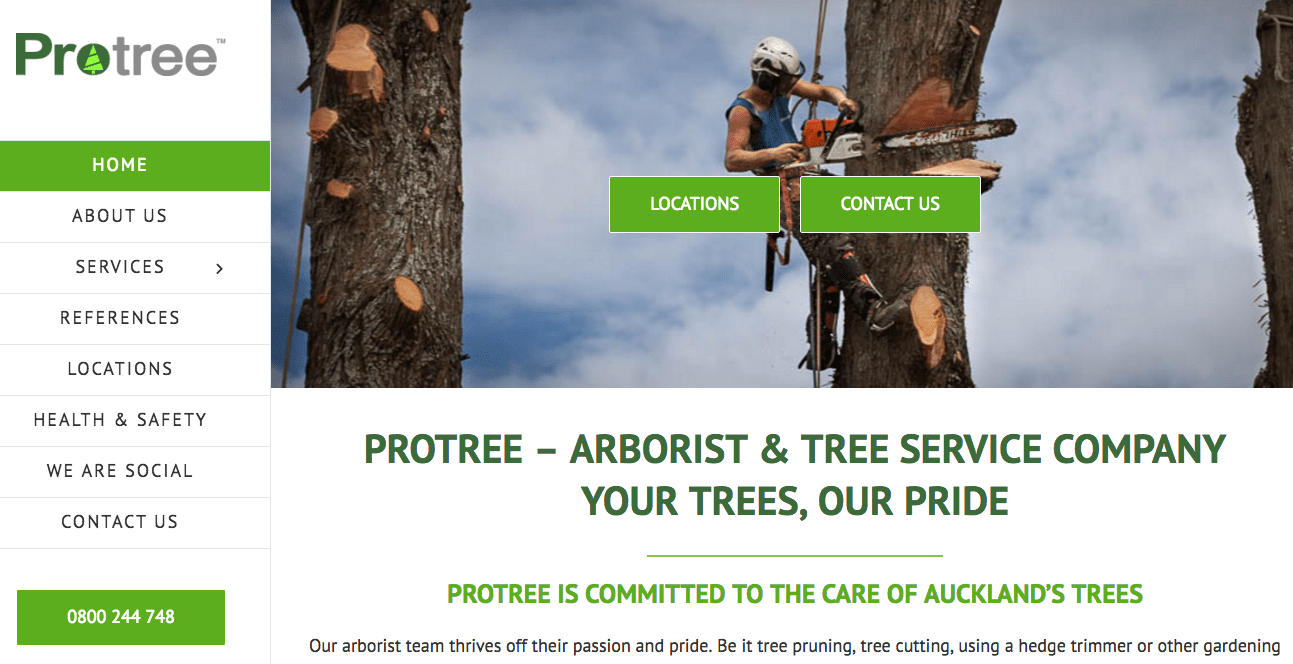 | | |
| --- | --- |
| Areas covered | Auckland and the surrounding areas |
| Services | Arborist Report, Planting, Mulching, Tree Pruning, Emergency Tree Care, Tree Sawing, Section Clearing, Stump Grinding, Hedge Trimming, Thinning Deadwood Removal |
| Address | Auckland, New Zealand |
| Contact no | 0800 244 748 |
| Website | https://www.protree.co.nz/ |
Be it for tree removal in Auckland or tree cutting services, the arborists at Protree can assist you! What makes them some of the best arborists in Auckland is their superbly skilled team, with high tech equipment to match.
They can work from a daring height, hanging by a cable to saw off the invasive branches on your property. Other services include stump and deadwood removal, hedge trimming, mulching, emergency care, and more.
Also, they hold a liability insurance of $5 million to cover your property in case of accidental damage. This is pretty important when you're considering where to go to for the best arborist in Auckland.
Highlights
Well-experienced team
Advanced equipment
Tree cutting and gardening services
Has 5 million public liability insurance
Customer Reviews
Gary Mar writes a review from Google Business:
"Used Protree several times over the years, turns up on time, quick and efficient.  They keep things clean even ring up the trunk for firewood for you.  George and his team do an great job."
4)  Urban Arborists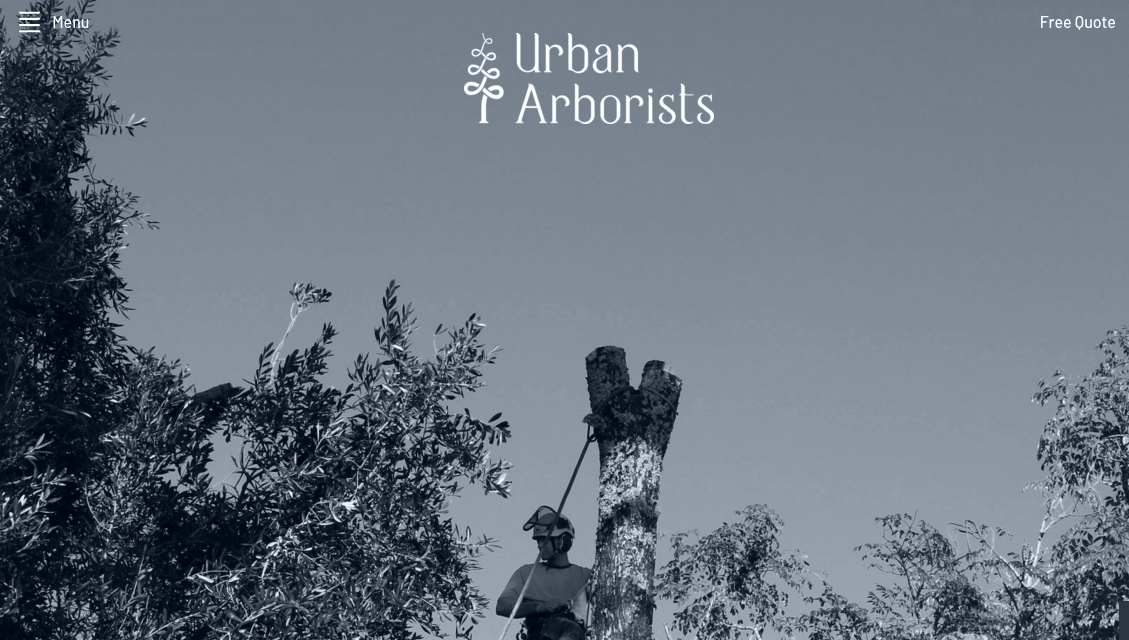 | | |
| --- | --- |
| Areas covered | Auckland and the surrounding areas |
| Services | Tree Removals, Tree Trimming, View Restoration, Site Clearance, and Stump Grinding |
| Address | Auckland, New Zealand |
| Contact no | 021 316 335 |
| Website | https://urbanarborists.co.nz |
If there are a cluster of trees obstructing your view, no matter how high they are, Urban Arborists can remove or trim them. Being well-trained, they have years of experience in safe tree removal in Auckland and tree cutting services.
They also have modern machinery for stump grinding, wood chipping, or transport of fallen branches. Soon you will have a home that's more open, with a breathtaking view.
You won't have to worry too, as they are insured in the unlikely event that your house gets damaged by a tree during their tree pruning or other activities.  You can just count on their talent and experience to get the job done, be it tree pruning in Auckland or tree removal.
Highlights
Lead arborist Jed Copsey has over 10 years of experience
Modern equipment
Keen eye for detail
Reliable and careful
Customer Reviews
Catherine McArdle described how Urban Arborists were at her property:
"Jed and his team did a great job.  Cut down and trimmed a large selection of overgrown trees, hedges and removed a large number of tall Yuccas.  Turned up on time.  Left the property spotless. Highly recommend Urban Arborists."
5)  Auckland Tree Services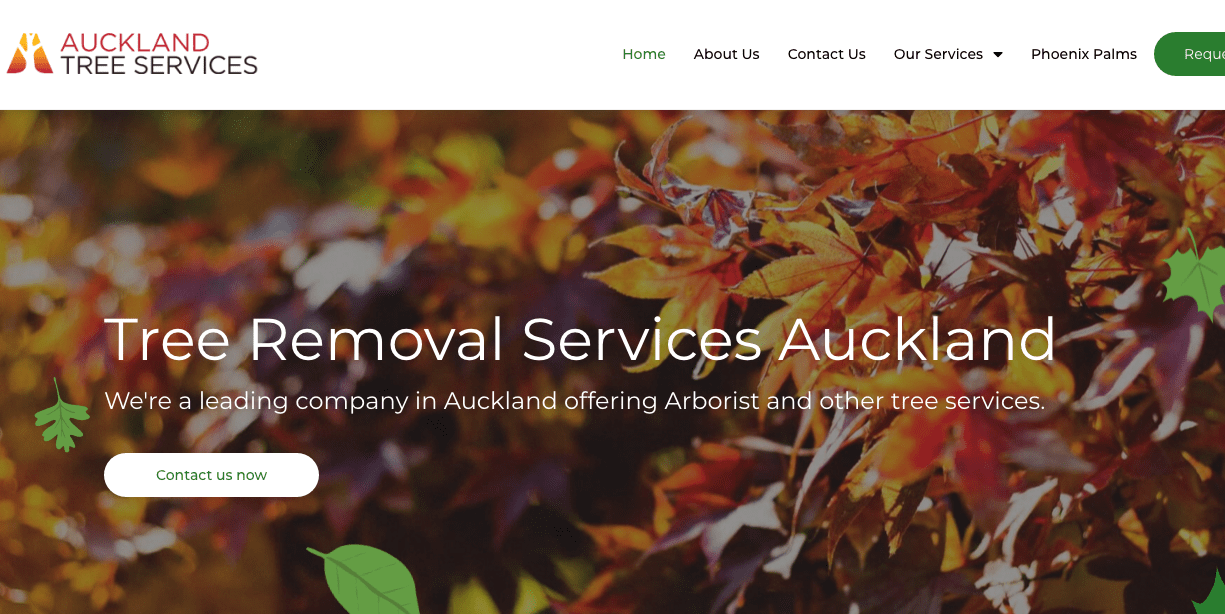 | | |
| --- | --- |
| Areas covered | Auckland and the surrounding areas |
| Services | Site Clearance, Tree Removal, Tree Pruning, Tree Limb Adjustment |
| Address | 10 Waikaukau Road, Glen Eden, Auckland 0602, New Zealand |
| Contact no | 0800 03 03 03 |
| Website | https://www.aucklandtreeservices.co.nz/ |
For sincere advice and safety-centred work, at the top of your list should be Auckland Tree Services. This sets them apart from other arborists in Auckland that we included — because they are true and honest to their customers.
They can easily do tree pruning in Auckland, trimming off added weight to the branch so that the tree will look lighter and neater. Also, they can clear the entire path of tree stumps, deadwood, and debris.
The team are hard workers, punctual, and leave their work clean every time. Who could top their arborist work ethic and customer treatment?
Highlights
Honesty with customers
Safe and reliable tree works
Complete tree services
Cleans up the place after the work
Customer Reviews
Philip Rose called the Auckland Tree Services team for mulching, and he wrote:
"Very impressed with these guys.  Simon was the first to come back with a quote (lowest of three I'd obtained) for mulching a decent sized pile of branches from various trees we'd trimmed / cut down.  He came the next day and had the job completed quickly and efficiently.  Superb service!"
6)  Tree Factor Ltd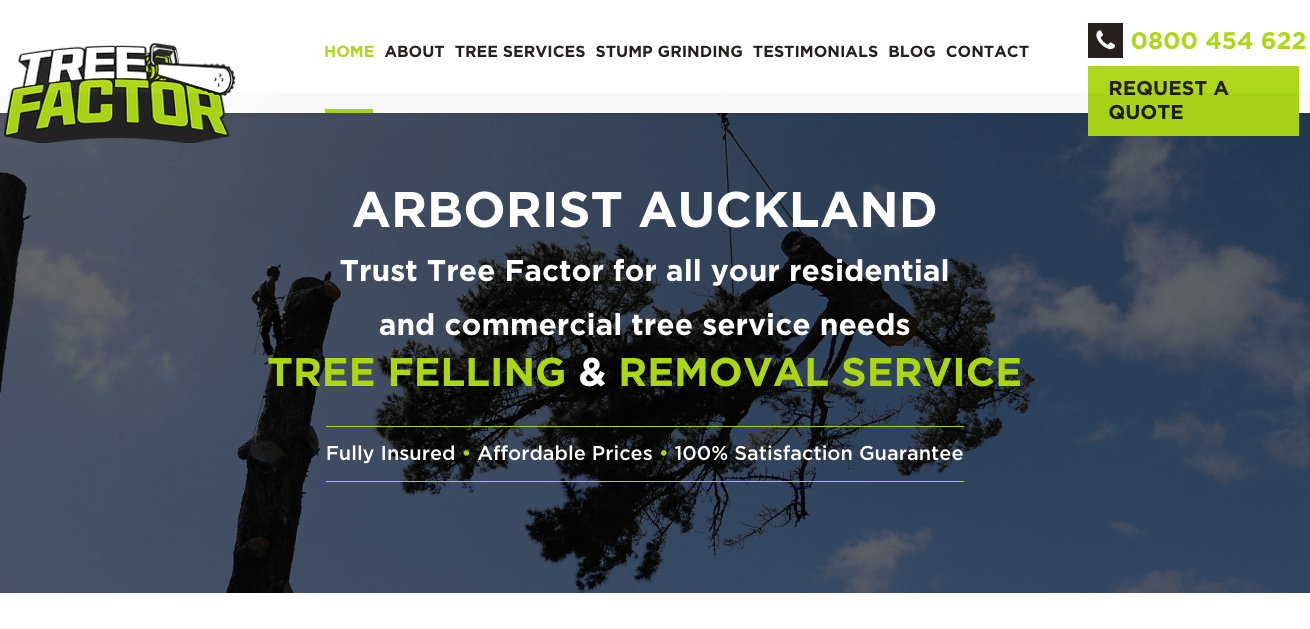 | | |
| --- | --- |
| Areas covered | Auckland and the surrounding areas |
| Services | Tree Removal, Stump Grinding, Palm Removal and Pruning, Tree Pruning, and Site Clearance |
| Address | 30 Springvale Drive, Fairview Heights, Auckland 0632, New Zealand |
| Contact no | 0800 454 622 |
| Website | https://treefactor.co.nz/ |
Tree Factor Ltd is an arboriculture and tree removal firm with a specialised interest in palm trees. They are efficient and safe in their work.
If your garden, hedge, or tree has become unkempt, the team at Tree Factor also does the necessary tree pruning and tree trimming in Auckland, as well as shaping them to keep your place looking wonderful and pleasing to the eye.
Because the team works expertly and safely, they can give a lower price than others for the service they offer without a drop in quality. Indeed, this is another one of the best arborists in Auckland.
Highlights
Palm tree specialist
Affordable pricing
Offers pruning and site clearing
Complies with safety standards
Customer Reviews
David Owen said on the testimonial page of the Tree Factor website:
"Great service! Worked in stormy conditions to take down a broken tree between 2 sets of power lines and next to the house. Did a great job, and provided some free mulch as well!"
7) DS Trees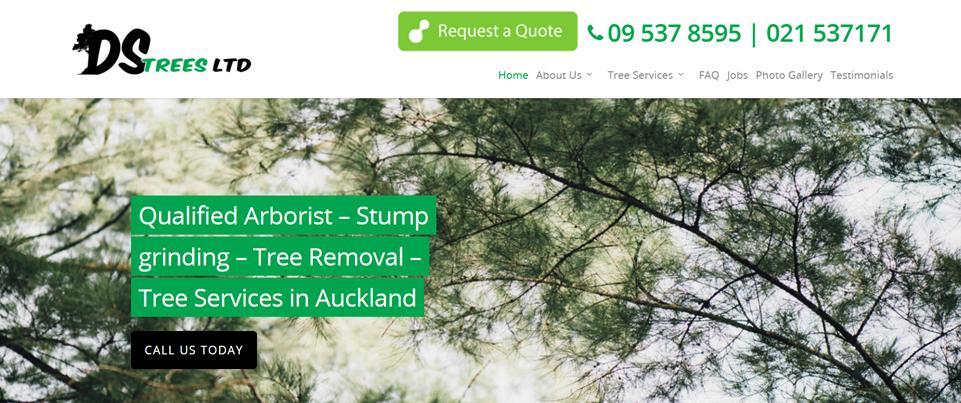 Areas covered
Auckland-wide
Services
Tree Removal and Tree Felling
Thinning, Pruning and Shaping
Stump Grinding
Hedge Trimming
Section Clearing
Clipping and Mulching
Storm Damage
Address

33 Bert Wilson Place, Cockle Bay, Auckland 2014, New Zealand

Contact no
Phone: (09) 537 8595
Mobile: (021) 537 171
Website
https://dstrees.co.nz/
DS Trees is one of the best companies to acquire when you're in need of an arborist in Auckland. With their years of experience and expertise, they're sure to be able to maintain trees and hedges on your lawn, with much swiftness and ease..
They offer services like tree removal, hedge maintenance, tree maintenance, stump grinding, and site clearing, for clients both in residential and commercial setting.
Have DS Trees fix your exteriors without worries, contact them now for a hassle-free removal service.
Highlights
Free quotation and advice
Cost-efficient rates
Hassle-free clean job
Qualified team of arborists
Customer Reviews
Take a look at some of the testimonies posted on DS Trees' website:
"We have had DS trees to trim our hedges and large trees for 2 years now. We deal with Doug who is reliable, prompt and his rates are very reasonable compared to others who quoted for the job. The guys who do the trimming do an excellent job and tidy up afterwards. We recommend DS trees to anyone." – The Baker Family
"To whom it may concern, Doug and his team were highly professional in the job undertaken at my property. They arranged a time with me promptly and were punctual and efficient. I was particularly impressed that they went above and beyond what was expected of them. The quality of the job was superb and the price was very reasonable. Doug is someone that I feel that I can trust and I will certainly refer back to him in the future. He has years of experience and knows what he is doing. I am not the only person who commends this man and his top quality team." – Dr. Priyanka Kumar
8) The Tree Company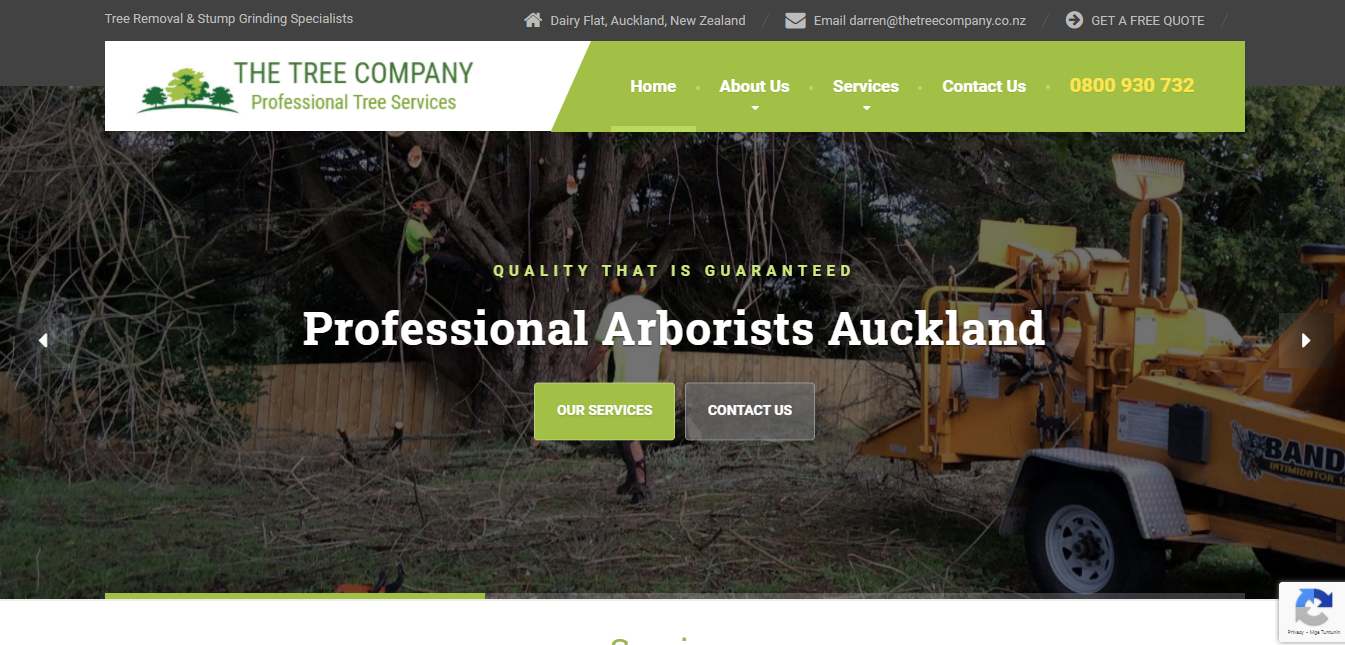 As a team of skilled tree experts, The Tree Company is dedicated to the health of trees and the surrounding environment specialising in tree safety and care. They provide a wide range of tree services including tree felling and removals, tree trimming, tree pruning, tree cutting, stump grinding, stump removal, etcetera.
Serving Auckland's North Sore, Dairy Flat and Hibiscus Coast, the team is fully insured. They are also offering fast, friendly service, quality work, and competitive rates.
The Tree Company has a full Health and Safety program in place according to industry standards which are adhered to by all of our staff. The Tree Company's team of professional arborists in Auckland will work with any client to develop long-term plans for your property's trees, ensuring their health and safety.
Highlights
Affordable prices
Experienced arborist for assistance
Prompt service
Customer Reviews
"Darren and the team were fantastic to deal with, did what they promised, didn't change pricing or try and reduce scope of work. Would definitely use again and definitely recommend."

"Excellent company to work with. Darren was extremely efficient with all aspects of communication and the job was quickly completed to a very high standard."
9) Specimen Treecare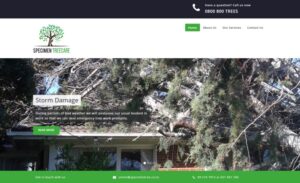 Specimen Treecare is an arborist company in Auckland that offers the complete set of tree maintenance services. With their continuously high-quality services, it's no surprise that they have a wide range of returning clients.
Their team of Auckland arborists has many years of experience under their belt. With their help, landscaping your property will be a breeze.
Highlights
Regularly updated and reviewed Health and Safety system
Council approved supplier
10) Waiheke Arborist & Tree Care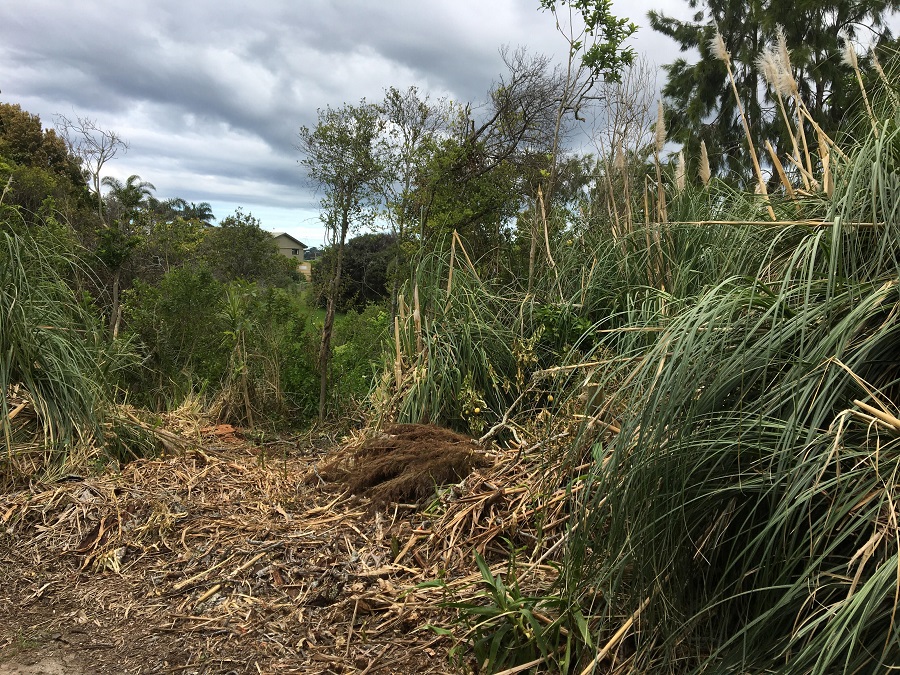 Waiheke Arborist & Tree Care is one of the leading suppliers in Waiheke. With over 20 years of experience in the industry, they're well-known for providing high-quality services to their regular clients and those who need tree removal in Auckland.
Their skilled and friendly team is experienced with all kinds of tree care services. You can rest assured that you will be provided top-notch services if you ever hire them for your property.
We absolutely like their complimentary quotation as that saves a lot of time when you're searching for the best arborist in Auckland.
Highlights
Free quote available
Over 20 years of experience
11) My Tree Services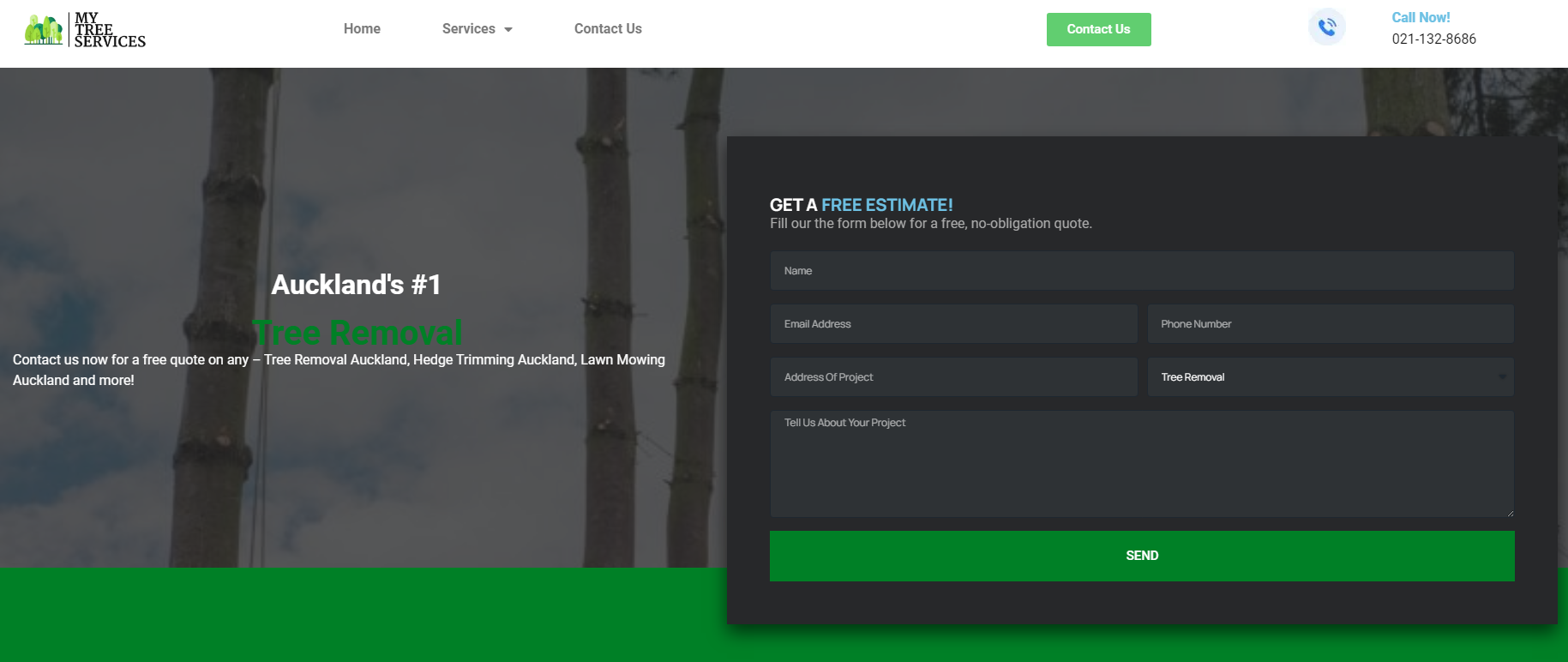 My Tree Services is regarded as one of the best arborist companies in all of Auckland for a few good reasons. First, the company's years of experience in the field, which amounts to over 28 years.
These years were spent honing and perfecting their craft of cultivating and managing trees and other greenery. My Tree Services offers lawn care and hedge trimming, but they're most known for their tree removal services.
Typically, the procedure goes as follows: Clients reach out to My Tree Services and the company will provide an estimate within 48 hours. After, they'll visit the site, have the tree removed, and clean up the area to leave it spick and span.
Their expert team of arborists in Auckland are thorough in every job they take on, assuring clients that trees are removed in a safe, professional manner without negatively affecting the area. Moreover, they're prompt, friendly, and always endeavours to provide the best service possible.
Highlights
Free no-obligation quote
Site cleanup available
Prompt response
12. The Tree Climbers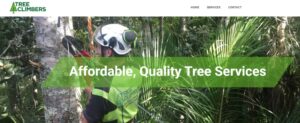 The Tree Climbers started out as a passion project to provide quality arborist services in Auckland. Soon, it grew to what it is today: One of the most trusted companies in Auckland known to offer top-notch arborist services at fair prices.
Now, clients looking for removal services or hedge trimming services need not look further than the Tree Climbers. The company offers a wide array of services, including tree removal, reduction, and thinning, hedge trimming, tree bracing, and tree installations.
If you're in need of any of those, feel free to contact The Tree Climbers at the earliest. Their team is highly professional, communicative, and prompt; and they'll get back to you at the latest.
As for the people they send out to perform the services, they're just as noteworthy as well! All of them have been thoroughly checked by The Tree Climbers, ensuring that the technicians and team of arborists in Auckland have the skills and expertise to competently and confidently deliver what the clients need.
Highlights
Wide array of arborist services including removals and installations of trees
Highly communicative and prompt team
Affordable rates
13. Auckland Tree Works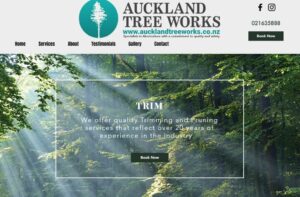 Areas covered
Greater Auckland Area
Services
Tree Removal, Site Clearance, Tree Pruning and Trimming, Hedge Trimming, Arboricultural Assessment and Supervision, Stump Grinding
Address
12 Church Road, Mangere Bridge, Auckland 2022
Contact no
[email protected]

021635888

Website
https://www.aucklandtreeworks.co.nz
If you're looking for a company to trim your hedges, or do basic tree removal in Auckland, then consider checking out Auckland Tree Works, one of the leading arborist companies in the Greater Auckland area.
Auckland Tree Works is locally owned and operated, and offers a wide array of services, including tree removals, site clearances, tree pruning, and trimming, hedge trimming, and many more. These services are delivered by some of the best arborists in the field, led by Eli, the owner and lead arborist of the company.
It's worth noting that the range of services isn't the only reason why Auckland Tree Works landed on our list of best arborists in Auckland. No, we also commend the company's professionalism and timeliness in arriving at the areas.
Each member of the team was cherry-picked after careful consideration of their skills, expertise, and character. So, clients can rest easy with the knowledge that they're in great hands.
Highlights
Personalised arborist services
Reuses timber and tree waste is for firewood and the mulch for gardens
Personable and professional arborists
And that's all for the best arborists in Auckland. You can be 100% sure that they will safely remove the trees for your landscaping, construction, or safety of your property.
Any questions so far about this topic we've had? Feel free to ask us by sending us a message, and we will get back to you in a moment.
You can also take it even further and adorn your house with high-quality fences to further improve your yard's looks. For this you can read about the best fencing companies in Auckland.
And should you find yourself in Rangiora and have some power hiccups, check our list of the best electricians in Rangiora!