The 9 Groups for the Best Asbestos Removal in Auckland
(Image Credit: asarva.org)
Asbestos is a toxic and cancerous mineral found in older homes and buildings. To ensure the safety of people who may have it in their properties, we have outlined the groups for the best asbestos removal in Auckland.
We've chosen companies that are industry-safe, fast and efficient, and have great customer reviews. Now without any more delay, here are the groups for the best asbestos removal in Auckland!
1)  Protectus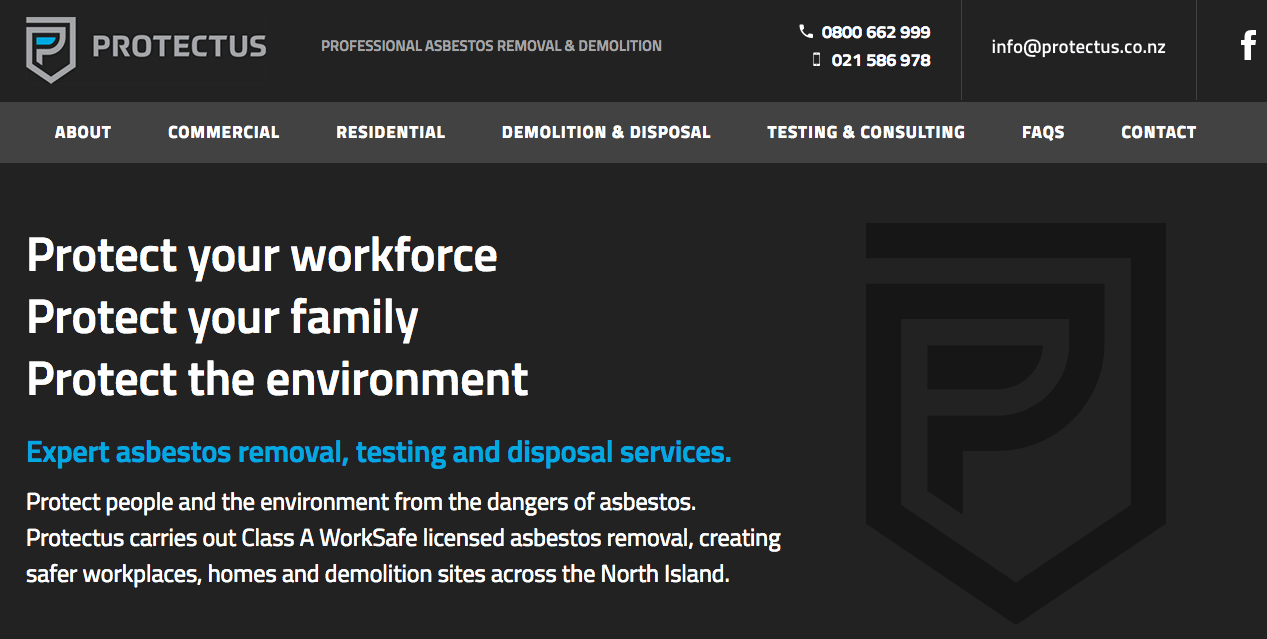 | | |
| --- | --- |
| Areas covered | North Island-wide |
| Services | Residential, Commercial, and Industrial Asbestos Removal |
| Address | 21/10 Airborne Road, Rosedale, Auckland 0632, New Zealand |
| Contact no | 0800 662 999 |
| Website | https://asbestosremoval.co.nz/ |
For a safe and thorough asbestos removal at your home or company, call up Protectus. They are WorkSafe licenced, ensuring safety for the workplace, environment, and most of all, safety for you.
They offer asbestos management, disposal, and testing services — it only takes minimal downtime. Their team is experienced and well-equipped with the proper hazard gear.
Also, they can provide you with a time-lapse video showing their entire asbestos work on your property in minutes. This acts as a reference for their quality, work rate and safety compliance.
Highlights
Fast, efficient, and safe asbestos removal
WorkSafe licenced
Offers time-lapse video
Customer Reviews
Penny Holden comments from Google Reviews:
"Sudden discovery of asbestos led me to Josh in middle of building project. Fast turnaround, responsive, competitive quote and some goodwill gestures. All sorted in 2 days. Recommended!"
2)  ATL Group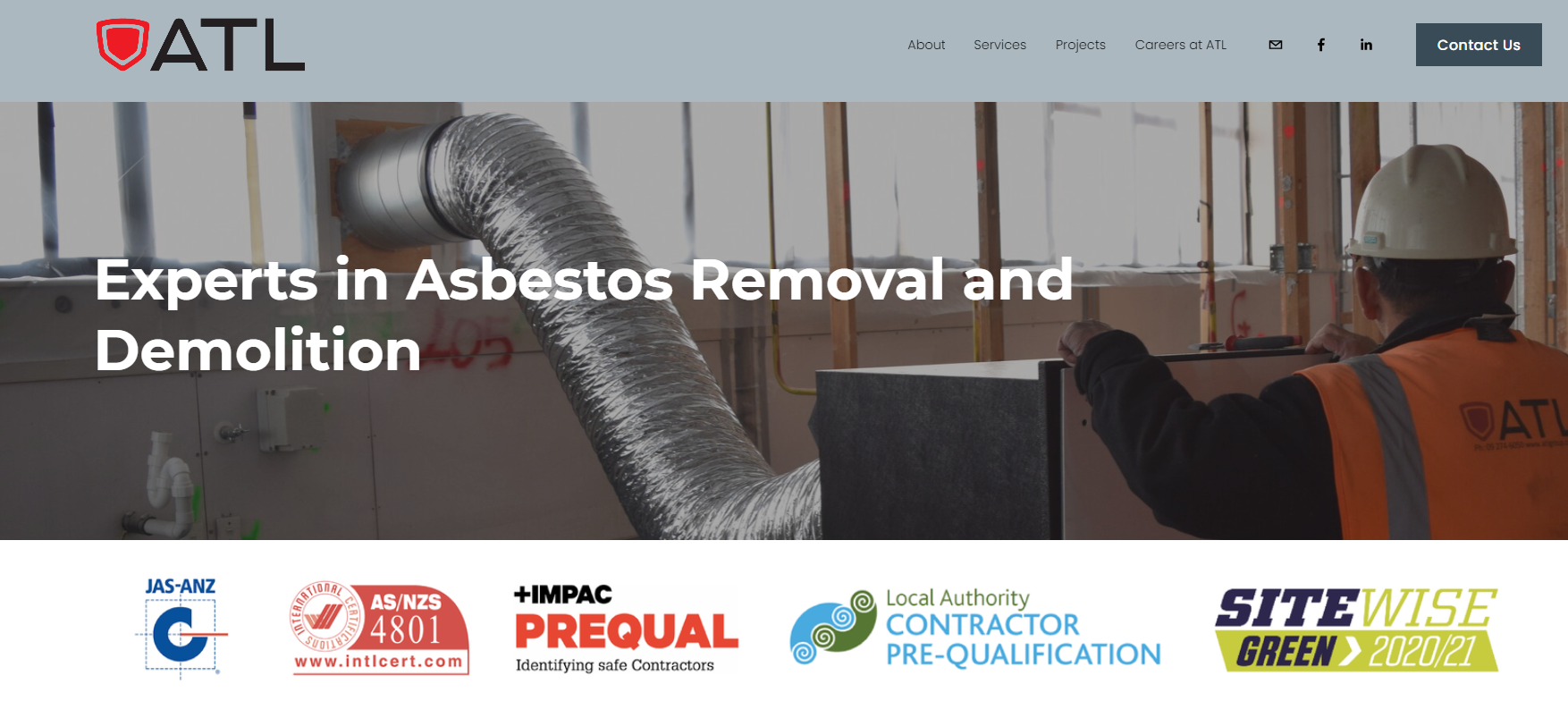 | | |
| --- | --- |
| Areas covered | New Zealand-wide |
| Services | Asbestos Removal, Management, and Clean-up |
| Address | 139 Cryers Road, East Tamaki, Auckland 2013, New Zealand |
| Contact no | 0800 272 328 |
| Website | https://www.atlgroup.co.nz/ |
If your building was constructed before 1990, chances are it has traces of asbestos left within. Asbestos is a building material that can cause cancer and/or aggravating health conditions.
ATL Group delivers asbestos removal services that they describe as "Safe, Simple, Excellent". They utilise the safest work practices to keep the premises safe and healthy in the most efficient way.
Whether it's your office, factory, or house, ATL Group can remove the harmful asbestos forever, even safely dispose of it. As such, it is one of the groups for the best asbestos removal in Auckland.
Highlights
Almost 40 year experience
Hard working and efficient team
Safe asbestos removal and disposal
3)  Chemcare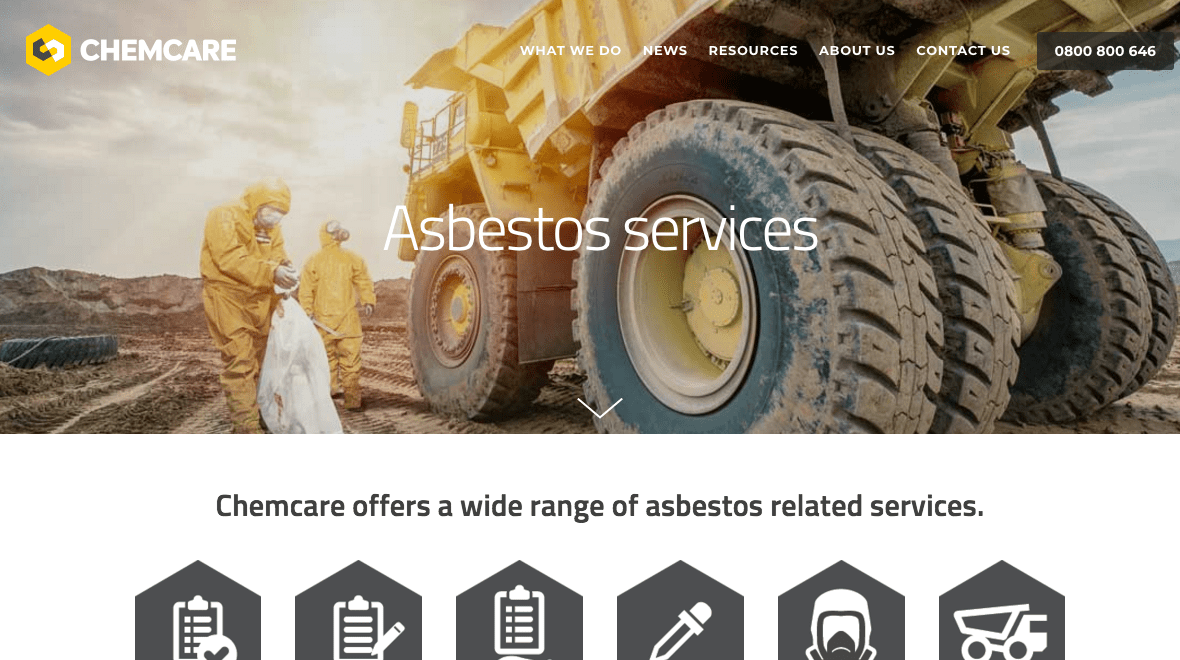 | | |
| --- | --- |
| Areas covered | New Zealand-wide |
| Services | Asbestos Removal, Sampling, Management Plan, Soil Removal |
| Address | 218 Lake Road, Northcote, Auckland, New Zealand 0627 |
| Contact no | 0800 800 646 |
| Website | https://chemcare.co.nz |
Planning to conduct a renovation or demolition? Take extreme care by not touching or doing anything but let Chemcare completely take care of the asbestos.
Comprising a Class-A Asbestos licenced team, they have the hazard gear, knowledge, and skill to tackle the job. They are also Telarc-registered, meaning they prioritise safety and health for staff and clients over anything else.
This is another one of the groups for the best asbestos removal in Auckland for safe and effective solutions and competitive pricing.
Highlights
Class A Asbestos licenced team
Telarc Health and Safety member
Competitive prices
Customer Reviews
Let's see the review stated by Lauren Sigamoney on Google:
"The team at Chemcare removed our asbestos fence. I am very impressed with their service from first chat about the removal till the completion of the job. The work has been done very professional meeting all the highest health and safety standards. Great service, great people."
4)  ACM Removals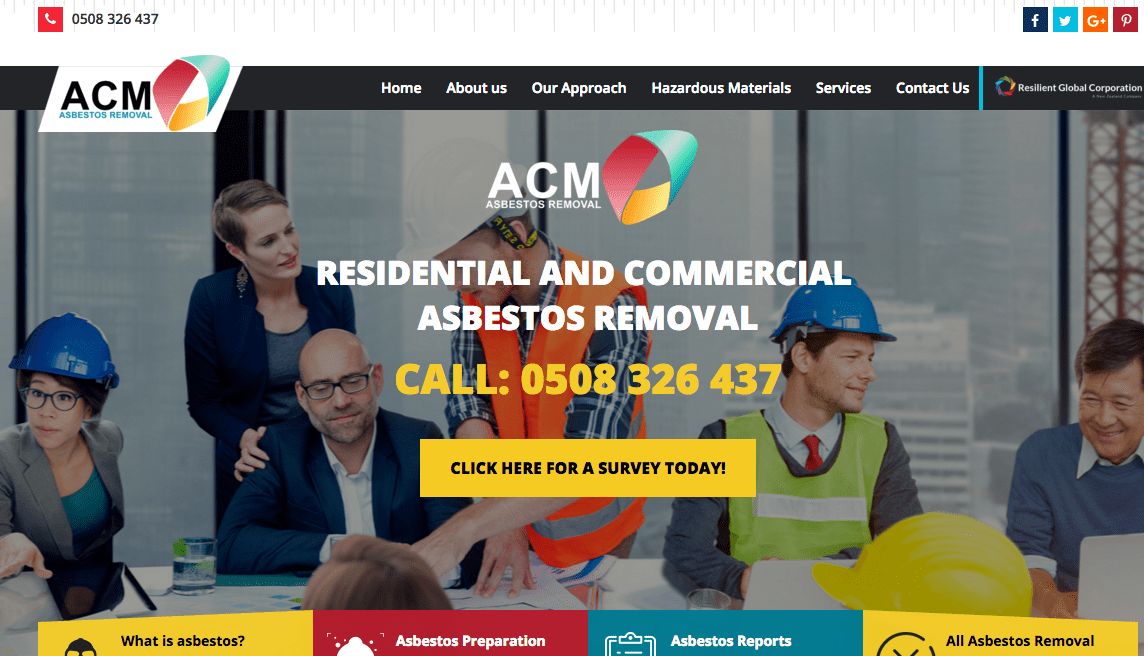 | | |
| --- | --- |
| Areas covered | Auckland-wide |
| Services | Asbestos Removal, Remediation, Audits, Disposal |
| Address | 38C Hannigan Road, Mount Wellington, Auckland 1072, New Zealand |
| Contact no | 0508 326 437 |
| Website | http://acmremovals.co.nz/ |
If you like to be super-certain of your safety from asbestos materials, get in touch with ACM Removals! They are a winner of 2018 NZDAA Health and Safety award and hold Class A and B Asbestos licences.
Their asbestos removal services include preparation, auditing, removal, and disposal. The team are experienced and highly proficient and engage in their work with the utmost care and safety.
Each aspect of their services is conducted in a systematic and efficient way for renovation or maintenance. Plus, it's worth noting that they handle the decontamination and disposal seamlessly.
Highlights
Won the 2018 NZDAA Health and Safety award
Professional asbestos technicians
Safety is prioritised
5)  Conqra Asbestos Solutions Ltd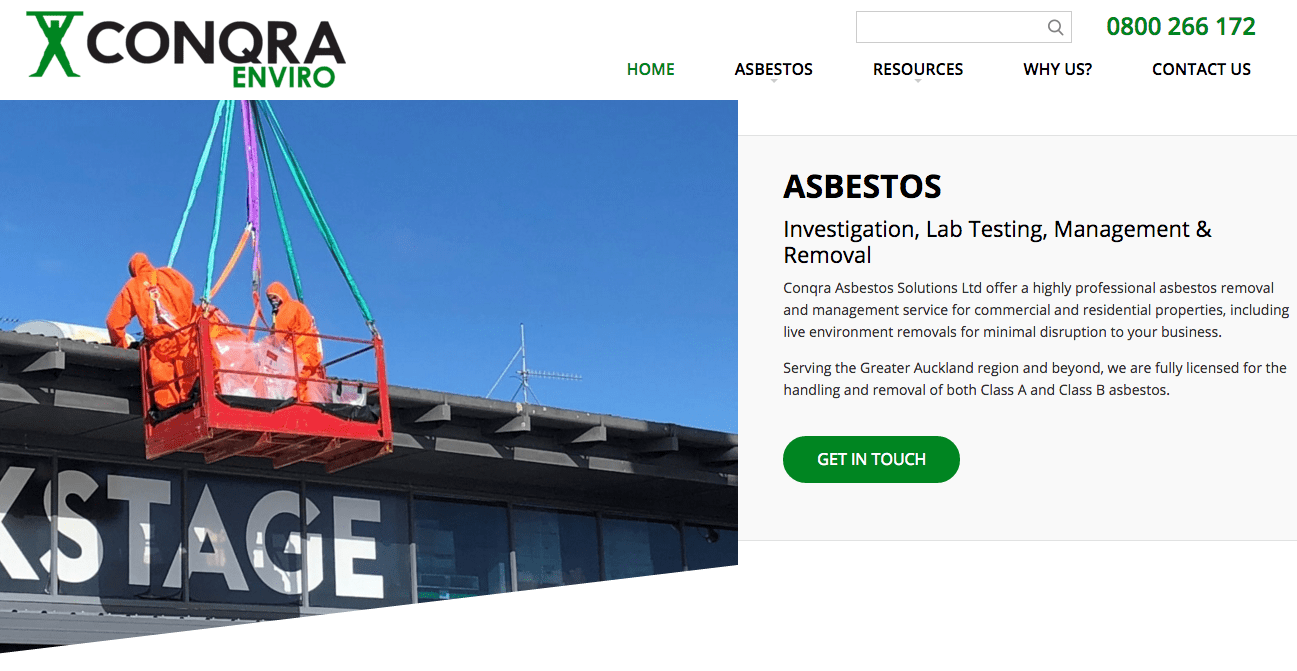 | | |
| --- | --- |
| Areas covered | Greater Auckland area |
| Services | Residential and Commercial Asbestos Removal, Remediation, Management, and Testing |
| Address | 852 Mount Eden Road, Three Kings, Auckland 1041, New Zealand |
| Contact no | 0800 266 172 |
| Website | https://conqra-asbestos.co.nz/ |
Conqra Asbestos Solutions is an asbestos removal company serving Greater Auckland. It is safety-certified with Occupational Health and Safety Management System (AS/NZS4801:2001).
It offers asbestos management, removal, remediation, and testing for both residential and commercial sectors. Their edge on rival companies is that they can remove asbestos discreetly while work is ongoing.
We believe this is another of the groups for the best asbestos removal in Auckland for that reason. Furthermore, Conqra has experienced workers, safety assurance, and they can definitely handle all kinds of asbestos.
Highlights
Has safety certification
Practised removalists
Class A and B Asbestos licences
Customer Reviews
Lloyd Evans, a principal from Te Atatu Intermediate School says on Google Reviews:
"I found the professionalism, helpful and supportive experience of Conqra Asbestos Solutions to be exemplary right from the beginning to the end of the process. I would highly recommend Conqra based on our very positive experience."
6)  Forensic Building Specialists

Forensic Building Specialists have been in the industry for more than forty years. They take pride in the excellent, professional surveying services they offer.
They also provide consultancy services and advice if needed. Call them now to get your property inspected!
Highlights
Over 40 years of experience
Variety of surveying services available
7)  New Zealand Restoration Services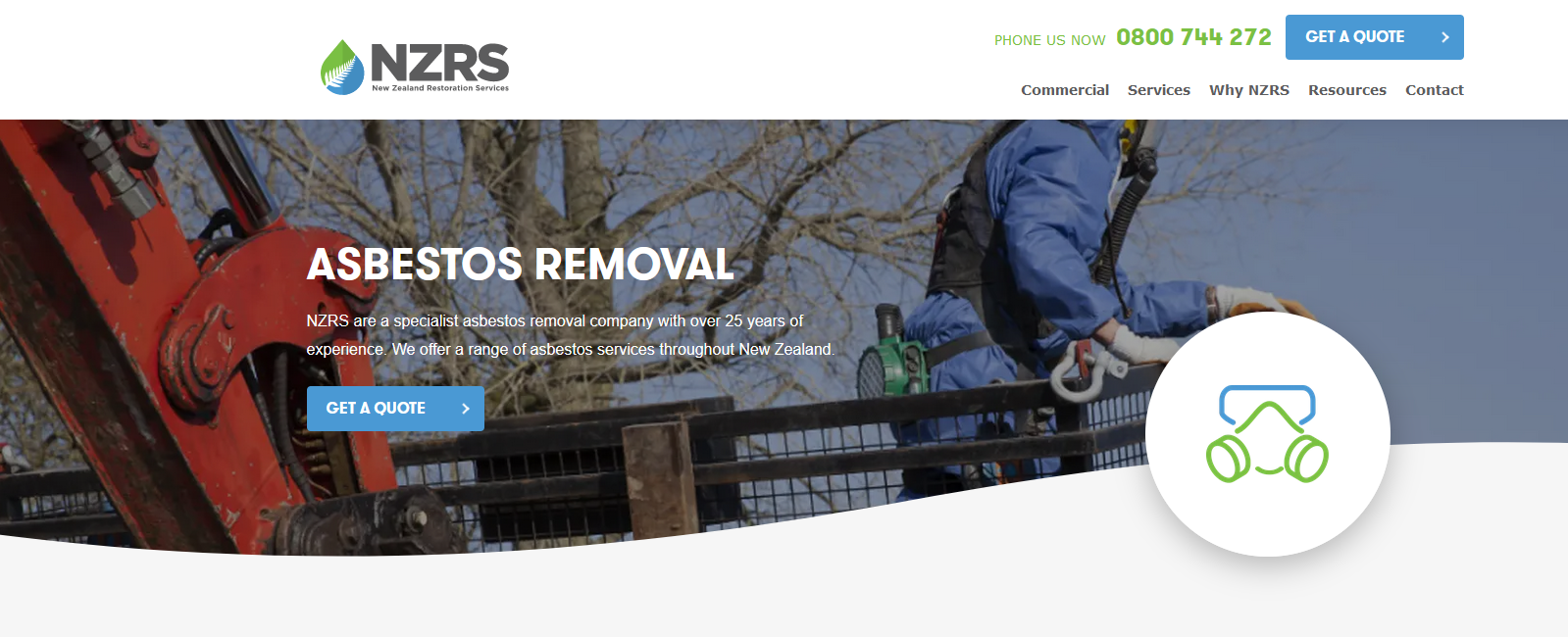 Areas covered
New Zealand
Services
Asbestos Removal
Asbestos Surveying & Testing
Fire Damage
Flood Damage
Demolition
Meth Decontamination
Mould Treatment
Specialist Clean-Ups
Carpet & Upholstery
Address
57 Walls Road, Penrose,
Auckland
Contact no
Email: [email protected]
Phone: 0800 744 272
Website
https://nzrsnational.co.nz
The NZRS aims to provide restoration services all around New Zealand. They boast more than 50 years of experience in the industry.
They have a unique range of services to offer to their clients. Some of these include Asbestos Removal, Damage Treatment, Mould Treatment, and more.
Their qualified technicians are always on-call, no matter the time of day. If you're in a pinch and in need of emergency removals or restorations, you can rest assured that the NZRS will be able to assist you quickly.
Highlights
More than 25 years of combined experience
Wide range of services
Qualified and experienced team
Covers large areas in New Zealand
8) Ambient Civil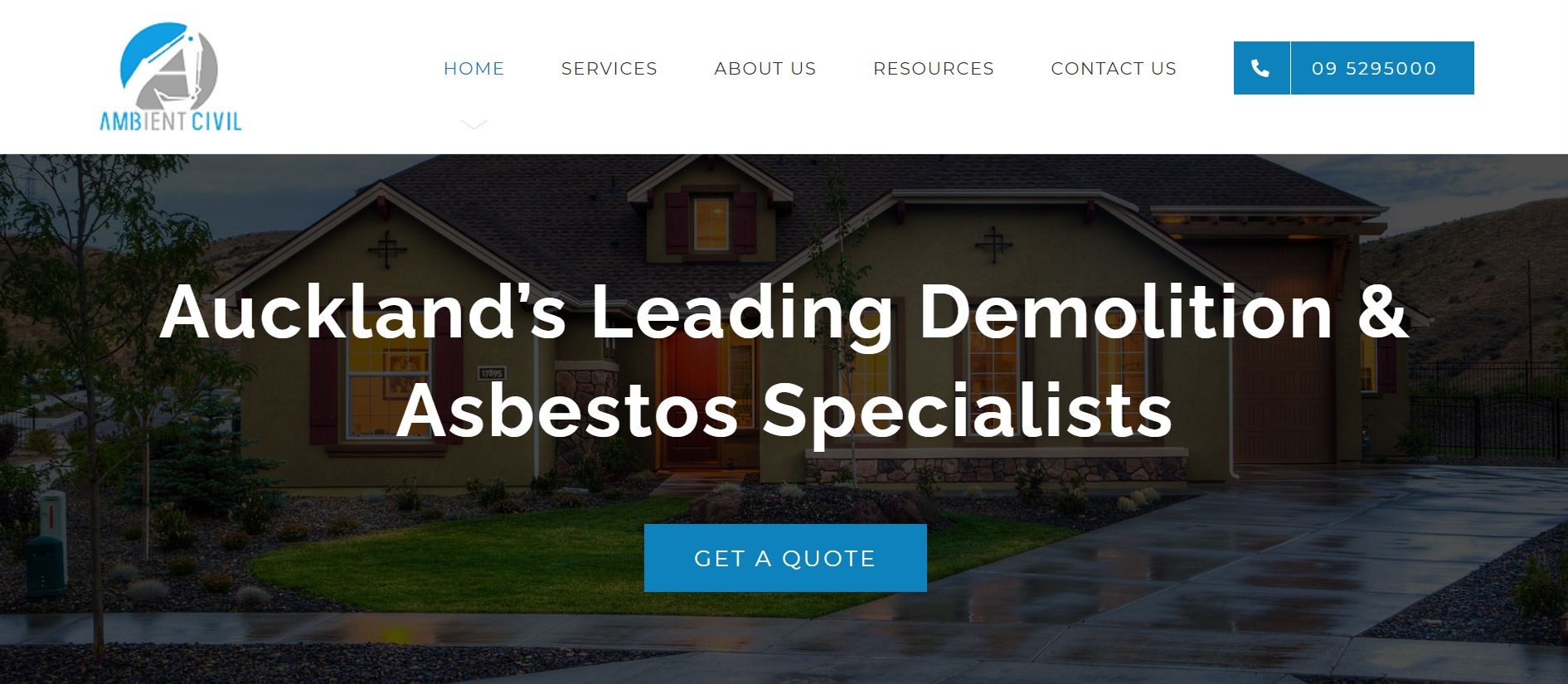 | | |
| --- | --- |
| Areas covered | Contact for more information |
| Services | Driveways/Roads, Demolitions, Retaining Walls, Earthworks and Civil, Asbestos Removal/ Soil Contamination |
| Address | Auckland, New Zealand |
| Contact no | 09 5295000 |
| Website | https://ambientcivil.co.nz/ |
Many possible clients could be looking for a company that does more than just asbestos removal. If you're one of them then you might want to give Ambient Civil a call.
Ambient Civil is a one-stop-shop for asbestos inspection, removal, replacement, clean up, and soil remediation. They also offer a variety of different solutions for drainage, retaining walls, bulk earthworks, and landscaping.
They have a dedicated and resourceful team that has expert knowledge on successfully delivering your project. Ambient Civil offers professional advice and project management for your residential or commercial needs to make your live hassle-free.
Highlights
Consistent Communication
Competitive Rates
Delivery on time & on budget
Sustainable Projects
9) Savy Enviro Services LTD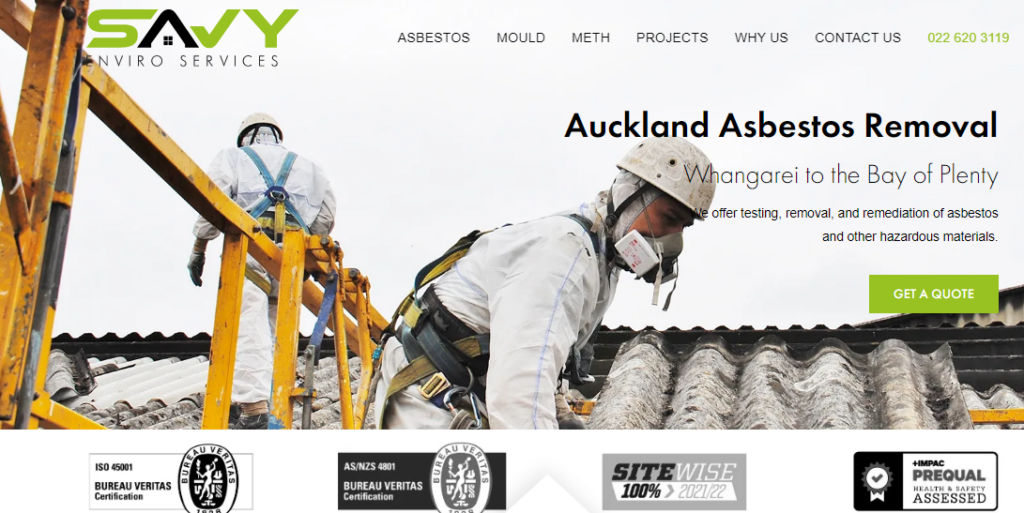 Areas covered
From Whangarei to the Bay of Plenty
Services
Asbestos Removal and Control
Asbestos Testing
Asbestos Surveying and Reports
Demolition
Meth Testing
Address
38 Access Road Kumeu 0810, Auckland New Zealand
Contact no
Email: [email protected]
Call Shane: 022 620 3119
Call Niki: 021 777 412
Website
https://asbestosremovalauckland.co.nz/
For over 25 years, Savy Enviro Services is a Demolition & Excavation Company that does asbestos removal and decontamination for homes and commercial buildings.
They have employed licensed professionals that are equipped with the knowledge and expertise to help you manage, encapsulate, remove and dispose of all types of asbestos-containing materials.
Savy Enviro Services provides the following services: Asbestos Testing & Surveys, Asbestos Removal, Asbestos Management, Demolition & Earthworks with consideration to cost, timeframe, and best practices and making sure that all health and safety procedures and protocols are being followed.
Aside from just testing, surveying, and removing the asbestos on the area affected, this company also makes sure to educate their customers on how the management of it works.
Accredited to ISO 45001:2018, where they have a 100% score with Sitewise and a 5-star rating with Impac in addition to being compliant with the Health & Safety at Work Act (Asbestos) 2016 and the Approved Code of Practice, you can confidently say that you are in safe hands.
They also have catered to the asbestos concerns of Government departments, the Health sector, the Education sector as well as Insurance Companies, and the general public.
Highlights
More than 25 years of experience
The team has trade backgrounds that enables them to competently carry out more than asbestos removal
And that's it for the groups that do the best asbestos removal in Auckland. Remember before you try any DIY construction work, it's best to leave this task to professional removers to be entirely safe from asbestos.
We hoped you liked our picks for asbestos removal companies — so far do you have any questions? Let us know by sending us a message and we'll be on it first thing.
In the meantime, while you're getting the asbestos removal done, how about bringing the work with you to a coworking space? For this you can read about the best coworking spaces in Auckland.