The 6 Best Asphalt Auckland Contractors
Asphalt is a material used for making roads, parking lots, driveways as well as curbs and pavements. If you need some asphalting work done, you're covered, as we've listed here the best asphalt Auckland contractors!
Firstly, we chose the ones with a professional, reliable and expert staff. Also we picked those that have flawless customer service, personable and courteous tradesmen, and reasonable rates.
The companies we found are certain to provide you with durable, weathertight and neat asphalt work. Anyway, we now bring you the best asphalt Auckland contractors.
1)  Asco Asphalt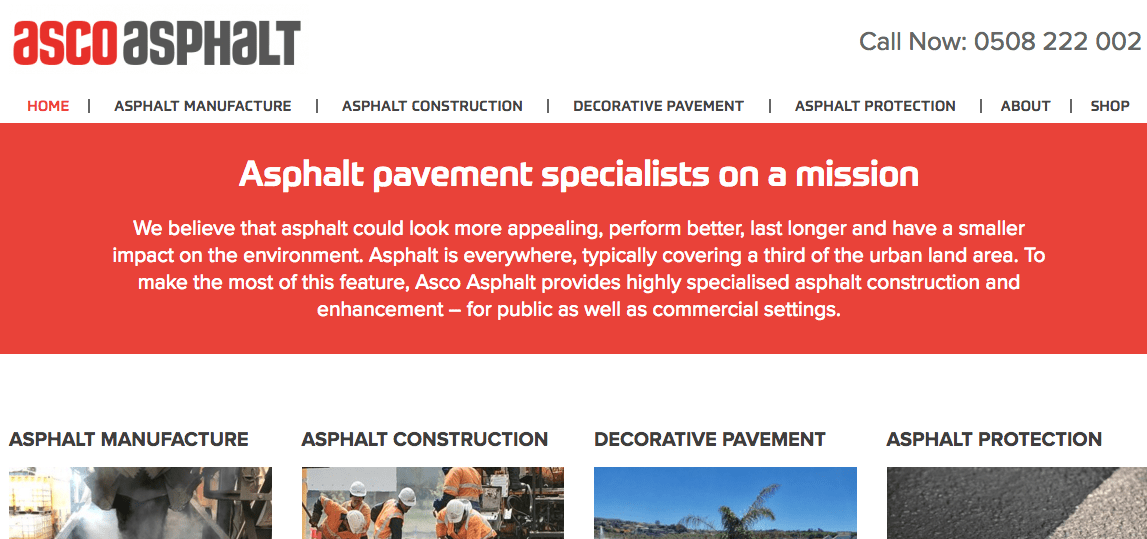 BEST FOR
Weatherproof and Long-Lasting Asphalt Pavement
SERVICES
Asphalt Manufacture

Asphalt Construction

Decorative Pavement

Asphalt Protection

WEBSITE
https://ascoltd.co.nz/
ADDRESS
3 Bolderwood Place, Wiri, Auckland 2104, New Zealand
CONTACT DETAILS
0508 222 002
OPERATING HOURS
—
Asco Asphalt mainly supplies and constructs high-quality asphalt in different grades to the Auckland metropolitan area and commercial locations.
Their asphalt is compliant to NZTA specifications and is delivered in hotmix form to your project site. And their decade-experienced team uses the best materials for asphalt building and maintenance.
Aside from that, they also offer creative asphalt pavement, which comes in different surfaces, textures and styles to enhance the look and feel of your business landscape.
It's also worth noting that they implement measures to have a smaller impact on the environment in their work.
Highlights
High-quality asphalt
Offer a range of projects
Comply to NZTA specifications
Decade of experience
Environmentally-friendly practice 
Customer Reviews 
One of their clients, site manager John Kauvai, wrote on the website:
"We appreciate your men's efforts to lay and complete the asphalt for Parnell Station platform on Friday 31.08.18.
The guy's did an awesome job and left the site nice and tidy.
Health & Safety wise, they did well and had the correct PPE and tools for the job.
Your supervisor was good to deal with and so were the rest of the crew."
2)  Ministry of Asphalt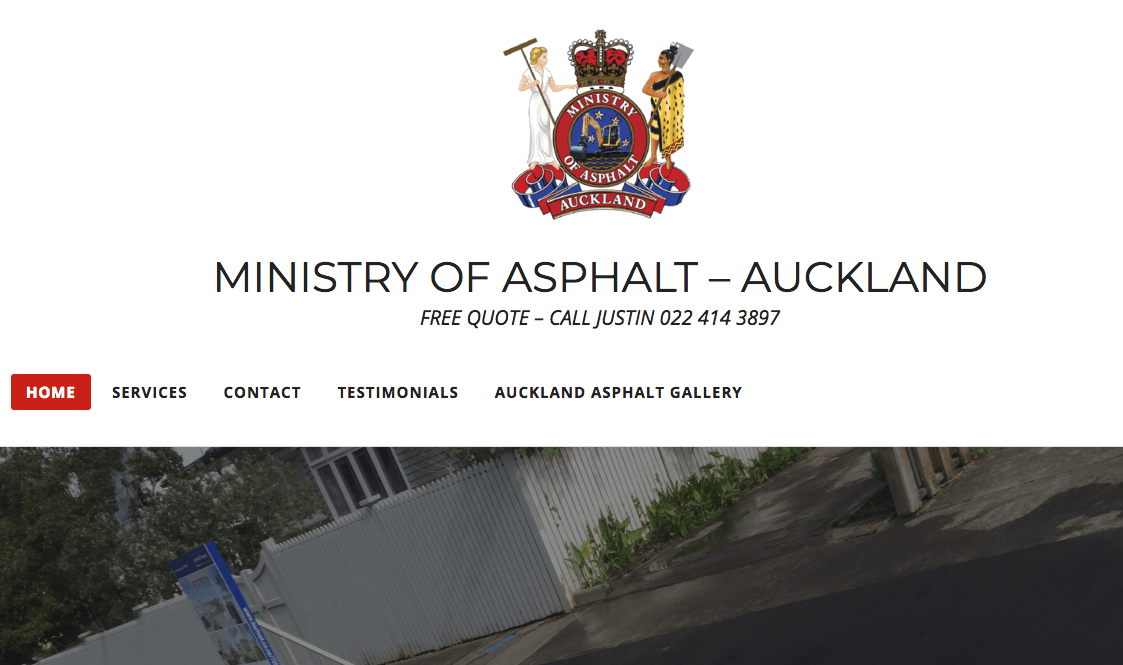 BEST FOR
Excellent Asphalt Paving
SERVICES
●     Curbing, Edging Solutions, Retaining Walls

●     Asphalt Paving

●     Trenching, Excavating, and Drilling

●     Pothole Repairs

●     Joint Sealing – Vehicle Crossings

●     Wheel Stops – Berms – Speed Bumps

●     Specialist in Tight Site Excavations

●     Civil Siteworks

WEBSITE
https://reedcontractors.co.nz/
ADDRESS
Auckland, New Zealand
CONTACT DETAILS
022 414 3897
OPERATING HOURS
24/7
Whether you need to repair asphalt cracks or parking lot paving, just get in touch with the Ministry of Asphalt. They are available for callouts throughout Greater Auckland.
Being Site-Safe registered, the company is one of the sources of the best asphalt repairs in Auckland if you need to remedy potholes and seal crack joints, or build asphalt wheel stops, curbs and berms.
With over 23 years' experience in the industry, their asphalt contractors have seen and encountered it all — even those tasks that are complex and tricky, involving excavation.
Their pleasant and friendly staff will assist you from start to finish. Call them for a free site inspection where they will provide a solution for your asphalting requirements.
Highlights
Over 23 years' experience in the industry
Pleasant and friendly staff
Wide range of services offered
Site-safe registered
Free site inspection 
Customer Reviews
Euan Lockie, one customer, said on Google Business: 
"Justin and team did a great job repairing existing asphalt on my drive in Auckland. Their Asphalt / tarsal / bitumen was laid to the highest standard and I am very impressed with the result. If you are looking for an Auckland based asphalt specialist with a very reasonable price give Justin a call."
3)  Asphalt Improvements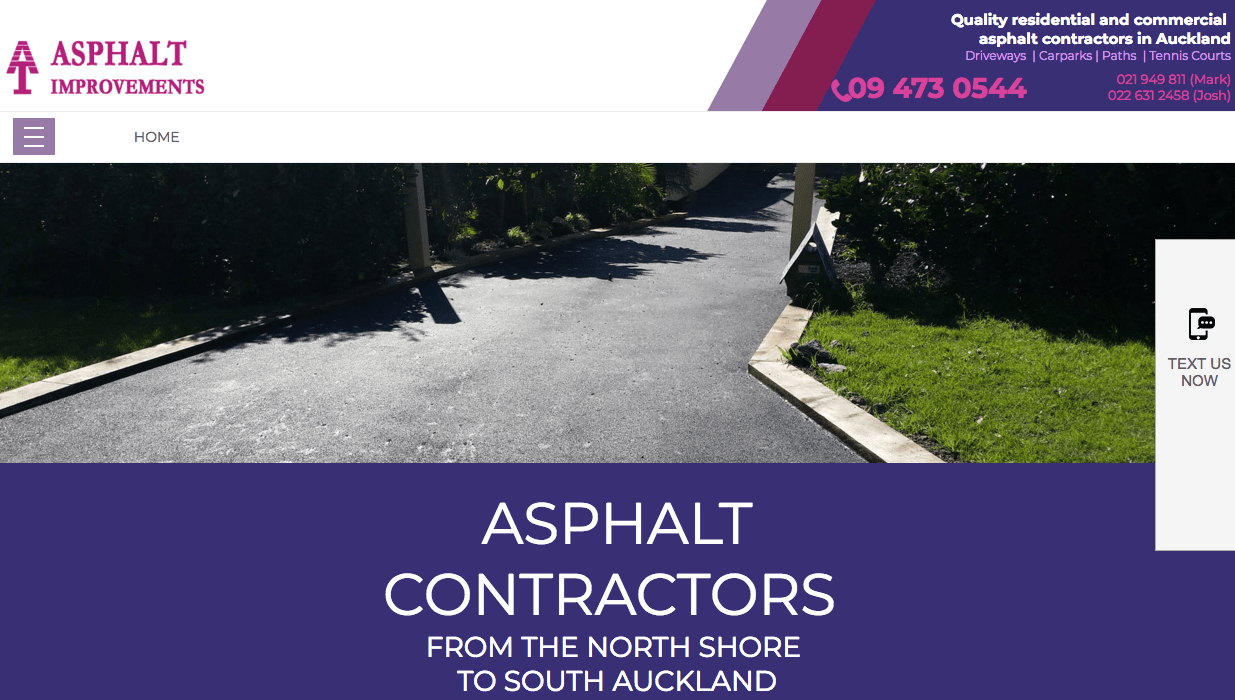 BEST FOR
Hands-On Management
SERVICES
Driveways

Carparks

Paths

Tennis Courts

WEBSITE
https://www.asphaltimprovements.co.nz/
ADDRESS
1074 East Coast Road, Redvale 0794, New Zealand
CONTACT DETAILS
09 473 0544

021 949 811 (Mark)

022 631 2458 (Josh)

OPERATING HOURS
Monday to Friday: 7am – 6pm

Saturday: Closed
With a crew of 6 and experience of 36 years, Asphalt Improvements offer a breadth of asphalt services from pothole repairs to public roads, including driveway resurfacing.
They serve the entire Auckland region, from North Shore to South Auckland. Here, you'll get the hands-on attitude of a small contractor but the quality and skill of the big dogs.
Letting them pave or maintain your asphalt road won't cost you a fortune too. They'll maintain your asphalt for the years to come, which saves you from further repair costs.
As you can see, Asphalt Improvements is another source of the best asphalt repairs in Auckland! 
Highlights
The best asphalt repair in Auckland
Hands-on service
Cost-effective rates
36 years in the business
4)  Auckland Asphalt Services Ltd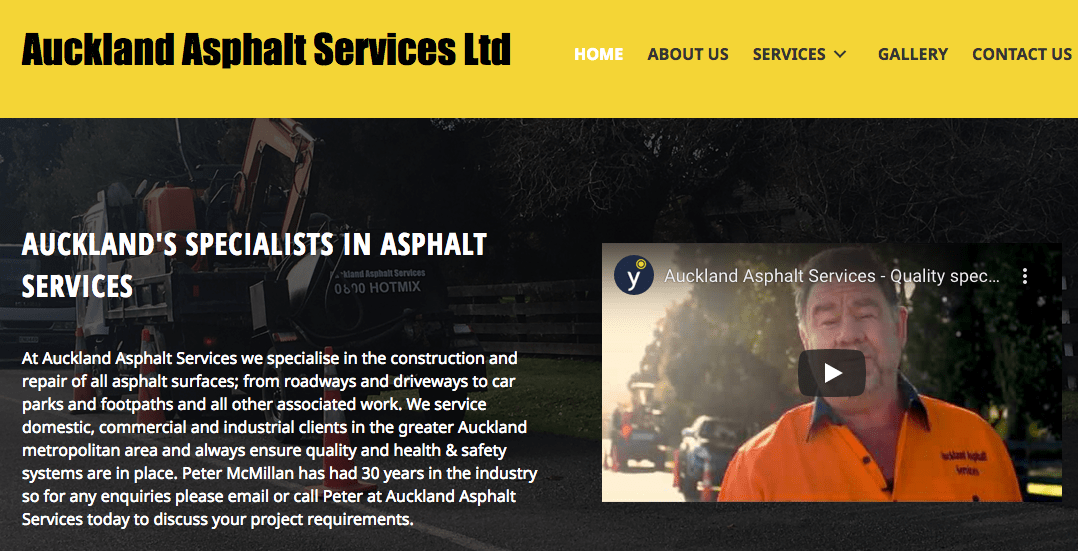 BEST FOR
Affordable and Complete Service
SERVICES
Residential Asphalt

Commercial Asphalt

Siteworks

WEBSITE
https://www.aucklandasphaltservices.co.nz/
ADDRESS
94B Upper Harbour Drive, Greenhithe, Auckland 0632, New Zealand
CONTACT DETAILS
0800 HOT MIX

021 960 539

OPERATING HOURS
—
Auckland Asphalt Services Limited is owned and operated by Peter McMillan, who has a wealth of experience in the asphalt industry for both construction and repairs.
Driveways, crossings, footpaths, roads — this is what they specialise in. No work is too small or large for them as they cater to commercial, residential and industrial clients.
With over 30 years of experience, they always leave behind high-quality asphalt work. Customer service is also supreme: you get hands-on assistance to meet your needs.
Plus, health and safety systems are adhered to so that you'll have peace of mind and assurance. They're serving clients Auckland-wide, so call them at 0800 Hot Mix. 
Highlights
High-quality asphalt work
More than 30 years' experience
Superb customer service
Follows health and safety procedures
Customer Reviews
Here is a review left by a satisfied client:
"Hi Peter,
The guys have just finished and I have to say I am so impressed.  What
fantastic service from the outset and then finished off by utter
professionalism from your team.
Your head guy right through to the other lads were all really
positive, engaging and craftsmen.  They really take pride in their
work.
Please send me the invoice and I will pay it straight away.
Thank you once again, I can't speak highly enough of the positive
experience I have had with your company.
Cheers,
Shaun Nicholson"
5)  Asphalt & Civil Projects Ltd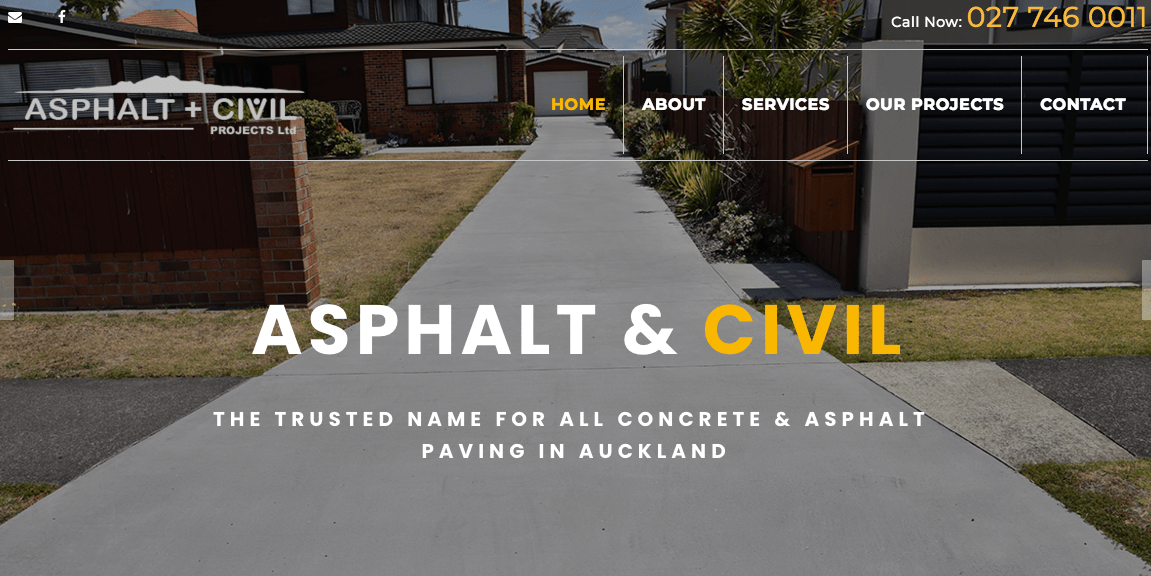 BEST FOR
Asphalt Driveway Construction
SERVICES
Concreting Work

Asphalt Work

All Labour

WEBSITE
https://asphaltandcivil.co.nz/
ADDRESS
7 Fraser Rd, Mount Wellington, Tamaki 1010, Auckland, New Zealand
CONTACT DETAILS
09 52 78 718

027 746 0011

OPERATING HOURS
—
Asphalt & Civil Projects Limited have a trusted reputation in providing top-quality asphalt and concrete works in and around Auckland.
They have done an extensive number of projects for homes, commercial and civil projects. Whether you're asphalt laying or building new driveways, they will be able to assist you.
Their method is to work closely with the clients to produce a tailored result on time and within budget. They work with the highest levels of safety so you can trust them.
Some of their projects can be viewed in their online gallery, showcasing what they can do. Certainly, they're some of the best asphalt Auckland contractors.
Highlights 
Provides top-quality asphalt and concrete works
Tailored result on time and within budget
Extensive experience
SiteSafe member
Covers Auckland-wide areas
6) Stone Paving & Concrete Finishing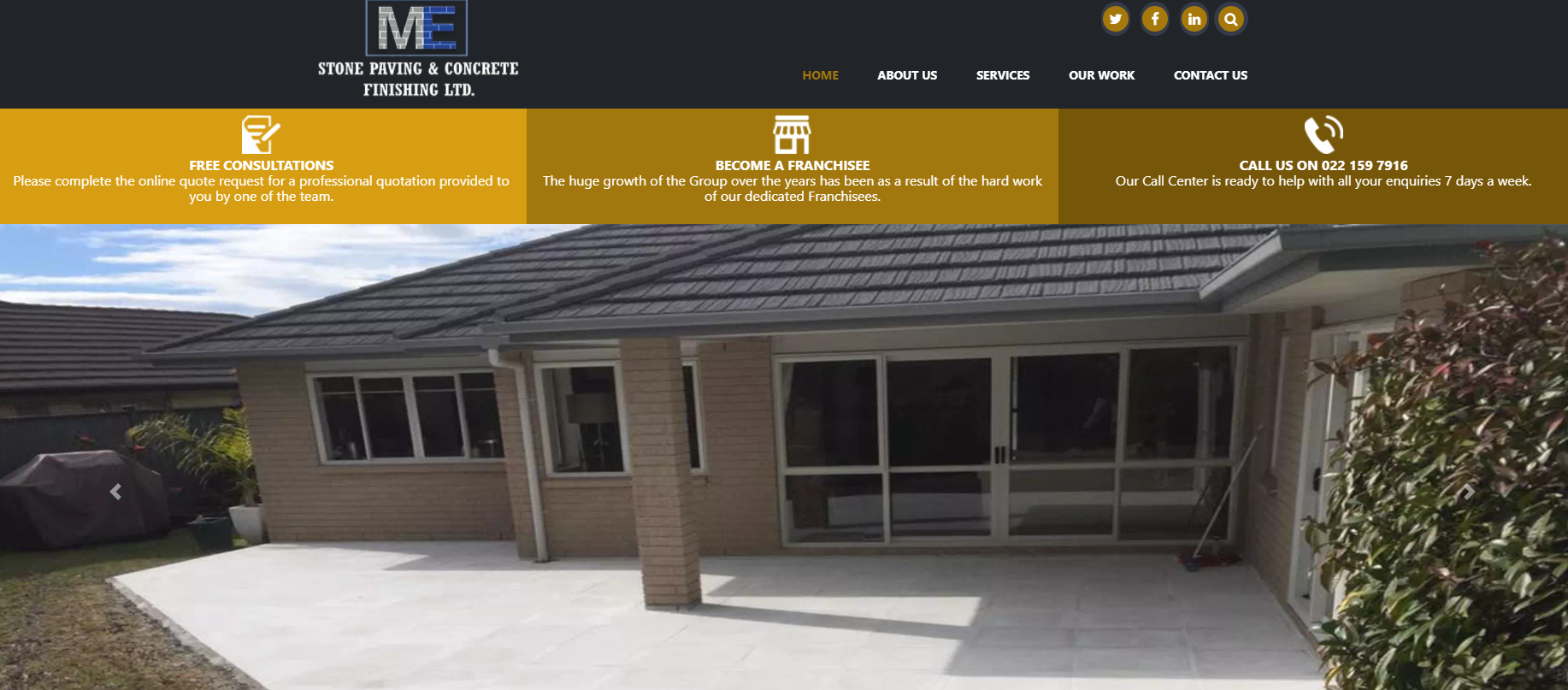 BEST FOR
Commercial and Residential Stone Paving
SERVICES
Stone paving, concrete, and granite; tilling, plastering, and paint works; brick and siteworks
WEBSITE
https://www.stonepavingconcrete.co.nz
ADDRESS
36 Pigeon Mountain Road Halfmoon Bay, Auckland 2012
CONTACT DETAILS
[email protected]
272249295
OPERATING HOURS
—
The next entry on our list is a a contracting business that specialises in providing top quality commercial and residential stone paving and concrete services.
Stone Paving & Concrete Finishing has been in the business for several years now. During that time, the company has unfailingly catered to the people of Auckland, working with bricks, blocks, tiles, concrete, steel fixing, interior & exterior plastering as well as form works.
Some of the services offered by Stone Paving & Concrete Finishing includes tiling, plastering, painting, stone paving, and concrete and granite work.
Every service is delivered on time by trained and highly experienced staff, all of whom have been checked in terms of skills, knowledge, and professionalism.
Stone Paving & Concrete Finishing makes an excellent choice not only for the quality and range of service, but also its team, which consists of qualified individuals who constantly strive to make clients happy with their work.
Highlights
Free consultation
Wide range of property improvement services
Caters to residential and commercial clients
And that's a wrap about the best asphalt Auckland contractors! Whether your asphalt project is simple or complex, these companies have the expertise to complete it.
Do you agree or disagree with what we've listed here? We'd like to know about it, you can simply drop us a line and we'll get back to you shortly.
At any rate, you can also read about the best concrete pavers in Auckland. These are the go-to companies for paving your driveway, patio, pool surround, footpath and more.