The 10 Best Auckland Window Cleaning Specialists
Window cleaning is a prerequisite to keeping your house neat and beautiful. If you are planning to give your windows a washing, just in time, as we are outlining the best Auckland window cleaning specialists today!
So that you won't have to go to the trouble, we've selected the ones who have the skills, equipment, and a prompt and amiable attitude.
If you're ready, allow us to present to you the best Auckland window cleaning specialists for a window that will be so clean it will shine and sparkle in the sun!
1)  Got Dirty Windows?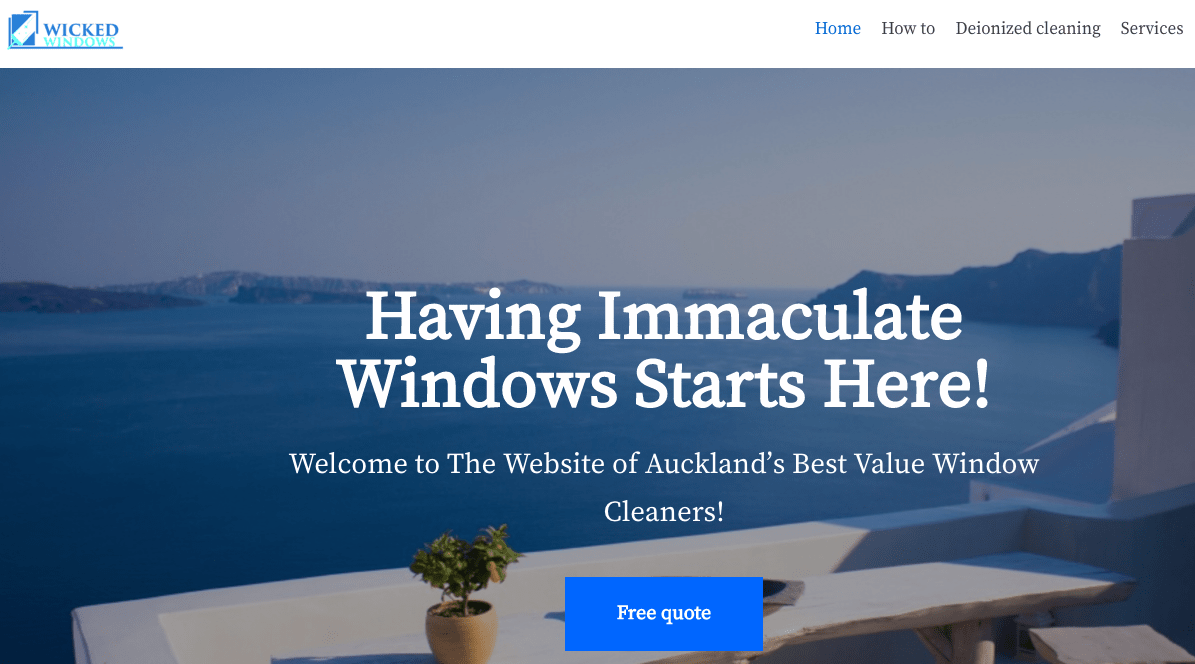 | | |
| --- | --- |
| Best for | Eco-Friendly Window Cleaning |
| Services | Domestic Window Cleaning, Commercial Window Cleaning, Water Blasting, Building Washing |
| Address | 27 Don Buck Road, Massey, Auckland, New Zealand |
| Contact no | 021 149 9850 |
| Website | http://gotdirtywindows.co.nz/ |
Get your windows immaculately clean and safely handled with Got Dirty Windows. They only use eco-friendly solutions so as not to damage your windows and the environment you're in.
For residential or commercial window cleaning, their team is well-prepared and highly adept with industrial-grade equipment for the best sparkling view of your window from inside and out.
There are also no worries about your property and possible injuries, as they are covered with a public liability of up to $5,000,000 and indemnity up to $2,000,000.
Of course, expect the job will be amazingly done from quoting to finish! Hence, this makes them one of the best Auckland window cleaning specialists!
Highlights
Uses eco-friendly cleaning agent
Results in super-clean windows
Has industrial-grade equipment
Covered with public liability insurance
Customer Reviews
Fuji Xerox's maintenance manager Joseph Pothan said, and as posted on the Got Dirty Windows website:
"… The window cleaning is indeed well done. I have inspected it myself and find it faultless"
2)  Simply Cleaning Services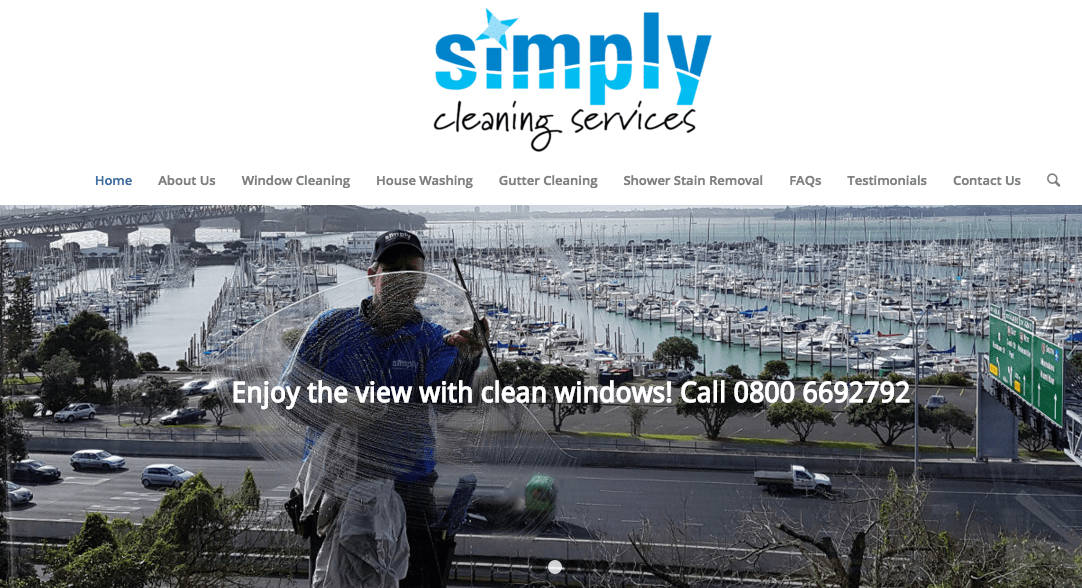 | | |
| --- | --- |
| Best for | Customer Service |
| Services | House Washing, Window Cleaning, Gutter Cleaning, Glass Restoration and Water Stain Removal |
| Address | 2/110 Celtic Crescent, Ellerslie, Auckland 1051, New Zealand |
| Contact no | 0800 669 2792 |
| Website | http://simplywindowcleaning.co.nz/ |
Simply Cleaning Services is a small, family-run window cleaning business covering Greater Auckland. It's a successful venture led by Simon Kennedy.
He offers both residential and commercial window cleaning, exterior washing, gutter cleaning, and glass restoration services. Work is always carried out to a high standard for a spotless and crystal-clear window.
In addition, the company prides itself on its outstanding client service, with a team that's always on time, and people who are polite and friendly to deal with — a small thing that actually makes a big difference!
Highlights
Excellent customer service
Work is carried out to a high standard
Efficient, friendly, and punctual team
Customer Reviews 
Jackie from Birkenhead mentioned this on Google Reviews:
"Simon is a very personable and hard worker – going above and beyond duty to reach the windows on my house! I would happily recommend his work to anyone."
3)  Aotearoa Window Cleaning Ltd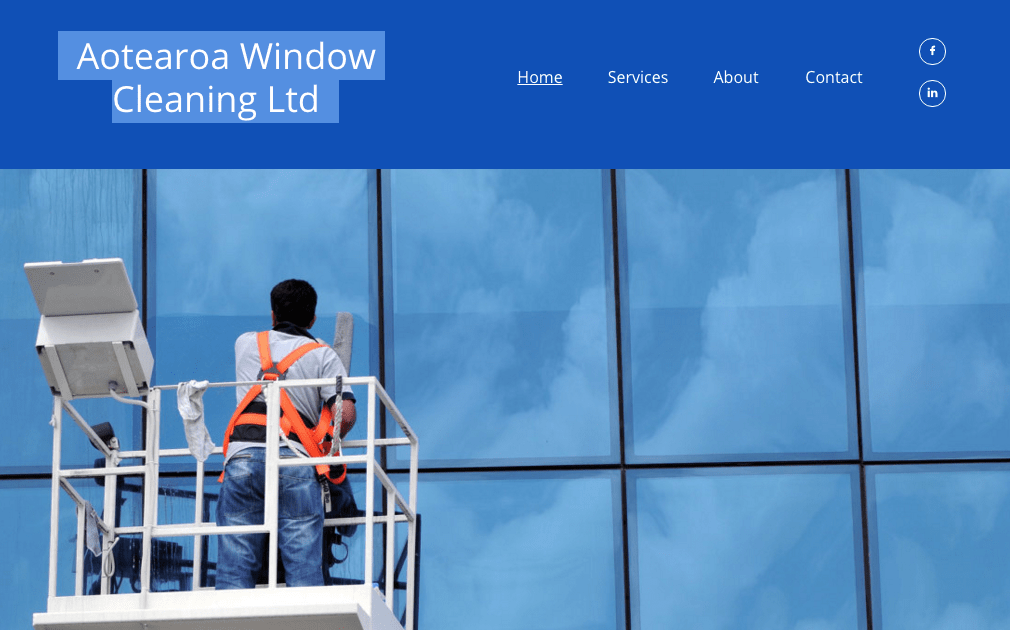 Best for
Thorough Window Cleaning
Services
Residential, Commercial, and Shop Fronts Window Cleaning, House Washing, and Water Blasting
Address
5B Dallan Place, Albany Industrial Area

 

Auckland, New Zealand

Contact no
(09) 414 5114
Website
https://www.aotearoawindowcleaning.com/
If you like a complete cleaning of your windows (inside and outside), Aotearoa Window Cleaning should be your choice. They provide quality cleaning every single time for neat and sparkling windows.
They've built their reputation as some of Auckland's best window cleaners over the years — their services go back to 1998!
And, in case you need to have your windows cleaned regularly, they offer affordable weekly and yearly packages.
For both residential and commercial properties, they're the ones to call. Moreover, their team is safe and reliable, and has the equipment to clean buildings and shop fronts.
Highlights
Complete cleaning for your interior and exterior windows
Over 20 years of experience
Offers weekly to yearly cleaning services
Safe and skilled team
4)

Hello the Window Cleaning Guy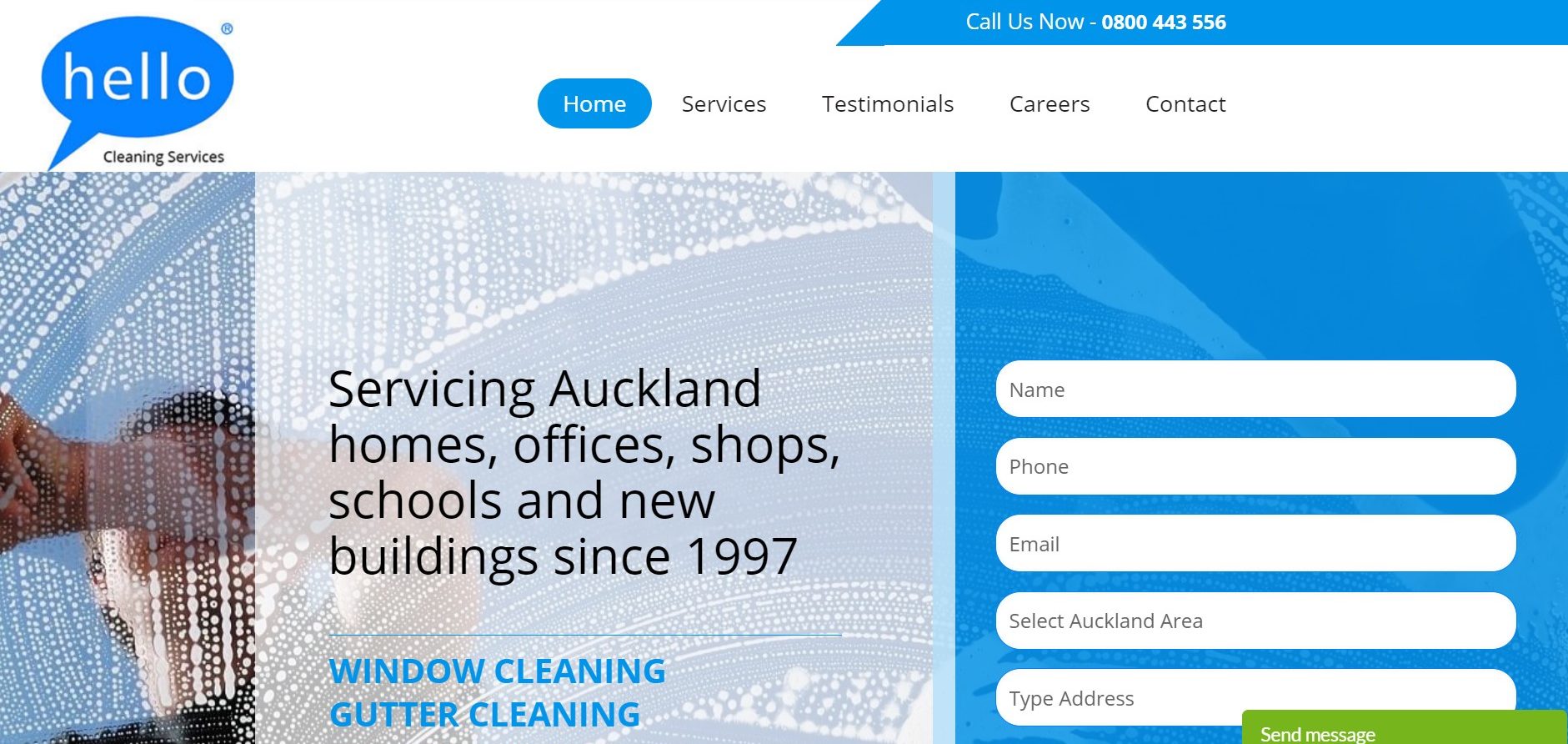 | | |
| --- | --- |
| Best For | Home, offices, shops, schools |
| Services | Window Cleaning, Gutter Cleaning, House Wash, Water Blasting, Building Wash, Solar Panel Cleaning |
| Address | 207 Great South Road, Greenlane, Auckland 1051, New Zealand |
| Contact Details | 0800 443 556 | [email protected] |
| Website | https://hellowindowcleaning.co.nz/ |
With more than two decades of experience in the industry, Hello Window Cleaning is one of the most trusted window cleaning services in Auckland. Many homes, offices, shops and schools put their trust into this company's professionalism.
Many of their services include, gutter cleaning, house wash, building wash, solar panel cleaning, water blasting and of course, window cleaning! In the end, customer satisfaction is Hello Window Cleaning's ultimate goal and every member of their team will offer you responsive, dependable, professional and friendly service.
Finally, it's also worth noting that Hello Window Cleaning is a proud member of Exterior Cleaning Industry Association in which they are committed to practicing highest standards of water conservation, environmental awareness, Health and Safety and outstanding business ethics. So, not only are you getting squeaky clean windows, but also helping the environment by availing Hello Window Cleaning's services.
Highlights
Free Quotation
Open 24 hrs
Value for money
20 years of experience
Customer Reviews
Here are a few customer reviews:
"So, so happy with my window clean. It has changed my life, everything seems brighter!
HWCG provide a wonderful service. The two young blokes who did the clean were charming, the price is so reasonable for a top window clean service.
They really did a fantastic and thorough job inside and out. In less than an hour. And best of all I didn't have to do it! I highly recommend you get your windows cleaned by Hello the Window Cleaning Guys!"
"Fantastic Service!!! Love the name of the company! Hello! With great service, comes great people with great skill! I could have never had a more pleasant experience and now have shining sparkly beautiful clean windows!
Highly recommend to anyone!"
5)  Waitakere Window Cleaning Service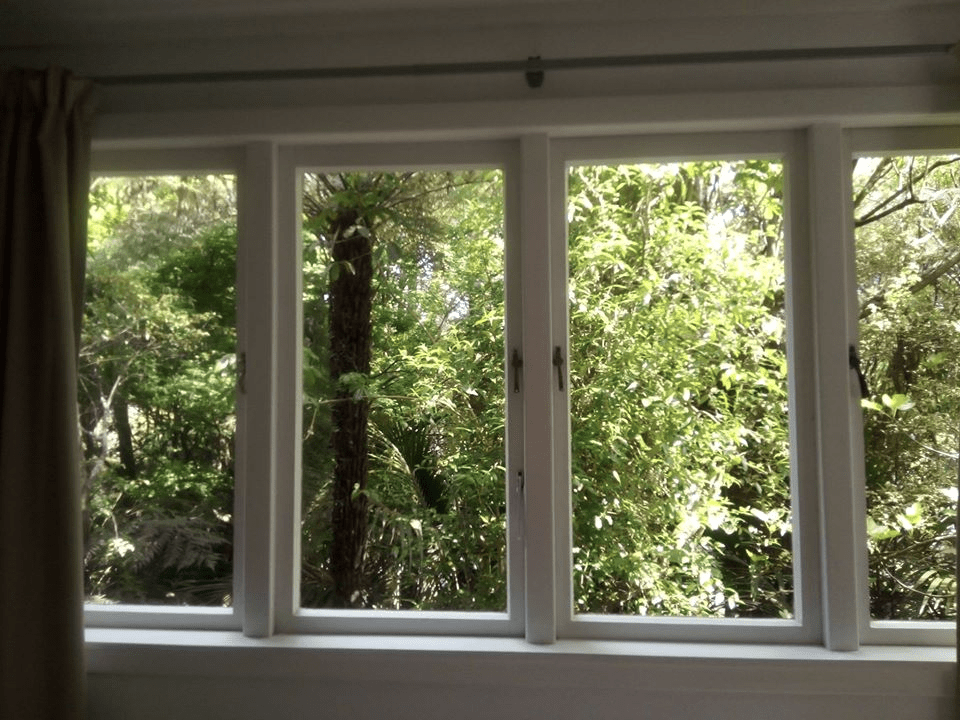 Your windows can get so grimy that they obscure the nice view outside, but that won't be a problem for too long if you enlist the Waitakere Window Cleaning Service!
It is a small window cleaning, lawn mowing, and gardening business based in West Auckland. Moana will be your cleaner, and her cleaning will transform your windows, inside and out.
Dedicated and hard-working, she provides a remarkable service you'll be happy with. And this makes the company fit the bill as one of the best Auckland window cleaning specialists!
Highlights
Excellent window cleaner
Can also help you fix your lawn or garden
Meticulously cleans windows inside and out
Customer Reviews 
Jane Rhodes wrote a review on Waitakere's Facebook page:
"Moana did a fabulous job of my windows before the first Open Homes….and that was a lot of windows on a two-storey house! She really goes the extra mile – accommodated some tight time frames for me – and takes a lot of pride in what she does. Thanks heaps – took a lot of stress out of my week."
6)  KleanFreak
Best for
Commercial & Residential Washing
Services
Gutters & Drain Cleaning, Moss, Mould & Lichen Treatment and Roof Cleaning, Commercial & Residential Building Wash, Window Cleaning, Pre-paint Surface Wash, Paths, Driveways, Decks, Walls, & Pool Area Cleaning
Address
Auckland
Contact no
[email protected]
0800 114 589
Website
https://kleanfreaks.co.nz/
KleanFreaks is a washing company that delivers high-quality work at competitive prices. They're confident that with their industry knowledge and years of experience, they're sure to exceed your expectations.
They offer a wide range of services suited for both commercial and residential properties, ensuring that it will be cleaned from roof to foundation. Besides one-time jobs, they also offer regularly scheduled cleanings.
No matter the service you need, you can rest assured that you will be given punctual and quality treatment. With KleanFreaks, you'll get nothing but the best.
Highlights
Punctual service
NoCowboys registered company
Customer Reviews
"I can highly recommend Kleanfreaks, TJ was great to deal with and did a wonder job cleaning our house, gutters, decks, fence, driveway and paths. Everything looked much better than I expected and the property has been transformed, no exaggeration. TJ got in touch promptly when I enquired and arranged his schedule to fit our job in by our deadline. "
7)  Squeegee Boys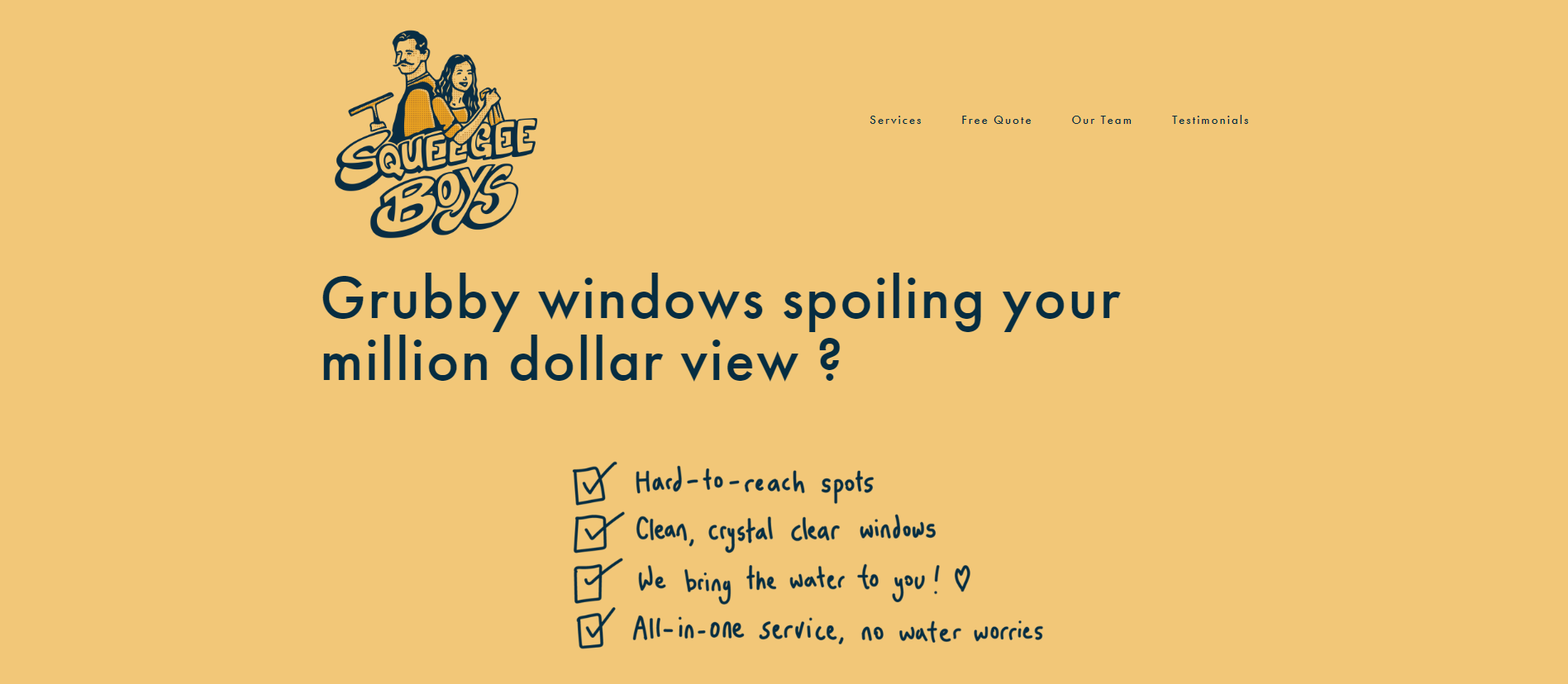 Squeegee Boys keeps it simple– if you need your windows cleaned, they're sure to get it done. Unlike most window cleaning companies, they also have a portable water source if needed, allowing them to clean properties in any location.
They offer window cleaning services for residential and commercial places. Get squeaky clean, streak-free windows with the Squeegee Boys!
Highlights
Free quote available
Caters to both commercial and residential properties
Customer Reviews
"Highly recommend Squeegee Boys who we get to clean 90 panes of windows inside and out at our house. They are thorough and reliable, always leaving our windows sparkling clean. Appreciate their friendly service and consistent high quality."
8)  Cleanse Right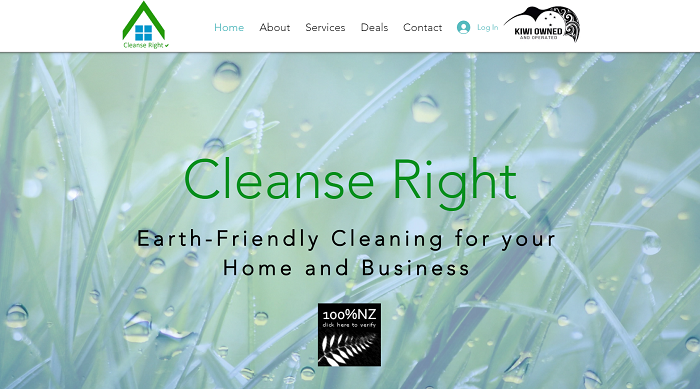 Founded in 2019, Cleanse Right is a cleaning company dedicated to providing quality cleaning services that won't harm the client's property or the earth. They achieve such a feat by only using eco-friendly products and cleaning processes.
One of the best things about Cleanse Right is that they're organised in their cleaning services. They provide clients with a complete checklist to ensure that no dirt, dust, stain, or odour is left once they have completed their cleaning.
Highlights
Comprehensive cleaning services
Cleaning deals available
And that's all for the best Auckland window cleaning specialists. Freshen up your house or workplace by letting these exceptional window cleaners wash your windows until they're immaculately clean.
Do you agree with the window cleaners we featured for this article? Tell us what you think by dropping us a line, and we will get back to you as soon as possible.
Now that your windows are already picture-perfect, why not couple it with a good trim for your lawn so that your view out of the windows is an ideal one? If you'd like that, you can read about the best lawn mowing professionals in Auckland.
9)  Ziggie Cleaning Services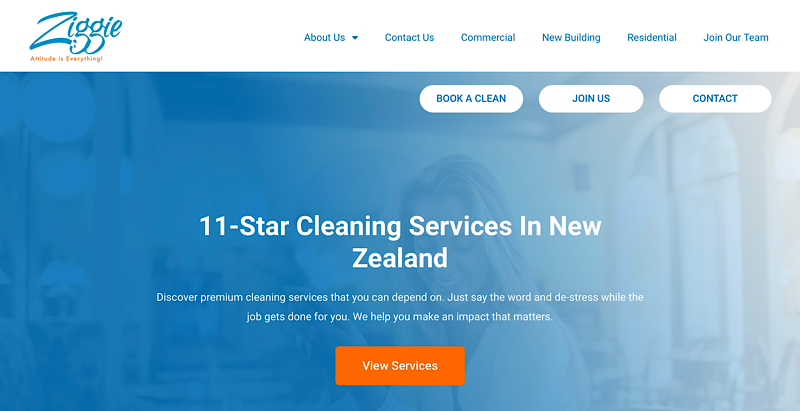 Best for
Commercial and Residential Cleaning
Services
Once-off Commercial Cleaning, Regular Commercial Cleaning, New Building Cleaning, Residential Cleaning
Address
Hyde Road, Rothesay Bay, Auckland 0630, New Zealand
Contact no

[email protected]

 / 021 848 601
Website
https://ziggie.co.nz/
Where attitude is everything, Ziggie's Cleaning Services prides itself as the best cleaning services that will surpass your expectations especially in window cleaning. It offers an 11-Star Cleaning Service that includes premium services, personalized pricing, state of the art products, high-end system, luxurious results, time efficiency, protection, disinfection, maintenance, flooring, and exterior. 
They offer services in gyms, offices, daycares, apartments, as well as residential and commercial buildings which reflects their experience and expertise in cleaning. The company also has 15 different locations all over the country. 
While there is no definite pricing available on their website, Ziggie's Cleaning Services provides personalized pricing to its clients with no hidden costs and contracts. As they say, their staff also has a positive attitude despite any cleaning situation they may face.
Overall, the company seems to be one of the best to turn to for your cleaning needs because of its wide range of services and flexible pricing. An 11-Star Cleaning Service may be worth the experience.
Highlights
Experience and expertise in different kinds of cleaning

Uses the latest eco-friendly technology

11-Star Ziggie Service 

Great value for obsessive detail and competitive pricing

No hidden costs and pricing

Positive staff attitude
Customer Reviews
"Alisa and the team at Ziggie recently completed the cleaning for me on 26 unit project in Manurewa. Their scope included builders and final cleaning of both the interior and exterior. The team at Ziggie did a very thorough job. They were quick to respond to any requests and were willing to accommodate any extras or re-cleaning after the trades. They were professional and responsive in their communication allowing project managers to keep things moving. I am happy to recommend Ziggie because from my experience – they are easy to deal with, do a thorough, and deliver on their promises."
– Ido Drent, Elaman Property Director
10) Frasers Washing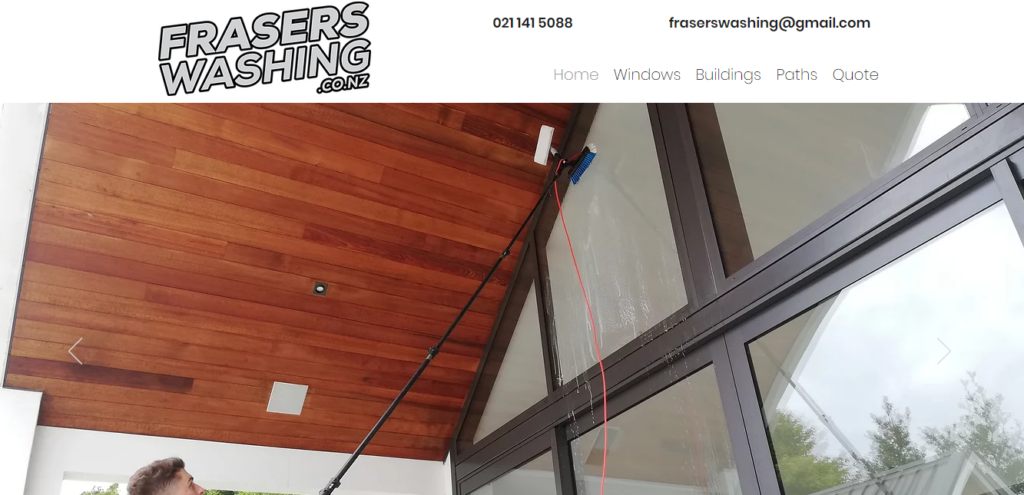 Frasers Washing is a company that offers cleaning services for windows, buildings, and paths. They are also able to service similarly surfaced furniture such as mirrors and other exterior amenities.
May it be commercial or residential buildings, they have time and time again proven that their services are consistent and are excellent for the long term.
In line with this, they make use of only professional tools and biodegradable chemicals to not only ensure a quality finish but a safe environment as well.
Their website is highly visual but lacks information regarding the detailed inclusions and the process of their services in general.
Overall, while this is recommended for clients looking for individual exterior cleaning services, those who intend for a one-stop shop for professional cleaning might want to consider another company.
Highlights
Full-service cleaning
Offers long term maintenance services
Family friendly chemicals
Customer Reviews
Here are some reviews from their clients:
"Fraser has been cleaning the windows and mirrors of our Parnell showroom for over a year now. His team is most professional and do an outstanding job.
Frobisher Auckland would highly recommend their services." – Jennifer Keenan
"Would highly recommend Fraser, he did a brilliant job on the house and windows. Very professional, all communications was answered immediately and he arrived on time which my tenants really appreciated." – Denise Churchhill