The 9 Best Services for Awnings in Auckland Reviewed
All you need is an awning in Auckland to let you enjoy the outdoors whether it rains or shines. If you want an awning but don't know where to get one yet, you're in luck, as we've put together a list of the best awning services in Auckland today.
The awning installers below can help you find an awning that suits your budget or property. Just describe your needs to them — although some may even give you recommendations if you don't have any ideas!
Best Services for Awnings in Auckland Reviewed
1)  Awesome Awnings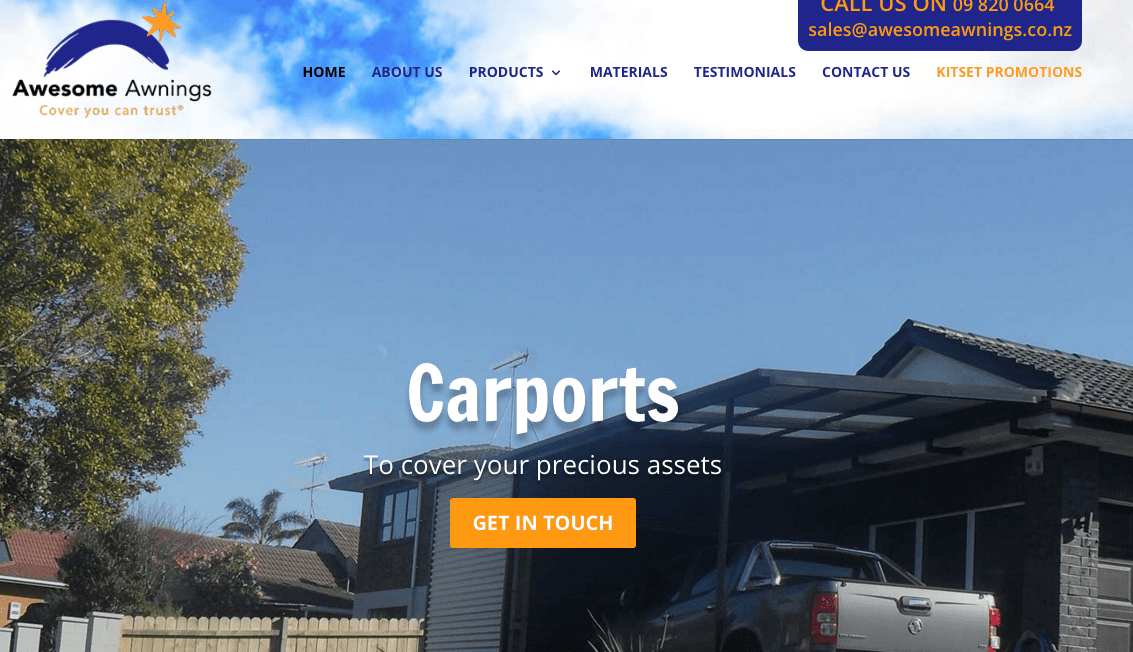 | | |
| --- | --- |
| Areas covered | Auckland wide |
| Services | Residential, Commercial, Educational, Carports, Kit Set Awnings, and Curtains, Blinds, and Screens |
| Address | 1/19 Honan Place, Avondale 1028, Auckland, New Zealand |
| Contact no | 09 820 0664 |
| Website | https://awesomeawnings.co.nz/ |
Awesome Awnings in Auckland can add a new dimension to your house or workplace by building an awning. Boasting a range of stylish and beautiful designs, it can shelter you from the outside elements like rain, sleet, sun, snow and wind.
These are locally made products that are suitable for New Zealand weather. Also, the team at Awesome Awnings has a combined 40 years of experience that makes them capable of designing, custom-making, and installing the awning for you.
Highlights
Great range of awnings
Aggregate experience of 40 years
Marvelous designs
Customer Reviews
Yvette Harris said on Google Reviews:
"Really happy with our amazing new Laserlite awning. It is perfect, exactly what we envisaged. Superb quality, custom-made and expertly fitted. Rose and the team made the process hassle-free, quick and within budget. Highly recommended."
Since it's awesome, we declare Awesome Awnings to be among the best awning services in Auckland.
2) Cool Awnings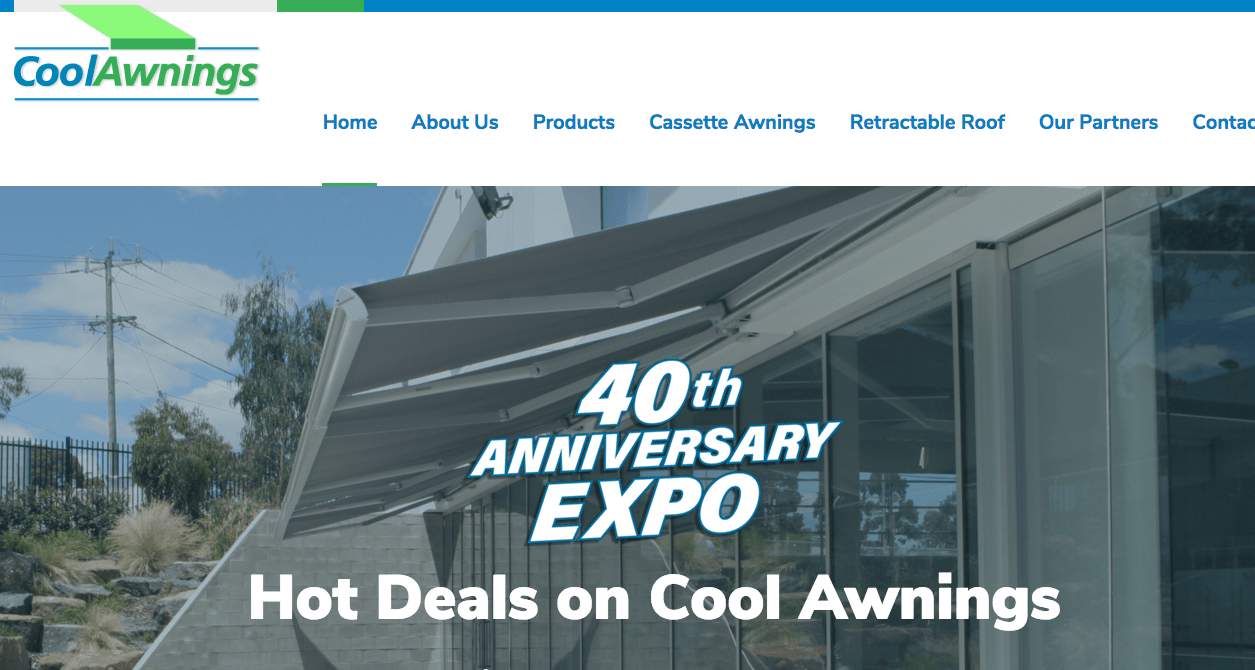 | | |
| --- | --- |
| Areas covered | Auckland wide |
| Services | Residential and Commercial Awnings, Cassette Awnings, Retractable Roofs, and Outdoor Blinds |
| Address | 6 Morrin Road, Panmure, Auckland (Beside Three Brothers Building Centre), New Zealand |
| Contact no | 0800 100 266 |
| Website | https://www.coolawnings.co.nz/ |
Cool Awnings is an Auckland-based awning company catering to residential and commercial clients. It won the Best Awning and Best Outdoor Blinds categories at the 2019 Outdoor Fabric Products Association of New Zealand.
Cool Awnings has a wide selection of awnings including cassette awnings, retractable awnings, shade sails, and fixed awnings. By the way, cassette awnings are made to withstand the weather belied by their light and minimalist form.
One of the best services for awnings in Auckland, Cool Awnings promises that your custom-made awning will be installed by professional builders and is covered by a reassuring 5-year warranty.
Highlights
Topnotch awnings
Great customer support
Offers a warranty of 5 years
Customer Reviews
Giving out a score of 5 stars, Wendy Treanor praised Cool Awnings:
"We had wonderful service and could not fault anything at all. Customer service, the awning itself all amazing! This is second awning we've had installed by Cool Awnings and we are so happy. Dealing with them was an absolute pleasure and we would highly recommend to anyone looking to have awnings installed."
3)  Fresco Shades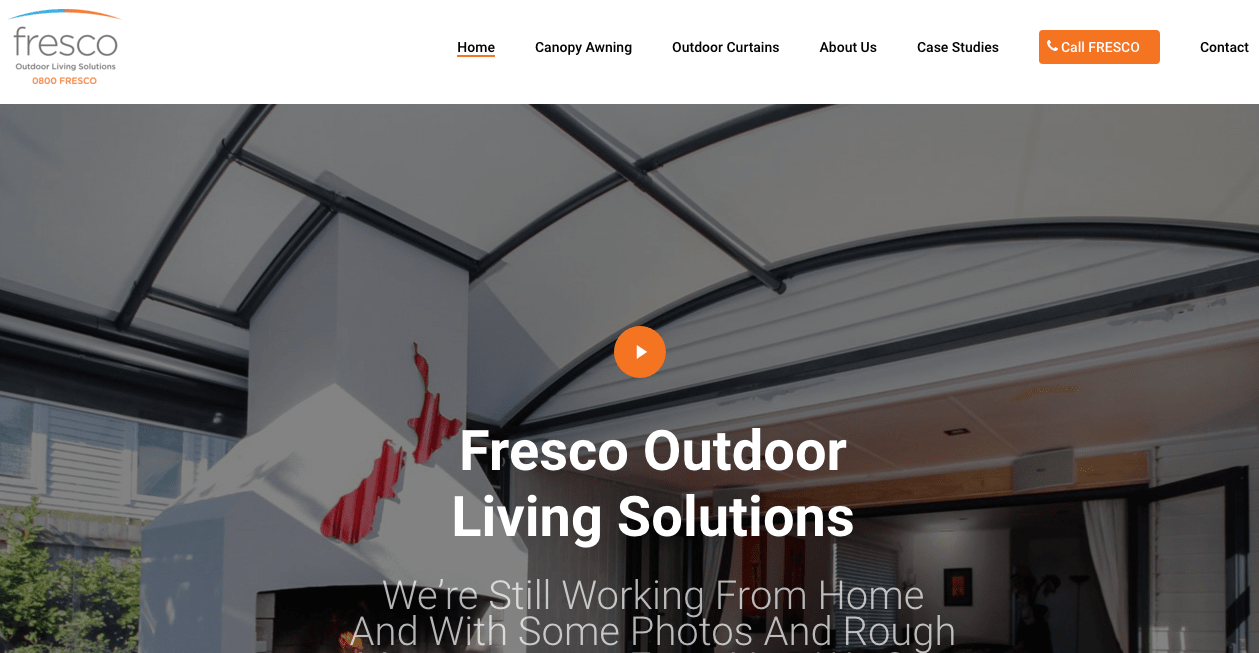 | | |
| --- | --- |
| Areas covered | Auckland wide |
| Services | Canopy Awning, Outdoor Curtains |
| Address | 18 Poland Road, Wairau Valley, Auckland 0627, New Zealand |
| Contact no | 0800 373726 |
| Website | https://frescoshades.co.nz |
If you'd like to maximise your extra space outside the house, get in touch with Fresco Shades. Fresco Shades can install your awnings in NZ and canopy for an extra-large room outdoors — be it for homes, patios or playgrounds.
The materials are made of architectural-grade PVC that's sturdily built and waterproof. The posts are galvanised to keep from rusting and to stay looking new even after a long while.
Plus you can get some screens and blinds for the ultimate outdoor room, letting in natural light without the harmful UV rays. As many of their clients will agree, Fresco is one of the best service for awnings in Auckland.
Highlights
Have your own cosy spot outdoors
Uses construction grade PVC
Talented builders that maximise your space
Customer Reviews
Google Reviewer Ananda Das commented:
"We got Fresco Shades to install Sharma arch canopy complete with clear blinds and a clear door. It looks just awesome. I'm glad I made the right choice of selecting Fresco shade products. There service has been absolutely fabulous right from day one when we got Jackie to come and measure up the area."
4)  Shade Systems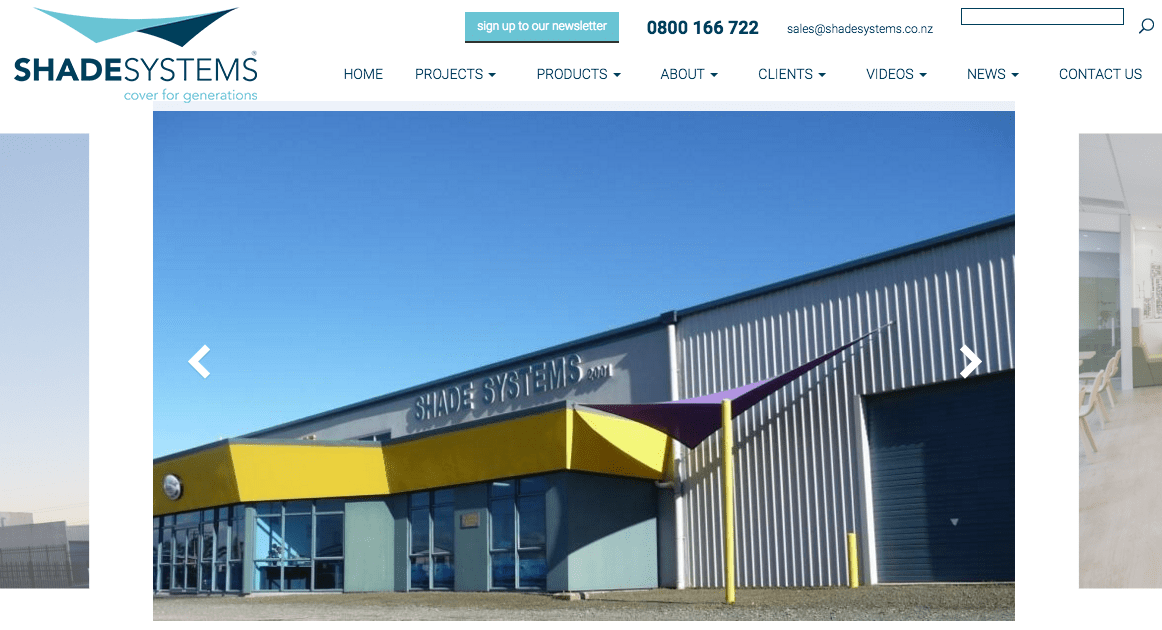 | | |
| --- | --- |
| Areas covered | Auckland wide |
| Services | Cola Canopies, Shade Sails, Star Structures, Hip Roof Shade, Car Park Shade, Tensile Membrane, Covered Walkways, and Sola Gola, and Facades |
| Address | The Precinct, Level 2, 40 Onehunga Mall, Onehunga, Auckland 1061, New Zealand |
| Contact no | 0800 166 722 |
| Website | https://www.shadesystems.co.nz |
Shade Systems is a company that constructs almost all makes and models of awning. Their team has extensive experience in construction and industrial background totalling over 150 years.
They can build steel or fabric awnings for football, tennis courts, pools, parking, amphitheatre, cafeteria, offices, and homes, you name it. This protects people from the summer heat or rainy days.
Their aim has always been to keep everyone safe and happy under the awning. They tailor it to your specific needs and purpose, so if that's what you need, they could be the best contact for awnings in NZ for you.
Highlights
Builds steel or fabric awnings
Highly experienced team
Wide variety of awnings
Highest quality of workmanship
Customer Reviews
As found on the website, Alister Bridgman, principal of St Joseph's Catholic School said:
"Our cloud looks AWESOME. A stunning achievement by your firm. Your team has been brilliant and made the installation for our school so easy. Thank you."
5)  Sun Guard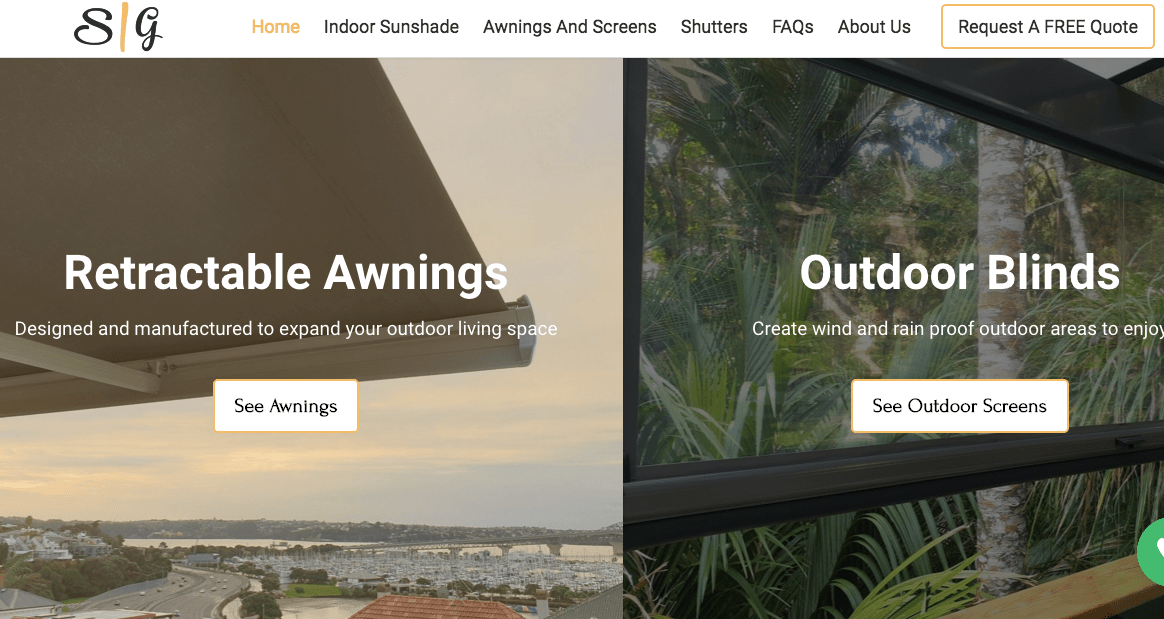 | | |
| --- | --- |
| Areas covered | Auckland wide |
| Services | Retractable Awnings, Outdoor Blinds, Honeycomb Blinds, Roller Blinds, Shade Sail, ZipTrak |
| Address | Auckland, New Zealand |
| Contact no | 027 200 70 34 |
| Website | https://sunguard.nz/ |
If you're looking for an alternative to steel awnings, check out some of the fabric awnings at Sun Guard. Besides costing less, it can deliver a casual and exciting style to your outdoor space!
They offer shade sails, retractable awnings, and folding arm awnings in Auckland — all of which protect you from UV radiation. These would be excellent choices for your home, office, garden, boat, and parking.
Products are made of premium materials and quality. And the team is always happy when the customers are satisfied, which is why they strive to give remarkable service day in and day out.
Highlights
Cost-effective prices
Neat and attractive designs
Staff who care about the customer
Offers product warranties
Customer Reviews
Lewis Goudie stated just recently and is posted on the Sun Guard web page:
"The team at Sunguard are really great! Thanks to Alex for the awesome professional service throughout the process. The awning is a work of art and has made a huge difference to my home."
6)  Sunshade
Areas covered
Auckland & Northland, Waikato, Hawkes Bay & Gisborne,

Lower North Island

Services
Shade Sail, Shade Products, Canopies, Ziptrak, Roll Up Screens, Awnings, Umbrellas, Sand Pit Covers, Pole Pads, Outdoor Screens
Address
Titirangi
Auckland 0604
Contact no
027 418 2000
Website
https://www.sunshade.co.nz/
After serving the community for over twenty years, Sunshade NZ takes pride in the high-quality products that they offer. Their top-notch sunshades have been recognised by many for their excellence.
Sunshade products are made to last. They're confident that whatever you buy from them will serve you well for many years.
Highlights
Over 20 years of experience
Recognised by The Outdoor Fabrics Association of New Zealand
7) Rollerflex
BEST FOR

Roller Blinds

SERVICES

Roller Blinds, Outdoor Screens, Awnings, Security Screens, Insect Screens, Venetian Blinds, Vertical Blinds, Shutters, Louvre Pergola

WEBSITE

http://www.rollerflex.co.nz/

ADDRESS

Mountbatten Avenue, Hillcrest, 0627 Auckland 

CONTACT DETAILS

09 441 9455

OPERATING HOURS

Monday to Friday 8:30 AM – 5 PM

Saturday by appointment 
SInce 2010, Rollerflex has been offering high-quality awnings, blinds, and screens for their clients. As proven by testimonials, it is proven that they have built a great reputation for satisfying and maintaining their clients. 
They are a team of highly-skilled and professional workers that will not only install your awnings in Auckland but will give recommendations on what might be best for you and your space. 
Highlights
Great communication skills

High-quality products & service

Detail-oriented
Customer Reviews 
Here's a review from one of Roller Flex's clients:
"Big thank you to Roman and the team at Rollerflex. The entire process from start to finish was outstanding, great communication, recommendations re fabric etc for our blinds, manufacture and delivery within two weeks. The blinds are perfect. Would definitely recommend Roman and the Rollerflex team . Keep up the excellent work !!" – Karleen Craigie
Here's another one:
"So pleased we used this local company for our recent blinds purchase. (Custom sized Sunshade and blockout roller blinds purchased)They offered a great range of fabric choices and were competitive on price with other online companies. Friendly efficient service and great advice on fitting. Good follow up service when we realised we did not have the safety clips for our blind cords (oversight probably on our part at time of ordering) – remedied immediately. We would not hesitate to use these guys again." – Susan Farquhar
8) Awnings Plus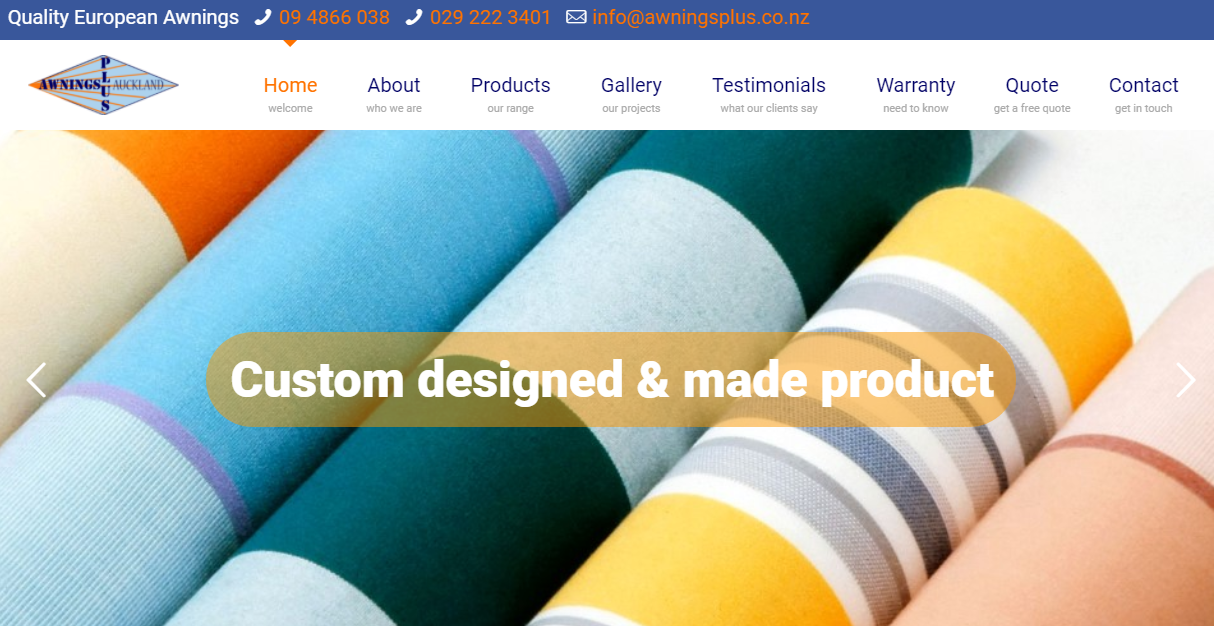 Each and every person has dreamt about their dream house at one point in their lives. If you're at the point where you finally have that dream house, it's best to consider all aspects of the house, such as the awnings and blinding, which are often overlooked.
If you're looking for quality blinds that you can customise to fit your house's aesthetic, why not consider Awnings Plus?
Awnings Plus endeavours to provide customers with high-quality European awnings and screens, accompanied by high-class service, fast turnaround times, and excellent prices.
The company is locally-owned and operated, and based in Auckland, so it knows the climate and weather, and the products needed to face the various challenges that come with living in the area.
Aside from sturdiness and adaptability, Awnings Plus' products also offer customisability. The company listens to the clients' requests and strives to accommodate them as best as they could.
Lastly, Awnings Plus is also known for its speed and efficiency. Clients who order blinds or other products in stock can expect the products to arrive within the next day or the next couple of days.
So, if you wish to complete your house's aesthetic without sacrificing quality, we strongly recommend Awnings Plus for the job.
Highlights
Custom designs
Excellent customer service
Specialises in European blindings
Customer Reviews
Here are some comments left by previous clients of Awnings Plus:
"It was a pleasure to deal with Leon. From the first contact to the measuring, making and installing – everything went really quickly. We are happy with the quality of the product and he gave us a sharp deal. Thank you again!!" – Thomas de Vere
"Leon has just installed a motorised retractable awning at my house that looks absolutely brilliant! His pricing was significantly cheaper than other quotes I got and his delivery was way faster than anyone else could promise. He also didn't try to upsell extras to us by pushing us to buy the add-ons (such as a remote etc) that are handy but not necessary. I found him to be friendly, knowledgeable and easy to deal with. Highly recommended." – Graham A.
9) Lidgard Shades
BEST FOR

Quality European Blindings

SERVICES
CANOPIES & AWNINGS
FIXED FRAME CANOPIES
OUTDOOR BLINDS
RETRACTABLE PERGOLAS
RETRACTABLE AWNINGS
SHADE SAILS & SHADE STRUCTURES
WEBSITE
https://www.lidgardshades.co.nz
ADDRESS
Address Unit 4, 81 Hillside Road, Wairau Valley, Northshore
CONTACT DETAILS
09 489 1111
OPERATING HOURS

Monday to Friday, 7:30 AM – 4:30 PM
It's safe to say that our next entry is one of the, if not the oldest company on this list.
We humbly introduce Lidgard Shades, an outdoor living company that first opened its doors to the public. This company is dedicated to, you guessed it, making outdoor living more pleasant and comfortable for all of their clients.
Now, Lidgard Shades achieves such a feat through their tight quality control and expert team. Every product from this company, like the canopies and awnings, fixed frame canopies, outdoor blinds, and retractable pergolas are designed and manufactured by Lidgard Shades' in-house team.
They know the materials that are used and can confidently assure that each and every product they put out is some of the best in the market. To top things off, the Lidgard Shades team is also in charge of installation, so the company oversees everything from start to finish.
So, if you're looking for quality outdoor living fixtures and shade solutions like services for awnings in Auckland, then look no further than Lidgard Shades.
Highlights
Uses only the best materials available
New Zealand-made
Excellent customer service
Custom-made shades available
And those were your best awning services in Auckland. Thanks to their help, what was an empty space before can now become a lounge where you can have bonding time with your family or friends.
Do you have any questions about awning companies or about awnings themselves? Simply drop us a line and we will get back to you as soon as possible.
Other than that you can also get new window blinds to furnish your new sunrooms or outdoor rooms. For this, kindly read about the best window blinds in Auckland!