The 13 Best Baby Monitors in New Zealand
Babies need a lot of attention. But if you want a way to keep track of them while you're doing other things, you're in luck, as we're going over the best baby monitors in New Zealand!
Baby monitors are devices that involve a mic and camera to check on your baby or toddler in his crib. They work much like home security cameras, letting you keep an eye on your little one even from a distance.
There are many different types of baby monitors, though, with different modes of connection. Some even have features like motion sensors, night light, and even lullabies.
So, before we go to our list of top baby monitors, we'll first discuss the types and the features you need to look for. This can help you pick one that is right for you and your baby from the ones we've rounded up.
Types of Baby Monitors
Here are the 3 main types of baby monitors that you may find in the market nowadays:
1. Radio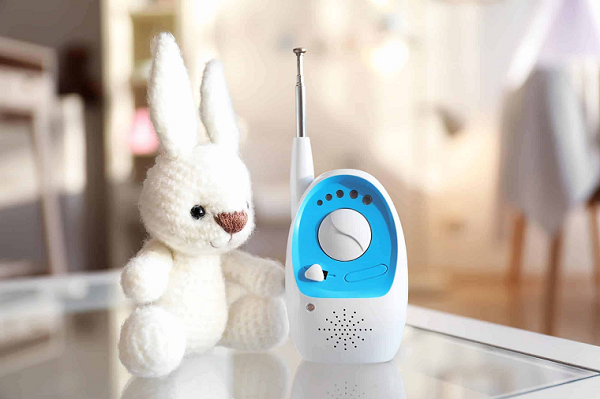 With radio or audio baby monitors, you only hear the sound your little tyke makes such as when he/she cries or coos. This works with two units, one for the parent, and the other for the baby.
It is very easy to use this as it doesn't use WiFi or any app. However, since it uses radio frequencies, there's a chance that others might listen in or talk through the radio to the baby.
These are rather on the simple side too, and most parents would rather have a monitor that also shows them the baby (visually). So, in this article, we'll focus on the next type — video baby monitors.
2. Video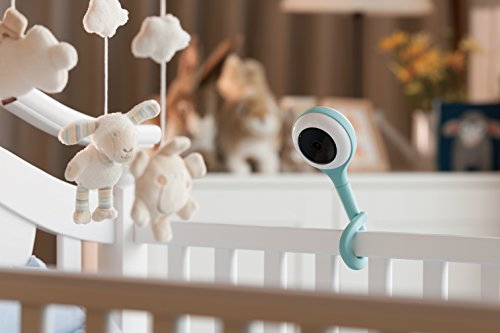 This is the more common version of baby monitors. Video baby monitors let you see what your baby is up to so can tell immediately if he needs to see some funny faces or a new bottle.
In real time, a lot of these models offer a full high-def resolution. This lets you see your baby in far sharper detail, which allows you to monitor better.
Most cameras can even pan from side-to-side or up and down so you can see the entire room. Some can even play a lullaby in order to lull the little one to sleep.
3. App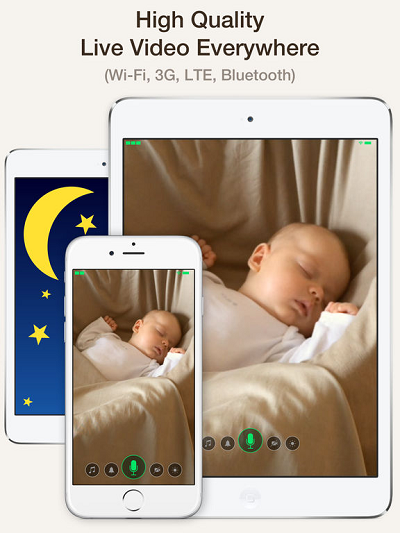 The third type is an app baby monitor. It doesn't require anything other than an app and your two smartphones or tablets.
Since your average smartphone already has everything in it — be it camera, video, or thermostat — it can be a good device for keeping tabs on your baby.
The only downside, though, is that it may be a little of a hassle to set it up. Take into account that someone can always call that smartphone and disturb the baby that way.
Take note that there are also apps now for most video baby monitors. However, what we're referring to in this section are the standalone apps which use only your smartphone, not a dedicated device like a baby monitor.
Features to Look For
Below are the basic features to look for in a baby monitor. You don't have to have every one of them, of course — it still depends on your particular needs.
At any rate, let's take a closer look at each one of them:
1. HD Video
The brighter the resolution, the better you'll be able to see (and thus, take care of) your kid. You can also take pictures with a good baby monitor and save them in your albums.
2. Sings Lullabies
When it's nighttime and the baby needs some gentle music, a baby monitor that plays a lullaby can come in handy. These usually have several preset lullabies stored in them.
3. Camera Pans or Tilts
A camera that lets you see not only the baby in his crib, but also his environment can be handy. However, when the camera moves, it can disturb the baby, so it might be better to set such baby monitors somewhere unobtrusive.
4. Takes Temperature
To be sure that your baby is comfortable, built-in temperature sensors can tell you if the room is not too hot and not too cold. This type of baby monitor commonly comes with a humidity sensor too.
5. Detects Movement
When the baby moves, your camera automatically takes a snapshot and sends it over to you. On the contrary, if it doesn't pick up any movement, it will also promptly alert and notify you.
6. Design
Design also counts, especially when the baby is going to see it. You should find one that blends nicely with the decor of the room and something that the baby will like to look at.
For example, there are monitors with rabbit ears or that have the shape of an adorable puppy or cat, like the Arlo Baby Monitor.
Best Baby Monitors in New Zealand
Anyway, now that you know what you can expect from great baby monitors, let's now zero in on the best baby monitors in New Zealand. These are the ones we'd recommend if you need to keep an on your baby if you're out of their immediate sight.
1. Angelcare AC401 Wireless Sound and Movement Baby Monitor (401-A-2PU-CA-1GB)
Best Baby Monitor to Detect Movement and Breathing
Price: $188.25
When your little one needs you or a bottle of milk in the middle of the night, the Angelcare Baby Monitor lets you know in real time. This is an award-winning and attractive baby monitor that you can rely on.
It basically monitors the movement, sound and temperature of the baby. It consists of 1 handheld, full-coloured monitor and 1 cute angel baby monitor — with blue wings!
First, a small squarish sensor pad is placed under the crib mattress to detect the baby's smallest movements and temperature, telling you whether he's comfortable or not.
A lot of people have complained about the crazying, loud beeps of other baby monitors. But this one is different since it can be set to vibration mode or turned down.
On the 2.4 GHz frequency, you will receive crystal clear audio of the baby in the nursery room. You will know in an instant that he's sleeping soundly and comfortably.
Other features include low-battery and out-of-range indicators, a parent unit locator and Audio Tic (playing a tick on the parent unit to let you know the monitor is still working even when the baby is sound asleep).
Highlights
Attractive and practical design
Clear audio transmission
Monitors the baby's movement, sound, and temperature
Vibration mode
Several reliable features like parent unit locator and Audio Tic
Customer Reviews
The Angelcare Baby Monitor has been a lifesaver for many customers. It alerts them when their babies aren't breathing or moving, and so lets them do a check immediately.
It gives them peace of mind ensuring that the baby is safe and sound. Furthermore, one customer stated that its audio quality is great as well!
Here's one review on Amazon from James and Stephani:
"Everyone should have this product! Our baby was premie and was 4 lbs when we brought him home. My wife would stay up during the night watching him sleep. We looked at many different alarms but this seemed easier because it's under the mattress so no taking on and off every 3 hours. 3 weeks after we got this our son stopped breathing in the middle of the night and this alarm saved his life. I would stand behind this product and recommend it to everyone!"
Also, another user, Kassidy Ewing shared:
"I'd read about how monitors such as this were a waste of money and not a substitute for parental attention. I agree wholeheartedly. At the same time, we had to move our baby into her own room at 2 months because she got too big for her bassinet and our room was too small for her crib. So this gave us peace of mind. Others said false alarms add more stress. I disagree. This works so well that if my baby moves too far from the center of her bed, the alarm goes off. I'm appreciative of this because I know it's working. We love it."
2. Vtech BM5500 5″ Digital Baby Monitor
Best Large-Screen Monitor
Price: $284.27
Who wouldn't want a bigger screen to see your adorable baby? Vtech BM5500 offers a larger screen of 5" in wonderful resolution and colour!
It features 2-way communication for the parent and baby unit, 9 lullaby tones, battery and out-of-range audible alerts, infrared night vision and digital zoom/pan/tilt!
The audio that comes from the 2 units is clear and secure from interference. It will let you talk, comfort, or make your baby giggle when you're outside of the nursery.
As it comes with a rechargeable battery pack, you'll be able to view your baby up to 2.5 hours straight! By the way, it can do this in 3 modes: single cam, split screen and patrol.
Also, the baby camera unit is very easy to use and set up. It can be wall-mounted so can see the most of the room, and of course, your baby too!
Highlights
High-resolution 5" screen
Clear and secure communication with the baby
Very easy to use and set up
Battery lasts for 2.5 hours straight
Suite of features, such as night vision, audible alerts, and lullaby tones
Wall-mountable
Customer Reviews
One reviewer, Vicki K, wrote on productreview.com.au:
"After returning another brand baby monitor we chose the Vtech BM5500. We have been very impressed with the quality of image, range/coverage & audio.
This is not the fanciest model on the market but it definitely does what we need it to. It has a lovely big screen & it is very easy to move the camera. The temperature display is also very handy."
However, there are also improvements that could be made. She continued:
"My only suggestions for improvement would be to improve battery life (it lasts a few hours without charging) & for VTech to design an arm that will hold the circular base of the owl camera for mounting."
3. Uniden BW3001 Baby Monitor
Best Baby Monitor for Secure and Easy-Setup
Price: $249.99
Since a baby monitor basically operates by radio, there's usually a danger of someone shouting through it or eavesdropping — but not with the Uniden BW3001 Baby Monitor!
As its channels are digitally encrypted, you can rest assured that your baby will be absolutely safe and happy. Your baby will show on the coloured 2.3" screen on the parent receiver and nowhere else!
Though you can't make funny faces through it, you can talk and calm your baby remotely. And this baby monitor comes with gentle lullabies to help you do the work of settling a fussing baby!
Setting up is also a cinch for the baby camera, thanks to its versatile clamper body. For instance, you can clamp it on the crib railing or set it free-standing on the nearest table.
And if you do want to get another BW3001, you can sync it with the handheld parent unit. It can accommodate up to 4 baby cameras — it's all baby bliss, heart and love!
Highlights
Coloured 2.3" screen
Digitally encrypted device for safety and security
Walkie-Talkie function
Can accommodate up to 4 baby cameras
Preprogrammed with gentle lullabies
Versatile and easy setup
4. Motorola 2.8″ Wireless Wi-Fi Baby Video Monitor/2-way Audio/Night Vision Camera (MBP667CONNECT)
Best App-Accessible Baby Monitor
Price: $284.27
The Motorola 2.8" Wi-Fi Baby Monitor lets you watch and listen to your baby as he sleeps or makes cute noises. It consists of a baby camera unit and a parent viewing device.
The baby camera monitors the temperature, sound, and movements that your baby makes. You can see this on the handheld monitor, which lets you talk to your baby too!
Whether you're away from home or right in the next room, you'll easily see your baby through your Wi-Fi-connected phone. Through the Hubble app, you'll be notified of what he's up to everyday!
What if it's nighttime and the room is dark? This baby monitor has night vision that lets you see your little sprout as bright as day — it also lets you zoom in if you want.
And when you're about to run out of battery, the handheld monitor can be recharged. Oh, and note that the viewing device has a max range of 1000 feet only or 0.30 kilometres.
With the Motorola Wi-Fi Baby Monitor, you can be closer to your baby. For example, you can sing your baby a lullaby to soothe him or play with him even while you're away!
Highlights
Monitors the baby's movements, sound, and temperature
Large 2.8" coloured screen
Night vision lets you see the baby clearly if the room is dark
Max range of 1000 feet
Download Hubble app to access the baby monitor
Customer Reviews
This Motorola baby monitor had received mixed reviews from 300+ customers. The baby monitor provides great sound and picture quality and nicely indicates the temperature, according to one customer.
The only drawbacks are the price and that the parent unit can beep loudly when it disconnects or drops the connection.
However, for one, connection was solid throughout the house (a large house too!). Marco Mena shared on Amazon:
"This has been one of THE MOST helpful products. We have the camera set up on our baby's crib, and I can take the monitor with me anywhere in the house and still see the baby. We have a big house, so the range is big for the signal. Oue family members can all access the video through the motorola app, so it's been a beautiful experience knowing that they have seen him grow. The video does freeze sometimes, and we figured out that if we play the music on the device, we can bypass that error. It just requires constant monitoring (as you should with a baby anyway!) to ensure that the video didn't freeze."
Check out another review as written by Yvette:
"Bought for my daughter. Works perfect. Love that I can watch the baby in Ohio from my home in Indiana."
5. Oricom Premium Touch Monitor SC870
Best for Easier Sleep-time
Price: NZ $549.99
Never lose sight of your baby even not being in the same room with Oricom Premium Touch Monitor SC870. It has a 3.5" touchscreen and motorised pan-tilt camera you can check on your little one from anywhere in the home.
Aside from tight security, this baby monitor also brings entertainment. It includes lightshow, lullabies, white noise, nature & womb sounds to help make sleep-time easier.
Let your child hear your voice especially when they get a bit cranky using the parent talk back feature. You may also connect it to as many as four cameras so you'd capture all angles of the baby's room. These, however, are sold separately.
Highlights
Baby friendly night vision

In-use time up to 6.5hrs (parent unit)

3 x digital zoom

480×320 resolution screen
6. Arlo Baby
Most Versatile Baby Monitor
Price: NZ$349
When it comes to taking care of your baby and not missing the important moments, the Arlo Baby is something that you need. It is versatile and does practically everything you could want of baby monitor to do.
You can see your baby up close and personal in sharp HD resolution. It also has two-way audio, letting you hear his/her laughter, cries, coos, emotions, and the like.
It constantly keeps tabs on the room temperature so that you can ensure that your baby is warm and comfortable. And it records his/her movements saved through the Arlo app.
And what it captures isn't just limited to one smartphone or tablet. You can share it with your dad and mum even when they live a thousand miles away.
The camera also sports night vision, so that you can monitor your baby in the dark. The built-in lights of the Arlo baby can be adjusted between a thousand pleasant hues too!
Through this monitor, you can even play nursery rhymes or any music that your baby would like. Take it anywhere around the house and if it runs out of battery, simply plug it in and charge it up.
Highlights
All-rounder baby monitor
HD for a clear, detailed live video
Night-vision feature
Motion and sound detector
Monitor temperature and humidity through the sensors
Rechargeable battery
Share via Cloud and app
24 months warranty
7. VTech BM2700
Safest Budget Baby Monitor
Price: NZ$97.46
Vtech is a well-known brand for producing phones and kids' toys and gadgets. But did you know they also have baby monitors that count among the best baby monitors in New Zealand?
Take the VTech BM2700, for example. It provides a secure frequency via which you can talk to your baby with no interference, thanks to it having 2.4Ghz FHSS.
This baby monitor comes in two units—one parent and one baby. Speaking of the parent unit, you get a 2.4" screen for convenient viewing, and it even lets you zoom in for a closeup!
The main camera can be plugged directly into a wall power outlet, whereas the parent unit or one with the screen uses a rechargeable battery.
Aside from this, you can adjust the temperature and volume levels that are indicated on the screen. And it has a light-up function in the unit so you know your voice or settings are getting through.
With the auto night-vision, you'll feel that your baby is taken care of and see to it that his needs are met, giving you peace of mind. However, the VTech BM2700 only works within a 300m range.
Highlights
Secured connection with 2.4Ghz FHSS frequency
4" screen with zoom-in and night vision capabilities
Temperature sensors
Has a rechargeable battery for the parent unit
Functions within a range of 300m
8. Nanit Plus
Best Sleep Tracker Baby Monitor
Price: NZ$527
If you like to track your baby's sleep and breathing patterns, you can't go wrong with the Nanit Plus. TIME Magazine dubbed it one of the best inventions of 2018 for its innovative features.
You can have one camera either freestanding or perched on the crib. Arranged high up, it lets you have a bird's eye view of your baby.
A timelapse feature lets you watch how he slept yesterday at a particular time. It is viewable through your Nanit app for Android or iOS users (you have to go online).
It measures statistics including wake up and sleep times, number of visits, and sleep efficiency. Then, it provides you a graph and real-time notification of the results.
It also features a two-way mic you can use to speak and sing to your baby. The night light emits a soft glow, and cable management protects him from accidentally touching the wires.
For the breathing pattern, your baby has to wear a breathing swaddle to track it in BPM (this swaddle is sold separately). And to top it all off, you can activate it with Alexa's voice assistance.
Highlights
Bird's-eye view of your baby, whether for the wall-mount or floor types
Smart sleep tracker with real-time notifications
Two-way audio
Soft glow night light
Works with the Alexa voice assistant
Customer Reviews
On the Nanit website, these reviewers have given the Nanit Plus praise for its app and picture quality. Kelly D. mentions the time lapse feature in particular as useful:
"I like the summaries for the previous night. It's cool to see a time lapse video to see how my son slept, how often he awoke, and when he went back to sleep. Also, the quality of the camera was really impressive. I liked that I could see and hear him without having to leave our room."
Also, fit_dallasmom comments:
"Who doesn't want the best birds eye view of their baby?! As a new mom I was nervous to start my baby in his own crib but at 8 weeks old we started sleep training and by 10 weeks he was sleeping through the night (10-11 hrs) in his own crib!!! Yesss more sleep for mom and dad! Lol This monitoring system from @get_nanit has been amazing. Always get notified of anything happening in the crib and you get a short video clip of your babies entire night to watch for sleep patterns etc. It's been more entertaining now that he's flipping to his back and actually falling asleep! (He was waking because he's a tummy sleeper) Just a little tip for you new moms out there looking for a good baby monitoring system. Crystal clear picture quality was a MUST for us"
9. iBaby M7
Best Overall Baby Monitor
Price: NZ$459.99
The iBaby M7 has won multiple awards this year like Product of the Year, Top Choice, and a Tillywig award. That should tell you that if you pick this one, it won't disappoint.
It has a resolution of 1080p that will let you see little details so you'll know exactly what your baby needs at any time. The infrared night vision will handle things too if the room is dark.
With its two-way audio, you can talk to your child affectionately and even play preset songs and bedtime stories from your music library.
You also have a complete view of the room as it pans 360° and tilts 140°. Not to mention it has a sleep mode that blacks out the screen for privacy — like when you're changing diapers or breastfeeding.
Beside those, it takes the temperature of the room as well as displays the humidity level in percent through your smartphone app.
Highlights
Multi-awarded baby monitor
1080p resolution with night vision
Offers two-way communication
Wi-Fi enabled
Displays humidity and temperature levels
Has a unique moonlight soother (a special illumination setting)
Customer Reviews
There are a lot of satisfied users for this one. Its features were generally a win for owners, especially the two-way audio.
Jocelyn Santi also said:
"A Great Baby Monitor. This is a baby monitor, we bought it to keep an eye on our baby boys. This monitor has made our life fun. The Night vision is great. We can clearly see them at night and I don't have to be always worried about them."
And here we see effortless installation process, Candace Glass wrote:
"M7 is the best. My hubby and I love this monitor. We are expecting my little angle and can't wait to use it when she is with us. The installation was easier than I would ever expect. We installed the app on our iPhones and Samsung devices. The app is really good. Very easy to use the features like Moonlight, take a picture, record video or talk and listen."
10. Infant Optics DXR-8
Most Innovative Baby Monitor
Price: NZ$294
Without requiring an internet connection, Infant Optics DXR-8 lets you watch and look after your baby even from another room or during busy times.
The design it has is unlike any other with a mini observatory-like camera and a sleek, cute camera unit. It only has a few buttons for a simple and easy-to-use baby monitor.
Screen size of the parent unit is 3.5" wide without signal interruptions or frequent grainy captures. That makes it like you're looking at a movie of your baby of special moments.
The catch is that you can interchange the lens into standard, zoom, and panoramic modes. Zooming is the best if you like to see how cutely and angelic your baby is sleeping and breathing.
Same like the others, it features a two-way audio, IR night vision (to see in the dark), and air sensors. This way, you can make your baby comfortable and happy in his bassinet or crib.
What's more, it's battery endurance is 6 hours long in continuous operation and can last up to 10 hours in power-save mode.
Highlights
5" inch screen with good quality
Interchangeable lenses (standard, wide, and zoom)
Long battery power
IR night vision to see in dim settings or darkness
Very portable and sleek design
11. HelloBaby HB65
Best Secure Radio Monitor
Price: NZ$162
Do you need a safe and secure baby monitor that's affordable? You should get the HelloBaby HB65, which is a great option whether you're a first-time parent or expecting your second baby.
This baby monitor ensures your baby's safety because it is digitally encrypted and has a frequency-hopping feature that prevents others from listening in or intercepting the radio signal.
It lets you view the baby on a 3.2" LCD screen with colour display. And you can let the camera pan almost full circle and tilt it up or down to see the entire room.
Noise level is smartly detected by the HB65 and indicated by the dots in the parent unit lighting up. If your baby cries, for example, you get to know it while you're doing something else to check in on him.
Furthermore, the temperature of the room is indicated to make sure your baby is cosy in his environment. Play him/her any of the 8 lullabies and sing along gently to your kid for some soothing bonding time before he naps.
Highlights
Informs you when it detects crying or noise
Radio frequency protection
Camera tilts and pans
8 preset lullabies
Night vision in dim surroundings
12. Philips Avent SCD620
Best Streaming Quality for Radio Baby Monitors
Price: NZ$280
The Philips Avent SCD620 is a tiny device that makes your baby smile, giggle, mumble, and learn. It allows you to talk to him or play sweet tunes while you're in the kitchen or in another room.
Your connection with your child is also kept secure and private with frequency-hopping technology. This minimises the risk of someone finding the signal, or of something causing interference.
Both the picture and the audio are very clear and loud. Night vision also turns on automatically whenever it senses dim surroundings.
You can even save energy with the eco mode when there's not much activity. To pace your battery, you might like to turn off the video transmission and only hear the baby's sound while you go about.
The SCD620 reaches up to 300m and the signal lets you know if you exceeded that range. Plus, you can adjust the mic sensitivity, which picks up babies' cries and alerts you to them as well.
Highlights
Clear audio and hi-res video
Comes with the safer FHSS (Frequency Hopping Spread Spectrum) technology
Range is up to 300m
Parent unit can last up 10 hours
Mic sensitivity is adjustable
Customer Reviews
The Avent SCD620 is a model that's very simple, with not many bells and whistles but a lot of functionality, according to several owners of the monitor. One owner, N. Miller, also wrote:
"We've had this now for a few weeks and I love it. My wife doesn't let me use it enough. I've dropped both units a couple times and they are durable. There was no setup needed and worked right out of the box. The signal is pretty good. I use it while I'm in the study on the ground floor and baby is upstairs in the crib (about 10m and several walls). The picture is small but good enough. Some people say they need a zoom or pan function and I don't find that they are necessary. This is a perfect example of it doing exactly what it says on the tin."
13. Kodak Cherish C525
Best Memory Features (Cloud and SD Card)
Price: NZ$499
If you want a high definition video and audio baby monitor, the Kodak Cherish C525 is the real deal. On this 5" screen, you'll watch your baby with ease and also hear him nice and clear even when you're at work.
The camera unit is easy to set up on your wall. It pans, tilts, and zooms, ready to catch your baby's special moment or milestones.
Motion and sound sensors notify you of what the baby's up to through the Smart Home App. It detects any movement like waking up from a nap, crying, or just bonding with his dad or mum.
Even when the lights are off, you will see your baby easily, thanks to the infrared light a.k.a. night vision. Meanwhile, a temperature reading helps you tell if the baby is comfortable and healthy in the room.
You can also use the monitor to play a lullaby for your little tyke at night as he drifts into sleep. Or if outside noise is coming into the room, turn on the white noise to cancel them out.
It even has nice details like a light-up keypad on the parent unit and simple one-button powering on/off.
Highlights
HD video and audio
Untoppable 5" screen
Motion and sound sensors
IR light to stream when the lights are out
Plays lullabies or white noise
Light up keypad
Customer Reviews
A reviewer from Amazon noted the night vision, camera movement, rechargeable battery, and customer support as pros of the Kodak C525. On the other hand, he listed the audio output, graphics, and colour as minor cons that nevertheless didn't bother him that much.
Then he concluded:
"Kodak is onto something big here. I love the system, and love that you can add more cameras for overall home security (haven't done that yet). My biggest fear is that, this being a new product, Kodak will axe it if it doesn't meet sales expectations. Hopefully that won't happen.
Overall, if you're looking for something different and new, portable and reliable, take the dive and try out this system. It seems to meet every need and more. I will update this review if anything changes!"
And with that, we're done with our best baby monitors in New Zealand! These are amazing WiFi or radio-frequency choices with useful features you can try out for you and your kiddos.
Do you have any questions or think that we missed anything? If so, let us know and we'll get back to you as soon as we can.
By the way, if the room where your baby is in feels a on the stuffy side, you can help keep the air cool and clean for him/her by having a dehumidifier nearby. You could read up on our best dehumidifiers in New Zealand, in that case.