The 8 Best Barbers in Wellington
It is a relaxing experience to have a haircut and shave at a barbershop. Don't know which shop and barber to visit and book with? No worries, as we've found you the best barbers in Wellington here.
We included the ones who are talented and professional, with great attention to detail. Other than that, we selected those who are nice and personable to clients, and who have great reviews.
Without further ado, let's now round up the absolute best barbers in Wellington!
1)  Jason – The French Barber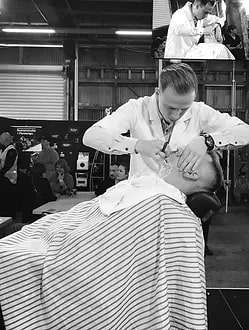 BEST FOR
High-Quality Grooming Experience
SERVICES
Haircuts

Beards

Treatments

WEBSITE
https://www.thefrenchbarber.co.nz/
ADDRESS
115 Lambton Quay, Wellington Central, Wellington 6011, New Zealand
CONTACT DETAILS
+64 4-213 9874
OPERATING HOURS
Tuesday to Friday: 8am – 6pm

Saturday & Sunday: 10am – 4pm
Frenchpeople are known to be some of the most fashionable people in the world. You may like to be fashionable too by getting your hair cut at The French Barber.
You should look for Jason at the French Barber. He is the owner and barber with over 12 years of experience and is the holder of the 2017 Barbercraft NZ Master Section Shave Winner title.
From the moment you enter the door and sit on the barber's chair, you're in for a treat — you'll have a professional grooming experience in a cordial relaxing atmosphere.
Jason can give you a haircut, shave or treatment such as a shampoo and scalp massage or face cleanser. Also, students get a special 10% discount as long as they bring a valid student ID.
Highlights
Professional grooming experience
Excellent barber
12 years plus of experience 
Customer Reviews
One client, Darren McKean, said this on the website: 
"Jason and the team are highly skilled professionals – what an experience. Really enjoyed the cut throat shave and professional haircut."
2)  Danny Meadows – Fresh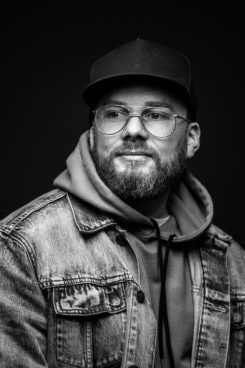 BEST FOR
Precision Cuts
SERVICES
Style Cut

Zero / Blade Fades

Buzz Cut

Clipper Cut

Beard Trim

Lux Shave

WEBSITE
https://freshbarbershop.co.nz/
ADDRESS
16-22 Taranaki Street, Wellington, New Zealand (beside the historic Green Parrot Café)
CONTACT DETAILS
021 0247 0271
OPERATING HOURS
Monday to Friday: 8am – 7pm

Saturday to Sunday: 9am – 4pm
Award-winning, talented and personable, Danny Meadows is one of the best barbers in Wellington you can find. Whether you need a precise cut or relaxing shave, leave it to him.
He works at Fresh barbershop, which is situated at Taranaki Street in the heart of Wellington City. You'll never feel uneasy or unattended with the friendly team here.
Danny will make sure you get the hair result you want at a reasonable price and leave feeling confident, happy and certainly fresh!
Highlights 
Award-winning professional barber
Specialises in precise cuts
Personable and talented
Reasonable price 
Customer Reviews 
Here's the feedback of Nick Wilson on Google Reviews: 
"I was visiting my old town of Wellington for a month from overseas and needed a bit of a freshening up of the hair and dropped in. First impression was of a busy little barbershop with a great vibe, Danny did a first rate job of my hair – best hair cut I've had in a while! Great chat too, very friendly and personable team. 
Thanks Danny and good luck with the business – I'll swing by for a haircut next time I'm in town!"
3)  Samuel 'Pablo' Francis – Cuba Barber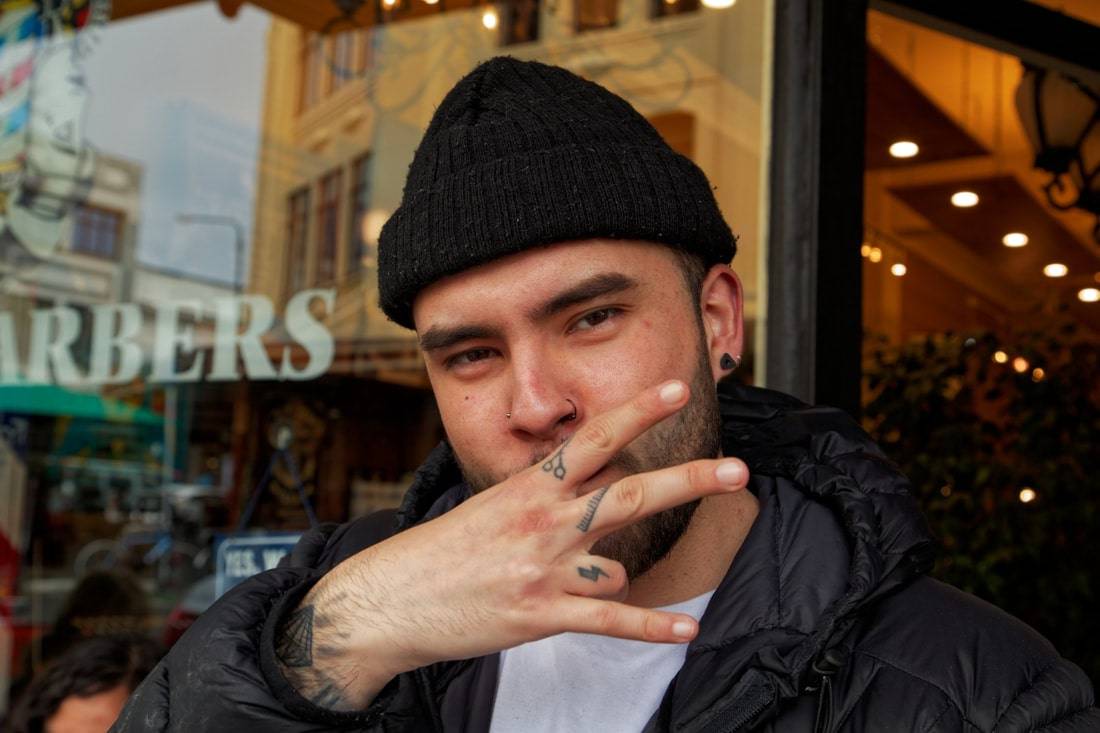 BEST FOR
Mohawks or Afro-Mohawks
SERVICES
Hair

Beard

WEBSITE
https://www.cubabarbers.com/barbers
ADDRESS
174 Cuba Street, Te Aro, Wellington 6011, New Zealand
CONTACT DETAILS
+64 4-384 0202
OPERATING HOURS
Monday: 7.30am – 5pm

Tuesday to Friday: 9am – 6pm

Saturday: 10am – 4pm
Coming from Southampton, UK, Pablo has been working at Cuba Barber for a year and a half now. He started to style hair when he was just 13 and professionally at 18.
Although he loves to do mohawks, he can cut your hair in modern and traditional styles. If you don't know which style you should go for, he'll take it from there.
People mention that he's friendly, relaxed and great to have a conversation with. There is enjoyable music played in the barbershop too.
Highlights 
Mohawk wizard
World-class barber
Friendly and relaxed
Is from Southampton, UK
Customer Reviews
Here's the comment posted by Ruby Keane on Google Reviews:
"My boyfriend had his hair cut at Capital Barbers down the road from this place which was so bad we immediately called to book him in at Cuba Barbers to get it fixed/shaved. Pablo managed to give him an awesome cut despite the screw up from the barbers before and then he said it was on the house because he's a bloody legend. 
Cannot recommend this place enough!"
4)  Hux – Studio 36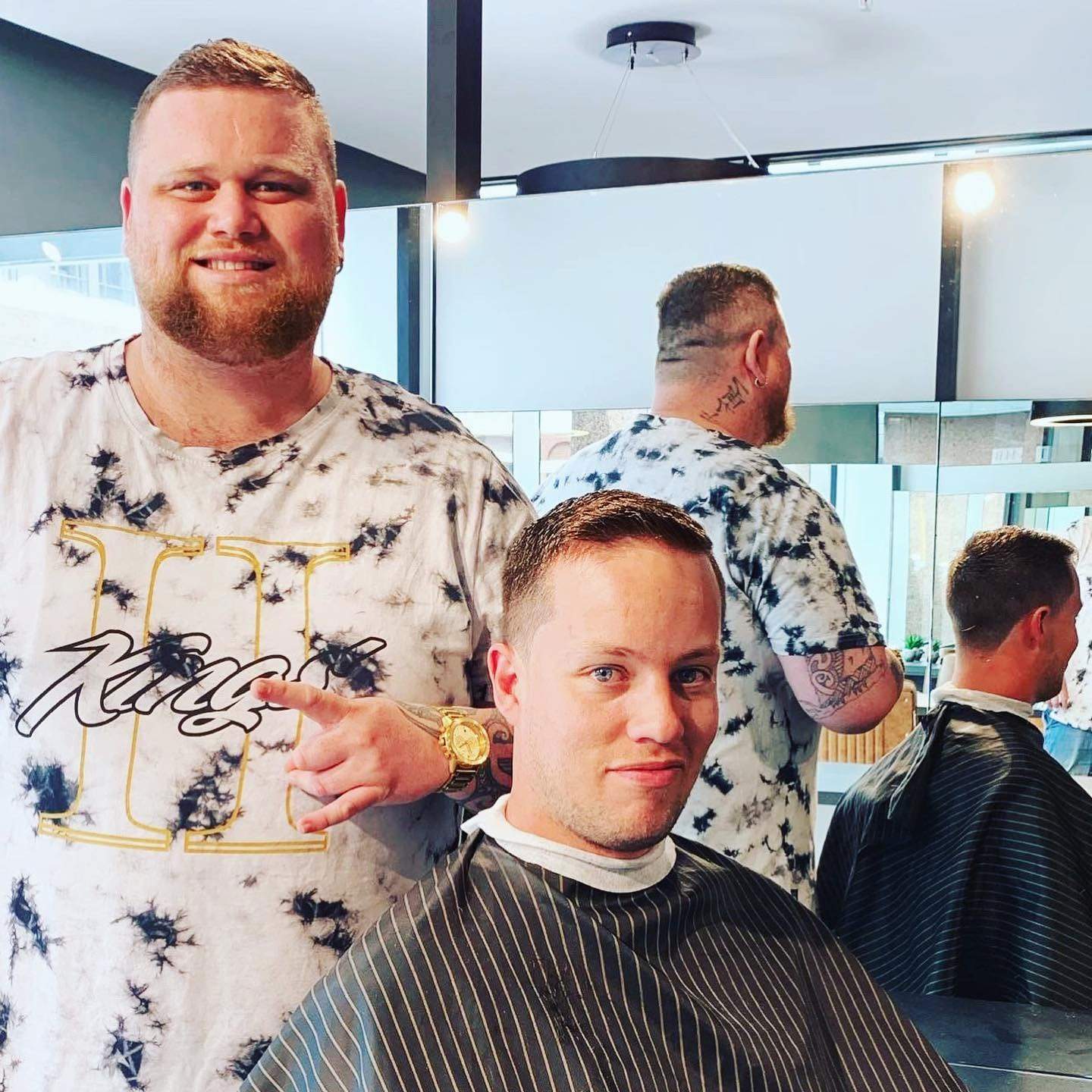 BEST FOR
Top-Notch Haircut & Entertaining Banters
SERVICES
Hair

Beards

Extras

WEBSITE
https://studio36hair.co.nz/about-us
ADDRESS
36 Customhouse Quay, CBD, Wellington 6011, New Zealand
CONTACT DETAILS
+64 4-471 1338
OPERATING HOURS
Tuesday, Wednesday & Friday: 9am – 5.30pm

Thursday: 9am – 8pm
Perhaps as famous as Hux's tremendous cutting skills is his positive and lively banter. He is passionate about giving clients an amazing cut or shave each and every time.
Allow yourself a break after a tiring and toxic week and enjoy being at Studio 36. It is a small gem in Wellington CBD and has a warm and friendly vibe inside.
You are going to look refreshed and sharp with a cut, shave and hot towel — with some laughter along the way, chugging out the ice-cold seriousness you may have.
As customers will agree, Hux is one of the best barbers in Wellington. So book an appointment soon — you won't regret it. 
Highlights 
Gives top-notch cuts
Famed for his positive and lively banter
Warm and friendly
Customer Reviews 
On Google, Hayden Saunders left this review: 
"Great professional cuts and a great duo. Hux always makes you feel welcome and always enjoy a bit of friendly banter. They are top of thier game."
5)  Zque – Boar & Blade Wellington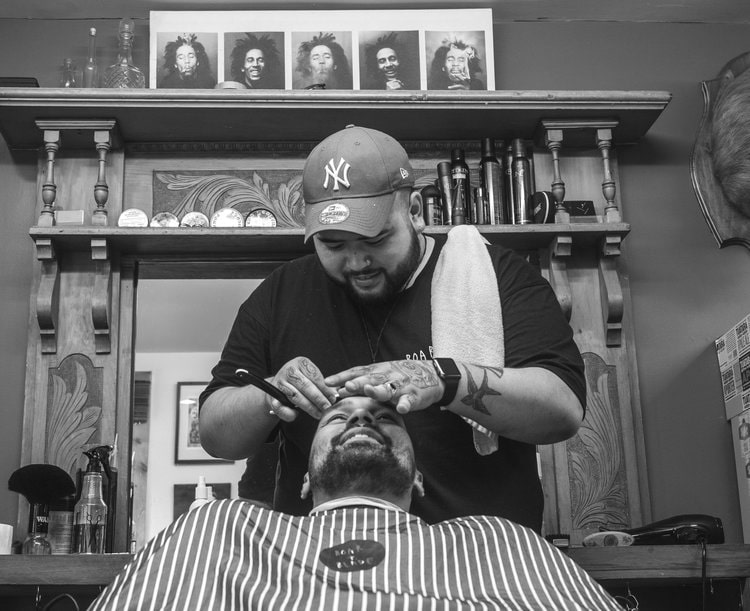 BEST FOR
Outstanding Service
SERVICES
Haircut

Beard Trim

Shave

WEBSITE
https://www.boarandblade.co.nz/wellington/
ADDRESS
32 Cambridge Terrace, Te Aro, 6011, Wellington, New Zealand
CONTACT DETAILS
027 358 3437
OPERATING HOURS
Tuesday to Thursday: 9am – 6pm

Friday: 9am – 5pm

Saturday: 9am – 4pm
At Boar & Blade Wellington, Zque is not only a great barber but a kind and friendly bloke too. He gives remarkable cuts, beard trims and shaves for the true gentlemen.
The barbershop has a new location in Cambridge Terrace in the Te Aro suburb. You'll feel welcomed and respected the instant you come through the door.
Whether you need a restyle, haircut and shave, or trim, Zque's the man. He has great attention to detail to bring you a style you'll be proud of.
Also, Zque and his colleagues always provide an epic service, as customers can attest. As such, he is one of the best barbers in Wellington!
Highlights
Gives remarkable cuts
Has great attention to detail
Kind and friendly
Epic service 
Customer Reviews
Lindsay Welsh, one customer, said this on Google:
"Great barber experience, full razored head shave, and beard trim with Zque. A great place, with great atmosphere, and great barbering. Always an experience!"
6) Blendtings Barber
| | |
| --- | --- |
| BEST FOR | Beard Grooming |
| SERVICES | Wash & Cut, Full Cut, Clipper Cut, Buzz Cut, Beard Trim, Beard Buzz, Wet Shave |
| WEBSITE | www.facebook.com |
| ADDRESS | 286 Cuba St Wellington, New Zealand |
| CONTACT DETAILS | (+64) 4381 2324 |
| OPERATING HOURS | Monday – Friday, 9:00 AM to 7:00 PM |
Home is where the hair is because walking into Blendtings Barber's shop gives you a great sense of familiarity.
It's a small space, offering limited seats to customers. However, the quality service and ambient environment more than make up for it, especially since clients can wait on leather couches and view nostalgic frames hung all over the walls while waiting.
Barbers in this shop are all chuffed and friendly. But don't be surprised even if a woman is scheduled for your grooming session because she's just as skilled. All barbers at Blendtings always exert their 100% and are very accommodating.
No matter what kind of hair service you're looking for, whether it's a trim, restyle, or grooming, you'll always come out looking fresh, fly, and clean-shaven.
Highlights
A variety of services
Chuffed and great barbers
Great ambience and music
Customer Reviews
On Google, a customer wrote:
"Visiting Wellington from Auckland and loving the cut. Was wow'ed by the level of care and time put into cutting my hair by the barber shop owner, and precision when trimming my beard. Probably the most effort I've ever seen a barber put into getting the haircut just right and I'm chuffed with the results. They go the extra mile, making the price good value for money. Thank!"
7) Prince Barbers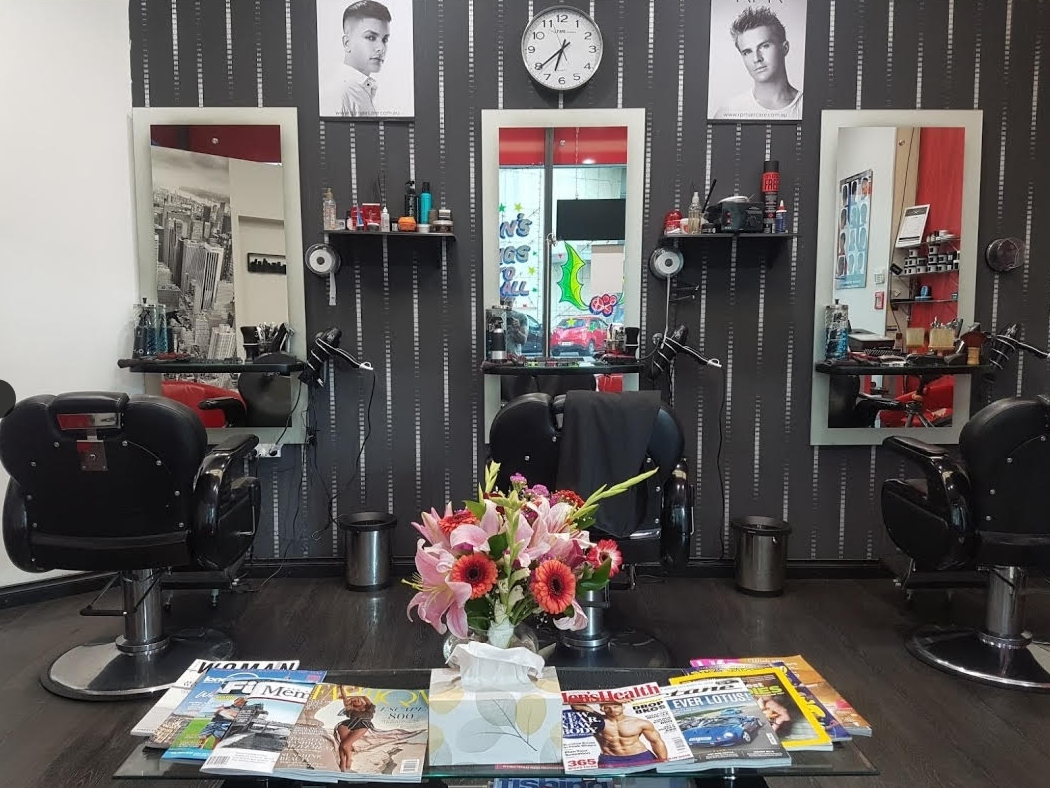 BEST FOR
All men's haircut
SERVICES
Haircuts and Beard care
WEBSITE
www.facebook.com
ADDRESS
75C Featherston Street Wellington, New Zealand 6011
CONTACT DETAILS
+64 4-471 2739
[email protected]
OPERATING HOURS
Contact for more information
Prince Barbers is a professional barbershop offering an array of grooming services focused on men's hair and beard care.
While the location itself is small and can cater to only a handful of clients at a time, the quality of service more than makes up for it.
The expert staff are hospitable and takes the time to hear the client's concern before the necessary grooming techniques are applied to make their requests a reality. They also have keen eyes and good attention to detail.
Highlights
Reasonably priced services
Great attention to detail
Excellent customer service
Customer Reviews
Here are some comments from happy clients:
"Highly recommend this place. The guys are great I have been coming here for 3 years now I sit down and let them do there thing and always happy. Great value and great cuts."

"First time customer but would definitely be a regular if I lived in Wellington. Great attention to detail and a good price!"

8) Gentlemen's Approach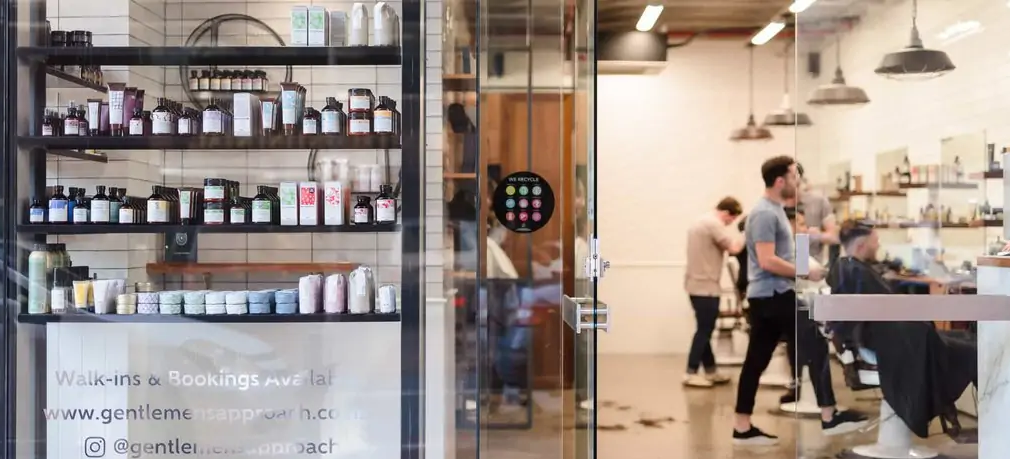 BEST FOR
Comprehensive Hair Care
SERVICES
WEBSITE
https://gentlemensapproach.co.nz
ADDRESS

Shop 4, 1 Grey Street, Wellington CBD

CONTACT DETAILS
04-472-1111 | [email protected]
OPERATING HOURS
Mon. 9am – 6pm
Tues. 9am – 6pm
Wed. 8am – 5pm
Thurs. 10am – 7pm
Fri. 9am – 6pm
Grooming is an important factor of positive self-esteem. If you're looking to update your look, why not consider Gentlemen's Approach?
The Gentlemen's Approach is a cosy establishment located in the Central Business District.
The brand consists of expert stylists who have years of experience in the field. They're capable of performing simple cuts, styling, colouring, and other beauty treatment.
With expert hands, the Gentlemen's Approach treats men who come into the shop with the 'Gentlemen's Approach,' which includes a thorough consultation about hair or skin, or even both.
This consultation allows the expert team at Gentlemen's Approach to learn more about their clients, and thus providing them with the care that they need and deserve.
Highlights
Extensive range of care and beauty treatments
Reasonably priced services
Accessible location
And that's all for the best barbers in Wellington. Now you know whom to book with for your haircut or beard trimming so that you'll look good after the service.
Do you have any questions or suggestions for this list? If you do, you can let us know by messaging us and we'll get back to you or update this post promptly.
By the way, if you came here to find a barber in preparation for your wedding, you may want to read about the best wedding photographers in Wellington too. After your new haircut, you can be sure that you will look your best in the wedding photos, after all!