The 5 Best Bassinets in New Zealand
Some parents prefer to have the baby beside their bed as they sleep in order to make him or her feel safe and listened to. If you're one of them, right on cue, as we've listed the best bassinets in New Zealand right here!
Having one of these can help you to comfort your baby when he or she needs some TLC, to sing her a beautiful lullaby or make some milk. Bassinets only take up a very small space in your room, after all.
However, it can be hard to pick the right one for your baby and situation if you've never bought one before. So, to make this simpler, we'll go over some basics before you buy a bassinet. Still, feel free to skip this part and browse our list of the best bassinets in New Zealand if you'd rather see the products already.
Now if you're ready to roll, let's start!
Things to Consider in Buying a Bassinet
Here are the things you need to consider before you get a bassinet:
1) Type
To start with, bassinets are diverse in that there are 3 kinds to choose from. These are freestanding, bedside sleeper and travel bassinets.
Let's take a look at them at each turn:
Freestanding – As you may know, freestanding bassinets are the traditional kind: it's only good to set one up in a nursery or near your bed.
It's not designed to be carried along with you unlike travel bassinets, although some are built with wheels for easy manoeuvring and can also soothe the baby in some way.
Bedside Sleeper – This lets mums and dads be close to the baby when sleeping. This has shown to be safer as compared to co-sleeping, where the baby actually sleeps in the same bed as the parent.
Travel – Travel bassinets make it much more convenient to bring the baby with you when you go out. Mostly, these bassinets can be adapted and put on a stroller.
They also mostly have a sunshade that extends far enough to protect your little one from the UV rays.
2) Safe and Comfortable
After you've narrowed down your bassinet choice based on type, the next thing you have to look for — the most important thing, even — is the safety and comfort offered by the bassinet.
You have to do a pre-check on the bassinet if its base is stable and ensure that there are no small parts and sharp edges in and out of the bassinet.
Aside from that, the product has to be breathable: this can be through having mesh sides, and a firm and thin mattress not going over 1.5 inches in thickness.
3) Lightweight
A lighter bassinet means it's easier to relocate around your house, move closer to your bed, or attach to the stroller. This is an excellent feature if you plan to travel with your baby.
4) Price
While bassinets come in a variety of prices on the market, the products that we featured here have a price point from $130 to $350. These are excellent options if you're looking for safety, durability, and convenience.
Just note that it won't hurt to spend more as long as you know that the bassinet will be safe for your baby to sleep in. In fact, it will be a great investment and make you glad to have bought it.
5) Easy to Set Up
And last but not least, a bassinet has to be a breeze to assemble and disassemble. It has to have instructions with it, so that you are sure that your bassinet will be put together correctly.
The Best Bassinets in New Zealand
With an idea of the types and features to consider in buying a bassinet, here's our rundown for the best bassinets in New Zealand now!
1) Fisher-Price Stow & Go Bassinet
Best for Those on a Budget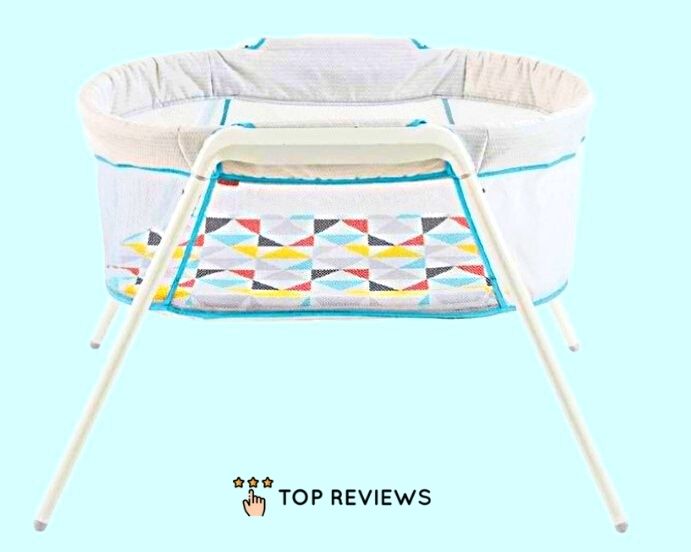 Price: $139
You can take the Fisher-Price Stow & Go Bassinet with you and your little bub to travel to her nana, a farther-off vacation spot — or simply put it right next to your bed!
This cute and portable bed has a flat, cosy mattress for your baby to comfortably lie on. It's incredibly easy to set up or take apart so you can store it in its convenient travel bag.
Whenever your baby is feeling uneasy, this lovely bassinet can provide a soothing vibration too. Then, the mesh periphery allows breathability as well as visibility: it lets you easily see the baby to attend to her needs.
The bassinet covering is also machine-wash friendly. And while it's being washed, you can replace it with a newer covering.
Therefore, the Fisher Price Stow & Go Bassinet is one of our choices for the best bassinets in New Zealand!
Pros
Cosy and portable bassinet
Easy to set up and take apart
Breathable mesh sides
Machine-washable
Features a soothing vibration
Cons
Vibration feature can disturb the baby's sleep if your baby is really sensitive
Customer Reviews
One customer who works as an NICU nurse was looking for a safe and breathable bassinet in which she found with Fisher-Price Stow & Go Bassinet. Here is an excerpt of that review:
"…It is easy to assemble and disassemble and would fit easily in the trunk for the drive. Not sure how convenient it would be for air travel as the mattress does not fold (which makes sense so that the mattress stays flat) and it is sturdy so it's a little heavier than I anticipated but I still love it. I suppose it might fit in a large suitcase but it would weigh the luggage down. Anyway, it is a great quality, straightforward bassinet that doesn't cost a ridiculous amount of money. Very happy with our purchase!"
2) The Nile Qool Bassinet
Best for Travelling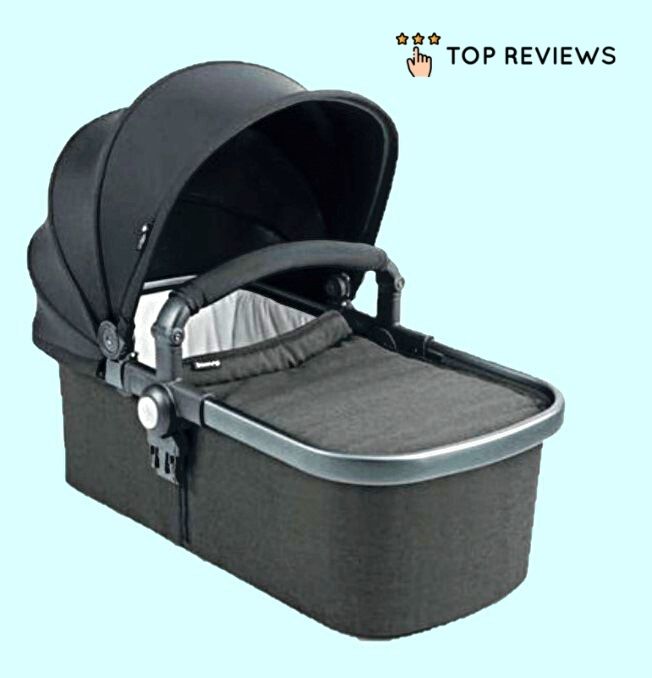 Price: $301.28
If you're going out or taking a walk out with your baby in the city, The Nile Qool Bassinet is an awesome choice! It can be used as a bassinet, carrier and stroller!
A soft plush fabric makes it super-comfortable and relaxing for your little one. The UPF 50+ canopy (which is extendable) blocks out the glaring sun as well as the cool winds.
Upon receiving the stroller, it will only take a minute to assemble it too. It even has parts that click into place without any effort.
This bassinet is ideal for babies or infants from birth up to 6 months — specifically when they weigh around 9kg, or can sit up by themselves or move with their hands and knees.
With this, you won't have to worry about carrying the baby over to strollers or carriers that can distress him.
Pros
Versatile bassinet choice
Ultra-comfortable plush
UPF 50+ extendable canopy
Easy to put together
Stylish black melange colour
Cons
Heavy to carry
Canopy doesn't extend far enough
Customer Reviews
There have been complaints on Amazon that the Qool bassinet is a little heavier to carry than some others, with some people finding the sunshade to be of no help.
However, its comfort and ease of transfer onto the stroller has gotten a lot of praise:
Here's a short but helpful review from one customer:
"I'm glad I made this purchase. Instead of keeping my son in his car seat I am able to smoothly move him from his car seat into his comfy bassinet. I don't have to worry about his positioning because he's always on his back which is a plus."
3) The Nile Complete Bassinet
Most Likable Bassinet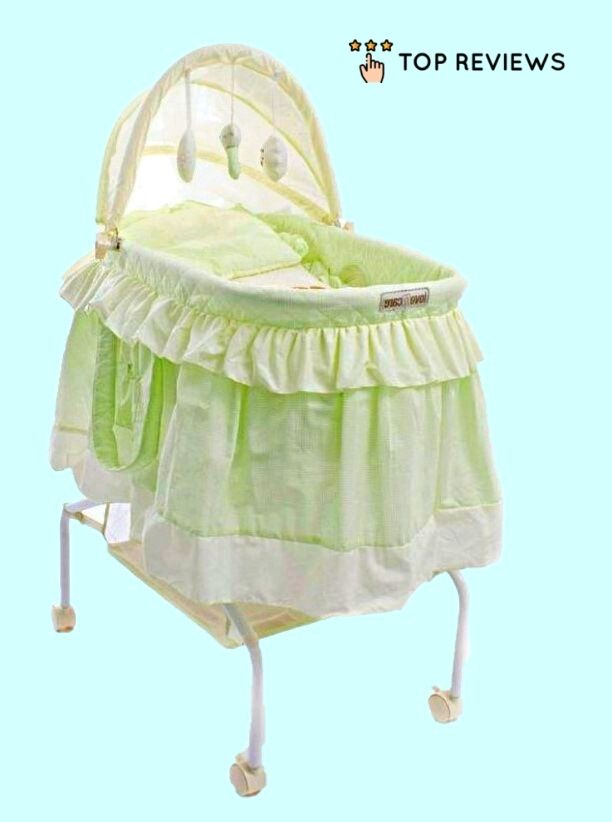 Price: $277.30
For a classic and attractive bassinet, we bet you'll like the Complete Bassinet from The Nile. It comes complete with a quilt set, pillow, mattress, and mattress protector.
Its quilt layer has an adorable, likable design — you'll love it for your little one. You can even customise it with dangling tiny animal toys with musical tones.
Since it has wheels, you can roll it to your living room and play with or feed your child. And easily take it back to his room or right beside you for that mother and child bonding.
Whether it's a boy or girl, the Complete Bassinet has vanilla, white, and climbing bear variants currently available on the Market.
With the beloved gentle and mobile design, this is one of the best bassinets in New Zealand you can get!
Pros
Lovely and comfortable bassinet
Comes complete with a quilt set, pillow and mattress
Has wheels
Can be customised with toys or netting
Cons
Doesn't let you see the baby at a glance
Hood is not extendable to protect from light or insects
4) The Nile Doze Breathable Bedside Sleeper & Bassinet
Best Bassinet for Bedside Sleepers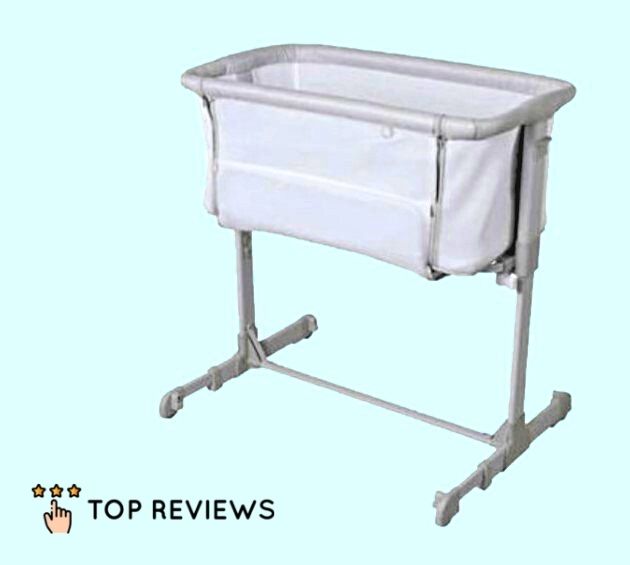 Price: $350.34
The Doze Bedside Sleeper & Bassinet helps keep your baby safe, cared and loved for. It's convertible to a co-sleeping or bassinet mode, so you can put those worries away and be there for your little tyke as he sleeps or needs you in the middle of the night.
Adjustable height positions and feet let the baby be close to the parent. Along with that, the head can be inclined a bit higher than the feet in order to bring comfort to the baby.
The mattress and bedding are already included. The bedding can be easily removed and washed clean too!
The bassinet perfectly fits with Single, King Single, Double, Queen, and King bed sizes. Additionally, a carry case is included for taking this bassinet wherever you go.
Pros
High quality, dual-function product
Cosy and comfortable for the baby
Net window allows air circulation
Adjustable height and feet
Easy to remove and clean liner
Carry case included
Cons
5) Valco Baby Sonno Free Standing Bassinet (Silver Birch)
Best Overall Bassinet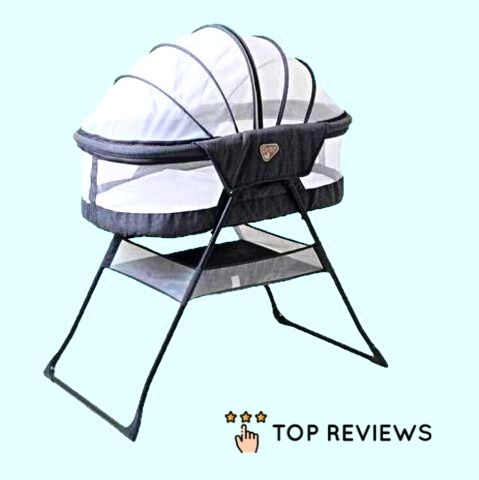 Price: $223.09
The Valco Baby Sonno Bassinet may be exotic-looking, but its features more than make up for whatever strangeness you think it has, looks-wise — actually, it's one of the lightest and best bassinets in NZ to travel with.
The breathable, greyish hood splits into two from the zippered centre. The extended hood protects the baby from insect bites and offers light protection at the same time.
More importantly, this bassinet is comfortable for the baby to lay on. It is also safe, without any openings or hazard areas on its sides.
It weighs extremely light at 5.6kg, a cut above its competitors. It can also be worked down and fit into a storage bag to stow in the trunk of your car or bring with you.
And this quality bassinet sells for a lower price than most of its competitors too, so it's a fine investment. You can use it as your child grows for a few months or so, after which it can be a hand-me-down for his younger sibling.
Pros
Ultra-lightweight
Safe and comfortable bassinet
Breathable mesh
Affordable price
Protects from insects
Storage bag included
Cons
Customer Reviews
Baby and Toddler Town customers regarded this bassinet highly. In particular they noted its fantastic protection from insects, great air circulation and being easy to assemble.
Furthermore, Roz D. gave his feedback:
"Even though our newborns are only in a bassinet for a short time they absolutely need the security and comfort from the beginning.
This bassinet is fabulous. Light weight and airy. I love the zip up mozzie cover.So very practical. I have no hesitation in recommending this to your future customers."
And that's it for the best bassinets in New Zealand. Do you have any questions about the topic for us? Pitch us some questions or share with us your thoughts, and we will get back to you shortly.
Other than that, you might also be interested in the best baby monitors in New Zealand. This is so you can check on them without ever leaving the room, or while you are at the office.