Our 7 Picks for the Best Bedsheets in NZ
Featured Image Source from The New York Times
Looking for the perfect bedsheet? Well, you're in luck, as in this article, we've put together a list of the best bedsheets in NZ for you!
It can be hard and even confusing to pick the ideal bedsheet. But we'll walk you through the factors to consider so that you can easily choose from our list of top products later on.
Without further ado, let's begin.
What to Look for in a Bedsheet
Not all bedsheets are the same in terms of texture, feel, and resilience. Some are soft and cosy, crisp and tight, while others are strong and durable.
But what makes them have those distinct qualities?
Let's take a closer look at each of the factors to consider here:
1. Fabric Type
Fabric type pertains to the base cloth your bedsheet is constructed upon. Here are the most common fabric types for bedsheets you'll find:
| | |
| --- | --- |
| Pure Cotton | It comes as no surprise that cotton is the most widely used fabric because it's soft to the touch, durable, and moisture-wicking so you don't wake up drenched in sweat. |
| Egyptian Cotton | Thanks to a long staple or fibre length, Egyptian cotton is the softest and the most durable kind of cotton. Besides that, it doesn't lint or pill as much as the other fibres. |
| Bamboo/Cotton | This is a great combination. Bamboo is lightweight, silky-soft, and hypoallergenic while cotton is soft, breathable, and easy to wash. What's more, bamboo grows abundantly and doesn't require pesticides and chemicals, thus benefiting the environment. |
| Cotton/Polyester | Polyester is a synthetic and durable fibre. Blending it with cotton makes the fabric free from wrinkles, fast to dry, and last a long time. As such, it's great to use in weekend homes and kids' bedrooms, plus it's more affordable than pure cotton fabric too! |
| Linen | Linen fabric is soft, elegant, and breathable, keeping you cool in summer and warm in winter. It is delicate, though, and requires extra care when you're using and washing it. |
| Linen/Cotton | Linen is very breathable and hypoallergenic while cotton is soft and absorbent. You get both of their properties if they are combined. |
2. Thread Count
When you're shopping for bedsheets or bedsheet sets, you will encounter this. Thread count is the number of horizontal and vertical yarns per square inch.
The higher the thread count, the softer and more durable the fabric. You should aim for at least 250TC or around 300 to 400TC, which experts agree provide the right balance of comfort and durability.
Note, however, that a high TC is not a good indicator of quality.
It could be that the supplier only twists the yarns together to qualify them as having a high thread count, and your bedsheet might easily tear, wrinkle, stretch, or pill.
3. Cotton Weave
Let's say you've chosen a piece of fabric for your bedsheet with the right thread count. The next thing you have to do is to pick the weave.
For cotton, these weaves can be:
Percale – Percale gives a tight and crisp feel to your bedsheet. That is explained by the fact that its weave involves putting one yarn atop another, giving a strong and consistent feel.
Sateen – Not to be confused with satin. A sateen weave is comparable to velvet with its smooth and runny surface produced by having more vertical than horizontal threads.
Flannelette – Flannelette is a cotton weave that's softly spun and brushed on the sides. So if you want a soft and cosy bedsheet, this is a great choice, especially to use during the cooler months.
4. Depth
Do you have a high mattress or pillow topper? If you do, you should get a larger fitted sheet so it can fit.
But you have to first measure them so you can get the correct size, of course!
5. Style
Finally, you can pick the design of the bedsheet you want or that will complement your room's decor. One suggestion is to get a bedsheet set that comes with flat and fitted sheets and matching pillowcases.
The Best Bedsheets in NZ
Now that you know how to buy the best bedsheets in NZ, let's proceed to our list!
1) Groundd Eco-Silk Sheets Set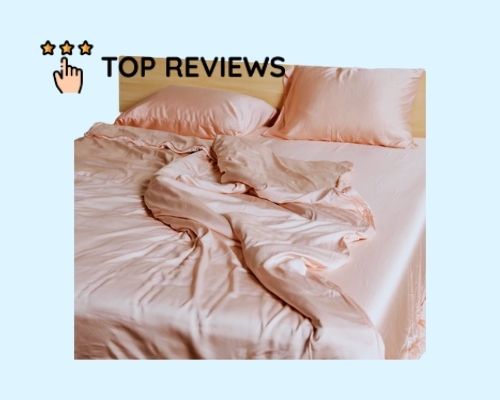 Best for
Sensitive Skin
Size
Queen
Fitted Sheet: 152cm x 203cm + 40cm depth
Top Sheet: 240cm x 264cm

King:
Fitted Sheet: 168cm x 203cm + 40cm depth
Top Sheet: 275cm x 264cm

Super King:
Fitted Sheet: 183cm x 203cm + 40cm depth
Top Sheet: 280cm x 264cm
Colour
Glacier, Blush
Materials
100% Bamboo Lyocell
Price
$270.00
Groundd Eco-Silk Sheets Set is perfect for hot sleepers. Its breathable fabric regulates body temperature instead of trapping it, which allows you to stay cool all night long.
Based on some of the customer reviews, they said that this sheet is perfect for the summer. That the fabric feels utterly soft, gentle, and luxurious.
What people love about this product is 100% renewable, biodegradable and even compostable, Eco-silk. Their sustainable fabric uses an innovative closed-loop process which guarantees that 99% of the water and solvent used are recovered and reused again.
Lastly. people recommend this product because it is hypoallergenic, odor-resistant, moisture-wicking, resistant to dust mites, and free of harmful chemicals and irritants. A perfect product for those who are prone to allergies!
Gets softer with every wash
Made of 100% Bamboo Lyocell- a highly breathable fabric
Gorgeous packaging
Free fast shipping to all of New Zealand
2) Dreamz Bamboo Cotton Bedsheet Set (Ivory)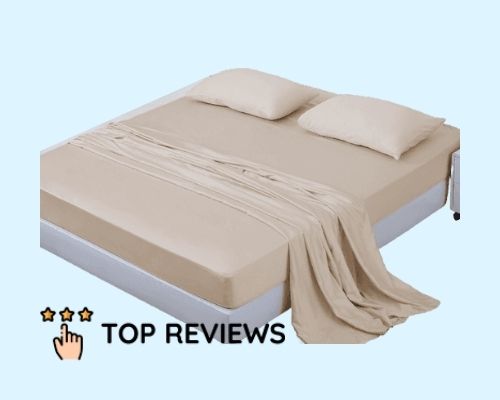 Best for
Hypoallergenic bedsheets
Size
Flat and fitted sheets: 260cm x 240cm
Pillowcases: 48cm x 73cm
Colour
Ivory and Cyan
Materials
65% Bamboo 35% Egyptian Cotton
Price
$68.99
Have skin or respiratory allergies? If you are, then Dreamz's Bamboo Cotton Bedsheet Set could be for you as it is hypoallergenic.
It comes with 1 flat sheet, 1 fitted sheet, and 2 matching pillowcases. The colour is ivory for both sheets and pillowcases.
The bedsheets use 65% bamboo and 35% Egyptian cotton. With a 400 thread count, they are luxuriously soft, highly durable, and tear-resistant.
They're also woven in sateen for a smooth surface perfect to relax on after a long stressful day.
With a deep wall of 40cm, the fitted sheet fits perfectly onto pillow-top mattresses.
Hypoallergenic bedsheet
Smooth and soft sateen weave
Long-lasting and tear-resistant
Complete set
A bit heavy to hold
Expensive
3) Kip & Co Fitted Bedsheet (Rocket Man)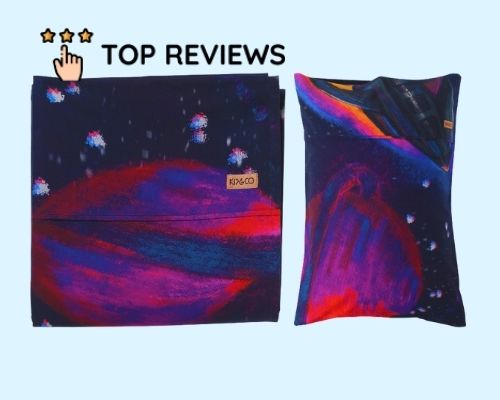 | | |
| --- | --- |
| Best for | Premium bedsheet for kids |
| Size | King Single (203 x 107 x 40 cm) |
| Design | Rocketman |
| Materials | 100% cotton |
| Price | $109.95 |
Kip & Co sure knows how to style your kids' beds. They offer this super-stylish, artistically fitted bedsheet with the Rocket Man design.
We chose a King Single sheet with dimensions of 203 x 107 x 40cm made purely out of cotton. The fabric is soft, relaxing, and breathable, great to be used all-year-round.
Kip & Co's fitted sheet also comes with an elastic hem that can fit around your little one's bed nicely and snugly.
The only downsides are the cost and that it doesn't come with a pillowcase of a similar design.
Stylish design
Breathable fabric
Durable quality
Expensive
No pillowcase included
4) Sapphire Collection Bedsheet (Brown)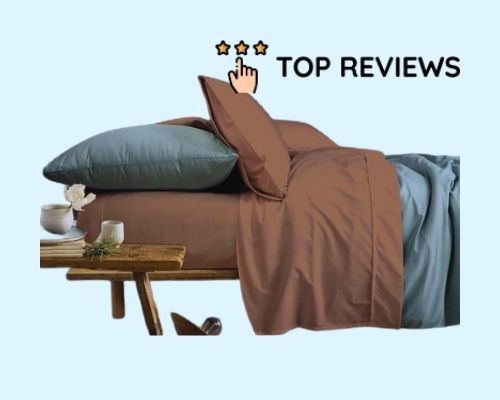 Best for
Luxury bedsheets
Size
King
Flat sheet: 255 X 274cm
Fitted sheet: 180 x 203 x 40cm
Pillowcases: 48 x 74cm
Colour
Brown
Materials
Cotton-rich blend
Price
$84.53
Dreaming of a bedsheet like those you find in a 5-star hotel? If you are, you can make that dream a reality with this fine bedsheet set from Sapphire Collection.
With an incredibly high 1200 thread count, this sheet has a soft and smooth texture to give you a rejuvenating, restful sleep every night.
Its material is not pure cotton but a cotton-rich blend. The cotton-rich blend fuses the comfort and absorbent quality of cotton to the resilience of polyester.
This bedsheet set contains 1 flat sheet, 1 fitted sheet, and 2 pillowcases. They are all machine-washable and come in a nice brown colour.
Smooth and soft feel
Great for all seasons
Machine-washable
No other sizes/colours available
5) Belledorm Egyptian Cotton Blend Bedsheet (White)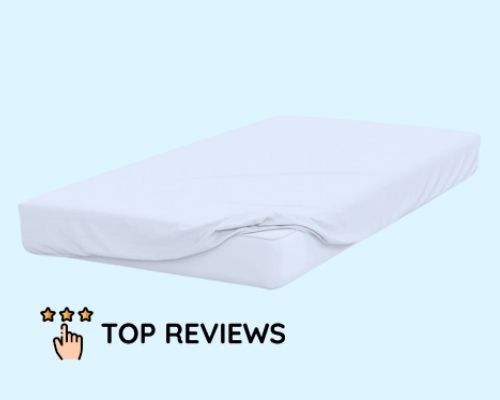 | | |
| --- | --- |
| Best for | Deep mattresses |
| Size | Double (137 x 191cm) |
| Colour | White |
| Materials | 100% Cotton Egyptian Blend |
| Price | $146.99 |
The Belledorm bedsheet is made from 100% cotton Egyptian blend and has a 400 thread count. Though its fabric is not as durable as pure Egyptian cotton, it's still great for everyday use and adaptable to the changing seasons.
The product can fit into a mattress with a depth of 46cm, which has more allowance compared to contemporary beds having either a 37 or 40cm depth.
Currently, it has Single, Double, King, and Super King sizes available on-line. You can choose between White, Ivory, and Cream variants as well.
Deep-fitted sheet
Super-soft and -durable
Machine-washable
Expensive
Not pure Egyptian cotton
6) Serene Life Wondersheet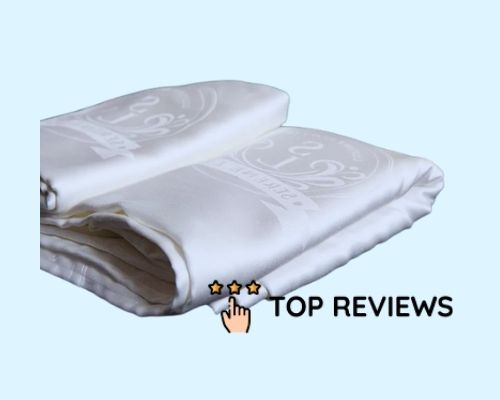 | | |
| --- | --- |
| Best for | Overnight Skincare |
| Size | Super King, Single, Double, Queen, King, or King Single |
| Colour | White |
| Materials | Cotton |
| Price | $299 – $590 |
The Wondersheet is a revolutionary product that aims to make overnight skincare easier than it has to be. Gone are the days of tediously lengthy nighttime rituals in front of the sink, applying all sorts of products to your skin.
Nature Life, its creator, boasts that with this sheet, a good night's sleep and an better skin health are guaranteed. The secret to it's effect is the use of probiotics, which stimulates the body's carotenoids and helps make skin repair faster.
Slower aging and moisturised skin are just some of the few benefits you can obtain from this. If you're interested, you won't need to worry about finding the right size for your bed — it comes in sizes ranging from Single to King Single.
Enriched with probiotics
Effortless and long-lasting effects
Supported by several clinical studies
Winner of the Deloitte Technology Fast 50 Award for technology companies active in Life Sciences.
7) Victoria London Double Fitted Bedsheet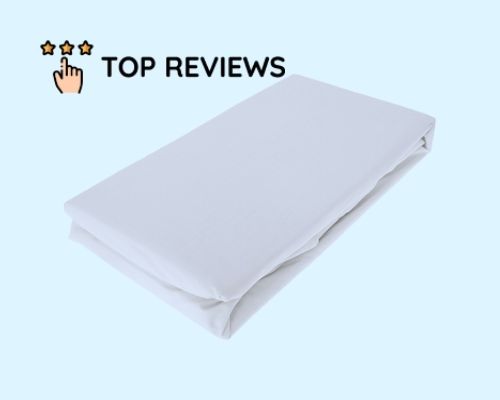 | | |
| --- | --- |
| Best for | Budget bedsheet |
| Size | Double (190cm x 135cm x 25cm) |
| Colour | White |
| Materials | 50% cotton, 50% polyester |
| Price | $17.15 |
This double-fitted bedsheet is part of the luxury Egyptian collection of Victoria London. It measures approximately 190cm x 135cm x 25cm.
Made from extra-fine threads, the bedsheet has a soft and comfortable feel. It's also wrinkle-resistant and resilient thanks to its 50% cotton and polyester blend.
The cotton's moisture-wicking property also makes it a great option for both warm and cold seasons.
Aside from that, the sheet is machine-washable at 40 degrees and dryer-friendly.
The price is also good value for just $17.15. That's why we included it in our top picks for the best bedsheets in NZ!
If you have a smaller mattress, a single-sized fitted bedsheet of the same brand is also available on The Market.
Soft and comfortable feel
Great to use for any season
Affordable price
Washer- and dryer-friendly
No other sizes/colours available
FAQS about the Top Bedsheets in NZ
---
And that concludes our top picks for the best bedsheets in NZ. It's worth investing in a quality bedsheet as it will give you a great night's sleep every time!
Do you have any questions or thoughts about our choices? If you have one, kindly drop us a line and we'll get right back to you.
Wondering where to find the best mattresses? No problem, you can simply check out our options for the best mattresses in New Zealand.