The 8 Best Blood Pressure Monitors in New Zealand
If you're looking for the best blood pressure monitors in New Zealand, we've put them together here for you.
Keeping an eye on your blood pressure or BP can help you maintain your health. Luckily, blood pressure monitors are now more accessible than ever.
More medical professionals also use digital monitors today, although you can still see the aneroid types (the one with the bulb) in some hospitals.
And the modern BP monitors have more features though, say to electronically send the reading over to your family members. Or even record information for more than one user!
But, before we round up the in-demand blood pressure models, let's go over some important things to know such as what's a healthy blood pressure level and the important things to look for.
What to Look for in a BP Monitor
Let's enumerate the main things you should look for when getting a blood pressure monitor. Here they are:
Accuracy
A blood pressure monitor has to give an accurate reading, for obvious reasons. If it doesn't it frankly doesn't even deserve consideration, as any healthcare professional will tell you.
Data Storage
You should also look for blood pressure monitors that store your previous readings. These models are capable of saving anywhere from 30 to 100 readings, useful for you or your doctor's reference.
Some even have an averaging function that can average your blood pressure across readings. These help you keep better track of your blood pressure.
Readable Display
For people who can't see well, it helps to have large buttons and reliable backlighting in the BP monitor. That's because it makes it easy to read in darker surroundings.
Portability
Portability is desirable too for a lot of reasons. What if you need to monitor your blood pressure constantly at work, for instance?
You'd like one that you'd be able to carry in your bag or by hand. Besides, that also makes it easier to move from one room to another at home.
Bluetooth
Bluetooth sync lets you send the results of your BP reading over to devices such as phones, computers, or tablets. This can be a useful function if you need to send your readings to your physician or family members quickly.
And where you find Bluetooth, you'll generally find an app for managing readings too. That can make your diagnostics clearer and simpler, as some apps will even graph your progress through the entire week or month.
A Healthy Blood Pressure Level
A good rule of thumb to follow is your blood pressure should be lower than 120/80 mm Hg. The first number pertains to your systolic pressure and the number next to it is your diastolic pressure.
Systolic pressure is the pressure inside the artery when the heart is pumping blood through it. Whereas a diastolic pressure is the pressure level of the artery when the heart is resting in-between beats.
If either one of them goes higher, it's not a good sign. Let's check out the chart from Medical News Today:

And to keep a healthy blood pressure level, we have to eat healthy and exercise consistently. Younger people today gets hypertension too, so if you're in doubt, you should work on lowering it as soon as possible.
Best Blood Pressure Monitors in New Zealand
There are a lot of blood pressure monitors in New Zealand now. For our money, though, these are the blood pressure monitors we liked best for ease-of-use and value:
1. Sanitas Wrist Blood Pressure Monitor (SBC22)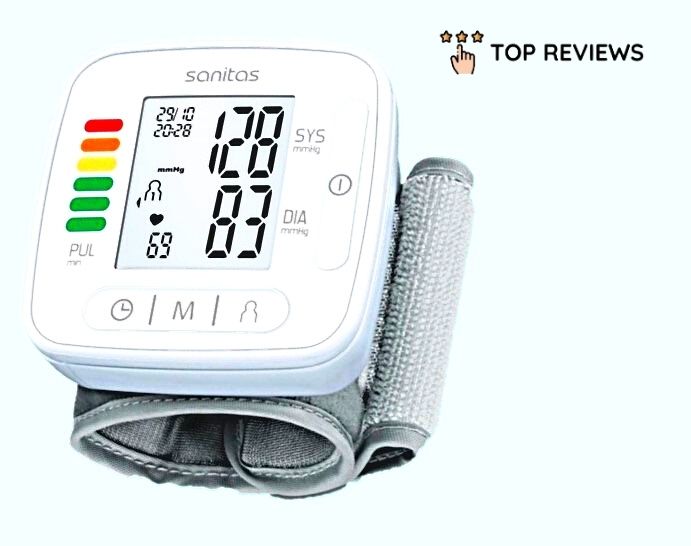 Price: $79.99
Keep an eye on your blood pressure with the Sanitas Wrist Blood Pressure Monitor! It's precise and reliable in taking your blood pressure and pulse measurements.
It fits most people with a cuff size of 13.5 to 19.5 cm. Here, it displays systolic and diastolic values, date and time, and pulse rate in a nice and easy-to-read format.
It stores up to 2 x 60 memories for your own record-keeping. Furthermore, it can average your last 3 blood pressure values so you can act fast to make dietary or lifestyle changes.
Also, it comes with an arrhythmia or irregular heartbeat detector. This tells you that you should calm down, rest or take medications to help deal with a racing heart.
And this blood pressure monitor comes with a hard case great for taking with you on the go or for storing when not in use.
Highlights
Precise and reliable BP and pulse measurement
Large and easy-to-read format
Stores 2 x 60 memories
Irregular heartbeat detector
Comes with a hard case for travel or storage
Customer Reviews
At Noel Leeming, most reviewers wrote that the Sanitas blood pressure monitor had value for price and was easy to use. But for some, it showed error messages and didn't fit their wrist.
That said, check out a review left by one customer, Anneli:
"It is small and I can take it with me on trips. It is accurate en quite easy to use. Good value for money."
Furthermore, here's something about the settings, according to a user:
"The functionality is good, but the settings are quite difficult to set up initially and tricky to get to use the full function of storing the memory of all recordings, if it could sink with a moblie device it would be much better to be able to view a dashboard of your recorded stats."
2. Sanitas Upper Arm Blood Pressure Monitor (SBM21)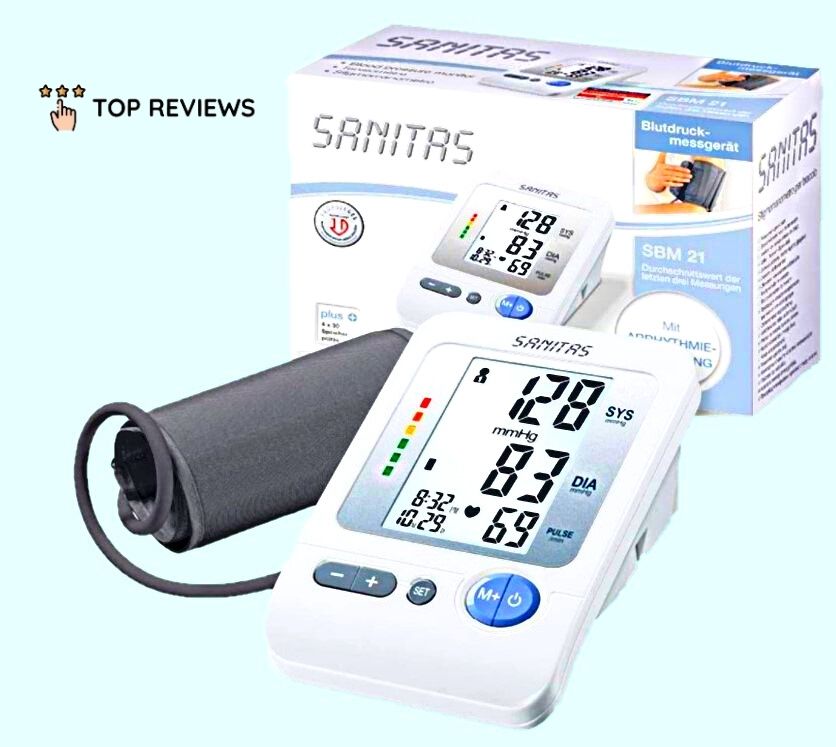 Price: NZ$109.99
Upper arm blood pressure monitors are usually more effective than their wrist counterparts. This is because you have larger blood vessels in the upper arm.
In this case, you can check it through the German-made Sanitas SBM21. It displays your systolic and diastolic pressure in large bold letters that even glasses-wearing people will find readable.
Date and time are also displayed as well as the WHO indicator for those with arrhythmia heart disturbance. It alerts them so that they can consult their doctor about it.
The buttons are extremely simple to press and toggle. It also has an auto inflate and deflate function, which can help you get an accurate reading.
Plus, it comes with a handy case that you can use for travelling. You are provided a 24-month warranty in case the product is found to be defective or does not work properly.
Highlights
Measures your BP through the upper arm
Large, visible letters
WHO-accredited
Alerts when there's a rhythm heart disturbance
24-month warranty
Customer Reviews
Jacqui B noted the SBM21 as being easy to pack, very consistent, and that the memory and other features have been great.
Richard T also commented:
"So far the Sanitas Upper Arm Blood Pressure Monitor has worked perfectly. I matched the readings with my previous (wrist) monitor and the correlation was good."
3. Omron HEM7320 Blood Pressure Monitor Ultra Premium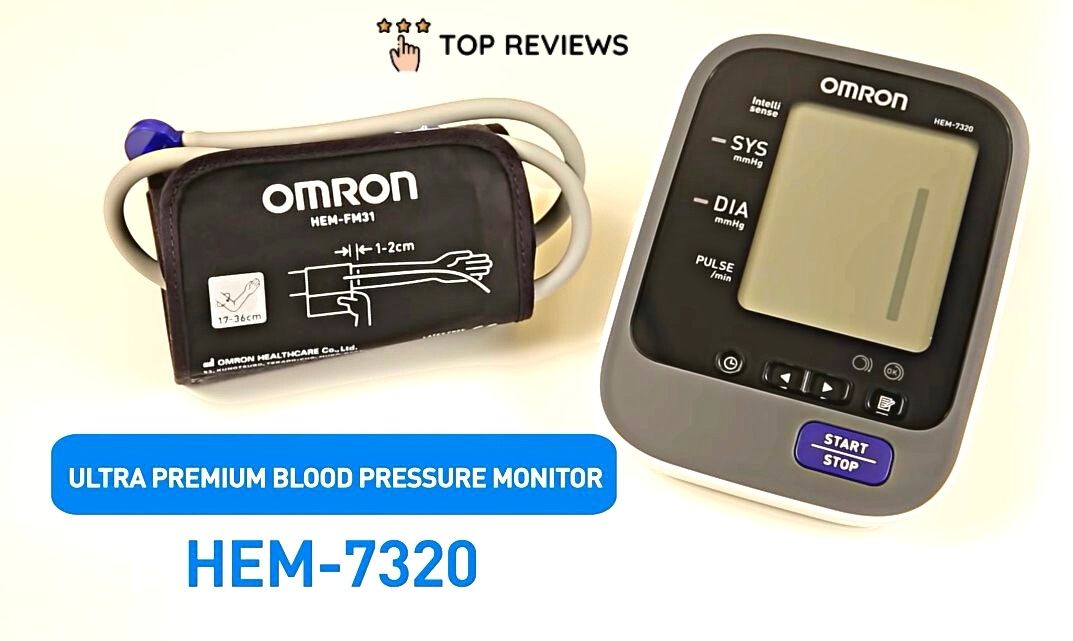 Price: $281.50
The Omron HEM7320 is part of our best blood pressure monitors in New Zealand because it takes accurate measurements. It's actually one of the best BP monitors in that sense.
It has Intellisense Technology, which takes into account the size of your arm so that it can bring in the right pressure comfortable for you. All you have to do is sit and wait.
Then, it displays your blood pressure levels and irregular heartbeats (if any). What's pretty useful is its averaging function, which calculates the average reading from 3 previous results.
All in all, it stores 90 readings so that you may track your progress without putting it down on paper.
Take note, by the way, that this model fits upper arms with a circumference of 22-42cm for most people's sizes.
Highlights
Intellisense Technology for the right fit on the arm
Displays BP levels and irregular heartbeats
Stores 90 previous readings
Advanced averaging function
Body movement indicator
4. Omron Smart Elite Bluetooth Tubeless Blood Pressure Monitor (HEM7600T)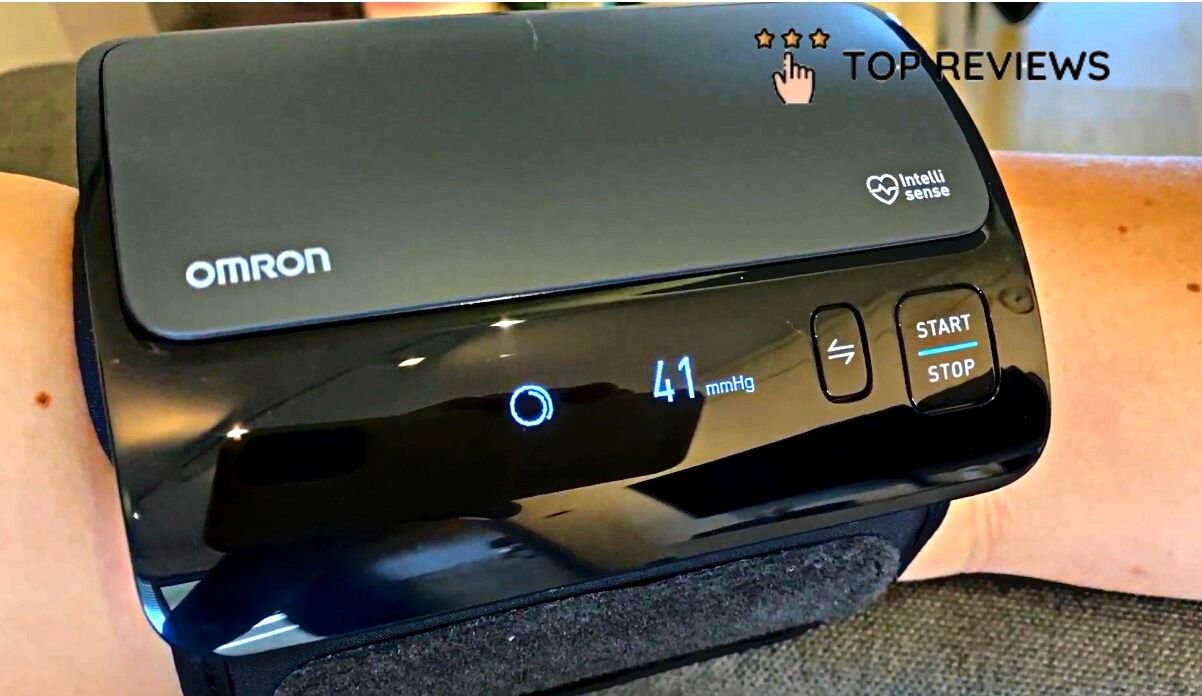 Price: NZ$274.99
Look Ma, no wires! The Omron HEM7600T is an upper arm monitor that's modern, sleek, and cuffs around your arm conveniently.
Its features are similar to the last product we described — it has Intellisense Technologie too. That applies just the right amount of pressure and wraps around your arm comfortably.
You know what's especially nice about this one, though? It's the OLED screen that displays your blood pressure and checks for irregular heartbeats stylishly.
It can also keep 100 previous readings in its system for you to get back to your data at any time. And it connects via Bluetooth with the Omron Connect app, compatible with iPhones or Android phones.
Last but not least, it gets you a confidence-assuring warranty of 5 years.
Highlights
Wireless blood pressure monitor
Connects via app for quick access
Stylish OLED display
Displays blood pressure levels and irregular heartbeats
5-year warranty
Customer Reviews
Just read this customer review to know why it's on our list of the best blood pressure monitors in New Zealand. Karel gives a stellar review for Omron HEM7600T:
"I have tried and tested other BP monitors, and found inconsistent results, thought of giving up on electronic blood pressure monitors. I came across the reviews of the Omron HEM7600T, I purchased it immediately and now I can say that it is one of my few satisfying purchases. The machine is efficient, claiming to have "Intellisense" technology. It has no tubes, nothing to connect to. Cuff is adequately sized, which enables to measure the blood pressure of all sized people. It senses the pulse accurately and is so sensitive, it is able to pick up ambience noise and report an error. It's compact and convenient, easy to carry around. I compared the readings with other mercury containing instruments and found it to be closest in accuracy. I liked everything about this instrument, except two not so good features: Omron seriously misses a carrying case, and it's price, which is a bit steeper. However, a nice case at this price could have compensated the heartburn caused by burnt wallet."
5. Beurer Blood Pressure Monitor with Bluetooth (BM 57)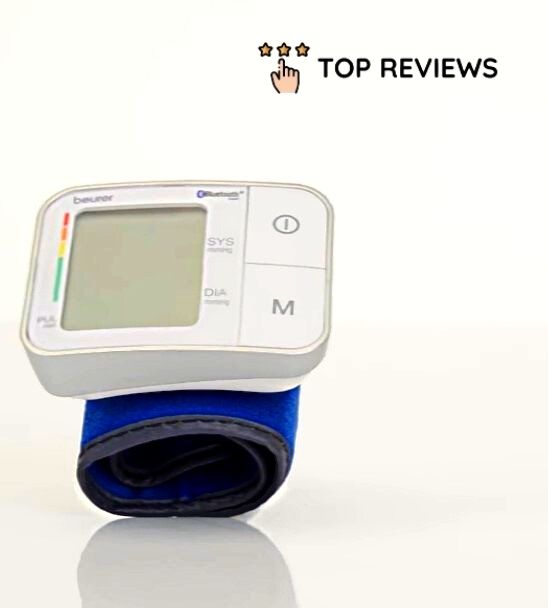 Price: NZ$159.95
Beurer makes this top-of-the-line blood pressure monitor with Bluetooth capabilities. It takes measurements from your upper arm with simple steps to follow for fast and accurate checkups.
It has white backlighting for the display and shows readings in huge numbers against the colour coded gauge. It also cautions the user when it finds a rhythmic heart disturbance.
Buttons are quite simple, with the M1 and M2 as well as start/stop buttons. Adjust the time and date simply or revert to the previous 60 readings in order to track your progress.
The upper arm cuff has a 23-43cm circumference, which is a standard size.
Your results sync with your Beurer app for real-time diagnostics of your blood pressure. The app can be accessed by phones, tablets, and laptops.
Highlights
Accurate monitoring of BP, irregular heartbeats
Easy-to-read and backlit display
Bluetooth sync with laptops, phones or tablets
Stores 2 x 60 memory
Standard cuff circumference of 23-43cm
Customer Reviews
A Smile and a Wave noted that this newer iteration is good in terms of its easy-to-see results, usability and large buttons. He continued:
"It is fairly easy to use and can store results for up to two users. The cuff sits on the upper arm in the same way as many other monitors, and it can operate with the user sitting or lying down. The display shows the pressure, pulse rate, user (1 or 2) as well as the date and time. There's a handy video guide available online so that you can see it working too. I have found the results to be accurate when comparing them with other blood pressure monitors that I have access to."
6. A&D Upper Arm Blood Pressure Monitor (UA-651)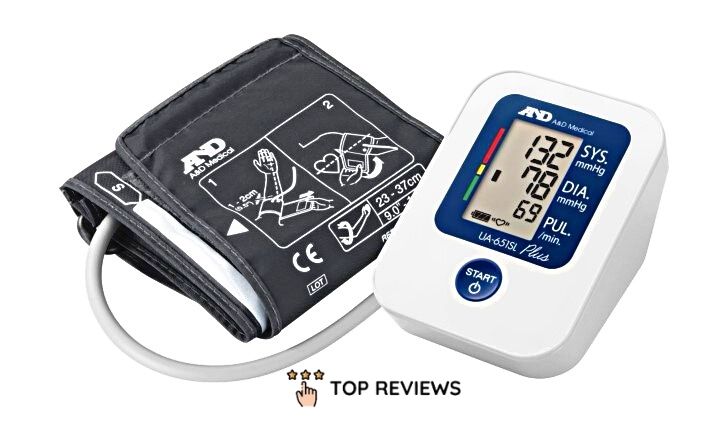 Price: NZ$39.89
This one may be cheap but it doesn't perform cheaply. A&D have been an eminent partner in medical communities for years and supply blood pressure monitors and weight scales, so it's no surprise they've produced this little gem.
The UA-651 upper arm monitor features a super-simple one-button start. It also uses a 3rd generation system to get you an accurate BP reading.
It displays your systolic pressure, diastolic pressure, and pulse per minute. It even detects the presence of irregular heartbeats.
The ergonomic cuff is latex- and metal-free too, which is good news as that means it doesn't affect the skin or cause allergies.
It stores readings too, though not as many as some of the others on this list. You can go back to the previous 30 readings and get their average.
It also comes with a 5-year warranty that covers everything but the cuff and batteries. With all of that, it's little surprise we consider it among the best blood pressure monitors in New Zealand.
Highlights
One button start
Measures blood pressure and irregular heartbeat
Latex and metal free cuff
Averaging function and 30 memory space
5 year warranty
7. Panasonic Portable Upper Arm Blood Pressure Monitor (EW3109W)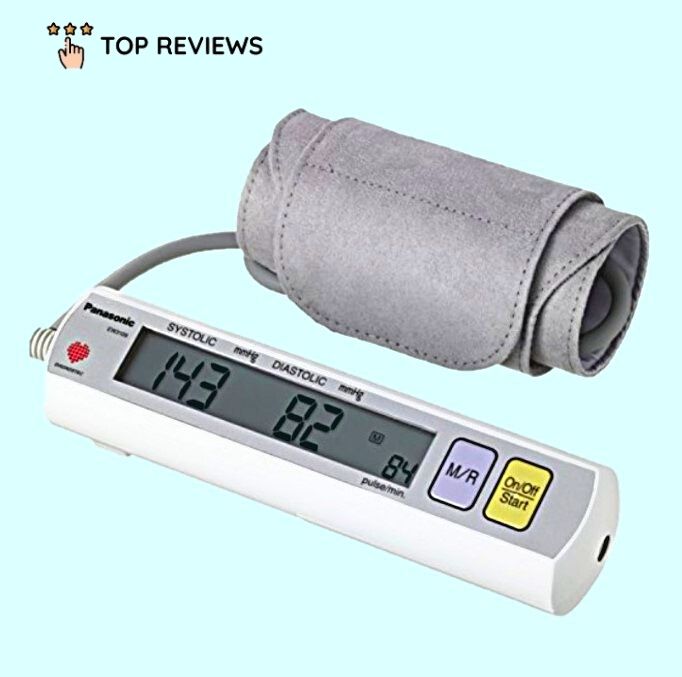 Price: NZ$161
If you're constantly at work and need to check your blood pressure/pulse rate, then the Panasonic EW3109W is for you.
Instead of the usual boxed look, the monitor has adopted a thermostat design that's innovative and travel-friendly. It only features two buttons to operate it too — totally simple!
Why should you buy it? It takes measurements through Digital Filter technology, which blocks out noise and results in precise blood pressure and pulse levels.
There's nothing really fancy about it without any Bluetooth sync or whatever, admittedly. That said, it does what it's supposed to — it even flashes to alert you if it detects hypertension.
Plus, it records 90 readings to track improvements along the way or for your doctor's reference. So, function-wise, it's far from inadequate for most users.
Highlights
Digital filter technology for a precise measurement
Flashes if it detects hypertension levels
Records previous 90 readings
Travel-friendly and fits in the backpack, pockets, and drawers
Customer Reviews
NewCo Builder stated it as "accurate, provides reproducible results, fast, comfortable, easy to use and inexpensive". This seems to be in accord with what most other users think of it.
Another reviewer, Snorks also commented on its battery power:
"I'd give it five stars, except that is supposed to mean "I love it." I find it impossible to love ANY BP tester. Anyway, it works great. I took it with me to the doctor's office, and it was within a couple points of the result on their fancy equipment. Don't bother buying an AC adaptor for it. We've been operating on the same set of batteries for over a year, and they seem to be still going strong."
8. A&D UA-767S UPPER ARM BLOOD PRESSURE MONITOR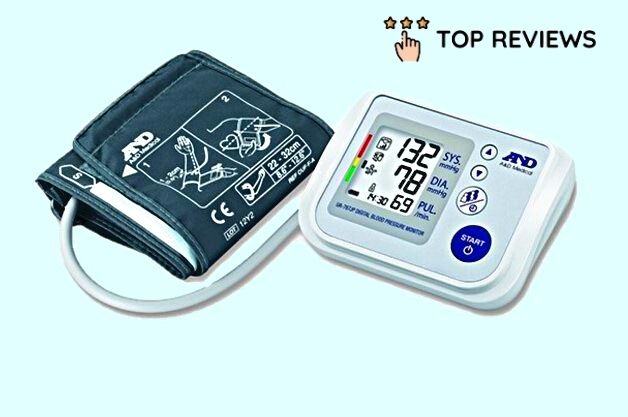 Price: NZ$102.95
The UA-767S is the latest model from A&D, the improved version of the late UA-767 series. When it comes to blood pressure monitors meant for personal use, this model sets the standards for the rest to follow.
First facet about the UA-767S to note of is that it's accessible and easy to use. You won't need to have a medical background to operate it considering the UA-767S features the %IHB function with memory upgraded to 60 readings.
The frequency of IHB (Irregular Heart Beat) detection is divided into different grades and shown by icons. You can see how often IHB has been detected (indicating the level of risk).
Aside from the IHB function, the UA-767S also features cuffs that are SlimFit and are entirely latex- and metal-free. So, those with skin allergies won't need to worry about the material irritating their skin.
The cuffs also come with a Movement Error indicator to tell you when they're applied too loosely, or if the user is moving which will result to inaccurate readings.
With a 60 reading memory capacity, the UA-767S provides an average of readings to try to eliminate the effect of anomalous measurements. This is useful because blood pressure fluctuates throughout the day, for example, after eating, exercise or smoking.
Highlights
Latex and metal free SlimFit Cuff (22-32cm)
%IHB Indicator
Cuff Fit Error Indicator
Movement Error Indicator
WHO Blood Pressure Classification Indicator
With that, you have the best blood pressure monitors in New Zealand. If you're looking for accurate and reliable ones, try out the ones we've suggested!
Do you have any questions, opinions, or suggestions to add, though? Please let us know in case there's a health instrument out there that we should have put on this list but missed.
And remember, caring for your health is sometimes as simple as taking a moment to sit down somewhere comfy and decompress. For instance, take a look at our list of the best chairs in New Zealand and consider getting one of them to make that moment of silence and relaxation more comfortable!