By Tony Wang
A booster seat is required for children (from ages 7-8 years) inside the car, as implied by the NZ law. To help you pick the right one, we'll walk you through the best booster seats in New Zealand.
There is a diverse range of booster seats in the country, of course, so it's no wonder we were able to find 5 superb ones. How do you know which is the safest and best choice to be used by your child or children, though?
We'll go over this in a second, along with other things you have to look for before your purchase. Doing so will let you effortlessly pick from our list of the best booster seats in New Zealand later on.
Things to Consider in Getting a Booster Seat
Let's take a look at some of the things to consider before you get a booster seat for your child. These are:
1)   Safety
You should always consider safety when you're choosing a booster seat. This is indicated by the safety certification labels of either New Zealand/Australia, USA, or European standards.
This ensures the product has gone through the strictest tests to deliver safety and high performance. With this, your child will then be safer and more protected on the road.
Most importantly, you have to make sure the booster seat is the right size for your car and the child. Remember that all children below 8 years have to use child restraints or booster seats as required by NZ legislation.
2)   Latch or Isofix
Some cars are designed to accommodate booster seats through a Latch or Isofix system. This helps you to connect your booster seats more easily through anchorages and straps for better safety.
In effect, this will hold the seat in place and protect against car accidents. Latch or Isofix systems can work with boosters that support either of them: if the booster seat is built for Latch, it can fit to an Isofix system and vice versa.
3)   Adjustability
For your child to be comfortable, it helps if some parts of the seat are adjustable. For instance, there are booster seats that let you adjust the headrest, recline, or even take off the back part.
You have a lot of advantages if the seat is adjustable as you won't have to spend more on a new booster seat if your child has grown taller or a bit bigger.
4)   Portability
Another factor to consider is the portability of the booster seat. As you could be transferring it to your other vehicle or take it with you outside of the car, a portable booster seat also counts.
There are seats that are both portable and durable, so we suggest you check out these types, rather than compromising.
5)   Comfort
Booster seats should be comfortable for your child in terms of elevation, back support, and belt path. If the child feels any discomfort or strain in their muscles, then you have to replace it.
The right product to choose should make them safe and comfortable at the same time.
The Best Booster Seats in New Zealand
Now that you know the essentials, here are the best booster seats in New Zealand you can get for this year:
1)   Hifold the Fit and Fold Booster
Most Customisable Booster for Kids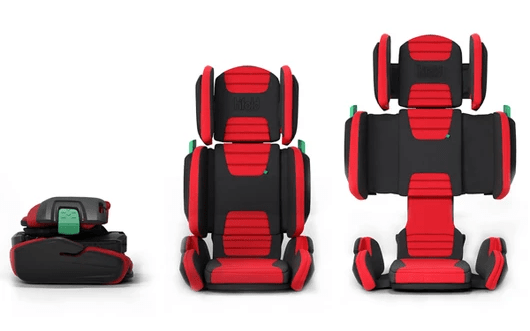 Price: NZ$299.99
Want something ultra-customisable, portable, and safe? Take Hifold the Fit and Fold Booster! It has aced the stringent safety checks of New Zealand, European, and American testing bodies.
With a massive 243 adjustments from top to bottom, any child can fit comfortably in it regardless of body shape and size — tall, thin, chubby, small, athletic, slim, you name it.
It's also foldable into a compact structure that you can take with you. Place it inside your backpack or hand-carry it for your kid to use on the ferry, plane, or rental car.
It packs some durability as well, being composed of layers that absorb shock and impact from collisions while having a polyurethane foam that makes it soft and comfortable for kids during long drives.
This brilliant product kills the competition, not to mention you get solid value for the price given. That makes it another one of the best booster seats in New Zealand!
Highlights
Brings customised fit and comfort
Safety approved for New Zealand
Portable and lightweight for travelling
Easy set up and folding
Customer Reviews
Rebekah comments from the Moose online store:
"Hifold was chosen to fit between frontiers for our eldest and it has done exactly what we wanted it for. Perfect fit and great to adjust. 8 was worried that the padding may be too light but she is comfortable in it and safe which makes me happy!"
2)   Jolly Jumper Arizona Booster Seat
Best in Value Booster Seat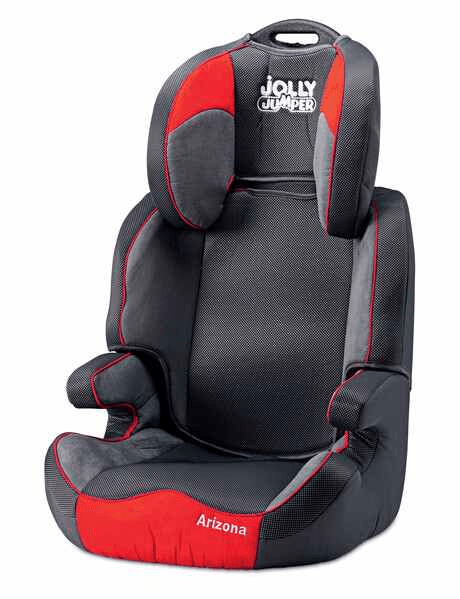 Price: NZ$149
Driving your car with the child in the back has never been safer and more fun than with the Jolly Jumper Arizona. It bears the European standard mark — which has higher safety requirements than the US standard.
It features an adjustable headrest, side wings to protect from side-on collisions, and a dependable lap sash seat belt for complete safety and care throughout the road trip.
Needless to say, this booster chair has comfortable fabric for the child to sit on. And its colours and design are stylish enough that the kids would surely love it everytime they use it.
With a weight limit of 15-36kg, it is suitable for kids up to 12 years old. So if you like a premium booster that's downright safe and affordable, the Jolly Jumper Arizona Booster Seat is for you.
Highlights
Premium booster seat
Approved with European safety standards
Has a lap sash seat belt to be safer
Great for kids from 9-12 years
Cool and laid back design
3)   Evenflo Big Kid Amp Sport Booster Seat
Most Convenient Booster Seat in Its Class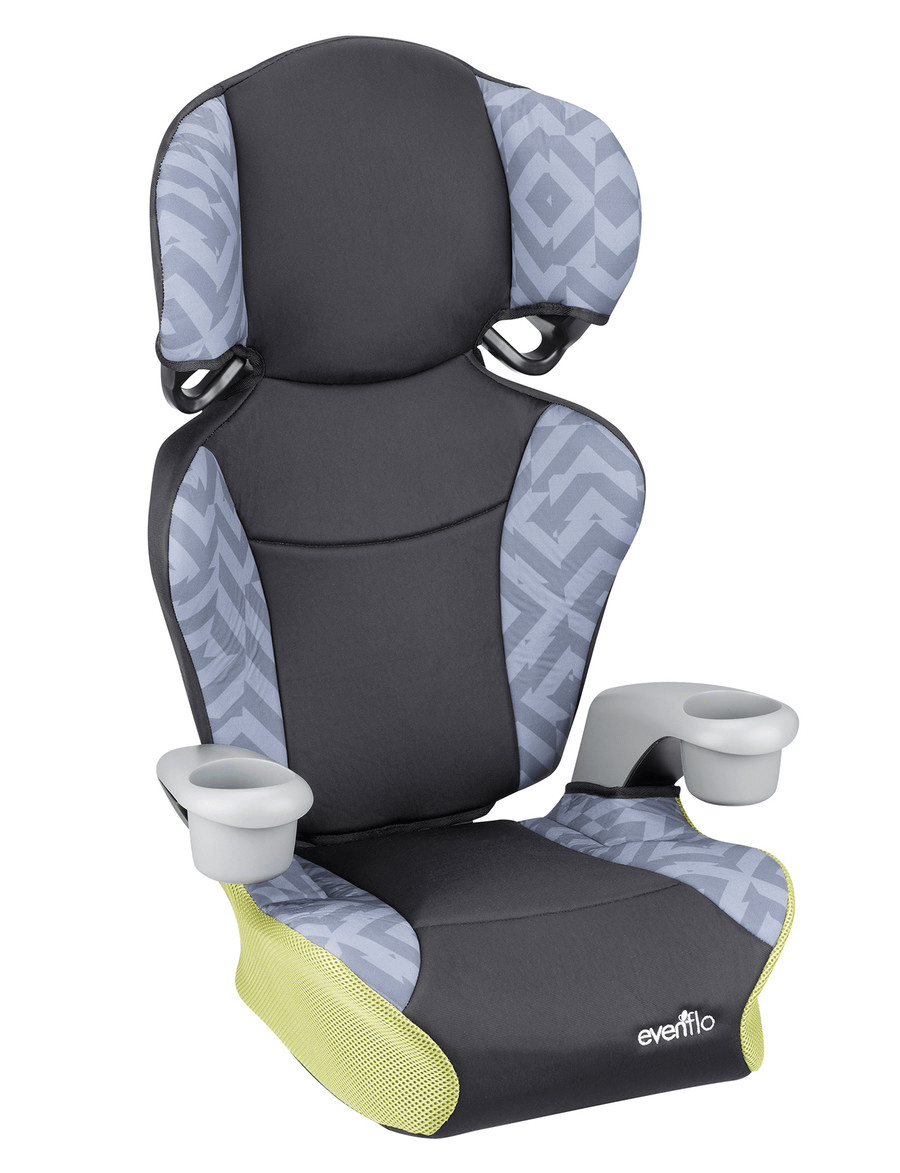 Price: NZ$199
For the perfect size fit for the little ones, the Evenflo Big Kid Sport Booster Seat makes a terrific choice! It can be adjusted to 6 different heights and the back can be removed as well.
It meets the US standard of safety. It comes with a belt path to keep the booster seat snugly in place over the child's shoulder.
They will be able to quench their thirst with a drink they can place in either one of the cup holders. And it has a mellow light purple and black theme that can fit both lads and lasses.
Children aged 4 and above can use this seat as long as they don't go above the weight and height limit. This also means that you won't need to change the booster seat too often as your child grows.
Highlights
US standard safety certified
Designed to be used by kids from ages 4-11
Has a belt path to keep the booster in place
Adjustable seat height
Back part can removed for older children
Customer Reviews 
People have described the Evenflo booster seat as comfortable and well-priced — and a lot of them like the convenient cup holders for their kids.
Jenny writes a comment at the Walmart site: 
"It is lightweight easy to move into other vehicles since you use just the car seatbelt. I love the dark colors because it doesn't look dirty so quickly."
4)   Clek Oobr Latch Booster Seat
Best Overall Booster Seat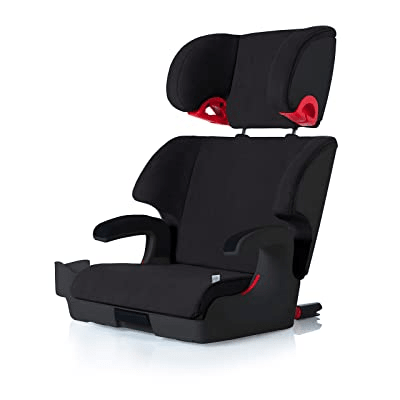 Price: NZ$577
Lots of thought, attention, and care have been put into making this booster car seat. That's how it offers children protection and comfort by way of innovative and top-of-the-line design.
The Clek Oobr Booster Seat connects by a rigid LATCH system with the function of not being moved by collisions. Its magnesium frame gives your kid optimum protection, as it is very durable and can last through years of use.
Stains and odours have less grip on the fabric, which makes it clean and comfortable to use. Moreover, the lining fabric is removable, surface-washable, and completely toxin-free.
This seat is even reclinable to help children safely take a nap and remove the tiredness in their bodies. Even cooler is that the back can be detached yet still provide high safety for kids.
It's been touted as the Best Bet by Insurance Institute for Highway Safety for an unbelievable 10 straight years! So if you're looking for the best booster seat in New Zealand, then Clek Oobr Booster Seat is for you.
Highlights
Unparalleled safety and quality booster seat
Clicks in place once installed
Uses the LATCH system in cars
Stain- and dirt-resistant
Called the Best Bet booster seat by a safety organisation
Customer Reviews
The Clek Oobr captures an extraordinary 5 stars. John L. mentions in the Clek Oobr website:
"This is our second purchase from Clek. Our son loves this seat, and we love that is has a full back to help keep him safe. Easy to install and looks great..but the real test is on longer trips our son says hes comfortable and never minds getting in his seat."
5)   Diono Cambria 2 Booster Seat
Best for Bigger Kids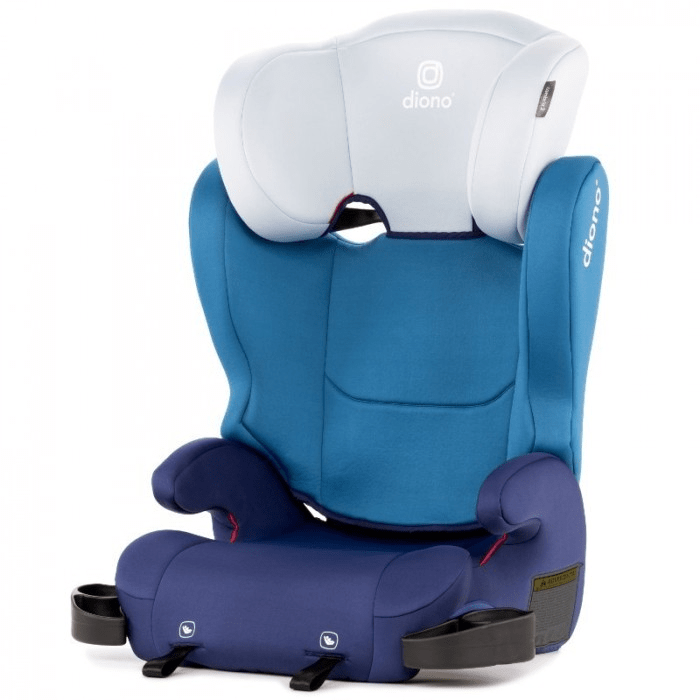 Price: NZ$178.99
The Seattle-made Diono Cambria 2 is an award-winning convertible booster seat for growing-up kids. It markets itself as a seat offering comfort and a big-enough space to relax in during your driving trips.
It uses the Latch system, which takes only seconds to install. This gives it stability on bumpy roads while drastically reducing the impact from accidents.
The headrest is adjustable in 6 positions that can accommodate taller kids. And it features dual retractable cup holders from underneath the booster so you can have snacks and drinks on the go.
The Diono Cambria 2 elevates the kid for the car's seat belt to perfectly support him. Note that it can support children from 40-120 lbs and 97cm up to 160cm tall.
Also, it can be converted into a backless car seat for a change. Available colours include blue, black, and pink for individual style and expression.
Highlights
Spacious and comfortable interior
Headrest can be adjusted in 6 settings
Designed for larger and taller kids
Converts into a backless booster seat
Has dual retractable cup holders
Customer Reviews
From a testimonial on the Diono product page, one reviewer said: 
"it looks great in the car, feels very well made and has really nice fabric covers, which you can wipe clean. My son says it's very comfy and he loves his cup holders which also have a snack selection which he uses for his sweets! Easy to fit, nice and big so will last him a long time."
And that's it for the best booster seats in New Zealand. These branded products will keep your little ones safe and comfortable inside the car for the entire trip!
Anyway, did you find anything you like or would like to buy? Share with us your thoughts and questions by dropping us a line.
Other than that, when you get home, you and your kids might enjoy a new bean bag chair to lounge and nap on too. For this you can read about the best bean bags in New Zealand.