The 5 Best Booster Seats in New Zealand
There's nothing more important than keeping your child safe when you're traveling. This is why having car restraints is part of the law in New Zealand.
To help you pick the right one, we looked over the top booster seats in the country, studying their safety features, ease of installation, and customer reviews to come up with this definitive list.
If you're ready to keep your child safe in your vehicle, then let's take a look at our picks of the best booster seats in New Zealand. After the list, you'll also find tips on how to choose one and some FAQs!
1. Mifold Hifold Fit-and-Fold Booster
Most Customizable Booster for Kids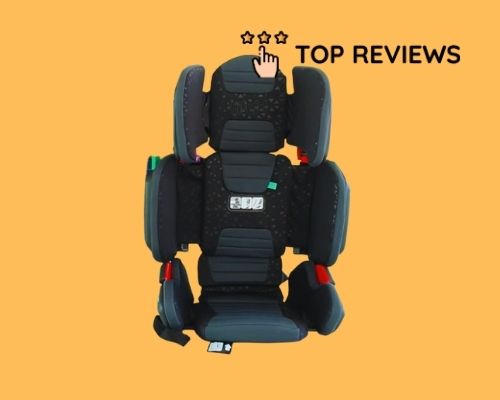 PRICE
NZ $299.99
MATERIALS
Ultra-Light Weight Epe (expanded Polyethylene), Ethyelene-Vinyl Acetate, Polyurethane Foam, Washable Fabric, Polyproplyene Shell
FEATURES
Multi-Fit™" technology – adjusted in 4 areas
Folds down into a compact and convenient size
6 advanced impact-protection zones
4 layer design
SAFETY STANDARD RATING
ECE R44.04 in the UK and Europe
NHTSA FMVSS 213 in the U.S.A.
CCC in China
RSSR in Canada.
DIMENSIONS
Full: 39L x 39W x 69H cm
Folded: 34L x 34W x 27H cm
WEIGHT
Weight: 4.6 kg
CHILD HEIGHT RANGE
101 – 150 cm
CHILD WEIGHT RANGE
15 – 45 kg
WEBSITE
https://mifold.com/
Described as "the world's most adjustable and portable high-back booster", the Mifold Hifold Fit-and-Fold is the ultimate solution for your booster seat needs. It's ultra-customizable, portable, safe, and will look great in the back seat of any vehicle.
The Hifold's "Multi-Fit" technology lets you modify the seat in four main ways namely the seat width, body width, head width, and height. With a total of 243 adjustments from top to bottom, this booster seat aims to adapt to your growing child, ensuring that they stay comfy and safe.
Speaking of safety, this seat has six impact-protection zones coupled with the use of a multi-layered design that uses lightweight materials. It packs some durability as well, being composed of layers that absorb shock, while the polyurethane foam makes it comfortable for kids during long drives.
This booster seat is recommended for children 4 to 12 years old or between 15 to 45kg (or up to 150cm), which makes it more versatile than many other travel boosters out there.
However, although it has passed its safety rating check, some users comment that the seat can slightly wiggle and may be prone to tipping over if your child leans sideways too much. Nevertheless, we found it pretty solid in our own tests.
The best part about the Hifold is that it folds down to an impressively small and light package, making it convenient for those who travel a lot or frequently take taxis. When you pair that with its adjustability, the Hifold definitely earns its spot on our list of the best booster seats.
Plenty of adjustable options
Portable and lightweight for travelling
Expensive compared to its competitors
Seat can be prone to tipping if child moves too much
Customer Reviews
People generally praise the portability and adjustability of the HiFold, since those are its main selling points after all. Dauwn N., a customer, shares her thoughts:
"BEST CAR SEAT EVER!!!! I absolutely love this carseat and so does my 4 y/o daughter. I love the fact that it is not bulky. The head rest is perfect for when she needs to rest her head for a nap. Whenever she is not in the car with me I can quickly fold it and put it away in the back whenever necessary. Certainly with every penny."
Theresa, another satisfied customer and a car seat technician, has used it frequently for her travels as she writes:
"Perfect for travel. I am a car seat tech and was a little skeptical. I wanted something easy to travel with and if I don't feel good about my guy riding in a backless booster at home why should I be ok with it when traveling so I gave this a try. Super easy to use and install, kept the lap and shoulder belt correctly positioned. Just wish the seat had more cushion to it. If checking this for a flight I highly recommend buying a carrying case/cover for it. Overall great product and would recommend unless planning a long car trip, however if your kids are like mine you stop every two hours anyway."
2. Graco Turbo Highback Booster
Best in Value Booster Seat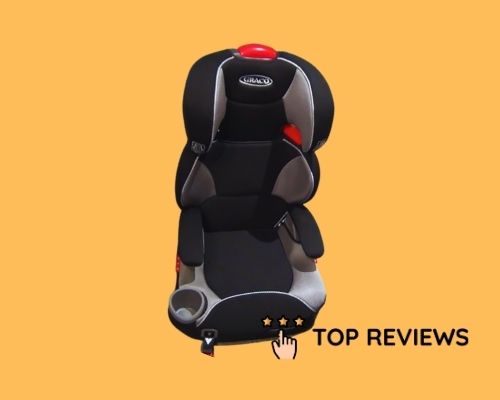 PRICE
NZ $189.00
FEATURES
Graco Protectplus Engineered, 3 Point Seat Belt Or Lap Belt, Side-Impact Protection, Energy Absorbent Foam
SAFETY STANDARD INFO
New Zealand Standard 'S' mark
US standard FMVSS 213
DIMENSIONS
38.1L x 41.9W x 67H cm
WEIGHT
3.7 kg
CHILD HEIGHT RANGE
Highback Mode 96.5 – 145 cm
Backless Mode 110 – 145 cm
CHILD WEIGHT RANGE
18.1 – 45 kg
AGE RANGE
4 – 12 years old
WEBSITE
https://www.gracobaby.com/
OTHER
10 year expiration after the date of manufacture
The Graco TurboBooster Highback Booster Seat is a 2-in-1 product that can convert from a highback to a backless booster. With its patented Graco ProtectPlus system, your child will be safe in the event of a frontal, side, rear, or rollover crash.
It has an adjustable head support and armrest to provide extra security and comfort for your little one. You can also raise the height to get the right fit for the seat belt and the open-loop guides assist you in buckling up.
Take note that the travel booster lacks car seat latch connectors and this booster seat may not suit vehicles with a forward-leaning headrest. However, its energy-absorbing foam guarantees that your child will be safe should a collision occur.
Having undergone extensive safety testing, this Graco product is a breeze to install and shouldn't take you more than ten minutes to secure in the back seat. It has ample cushions for it to be comfy and protective without taking up too much space.
We also like that it has cup holders for your child's snacks or drinks that can easily tuck away when not in use. This and the other reasons mentioned above make the Graco TurboBooster Highback Booster Seat one of our top picks.
Lightweight and space-saving
Easy to install
Travel booster doesn't have car seat latch connectors
Not ideal for cars with forward-leaning headrest
Customer Reviews
The Graco TurboBooster Highback Booster Seat is a customer favorite because its lightweight and doesn't take up too much room in the back seat. Let's take a look at what Holly Ford, an owner, has to say:
"Love love this booster seat! It's been perfect for us because it's not bulky and heavy which makes it easy moving between our cars for school drop off/pick up, also my daughter loves the pull out cup holders. Thanks BOTM for checking that my daughter fits the seat correctly and making sure it fitted fine in both of our cars! xx"
Carissa Martin, another owner, also echoes the sentiment as she says:
"I got the Graco booster for my 5 year old and we love it! Its nice and slim so we can fit 3 accross. The cup holders are awesome, they are very easy to pull out and push back in when they aren't needed. And miss 5 says it is really comfy!"
3. Evenflo Maestro Sport Harness Booster Car Seat
Most Convenient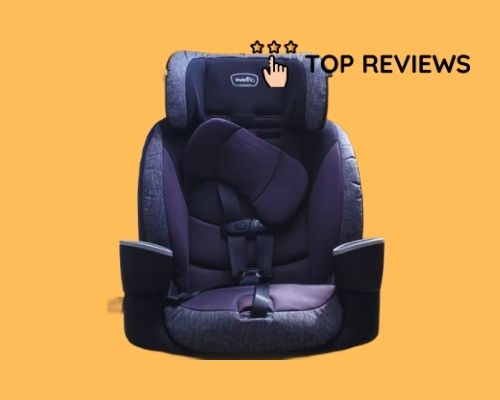 PRICE
NZ $259.99
MATERIALS
Triple Layered Machine Washable & Dryable Seat Cover
FEATURES
4 Harness Slot Positions
2 Crotch Buckle Positions
23 kg with LATCH
Two Integrated Cup Holders
SAFETY STANDARD INFO
FMVSS 213, FMVSS 302, CMVSS 302, CMVSS 213
DIMENSIONS
43L x 48W x 70H cm
WEIGHT
4.35 kg
CHILD HEIGHT RANGE
Harnessed Booster Mode: 71 – 127 cm
Seat Belt Booster Mode: 110 – 145 cm
CHILD WEIGHT RANGE
Harnessed Booster Mode: 10 – 23 kg
Seat Belt Booster Mode: 18 – 50 kg
AGE RANGE
Harnessed Booster Mode: 2 years old and above
Seat Belt Booster Mode: 4 years old and above
WEBSITE
https://www.evenflo.com/
The Evenflo Maestro Sport features two modes, namely forward-facing harness and high-back belt-positioning booster. It has been tested thoroughly for side-impact and rollover scenarios and has met or exceeded industry safety standards.
The five-point harness mode is easily adjustable with its front access, and there's a shoulder belt guide that assists you in placing it properly when in high-back booster mode. Take note though that the headrest is not adjustable, so the only thing you can modify is the harness.
The strap of this booster seat can be quite difficult to adjust at times, and the lack of a backless option may also turn away some customers. However, the Maestro is lightweight, sturdy, comfortable, and has a LATCH system that can be used until your child weighs 23 kg.
We also like that the seat pads on the Maestro are removable and can be machine-washed, which most parents will see as one of its greatest advantages. Although the dual cup holders keep beverages and snacks secure, you can never tell when your child might make a nasty spill.
The Maestro is also perfect to use when traveling since it is relatively lightweight and FAA-approved in harness mode. Weighing in at only 4.35kg, this makes it easy to bring along even if you have bulky baggage with you.
Machine washable fabric
Lightweight
Strap can be difficult to adjust
Headrest isn't adjustable
Customer Reviews
People have described the Evenflo booster seat as comfortable and well-priced — and a lot of them like the convenient cup holders for their kids. Jenny, a customer, comments:
"It is lightweight easy to move into other vehicles since you use just the car seatbelt. I love the dark colors because it doesn't look dirty so quickly."
Amy Authement, another customer, suffered an accident and can attest to the Maestro's quality as she shares:
"Only had the seat for about a month, and had no issues with it. Thankfully, the seat was not occupied when it was in a car accident, so I cannot attest to injury. But, I was impressed with how the seat looks like its integrity was not compromised. The hit was right at the door where the seat was located, and the door is pushed into the seat, but the seat held up well. I plan to purchase this seat again."
4. Clek Oobr Latch Booster Seat
Best Overall Booster Seat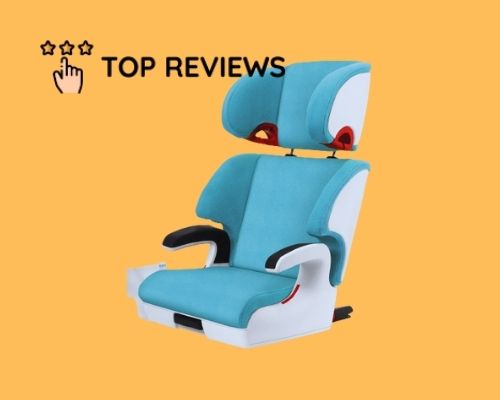 PRICE
NZ $599.00
MATERIALS
OEKO-TEX® Standard 100 Certified 100% Merino Wool, GREENGUARD Select Certified Crypton Super Fabrics
FEATURES
Energy absorbing foam layer, Magnesium Back Frame, Rigid UAS System
DIMENSIONS
Full Back: 50.8L x 53W x 33H cm
Backless: 50.8L x 35.5W x 38H cm
WEIGHT
Full back: 9 kg
Backless: 4.5 kg
CHILD HEIGHT RANGE
Full back: 96 -145 cm
Backless: 101 – 145 cm
CHILD WEIGHT RANGE
Full back: 15 – 45 kg
Backless: 18 – 45 kg
AGE RANGE
4 years old and above
WEBSITE
https://shopclek-nz.myshopify.com/
To put it simply, Clek Oobr is literally a mini-sized car seat.
It features an Elemental Safety System that was crafted with impacts from all angles in mind with its durable metal foundation and a magnesium back frame. With its Rigid UAS System that keeps the booster seat locked in, you can drive with confidence knowing that your child is buckled in safely.
If you're not yet convinced about its safety, the Oobr has been voted as a "Best Bet" by the Insurance Institute for Highway Safety for nine consecutive years!
Clek took safety a step further by protecting your child against bacteria as well by covering the Oobr with GREENGUARD Select Certified Crypton Super Fabrics. Although only the cushion seat's fabric is removable, it offers long-lasting protection from stains, germs and doesn't contain any harmful chemicals in its materials.
Another great addition to the Oobr is that the seat can recline up to 12-degrees, a feature that's available if you install the seat using your vehicle's LATCH system in high back mode. While you can install it using your car's seat belts as well, you will not have access to the recline.
It's quite a hefty car seat at 8.8kg, which makes it feel sturdy, but you probably won't be moving this around once it's fastened into your vehicle. Although its slim profile doesn't take up too much room in the back seat, and using it as a backless booster seat frees up even more space.
Another reason to like the Oobr is that it comes in a variety of colorful designs such as a Jersey Knit Collection, C-Zero Plus, Premium C-Zero Plus, and Merino Wool, just to name a few. Most of the Oobr variants also come with a single drink holder which can be fitted on any side, and you can purchase an additional one if needed.
Seat can recline up to 12-degrees
Made with a metal substructure for extra safety
Multiple colors and designs to choose from
Only the cushion seat's fabric is removable
One of the heaviest booster seats on the market
Recline feature only works with LATCH system
Customer Reviews
The Clek Oobr is consistently highly rated by its users, often capturing a perfect 5-star rating. John L. writes on the Clek website:
"This is our second purchase from Clek. Our son loves this seat, and we love that is has a full back to help keep him safe. Easy to install and looks great..but the real test is on longer trips our son says hes comfortable and never minds getting in his seat."
Sarah Grant, a new Clek client, also shares her story:
"Just installed this and I am so happy I decided to buy this seat. My sons are 5&7 and we have gone through many car seats over the years mostly much less expensive ones. I wish I had just spent the money a long time ago on these seats. The set up and install was so quick and so easy…The latch was easy to install and the seat is rock solid. I feel like my son is so safe in this seat…I would definitely recommend clek to anyone and everyone!!"
5. Britax Grow With You CilckTight
Best for Bigger Kids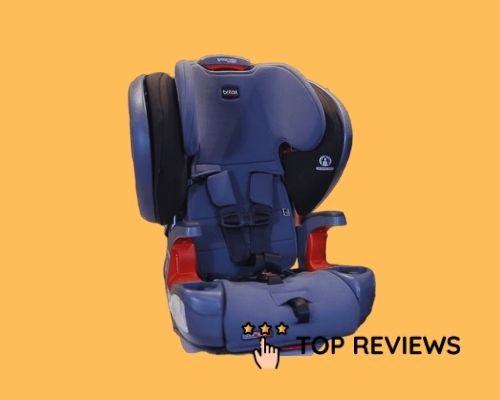 PRICE
NZ $649.00
MATERIALS
Impact-Stabilizing Steel Frame, 4-Way Stretch Athleisure Fabric
FEATURES
9-Position Quick-Adjust Harness & Headrest, Clicktight Installation System, Safecell Impact Technology
DIMENSIONS
53L x 48W x 63.5H cm

Headrest Fully Extended Height: 90 cm
Seat Area Depth / Width: 38D x 30.5W cm
Shoulder Width: 30.5 cm
WEIGHT
11.3 kg
CHILD HEIGHT RANGE
Forward-facing Harnessed Height
86 – 125 cm
CHILD WEIGHT RANGE
Forward-facing Harnessed Weight
11 – 30 kg
AGE RANGE
2 years old and above
WEBSITE
https://www.britax.co.nz/
OTHER NOTES
Harness Slot Heights
9 positions: 30.5 – 50.8 cm

Buckle Strap Positions
2 positions: 17.8 – 22.8 cm

Belt Positioning Booster Weight
18 – 55 kg

Belt Positioning Booster Height
111 – 160 cm
The Grow With You ClickTight is one of the best-selling seats in the market today known for its safety features. It's equipped with side impact protection and an easy install system so you know your child is always properly secured.
The ClickTight Installation System offers its users the simplest yet safest installation, which is similar to a traditional seatbelt. You can easily adjust the fit of the V-Shaped tether with the simple push of a button!
Moreover, the combination of the 2-position buckle and 9-position harness can adapt as your child grows, making it one of our top picks for a booster for bigger kids. Its plush memory foam, 4-way stretch Athleisure fabric, and ability to recline keeps your child comfortable no matter what age they are.
You'll have peace of mind knowing your child is secure within the Grow With You CilckTight's impact-absorbing base and sturdy steel frame. It also has an extra 2 layers of side protection to safeguard your child against side collisions with a deep foam-lined shell.
All these security features do have a downside though, as this booster seat is not optimal for smaller vehicles. For the backseat to remain spacious, the Grow With You ClickTight is better suited for a roomy SUV or minivan.
Extremely easy to install
High weight limit makes it suitable for bigger kids
One of the heaviest seats in the market
Not suitable for smaller cars
Customer Reviews
From a testimonial on the Diono product page, one reviewer said:
"it looks great in the car, feels very well made and has really nice fabric covers, which you can wipe clean. My son says it's very comfy and he loves his cup holders which also have a snack selection which he uses for his sweets! Easy to fit, nice and big so will last him a long time."
Things to Consider When Getting a Booster Seat
We understand that choosing a car restraint for your child is an important decision and shouldn't be taken lightly. Therefore, here are some tips when you're shopping for a car seat:
1) Safety
You should always consider safety when you're choosing a booster seat and looking for its certification is the best way to tell it's safe. The safety seal ensures that the product has gone through the strictest tests to deliver safety and high performance.
More importantly, you have to make sure the booster seat is the right size for your car and the child. A poor fit can be just as dangerous as having no booster seat at all.
2) Latch or Isofix
Some cars are designed to accommodate booster seats through a LATCH or Isofix system. This helps you to connect your booster seats more easily through anchorages and straps for better safety and holds the seat in place to protect against car accidents.
3) Adjustability
For your child to be comfortable, it helps that some parts of the seat are adjustable, especially since they are growing. Luckily, there are booster seats that let you adjust the headrest, recline, or even take off the back rest.
4) Portability
Another factor to consider is the portability of the booster seat. A lightweight booster seat is easier to transfer to another vehicle or take with you when you are traveling.
5) Comfort
Booster seats should be comfortable for your child in terms of elevation, back support, and belt path. If the child feels any discomfort or strain in their muscles, then you should consider replacing the booster seat.
FAQs about the Best Booster Seats
---
And now we've reached the end of our list of the best booster seats in New Zealand. These products will keep your little ones safe and comfortable inside the car for the entire trip!
Did we miss one of your favorite car seats that you think we should add on here? Share with us your thoughts and questions by dropping us a line.
If you've recently had a child and don't think even the smallest booster seats will fit in your back seat, then it may be time to get a new car. You can sell your old one first and this list of the best places for selling a car in New Zealand will help you get started.