Auckland has many wonderful cafes that offer an insanely good breakfast with your favourite coffee drink. If you are in the city and looking for the best cafes in Auckland, we have listed them here for you.
With a selection of satisfying and savoury dishes in many cosy locations with the likes of plant decorations or being in the courtyard, which cafe should you start with?
Most of them offer vegan and vegetarian options sourced from local growers and farmers. That ensures your food is made with all the flavours and juiciness intact so it will be fresh, new, and wholesome to your taste buds.
With that, we are now ready to show you the best cafes in Auckland for a tasty and super-filling breakfast, brunch, or lunch in the morning. Here goes:
1)  L'oeuf – Mt Albert
Website: https://lunchtime.co.nz/loeuf-auckland/menu/
If you like Asian delicacies and meals, L'oeuf should be your first choice. The cafe brings a cosy and cool environment that is just the right size, perfect for the summer months — with a cabinet fridge right on the slot on the counter.
The small cafe can be found in the Mt Albert area and has a lot of seats. Its menu has very catchy names and captures the ingredients, texture and taste.
Examples of dish names we loved are the Geisha, the Hunter, the Cambodian, Soldiers, and even the Architect (free-range poached eggs with a seeded toast or sourdough).
For energy ahead of the day, you should try out the Early Bird consisting of cacao and  coconut muesli, chia seeds, walnuts flooded by almond milk with fresh fruit toppings.
And if you have a sweet tooth, grab some pear, chocolate, or cardamom cake. These are gluten- and dairy-free, and you could consider it guilt-free too.
2)  Chuffed – Auckland CBD
Website: https://chuffedcoffee.com/
Nestled in front of the daily rush and bustle of cars heading to work, Chuffed lets you get the perfectly roasted coffee, hot and rich in flavours on-the-go.
Or you can sit down in their cosy blue cafe with paintings of colourful birds (yes even a flamingo) and a birdcage as well as quaint plants that hang from the pipes. Best of all, it has a skylight to offer a view of the proud and beautiful trees amid the buildings.
Chuffed is run by head barista Scott McLean, who is driven to serve and bring out food that people will love. They have it all, from the freshest and seasonal ingredients to coffee that always has the taste and warmth you came for.
You have a simple set of menus for breakfast, lunch or brunch everyday. You should try out the chicken burger using free range chicken thigh, chipotle mayo, swiss cheese, and lettuce with a Korean touch of kimchi slaw.
Next is the Kiwi favourite of crumpets, eggs benedict, and avo on toast, as well as the mouth-watering sandwiches of Vegan, Cubano, Banh Mi, and others.
Without a shadow of a doubt, this relaxing cafe belongs to the list of the best cafes in Auckland.
3)  Takapuna Beach Cafe – Takapuna
Website: https://www.takapunabeachcafe.co.nz/
It feels like you're on a holiday when you visit the Takapuna Beach Cafe, another of your best cafes in Auckland.
With windows that run from the floors to the ceiling, you will enjoy the scenery at Takapuna beach over to the Hauraki Gulf while you have your lunch — which will be presented in an elegant and organised arrangement.
Their menu offers breakfast and lunch open even in the late hours. Omelette is a good start, gnocchi, crab croquettes (delicious!), and a hearty French toast.
For lunch and dinner, you have options of oysters, pasta, chicken cotoletta, and fresh-caught fish of the day.
This modernistic cafe has a store right beside it if you'd like to take away your sandwich or anything to eat.
We recommend the dainty homemade gelato with flavours of vanilla bean, chocolate sorbet, salted caramel, coconut, espresso, nelson berry, lemon curd yoghurt and more.
And they source their potatoes, mushroom, kale, citrus, and bacon locally, to preserve the taste and freshness of the food.
4)  Onehunga Cafe
Website: http://www.onehungacafe.com/
Superb music meets scrumptious food here at Onehunga cafe! They're an award-winning cafe who has received the Gold medal, Best café in the Entertainment in Voucher Book Edition from 2016 to 2017. You can check out their small plates, good-for-sharing platters, and freshly brewed drinks here: http://www.onehungacafe.com/menu.
5)  Cakes n Ladders
Website: http://www.cakesnladders.co.nz/
Cakes n Ladders is Auckland's premier board gaming café. They're friendly to players of all levels, from hard-core gamers and families to couples on a date or groups of friends looking for a space to spend time together.
Aside from offering delicious food and drinks, their gaming library features a growing collection of card and board games including traditional family games, Eurogames, games featured on TableTop (a popular gaming web series), and more. The concept is inspired by famous overseas board game cafés such as Castle in Toronto and Draughts in London.
6)  Major Sprout – Auckland CBD
Website: https://www.facebook.com/majorsprout
If you're in Auckland CBD, you might as well stop by the stellarly reviewed Major Sprout cafe. It has food that's very tasty, a wonderful place, and is cosy all the time regardless of the Auckland weather.
They serve breakfast and lunch from Mondays to Sundays so you can celebrate birthdays and special events with glee. Or read a book there, or surf the Net while enjoying your coffee (with swan latte art) or smoothie.
Their unwrapped souvlaki is a winner with garlic pita bread, braised lamb, dukkah scramble, mint tzatziki, and flavour-enhancing pickled onions and almond hummus and chips.
Another you can't miss is the Crunchy Gentleman toastie, which has free range ham and provolone (a delicious smoked cheese), three cheese béchamel, romesco sauce, fried egg, and date and chilli chutney.
The place is spacious, complemented by planters and displays that make it a tranquil, pleasing, cheerful place to be, and so it gets a spot in our lineup of the best cafes in Auckland.
7)  Dizengoff – Ponsonby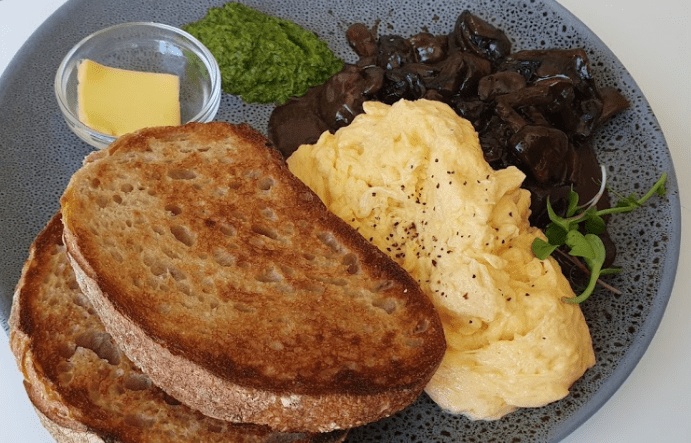 Website: https://www.facebook.com/dizengoff.ponsonby
Serving customers in the old-school approach, its charm has never faded. As long as the food is good, coffee is hot and you enjoy the experience, it suffices to make Dizzy officially one of your best cafes in Auckland.
Located in the Ponsonby strip, the cafe is relatively small, unlike others on this list. But it maintains that kinship vibe or that closeness and attention that make it a pleasant cafe to visit every now and then.
For salads, you have the special Dizengoff salad paired with French bread. Then you have omelette and mushroom on toast and order an freshly squeezed orange juice to go with it.
But you should at least try their half and half, which is sourdough alongside soft and delicious scrambled eggs and balsamic mushrooms with parsley paste. It's amazing and we're sure you'll like it.
A lot of people are also loving the coffee made in this little cafe: they do it with double shot rather than the single of other coffee houses. And the taste, flavour, and hotness of it sets it apart from the pack.
8)  Cereal Killa Cafe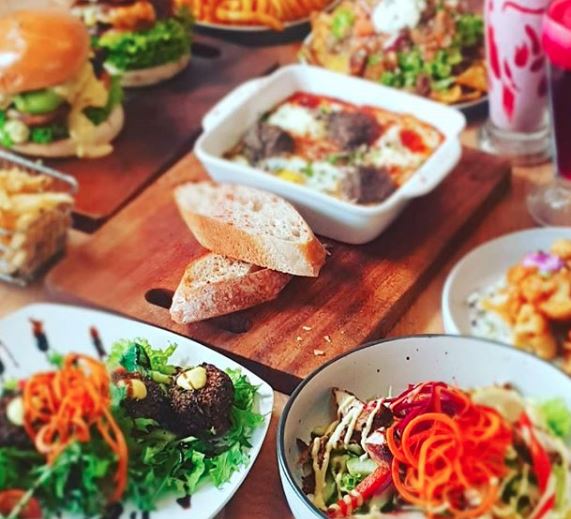 Website: https://cerealkilla.co.nz/
Cereal Killa serves a wide range of shakes, coffee, and burgers that are freshly made, locally produced with varied food choices.
Offering contemporary NZ cafe cuisine that celebrates local producers & suppliers, Cereal Killa specialises in New Zealand-famous Killashakes™, which are made in-house, together with all-day breakfast, lunch fresh salads, in-house baking and cater to a range of dietary requirements.
They also have a seasonal menu which has an extensive range of choice, perfect for groups of all shapes and sizes.
9)  Raw Power Cafe
Website: https://www.facebook.com/rawpowercafe/
With the motto, "Choose Raw Power, Choose Healthy. Choose to be brilliant," you'd already gather that Raw Power Cafe is where you can eat without the guilt!
Raw Power Cafe has been specialising in Vegetarian and Vegan Cuisine since 1996. Customers love their fresh live juice, smoothies, self-serviced salad bar, all-day breakfast and more for the health-conscious.
The cafe is open for both breakfast and lunch.
10)  MELBA at Vulcan Lane
Website: https://melba.nz/vulcan-lane
Melba Vulcan provides fast and friendly service, delicious food and some of the city's best coffee in the trendiest part of Auckland. In 1995, Café Melba opened in the iconic Vulcan Lane location, which eventually grew and ventured out into the wider Auckland area.
Melba Vulcan is a place beloved by both locals and tourists seeking refuge from the hustle and bustle fo the city.
11) Mondays Wholefoods
Website: https://www.mondayswholefoods.com/
Mondays Wholefoods is located down Kingsland driveway, where you can find Bali inspired boutique space specialising in wholefoods, yoga & well-being. Focused creating an inner-city sanctuary, Monday Wholefoods' CAFE & BAR is open 7 days, and serves simple and beautifully plated wholefoods in an Ivy covered courtyard.
Directly above the cafe, their Ivy STUDIO is the place to be for integrated health & well-being. You can also join in on a range of welcoming yoga, meditation and relaxation sessions as well as a variety of specialty pop-up clinics.
Life, well-being and career coaching is also offered by their resident coach, Julie Hazelhurst. Or, for a working space away from your day to day environment, book out the Ivy Studio to host your next team workshop or EVENT.
12)  ORO
Website: https://cafeoro.co.nz/
Inspired by the mountains and purity of gold, ORO is located around an eight-decade old native Rimu tree offering a calm, inviting & relaxed environment. ORO believes in happy food that feeds your soul; they partner with suppliers who share their vision in supporting and promoting a sustainable environment and support the local community.
Kokako Coffee and Karma Cola are some of their suppliers who we have partnered with to bring customers organically sustainable beverages.
Be it a corporate meeting, training or event, ORO's friendly team can also work with you to create a bespoke menu for your special event. They cater to working breakfasts, morning or afternoon tea or working lunches.
13)  Little Dream Cafe & Restaurant
Website: https://www.littledream.nz/
Little Dream Cafe is located at 96 St Georges Bay Road, Parnell, Auckland 1052. They offer an extensive coffees and beverages menu, as as well as separate food and alcohol menu. They also have kid-friendly options.
14)  Whau Cafe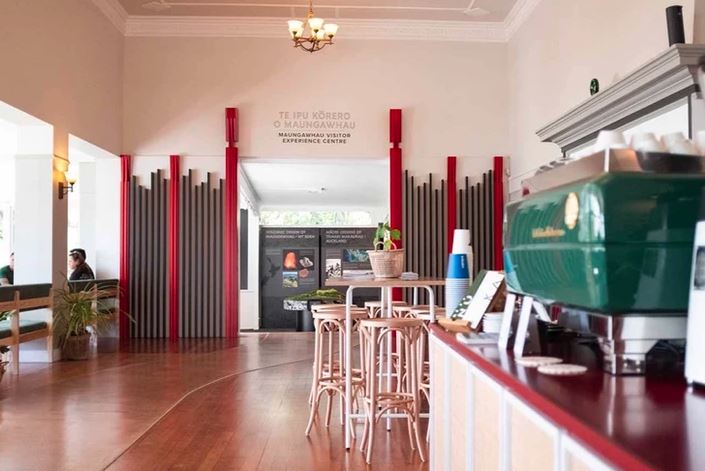 Website: https://www.whaucafe.com/
Love scenic views from greater heights? Then visit Whau Cafe!
Whau is a newly opened cafe located in Mt Eden's mountainside. They are famous for their Maori-inspired menu, using Maori ingredients in their scrumptious meals.
Whau Cafe is open every day from 9am until 6pm.
15)  KIND Cafe
Website: https://kindcafe.co.nz/
KIND is a (mostly) vegan café, that specialises in healthy, delicious food options, serving an outstanding plant-based menu that caters to many different dietary needs and choices.
KIND also shares a vision to have a positive impact on the wider community and environmental goals. It is a social enterprise established and run by the collective behind Crave, who are motivated and passionate about Morningside being greener, healthier and kinder to the environment.
16)  Black and Gold Coffee/Eatery
Website: https://www.facebook.com/pg/blackandgoldeatery
Black and Gold Coffee/Eatery has been a staple in Auckland cafe scenery since 2014. They're known for serving sustainable food with a creative Asian twist, specialty coffee like single origin espresso, batch brewed filter, cold brew & pour-over v60 filter. All coffee beans are roasted (distributed under the name "Society Coffee") and baking are baked in-house, however they have moved the production to their sister store, A-Block, Browns Bay.
Ranked as Metro Magazine's Top 50 Café of Auckland 2014, 2015, 2016, 2018, Black and Gold Coffee/Eatery continues to invite new guests and loyal patrons with friendly customer service and lovely ambience.
17) The Block Cafe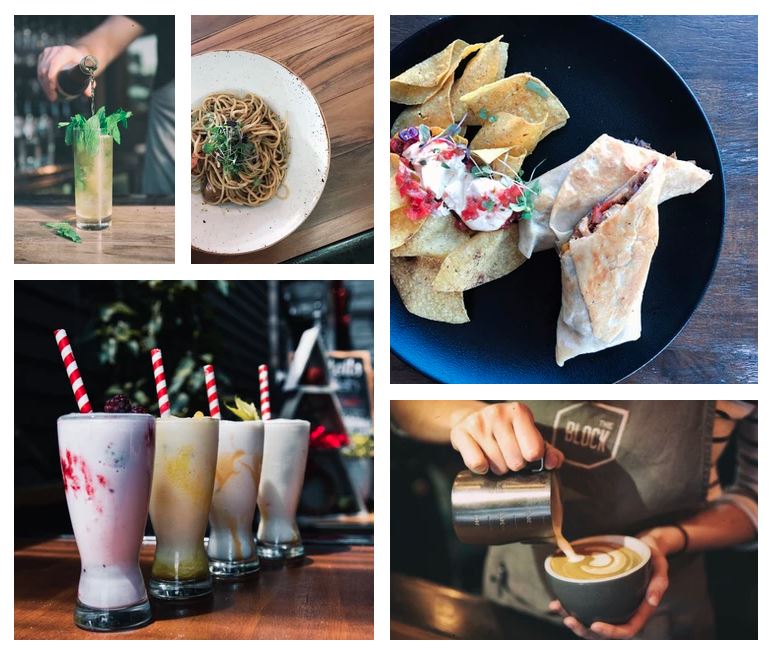 Website: https://www.theblockcafe.com/
The Block Cafe offers day and night menus, as well as a separate menu for drinks. They're located at 570 Blockhouse Bay Road, Blockhouse Bay, Auckland. They're open from Sunday to Tuesday: 7am – 5pm, and Wednesday to Saturday at 7am – 9:30pm.
18) Timbuktu Nomadic Deli
Website: https://www.facebook.com/pg/timbuktudeli
Timbuktu is a new model of delicatessan with a focus on fresh and healthy, with comfort foods that people love and crave occasionally. They offer global tasting experience in a fun and relaxed environment.
Their business is a takeaway outlet with a focus on cabinet food. They have a regular range of popular dishes that showcase a spectrum of global street food. In addition to this range, they have an ongoing "Destination Location" which changes from time to time, giving customers a chance to try new food experiences.
19) Fresh Pots
Website: https://fresh-pots.business.site/
Fresh Pots has been providing seasonal selected espresso and batch brew. They also have been offering daily selected Pull Over to all the coffee lovers. Hot and cold options for their drinks are available. They also have yummy baked goods onsite!
20) D'Refinery Eatery
Website: http://www.drefineryeatery.co.nz/
D'REFINERY EATERY is a trustworthy, kid and pet-friendly cafe located in Auckland, New Zealand. It was started by a hospitality couple have experience in both kitchen and front of house. The pleasant accommodation and minimalistic decor are coupled with  conglomerations of European cuisines with Asian delights make them one of the most celebrated cafes in Parnell, Auckland.
Aside from the usual beverages, you can have beer with your peers and family members. Their  Beer and wine corner in Parnell, Auckland is ideally suited to enjoy your time of regalement. The outside sitting cafe allows you to bid your time of repose and merriment, too.
21) La Petite Fourchette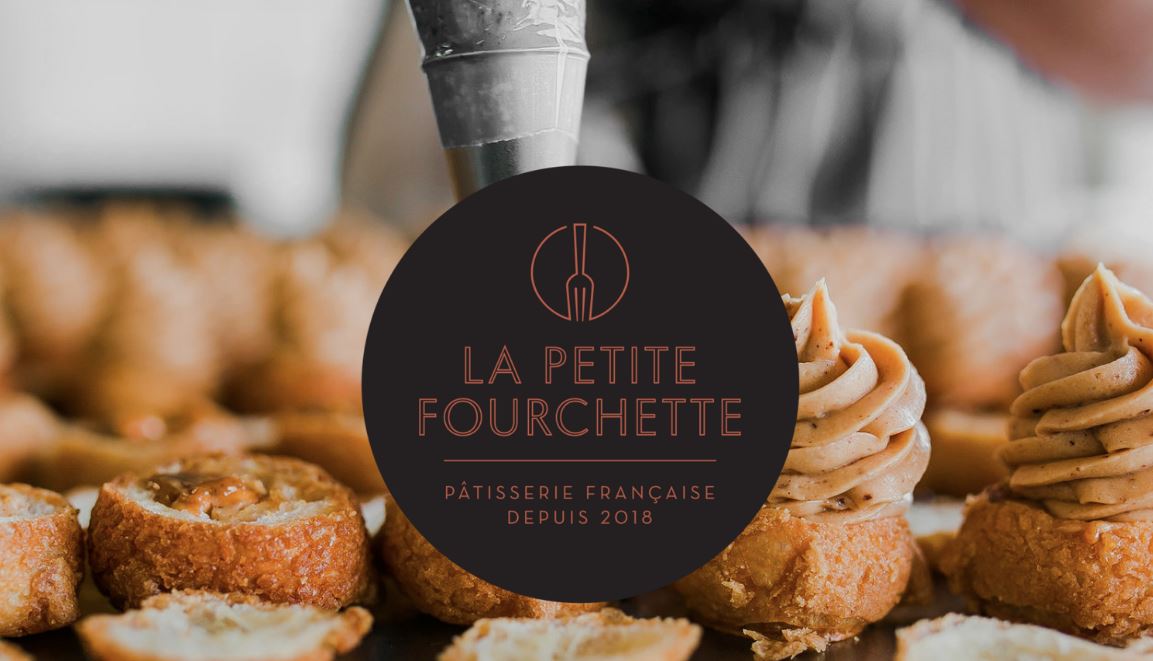 Website: https://www.lapetitefourchette.co.nz/
French-Kiwi couple and owners Natalie and Romain Le Gal built  La Petite Fourchette with one objective: to share their love and passion for French food and culture, in particular, the French savoir-faire or 'know how'.
Inspired by the authentic French "Boulangerie-Pâtisserie' that you find in any town in France, La Petite Fourchette brings a little touch of France right to the heart of Auckland City, providing a wide range of both savoury and sweet French delicacies all made with love and that added 'je ne sais quoi' which makes every bite a unique experience.
They bring local French favorites to Auckland from macarons, éclairs and tarts to quiches, croque-monsieurs and salads. They can also produce larger gâteaux or tarts, as well as canapés for that dinner party or special occasion.
22) Caffé Massimo
Website: http://www.caffemassimo.co.nz/
Located in the heart of Takapuna, Caffé Massimo is the closest café to a favourite North Shore beach, the Takapuna shops and iconic Sunday market.
The Manager knows most of his customers by name and with his loyal, efficient staff, offers service with a soul.
As well as being big and airy, with comfy, cushioned high-backed bench seats, a large area of outdoor seating allows customers to maximize its beach side location.
Caffé Massimo also has a branch situated amongst the designer shops of re-developed Nuffield Street.
Floor to ceiling fold-back doors and additional pavement seating give a light airy feel to this European-style café. And for those chillier days, comfy chairs around the fire offer a cosy alternative. Whether you work locally or on a shopping spree, the fresh Caffé Massimo coffee, roasted on-site, is sure to lure you in for a welcome break.
23) Stolen Summer
Website: http://stolensummer.co/
Stolen is a humble little nook located in 18B High Street, Auckland CBD. Aside from serving freshly brewed coffee, they also make scone, muffin, bars, and cookies. One customer, David R, raves: "First of all-Coffee is great. Great friendly owner, very fast and great muffins (they can make it yourself in store!) // what exactly is your local boutique coffee experience. Go over there! (Original) First and foremost-coffee is superb. Great friendly owners, super-fast, great muffins (they make their own in-store!) // exactly what a local boutique coffee experience should be. Go there!"
24) Up Cafe
Website: http://www.upcafe.co.nz/
Up Cafe serves breakfast, lunch and dinner at The Sebel Quay West, Level 1, 8 Albert Street, Auckland CBD. This cosy cafe is owned by a Maori/Samoan couple: Lisa Hawkins and Aaron Paul.
Up Cafe is also a licensed bar with happy hours every day. Selected beer and house wine are available at $5 while cocktails can be enjoyed at $9. For guilt-free gastronomic experience, Up Cafe also offers a variety of healthy food options including gluten-free and vegetarian options.
Up Cafe is also open for catering and private functions available 7 days a week including public holidays.
---
Anyway, those were your best cafes in Auckland serving breathtaking food and unbeatable roasted coffee. Anytime you want a good, nay, great breakfast, just swing by these coffee shops, order, and enjoy.
Do you have any questions regarding our list today? Tell us what you think and feel by commenting below.
Want to know about popular cafes in Christchurch instead? You can read about the best cafes in Christchurch.
But if you are nearer to Wellington, you can check out the best cafes in Wellington instead.