The 6 Best Car Rental Services in Christchurch
Christchurch is an urban part of the South Island bursting with rich and lively hues, boutiques, restaurants, and eye-catching street art. If you're looking for the best way to tour it, you're on the right page — we're taking you through the best car rental services in Christchurch!
There are some things you're probably looking for in a rental car. These are likely to be size, petrol efficiency, comfort, and ease of steering.
In terms of your planned trip, you want to be sure of the pickup and drop off points. You also want to have roadside assistance just in case your car breaks down in the middle of the road.
Let's discuss these things first because knowing them can help you pick the right car and service. After that, we'll show you our picks for the absolute best car rental services in Christchurch.
Things You Have to Consider Before Renting a Car
Here are the basic things you have to consider before hiring a car, in no particular order:
1. Pickup and Drop-Off Points
The first things you should look up are the pickup and drop-off points. It depends mainly on where your trip is headed, but you should choose options where pickup and drop-off won't be inconvenient for you.
Most car rental companies have a depot in Christchurch airport. Likewise, when you're dropping off the car, it is also easier to search for the airport using your GPS, so airport drop-off options are preferable too.
2. Car Selection
You choose a car mainly for the purpose you have.
For business trips around the metro, sedans are a great choice. For bonding with your family and cousins, SUVs will take you there. Or, if it's a company outing or retreat, you won't go wrong with 8 or 12 carrier vans.
Safety is of primary importance. You ensure it by making sure the car you pick is in outstanding condition — the brakes are working well, the tires are not flat, and so on.
Most car rental services offer a modern fleet with less mileage. You should pick those as much as possible to enjoy your trip and be safe as well.
3. Insurance
Together with the price that you pay for renting a car, basic insurance is usually included. That will cover your liability on the occasion that someone bumps your car or anything like that happens.
For some companies, you are required to provide your credit card details and account name to cover the insurance excess.
However, if you also have a collision damage waiver, you will find that you can reduce its cost and only need to pay per day, which is lighter in cost.
Always make sure to read the Terms and Conditions before following through your booking and read about insurance to know how much the excess will be or who will be liable for what happens.
4. Perks
Unlimited mileage or kilometres, 24 hr roadside assistance, free shuttle service, relocation, and fuel gas discounts are some of the perks you will encounter with each car rental service.
They are small gems that will assist you to make your travel more convenient.
5. Special Offers and Discounts
Look out for special offers and discounts in your trips or tours. Take the time to look for them or inquire with the staff to get the best value for what you paid.
It's also nice if they have a discount card of some sort to enjoy various activities at a lower expense — whether it's hiking through the National Park or drinking fresh juice in a cafe.
The Best Car Rental Services in Christchurch
We've just gone through the important things to consider before you rent a car. Now, without any delay, let's get on with our list of the best car rental services in Christchurch.
1. Avis Car Rental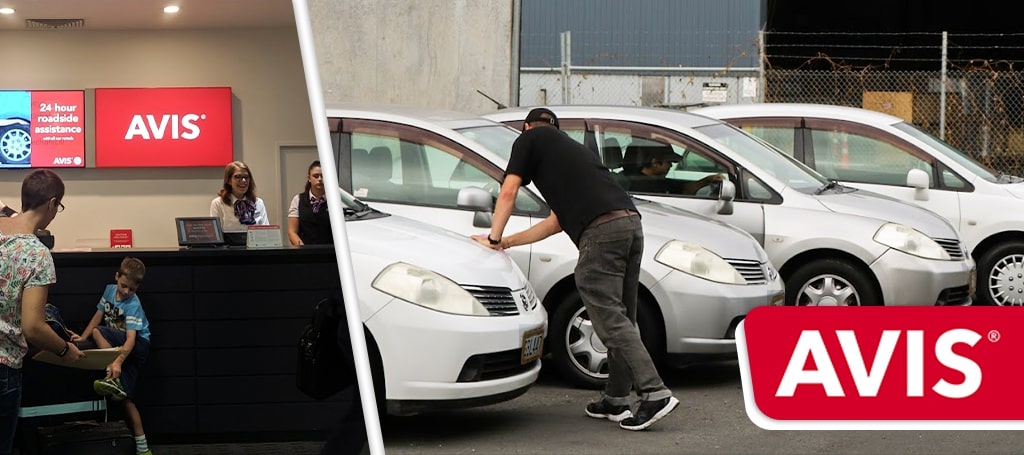 | | |
| --- | --- |
| BEST FOR | Fantastic Car Condition |
| FLEET | Subcompact, Electric Hatch, Compact, Hybrid Hatch, Intermediate, Full-Size Sedan, Full-Size SUV, Compact SUV, Full-Size Elite, Hybrid Eco-Friendly, Intermediate SUV, Standard SUV, Premium Minivan, Premium SUV, Premium Ute, Signature Series, Commercial Trucks |
| WEBSITE | https://www.avis.co.nz/ |
| ADDRESS | 150 Kilmore St, Christchurch, New Zealand |
| CONTACT DETAILS | (64) 3 934 5102 |
| OPERATING HOURS | Monday to Sunday: 8am – 4:30pm |
Avis is a well-known car rental brand not just in New Zealand but globally. In New Zealand alone, it has 26 branches offering vehicles of all sizes and shapes, be they hatchback, standard, or tour vans.
Its locations include two areas in Christchurch Harewood and Downtown and also the airport. They offer road hazard assistance, insurance coverage for people and vehicles, and exclusive discounts.
You can find an online travel guide on its website along with driving tips to foster safe and enjoyable driving. Speaking of safety, their vehicles come with features like reversing cameras, USB connectors, and Bluetooth, depending on the model.
Moreover, when your child is coming with you, you can arrange for a safety seat for him or her. Make sure you have the Avis app installed to be in touch with the team if there happens to be a problem.
Pros
Lots of sedan, SUVs, utes, trucks, and vans
Wonderful car condition
Complete insurance coverage
Mechanical breakdown assistance
Very organized booking and communication
Cons
More expensive insurance coverage than average
Expensive cars
2. New Zealand Discount Car Rentals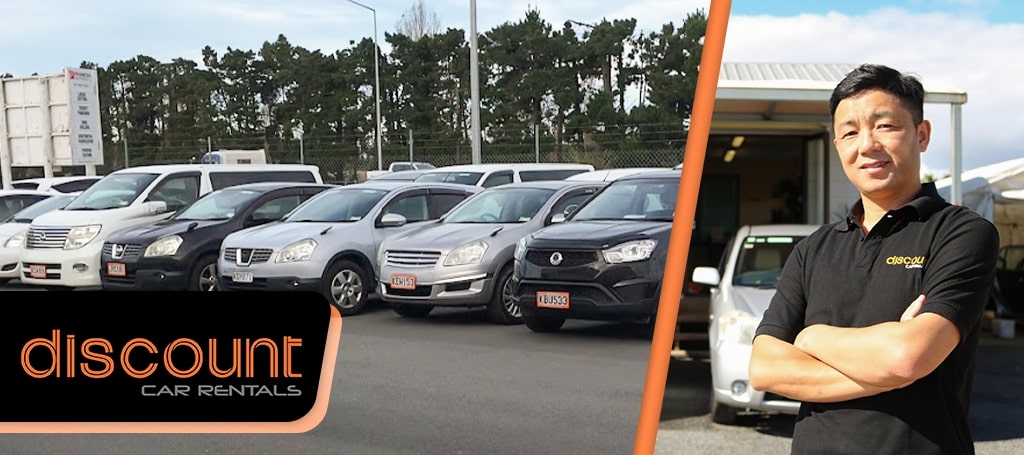 BEST FOR

Super good value car rentals in NZ

FLEET

Small hatch, Intermediate hatch, Sedan, Wagon, SUV, 7-12 seater People mover minibus

WEBSITE

http://www.nzdcr.co.nz

ADDRESS

Auckland, Christchurch and Queenstown Airports

CONTACT DETAILS

[email protected]

OPERATING HOURS

Office hours : 9am–5:00pm 7 days a week




Rental pick up drop off hours: 24 hours 7 days
If you're in need of a car rental when going on a trip around New Zealand, then you're in the right place as Discount Car Rentals is ready to offer you their services.
With only a few clicks, you'll be able to rent a vehicle. You can have them drop it off at the airport so you can use it immediately as you arrive, and leave it there for them to pick-up right after. It's easy, convenient, and cheaper than most.
Although they are cheaper, Discount Car Rentals promises high quality rides for you to choose from. And if ever you're left unsatisfied with what you receive, you can simply have them replace it with minimal paperwork needed!
Discount Car Rentals is truly the ideal place for you to look for a car rental, so don't waste your time and have them provide you with a great car at a reasonable price.
Pros
Super good price
Cheap insurance rates, options from $9.00/day
Airport Shuttle bus Free of charge
24/7 pick up drop off available
24/7 Road side assistance
Cons
Off airport terminal (only 1-3 kms away)
Only 3 locations
Customer Reviews
Below are some reviews left on Google Review by Discount Car Rentals' clients:
"Easy process to get car. And cheap too campare than others. The condition of car is upto the mark. Airport pick-up is available and very to easy to return at airport parking. Totally recommended"

"We got exceptionally good service from Ben and Kim at Discount car rentals. Car was clean and well maintained – and they are they cheapest rental company – so great value for money. I will use them again next time I go to Queenstown."
3. Snap Rentals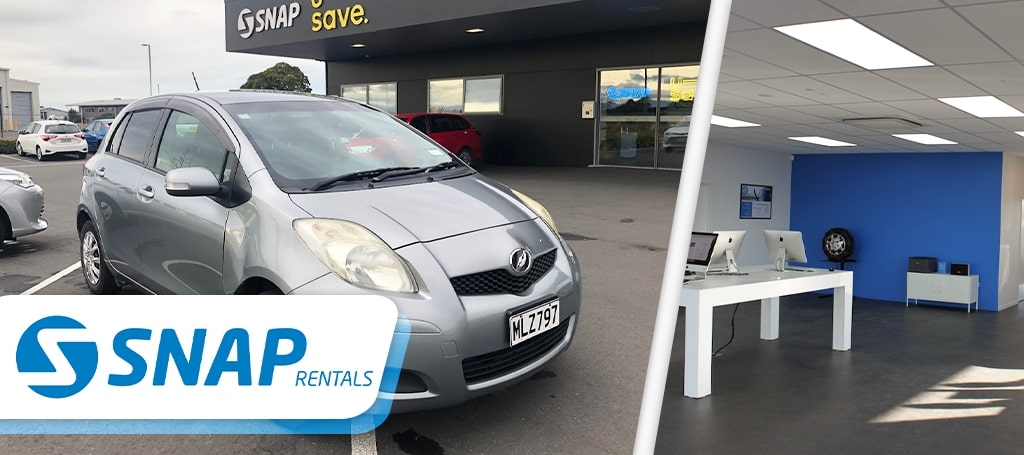 | | |
| --- | --- |
| BEST FOR | Customer-Focused Approach |
| FLEET | Super Saver, Compact, Hatch, Premium Hatch, Economy, Premium Mid-Size, Station Wagon/Estate, Crossover, Snap Tesla and People Mover |
| WEBSITE | https://www.snaprentals.co.nz/ |
| ADDRESS | 170 Orchard Road, Harewood, Christchurch 8051, New Zealand |
| CONTACT DETAILS | +64 800 288 699 |
| OPERATING HOURS | Monday to Sunday: 8am – 8pm |
Even with so many car rental brands operating across New Zealand, you can expect Snap Rentals to beat the competition. Its car selection, customer-centric approach, and prices are just superb!
You have sleek and new models of cars to choose from. Prices are set to give you value and they form two categories with different insurance packages for you to have peace of mind.
Free basic insurance is included with your rented car… but to cover it, you will have to pay an excess of 2,000 to insure against theft or accident.
But there's another option — the Go Smarter Comprehensive Protection Cover. Although you have to pay NZ$24 each day, it will bring down your excess to zero, protecting your tires, windshield, etc.
As for the location, there's Christchurch, Queenstown, Wellington, Auckland Airports, and Auckland City. With Snap Rentals, adventure is just around the depot and starts from there.
Pros
Great and efficient car models
Reliable customer support
Go Smarter insurance package for NZ$24 a day
24/7 roadside assistance
Accessible locations
Cons
No free maps and brochures
Limited locations
Customer Reviews
Straw Fellow wrote a Google Review:
"We were pleasantly surprised how well things went with our rental. Low price with a company we hadn't used before could have been a disaster, but service was great, car was tidy and trouble free, and price was kind to our wallets. Will definitely be using them again."
4. Abell Rentals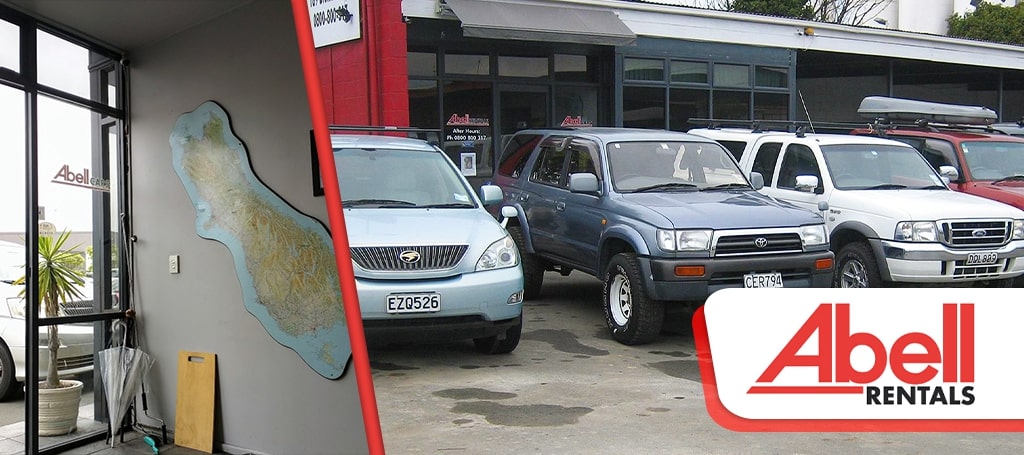 | | |
| --- | --- |
| BEST FOR | Low Car Rental Prices |
| FLEET | Car, Minibus, Truck, Furniture Truck, Cargo Van, Convertible |
| WEBSITE | http://www.abell.co.nz/ |
| ADDRESS | 521 Avonhead Road, Christchurch, New Zealand |
| CONTACT DETAILS | +64 3-348 2002 |
| OPERATING HOURS | Monday to Sunday: 8am – 6pm |
This is a small family-owned business with over 23 years of experience in the industry. Abell Rentals combines low car rental prices and a helpful customer service team to assist you.
Located in Christchurch and Auckland, it has a range of sedan, convertible, truck, and minibus options. It's great not only for travel and holidays, but also for business and moving your furniture and equipment over to a new place too.
One client from NZKayak's site mentioned that the staff were friendly and helpful and that the car was comfortable and 'didn't miss a beat'. That's pretty much what we all like to hear about car rental services.
Anyway, be sure to check out some of the company's driving and safety tips on its website too. They might be useful!
Pros
Over 23 years of experience
A friendly and dependable customer service
Affordable car choices
Free maps and travel guides
Cons
Only two branches
Limited car choices
Customer Reviews
Clément Kündig wrote a feedback on Facebook:
"Very friendly, flexible and helpful staff. Everything went smoothly from fast and efficient pick-up in Auckland to drop-off in Christchurch, even after hour and on public holiday. It was a pleasure to deal with a more human-sized company!:)"
5. Hitch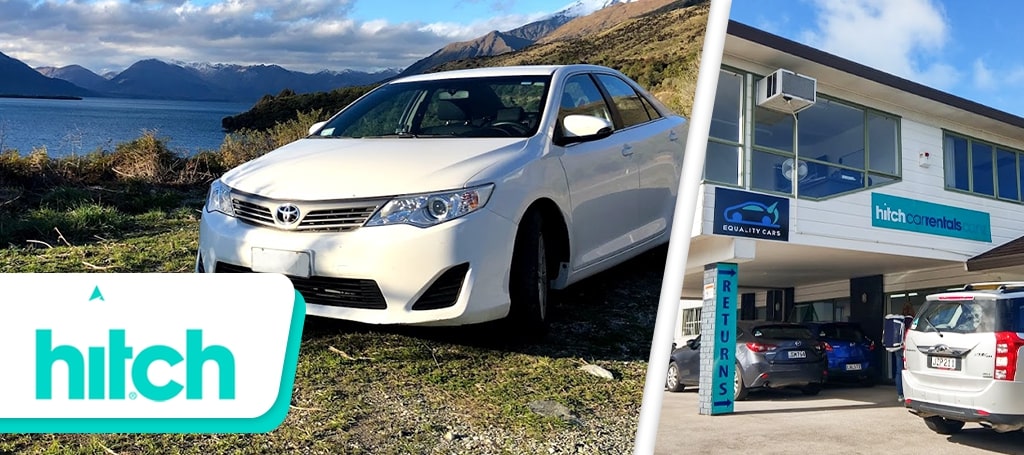 BEST FOR
Value Price Deals
FLEET
Compact, Eco, Mid-Size, Sedan, SUV Standard, SUV Premium, People Mover
WEBSITE
https://www.hitchcarrentals.co.nz/
ADDRESS
Unit 1/232 Roydvale Avenue, Burnside, Christchurch 8053, New Zealand
CONTACT DETAILS
+64 9 525 0231
OPERATING HOURS
Monday to Saturday: 8am-4pm

Sunday: 8am-12pm
If you want super value deals and an impressive pick of cars, then Hitch should be your choice. And that's also the reason it's one of the best car rental services in Christchurch.
Aside from sedans, vans, SUVs and people movers, it does its part for the environment through hybrid engine cars, which are part gas, part electric in their engines.
You have great value deals that will give you up to 80% off such as the South to North package. Also, visit the page for discounts on your car if you're going to the Queen Concert or Blackcaps and Australia's golfing tournament.
It has 4 branches in Christchurch, Queenstown, Auckland Airports, and Auckland City. Of course collection and return is simple, plus don't forget you have unlimited KMs and free additional drivers.
Pros
Few but smart car choices for all sorts of road surfaces
Great value deals in every season
4 branches located in Auckland, Queenstown, Christchurch Airports and Auckland City
Unlimited KMS
Free additional drivers
Cons
Limited locations
No 24 hr roadside assistance
Customer Reviews
Daniel Booth commented on Google Reviews:
"This is the second time I have used Hitch rentals. Both times I have had no issues. Quick pick up and drop off from CHC airport, good, clean cars, friendly service, great rates."
6. Apex Car Rentals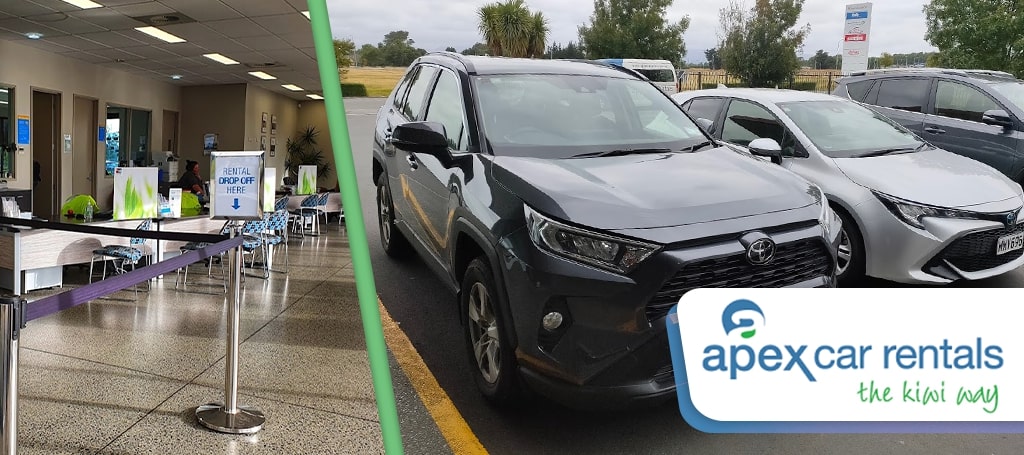 BEST FOR
Wonderfully Maintained Cars
FLEET
Toyota Corolla, Toyota Rav4 2WD, Toyota Rav4 4WD, Toyota Highlander and Toyota HiAce (12-Seater)
WEBSITE
https://www.apexrentals.co.nz
ADDRESS
150 Kilmore Street, Christchurch Central City, Christchurch 8013, New Zealand
CONTACT DETAILS
New Zealand: 0800 500 660
Australia: 1800 2739 2277
OPERATING HOURS
Monday to Sunday: 9am – 5pm
Winning 2019 Canstar Blue Award for most satisfied customers sets this one apart from the pack. The cars here will always be in top condition regardless of how old they are too.
You can pick your poison with its catalogue of 15 cars including the likes of the Toyota Camry, Highlander, Rav4, and Hatch Mazda. Look out for its one-way or early bird deals for more bang for your buck.
Even if you are lost in the middle of urban maze, you will find a drop-off location around Wellington, Queenstown, Invercargill, Nelson, Tauranga, and Christchurch airports, plus several cities.
Hiring a car entitles you to basic insurance without a cover for excess. You have to pick either to pay the standard or the damage waiver so that in the event of danger, you will be secured and covered.
With its remarkable cars, affordable rates, plus seamless booking process, why wouldn't we not include it in our best car rental services in Christchurch list?
Pros
Limited but high-quality and versatile car catalogue
Provides safe, efficient cars
Gives you lots of options for drop-off
Seamless booking process
Cons
Needs more work on their customer service
Customer Reviews
Josh Sleeman writes a good review on Google:
"Had a much better experience than most by the looks of it! Found the cost to be a third of local competitors, even with full insurance coverage. Free extra driver which is a bonus and received a no cost car upgrade due to their small stock of cars on site (this could be a negative if you have opted for a larger vehicle they don't have on the day)."
---
That's it for now for our best car rental services in Christchurch. With great value and fantastic cars, your travel will be more fun and pleasant in New Zealand!
What did you think of the car rental services that we mentioned? If you have tried them before or will try them soon, tell us about it!
In addition, if you like to see more car rental services, you might also like to check out our picks for the best car rental services in New Zealand.
Or if you like to capture moments from a bird's eye view or from a distance, read our list of the best drones in New Zealand. They're the best way to capture the beauty of the country!