The 20 Services With The Best Carpet Cleaning In Auckland
Full carpet cleaning takes a lot of work — enough work, in fact, to make it impossible to manage for most people. Fortunately for you, we're here to solve that by showing you options for the best carpet cleaning in Auckland!
These services do the full carpet cleaning routine. By vacuuming, they remove the bacteria, mites, and allergens that are stuck to your carpet.
Afterwards, they apply deodoriser or steam to keep it fresh and clean. And they can do all of this without destroying your carpet's fibres or integrity.
Most of them also have a range of cleaning services, including upholstery, stain removal, and pest control.
With so many options, you may find it hard to choose just one. So, before we go into our list of the best carpet cleaners in Auckland, we'll show you what to look for in a carpet cleaner.
What to Look for in Carpet Cleaners
Roughly speaking, these are the things you should expect from a decent carpet cleaning service:
Qualified Staff
This ensures you get the best possible service you can get in carpet cleaning. And that they know what they are doing and how to get the job done properly.
Efficacy
This just means they should be capable of doing their jobs, i.e. cleaning carpets without damaging them. Try asking them for samples of carpets they've cleaned, for instance.
The fibres should be totally free of dust, mites, and germs after their cleaning. The carpet should look lighter in color if previously soiled, and be dried well before being set back to its original place.
Proper care of the carpet entails no tearing or gaps in or between the fibres. Make sure too that it's not treated with artificial liquids that may lead to severe damage, fading details, and a rough surface.
A properly cleaned carpet should also be scent-free, or have a fresh, light scent if any. Try sniffing their sample to see if it's clean.
If they can't provide samples, you can also try getting references or contact details for previous customers. Take a look too at their clients' reviews, as that's one of the best ways to tell how good they are at what they do.
Reliable Equipment
Of course, you need well-kept and modern equipment for a good cleaning. Ask the cleaner what they have, which should include vacuum cleaners as well as steaming or drying equipment.
Customer Service
You also want to pick a company with great customer service. They should listen attentively to the needs of the client and seeks a solution promptly if there's a complaint or concern.
Best Options for Carpet Cleaning in Auckland
Now that you have some idea of what to expect from a carpet cleaner, let's round up the top carpet cleaners in Auckland:
1. Hot & Steamy
First up and number 1 on our list is Hot & Steamy Limited, a professional carpet and upholstery cleaning company headed by James Emery.
James began his journey in the cleaning business, operating a well known cleaning franchise; where he honed his carpet cleaning skills and displayed great attention to detail, resulting in strong customer loyalty.
Over the years he not only perfected his carpet cleaning service, but also added other niche services to Hot and Steamy, where he could better serve the people of Auckland, delivering specialised upholstery cleaning, ceiling and wall steam cleaning, as well as their popular bathroom restore services to polish and renew old shower glass and tiles.
Now, when it comes to Hot & Steamy, clients can rest easy knowing that they are in great hands. James and his small team of technicians have every clients' best interest in mind as they go in and provide high quality, comprehensive carpet cleaning services. Whether you are moving in or moving out of a property, or a regular spring clean and rejuvenation, the guys at Hot and Steamy will leave you feeling elated with results they can achieve.
They can work with almost any carpet type. The process starts by assessing condition of the carpet and then pre-conditioning the carpet with their high quality bio degradable non solvent pre spray cleaner shampoo. This environmentally friendly cleaning product is a crucial part of the cleaning process, as it breaks up soiling in the Carpet before it is extracted away with our hot water steam cleaning machine that leaves your carpet cleaner, fresher and brighter.
The team at Hot and Steamy can also help maintain the integrity of your carpet with their specialised soil guard protection application service that will help repel spills and prevent permanent longer term staining of your precious carpet. Ask us about our discounted cleaning and protection package
Hot & Steamy use only the best quality products and equipment to ensure only the best results for their valued customers. They work hard to gain your long term patronage and love to be recommended to others.
Although their services may be premium. Hot & Steamy wouldn't dream of overpricing. In fact, aside from offering one of the best carpet and upholstery cleaning in the business, Hot & Steamy is also one of the most affordable companies on our list.
To end things off, we also commend Hot & Steamy for their excellent customer service. The team is prompt, professional, and polite in every interaction and this is reflected in their online feedback.
HIGHLIGHTS
Comprehensive carpet and upholstery cleaning services
Highly trained, experienced and professional cleaning crew
Affordable cleaning services
CUSTOMER REVIEWS
Here are some reviews left by previous customers:
"A highly professional and quality company. James and his team are awesome to deal with and the results of both carpet and couch cleaning were outstanding. They went the extra mile to ensure all marks taken care of and worked around our schedule. Very reasonable prices and just a pleasure to deal with. Would highly recommend."
"Their customer service, professionalism and job quality is 10/10. I had a HUGE black coffee spill on a beige carpet over the weekend. I'm renting, so this was a really stressful experience. They rearranged their own busy schedule to help me out last minute. Thanks James & Bobby, I am extremely grateful for your accommodating service. It's looking much better! :)"
2. Premium Clean
Premium Clean would not be called as such if they do not offer truly premium quality of cleaning services, particularly on your carpets. Through the use of their eco-friendly products and top-of-the-line cleaning equipment, Premium Clean assures you that after their service, your carpet will look like brand new once again.
The company does not only promise you 100% customer satisfaction, but rather 200% guarantee that you will be pleased with their work. With their team of professional and well-trained personnel, you can achieve the sparkling clean carpet that you have always wanted.
CUSTOMER REVIEWS
Premium Clean is praised for their professionalism and accuracy in work. They really make their clients completely satisfied from the way they handle them to the actual cleaning process that they do. In fact, a previous clients has left this review on Google.
"Have used Premium Cleaning Services twice now. Both times Kerry did a great job. To the point, taking advice and cheerful doing a great job. Looking at the picture it's clear why I love Kerry to come back again"
3. Elite Carpet Cleaning
Want to keep your flooring and carpets extra clean? Look up Elite Carpet Cleaning and let them handle it.
You can contact them and ask for a quote for whatever you need. Just tell them number of carpets you are cleaning or if you are thinking to include your upholstery in the package.
You can place your carpets in their hands as they are professionals who care about their customers, and have trained their team to deliver top-notch cleaning for your satisfaction!
Customer Reviews
Fast and efficient service means a carpet or home that's healthier and more livable instantly — and clients of Elite Carpet Services say they provide this. Sarah McPherson from Scentre Group malls states:
"Elite Carpet Services has assisted us with urgent clean-up requirements as and when required for the Group's various six shopping centres throughout Auckland. Their services in support of our organisation has been exemplary. We have appreciated the team of Elite Carpet Services ability to respond to our requirements expediently with professionalism."
As for cleaning for larger projects such as real estate, Brooke Malyon from LJ Hooker said:
"Elite is our preferred contractor when it comes to any carpet cleaning requirements – no matter how big or small the job, they make it happen quickly and efficiently. Always smiling and with their great sense of humour, it makes working with them easy and enjoyable."
4. Smart Clean
Want to keep your carpets and upholstery nice and clean? Check out Smart Clean and let them handle it. They prioritise your satisfaction, to ensure that they always provide high-quality services which are customised to your needs.
With over 23 years of service in the industry, Smart Clean has helped a lot customers in dealing with their dirty carpets and upholstery. Their success as a company wouldn't have been impossible without the help of their highly qualified cleaners, who work with utmost competence.
Their services are equipped with extensive experience and knowledge, so you can rest assured that you will receive the best quality of cleaning service that you're looking for. Give them a call– you can count them for the detailed attention that you deserve.
5. Go Green Carpet Cleaning
Green and healthy are the goals for Go Green Carpet Cleaning. Their steps involve vacuuming the carpet entirely to extract the dirt and particles down to the bottom before washing it thoroughly.
For fabric that's been through floods, they also have solutions. In most cases, they will restore it to its fresh and neat state again.
The company has two offices located in North Shore and West Auckland.
Customer Reviews
They're described by past clients as very professional and always on time when scheduled for a job. Graham tells of booking with Go Green Carpet Cleaning:
"We have used these guys twice now and found them always prompt, happy in their work and go beyond what is asked or expected. No problems recommending them!"
And Mark from North Shore said:
"So glad I found Stanley and Matt from Big Green. Great jobs guys, love my new look carpets."
6. Wow Carpet Cleaning
Wow Carpet Cleaning is a reputable carpet cleaning company that garnered a 9/10 score on Target as seen on TV3. That already tells you why we think it's one of the best carpet cleaning services in Auckland.
They offer cleaning of residential, commercial, mattress, lounge suite, upholstery, and carpet stains. When you call them to clean the carpets in your apartment, you'll also get a free carpet deodorising and sanitation treatment.
A number of real estate companies have commended them for their service… and the real estate professionals would know quality here!
7. Carpet Master
Carpet Master is 100% Kiwi owned business with a crew of 30 years of experience in providing carpet cleaning and upholstery cleaning services to the Auckland District. The company believes that quality work does not necessarily require a high cost of money, thus they offer their services for very affordable prices.
The team aims to make your carpets allergen-free and revive its beauty from how you first saw it when it was brand new.
8. Clean Green Carpet Cleaning
Making your carpets sparkling clean whilst making sure not to contribute any more harm to the environment is the ultimate goal of Clean Green Carpet Cleaning. They give high importance to the satisfaction and happiness of their clients so they make sure to always deliver premium quality services that are tailored to each of their needs.
The company offers their services for both commercial and residential facilities so make sure to book an appointment now for a greener, cleaner, breathable environment.
Customer Reviews
Clean Green Carpet Cleaning is commended by their clients for their Responsiveness, Punctuality, Quality, Value.
"So glad I chose this company to do our exit clean for the carpets. Not only were they 45 min early (yay!), the results of the clean were so good! It made me sad that we weren't there to enjoy the carpets ?.
Thanks again – HIGHLY RECOMMEND"
9. CleaningPro
Badly need to clean up your carpet? Leave it to the pro! CleaningPro is a trusted cleaning service providers serving the area of Auckland with their top quality procedures and custom cleaning solutions. Proficient, dependable, reliable and hassle-free are probably the best words to describe the work of this company.
While the team generally offers their services between Mondays and Saturday, you may still opt to arrange special requests and avail their services on a Sunday or public holiday.
Customer Reviews
CleaningPro needs no second calling to make an action for their clients who badly need their reliable service. They always have a sense of urgency and professional that their clients truly appreciates.
"Awesome company. Rung them with an urgent curtain shortening problem. They came that day. Were so professional and attention to detail was amazing and curtains were returned the next day. Cannot recommend highly enough. Would definitely use again. Fantastic!!!"
10. A.A. Carpet Cleaning
The company provides residential and commercial cleaning, stain removal, flood restoration, pest control, upholstery cleaning, and even services for adding fabric protectors.At par with the world's best carpet cleaners, A.A. Carpet Cleaning sees to it that the carpet you have gets cleaned and maintained in a way that exceeds your expectations.
They have a total of six branches throughout Auckland Region. That accessibility alone makes them one of the top options for the best carpet cleaning in Auckland.
11. Cheers Carpet Cleaning
Whether you are in need of someone whom you can trust to revive the beauty and freshness of your carpet and furniture or to secure that no pest lives under your roof, Cheers Carpet Cleaning is one of our best recommendations. The team delivers a consistently high quality of cleaning services that will definitely keep you satisfied.
They also use non-toxic, eco-friendly products that are guaranteed to cleanse your carpet even the deepest clinging dirt. Payments can also be made online and through PayPal and cards for easier transactions.
Customer Reviews
Quality, Value, Responsiveness, Punctuality are the 3 best words to describe Cheers Carpet Cleaning according to their clients. Here's one of the many good words that the company has received, as posted on Google Reviews.
"Outstanding customer service from the moment Elena emailed to confirm. Carpets were treated & cleaned extremely well. Eric was very courteous, extremely hard working & a true professional. Value for money & excellent communication. Miles apart from the other companies I've used over the years!!"
12. Love To Clean
Love to Clean is independently owned and operated professional cleaning service provider currently located in Auckland. Whether it is a residential, commercial, or academic facility, Love To Clean guarantees to deliver a thorough cleaning service.
Their team never fails to go the extra mile in providing the best service that they can thus their consistent 100% customer satisfaction. They also work in flexible schedule so you can set an appointment with them whenever deemed convenient for you.
13. Steamsy Carpet Cleaning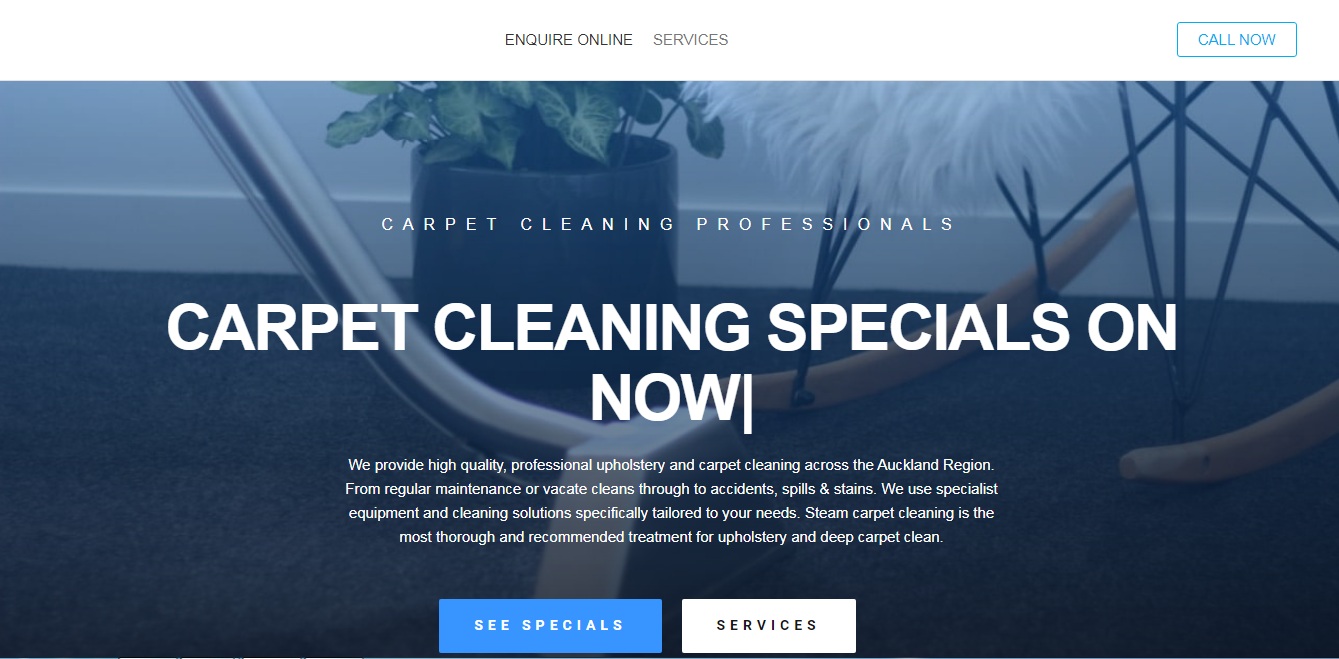 In dire need of a professional help to tidy up your carpet? Do not hesitate to contact Steamsy Carpet Cleaning. They use specialist equipment and cleaning solutions specifically tailored to your needs. From quick carpet cleaning needs to regular maintenance, Steamsy has got one of the best services to offer in Auckland.
Aside from their top-notch cleaning services, they are also applauded for their prompt customer responses which is very important in a client-centric business.
Customer Reviews
Steamsy Carpet Cleaning has quite a lot of regular customers who fully trust their service and that is very evident with the 5.0-rating they got on Google alone. Here's one of the feedback that they received.
"I had my carpets and rugs done by Ben from Steamsy. He did a lovely job! Got rid of the pet odour and they look brand new! Will be using again in the future!"
14. Deep Clean
Deep Clean Services is certified as an expert in cleaning and restoration and has a wide range of cleaning services, from stain removal and home cleaning to water damage & flood restoration. They use top-of-the-line cleaning equipment and techniques backed with their fully experienced team for a guaranteed 100% customer satisfaction.
You can also rely on them for emergency callout cleaning service for carpets & upholstery, plus they offer truly competitive rates so you get the best value for money when you hire Deep Clean Services.
15. 1st Alert Carpet Cleaning
1st Carpet Cleaning is owned by Craig McGregor, a professional with more than 30 years of experience in the industry and committed to bring you the finest carpet cleaning services that you will ever find in Auckland. Their company offers an extensive range of both residential and commercial carpet and upholstery cleaning services, using their innovative cleaning technologies, backed with their team of well-trained and highly professional cleaners.
Plus, get a chance to avail their online special! All you have to do is mention their web site when booking your carpet cleaning in Auckland and receive every 5th room or every 5th seat cleaned absolutely FREE. Great deal, right?
CUSTOMER REVIEWS
The company is praised for their truly reliable and efficient work, no wonder they are rated 4.9 in Google Reviews alone and continuously getting positive feedback from their clients. Here's one of the many wonderful feedback that they got.
"Craig did a terrific job in our office. He was efficient, turned up quickly, removed a lot of the excess water before putting in his heaters/blowers. Craig knew exactly what needed to be done and using his tools and devices, gave me the reassurance, all would be back to normal within 1-2 days. I highly recommend him."
16. JAE Auckland West & Central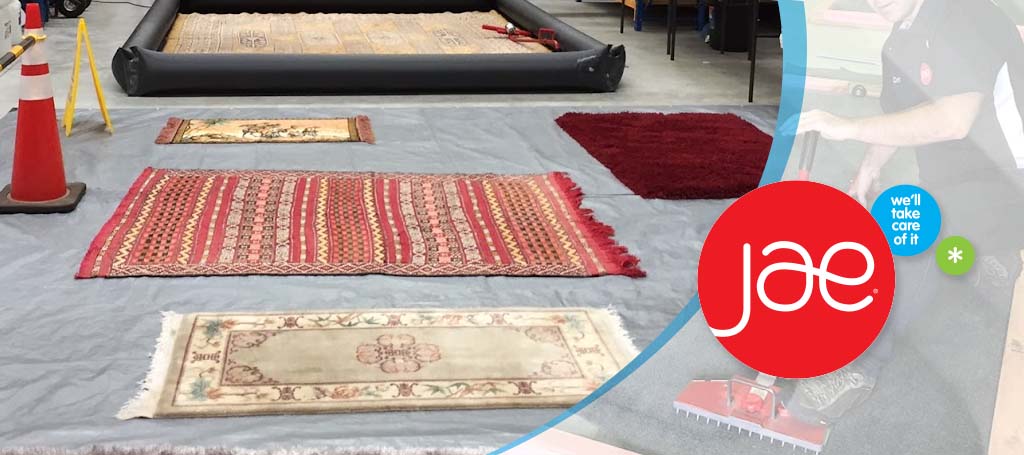 Clive and Mary Hodgson who run JAE Auckland West & Central lead a fast and efficient team that will keep your house's carpets looking prim and proper.
Not only that but they also eliminate the pests that could spread diseases. This fosters a comfortable and healthier environment for you, your family, and guests.
They even guide you each step of the way to make sure they accomplish what you and the cleaner both agreed on. Hence, it's one of your best options for carpet cleaning in Auckland.
Customer Reviews
They have a surfeit of happy customers on the Web. Ruth Dewerson writes a 5 star review:
'Always very friendly and professional staff. I have used Jae a number of times and they are awesome. I have 2 kids that seem to throw their food around and the carpet was a mess. It is fantastic now, super clean and I'm very happy with the results. Matt did the job and he was really nice and even gave me some spot cleaner. Will use again.'
17. New Zealand Restoration Services
The NZRS aims to provide restoration services all around New Zealand. They boast more than 50 years of experience in the industry.
They have a unique range of services to offer to their clients. Some of these include Asbestos Removal, Damage Treatment, Mould Treatment, and more.
Their qualified technicians are always on-call, no matter the time of day. If you're in a pinch and in need of emergency removals or restorations, you can rest assured that the NZRS will be able to assist you quickly.
18. Alex Cleaning Solutions
Dubbed as Auckland's number one best carpet cleaner, Alex Cleaning Solutions prides themselves in generating solutions that include the overall look and cleanliness of carpets.
Don't worry about harmful chemicals that can affect you, your kids, or your pets, as the company only uses environmentally friendly materials that still ensure great quality, aside from the safety of their clients.
Aside from carpets, they also offer services for general needs in residential and commercial places such as mattress cleaning, interior boat cleaning, and the likes.
Customer Reviews
Here's a Google review written by Michelle Hopson:
"Alex Cleaning Solutions cleaned our carpets and did a fantastic job. The service was very professional, Alex arrived on time and he did a great job with cleaning our carpets and two rugs. Would highly recommend!"
19. Dan's Property Services
Fast, efficient & honest, Dan's Property Services has become a reputable and well known service provider. Their team is up for every job, big or small, managing projects with the skill and experience their clients have come to expect.
Dan's Property Services operates state-of-the-art, heavy duty carpet cleaning machinery to make your home clean and germ-free. they have experienced technicians specializing in deep clean process based on manufacturer's recommendations for all types of carpets and rugs. Their state-of-the-art machines are powerful enough to remove germs and debris that have been buried in the carpet of your home for years.
20. Carpet Surgeon
Carpet Surgeon has an experienced team of carpet technicians who offer a breadth of services, from cleaning to repatching to flood restoration.
These technicians are equipped with years of experience, a wide range of skills, and cutting-edge technology that helps bring back carpets to their former glorious states. They offer eco-friendly and non-allergic options for carpet cleaning work.
Formed on the basis of respect, trust, and reliability, Carpet Surgeon is one of the best options for carpet care, given the fact that the company offers services that are second to none.
Moreover, they provide excellent customer service, with each and every technician taking great care to be professional, friendly, and prompt at all times.
---
That wraps it up for our best options for carpet cleaning in Auckland! If your carpet hasn't been washed for a while, just follow the links provided, and book online today with one of these pro cleaners.
For DIY carpet cleaning though, you can check out our article for the best vacuum cleaners in New Zealand instead. Although it's not as good as getting the pros to do it, it's a start!