Image Credit: Pixabay
Carpets make your home elegant and cosy, but to clean them thoroughly will take more than just vacuuming. With this, we have rounded up the best carpet cleaning services in Christchurch to guide you.
A carpet often has to suffer sodden and dirty shoes or crumbs and spills of all kinds. And add to that the natural dust that lands on it — and your pets constantly lounging there too.
A carpet cleaner is skilled and trained in getting your carpet spick and span without damaging it. Also he can apply a deodoriser to neutralise the odour that dirt and germs cause and power extract those contaminants out of your carpet.
There are a lot of carpet cleaners in Christchurch. But you should look for qualified cleaners with modern equipment and (of course!) a friendly and approachable personality.
If you need some carpet cleaning done, just look for these carpet cleaners we've listed. Without delaying any longer, we now present Christchurch's best carpet cleaning services to keep your carpets totally clean and fresh.
1.  Extreme Carpet Cleaning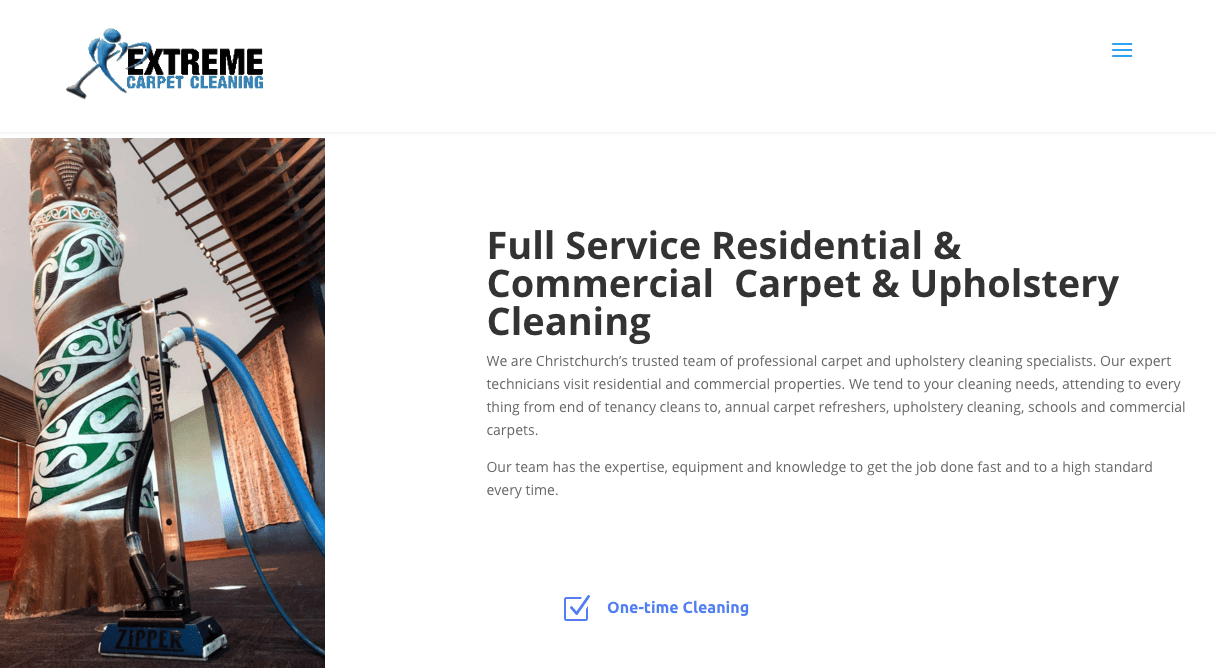 | | |
| --- | --- |
| Best for | Lower Rates for Carpet Cleaning Services |
| Services | Carpet and Upholstery Cleaning for Offices and Home Locations |
| Address | 3/469 Tuam Street, Christchurch 8011 |
| Contact Number | 03 390 1299 or 022 160 2598 |
| Website | https://www.extremecarpetcleaning.co.nz/ |
Need to clean up the office carpets that surround your room? Book with Extreme Carpet Cleaning for a price lower than rivals.
Extreme Carpet Cleaning has done work for offices, homes, schools, and lodging places. Along with specialist equipment, they use materials that are safe for people, pets, and environment.
Located in Tuam Street Christchurch, the business is owned by Eamonn Ford. The cleaning they do is effective and prompt, and completely professional.
Prices start at NZ$110 for two rooms, which is the minimum charge. Note that an open living and dining area will account for a price equivalent to two rooms, while dining and lounge seats cost NZ$7.50 and NZ$45 respectively.
2.  Carpet Care Solutions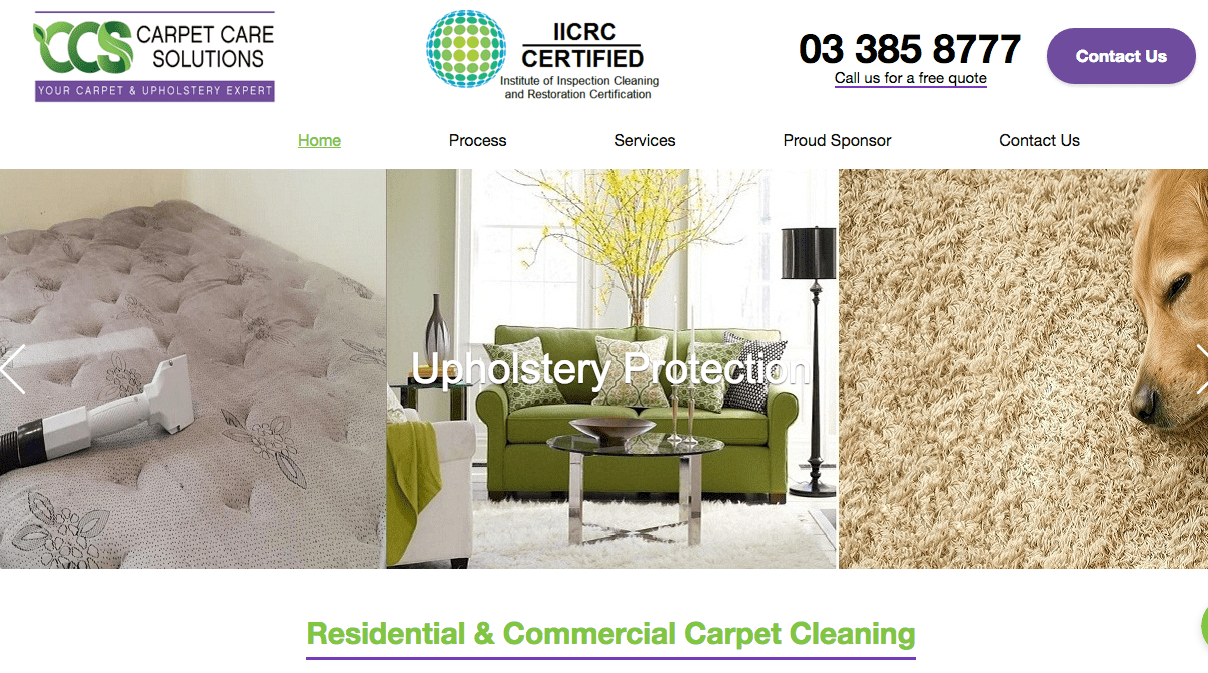 Best for
All-Around Cleaning for Your Home
Services
Thorough Cleaning, Stain Removal, Upholstery Cleaning, Rug Cleaning, Odour Control, Flotex Cleaning, Mattress Cleaning, Carpet and Upholstery Protection, Tiles Cleaning, Vinyl Cleaning, and Driveway Cleaning
Address
12 Philpotts Road, Mairehau Christchurch 8052

Canterbury, NZ

Contact Number
03 385 8777
Website
https://www.carpetcaresolutions.co.nz/
Save time and effort by leaving your carpet and upholstery cleanup to the masters — leave it to Carpet Care Solutions. They use the latest equipment and eco-friendly chemicals to get the job done.
You will be dealing with IICRC certified cleaners, which means they know the best way to handle your carpet. They conduct the industry-leading 7-step method from inspection and extraction to the rinsing and drying for a thorough cleaning.
Their offerings include cleaning for carpets, rugs, tiles, upholstery, mattresses, and driveways. They also offer a protective covering for your carpets to keep off contaminants and slow down the wear and tear at the same time.
Carpet Care Solutions serves all areas in Christchurch, whether business or residential and has been around for over 15 years.
If you're looking for the best carpet cleaning services in Christchurch, Carpet Care Solutions is definitely one of them!
3.  Sun Carpet Cleaning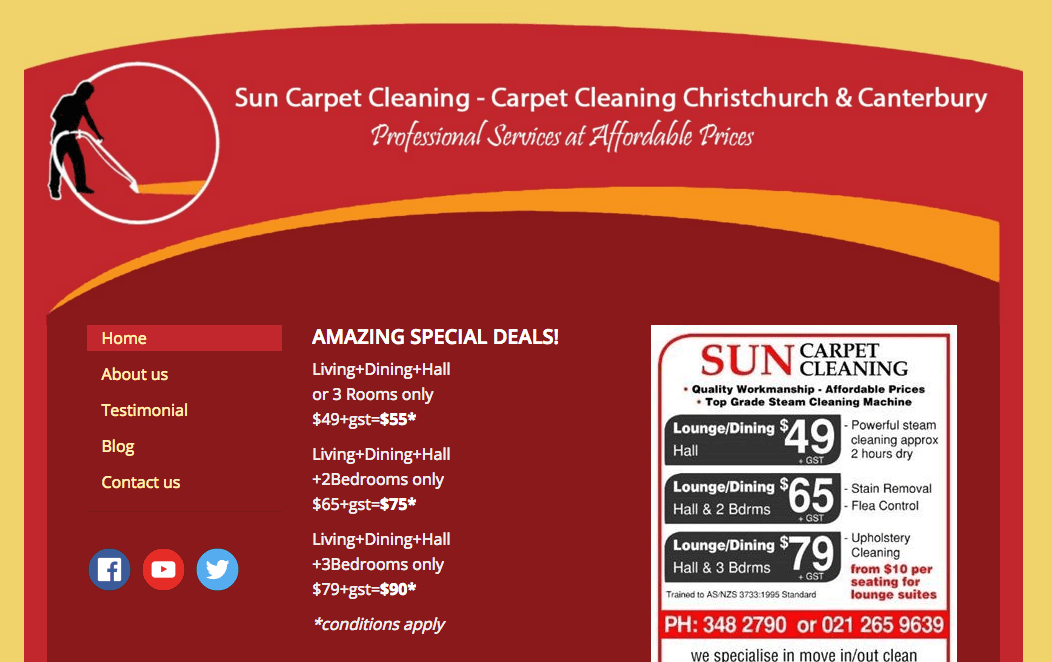 | | |
| --- | --- |
| Best for | Affordable and Efficient Cleaning Service |
| Services | Carpet, Rug, Upholstery, Move-In, Move-Out Cleaning for Residences |
| Address | 40 Radbrook Street, Avonhead, Christchurch 8042, New Zealand |
| Contact Number | 03 348 2790 or 0212 659 639 |
| Website | https://suncarpetcleaningservices.co.nz/ |
Sun Carpet Cleaning is a Canterbury-based carpet specialist with affordable deals. It's been around for a decade now — having experience with all sorts of carpet cleaning messes.
Its uses Deep Steam cleaning as its main method to extract as much as 80% of the moisture found in the carpet, taking away odours and the small harmful particles.
A dirty carpet is a potential health hazard, and that's what they've set out to clean or repair. Regardless if there's dog pee on yours or you merely want to maintain it, Sun Carpet has you covered.
Many customers from Google Reviews have been happy and impressed by the service of Sun Carpet Cleaning, though to be frank, their services are more on the simple and straightforward side.
However, most of their clients like that they are very friendly and knowledgeable, show up on time, and get things done 'to a high standard', as one mentioned.
4.  Christchurch Cleaning Services
| | |
| --- | --- |
| Best for | Cleaning Higher Than the Bar and Having a Trustworthy Staff |
| Services | Carpet Cleaning, Residential and Commercial Cleaning, Move Out and Spring Cleans |
| Address | 9 Fairmont Place, Hornby, Christchurch 8042, New Zealand |
| Contact Number | 0800 287 923 or 027 294 2500 |
| Website | https://busybees.co.nz/christchurch-cleaning-services/ |
Usually carpet cleaning is not the only cleaning you need done — you also have windows, walls, out-of-reach places and the like. In that case, we recommend Christchurch Cleaning Services.
There's no fear even if your carpets are the size of the room as they are professionals when it comes to steam equipment and stain treatment. They'll be sure to leave your space with a clean sparkle.
They have branches all over the country and specialise in cleaning schools, cinemas, retail stores, sports centres, motels, homes, and offices. They've been making Kiwi homes healthier and more comfortable ever since 1993.
They've also received a lot of customer praise for the staff being professional and trustworthy, as they clean everything around the house. That's why they deserve to be in the list of the best carpet cleaning services in Christchurch.
In fact, in Target it was given a score of 10 out of 10 for punctuality, excellent work, cleaning equipment, and hygiene although it had a much more expensive price than other companies.
5.  Action Carpet Cleaning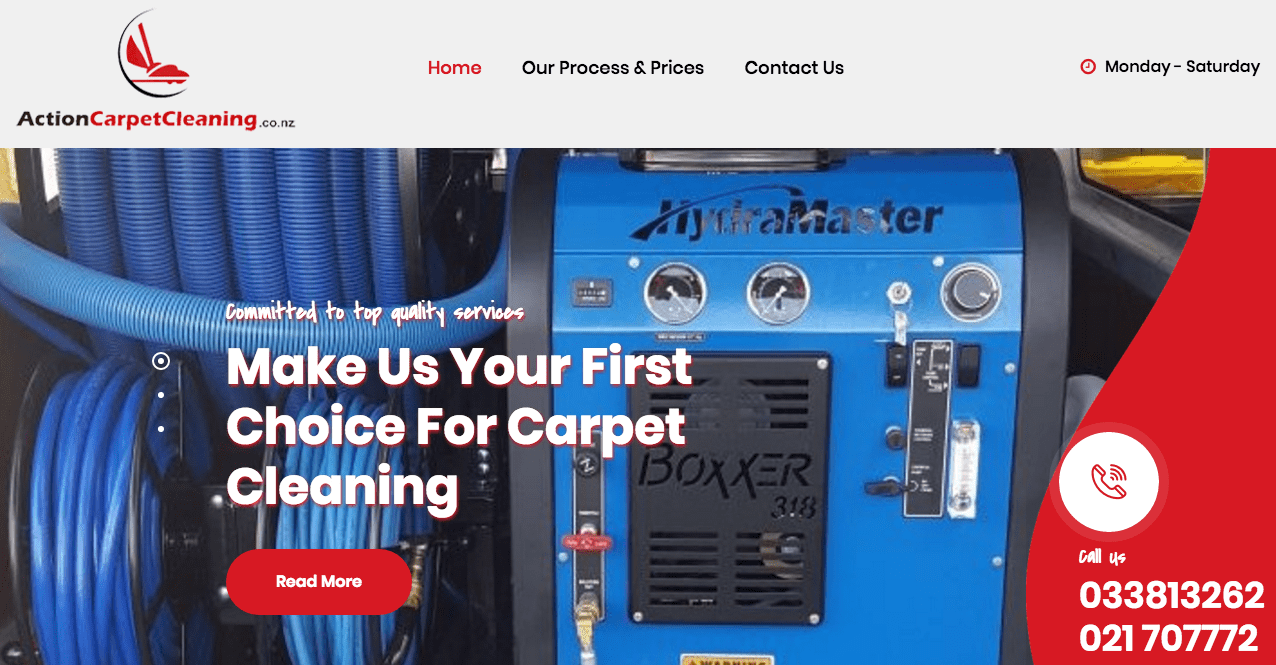 | | |
| --- | --- |
| Best for | Small-Scale Commercial or Home Cleaning |
| Services | Steam Extraction and Carpet Cleaning, Upholstery Cleaning, Power Scrubbing and Pile Lifting |
| Address | 478 Gloucester Street, Linwood, Christchurch 8011, New Zealand |
| Contact Number | 033 813 262 or 021 707 772 |
| Website | https://www.actioncarpetcleaning.co.nz/ |
Action Carpet Cleaning is a small business that has more than 30 years of experience in the business. Your carpets will be cleaned to the highest standard, as said by owner Ray Smith.
Its main services include carpet and upholstery cleaning, and also power scrubbing and pile lifting to remove a carpet's soiled appearance and get it ready for steam cleaning.
Generally, the method involves an inspection, pre-vacuum, and pre-spray then extraction using the heavy-duty truck-mounted steam machine to produce hot water for the cleaning.
Many customers state that Ray was polite, efficient, and the cleaning job was wonderful. For landlords, businesses, and homeowners, this is one of the best carpet cleaning services in Christchurch.
Anyway, that's it for the best carpet cleaning services in Christchurch. To keep your carpets clean and long-lasting, make sure to give them a regular cleaning or maintenance through these cleaners we recommended.
So, what did you think of these veteran carpet cleaners? If you have a question for us, feel free to tell us by writing it in the comment section and we'll get back to you as soon as we can.
Also, since we featured about Christchurch cleaners, we also have an article about the same subject for those living in Auckland. That said, you can also check out our best carpet cleaners in Auckland.