5 Best Carpet Repair Services in Christchurch
Carpets get their share of wear and tear or damage over time. But rather than replace them, you can save money by repairing them instead, and so we bring you the best carpet repair services in Christchurch.
It is unavoidable sometimes that our carpets get damaged. These occur because of things like dropping a lit cigarette, laying a hot glue gun on them, or having a pet scratch the carpet.
What you can do then is to patch them to cover up for those spots. When experts do it, the result will be incredible… as the patch is almost invisible to the naked eye as though nothing had happened.
Want to know where to go for such services? We'll show you, as we'll give you our list of the best carpet repair services in Christchurch!
1)  Carpet Cleaning Christchurch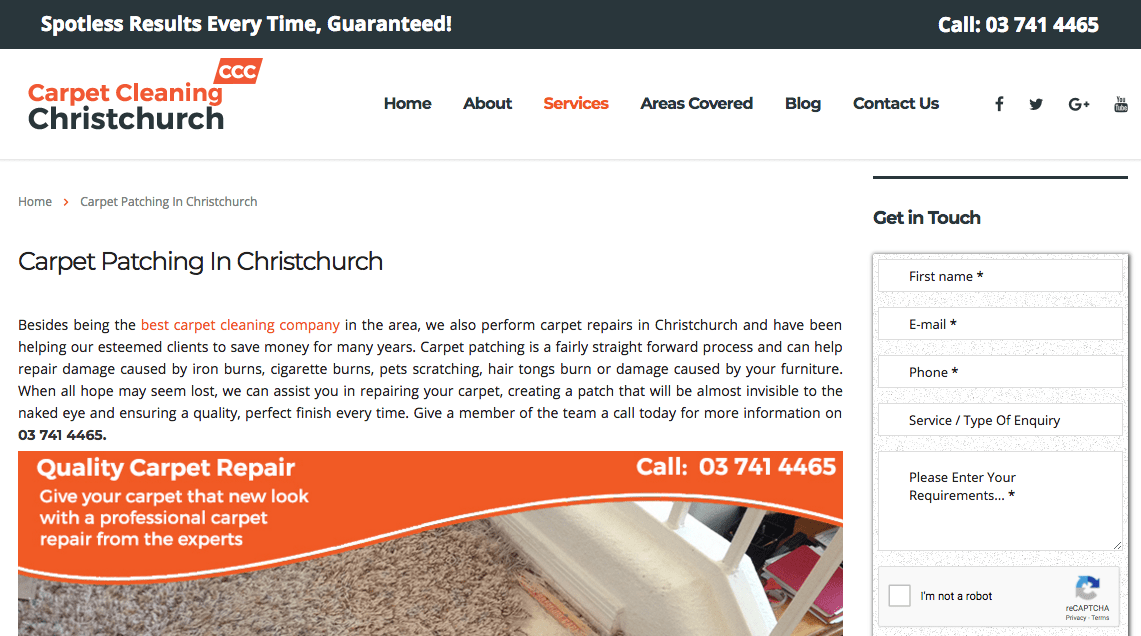 | | |
| --- | --- |
| BEST FOR  | Low Prices and Same-Day Service |
| SERVICES | Carpet Patching, Carpet Stretching, Carpet Cleaning |
| WEBSITE | https://bit.ly/38eQQH0 |
| ADDRESS | Christchurch, New Zealand |
| CONTACT DETAILS | 03 741 4465 |
| OPERATING HOURS | Monday to Friday: 8.30am – 5.30pm |
When it comes to your carpet cleaning needs, CCC or Carpet Cleaning Christchurch offers low prices and same-day service.
Burns on your carpet throwing off your decor? They have a carpet patching service that covers up those scorched and barren areas to the point that family members or guests won't even notice.
Your carpets from years of use may also sustain rips or tears, especially when they've endured lots of activity and movement. And this can be dangerous as kids and seniors might trip on them.
The team of Carpet Cleaning Christchurch are trained to repair carpets, whether they need to be patched or stretched. They will give you advice and the best solution for your carpet.
Highlights
Excellent Carpet repair service
Offers low prices and same-day service
Highly trained team
2)  HG Solutions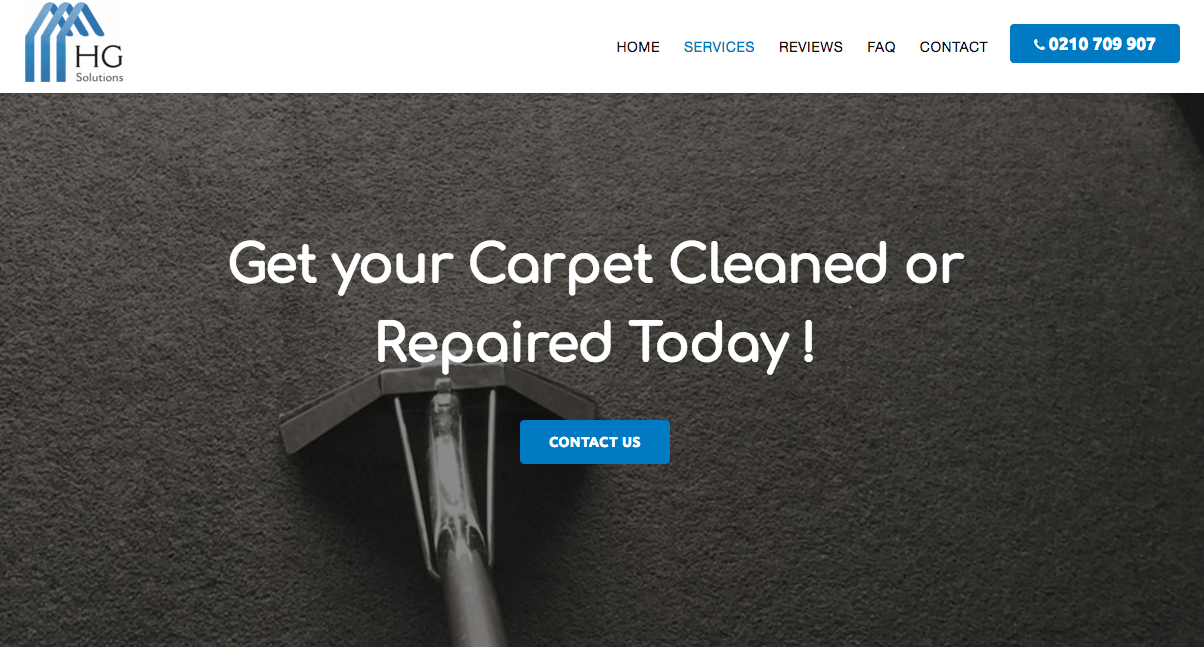 BEST FOR 
Experienced and Trustworthy Staff
SERVICES
Carpet Repairs, Carpet Stretching, Uplift and Relays, Carpet Cleaning
WEBSITE
https://hgsolutions.co.nz/
ADDRESS
Christchurch, New Zealand
CONTACT DETAILS

0210 709 907

OPERATING HOURS
Monday, Thursday and Friday: 8am – 6pm

Tuesday: 8am – 5pm

Wednesday: Closed

Saturday: 1pm – 5pm
No matter what condition your carpet is in, HG Solutions will do an excellent job to make your carpet look like new again. Their strong points are their experience and trustworthy staff.
They will repair the tears or beetle bites on the carpet by using leftover or spare carpet cloth from your place. You will surely be blown away by the post-repair improvement.
Prices start at NZ$148 per 30cm of carpet repair. And they also provide cleaning services so that your carpet will not only be repaired but will also be neater and healthier for everyone at home.
HG Solutions has been serving the Christchurch area for over 15 years, giving fair prices that return good value to customers.
Thus, this is one of the best carpet repair services in Christchurch.
Highlights
Experienced and trustworthy staff
Serving Christchurch community for over 15 years
Results in a neater and healthier carpet
Customer Reviews
Kate Herriott, one customer, said on Facebook:
"Highly recommend Hamish.
He stretched some carpet for us in three rooms. His communication was excellent and the job was completed within the timeframe and price discussed.
I wouldn't hesitate to use his carpet services again."
3)  Don Hobbs Flooring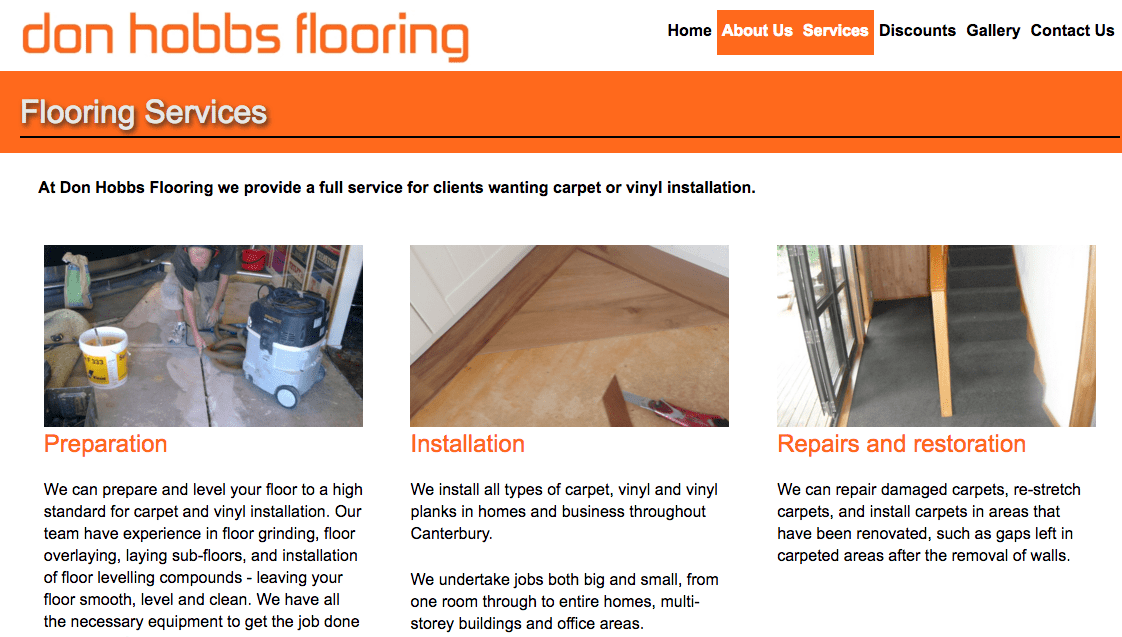 | | |
| --- | --- |
| BEST FOR  | One-Stop Shop for Flooring or Carpet Needs |
| SERVICES | Carpet Repairs and Restoration, Carpet Installation, Carpet Floor Preparation |
| WEBSITE | https://dhflooring.co.nz/services |
| ADDRESS | 22 Helanca Ave, Wainoni, Christchurch 8061, New Zealand |
| CONTACT DETAILS | 03 389 7992 or 021 320 836 |
| OPERATING HOURS | Monday to Friday: 8am – 4pm |
Don Hobbs Flooring is your one-stop shop for flooring or carpet needs. This is yet again one of the best carpet repair services in Christchurch with a committed and hardworking team.
It is locally owned and operated by Don Hobbs, who is certified for doing flooring or carpet work. The team members have a total of 30 years of experience, assuring their work will be of the highest quality.
They repair carpet damage, burns, and ripped sections skillfully, along with stretching carpets. You can source carpet and flooring products from them too at a discounted price.
To see what products are available, you can either call them or visit their warehouse at Helanca Avenue in Wainoni, Christchurch.
Highlights
High quality carpet repair
Total of 30 years of experience
Offers a range of carpet and flooring services
Customer Reviews
D & G Hansen, one client, said on Google Business:
"Awesome service high quality workmanship and great price highly recommended."
4)  Canterbury Carpet Company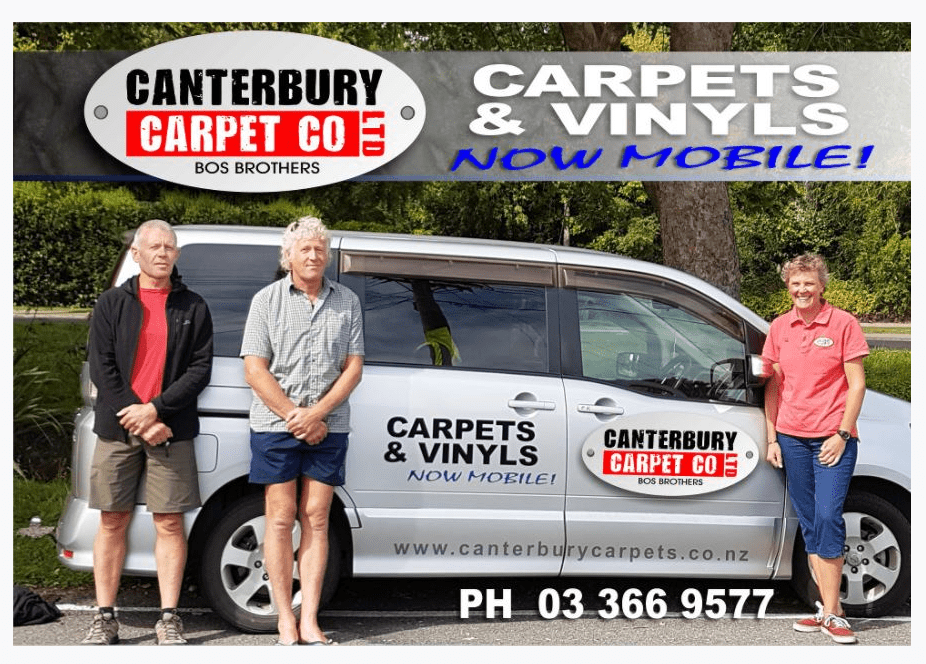 | | |
| --- | --- |
| BEST FOR  | Can-Do Attitude and Service with a Smile |
| SERVICES | Carpet Repairs, Carpet Installation |
| WEBSITE | http://www.canterburycarpets.co.nz/ |
| ADDRESS | Christchurch, New Zealand |
| CONTACT DETAILS | 03 366 9577 |
| OPERATING HOURS | Monday to Friday: 9am – 12pm |
A carpet repair service with a positive attitude and a smile is what you'll find with Canterbury Carpet Company. It is presently owned by Peter and Michael Bos and has been there for more than 25 years.
So that you can have your carpet repaired, you will need to have spare fabric. That's what they will use to patch the problem area with.
In other circumstances, the Bos brothers can pretty much stretch and re-lay your carpet or work on it if it is stained badly.
They also sell Kiwi and UK brands including Robert Malcolm, Belgotex, Polyflor, Norman Ellison, and Dunlop to furnish your rooms, pantry, hallways, and the like.
Highlights
Can-do attitude and service with a smile
Family owned business
Over 25 years of service
Sell Kiwi and UK branded products
5)  JAE Christchurch East and South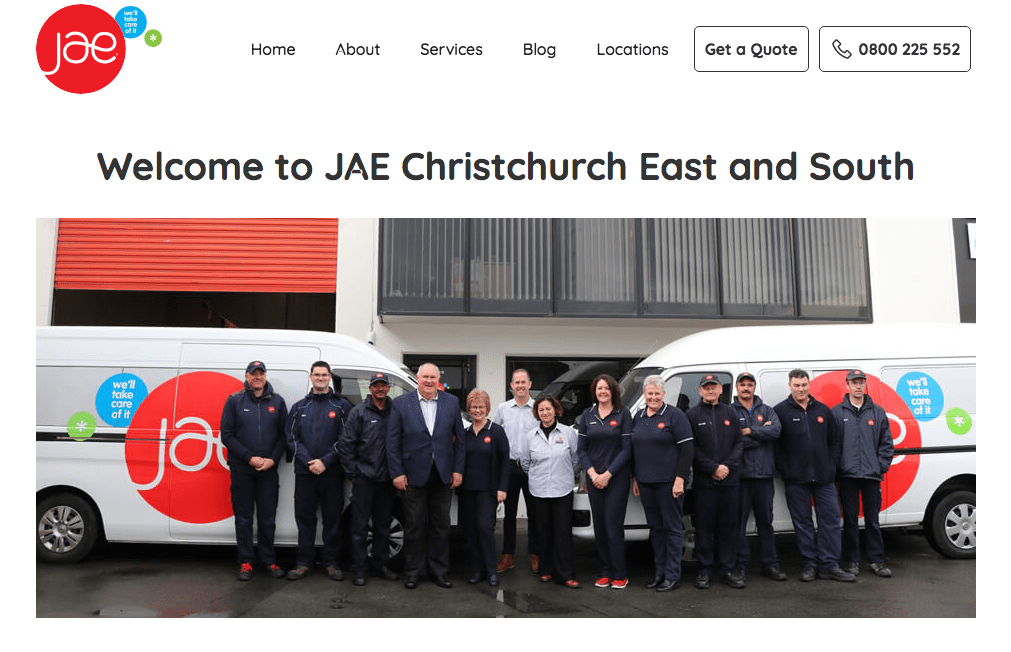 | | |
| --- | --- |
| BEST FOR  | Superb Customer Service |
| SERVICES | Carpet Cleaning, Stain Removal, Carpet Stretching, Flood Restoration |
| WEBSITE | https://bit.ly/2wls9v6 |
| ADDRESS | 124D Wordsworth St, Sydenham, Christchurch, 8023, New Zealand |
| CONTACT DETAILS | 0800 225 552 |
| OPERATING HOURS | Monday to Friday: 8am – 5pm |
JAE is the go-to carpet and upholstery company in New Zealand. For half a century, it's been delivering ace quality through modern equipment and superb customer service to its clients.
Whether your carpet needs to be deep-cleaned, stretched, or restored, you can expect a job well done. The staff members are all IICRC-certified to clean your carpets too.
It currently has 35 branches dotted across New Zealand, which tells you of their prestige and success as a company.
JAE Christchurch East and South covers far-reaching areas from the city centre, including Lyttelton, Greendale, and Akaroa, located on the easternmost end.
Highlights
Superb customer service
Modern equipment
Has 35 branches across New Zealand
Customer Reviews
Nicola Robinson, one customer, wrote on Google Business:
"The day we moved into our new home, the hot water tank burst which caused a significant amount of water to flood our hallway and my son's bedroom. Jae were contacted by our insurers and dried and cleaned all the carpet and walls that were affected. Ben from Jae was incredibly helpful and supportive through the few days it took for the work to be done. Ben and Jae's admin staff were very friendly and professional and were in contact throughout, ensuring the work was done around our family life. Through what was a very stressful time, Jae made me feel well looked after and confident that everything would be finished to the highest standard and it was. We are so grateful to them."
---
Anyway, that's it for the best carpet repair services in Christchurch. Once you find a carpet to be uneven, call these repairers — as the floor underneath can be damaged by people stepping on the uneven carpet.
Do you have any questions about the carpet services we listed? Let us know by sending us a message and we will get back to you.
By the way, as you know, carpet and upholstery requires maintenance a few times during the year. For that, you can check out our list of the best upholstery cleaning in Christchurch, as they also do carpet cleaning.
Or you can also read the best carpet cleaning services in Christchurch for a thorough cleaning of your flooring. These services will make your carpet look, feel, and smell new again!