Nothing is better than great food being served at a very important event. If that's what you're here for, right on cue, as here we gathered the best catering Auckland services.
We've looked for catering services that will deliver A+ chef-quality food, a variety of delights, with helpful and friendly staff to accomodate guests at the venue.
So now, feel free to take a look at some of the best catering Auckland services that are just one call away!
1)  Southern Spit Roast & BBQ Catering
| | |
| --- | --- |
| Best for | Spit-Roasted Menus |
| Services | Wedding Catering, Spit Roast Menu, Delivered Catering |
| Address | 14 Westbrook Avenue, Takanini, Auckland 2105, New Zealand |
| Contact no | 0800 277 487 |
| Website | https://southernspitroast.co.nz/ |
Savour the rich and succulent flavour of spit-roast meats for birthdays, weddings, or corporal events. Just order from Southern Spit Roast & BBQ Catering from Auckland.
Only the freshest meats and vegetables are used. The leafy salads and vegetables come straight from the market to not only ensure a great taste, but keep them healthy for you too!
Their courteous and uniformed staff will take care of everything from delivering the food to tidying up everything afterwards.
Highlights
Succulent and delicious spit-roast meats
Excellently cooked and made
Caters to you from anywhere in the North Island
Great staff who will serve the meals
Customer Reviews 
Southern Spit Roast & BBQ Catering garnered 4.8 stars from 90 reviewers from Google Business. Owen Harrison wrote:
"Fantastic food and amazing staff. Lisa and Louiza were brilliant on the night and everyone raved about the delicious food. Can't recommend the team at Southern Spit Roast highly enough."
2)  Free Range Chef
| | |
| --- | --- |
| Best for | Bespoke Catering Service |
| Services | Weddings, Private Chef Experience, and Land Air Sea Catering |
| Address |  1 Rocklands Avenue, Mount Eden, Auckland 1024, New Zealand |
| Contact no | 0210 240 8042 or 021 128 2240 |
| Website | https://www.freerangechef.co.nz/ |
Free Range Chef tailors cuisine to suit your tastes and preferences. Whether it's a wedding, weekend yacht party, or fine dining in the comfort of your home, they have you covered!
Stephen and his team have culinary expertise, attention to detail, and creativity enough to make each occasion special for you and your guests. They have a selection of food to choose from like canapes, tapas, paella, vegetables, and lamb.
Seasonal, scrumptious, and healthy — the food is the type you'll remember long after you've devoured it. And that makes them this caterer one of the best catering Auckland services.
Highlights
Personalised menu
Excellent gourmet menu
Cooked by masterful chefs
Has healthy food to offer
Customer Reviews
As posted on Free Range Chef's website, Julie Gillingham writes:
"We had the amazing team at Free Range Chef look after our wedding! For start to finish it was perfect, everything we asked for and more! From the cake made from cheese wheels, to the tacos, fish n chips and the delightful desserts including a Canadian classic butter tarts perfectly recreated!"
3)  Dawsons Catering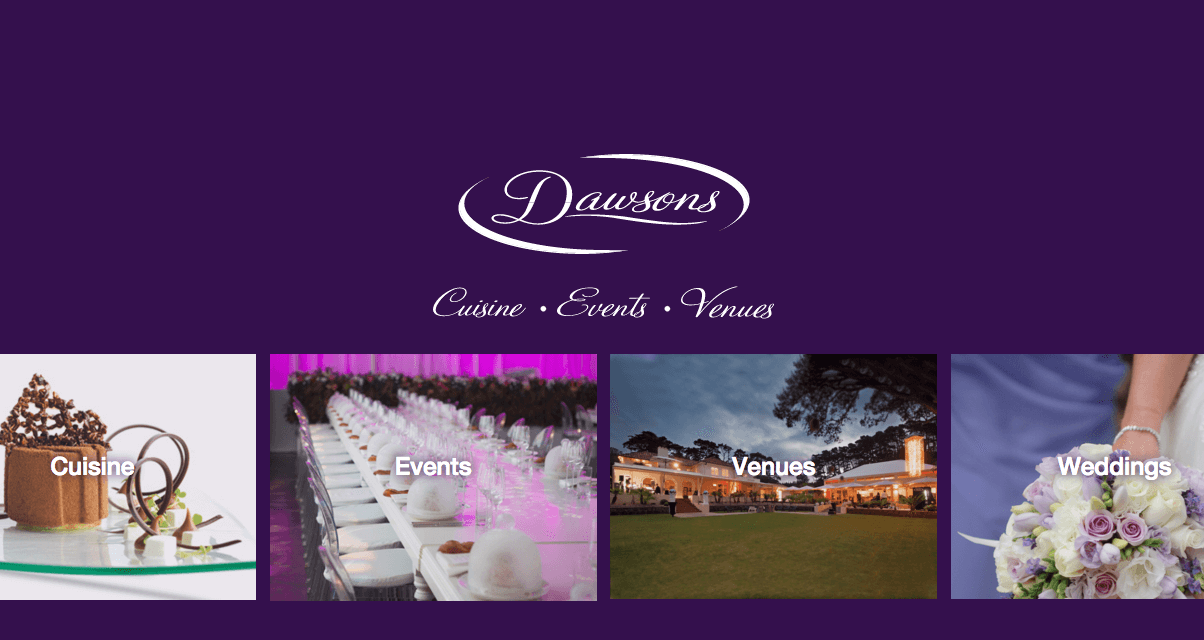 | | |
| --- | --- |
| Best for | Stress-Free Catering Service |
| Services | Cuisine, Events, Venues, and Weddings |
| Address | 3 Fenton Street, Eden Terrace, Auckland, New Zealand |
| Contact no | (09) 374 0901 |
| Website | http://www.dawsons.co.nz/ |
Let the team worry about everything else while you simply enjoy the food and your big day. Such is the offer of Dawsons Catering, with super-good food made from sustainable methods.
Their menu actually changes from one season to another because they prefer to keep things fresh. You have to try out their hors d'oeuvres and snack platters as these are their specialties.
Their staff can arrange everything for you such as the theme, ambiance, and of course, the main course. Moreover, they can suggest fabulous venues in Auckland for you as well.
Highlights
Delicious and sustainable meals
Hassle-free experience
Hors d'oeuvre specialty
Can assist you in setting up the event
Customer Reviews 
Here's what Bex Kerrigan said from Google Business:
"I recently inquired with Dawsons for my client's event. Sent them my brief and budget they arranged a suitable quote within 48 hours. The service and food we received for the event exceeded expectations and the client was thrilled! Thanks team :)"
4)  Loaves & Fishes
| | |
| --- | --- |
| Best for | Affordable Prices |
| Services | Finger Food/Canapes, Lunch, Morning, and Afternoon Tea,  Buffet, Christmas, School, and Summer Catering |
| Address | 570 Te Atatu Road, Te Atatu Peninsula, Auckland, 0610, New Zealand |
| Contact no | 021729347 |
| Website | https://loavesandfishes.co.nz/ |
Loaves and Fishes is another of the best catering Auckland services. While the prices are lower than most others, the food is fantastic and beautifully presented with more than enough portions.
With the variety of foods on their menu, you are spoilt for choice! Some of the popular options are Asian noodle salad, Greek salad, whole baked ham, or lentil and walnut lasagna.
It's also good to note that they only use free-range products for their chicken, meat, and eggs. This way, you will be able to enjoy your food more, knowing sustainable practices were implemented.
Highlights
Affordable prices
Tasty and nicely presented food
Large variety of choices
Customer Reviews 
Jeanette Cole from Laidlaw College wrote a review as posted on the Loaves & Fishes website:
" Thank you for the beautiful food and excellent service; we received many compliments from the delegates in regards to the high quality of the catering (with many folk going back for 2nd and 3rd helpings!!). You definitely had a hand in making sure the event was successful."
5)  Catering Catering Ltd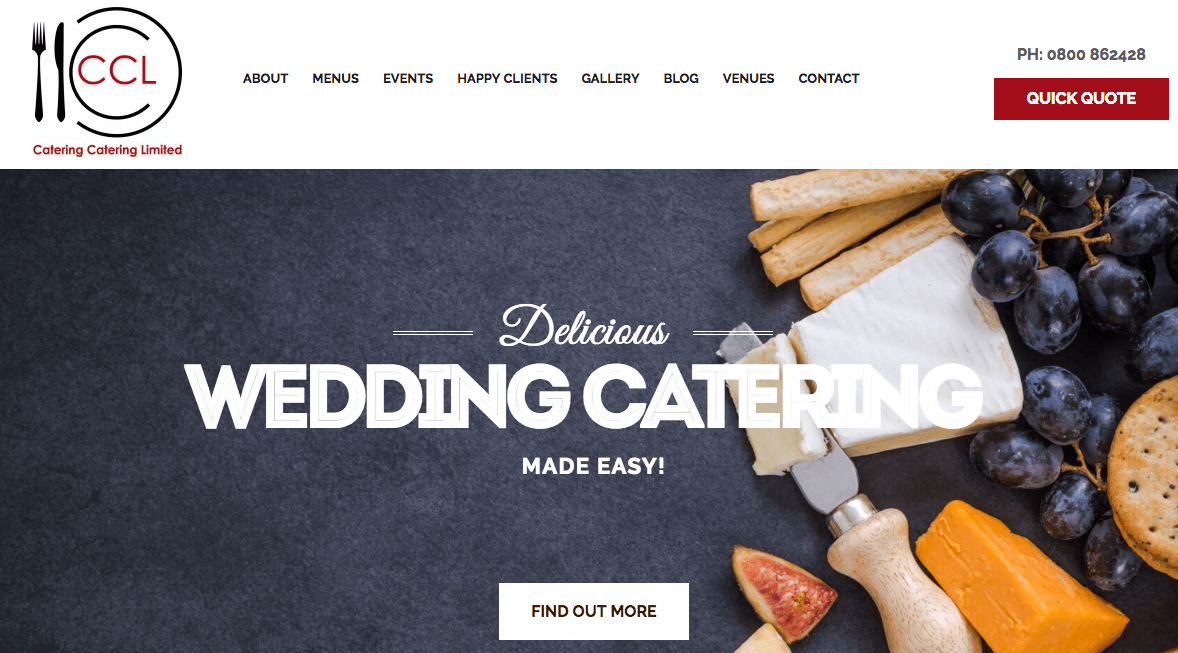 | | |
| --- | --- |
| Best for | Flavourful Spit Roast |
| Services | Corporate Catering, Wedding Catering, Spit Roast Catering, BBQ Catering, Private Parties, and Christmas Parties |
| Address | 1/23 Ashfield Road Glenfield, Auckland, New Zealand |
| Contact no | 0800 862428 |
| Website | https://cateringcatering.co.nz/ |
For just about any event or venue, Catering Catering is a superb choice. You get an amazing price for larger portions and delicious and mouthwatering food.
They always have been spit-roast masters who use only the finest ingredients and meat. It can be chicken, beef, lamb, ham, and pork — you'll get something richly succulent and delicious, for sure.
For another beloved Kiwi indulgence, we suggest the lamb French cutlet, which is unbeatable in taste. Moreover, you can have a Gourmet BBQ or Summertime BBQ.
Catering Catering is Food Safety Grade certified (with the highest score of A) from Auckland Council. That makes them one of the best catering Auckland services.
Highlights
Succulent and excellent spit roasts
Lots of food to choose from
Delivers to any venue or event
Food Safety Grade certified
Customer Reviews
On the Happy Clients section from the website, Merissa, said:
"I just wanted to say thank you so much for the catering you did for us last week! It has been a pleasure dealing with you and the lady who dropped off the food and set it all up was awesome. The food as amazing and there was MORE than enough!! So plenty left over for the guys working the weekend which was a bonus. I'm sure the next time we need some catering you'll be our first point of call."
And that's it for the best catering Auckland services. Not only do these companies cook incredible food, but they will make the event enjoyable and perfect for everyone!
Do you have any questions about catering services? If you have one, kindly drop us a line and we'll get back to you in a bit.
Apart from that, you can read about the best food delivery services in Auckland. We have plenty of choices in there if you happen to be hungry and want flavourful food.