The 7 Best Catering Christchurch Services
Ordering flavoursome and suitable food for a birthday celebration or family gathering? We have your back as we're featuring the best catering Christchurch services today!
We carefully chose those who have delectable, creative and clean food to satisfy your hunger pangs. Second, we picked those with quick response and friendly, reliable staff.
Also, we read the client testimonials for these companies. This let us know that we've selected the right ones for this list.
Apart from the event itself, what will delight the guests or diners will be the food. So now, here are the companies that provide the best catering Christchurch services.
1)  The Bespoke Chef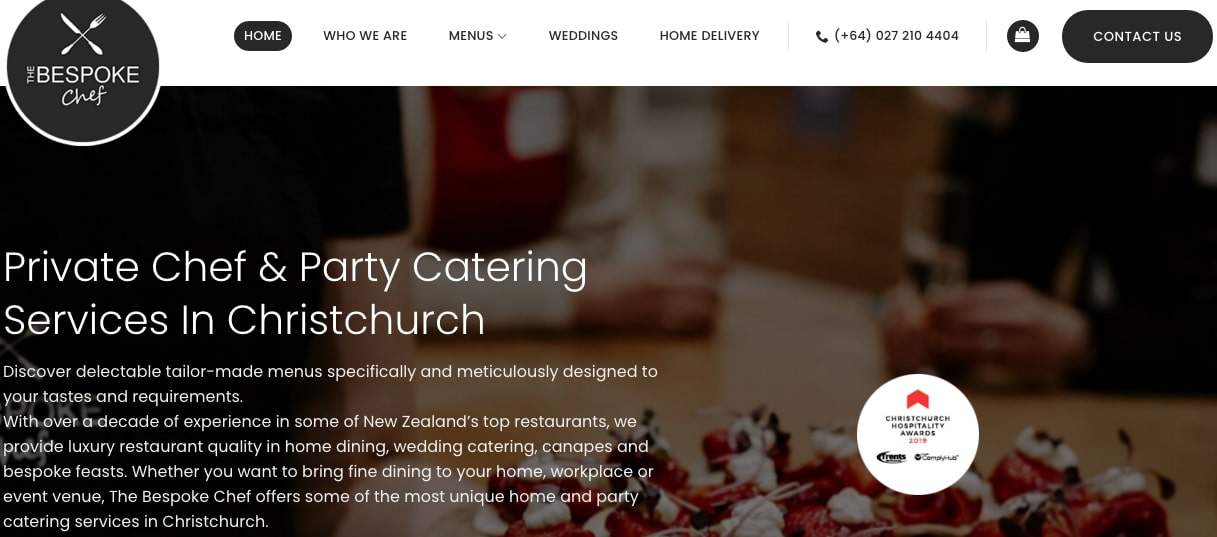 BEST FOR
Luxurious, Restaurant-Quality Meals
SERVICES
In-Home Dining

The Bespoke Feast

Canapé Catering

Sharing Plates

WEBSITE
https://www.thebespokechef.co.nz/
ADDRESS
Highsted Road, Casebrook, Christchurch 8051, New Zealand
CONTACT DETAILS
+64 27 210 4404
OPERATING HOURS
Monday to Sunday: 10am – 9pm
The Bespoke Chef has some of the best catering Christchurch services with divinely delicious restaurant-quality meals catered to your home, workplace or event venue.
The secret behind their success is their remarkable chefs, who use innovative and fresh ingredients for their gourmet food — which comes out artistic and superb in taste.
Their main categories include in-home dining, the bespoke feast, canapé catering, and sharing plates. They can suit these to your preference, budget and dietary requirements.
With them, you'll be able to relax and do what you like, while they prepare and cook food for you and your fam!
Highlights
Specialises in gourmet meal catering
Uses innovative and fresh ingredients
Remarkable chefs
Great menu selection
Customer Reviews 
Let's see Kirsty Brown's feedback on Google:
"I have been really enjoying the new delivery menu that has just been launched by The Bespoke Chef. It has been so nice to come home from work to a lovely nutritious home cooked meal that I can just heat and serve. This week we had the Beef Bourguignon with mash potato and carrots and a cheeky Sticky Date – It was all delicious and the sticky date was next level! We also had a few friends over and enjoyed a Bespoke Feast a few weeks ago! Everyone raved about the food. I would highly recommend the Bespoke Chef to anyone wanting to take the hassle out of putting a delicious and healthy meal on the table for your family! The food is amazing. The delivery service is easy and convenient and the communication is always quick & professional."
2)  Simply Catering

BEST FOR
Flexible to Customers' Needs
SERVICES
Breakfast

Morning Tea Platters

Afternoon Tea Platters

Lunch

WEBSITE
https://www.simplycatering.co.nz/
ADDRESS
8 Export Avenue, Harewood, Christchurch 8051, New Zealand
CONTACT DETAILS
+64 3-359 0018
OPERATING HOURS
Monday to Friday: 7am – 3pm
It's quite rare to find a caterer that puts its customers first, but Simply Catering does just that. Their chefs are multi-cultural and so cook a diverse range of food choices.
They are prepared to adjust to any changes such as with the delivery time, order number and special diets. You can let them know what they can do to make your food or event fantastic.
Also, they use seasonal and fresh ingredients for amazing-quality meals. Their ethos is that food should be enjoyed, which is why they give larger portions and tasty food.
Highlights
Fresh, seasonal and diverse food
Superb customer service
Larger portions 
Customer Reviews 
Here's the review of one customer as posted on the webpage:
"Hi there Richard 
Just letting you know our team were thrilled with their lunchboxes.  Super happy with the contents and the boys were suitably full, our keto eaters were also suitably satisfied.  Kai is a huge part of how we roll here at Te Ora Hou so we thank you."
3)  Munch Me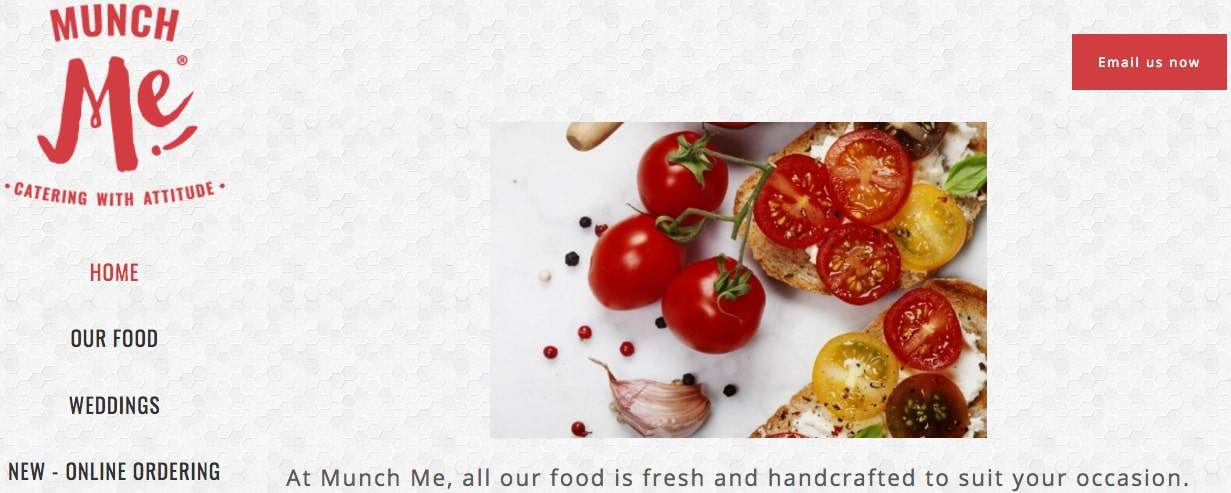 BEST FOR
Excellent Communication
SERVICES
Morning & Afternoon Tea

Cakes & Cupcakes

Lunch

Christmas Lunch Menu

Finger Food Platters

Events

Funerals

WEBSITE
https://www.munchme.co.nz/
ADDRESS
3/650 Ferry Road, Woolston, Christchurch 8023, New Zealand
CONTACT DETAILS
+64 3-390 4427
OPERATING HOURS
Monday to Friday: 8.30am – 4.30pm

Saturday: 8.30am – 12.30pm
Munch Me is a Christchurch-based caterer that provides handcrafted and fresh meals for individuals, gatherings, business events, funerals, parties and the like.
From filling sandwiches to creative platters to smoked salmon on blini, they serve and it's all delicioso. They also have cakes and cupcakes to satisfy your sweet tooth.
The food, however, is not the only reason they have some of the best catering Christchurch services. It's because they have excellent communication and always deliver on time, say their clients.
You can get in touch with them by phone for a no-obligation quote for your upcoming occasion or treat.
Highlights 
Handcrafted and fresh food
Wide selection of meals
Excellent communication
Caters for all occasions
Customer Reviews 
Here's what their clients, Joseph and Elizabeth, wrote on Google:
"I ordered platters for the teachers and children for my sons 2nd birthday to be delivered to the Daycare. From ordering the food via email, paying for it online and to the actual delivery of the order , the communication was excellent, Donovan was always professional, prompt in responding and polite. Delivery was on time and the food was presented well and tasted absolutely delicious and the pricing was reasonable. Highly recommend! Thank you once again Donovan and the team."
4)  Moveable Feasts

BEST FOR
Wedding and Corporate Events
SERVICES
Weddings

Corporate Events

Conferences

Location Events

WEBSITE
https://moveablefeasts.co.nz/
ADDRESS
269 Hills Road, Mairehau, Christchurch 8013, New Zealand
CONTACT DETAILS
+64 3-389 8617
OPERATING HOURS
Monday to Friday: 8.30am – 5pm
Moveable Feasts is a premier Christchurch caterer and event organiser serving exceptional and presentable food for location, corporate, conference and wedding events.
From the planning to the conclusion of your event, they will handle. An event manager will be onsite to make sure your event goes just the way you imagined it.
Their adept and ingenious team will customise a menu based on your brief and will use the freshest and most seasonal ingredients to ensure the best quality.
Sparing you the hassle and stress, Moveable Feasts is sure to make your guests happy and satisfied by offering some of the best catering Christchurch services.
Highlights
Exceptional and presentable food
Customised menu
Full event management
Adept and ingenious team
Stress-free experience
Customer Reviews 
One customer, Bridget Kiesanowski, shared on Google: 
"Moveable feasts catered our wedding at Cossars in January. The food was absolutely sensational and we had so many compliments from our guests. We had shared platters and that worked perfectly with the way Cossars is set out. The team are really responsive and accommodating to our guests. We would highly recommend Moveable feasts to cater your next function!"
5)  Relish Catering

BEST FOR
Extensive Menu Offerings
SERVICES
●     Private Parties and Events

●     Meetings and Conferences

●     Family Functions

●     Engagements, Anniversaries and Birthdays

●     Corporate Events

●     Christmas Parties

●     Award Ceremonies

●     Company Training

●     Funerals

WEBSITE
https://www.relishcatering.co.nz/
ADDRESS
2 Battersea Street, Sydenham, Christchurch 8023, New Zealand
CONTACT DETAILS
+64 21 558 788
OPERATING HOURS
Monday to Friday: 9am – 5pm

Weekends: By arrangement
Since 1998, Relish Catering has been catering commercial and personal occasions throughout Christchurch. They pride themselves on preparing food to a high standard.
The freshest and best ingredients are used for their extensive menu selection. Customers say that the food they ordered from Relish more than satisfied them.
It doesn't matter if it's a simple dinner or large Christmas party, they can cater for you. Special diets can be accommodated to let you enjoy the food without worries.
They cater from Monday to Friday at 9am – 5pm and weekends by arrangement. Remember to order before 11am a day before to give them preparation time.
Highlights 
Delicious and satisfying food
Use the freshest and best ingredients
Special diets can be arranged
Over 20 years' experience 
Customer Review 
Coso Stretch, one client, wrote on Facebook
"I was able to enjoy some of this absolutely delicious food on Saturday during a film shoot. Thank you so much for the absolutely delicious, wonderful food!"
6) Tasteful Affairs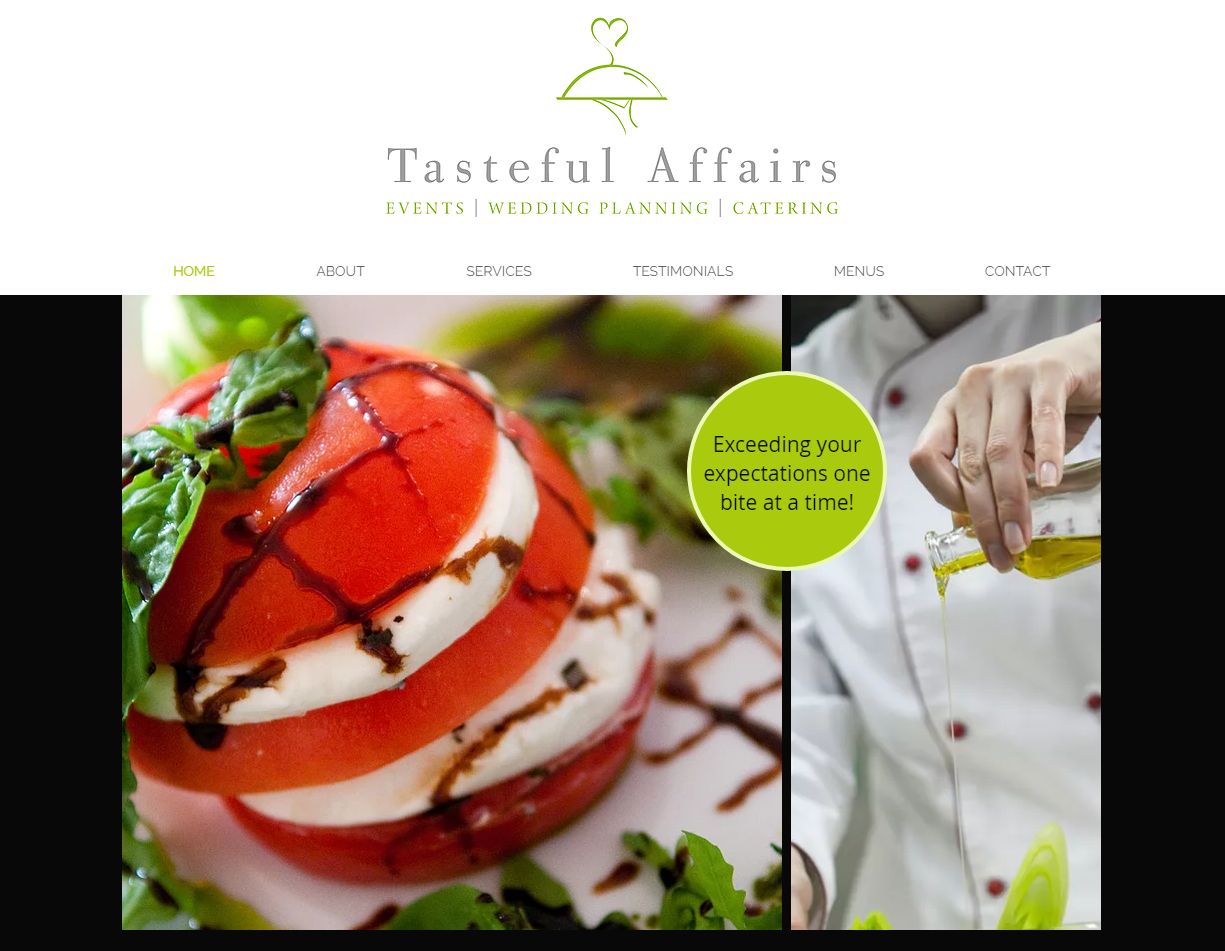 BEST FOR
Extensive Menu Offerings
SERVICES
Events, Wedding Planning, Catering
WEBSITE
https://www.tastefulaffairs.co.nz/
ADDRESS

Rocking Horse Road

Southshore

Christchurch

CONTACT DETAILS

M: 027 253 2616

OPERATING HOURS
By appointment
When it comes to event and wedding catering in Christchurch, it would be remiss not to mention Tasteful Affairs Catering.
Tasteful Affairs Catering strives to help clients achieve the best possible outcome for their parties. The company's main offering is, of course, catering services, with their in-house chef and kitchen staff working closely with clients to tailor a menu that fits the client's taste, budget, and style.
Aside from the customised menu, Tasteful Affairs Catering is also known for the quality of their food. They make use of locally sourced produce and the freshest ingredients, resulting in mouthwatering dishes that are impossible to pass up.
Other services that Tasteful Affairs Catering offers include sweets and desserts, decor, entertainment, and event staff. This is thanks to the company's network of professionals, which allow them to contact professional photographers, florists, pastry chefs, designers, marquees, musicians, and technicians to help out with clients' weddings and parties.
Highlights 
Personalised food menu
High quality ingredients
Complete event management services
7)  Can Do Catering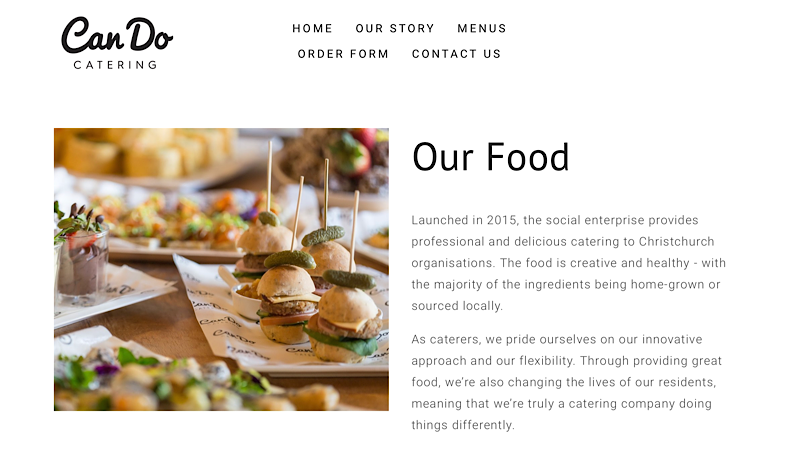 BEST FOR
Personalised Menus
SERVICES

Breakfast/Morning & Afternoon Tea/Lunch

Canapés

Platters

Dinner

WEBSITE
https://www.candocatering.co.nz
ADDRESS

279 Ilam Road, Burnside Christchurch, New Zealand 8011

CONTACT DETAILS

[email protected]

(03) 351 0212 

021 139 6342

OPERATING HOURS
Kindly contact them for their operating hours
Established in 2015, Can Do Catering mainly serves Christchurch organisations. As a social enterprise, it employs residents of the Laura Fergusson Brain Injury Trust who have the potential and capability despite their physical impairments and care needs.
Can Do Catering specialises in menu personalisation depending on the season as well as its client's preference and budget. It can also be adjusted according to the dietary requirements of event guests.
Its menu ranges from breakfast/morning and afternoon tea/lunch, canapés, platters, and dinner selections. Their menus are also downloadable from their website.
Most of the ingredients used to prepare the food they serve are also home-grown or sourced locally. This makes their food creative and healthy.
For an easy transaction, an order form may be filled out and submitted directly on their website. This will already include the catering service you wish to avail and the details of the event.
Highlights
Social enterprise that employs residents and clients of the Laura Fergusson Brain Injury Trust

Healthy and creative food 

Home-grown and locally-sourced ingredients

Customisable menu

Various menu selections
Customer Review 
Jason from CAD Concepts Limited says:
"The food choices were balanced, well considered, and most importantly very tasty. Delivery each day was punctual with no fuss. I would be more than happy to engage your team again."
And that's a wrap for the best catering Christchurch services. With their fantastic, attractively-presented food, guests will rave about them all night.
Do you have any questions or thoughts about what we discussed? If ever you have one, feel free to drop us a message and we'll get back to you promptly.
With the catering problem all settled, how about going to the party or business event in style? For this, you can check out the best limo hire services in Christchurch.