Top 8 Services for the Best Catering in Hamilton
Image Credit: Montana Food & Events
Have an event coming up and want enjoyable, healthy food for your guests? If your answer is yes, then we have your back as we've listed the top services for the best catering in Hamilton.
We picked the ones that provide delicious meals and flawless service. Furthermore, we chose those that have dependable and helpful staff and positive reviews.
Anyway, here are the leading services for the best catering in Hamilton!
1) Edible Solutions Catering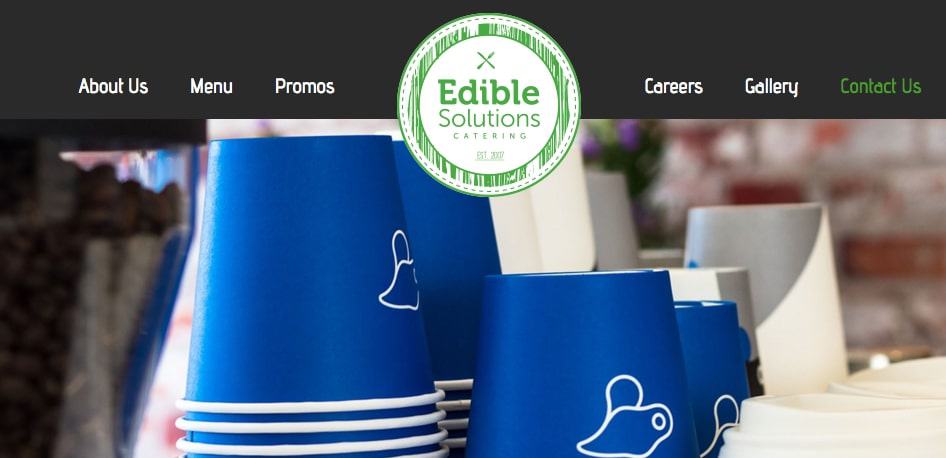 BEST FOR
Fresh, Handmade Food
SERVICES
Breakfast

Canapes

Finger Food Lunch

Funeral

Morning & Afternoon Tea

Picnic Style

Salad

Soup

Sweets

Christmas Catering

Platters

WEBSITE
http://www.ediblesolutions.co.nz/
ADDRESS
23 Bandon Street, Frankton, Hamilton, New Zealand
CONTACT DETAILS
Office: 07 847 8960

Kitchen: 07 847 8960

Mobile: 021 023 92964

OPERATING HOURS
Monday – Friday: 7:00 AM – 5:00 PM
If you need a delicious, diverse menu catered during your business meeting or private party, Edible Solutions Catering is an amazing choice!
The food is crafted by highly skilled chefs that can create a variety of meals from delightful canapes to healthy salads and main meals. These are made with the freshest and newest ingredients.
According to many clients, the food was absolutely delicious and the catering went smoothly for them. Your guests will leave with satisfied tummies as well as a great experience.
Based on customer experience and reviews alone, you can be sure that Edible Solutions Catering has some of the top services for the best catering in Hamilton.
Highlights
Can cater to any event, big or small
Extensive menu range
Great customer service
Food is made with fresh and new ingredients
Customer Reviews
Maree, an Edible Solutions customer, wrote this fantastic review on her experience with them:
"Everything went very well on Saturday night. The food was absolutely wonderful, lots of compliments from our friends and family. The little dessert glasses were a really big hit too!
The food couldn't have been better, you did an outstanding job in every way.
Thanks so much for making our party even more special."
2) Montana Food and Events

BEST FOR
Corporate events
SERVICES
Corporate

Private

Special Events

WEBSITE
https://montanafoodandevents.co.nz/
ADDRESS
Gate 6, Claudelands Events Centre, Brooklyn Road, Hamilton 3240, New Zealand
CONTACT DETAILS
(07) 839 3459
OPERATING HOURS
Monday – Sunday: 9.00 AM – 5.00 PM
Montana Food and Events is a large independent catering company specialising in corporate meetings, functions, and special events. They are Qualmark Silver-certified which proves that they meet nutrition and health standards with the food they prepare.
As much as possible, they buy the freshest produce from local growers and suppliers to support the community. They then cook them into flavoursome and tasty meals that people will surely enjoy.
Village, Montana's retail events brand, is dedicated to providing exceptional public food and events delivery services for any type of large event. With many great options and specialised services to choose from, Montana Food and Events is one of the best catering services in Hamilton.
Highlights
Specialises in corporate events
Flavoursome food
Buys the freshest produce
Qualmark silver certified
Customer Reviews
Take a look at what a satisfied client has to say about Montana's catering services:
"I used Montana to cater my garden wedding in February 2020 and they were fantastic! Not only did all my guests comment on how wonderful the food was, dealing with Claire at Montana was easy and she had thought of everything. I thought I was getting just a food service but it was much more than that. We had a site visit a few days in advance to ensure the team undersood the layout of the property and facilities, the team arrived early on the day so guests weren't impacted by the set-up process, the team brought extra bouquets of flowers for display, willingly managed other food items supplied by another vendor (our wedding cake and few other items), looked after our guests with special dietary requirments as well as ensuring other services at our wedding (like the string quartet) had refreshments. The team were polite, professional and friendly for the duration of the service, even when it rained! I couldn't recommend Montana highly enough to anyone needing event catering. Thanks Montana!"
3) Kerr & Ladbrook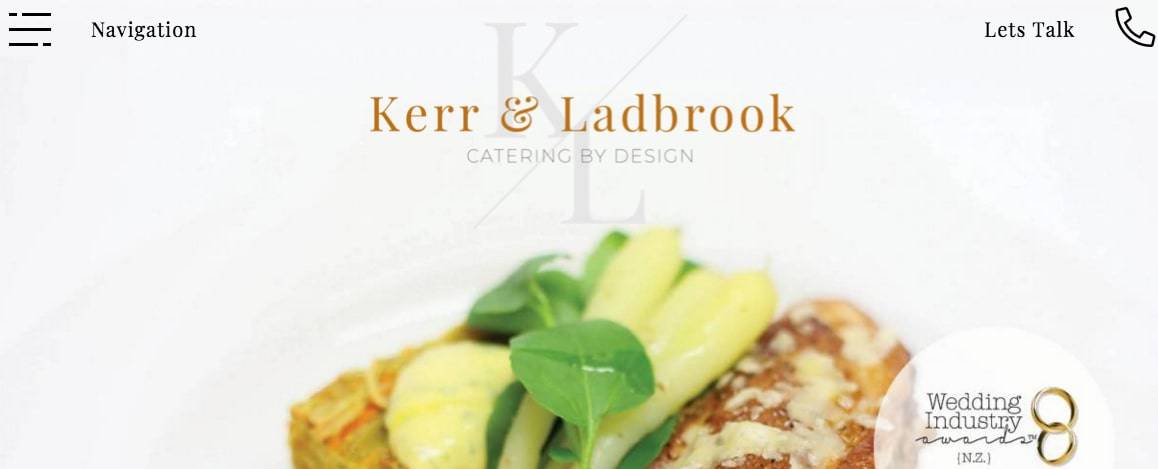 BEST FOR
Wedding catering services
SERVICES
Weddings

Private

Corporate

Christmas

WEBSITE
https://www.kerrandladbrook.co.nz/
ADDRESS
Grantham St, Hamilton West, New Zealand
CONTACT DETAILS
07 838 9338
OPERATING HOURS
—
If you're looking for a caterer that can provide amazing meals and excellent services, go for Kerr & Ladbrook. As a matter of fact, they've won the Outstanding Caterer award in 2019 for the wedding industry.
Chefs Ladbrook and Kerr can cook super-delicious meals that will make customers rave about them all night and even the day after. With their delicious meals, you are sure to create fond memories for you and your guests to remember.
They can provide you with tailored menus based on your specific catering needs. Kerr & Ladbrook caters to weddings, corporate, private, and Christmas events all across Hamilton.
Highlights
Award-winning caterer
Exceptional service
Cooks great-tasting meals
Tailored menu
Customer Reviews
Check out the feedback posted by Sam I. on their experience with Kerr & Ladbrook:
"We had an amazing meal at the 2019 Restaurant Associations Awards night, at the Atrium, the Food produced by Kerr and Ladbroke was 5 star delicious. Thanks guys!"
4) Flamin' Wood Fired Pizza & Spit Roast Catering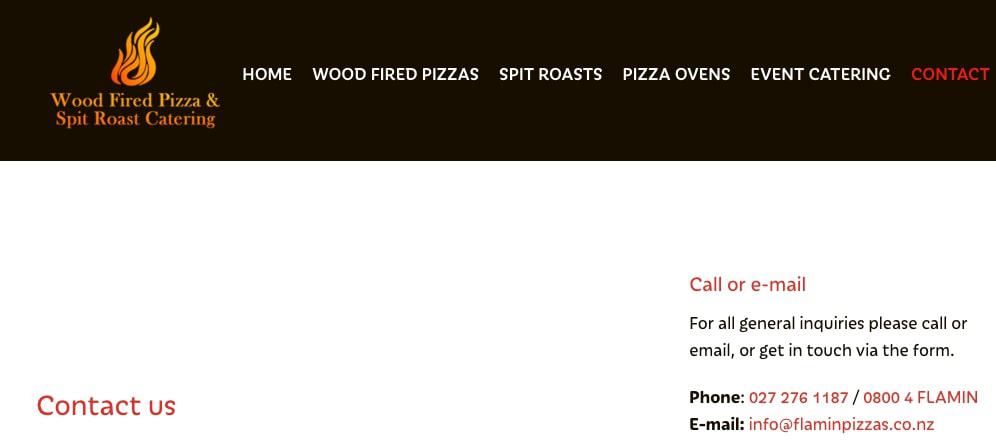 BEST FOR
Wood fired pizzas and succulent roasts
SERVICES
Wood Fired Pizzas

Spit Roasts

Pizza Ovens

Event Catering

WEBSITE
https://www.flaminpizzas.co.nz/
ADDRESS
Mobile Caterers NZ, Higgins Road, Hamilton 3204, New Zealand
CONTACT DETAILS
0800 435 2646

027 276 1187

OPERATING HOURS
—
If you're a pizza lover who appreciates the burst of flavour and crispiness in your mouth that pizza brings, then Flamin' Wood Fired Pizza & Spit Roast Catering should be your choice!
Their pizzas are cooked in wood fired ovens for that natural, smoky taste. There are also a lot of pizza varieties you can choose from for your guests to enjoy.
Besides pizzas, Flamin' also specialises in succulent spit roasts that go great with a glass of wine. Also, they offer finger foods and appetizers like canapes and salads.
You can inform the team in advance if you have any special dietary requirements. They can offer you vegetarian, vegan, or gluten-free meal options for any type of event.
Highlights
Irresistibly good pizzas and spit roasts
Accommodates special dietary needs
Caters to events, offices and homes
Customer Reviews
Glen Downes, an operations manager from Lakes Medical Services Trust, shared this glowing review:
"I would like to thank Malcolm for his kind donation of a selection of pizza's to our medic team covering Motocross at the recent South Waikato Motorcycle Club rounds. The team really enjoyed the pizzas. Your pizzas have a great balance of crisp base with a generous amount of toppings. They are cooked to perfection with that unique smoky fire cooked hint of flavour that can only be created within the pizza fire ovens.
I would recommend any club looking for that something different onsite to utilise your service and even more recommend your pizza to all pizza lovers out there."
5) Roam Food Caravan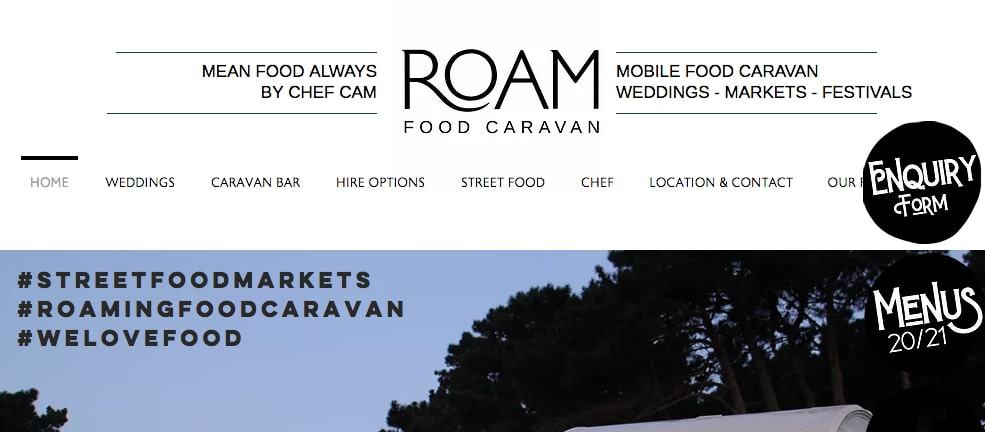 BEST FOR
Food truck catering
SERVICES
Wedding

Caravan Bar

Hire Options

Street Food

WEBSITE
https://www.roamfoodcaravan.nz/
ADDRESS
Hamilton 3204, New Zealand
CONTACT DETAILS
+64 22 030 2056
OPERATING HOURS
—
Keen to try something different for your wedding or birthday? If so, Roam Food Caravan is perfect. They are a mobile food caravan that travels all over the North Island.
Experienced and skilled chefs Cam and Linda will make any occasion really special for you and your guests. Also, they can design and build the perfect menu for the enjoyment of all guests.
For added convenience, you can also rent glassware and dining essentials from them. More importantly, the food they serve is interesting, locally sourced, and absolutely delicious!
For a unique catering experience, Roam Food Caravan can provide you the top services for the best catering in Hamilton.
Highlights
Flavoursome and fresh food
Unique wedding catering
Can supply the glassware and cutlery
Tailored menu
Customer Reviews
Check out Matt and Kelsey's review on Roam Food Caravan's catering experience:
"We recently got married and Roam was definitely the right choice! Completely worry free, Cam and Linda did such an amazing job, the food was perfect, the service was professional yet personal. We highly recommend!"
6) Laylyn Platters & Graze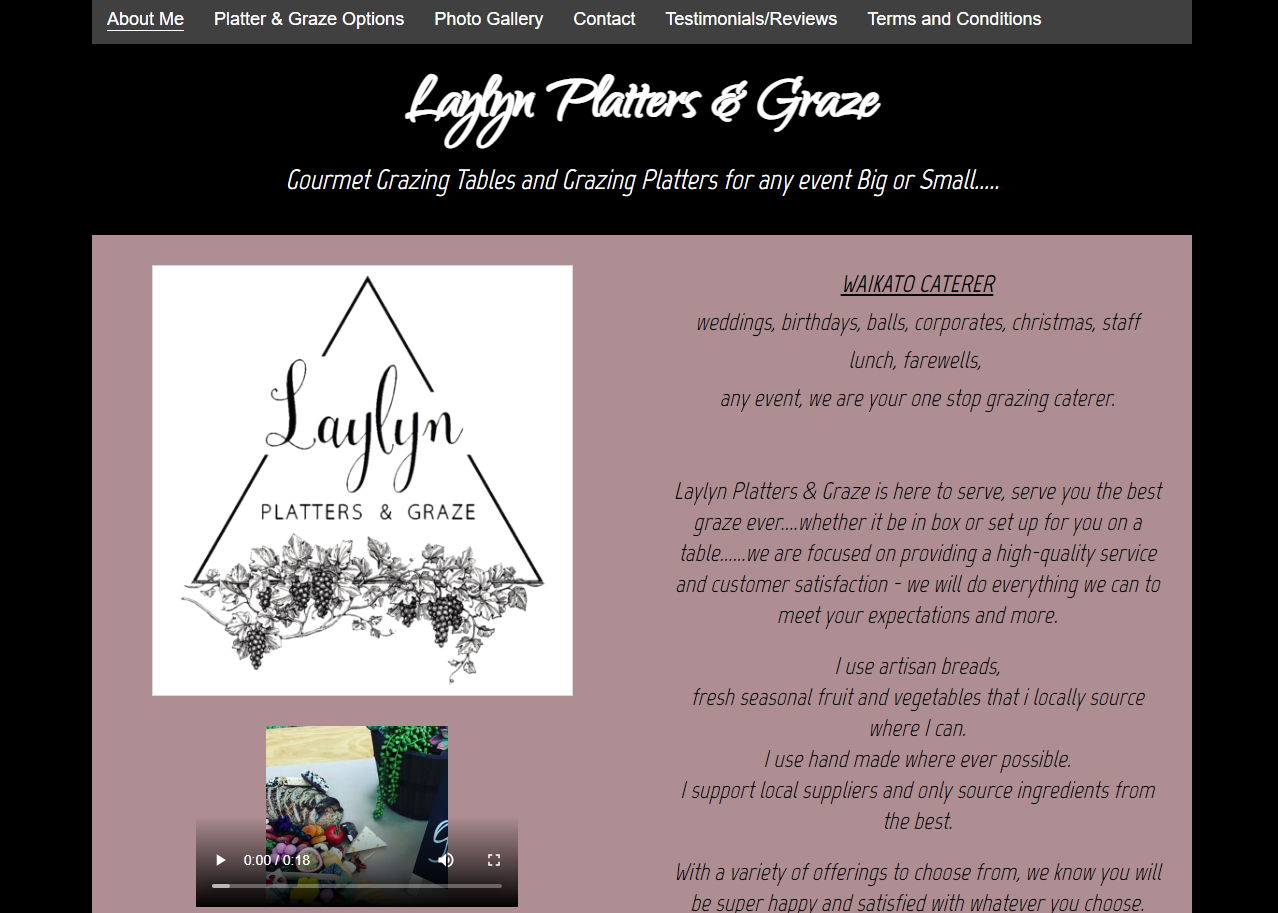 BEST FOR
Catering and event services
SERVICES
Platter and grazes
WEBSITE
https://laylynplatters.co.nz/
ADDRESS
Tamahere, Hamilton New Zealand 3184
CONTACT DETAILS
Phone: 027 7636622
Email: [email protected]
OPERATING HOURS
All the time
They are the experts at being the provider of any needs at weddings, birthdays, balls, corporates, christmas, staff lunch, and farewells. In any event, they are the one stop grazing caterer.
Laylyn Platters & Graze is here to serve the best graze ever whether it be in box or set up for you on a table. They are are focused on providing a high-quality service and customer satisfaction.
They use artisan breads, fresh seasonal fruit and vegetables that are locally sourced. They also support local suppliers and only source ingredients from the best to provide a variety of offerings to choose from.
Highlights
Affordable rates
Supports local products
Professional service
Customer Reviews
" It was an amazing graze! Thank you Morgan. You came through with a superb looking table of yummy foods and amazing combinations. We loved how professional and accommodating you were with only 24hrs hours to pull it off. Excellent service. Excellent food. We highly recommend. "

"Sublime service! Morgan goes that extra 150% and more. From the first point of contact to delivering the most stunning grazing tables / platters of which every single morsel provided is just delish."

"Stunning food and great customer service. Will certainly use your services again with confidence"
7) Hazel Hayes

BEST FOR
Gluten-free and dairy-free food
SERVICES

Breakfast, Lunch, Dinner, Takeaways, Catering, Function Room

WEBSITE
http://hazelhayes.co.nz/
ADDRESS
587 Victoria St, Hamilton
CONTACT DETAILS
Phone: 021 190 2170
Email: [email protected]
OPERATING HOURS
Mon – Thurs: 7am – 3.30pm
Friday : 7am – 3.30pm
Saturday & Sunday closed
Hazel Hayes provides high quality catering for events of all types and sizes. They bring you exceptional customer service with food and beverage options that are as delicious as they are beautiful. Their food is made with fresh, locally-grown, organic ingredients whenever possible to make sure what you enjoy is always of the highest standard.
The friendly and professional team at Hazel Hayes will go above and beyond how you envision your event; they work hard so that you don't have to! They are dedicated to providing you a unique experience to make your event stand out.
Highlights
Complimentary coffee
Offers out-catering services
Extensive menu available
Vegetarian preferences
Customer Reviews
Read some of the feedbacks left for Hazel Hayes:
"One of our favourite Hamilton cafes, food and service always consistently high standard. And in case you're wondering, the 2 for 1 chicken burger promo is genuine and 100% . We thought because we were getting "2 for 1″ something might have been skimped on or left out, but we are happy to say it was everything it should be and more. Will spend the rest of the day remembering the deliciousness…..until next time Hazel Hayes, hopefully very soon."
"We had Hazel Hayes cater one of work events, and what a superb job they did! The service was excellent, the food was beautifully presented and most importantly… it tasted amazing! All of our attendees (and staff) were raving about the catering throughout the event after. Would definitely recommend! ?"
8) Unique Food Geeks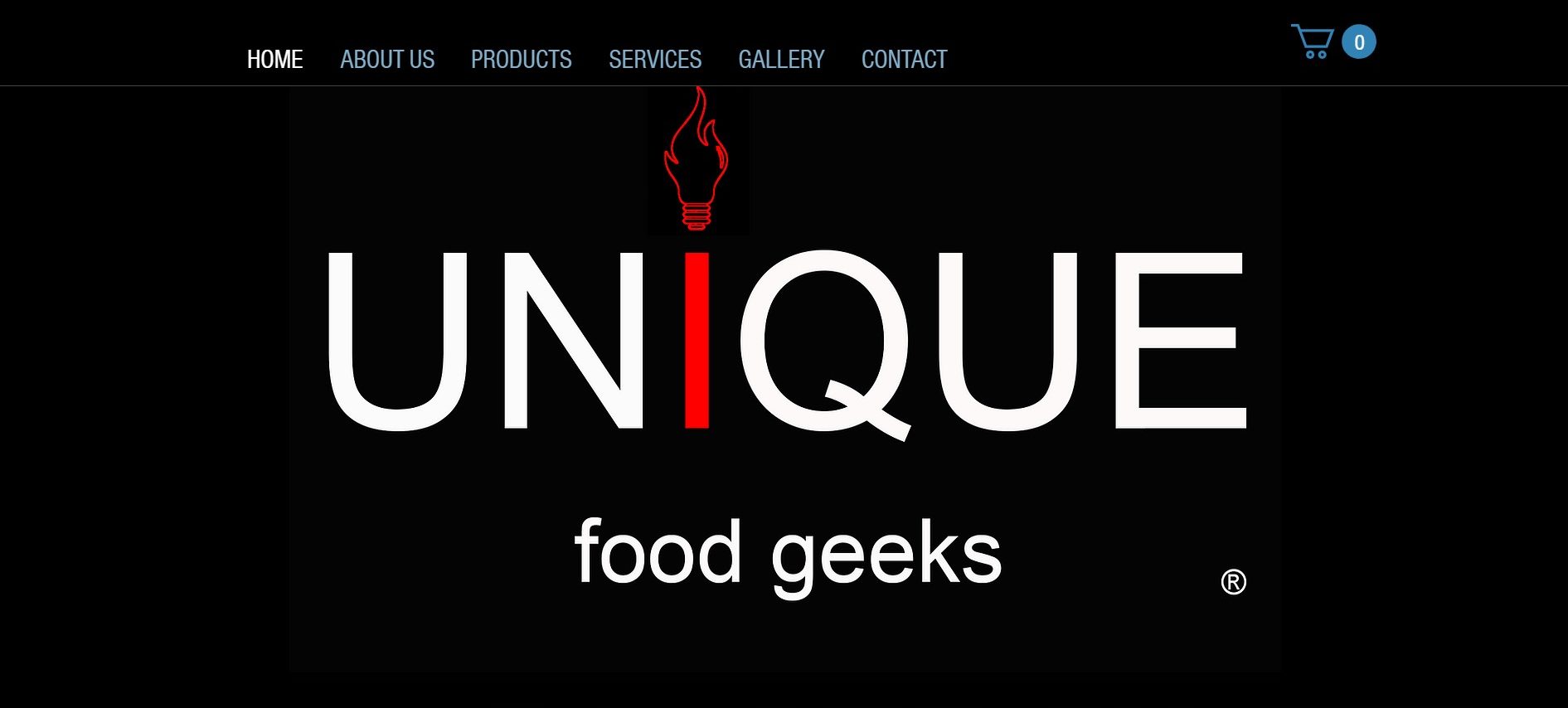 BEST FOR
High-end food
SERVICES

Gluten free online store

Food trailer hire

Wedding Catering

Public & private catering solutions

In home chef hire (from 1 to 20 course with wine match)

in home masterclass

WEBSITE
http://www.uniquefoodgeeks.com/
ADDRESS
Hamilton, New Zealand
CONTACT DETAILS
022 641 7038
[email protected]
OPERATING HOURS
Contact for more details
Unique Food Geeks offers amazing food for catering, housing award-winning chefs with over three decades of experience. They're known for their sustainable food made from scratch, and for using free-range and fresh ingredients.
Hire them for food serving and even food trailers for any event, check out more details on Unique Food Geek's website or contact them now!
Highlights
Over 30 years of experience
Fits different dietary requirements
Gluten-free meals
And that's the end of our list of the top services for the best catering in Hamilton. With their superb food and catering services, you don't have to worry about hosting an exciting and enjoyable event.
Did we miss other fantastic catering services in Hamilton? If we did, let us know in the comments below and we'll check them out!
Need help with decorating the venue for your event? If so, check out our list of the best flower delivery Hamilton services for the freshest flowers perfect for any event.