The 5 Best Chest Freezers in NZ
Feel that your current freezer doesn't have enough space for your food? If so, today's article on the best chest freezers in NZ is for you.
We'll first tackle the basics of buying a chest freezer. By doing so, you'll be able to tell which product is right for you when you browse our list later on.
How to Buy a Chest Freezer
Here are the things you need to consider when buying a chest freezer:
1) Size
Chest freezers come in different sizes. It's essential to know the size because it will determine the amount of food you can store and if the freezer will fit into your home.
Most chest freezers range from roughly 100 to 200 litres, which provides ample space to hold frozen food items for small-to-large Kiwi families.
However, there are also very large freezers that have a capacity of 702 litres—perfect for batch cooking and freezing.
To know the right size for your chest freezer, you can ask these questions: where will you put it at home, how many people are you cooking for, and how much food are you storing?
2) Noise
Noise is another factor you have to take into account. The last thing you need is a noisy chest freezer that despite its small size annoys everyone in your home or office.
The quieter the freezer is, the better. Most chest freezers from well-known brands (like Midea and Whynter) work silently, which is precisely what you'd want.
3) Features
What makes a chest freezer reliable are its features. Here are the most common ones:
Interior lights – These light up the freezer's interior so you can easily see and retrieve food inside. LED lights, of course, are more power-saving than traditional lights.
Storage/sliding baskets – Rather than stack food items one on top of another, storage baskets let you organise them to look neat and orderly.
Wheels – Wheels ensure that you can move or relocate your freezerwithout doing any heavy lifting.
Alarms – This feature notifies you if the freezer door has not been closed properly or if the freezer temperature has changed.
Lock and key – This secures the chest freezer and its contents and prevents others from opening it without your permission.
4) Efficiency
A chest freezer's efficiency is measured by its number of energy stars, with 1 star being the least efficient and 5 stars as the most efficient.
So, as much as possible, you should look for products with 3.5 energy stars or up. That will help reduce your power expenses at home.
5) Warranty
Since chest freezers are costly, you want a warranty when purchasing one. That assures you that if something happens to it, you won't need to pay for repair costs.
At the very least, it's best to pick a chest freezer with a 1-year warranty.
The Best Chest Freezers in NZ
Now that you know how to buy a chest freezer, here's our roundup of the best chest freezers in New Zealand!
1) Midea 510 L Chest Freezer (JHCF515)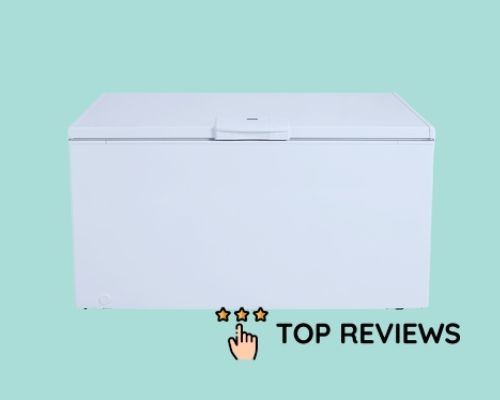 | | |
| --- | --- |
| Best for | Bulk storage |
| Freezer capacity | 510 L |
| Energy rating | 3.5 stars |
| Product size | 1640 x 720 x 860 mm (W x D x H) |
| Price | $999 |
Need to freeze bulk portions of food? If you do, you should check out Midea's 510 L chest freezer as it's one of the best chest freezers in NZ for that!
By using the sleek digital control, you can adjust the appliance to the right temperature and freeze food items quickly with the Fast Freeze function.
Inside, 3 storage baskets keep your food organised. Since these are removable, you can clean the freezer and retrieve frozen foods without a struggle.
Furthermore, the chest freezer runs efficiently with a 3.5 energy star rating. It measures 1640 x 720 x 860 mm that can fit in garages and bigger kitchens.
Spacious interior
Organised storage baskets
Power-efficient
Easy to clean
2) Fisher & Paykel 143 L Chest Freezer (RC143W1)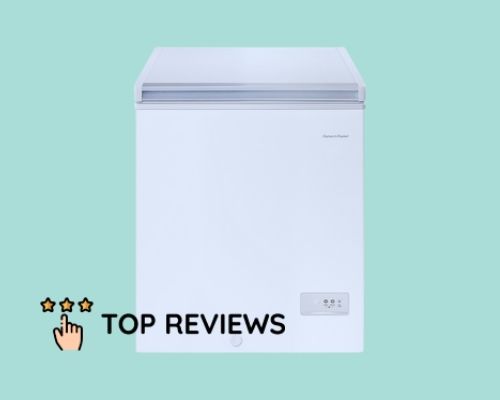 | | |
| --- | --- |
| Best for | Small spaces |
| Freezer capacity | 143 L |
| Energy rating | 3.5 stars |
| Product size | 720 x 555 x 847 mm (W x D x H) |
| Price | $592 |
Fisher and Paykel is a trusted appliance brand based in East Tamaki, New Zealand.
If you need a chest freezer that has nifty features but won't cost a lot, their 143-litre chest freezer is an excellent option.
Those features include an easy-to-use control panel, spring-assisted lid, removable wire basket, defrost drain system, and LED lighting inside the freezer.
The temperature can be adjusted higher or lower to keep your meat, fish, and poultry as fresh and nutritious as possible.
What's more, the product is backed by a solid 2-year warranty should there be any issues with your freezer.
The downsides are that the chest freezer can build up a bit of frost after a while and for the same price you can already get a unit with much larger capacity than it. Still, it's pretty good if you have limited space!
Lightweight lid
Removable wire basket
Easy-to-use controls
2-year warranty
Small capacity for the price
Slight frost buildup
Customer Reviews
The positives outweigh the negatives, agree users: despite the cons we listed above, it performs well, fits small spaces, uses less energy, and is quiet for the majority of customers.
One customer named John left this comment:
"Perfect for small spaces. We have it at our bach and running costs appear to be small. Looks great too and has s quick freeze option."
Furthermore, Tilly said of the product:
"I bought this model freezer about two months ago. I am extremely pleased with it. I have it in our dinning room and the motor is so quiet. We only wanted a small freezer and this one is perfect."
3) TSB Living T Novello 316 L Chest Freezer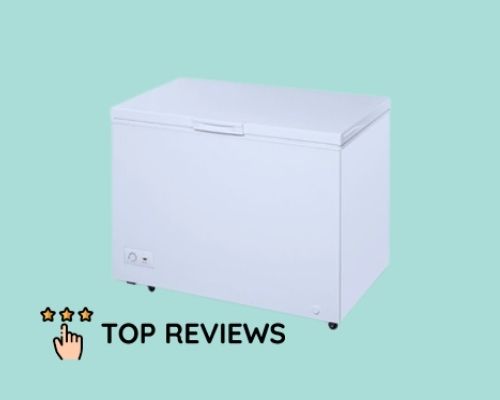 | | |
| --- | --- |
| Best for | Value for money |
| Freezer capacity | 316 L |
| Product size | 845 x 700 x 1120 mm (W x D x H) |
| Price | $529 |
If you want to get value for your money, the TSB Living T Novello 316 L chest freezer is perfect. It is a no-frills chest freezer suitable for big families and holiday homes.
You can store tons of vegetables, meat, soup, snacks, sweets, and drinks such as a whole row of wines or a set of sodas, like in the picture above.
It has a classic rotatable dial in which you can set the coldness level. With recessed handles and a detachable storage basket, the chest freezer is very easy to use.
And moving it around your kitchen or garage won't be a problem thanks to the smooth-rolling wheels. Needless to say, it is energy-efficient too!
Affordable
Energy-efficient
Easy to use
Removable storage basket
4) Akai 200 L Digital Display Chest Freezer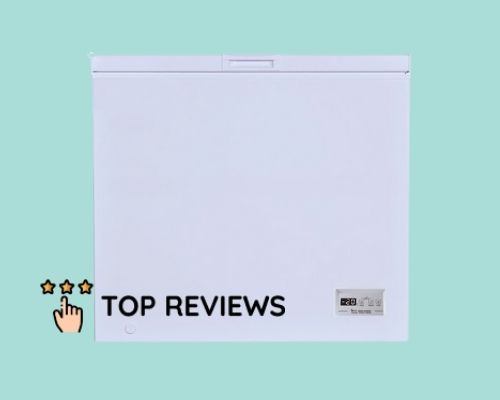 | | |
| --- | --- |
| Best for | Variety of features |
| Freezer capacity | 200 L |
| Energy rating | 3 stars |
| Product size | 545 x 845 x 905 mm (W x D x H) |
| Price | $549 |
If cars have convertible models, chest freezers can also have one—and Akai's 200 L digital chest freezer is proof of that. You can set it to freezer mode having an interior of -10 to -24 degrees Celsius, or to fridge mode with 2 to 6 degrees Celsius.
That's just the tip of the iceberg for this cube-shaped chest freezer, as it also features digital controls, Super Freeze mode, and distinct power indicators for power, run, and alarm functions.
With a removable storage basket, you have flexibility on how you'd want to arrange the food. For instance, you can use the basket for smaller food items; or remove it to allow more space for larger items.
What's more, It has recessed handles on the lid that lend it style. The front-levelling feet can be adjusted to keep the appliance balanced on both sides.
Aside from that, the Akai fridge freezer has an energy rating of 3 stars, so you can say it's efficient. And you won't have to worry because it comes with a warranty for 3 years.
Fridge and freezer modes
Removable storage basket
Reliable indicator lights
3-year warranty
5) Haier 384 L Chest Freezer (HCF384)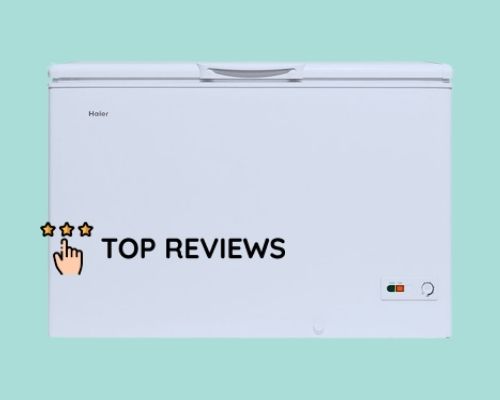 | | |
| --- | --- |
| Best for | Quick cooling chest freezer |
| Freezer capacity | 376 L |
| Energy rating | 2.5 stars |
| Product size | 1240 x 845 x 745 mm (W x D x H) |
| Price | $1,010 |
Haier 384 L Chest Freezer provides a relatively large space and quick cooling for your food. Despite its high price point, it's a practical and dependable freezer.
With the Super Freeze function, your food will be cooled without delay, thus keeping it from spoilage and dullness.
It won't be heavy when you open the lid because it is supported from the opposite side. The recessed handles make it easy to grip the lid to bring it up.
There is a simple temperature dial on the lower right of the machine. The drainage outlet is positioned on the front to remove the melted water from inside the freezer.
This chest freezer is warranted for 2 years to ensure your continued use of this product for your cooking and storage needs.
Quick-cooling interior
Spacious and practical
Small-item basket
2-year warranty
Rather high price
2.5 energy stars
FAQS about the Top Chest Freezers in New Zealand
---
And that wraps up our list of the best chest freezers in NZ. They let you store a great amount of food, and are also energy-saving and easy to use.
Has everything about this list been clear so far? If you have any questions, kindly send us a message and we'll get right back to you.
Apart from that, you may also want to try our best fridge freezers in New Zealand for keeping a wide variety of your food fresh.