The Best Chiropractors We Tried in Auckland
A healthy individual is a result of taking care of his health complemented by happiness in his surroundings. One can't be totally healthy by wallowing in negative emotions, and one can't be totally happy by not being healthy in the body. When we feel pain in our body, we more often than not 'shake it off,' not being aware that as we move forward, that same pain that was ignored comes back. A Chiropractor ensures that that doesn't happen, instead, he will figure out a way so that the pain will go away and you'll come back, healthier, happier, and more confident as a result.
Here are the best Chiropractors worth checking out in Auckland:
Jones Family Chiropractic & Health Centre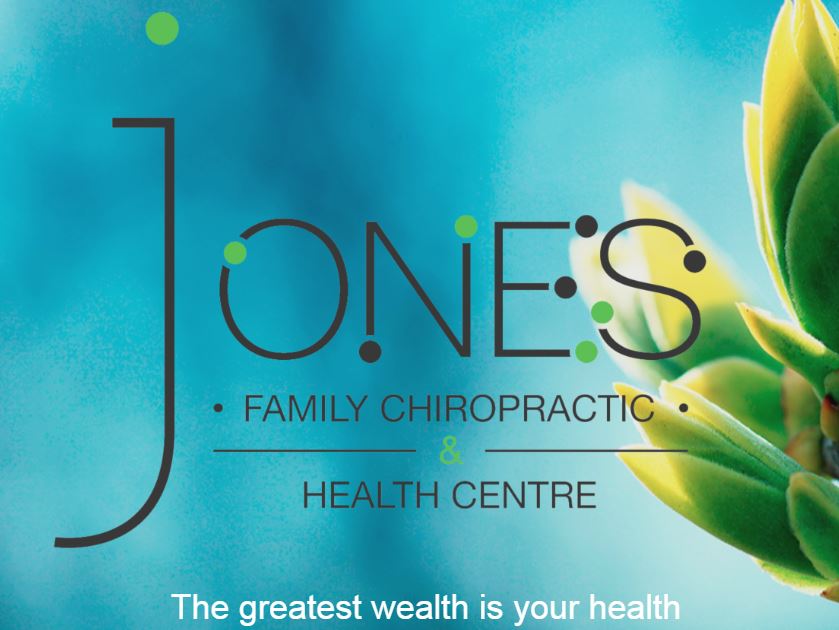 Website
https://joneshealth.co.nz/
Contact
09 524 4360
Address
360 Remuera Road, Remuera, Auckland, NZ, 1050
Email

[email protected]

Chiropractor
Dr. Dylan Jones, Chiropractor; Dr. Dylan Jones, Chiropractor
Specialty services
Chiropractic, Podiatry and Acupuncture
Rates
Initial consultation: $120
Regular visits: $60
12 visit care plan: $660
24 visit care plan: $1200
Family 25 visit care plan: $1250
Family 50 visit care plan: $2250

Acupuncture/Cupping/Moxibustion

Initial visit: $70
Regular visit: $70
ACC regular visit: $20
Jones Family Chiropractic & Health Centre is locally based chiropractic and health centre located on Remuera Rd. They offer a wide range of techniques including Diversified, Gonstead, Toggle, Thompson and Activator; all of which can be easily modified to cater to your individual needs. They offer Chiropractic, Acupuncture & Massage services in Remuera and surrounding communities.
Highlights
Skilled and experienced practitioners
Offers chiropractic, acupuncture and massage
Personalised treatment
Customer Reviews
On Google Reviews, Karl Tercel compliments the team at Jones Family Chiropractic & Health Centre:
"Dylan, the chiro and Justin, the acupuncturist are extremely good at what they do and I'd recommend anyone with pain or discomfort to visit their practice. Very nice facilities, great service, and well located in Remuera."
Anderson Chiropractic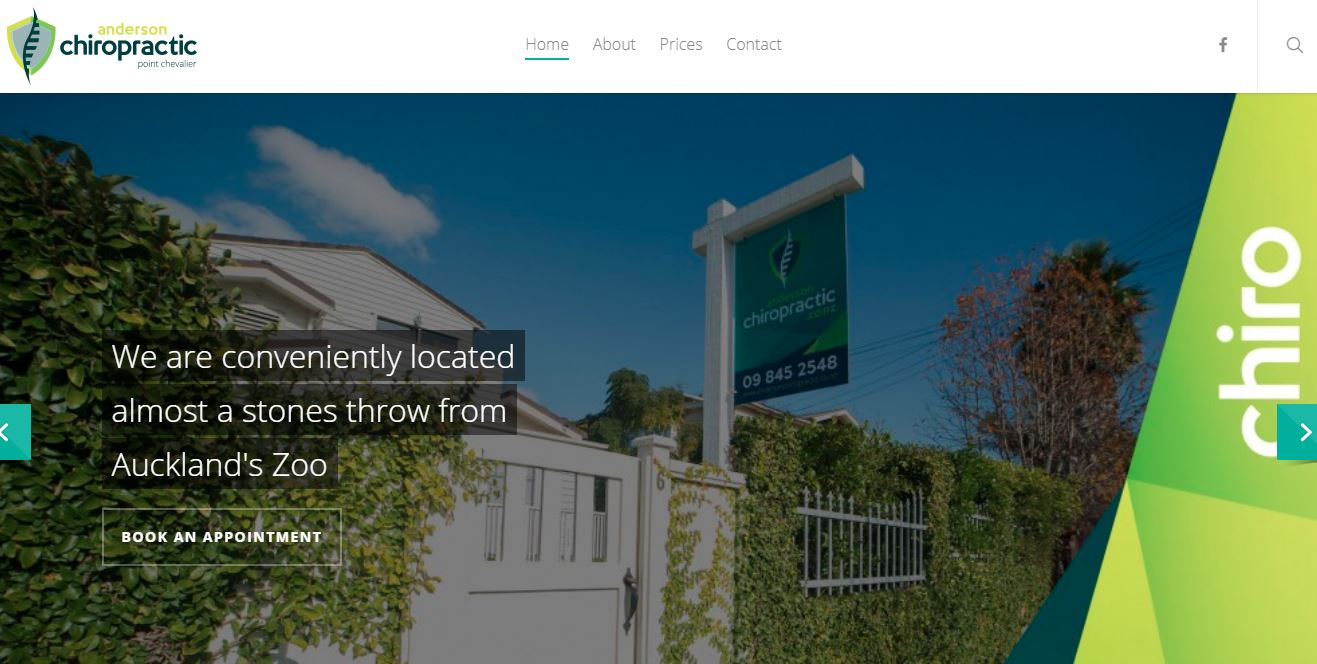 Anderson Chiropractic treats a wide variety of top professional athletes, martial artists, National and International competing level athletes through to everyday gym goers.
Know you're in great hands seeing a knowledgeable Chiropractor, Dr Clint Thomas with 14 years clinical experience. Dr Thomas studied a BSc before completing a Diploma of Applied Science followed by his Chiropractic degree at NZCC, graduating with distinction in the top 3 of his year. He worked as an associate at various clinics throughout Auckland for many years before establishing his own clinic 2011.
Anderson Chiropractic has been serving the Point Chevalier, Grey Lynn, Mt Albert, Westmere, St Lukes, Kingsland and surrounding communities for 12+ years.
Highlights
Treats casual gym goers, weekend warriors and athletes
Over 14 years of clinical experience
Qualified, professional and honest
Customer Reviews
On Google Reviews, Bree Laz remarked:
"Clint knows his stuff ! I highly recommend this clinic. He's thorough and has a great understanding about the body. He's helped several of my family members also."
Auckland Chiropractors & Acupuncturists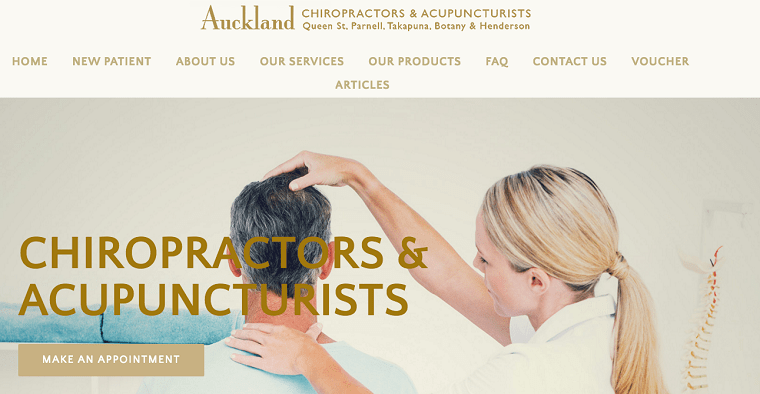 Website
http://aucklandchiropractors.co.nz/chiropractic-services/
Contact
09 366 7666 or 021 453 862
Address
Level 6, #605, 87-93 Queen Street, Dingwall Building, Auckland CBD
Other branches are located at Parnell, Takapuna, Henderson, and Botany
Email

[email protected]

Chiropractor
Dr Jim Yates, Dr Sean Kim, Dr Gary Blythe, Dr Paul Jeen, Dr Sarah Park, , Dr. Jenny Kim
Specialty services
Flexion Distraction Spinal Therapy, DFM Therapy, Gonstead, Activator, Diversified, Acupuncture, Spinal Manipulation, Deep Tissue Massage, Electrical Muscle Stimulation, Infrared Heat Therapy
Rates
Print out the voucher here http://aucklandchiropractors.co.nz/voucher/ and pay only $30 for your initial consultation ($35 discount off the regular price)
Note: this is available as a single use only
A combination of certified Chiropractic and Acupuncturists, this clinic enables patients to look into the best form of treatment for their musculoskeletal or emotional symptoms. Everyone who works here is qualified, experienced, and friendly with some knowing how to speak Korean and Chinese to come to a full understanding with their patients. The chiropractic has been operating for 13 years and now has 5 branches across Cental Auckland. They have neat, convenient facilities and with methods and pinpoint techniques working immediately on the patient's recovery.
Highlights
Fully qualified chiropractors and acupuncturists
Experienced and friendly
Can speak in Chinese or Korean
Pleasant and neat facilities
Customer Reviews
Kimberly Grubjesic keeps an active lifestyle, and has been going to Auckland Chiropractors & Acupuncturists to ease her back and neck pain as well as headaches. She writes:
"I've been visiting Auckland Chiropractors for 10 years now and every practitioner has been extremely professional. Sean at the Henderson branch knows the best treatments for my body and Sarah at Queen Street adds so much value with her holistic approach. I am so thankful for their friendly and expert care – they always make me feel like a new person again : ) I would highly recommend them."
Bay that allows you to be your best self. I am so glad I came here, Highly recommend!"
Dynamic Chiropractic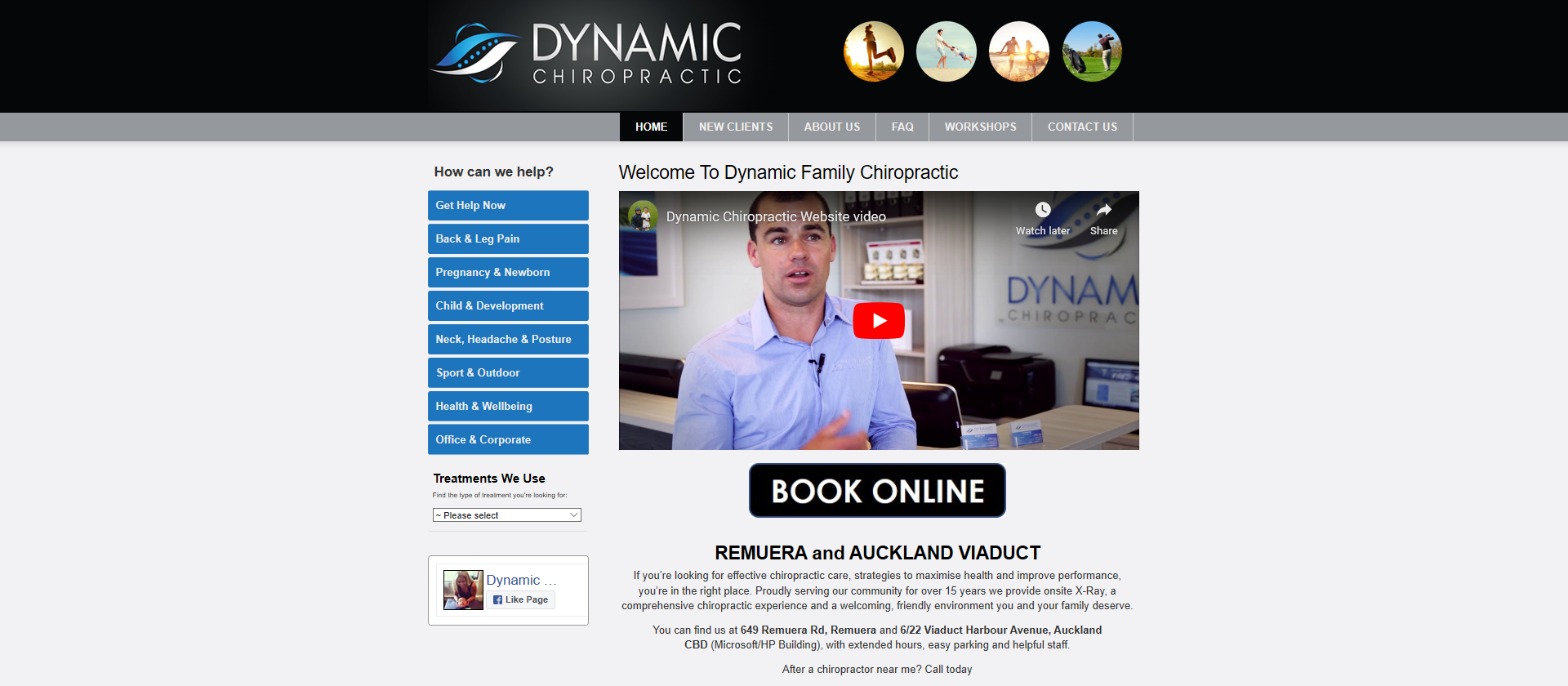 Website
http://www.dynamicchiro.co.nz/
Contact
REMUERA 09 523 5663

VIADUCT 09 302 1514

Address
649 Remuera Rd, Remuera, Auckland, New Zealand

6/22 Viaduct Harbour Avenue, Auckland CBD (Microsoft/HP Building)

Email

[email protected]

Chiropractor
Dr. Sheridan Kay, Dr. David Kay and Dr. Shannon Ganesan
Specialty services
Chiropratic Services, Workshops
Rates
Initial Examination: $100

Progress: $100Regular Adjustment (Adult/Child): $60 Child: $45Every extra child in family visit: $TBA
For fully effective chiropractic care, Dynamic Chiropractic is the one you should turn to. With strategies that maximise health and improve performance, they make sure to give you the best customer service they can provide.
Proudly serving clients for over 15 years, they provide onsite x-ray and a comprehensive chiropractic experience– all in a welcoming, friendly environment that you and your family deserve. Their chiropractors have gained a reputation for delivering outstanding, client-focused care.
To better serve their customers, they make sure to provide clients with a digital copy of their x-ray. Coupled with flexible clinic hours, these benefits are sure to allow more people to receive a superb healthcare experience.
Highlights
Provides outstanding and customer-focused care
15 years in the business
Highly qualified and knowledgeable doctors
Friendly and caring environment
Customer Reviews
Jeremy Caird mentioned on Google Reviews:
"My friend was visiting from Christchurch and was complaining about a sore back and aching body. I booked him in with Dynamic and when I saw him a few hours later he looked like a new man, "felt like a million bucks" Thanks for the great service Dave."
Vital Chiropractic Family Wellness Centre
Website
http://vitalchiropractic.co.nz/
Contact
09 522 0222
Address
1/78 Coates Ave (upstairs) Orakei, Auckland 1071 Bowers Road, New Zealand
Email
[email protected]
Specialty services
NET (Neuro-Emotional Technique), Chiropractic Care
Rates
Initial Consultation: $125

Chiropractic Visit Adult: $55

Chiropractic Visit Child: $453 family members at same time: $12010 Visit Concession Card: $500 ($50 a visit)
Vital Chiropractic is more unique in terms of their target patients. They are an excellent chiropractic for expectant mums, growing kids, gentle-moving babies. In the first case, for labouring mothers, the chiropractors help them adapt to the sudden changes in their body, help them to relax and maintain a correct posture to prevent back and pelvic aches, and most importantly helps them in preparation for birth. As for the babies they need a soft massage, a little tickle there, to guide their bodies in the right way. For kids, as they are learning from interaction with the environment and constantly moving themselves about, here a chiropractic like Vital Chiropractic can assist too.
Of course, as professionals they could also deal with the problems of the grownups using chiropractic techniques and care.
Highlights
Highly trained and experienced chiropractors
Specialises in treating pregnant mums as well as babies and kids
Helps to strengthen your body and mind
Customer Reviews
Sally was greatly helped by the adjustments at Vital Chiropractic. She wrote on Google Reviews:
"I have been adjusted by a lot of chiropractors and Dr Nicola's adjustments are my favourite. She is a genius at helping me experience immediate relief from headaches and her post-natal care has been amazing, helping my body recover from birth. Both of my kids love her adjustments too and are extremely healthy, under regular chiropractic care. Thanks Nicola, you're the BEST!"
Te Atatu Chiropractic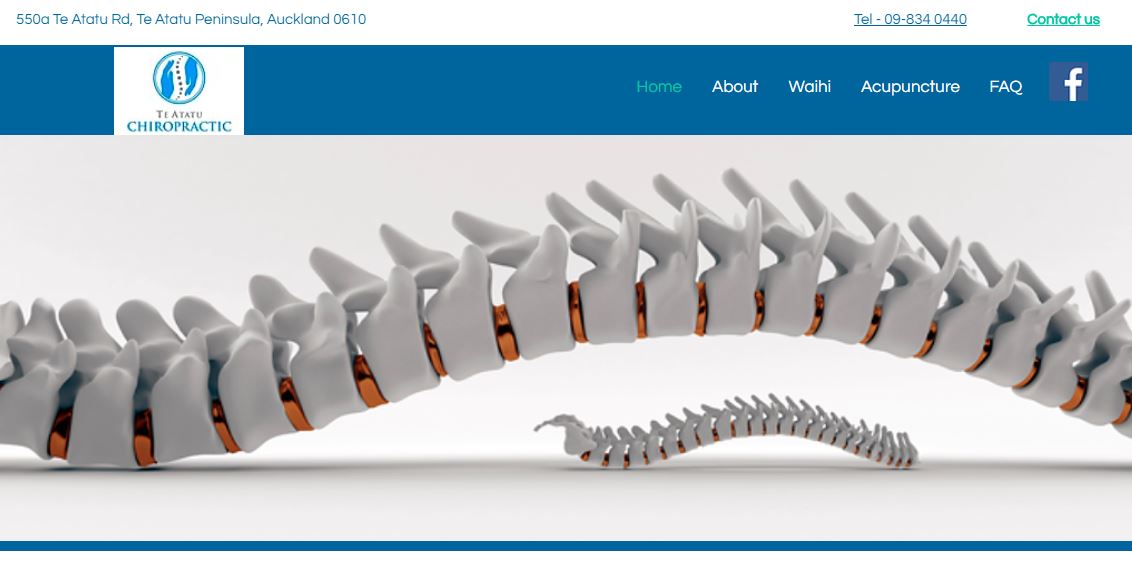 The chiropractors at Te Atatu Chiropractic will locate, analyse and correct these vertebral subluxations. Chiropractic adjustments re-align the spine, remove the pressure from the nerves, allowing them to function properly. This, in turn, results in a healthier, happier you.
Te Atatu Chiropractic's chiropractic care allows individuals to live a healthier life by clearing interferences in one's nervous system. They are passionate about being able to help people naturally. They believe whole-heartedly in the benefits of chiropractic not only because of their extensive training but also because of their personal experiences and also from the feedback and gratitude expressed by their patients.
Highlights
Extensive experience in the field
Removes the body's interference resulting in a healthier, happier you
Relaxing spine adjustments
Short waiting times
Customer Reviews
Steven Ferrall writes a quick comment of 5 stars from Facebook:
"I go there bent out of shape and come out on the straight and narrow….fantastic!"
Asanté Health

Website
http://www.asantehealth.co.nz/
Contact
(+64) 20 4063 6889
Address
40 Saint Benedicts Street, Eden Terrace, Auckland 1010, New Zealand
Email
[email protected]
Chiropractor
Dr. Angelo King, Dr. Echo Kite Bell, Dr. Martin Mhando
Specialty services
CHIROPRACTIC
ACUPUNCTURE
MASSAGE THERAPY
NUTRITION & NATURAL MEDICINE
IMMUNE SYSTEM
Asanté Health offers a full range of services that are focused on natural and conventional approaches for all persons of all ages. Driven by their vision to help you reach your true health potential, they are highly committed to providing the best healthcare solution for your medical conditions.
Their clinic is a combination of professional Chiropractors and Acupuncturists, one of whom is Dr. King. He's a certified chiropractor who is well-recognized for his various achievements and expertise in chiropractic. With his extensive experience and knowledge, you can rest assured that you will be in capable hands.
You can go never go wrong in trusting them with your health concerns. Schedule an appointment today and be provided with the customised care that you need!
Highlights
Full range of therapies
Safe and natural treatment
Customer Reviews
Katia Collins mentions on Google Reviews:
"Had a great experience here! Marco is a professional and knowledgeable chiropractor, seeing him has been very helpful. I recommend Asanté to anyone looking for a good chiropractic experience!"
---
Anyway, that's our list of the best chiropractors in Auckland. If you think we missed some that deserve to be on the list, please go ahead and tell us who they are and what makes them awesome!