The 13 Best Options for Chiropractors in Auckland
A healthy individual is a result of taking care of his health complemented by happiness in his surroundings. One can't be totally healthy by wallowing in negative emotions, and one can't be totally happy by not being healthy in the body. When we feel pain in our body, we more often than not 'shake it off,' not being aware that as we move forward, that same pain that was ignored comes back. A Chiropractor ensures that that doesn't happen, instead, he will figure out a way so that the pain will go away and you'll come back, healthier, happier, and more confident as a result.
Here are the best Chiropractors worth checking out in Auckland:
1. The Healing Centre Remuera Chiropractic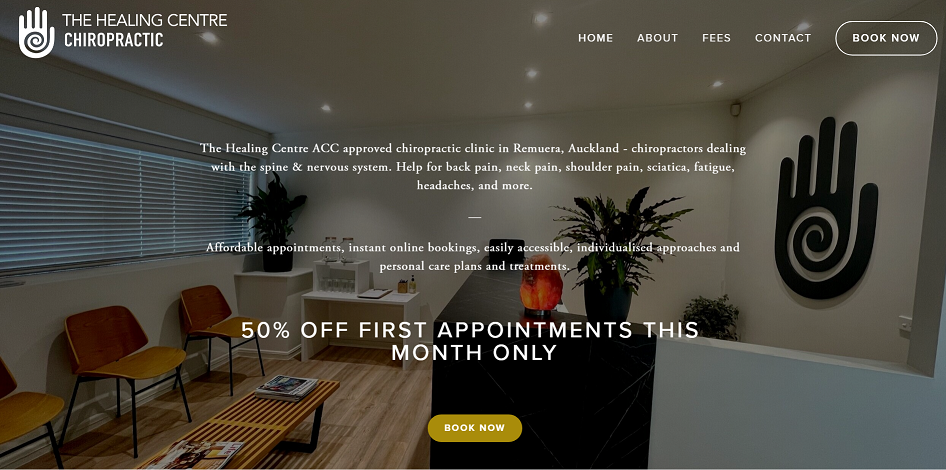 Website
https://www.thehealingcentre.co.nz/
Contact
Reception: 09 218 8519
Luke (For Urgent Calls Only): 027 489 7801
Address
614 Remuera Road, Remuera, Auckland
Email
Luke:

[email protected]


Josephine:

[email protected]

Chiropractor
Dr. Luke Heather, Chiropractor and Owner; Dr. Josephine Edvardsson, Chiropractor
Specialty services
Chiropractic (ACC Approved no referrals needed)
Rates
FIRST APPOINTMENT

Adults
$85.00

Students/Seniors/Under 16/Beneficiaries
$65.00

REGULAR APPOINTMENT

Adults
$45.00

Students/Seniors/Under 16/Beneficiaries
$30.00

ACC
$20.00
The Healing Centre Remuera Chiropractic understands that trying to find solutions to your health problems can be overwhelming at times.
This is why they offer a comprehensive first patient appointment where they will go through your history and concerns with you, use state of the art technology such as iNsight neurological scans and posture analysis to ensure that chiropractic is the right approach for your health goals.
After your first appointment they will include a thorough case history and detailed examination to determine the need and appropriateness of chiropractic care. If you are suitable for chiropractic they will tailor a very comprehensive care plan just for you and your specific needs
The main thing that helps them stand out is their empathy and transparency. They are a holistic practice realising that there are usually multiple components that have led you to the state you present with (both physical and mental) and address all of these.
Your well-being is their top-most priority, which means that they aren't just in it for what they could possibly gain. Their google reviews speak for themselves.
The clinic is easily accessible with lots of free parking, open long hours, and you can book your appointment online easily with instant confirmation.
Highlights
Skilled, friendly and holistic practitioners
ACC registered clinic
Online bookings with instant confirmation
2. Jones Family Chiropractic & Health Centre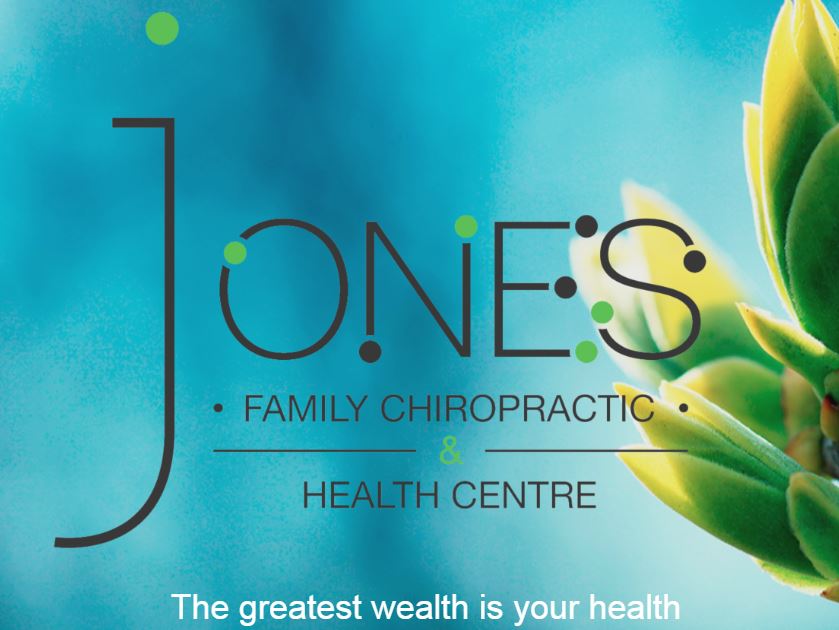 Website
https://joneshealth.co.nz/
Contact
09 524 4360
Address
360 Remuera Road, Remuera, Auckland, NZ, 1050
Email
[email protected]
Chiropractor
Dr. Dylan Jones, Chiropractor; Dr. Dylan Jones, Chiropractor
Specialty services
Chiropractic, Podiatry and Acupuncture
Rates

Initial consultation: $120

Regular visits: $60

12 visit care plan: $660

24 visit care plan: $1200

Family 25 visit care plan: $1250

Family 50 visit care plan: $2250

Acupuncture/Cupping/Moxibustion

Initial visit: $70

Regular visit: $70

ACC regular visit: $20
Jones Family Chiropractic & Health Centre is locally based chiropractic and health centre located on Remuera Rd. They offer a wide range of techniques including Diversified, Gonstead, Toggle, Thompson and Activator; all of which can be easily modified to cater to your individual needs. They offer Chiropractic, Acupuncture & Massage services in Remuera and surrounding communities.
Highlights
Skilled and experienced practitioners
Offers chiropractic, acupuncture and massage
Personalised treatment
Customer Reviews
On Google Reviews, Karl Tercel compliments the team at Jones Family Chiropractic & Health Centre:
"Dylan, the chiro and Justin, the acupuncturist are extremely good at what they do and I'd recommend anyone with pain or discomfort to visit their practice. Very nice facilities, great service, and well located in Remuera."
3. Anderson Chiropractic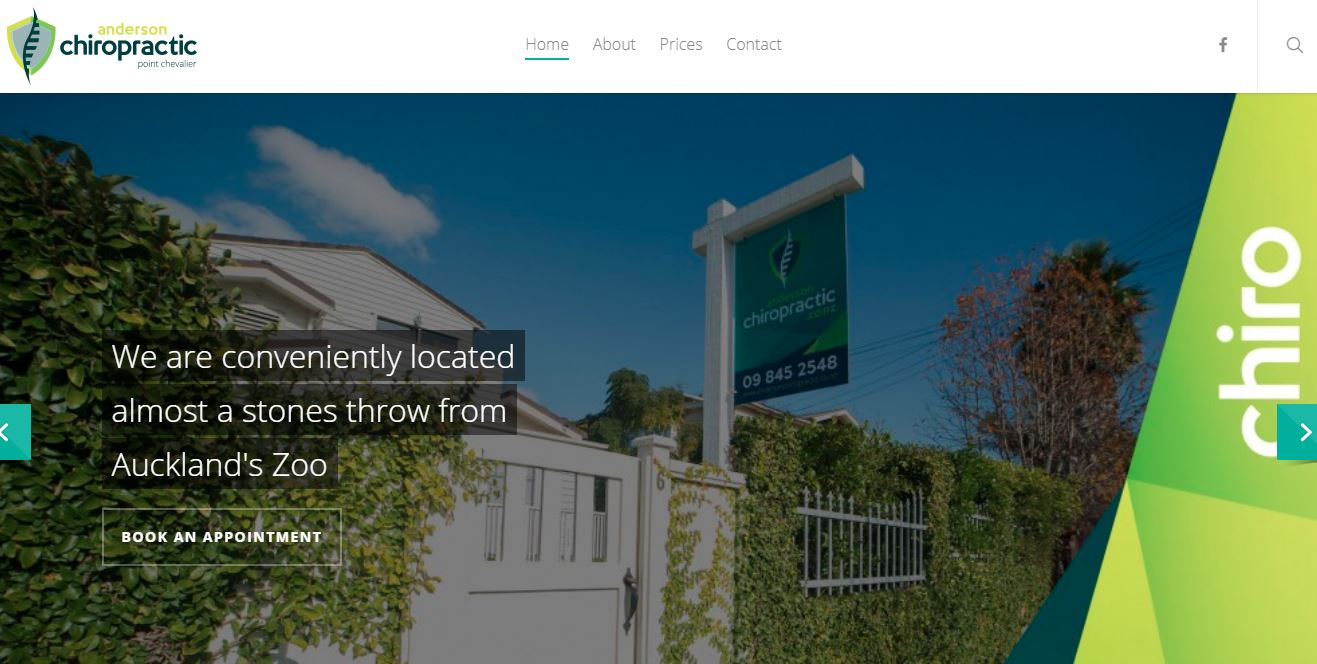 Anderson Chiropractic treats a wide variety of top professional athletes, martial artists, National and International competing level athletes through to everyday gym goers.
Know you're in great hands seeing a knowledgeable Chiropractor, Dr Clint Thomas with 14 years clinical experience. Dr Thomas studied a BSc before completing a Diploma of Applied Science followed by his Chiropractic degree at NZCC, graduating with distinction in the top 3 of his year. He worked as an associate at various clinics throughout Auckland for many years before establishing his own clinic 2011.
Anderson Chiropractic has been serving the Point Chevalier, Grey Lynn, Mt Albert, Westmere, St Lukes, Kingsland and surrounding communities for 12+ years.
Highlights
Treats casual gym goers, weekend warriors and athletes
Over 14 years of clinical experience
Qualified, professional and honest
Customer Reviews
On Google Reviews, Bree Laz remarked:
"Clint knows his stuff ! I highly recommend this clinic. He's thorough and has a great understanding about the body. He's helped several of my family members also."
4. Velca: Your Health Centre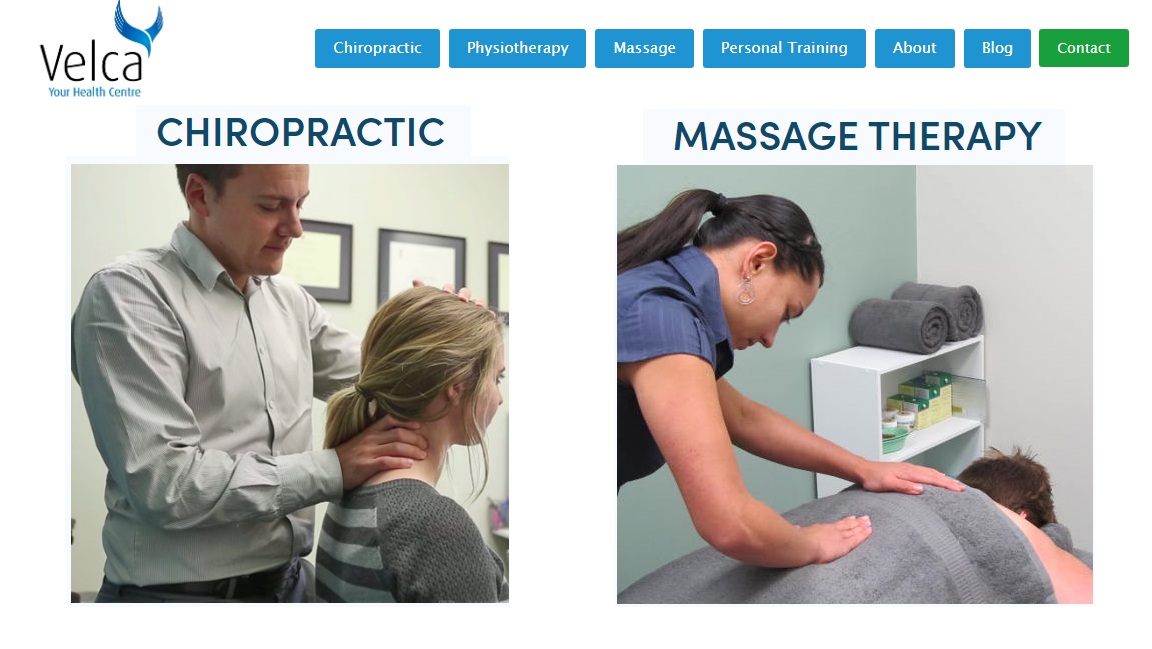 Website
https://velca.co.nz/
Contact

09 950 6801

Address

The Terraces 3/10 Wellington St Howick Auckland, New Zealand

Email
Chiropractor

Dr Jesse Cleave, Dr Matt Andreasen, Dr Brody Cleave

Specialty services

Chiropractic, Physiotherapy, Massage therapy, Personal Training

Rates
Chiropractic

Initial Consultation, Exam and First Adjustment: $88

Follow Up Visits

ACC: $39

Private: $58
Velca offers a wide range of services that primarily aims to help correct pains and achieve your goal of total wellness. The team is composed of various professionals with expertise in the following fields: Chiropractic, Physiotherapy, Massage therapy, and Personal Training.
The common conditions that the team addresses are back pain, neck pain, headaches, sciatica, shoulder pain, knee pain, and hip pain. You may also avail their free check up especially if you are uncertain what kind of service is suited best for your condition.
Highlights
Multi-disciplined specialists
Let you move, live and work without pain
Addresses recurring conditions, especially back, shoulder and neck pains
Free checkup for knowing what you need in terms of treatment
Customer Reviews
Rosie Hunter gave an informative review on Google Reviews:
"My first time visiting a chiropractor and I was a bit unsure/nervous. Reception was super helpful and lovely and the chiropractor – Dr. Brody Cleave – was amazing. Very thorough and knowledgeable and explained everything to me so I understood it all. Felt way better after leaving and have an ongoing plan! Recommending Velca to everyone I know ?"
5. Auckland City Chiropractic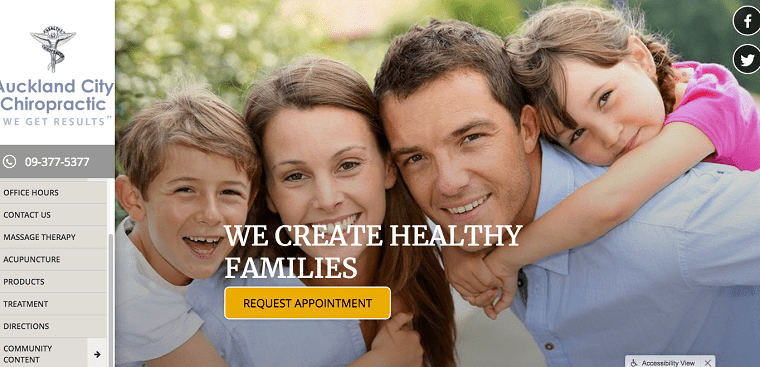 Website
http://www.aucklandcitychiropractic.co.nz/
Contact
09 377 5377
Address
12-26 Swanson Street, Level 9, Auckland, Auckland, 1010, New Zealand
Email
[email protected]
Chiropractor
Dr Te Hiko, San Yeom
Specialty services
Massage Therapy, Acupuncture
Rates
Initial Consultation fees

Adult – NZD 85 (ACC avail – NZD 65)

Student/Seniors/Community Service Card – NZD 75 (ACC avail – NZD 55)

Follow-up consultation

Adult – NZD 53 (ACC avail – NZD 32)

Student/Seniors/Community Service Card – NZD 42 (ACC avail – NZD 22)

Adult – NZD 85 (ACC avail – NZD 65)

Student/Seniors/Community Service Card – NZD 75 (ACC avail – NZD 55)
Auckland City Chiropractic is run by San Yeom, licensed acupuncturist and herbal medicine expert and its main services include Acupuncture, an effective way to treat illness by inserting needles into vital points in the body. This is a practice that going all the way back to 3,000 years ago. This is used to cure stomach pains, chest pains, headaches, skin problems, joint problems, anxiety and depression. The other is massage therapy to remove the soreness, aching, itchiness, and pain in the body.
Highlights
Licenced acupunturist and herbal medicine doctor
ACC service provider
Also offers body massage
Customer Reviews
Sheena Mudaliar had been really satisfied with the adjustments performed by Dr Te Hiko. She wrote:
"Dr Terry Te Hiko is the man! One of the best Chiropractor i have been too who is a brilliant and friendly guy which instantly puts you at ease especially if you are worried about the alignment procedures that will be done. He is also very flexible with timings and he has always managed to squeeze me in between schedules especially if i am in a lot of pain. I always end up with muscle injuries from gym and life but i always know Terry can put me back together again 🙂 Highly recommend!!"
6. Auckland Chiropractors & Acupuncturists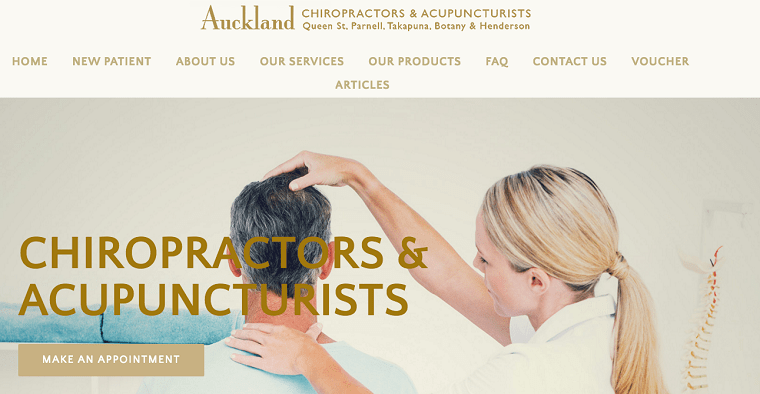 Website
http://aucklandchiropractors.co.nz/chiropractic-services/
Contact
09 366 7666 or 021 453 862
Address
Level 6, #605, 87-93 Queen Street, Dingwall Building, Auckland CBD

Other branches are located at Parnell, Takapuna, Henderson, and Botany

Email
[email protected]
Chiropractor
Dr Jim Yates, Dr Sean Kim, Dr Gary Blythe, Dr Paul Jeen, Dr Sarah Park, , Dr. Jenny Kim
Specialty services
Flexion Distraction Spinal Therapy, DFM Therapy, Gonstead, Activator, Diversified, Acupuncture, Spinal Manipulation, Deep Tissue Massage, Electrical Muscle Stimulation, Infrared Heat Therapy
Rates
Print out the voucher here http://aucklandchiropractors.co.nz/voucher/ and pay only $30 for your initial consultation ($35 discount off the regular price)

Note: this is available as a single use only
A combination of certified Chiropractic and Acupuncturists, this clinic enables patients to look into the best form of treatment for their musculoskeletal or emotional symptoms. Everyone who works here is qualified, experienced, and friendly with some knowing how to speak Korean and Chinese to come to a full understanding with their patients. The chiropractic has been operating for 13 years and now has 5 branches across Cental Auckland. They have neat, convenient facilities and with methods and pinpoint techniques working immediately on the patient's recovery.
Highlights
Fully qualified chiropractors and acupuncturists
Experienced and friendly
Can speak in Chinese or Korean
Pleasant and neat facilities
Customer Reviews
Kimberly Grubjesic keeps an active lifestyle, and has been going to Auckland Chiropractors & Acupuncturists to ease her back and neck pain as well as headaches. She writes:
"I've been visiting Auckland Chiropractors for 10 years now and every practitioner has been extremely professional. Sean at the Henderson branch knows the best treatments for my body and Sarah at Queen Street adds so much value with her holistic approach. I am so thankful for their friendly and expert care – they always make me feel like a new person again : ) I would highly recommend them."
7. Advanced Health Chiropractic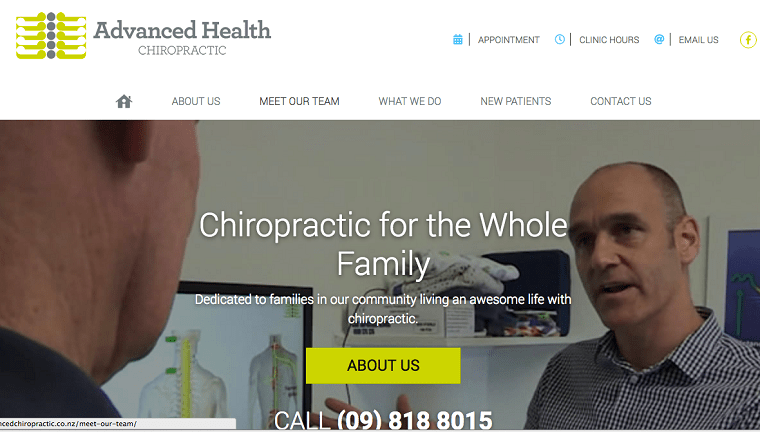 | | |
| --- | --- |
| Website | https://www.advancedchiropractic.co.nz/ |
| Contact | 09 818 8015 |
| Address | 10 Bowers Road, Glen Eden, Auckland 060210 Bowers Road, New Zealand |
| Email | |
| Chiropractor | Dr Ash Pritchard, Dr Katie Pritchard, Dr Tom Baker, Dr Dean D'Cruz, Dr Shayne Will |
| Specialty services | Spinal Dysfunction, Pregnancy, Health Challenges and Babies and Children |
A systematic approach for Advanced Health Chiropractic consists of evaluation, analysis, understanding, developing a care plan. The team is made up of 5 professional chiropractors that through their ideas and techniques remove interference from the nervous system. This chiropractic is stationed in Western Auckland.
Highlights
Professional and seasoned chiropractors
Systematic approach to make your body well
Develops a treatment plan for its patients
Customer Reviews
Chris Dunn has nothing but high regard for Advanced Health Chiropractic. He said:
"I would recommend any of the Chiropracters here! My son was suffering regular migraines and since coming to see Shayne he has been migraine free for nearly a year!! We now have taken advantage of the family rates and the whole family comes. Thanks guys my spine thanks you!"
8. Bodycare Clinic

Website
http://www.bodycareclinic.co.nz/
Contact
Forrest Hill: 09 410 4770
City Branch: 09 369 1313
Northcote: 09 218 6232
Address
306 East Coast Road Forrest Hill Auckland, New Zealand

2 Kitchener Street CBD Auckland

3 Akoranga Drive Northcote Auckland

Email
[email protected]
Chiropractor
Antonio Lee, Bono Kim, Daniella Kim
Specialty services
Chiropractic, Physiotherapy, Acupuncture, Podiatry, Massage
Rates
Casual

Premium Chiro Care (40-60 mins) – $80

Wellness Chiro Care (10-15 mins) – $35

Physiotherapy – $80

Acupuncture – $80

Podiatry – $80

Massage – $80

Note they also have concession packages with price ranging from $225-$600 which gives you 25% off for 10 visits.

Plus, you can pay a lesser amount if you're an ACC member.
Booking an appointment at Bodycare Clinic is pretty easy and can be as simple as one click on mobile application or texting. Their highly qualified practitioners with extensive clinical training can provide total health care solutions based on your health needs and status. You can check their rates here: http://www.bodycareclinic.co.nz/en/pricing/
Highlights
Qualified chiropractors with extensive experience
Easy to book an appointment through their app
Offer value packages for 10 visits (please refer to the rates above)
Customer Reviews
Amrita Shinde recommends Bodycare Clinic:
"I came here with severe lower back pain, unable to sit even for short periods of time. The pain was significantly less after the first session and almost gone after the second session. Everyone at the clinic is really nice, right from the receptionist to Chiropractors. They made me feel at ease straight away. They are really vested in treating you in a way that allows you to be your best self. I am so glad I came here, Highly recommend!"
9. Dynamic Chiropractic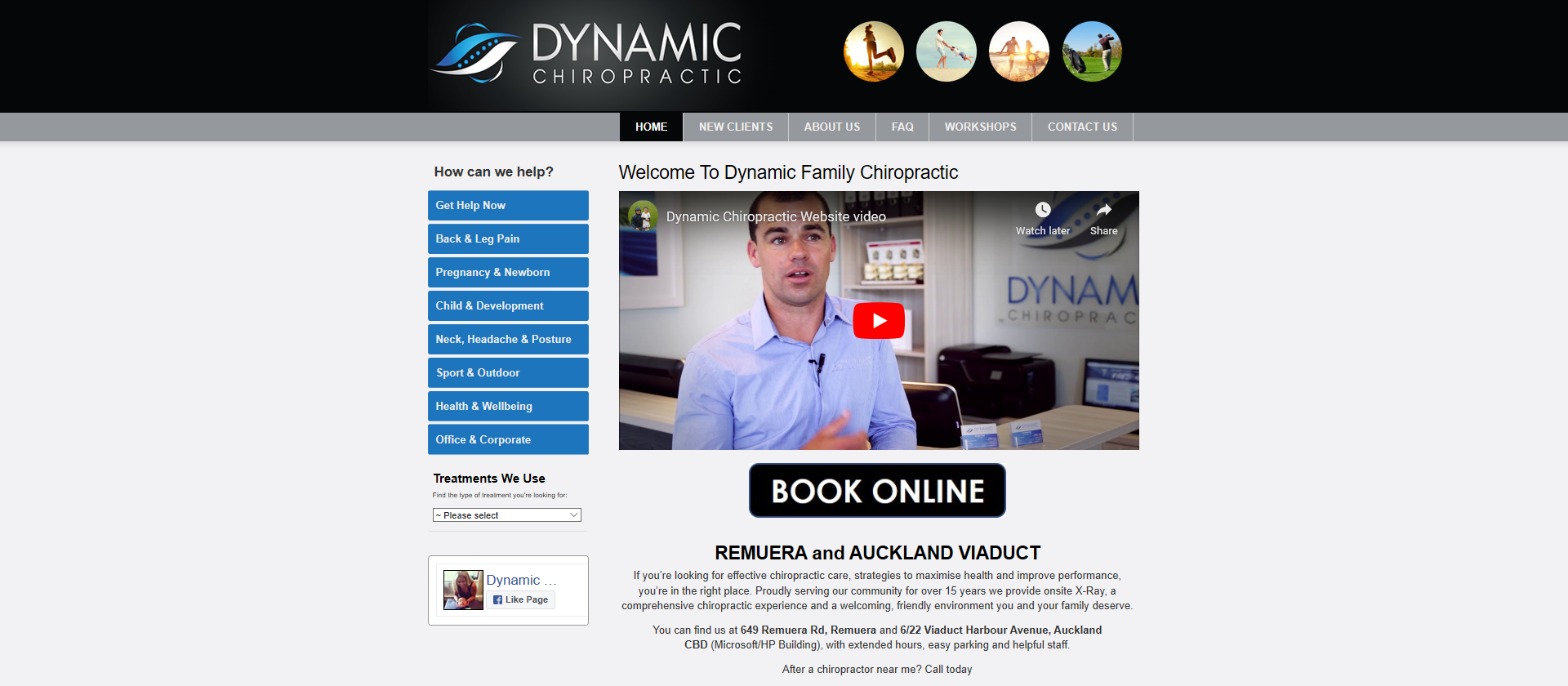 Website
http://www.dynamicchiro.co.nz/
Contact
REMUERA 09 523 5663

VIADUCT 09 302 1514

Address
649 Remuera Rd, Remuera, Auckland, New Zealand

6/22 Viaduct Harbour Avenue, Auckland CBD (Microsoft/HP Building)

Email
[email protected]
Chiropractor
Dr. Sheridan Kay, Dr. David Kay and Dr. Shannon Ganesan
Specialty services
Chiropratic Services, Workshops
Rates
Initial Examination: $100

Progress: $100

Regular Adjustment (Adult/Child): $60

Child: $45

Every extra child in family visit: $TBA
For fully effective chiropractic care, Dynamic Chiropractic is the one you should turn to. With strategies that maximise health and improve performance, they make sure to give you the best customer service they can provide.
Proudly serving clients for over 15 years, they provide onsite x-ray and a comprehensive chiropractic experience– all in a welcoming, friendly environment that you and your family deserve. Their chiropractors have gained a reputation for delivering outstanding, client-focused care.
To better serve their customers, they make sure to provide clients with a digital copy of their x-ray. Coupled with flexible clinic hours, these benefits are sure to allow more people to receive a superb healthcare experience.
Highlights
Provides outstanding and customer-focused care
15 years in the business
Highly qualified and knowledgeable doctors
Friendly and caring environment
Customer Reviews
Jeremy Caird mentioned on Google Reviews:
"My friend was visiting from Christchurch and was complaining about a sore back and aching body. I booked him in with Dynamic and when I saw him a few hours later he looked like a new man, "felt like a million bucks" Thanks for the great service Dave."
10. Vital Chiropractic Family Wellness Centre
Website
http://vitalchiropractic.co.nz/
Contact
09 522 0222
Address
1/78 Coates Ave (upstairs) Orakei, Auckland 1071 Bowers Road, New Zealand
Email
[email protected]
Specialty services
NET (Neuro-Emotional Technique), Chiropractic Care
Rates

Initial Consultation: $125

Chiropractic Visit Adult: $55

Chiropractic Visit Child: $45

3 family members at same time: $120

10 Visit Concession Card: $500 ($50 a visit)
Vital Chiropractic is more unique in terms of their target patients. They are an excellent chiropractic for expectant mums, growing kids, gentle-moving babies. In the first case, for labouring mothers, the chiropractors help them adapt to the sudden changes in their body, help them to relax and maintain a correct posture to prevent back and pelvic aches, and most importantly helps them in preparation for birth. As for the babies they need a soft massage, a little tickle there, to guide their bodies in the right way. For kids, as they are learning from interaction with the environment and constantly moving themselves about, here a chiropractic like Vital Chiropractic can assist too.
Of course, as professionals they could also deal with the problems of the grownups using chiropractic techniques and care.
Highlights
Highly trained and experienced chiropractors
Specialises in treating pregnant mums as well as babies and kids
Helps to strengthen your body and mind
Customer Reviews
Sally was greatly helped by the adjustments at Vital Chiropractic. She wrote on Google Reviews:
"I have been adjusted by a lot of chiropractors and Dr Nicola's adjustments are my favourite. She is a genius at helping me experience immediate relief from headaches and her post-natal care has been amazing, helping my body recover from birth. Both of my kids love her adjustments too and are extremely healthy, under regular chiropractic care. Thanks Nicola, you're the BEST!"
11. Te Atatu Chiropractic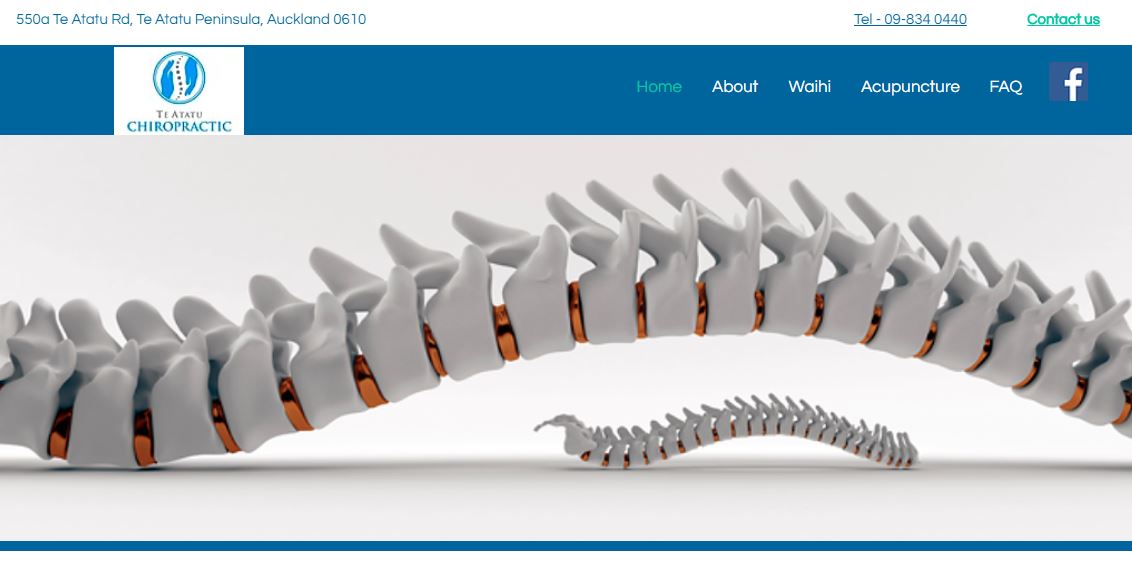 The chiropractors at Te Atatu Chiropractic will locate, analyse and correct these vertebral subluxations. Chiropractic adjustments re-align the spine, remove the pressure from the nerves, allowing them to function properly. This, in turn, results in a healthier, happier you.
Te Atatu Chiropractic's chiropractic care allows individuals to live a healthier life by clearing interferences in one's nervous system. They are passionate about being able to help people naturally. They believe whole-heartedly in the benefits of chiropractic not only because of their extensive training but also because of their personal experiences and also from the feedback and gratitude expressed by their patients.
Highlights
Extensive experience in the field
Removes the body's interference resulting in a healthier, happier you
Relaxing spine adjustments
Short waiting times
Customer Reviews
Steven Ferrall writes a quick comment of 5 stars from Facebook:
"I go there bent out of shape and come out on the straight and narrow….fantastic!"
12. Asanté Health

Website
http://www.asantehealth.co.nz/
Contact
(+64) 20 4063 6889
Address
40 Saint Benedicts Street, Eden Terrace, Auckland 1010, New Zealand
Email
[email protected]
Chiropractor
Dr. Angelo King, Dr. Echo Kite Bell, Dr. Martin Mhando
Specialty services
CHIROPRACTIC
ACUPUNCTURE
MASSAGE THERAPY
NUTRITION & NATURAL MEDICINE
IMMUNE SYSTEM
Asanté Health offers a full range of services that are focused on natural and conventional approaches for all persons of all ages. Driven by their vision to help you reach your true health potential, they are highly committed to providing the best healthcare solution for your medical conditions.
Their clinic is a combination of professional Chiropractors and Acupuncturists, one of whom is Dr. King. He's a certified chiropractor who is well-recognized for his various achievements and expertise in chiropractic. With his extensive experience and knowledge, you can rest assured that you will be in capable hands.
You can go never go wrong in trusting them with your health concerns. Schedule an appointment today and be provided with the customised care that you need!
Highlights
Full range of therapies
Safe and natural treatment
Customer Reviews
Katia Collins mentions on Google Reviews:
"Had a great experience here! Marco is a professional and knowledgeable chiropractor, seeing him has been very helpful. I recommend Asanté to anyone looking for a good chiropractic experience!"
13. Harbourside Chiropractic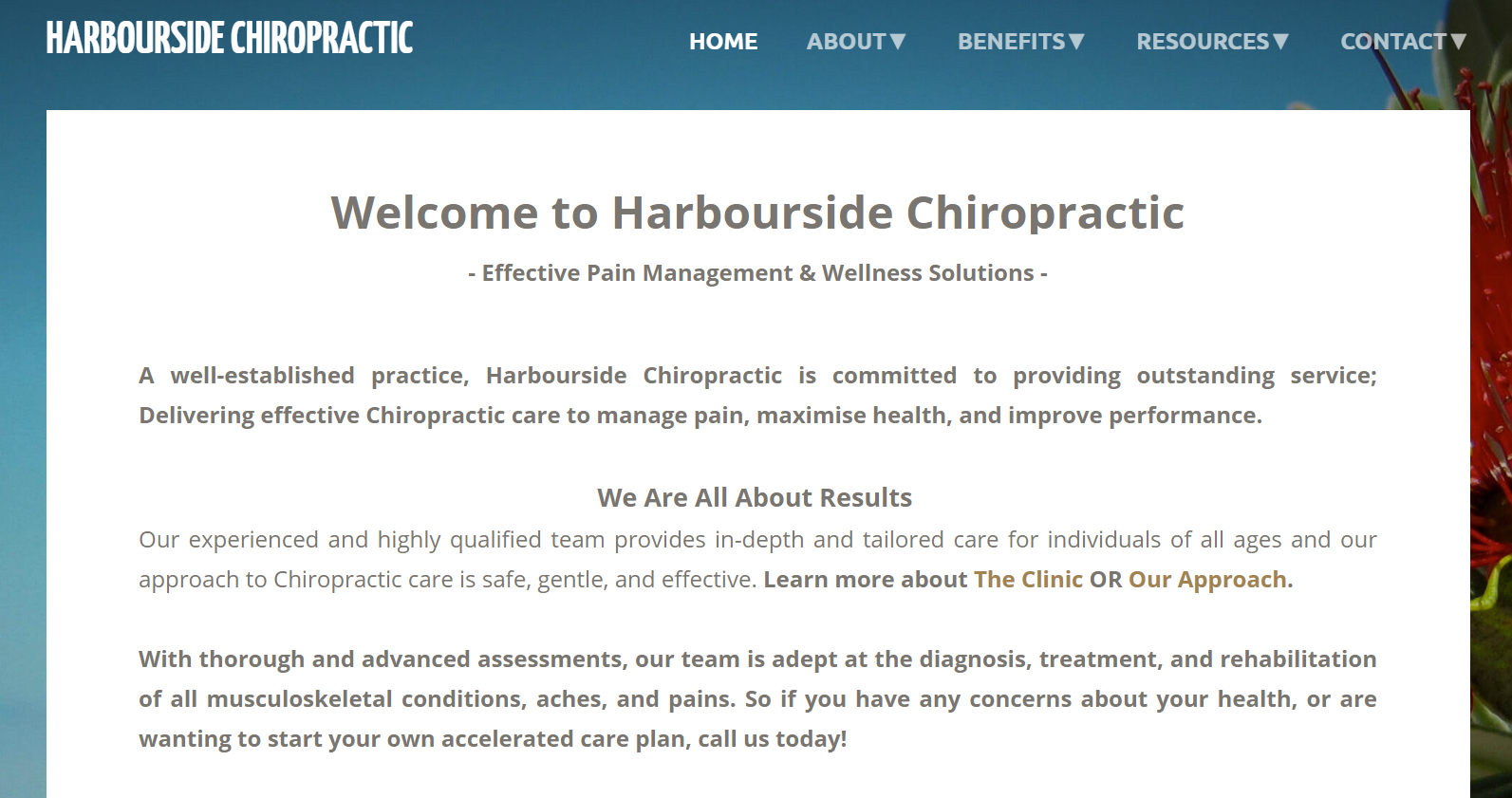 Website
www.harboursidechiropractic.co.nz
Contact
(09) 410 6462
Address
119 Shakespeare Road, Milford, Auckland 0620
Email

[email protected]

Chiropractor
Dr Edward Benson-Cooper
Speciality Services
Chiropractic for sports, injuries & ACC. Exercise, rehabilitation & nutrition. SFMA (Selective Functional Movement Assessment)
Acupuncture and Lymphatic massage available on location
Rates
Initial Consultation – $85 à Mention 'Top Reviews' to Receive 50% off your initial consultation!

Initial Consultation (ACC) – $55

Regular Visit – $55

Student Visit – $39

ACC regular Visit – $35

No need for a referral. If you have injured yourself, ACC can be filled out at the practice and sent away electronically, usually being accepted within 24 hours
A well-established practice, Harbourside Chiropractic is committed to providing outstanding service; Delivering effective Chiropractic care to manage pain, maximise health, and improve performance.
Our experienced and highly qualified team provides in-depth and tailored care for individuals of all ages and our approach to Chiropractic care is safe, gentle, and effective.
With thorough and advanced assessments, our team is adept at the diagnosis, treatment, and rehabilitation of all musculoskeletal conditions (aches & pains, chronic or new injuries etc). We are bio-mechanically focused with a goal to not only get you well, but to keep you well, educating how to account for your own personal health (via exercise, ergonomics and other modalities) and offering leading pain management and wellness solutions.
The clinic was formed by Dr Edward Benson-Cooper, the principle Chiropractor and is home to a team of experienced and local practitioners and modalities, which include; Chiropractic, Acupuncture, Lymphatic massage and Midwifery.
Highlights
Well-established practice
Experienced and skilled practitioners
Thorough & advanced assessments
Effective pain management & Wellness solutions
---
Anyway, that's our list of the best chiropractors in Auckland. If you think we missed some that deserve to be on the list, please go ahead and tell us who they are and what makes them awesome!