The 12 Best Options For Chiropractors In Christchurch
When you're visiting a chiropractor, you should always make sure that they are reputable. And in this article, we've done the work for you by listing the best options for chiropractors in Christchurch.
The best chiropractors in Christchurch offer a noninvasive alternative to surgical solutions for back or joint pain. In some cases, they've even proven to be more effective than surgery for pain relief.
With that in mind, let's now take a look at the best options for chiropractors in the Christchurch area. These should be your first stops before you dive into more serious solutions like surgical intervention.
1. Christchurch Chiropractic

Website
https://www.christchurchchiropractic.co.nz/
Contact
0274485776
Address
41 Moorhouse Ave Christchurch 8011
Email
[email protected]
Chiropractor
Hugh Crozier
Specialty services
Spinal, Myofascial, Cranial, and Visceral
Rates
ACC Initial NZ$65 and Follow up NZ$40

Private Initial NZ$85 and Follow up NZ$55
Hugh Crozier specializes in treating  spine, muscle, joint, and chest or stomach problems. He'll see what is interrupting the brain-body connection to get you back to health once again.
Initial consultation often involves some light massaging and testing limbs' ranges of motion. Like all good practitioners, Crozier will help you work toward your goals.
Highlights
Treats a wide range of muscle or joint pain
Great listener and cares about the patient
Supports you toward your health goals
Customer Reviews
Genevieve Leech mentions on Google Reviews:
"I highly recommend Hugh as a chiropractor. He has helped maintain my back and always listens when new strains or sprains pop up."
 2. Happy Spine

Website
https://www.happyspine.co.nz/
Contact
03 348 3536
Address
Happy Spine 164 Clarence St Riccarton, CAN 8011
Chiropractor
Dr Jim Miller, Dr Kim Sherwen, Dr Rob Hutchings
Specialty services
Clinical Biomechanics of Posture, ArthroStim
Rates
ACC Initial NZ$179 and Follow up NZ$43

Private Initial NZ$179 and Follow up NZ$65
Happy Spine is a chiropractic clinic located in Christchurch in the Riccarton area. The marketing makes their aim simple and clear enough: Healing New Zealand One Spine at a Time.
Symptoms felt may be a cause of some factor concerning the nervous system. This is why chiropractors here take time to evaluate the problem before trying to solve them.
The team doesn't content itself with just taking out symptoms either. They go further by completely rooting out the cause of the patient's problem.
Not only that, but they even show you models or pictures to better understand what caused the feeling. In order to speed up your therapy, they give you specific exercises to include in your routine.
Highlights
Exceptional chiropractors
Addresses the true cause of the symptom
Informative, kind and considerate
Customer Reviews
Dave Addison said on Google Reviews:
"The awesome team at happy spine have helped me get back so much quality of life and I am only 4 weeks into my treatment. Highly recommend for anyone with back and neck pain, I've been to alot of different places trying to sort my spine and none come close to Happy Spine!"
3. Christchurch Osteopathy Acupuncture Ltd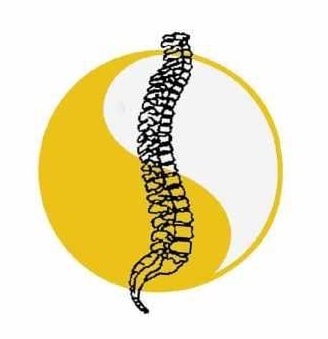 Christchurch has another good chiropractic clinic in this one, led by Michael Inman. It specialises in Classic Osteopathic Treatment, which focuses on the proper posture of the body and its movement.
This is a big help for people who've been hurt and injured from something that happened. Or for those looking to recover the feeling in their limbs and muscles from say, some form of numbing injury.
They also offer cranial osteopathy, which tries to balance the fluid found in the skull and spine. Besides leaving you feeling a lot more relaxed, it will benefit your mind and body as a result.
And when you have had enough of stress, sleeping disorders, anxiety, phobia, and depression, you can count on Christchurch Osteopathy Acupuncture to help you deal with them too.
Highlights
Specialises in Classic Osteopathic Treatment
Soothing manipulation and massage
Relieves stress, insomnia, anxiety, phobia and depression
Customer Reviews
Troy Hutchinson had been experiencing tremendous pain in his back. Here's an excerpt of his full review on Google Reviews:
"His delivery of treatment is calm and reassuring, his clinic is warm and relaxing and his waiting room contains an abundance of free and practical reading material. It was clear to me right from the beginning that this man wanted to heal me rather than just clip the ticket like pretty much every Christchurch physio and chiropractor I've been to in the past."
4. Roughan Chiropractic

Website
https://www.roughan.co.nz/
Contact
(03) 365 7828
Address
Roughan Chiropractic 316 Riccarton Road, Upper Riccarton, Christchurch 8041
Chiropractor
Dr. Simon Roughan, Dr. James Roughan, Dr. John Sutherland, Dr. Haley Pugh, Dr. Haley Hunt
Specialty services
Chiropractic for Adults and Kids, Wellness Care, Applied Kinesiology (PAK)
Rates
ACC Initial NZ$75 (NZ$55 for children/students)

Private Initial NZ$100 (NZ$80 for children/students)
With them having treated patients for 38 years and counting since 1981, you will only find good and experienced doctors in Roughan Chiropractic. They specialise in Applied Kinesiology (AK) and many other chiropractic techniques.
Whether you're feeling a sharp back pain or recovering from a sprain, let them handle it. Their treatments are known for being effective and swift to take effect.
Take note that it's best to bring a previous referral or X-ray of your problem area if you happen to have it. They encourage patients to do this because it helps them with their diagnostics.
In order to guide you in your diet/nutrition and exercise, they also provide a blog on it through their website. You can visit it to practical advice or insights regarding the human body wellness.
Highlights
Experienced and professional chiropractors
Effective treatments and adjustments
Helps if you bring your recent X-ray showing the problem area
Established since 1981
Customer Reviews
Janine Gray comments on Google Reviews:
"Excellent attention to details, caring Dr John, with gentle healing practice, always on time. Walk out feeling healed. Pleasant receptionists, and great experience. Thank you 🙂 I can highly recommend this practice."
5. Revive Chiropractic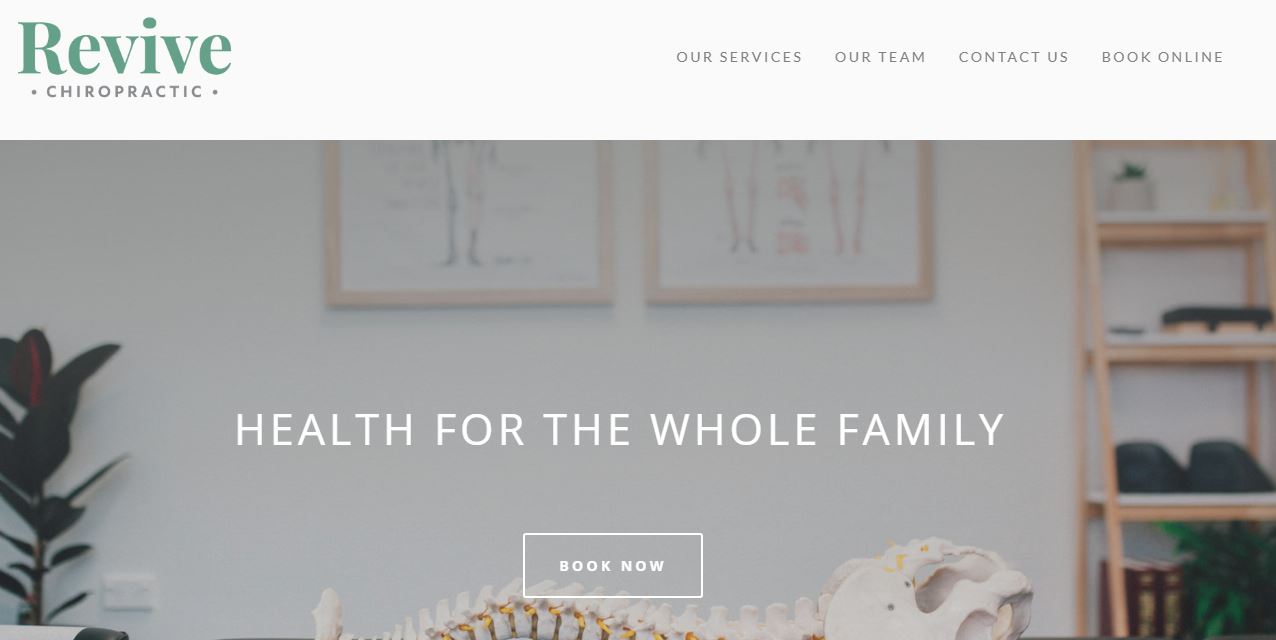 A family-focused Chiropractic Office, Revive Chiropractic is located near the Christchurch City Centre. They're known to offer gentle and specific chiropractic care for infants, children, pregnant women, athletes and families in the local community.
Using specific Chiropractic techniques and the latest research to be sure your nervous system is functioning at it's best, they aim to reconnect and enhance your health and wellbeing by enabling your body to function at a greater neurological level.
Highlights
Provides safe and gentle chiropractic care
Incorporates the most up-to-date research
Removes interference in your nervous system
Customer Reviews
On Google Reviews, James Harman shared about his experience at Revive Chiropractic:
"I went to see Tash with a mild lower back injury from heavy lifting. I have been to Chiropractors before but hadn't had very good experiences. She explained to me what was wrong and I came away feeling great! Easy online booking, lots of parking and professional service.
'Do not use your back as a crane!' Dr Tash"
6. Back Into Balance

Website
https://www.backintobalance.co.nz/
Contact
03 352 0097
Address
154 Leinster Road Merivale, Christchurch 8014
Specialty services
Chiropractic Services, Applied Kinesiology and Nutrition
Rates
Adults

ACC Initial NZ$75 and Follow up NZ$35

Standard NZ$95 and Follow up NZ$55 NZ$160 (Kinesiology) and Follow up NZ$120

Children/Student

ACC Initial NZ$65 and Follow up NZ$25

Standard NZ$85, and Follow up NZ$45

NZ$150 (Kinesiology) and Follow up NZ$110
Back Into Balance is another of the best options for chiropractors in Christchurch. They see to everything from shoulder to back, hip, and jaw problems.
The specialists will first examine or evaluate your condition on your first visit before deciding on the best plan to get you back pain-free and healthy again.
They may advise changes to your diet to help your recovery, besides facilitating healing through a couple of stretching exercises. Plus, they encourage patients' daily progress as a way of improving both mental and emotional health.
Highlights
Cares about the patients' condition
Incorporates diet and stretching exercises for faster healing
Focuses on emotional and mental health
Customer Reviews
Sky Williams said on Google Reviews:
"Brooke has helped me immensely over the past few years to keep my back healthy after an injury. Thoroughly recommended."
7. Christchurch Wellness Centre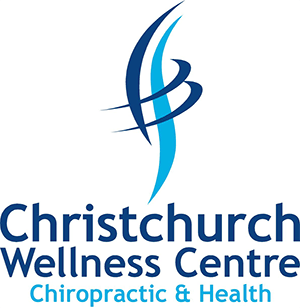 Website
https://chchwellness.co.nz/
Contact
03 357 9222
Address
390 Memorial Avenue,  Christchurch, NZ, 8053
Email
[email protected]
Chiropractor
Dr Mary Patterson, Dr Chad Esaiah
Specialty services
Chiropractic Care, Corrective Exercises, Lifestyle Advice, Nutritional Counseling, Massage Therapy, Spinal and Postural Screenings
Rates
ACC Initial NZ$40

Private Initial NZ$100 and Follow up NZ$60

Children/Students NZ$25
 In Christchurch Wellness Centre, you have caring chiropractors who solve bone and muscle conditions. They get to the root of the problem and work their way up so that you'll have long-term health and disease prevention.
With regard to services, they employ the latest knowledge, techniques, and advice in the field. They provide patients with advice for wellness and assist them in corrective exercises.
Highlights
Compassionate and professional chiropractors
Focuses on long-term health and disease prevention
Provides valuable advice to the patient
Customer Reviews
Bootleg Equine stated on Google Reviews:
"Mary is an outstanding and professional chiropractor. She has been able to adjust my back with real success whilst making the appointments feel personal rather than an in and out in 2 minutes adjustment. She is one of the only chiropractors to adjust my neck without making me wince. Highly recommend, the centre is light and bright with a very welcoming front desk and practitioners. :-)"
8. Connect Chiropractic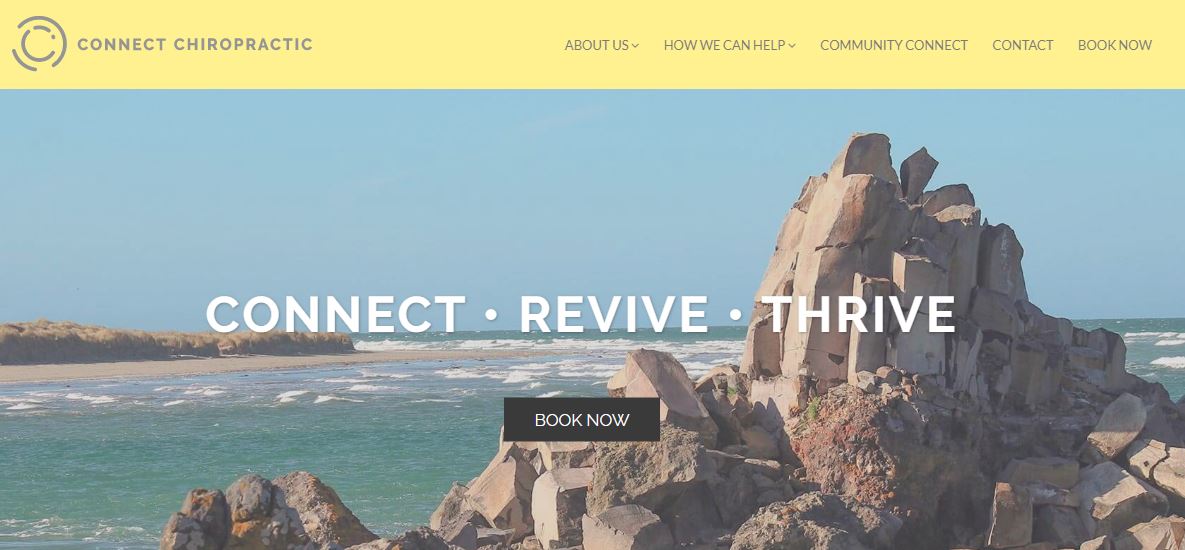 Website
https://connectchiro.co.nz/
Contact
Phone : 03 376 4610
Email : [email protected]
Address
5/1105 Ferry Road, Ferrymead Christchurch 8023
Chiropractor
Dr Matthew Wild, Dr Alex Skjervheim Wild, Dr Henrik Prütz
Specialty services
FIRST CONSULT AND CHIROPRACTIC EXAM – $90 (approx 40minutes)
A thorough conversation, examination and analysisREPORT OF FINDINGS AND ADJUSTMENT – $65 (approx. 30mins)
Following your consult, they can discuss your findings and explain the best way forwardThis appointment is the beginning of your chiropractic care.REGULAR ADJUSTMENTS – Koha Fee System (Discussed during your Report of Findings)
Connect Chiropractic is a community-focused practice in Ferrymead, serving the surrounding areas from New Brighton to Sumner. They enable your spine and nervous system to realign and reconnect for you to experience improved health, well-being, and quality of life.
To make chiropractic care accessible regardless of your financial situation, they use a Koha (pay as you can) Fee system. This means you simply choose what you pay.
Highlights
Qualified and experienced chiropractors
Community chiropractic centre
Offers a Koha payment option
Customer Reviews
Jodi Metcalfe has been greatly helped by Connect Chiropractic. She writes:
"Thanks to the team at Connect Chiropractic I can now leap out of bed in the mornings without any pain. No more pins and needles waking me up at night. I no longer feel like an old lady who needs a walking stick when I get up out of a chair after 10 minutes.. I have been amazed at how quickly there has been been improvements.
Totally worth going!"
9. Evolve Chiropractic

Website
https://evolvechiro.co.nz/
Contact
Office: 03 352 7500
Email: [email protected]
Address
EVOLVE CHIROPRACTIC REDWOOD
140 Grimseys RoadEVOLVE CHIROPRACTIC BISHOPDALE
106 Highsted Road
Chiropractor
Dr. Valerie Tan, Dr. Chris Dobson
Specialty services
Vertebral subluxation, Nerve Interference, Family and Children Chiropractic services
As chiropractors, Dr. Chris Dobson and Dr. Valerie Tan are formally trained to locate, analyse and release subluxations through safe and gentle adjustments, restoring optimal function to your nervous system and YOU.
At Evolve Chiropractic, they believe everyone should have the opportunity to experience the health benefits of a fully functioning nervous system and hope to provide care that is accessible to all – they look forward to helping you achieve your health goals.
Highlights
Proficient and formally trained doctors
Perform safe and gentle adjustments
Benefits your physical and mental well-being
Customer Reviews
Platinum Chiropractic Erina remarked on Google Reviews:
"These chiropractors are so professional and absolutely dedicated to doing the best for the people they see. They have such integrity and a wealth of knowledge that comes through in every way. Amazing."
10. Inalign Health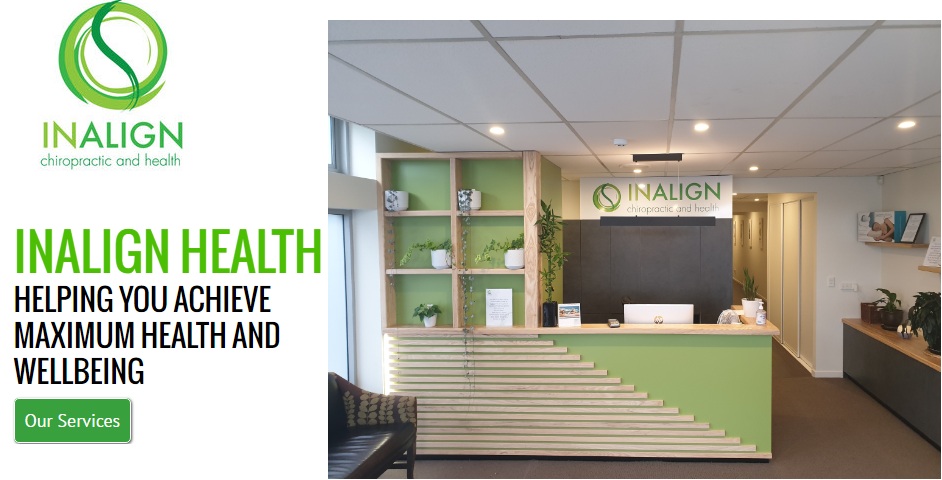 | | |
| --- | --- |
| Website | https://www.inalign.co.nz |
| Contact | 03 379 3370 | [email protected] |
| Address | 58 Fitzgerald Ave Christchurch |
| Chiropractor | Dr Jude Moriarty, Dr Greg Kleis |
| Specialty Services | Chiropractic, Massage Therapy, Acupuncture, Naturopathy |
Inalign Health aims to facilitate the best overall health care by incorporating Chiropractic, Massage, Acupuncture and Naturopathy in order to bring about a wellness lifestyle. Along with their team of expert and well-rounded practitioners, they envision a wellness center that will provide the best care and support to help achieve a more balanced and fulfilling life.
Their chiropractors, specifically, use the techniques Drop, SOT, Cranial, etc. to maximise your treatment to effectively give your body the power it needs to heal. Currently, their team has two chiropractors, two massage therapists, an acupuncturist, and a Naturopath. 
Highlights
Integrative chiropractic treatment
Well-rounded and expert practitioners
Helps you to have healthier and balanced life
11. Merivale and Riccarton Chiropractic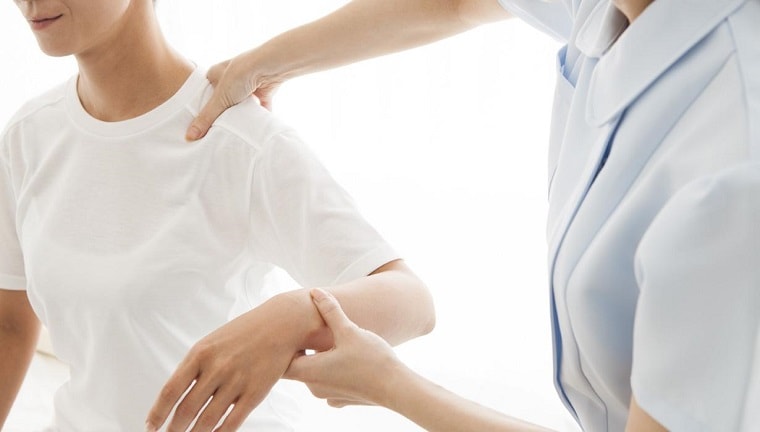 Website
https://www.spines.co.nz/spine-problems
Contact
(03) 355 8488, (03) 343 5544
Address
Merivale – 31 Strowan Road, Christchurch

Riccarton – 184 Clarence St., Christchurch

Chiropractor
Dr Tash Jackson, Dr Paul Willis
Specialty services
Back & Neck Pain, Headache & Migraine, Pinched Nerves, Shoulder, Hip & Elbow Pain, Pregnancy, Children Chiropractic, Posture Disorders
This chiropractor's clinic specialises not only in treating the usual muscle-bone aches and weakening but also issues like distressing headaches. Pregnancy pains are also common issues for patients coming in to see them.
Consult Dr. Paul Willis if you have a lumbar problem because that's his specialisation. Meanwhile, you should see Dr. Tash Jackson for pregnancy pains and for a safer, better delivery and reduced muscle tension.
Among the best options for chiropractors in Christchurch, you may depend on them whenever you experience a migraine, and neck or back pain. They also see to those trying to recover from accidents.
The specialists who will attend to you are Dr. Mary Patterson and Dr. Chad Esaiah. Both of them are professionally-trained chiropractors with extensive experience in their field.
Highlights
Treats a wide range of ailments and conditions
Have doctors who specialise in back pains, injuries and pregnancy
Extensive experience in the field
Customer Reviews
On Google Reviews, Kate de Lugt noted about Riccarton Chiropractic:
"They were able to get me an appointment very quickly and Tash helped me with some major tension in my neck! Friendly and effective. ?"
12. Native Chiropractic

Website
https://www.nativechiro.co.nz/
Contact
03 326 5060
Address
7/43 Nayland St,Sumner,Christchurch 8081
Chiropractor
Dr Elly Packham, Eilish
Specialty services
Chiropractic assessment
Neuro-spinal examination
Functional neurological testing
Digital posture assessment
Spinal range of motion
Neuro-development & primitive reflexes
X-ray referral (if required)
Native Chiropractic, a family-centered chiropractic clinic, is located at Christchurch City. They are well-recognised in providing delicate and specialised care to infants, children, pregnant women, adults and families in the local community.
Dr. Elly, a professional chiropractor, is the head consultant of the clinic– one who expertly handles medical conditions of the patients. She's highly experienced, having performed chiropractic services both locally and internationally. With her expertise, best believe that she, along with her co-chiropractor, can alleviate your discomfort as well as provide you healing in a gentle way.
For any pain you might be experiencing, make sure to go to Native Chiropractic. You can count on them to receive premium health services of the highest standards, all suited to your needs. Contact them today and become one of their fulfilled clients!
Highlights
Friendly and accommodating staff
Gentle treatment
Customer Reviews
Charlotte Millman mentions on Google Reviews:
"Such a beautiful welcoming space! Highly recommended."
---
We've rounded up the best options for chiropractors in Christchurch! Tell us what you think about them if you do visit any of the ones we suggested.
Other than that,  if you live in Auckland, you can check out this article for the 6 best options for chiropractors in Auckland.
But if you live nearer to the Wellington area, you could read the 6 best options for chiropractors in Wellington instead.