By Isla Thompson
Whether you'd like to enjoy a hearty buffet, work out at a gym or just stay in for the night, hotels are the perfect place. If you are looking for one, you're in luck, as we've gathered the best Christchurch hotels here for you!
To make our list, we carefully chose hotels that have a cosy and friendly ambiance, with delectable food and convenient locations. Aside from that, we also considered what customers think.
Anyway, to get to know more of Christchurch, these hotels are great starting places! Here are the best Christchurch hotels now:
1)  Novotel Christchurch Cathedral Square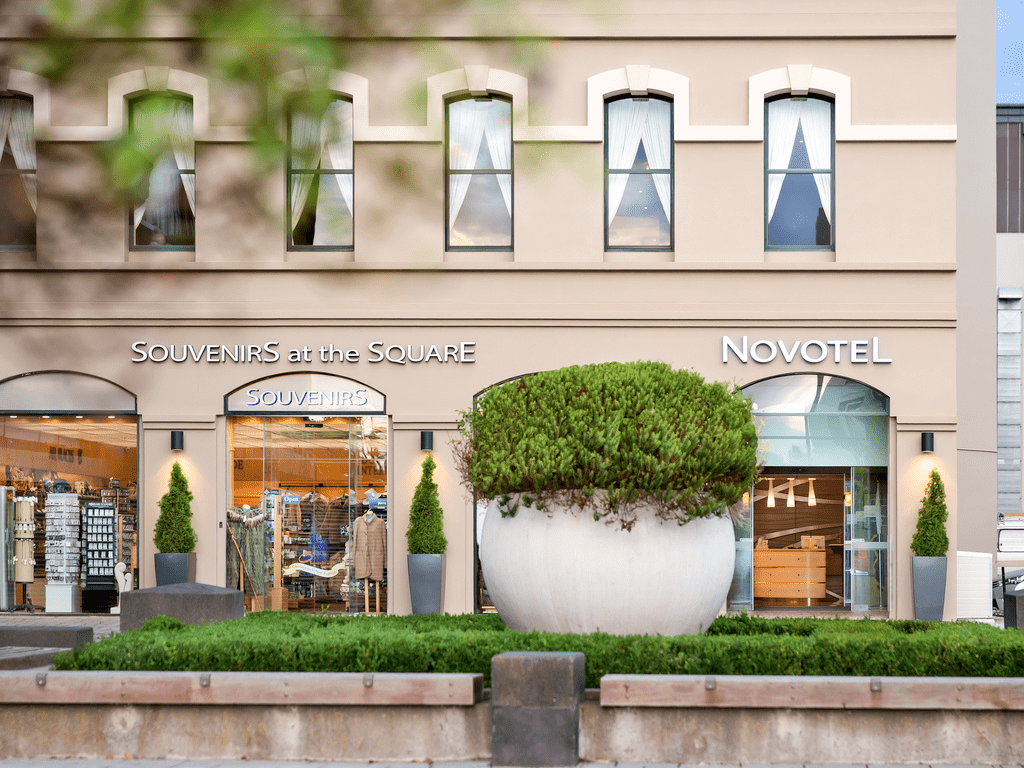 Novotel Christchurch Cathedral Square is a modern 4-star hotel with accommodating staff, delicious food and a fully equipped fitness centre.
Making every moment matter, Novotel Christchurch is the perfect stay for relaxation or business. There's a breathtaking view of the Southern Alps in their executive suites, even.
Be sure to have some buffet breakfast or a la carte at their Square Restaurant if you do stay at the Novotel, by the way. The stylish and modern restaurant offers fresh, locally sourced food that will delight your taste buds!
Just across the hotel, you'll also find yourself close to the city's beautiful attractions. Among them are the Re:START Mall, Botanic Gardens, and Isaac Theatre Royal.
Highlights
Contemporary and charming hotel
Fresh and locally sourced food
Cosy rooms with wonderful views
Within walking distance of the city's attractions
Customer Reviews
One of the hotel's guests, Anne P., commented on Trip Advisor:
"Very good. Staff extremely friendly and helpful. Our room was a bit chilly though. Apart from that was just great. Dinner was delicious especially the smoked venison."
2)  Rendezvous Hotel Christchurch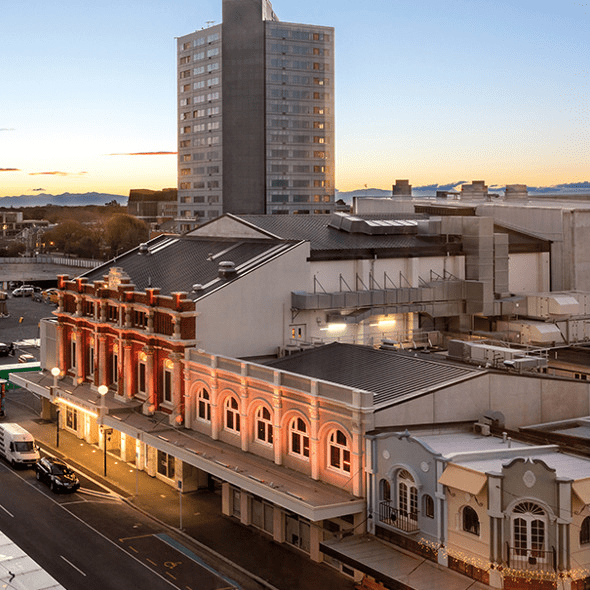 If you're keen on discovering more of Christchurch, you should stay at Rendezvous Hotel Christchurch! Here you're literally only steps away from the city's top attractions!
For example, you can head down to Christchurch Art Gallery for a start. Shop with glee in H&M and Ballantynes in the Crossing, or have a cocktail drink at Strangers Lane.
Anyway, their rooms are fully equipped, so that you'll have everything you need from alarm clocks to free Internet! Needless to say, the window views are simply stunning!
There's even more to that from one of the best Christchurch hotels, including the beloved red and caramel city tram — you can hop on one just outside of the hotel!
Highlights
Complete amenities in the room
Close distance to the city's top attractions
Lots of exciting things to do
Customer Reviews
Naomi Iro, one of the guests, said on Google Business:
"The staff were very friendly and pointed out spots around the city we should check out.
The room was super clean and had all the essentials.
The location was great. Lots of parking (Wilsons) around the area, The park right across the street and all the shops were super close."
3)  Pavilions Hotel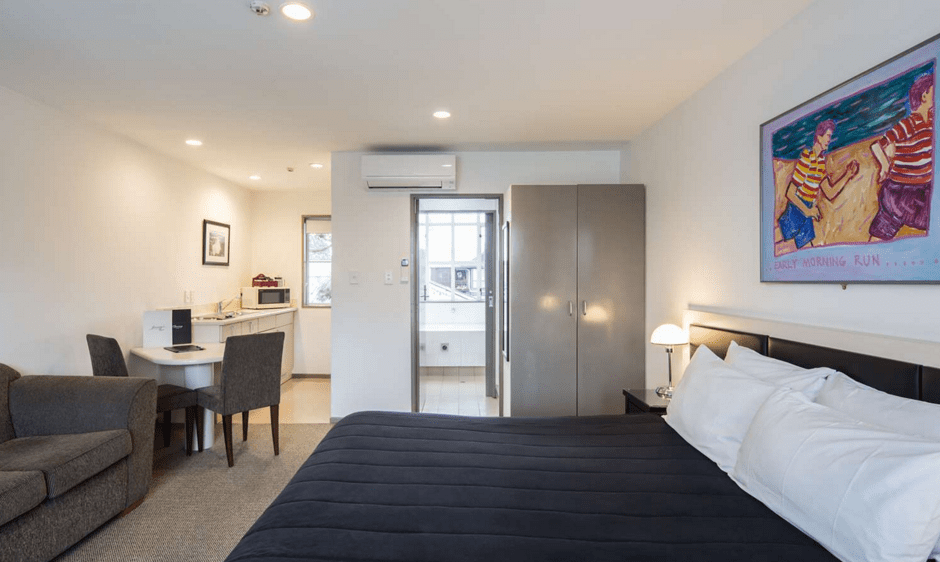 | | |
| --- | --- |
| BEST FOR | Beautifully Designed and Well-Appointed Rooms |
| SERVICES | Rooms, Dining, Conferences & Events |
| WEBSITE | https://www.pavilionshotel.co.nz/ |
| ADDRESS | 42 Papanui Road, Merivale, Christchurch 8014, New Zealand |
| CONTACT DETAILS | +64 3-355 5633 |
If you want a cosy and quaint hotel to stay in, Pavilions Hotel is an excellent choice! Being a family-run business is probably part of what makes this hotel such a pleasure to stay in, as the people here are so very warm.
All in all, they offer 92 uniquely decorated rooms with full amenities for your stay. Simple and nice paintings, over-covered bed, heater and Internet to connect with the world.
Another is their Jimmy's Restaurant & Bar Christchurch providing al fresco dining. They offer heartwarming and well-presented food that completely satisfies!
As you can see, they're one of the best Christchurch hotels you can go to! Plus, theirs is a very convenient location if you'd like to go out and explore the city.
Highlights
Cosy and quaint 4-star hotel
Offers heartwarming food
Beautifully designed rooms with full amenities
Convenient location
Customer Reviews
On Google Business, Philip Merson writes a review:
"Great place to stay. Has a good dipping pool, and a spa. The on site gym was handy for those with tight schedules. Good food and service. On site bar is also a great place to wind down."
4)  Crowne Plaza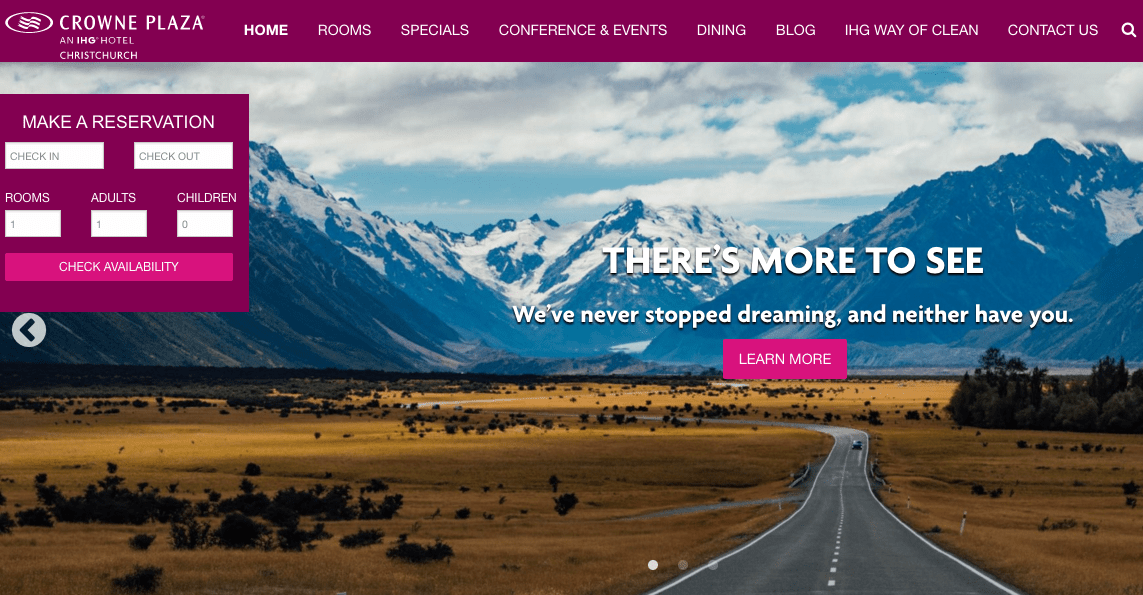 | | |
| --- | --- |
| BEST FOR | State-of-the-Art Room Electronics |
| SERVICES | Rooms, Conference & Events, and Dining |
| WEBSITE | https://christchurch.crowneplaza.com/ |
| ADDRESS | 764 Colombo Street, Christchurch, 8011, New Zealand |
| CONTACT DETAILS | +64 (3) 741 2800 |
Crowne Plaza is another of the best Christchurch hotels you can escape to. They are part of the InterContinental Hotels Group, living up to its standards with a Kiwi twist!
The hotel interior is styled in a contemporary and elegant way. Polite and helpful staff will greet you when you enter and always strive to provide great service.
Their rooms offer a lot of space for you and your family. These are equipped with an HD TV, bathroom speakers and USB ports to recharge your devices.
If you fancy fresh and delicious food, come right down to Marketplace Restaurant & Bar. And for your afternoon coffee fix, you can pop into the relaxing and cosying Cafe 1851.
Highlights
Polite and helpful staff
Contemporary and elegant decor
Spacious rooms
Excellent food, coffee and wine
Customer Reviews
Here's a review of rhythmb2016 as posted on the Crowne Plaza website:
"Modern hotel in the heart of Christchurch- this is the place to stay if you're in Christchurch. The rooms are big , clean and modern . The staff is very courteous and always ready to help. I stayed with my family for 3 nights and we loved our stay at this lovely hotel . The breakfast is served in the cafe on the first floor. It's fresh and Good . They can maybe add more variety to it – more fruits , muffins etc . ( Also, it could be nice if their in room dining menu could have more items , especially for kids.) But all in all , we had a FANTASTIC TIME . Thank you for cherished memories."
5)  Hotel 115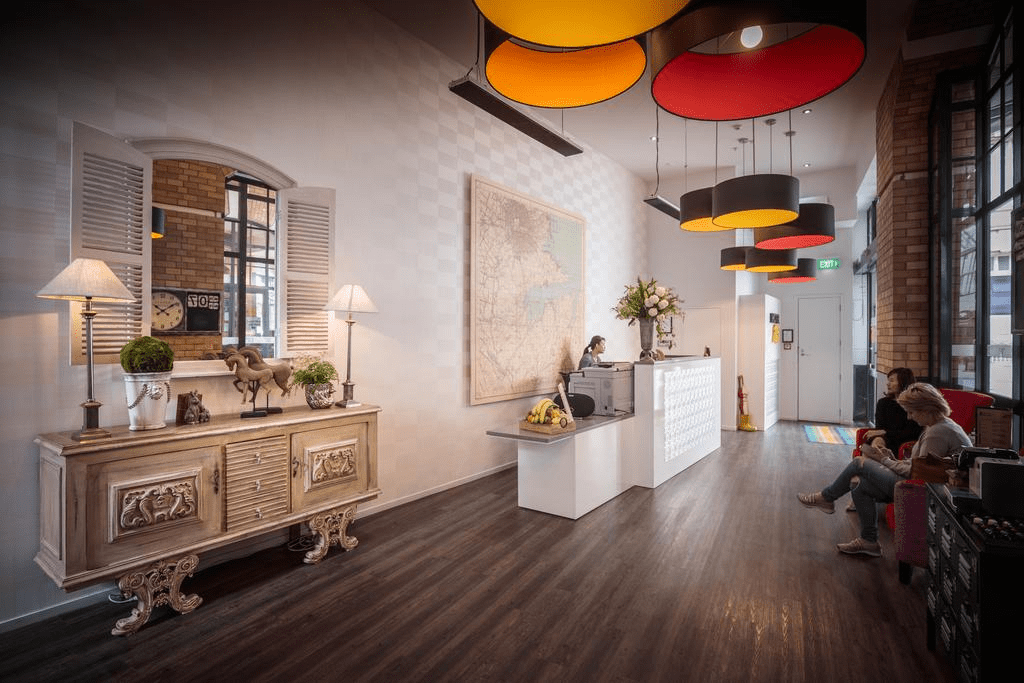 Sometimes, boutique hotels are better to stay in than the larger hotels. The reason is that you feel that enveloping warmth, attention, and care just like you would at home (well, if you have a comfortable home, anyway!).
Within a heritage building, 37 rooms are ensconced and wonderfully decorated in charming European style. This style is even evident in the hotel's decor and displays.
Hotel 115 is a convivial hotel that is ideal for the traveller and businessman. They have 4 room options that will suit just about any budget and need.
The city tram frequently stops by Hotel 115 as well. Also, the hotel is within easy reach of renowned museums, parks and outlets.
Highlights
Boutique and lovely rooms
European-styled interior
Convivial atmosphere and staff
Convenient location
Customer Reviews
JC MacLeod wrote a feedback on Facebook:
"An amazing experience. The hotel is not large but is a definite great find. Room was clean and spacious with really nice furnishings. Having a street tram running through the hotel lobby is an absolute must to experience."
And there you have it for the best Christchurch hotels! Although not all of these hotels have a 5-star rating, their food, service and rooms are exceptional and first class!
Have you got any questions for us about the featured hotels? If you have one, you can send us a message and we'll get back to you in a jiffy!
While you're out and about, you also might like to swing by a cafe for a tall cup of hot latte. In this case, you can visit the best cafes in Christchurch!