The 7 Best Christchurch Movers
Like buying a property, relocating is one of the biggest decisions you can ever make. We know that it can be demanding and stressful at the same time, which is why we've brought you the best Christchurch movers for today's list!
We took the time to find movers who will handle and transport your items with the utmost care and professionalism. Beside this, we chose the ones with fantastic customer reviews.
Now without any delay, here are the best Christchurch movers!
1) Canterbury Movers Ltd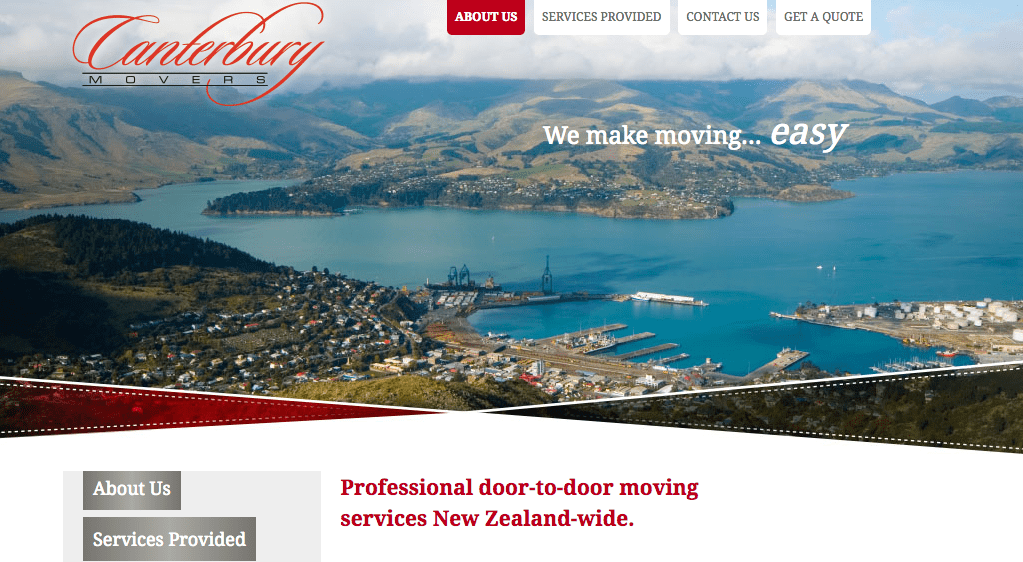 | | |
| --- | --- |
| Best for | Door-to-Door Moving Services |
| Services | Packing, Removals, Storage, Comprehensive Insurance, Vehicle and Pet Relocation, House and Section Cleaning, Import and Destination Services, Earthquake Repair Relocations and Farm Relocations |
| Address | 272 Main S Rd, Hornby, Christchurch, 8042, New Zealand |
| Contact no | 03 379 5445 or 027 296 1341 |
| Website | http://www.canterburymovers.co.nz/ |
Whether you're moving from Christchurch or from abroad, Canterbury Movers is one of the best Christchurch movers, hands down.
They offer a complete range of moving services, such as packing, storage, relocation, exporting, devanning, automotive, and pet transport.
In addition, you are covered with their transit and storage insurance for peace of mind. They have a highly experienced team and have helped many commercial and domestic clients.
With a door-to-door service, you can rest assured that they will take care of everything for you and exceed your expectations!
Highlights
Door-to-door service
Can assist you in all aspects of relocation
Dedicated and proficient team
Covered by a comprehensive insurance
Customer Reviews
Here's Grace Fraser posting a comment from Facebook:
"Thanks so much Canterbury Movers. You were all brilliant you got everything done and organised in super quick time. You were all helpful and we couldn't be more thankful for your help."
2) The Moving Company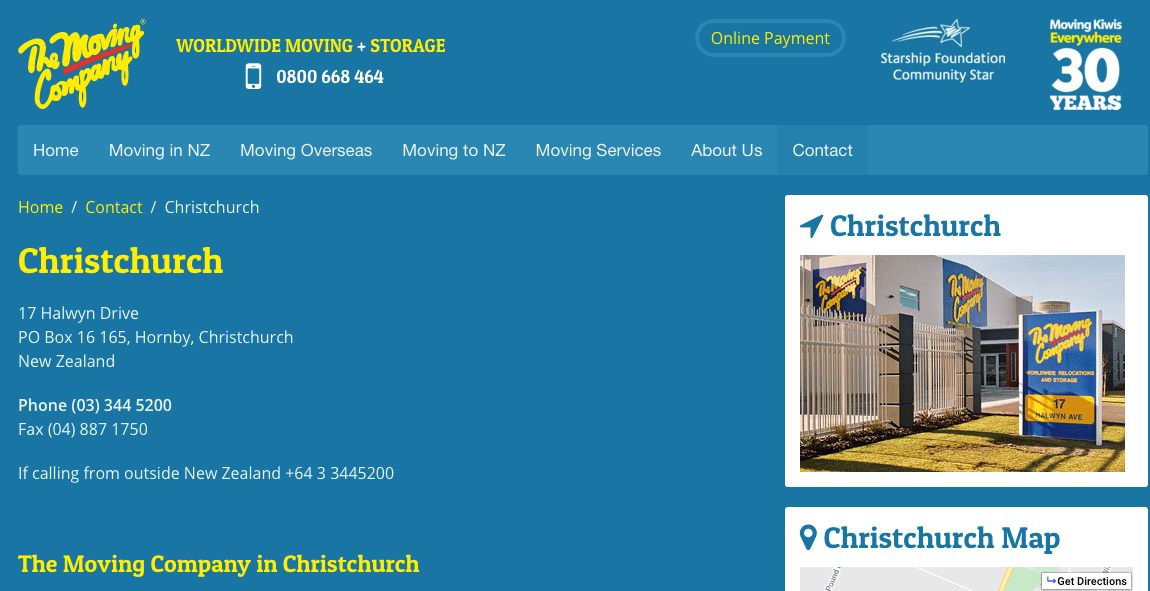 | | |
| --- | --- |
| Best for | Hassle-Free and Careful Moving |
| Services | Moving and Packing, Secure Storage, Insurance, International Shipping, Sending Money Overseas, Car and Pet Transport, Home Cleaning and Immigration |
| Address | 17 Halwyn Drive, Hei Hei, Christchurch 8042, New Zealand |
| Contact no | 0800 668 464 |
| Website | https://www.themovingcompany.co.nz/contact/christchurch |
When you choose the Moving Company, your local or international relocation will be a breeze. They offer a complete solution from packing to unloading, whilst fulfiling the requirements.
Given their 30 years of service, you can trust that they are careful and safe in handling all your belongings, including furniture, art pieces, and electrical appliances.
Because they have a global network across New Zealand and abroad, your goods and belongings will arrive safely without the least bit of hassle or inconvenience.
From this, we can say that they are definitely some of the best Christchurch movers you can come across!
Highlights
Stress-free moving
Careful and safe in handling all items
Complies with customs requirements
Large network around the globe
30 years of trusted service
Customer Reviews
Michelle Reid wrote a helpful review on Google:
"A fantastic bunch of young men shifted everything so effortlessly and with humour and fun. Very professional and nothing was a problem. Would certainly use The Moving Company Christchurch again."
3) Grace Removals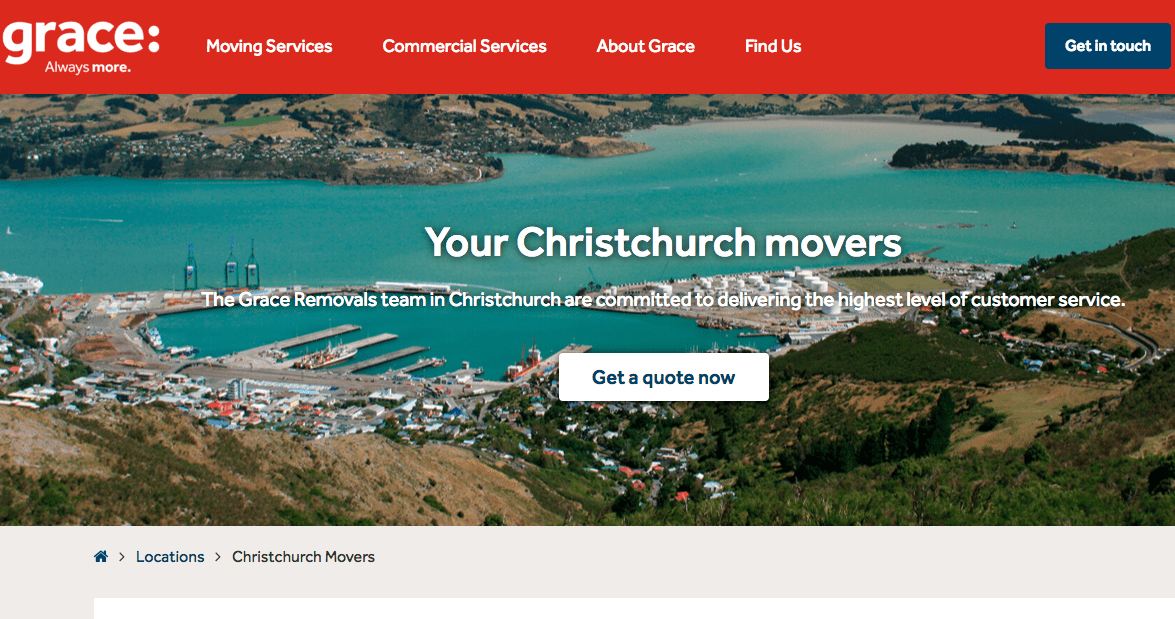 | | |
| --- | --- |
| Best for | Customer Satisfaction |
| Services | Local Moving Services, International Relocations, Short and Long Term Storage Options, Business Relocations, International Pet Transport, Vehicle Transport, Fine Art Packing and Transport and Transit Insurance |
| Address | 88 Carmen Road, Hei Hei, Christchurch 8042, New Zealand |
| Contact no | 0800 472 2369 |
| Website | https://www.graceremovals.co.nz/christchurch-movers/ |
Always doing more for customers, Grace Removals stands out from the rest of the pack. It has some of the best Christchurch movers you can find right now.
Their team possesses vast business knowledge about your move to a different city or internationally. Your items and content are all insured during transit for extra security.
They can also provide safe transport for your pets, wherein they attend to their needs. They can even move your car or boat smoothly and without any fuss if you need vehicle transport solutions!
Highlights
First-rate, dependable customer service
Knowledgeable and dedicated staff
Insures your things in transit
Safe transport throughout the process
Customer Reviews
Gail B notes from Grace Removal's website:
"Specific export wrapping was excellent. Crew extremely professional, outwards and in bound. Placement of items very considerate and overall an excellent job."
4) Crown Worldwide Group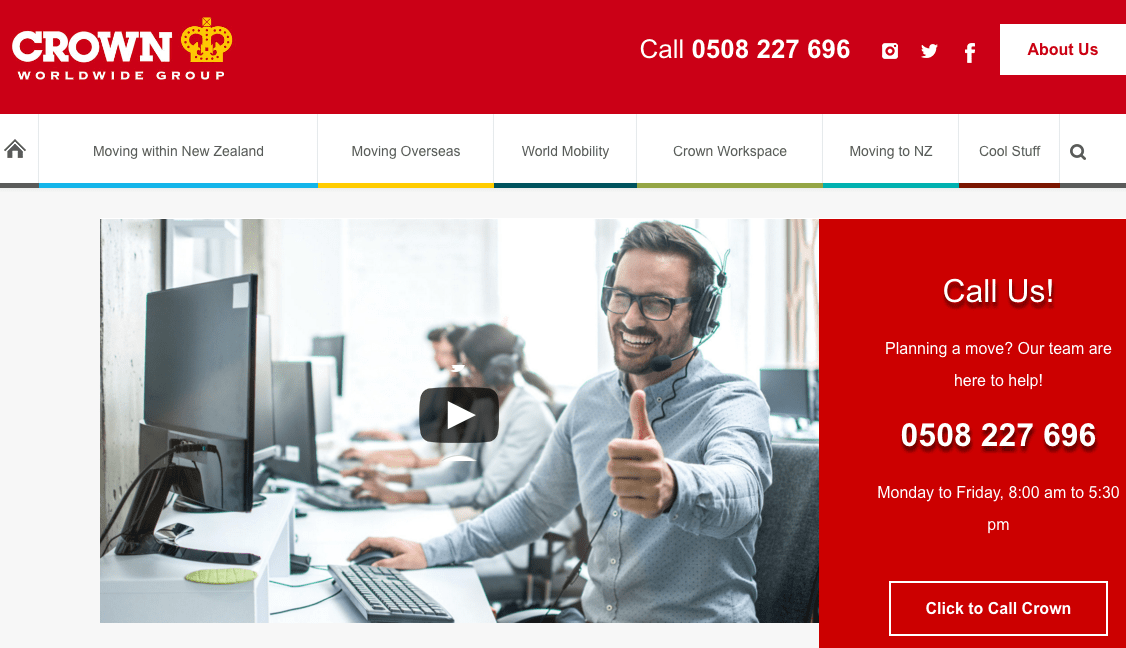 | | |
| --- | --- |
| Best for | Large Moves to and from New Zealand |
| Services | Local and International Moving, Commercial Moving, Insurance, Storage, Pet Transport and High Value Items |
| Address | 15 Foremans Road, Islington, Christchurch 8042, New Zealand |
| Contact no | 0508 227 696 |
| Website | https://www.crownrelo.co.nz/ |
Crown Worldwide Group is a respected mover and furniture removal company that has serviced clients for over 55 years! That means they've got every aspect of this trade down to a science.
Each of your cartons or boxes is digitally itemised, so they can be easily tracked, and that means there is less risk of losing them. They offer many insurance options that suit you as well, including lump sum packages.
Either you can pack for your own, or they can do it for you. Whatever the case, they will keep your items safe and sound for international or local moves.
Highlights
Specialises in long-distance moves
Careful, considerate, and trustworthy staff
Insured transit
55 years of serving clients
Customer Reviews
From Google Reviews, Morgan Hodgson commented:
"Crown were absolutely phenomenal to deal with. Catherine from Hornby went above and beyond helping me to organize my move and sort out boxes for packing. Duncan and co were very punctual to the time they provided for pickup and were incredibly lovely to deal with. I could not recommend them enough!"
5) Allied Pickfords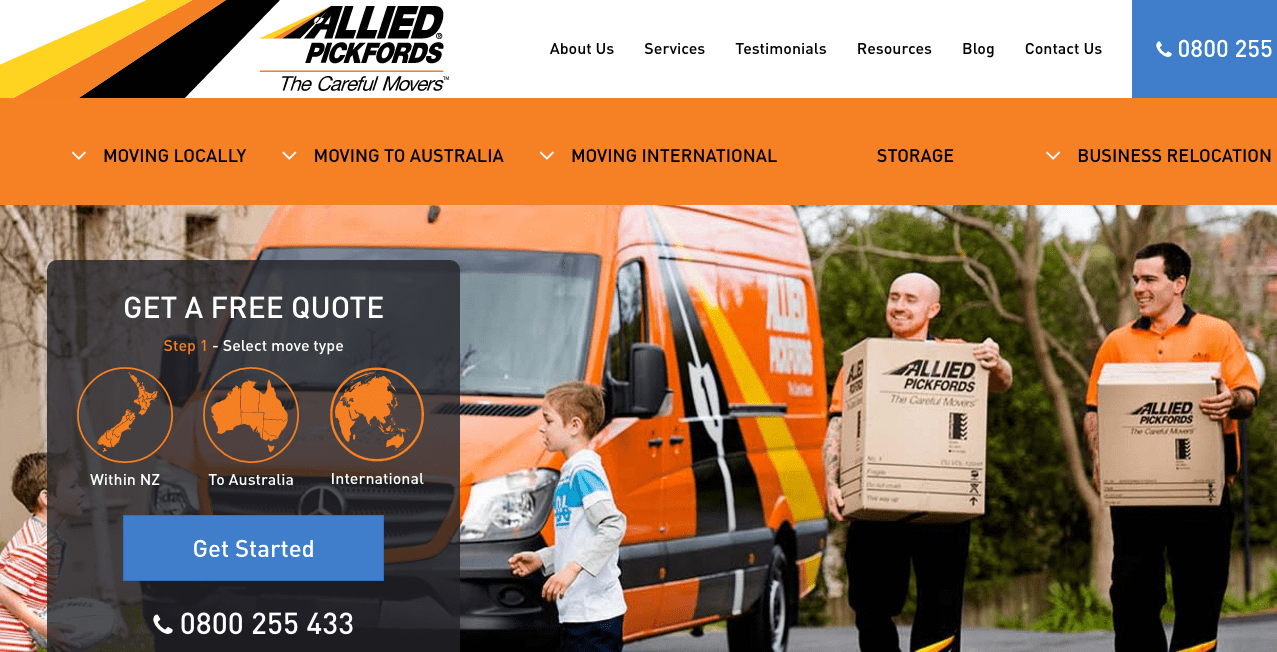 | | |
| --- | --- |
| Best for | Impeccable Moving Service |
| Services | Moving House, Storage, Corporate Relocation and Business Relocation |
| Address | 27 Mcteigue Road, Halswell, Christchurch 8042, New Zealand |
| Contact no | 03 348 2400 |
| Website | https://www.alliedpickfords.co.nz/ |
The world can use more companies like Allied Pickfords, as they provide extreme care and handling of your personal effects, from pickup to unpacking in your house or office.
Their history extends back to an impressive more than 350 years, back to a time when they used packhorses for moving furniture for others. Ever since, they've brought remarkable service quality to their jobs.
They offer corporate, domestic and commercial shifting anywhere in New Zealand or around the globe. They have effortless communication, and are very kind, prompt and professional.
So if you're looking for guaranteed careful and safe handling of your property, look no further than Allied Pickfords!
Highlights
Flawless packing and handling of your goods
Offers domestic, commercial and corporate moves, plus storage
Kind, prompt, and professional team
Has a whopping 374 years of experience
Customer Reviews
As you can read from their website, Colleen Farrelly highly praises the Allied Pickford team, writing:
"Faultless… such a nice friendly team, everything professionally packed, no chance of a chip or crack in anything, they really are very careful movers. The site posed lots of challenges, it wasn't an easy one but the team were strong and took great care."
6) Senior Move Managers
As the company's name suggests, Senior Move Managers specialises in moving jobs that involve helping seniors transport their items from one home to the next. Their team of movers has extensive backgrounds in moving residential homes, making them a top-notch choice for your next move.
It's worth noting that Senior Move Managers' moving service is one of the most comprehensive on this list, including organising the entire move, packing the items, and unpacking them in the clients' brand new home.
Their moving team is always on time and handles every item with utmost care. Not only that, but they take the time to listen to clients' requests, ensuring that everything goes according to the plan.
For those who are interested, Senior Move Managers operates from Monday to Friday. Getting in contact with their team will lead to a free consultation and quotation.
Highlights
100% New Zealand owned and operated
Free consultation and quotation
Organised and efficient team
7) Storage2U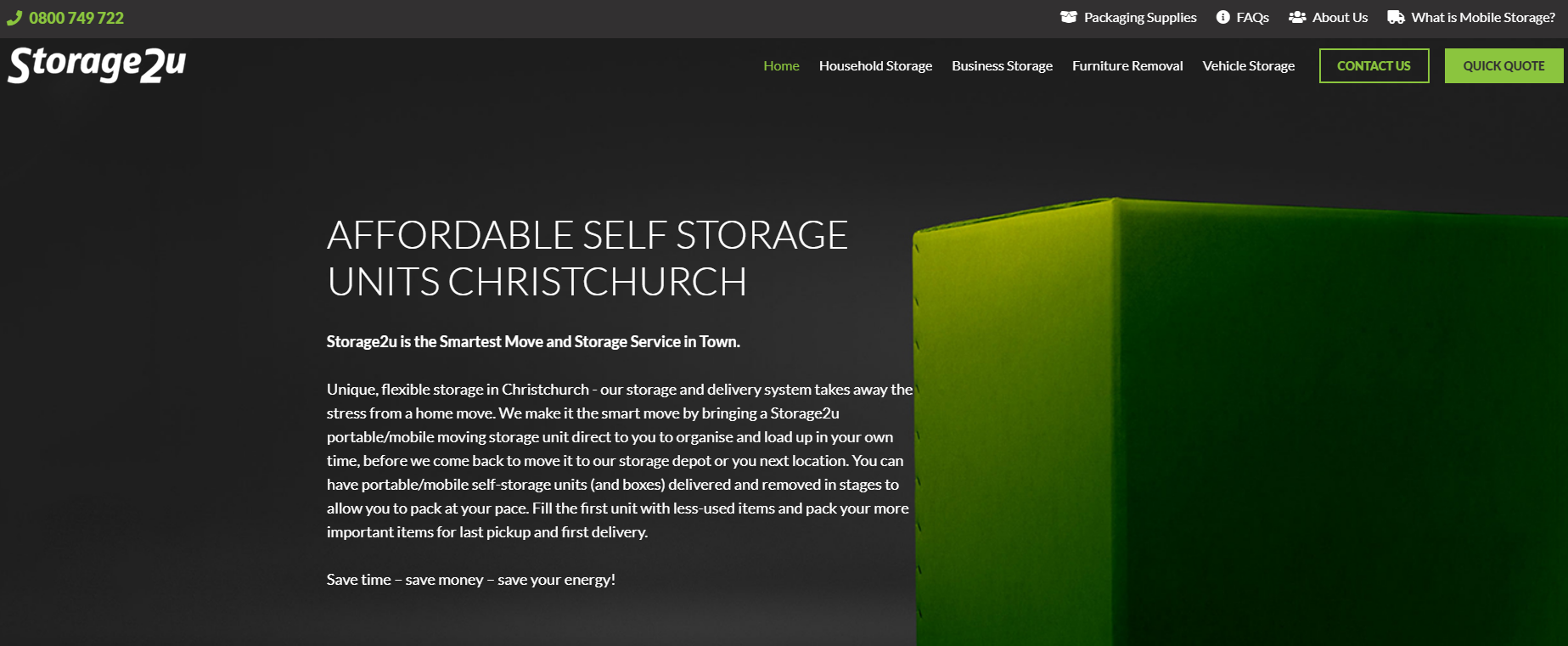 | | |
| --- | --- |
| BEST FOR | Storage spaces that come in various sizes |
| SERVICES | Household Storage, Business Storage, Furniture Removal, Vehicle Storage |
| WEBSITE | https://storage2u.co.nz/ |
| ADDRESS | 401 Blenheim Road Upper Riccarton |
| CONTACT DETAILS | 0800749722 |
| OPERATING HOURS | Monday to Friday, 9AM – 4PM |
We can't deny the fact that the people whom we trust the most in handling our personal items are ourselves. Storage2U understands this mindset and offers an excellent and unique way of moving from one location to another.
See, Storage2U's primary offerings are portable storage spaces that can be brought to clients directly. These portable storage spaces can then be used to load up items that are to be moved to the new home, office, commercial location, etc., or the moving company's storage depot; making them a perfect choice for storage for in-between homes/rentals, renovations, and builds.
The system at place is also interesting as well. Storage2U brings along the storage spaces and boxes in stages so that clients can pack at their own pace. Not only that, but they encourage clients to pack in terms of importance so that the most important items can be packed last and delivered first.
So, if you're hesitant about other people touching your stuff, then this moving company and its unique service may interest you.
Highlights
Affordable storage spaces
Offers furniture removal for moving clients
Efficient and professional movers
Mobile storage units
Local Christchurch owned and operated
Well, there you have it for the best Christchurch movers companies! Thanks to them, your items will be safe and secure, whether you're relocating down the road or internationally.
Have you used these movers we listed before? Feel free to share with us what you think by dropping us a line, and we will get back to you shortly.
And after your move to your new home in Christchurch, you might want to start buying furniture to complete your decor — perhaps blinds for your kitchen or guest room, for example. If so, check out some of our roundups for the best furniture stores and vendors in the area.
For the example above, for instance, you can read about the best blinds companies in Christchurch. Those can provide you with the window shades you need to give your windows the ideal look!