By Tony Wang
Although they run more efficiently and have more deluxe features, expensive laptops aren't always practical to get. Given that, you might like to consider the best Chromebooks in New Zealand for your portable computing instead, as they are affordable, fast, and user-friendly.
A Chromebook is fitted with lighter firmware and memory than Windows-based counterparts, resulting in a lower price point. It is primarily designed for surfing the net and watching media.
Every brand seems to release a newer iteration of its Chromebook year after year. With the immense number of options on the market and differences in components, how do you know which one you should buy?
It's actually pretty easy once you know what your purpose for it is and understand its specs. Therefore, we'll go over these things first before delving in our picks for the best Chromebooks in NZ.
Things to Consider When Buying a Chromebook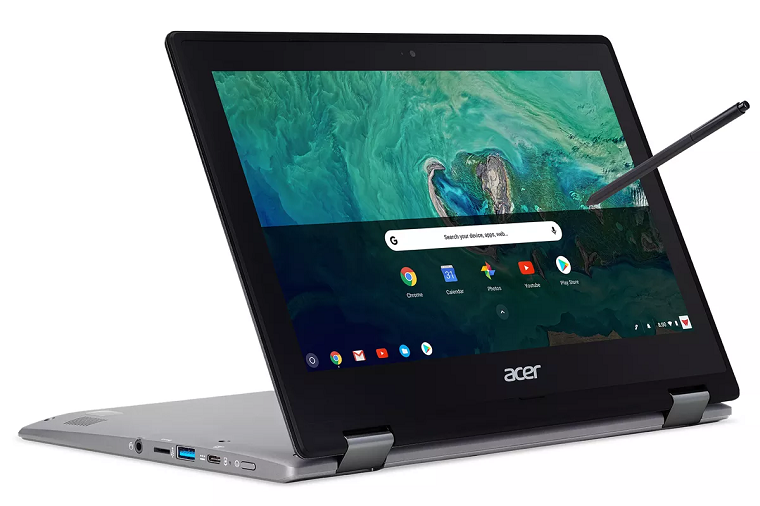 (Image Credits: theverge.com)
Like any laptop, the capability of the Chromebook is found in its specs. Taking a look at it will let you know what to expect from the device.
Anyway, here are the things to consider first when buying a Chromebook.
1. Processor
The processor is responsible for your Chromebook's speed and response rate. A more powerful processor means you can multitask with a lot of windows open without dropping performance.
There are the higher-end Intel Core series (like i5 or i7) that are faster and hence able to handle a higher resolution. For this reason, the models with Intel processors are pricier.
There are lower-cost processors from the brand, though, like the Intel Pentium or Celeron. They're not as good as the Intel Core series, but are still sufficient for web browsing and programs like MS Excel.
For general tasks and surfing the Net, that usually is enough… but you won't appreciate it if you have to edit a video or make posters or banners with your Chromebook.
2. Screen Size
Another thing to consider when buying a Chromebook is your screen size. Sizes usually range from 11 to 15 inches, with the majority of them using Full HD or 1920 x 1080 pixels.
You may also encounter terms like IPS or in-plane switching. That means you can view the screen from any angle without compromising its brightness.
3. Storage Memory
Chromebooks don't need much storage memory as they store it in the cloud instead of keeping it on your desktop, taking up space.
Like Google Drive, you can store a huge amount of data and you can access it whenever and wherever through your smartphones or tablets.
Earlier Chromebooks use something you call eMMc (embedded Multi Media Card) storage, which can hold as much as 32GB or 64GB. And if that isn't enough for you, you should see if it accommodates an SD card slot to back up more of your files.
4. HDMI or USB Ports
A small detail that's easily overlooked is if the Chromebook has HDMI or USB ports. It might be inconvenient to find out it doesn't have one when you try to connect your wireless mouse or transfer files from your flash drive onto your desktop.
Let's say you have removed the memory card from your DSLR camera. What if to your surprise you realise that the Chromebook doesn't let you insert that card in order to view it?
That's why you have to check if your desired Chromebook has those first. If wired connectivity matters to you, you want a Chromebook with such ports.
 5. Tablet Mode
Most Chromebooks also have a tablet mode for better portability and versatility. That means you can use your Chromebook away from the table, carry it with you, etc.
Best Chromebooks in New Zealand
Having listed the basic things you have to look for in a Chromebook, here is the round-up for the best Chromebooks in New Zealand.
 1. HP Chromebook 14 G5
Best for the Workplace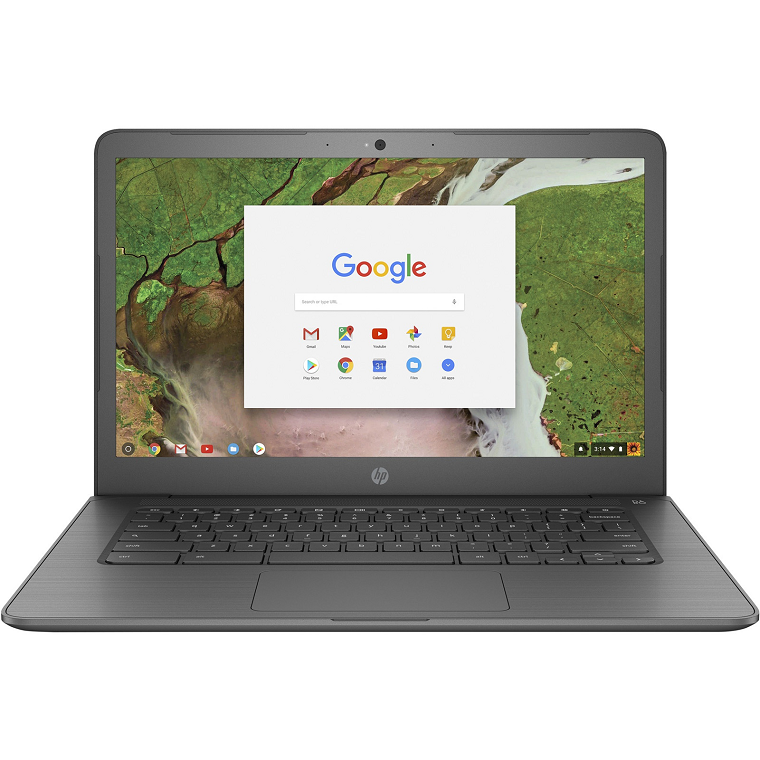 Price: NZ$677
Processor – Intel Celeron N3450 | Screen Resolution – 1920 x 1080, 14 inches | Storage Size – 8GB Memory | Solid State Drive: 64GB Memory | Ports: USB-C
Made and designed for the bustling workplace, HP's Chromebook 14 is powered by Intel Celeron. It also comes with Full HD resolution to give it brightness and detail.
Your have a basic 8GB of RAM and a solid state drive of 64GB for storing all your articles, presentations, and analysis. And USB-C connectivity for recharging the Chromebook or your accessories.
Having a lightweight design, it is easy to carry around. The keyboards are built with spill-resistance to resist accidental and minor splashes.
Video calls are also made easier with the wide-angle high definition camera and static-free microphone. That makes communication easier than ever.
Highlights
Uses the powerful Intel Celeron processor
Full HD graphic representation
Has 8GB RAM and 64GB SSD for multitasking
Portable design with minor spill-resistant keyboard
HD webcam and noise cancelling mic
Customer Reviews
Although he bought a Chromebook 14 G5 with an Intel Core and slightly varying specs from what we discussed, you can still get some insights from the following review. Johnballs said on the HP website:
"Have had this for over a month and am very happy with performance. Fast I5 Core, coupled with 8GB DDR4 & 256 SSD. Great size screen, good battery life and great WIFI performance. Added a wireless mouse, 256 GB SD card, CHROME, MS Office and SpeedFan app to keep temp cool."
And Whitebuzzbait put it simply:
"This is my third Chromebook. I love them and the simplicity. It doesnt get better than this for every day web shopping and surfing and social media."
2. ASUS C214 Chromebook Flip
Best for Young Ones in School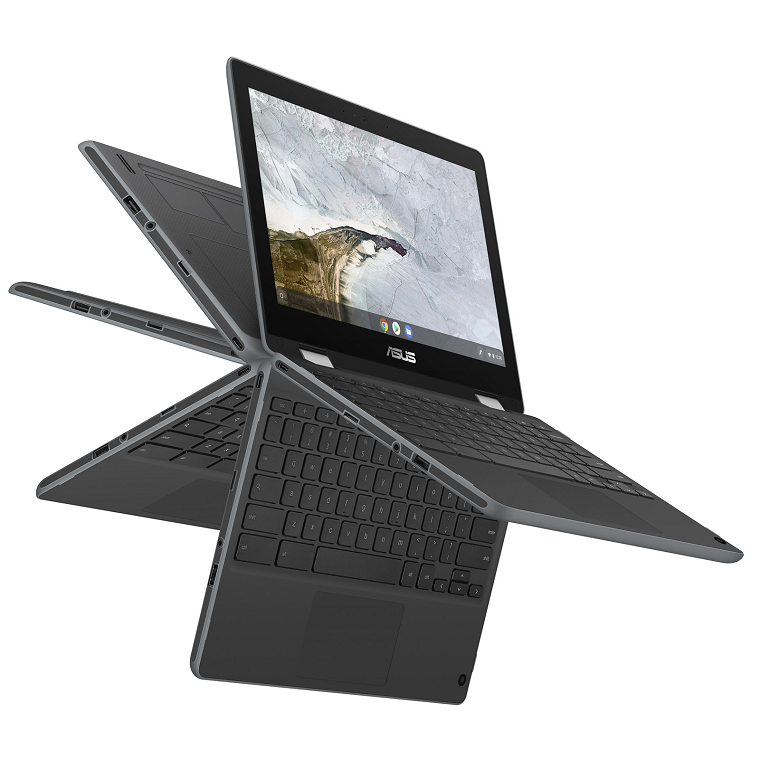 Price: NZ$483
Processor – Intel Celeron N4000 | Screen Resolution – 1366 x 768, 11.6 inches | Storage Size – 4GB Memory | Solid State Drive: 64GB Memory | Ports: 2 USB Type-C and USB 3.1 Type-A
A really solid and affordable laptop that your kids will definitely love is the Asus Chromebook Flip! It is touchscreen-capable and lets users take down notes, create drawings or art, and check quizzes.
The Chromebook Flip with 11.6-inch screen is a portable model and turns from back to back for tablet or tent mode in seconds. It is durable and made to withstand 10,000 instances of folding and unfolding, as proven in tests.
Two cameras are smartly built onto this unit — the world-facing camera and webcam. The world-facing camera lets your kids follow their studies by taking pictures in portrait orientation.
All of its sides have shock-absorbing rubber for classroom durability. And in fact, it can even withstand drops from 120cm in height, which is higher than the table your kids sit at in school.
The battery lasts for 12 hours, more than enough time to use during a day. Furthermore, it supports 2 USB Type-C ports and 1 USB Type-A port.
These innovative features and its ruggedness make it deserving to be in our best Chromebooks in New Zealand!
Highlights
Flippable 360° for tablet mode
Tailor-made for classroom environment
World-facing camera to assist in studies
Military-grade durable Chromebook
12 hours of battery time
Customer Reviews
In the PBTech store, the stylus pen is not included, which is a bummer. Yet one customer, Dale said it was all right:
"Bought this a couple weeks ago to replace an aged Chromebook. It does what it says on the box! Good keyboard, reasonably rugged, feels nice and solid and the flip features are grand. Shame it doesn't have the stylus of a slightly different model, but that would have been a bonus, not a necessity. Pleased with it."
3. Lenovo 100E Chromebook
Cheapest Chromebook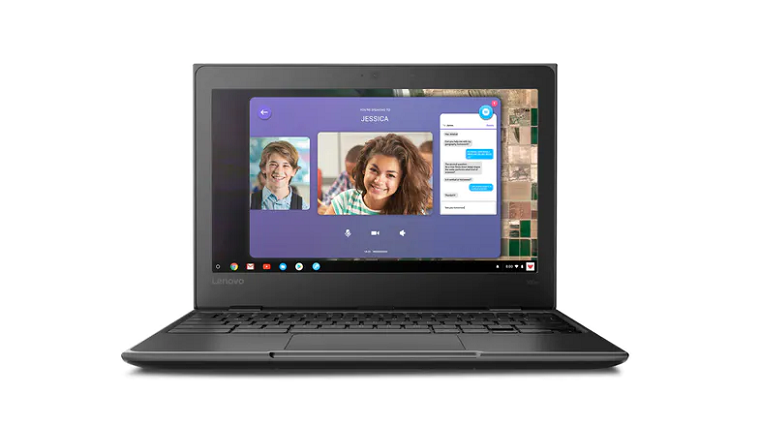 Price: NZ$318
Processor – Intel Celeron N3350 | Screen Resolution – 1366 x 768, 11.6 inches | Storage Size – 4GB Memory | eMMc Drive: 32 GB Memory | Ports: 2 USB Type-C and 2 USB 3.0
Though not as rugged or versatile as the ASUS Chromebook flip, the Lenovo 100E is more affordable. It also offers G-Suite access together with educational apps like GeoGebra, Alma, and Activity Learn.
With this, your kid can easily collaborate with others, work faster, and finish well ahead of time. It's a great solution for parents who need a Chromebook for younger students.
It also features an anti-screen glare that reduces harmful radiation. And it has a comfortable, water-resistant keyboard too.
Charging it to full before your class gives you 10 full hours of battery time from when the class starts to when it's home time.
Highlights
More affordable choice than the ASUS Chromebook 14
Designed for classroom use
Comfortable keyboard
Lets you use G-Suite and other educational apps
 4. Samsung Chromebook Plus V2
Best for Travelling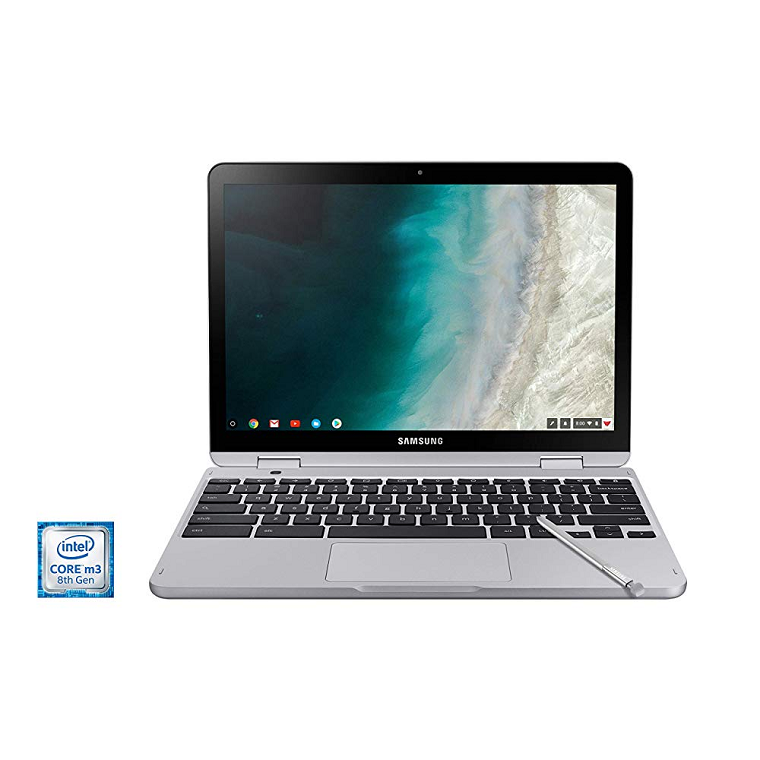 Price: NZ$706
Processor – Intel Core M3 | Screen Resolution – 1900 x 1200, 12.2 inches | Storage Size – 4GB Memory | Solid State Drive: 64GB Memory | Ports: 2 USB 2.0 and 1 USB 3.0
The Samsung Chromebook Plus features a fast Intel M3 processor with 360° foldable body, large 64GB memory, and access to every single Google app there is.
In times of work, leisure or entertainment, the foldable feature lets you turn it into a tablet that will let you stream Netflix or Spotify, or read a page-turner suspense novel.
You also get a stylus allowing you to do many things like paint pictures, for one. Not only that but it even allows you to capture a screenshot and zoom in or out of the page.
It's razor-thin at 0.51 inches and only weighs 2.38lbs, perfect to accompany you in your business trips or week-long vacation.
The display is bright and vibrantly detailed on 12.2 inches of screen covered in Gorilla Glass 3. So, you can enjoy your movies or games from any position or direction.
And you can change up how you're using it depending on what's comfortable for you, whether you're at work, home, or just having fun. There's many ways to enjoy the Samsung Chromebook Plus, making it one of the best Chromebooks in New Zealand.
Highlights
Uses Intel Core M3 processor
Foldable from back to base
Includes a built-in pen
Razor-thin and portable
Bright display
Versatile
Customer Reviews
The Samsung Chromebook Plus has met mixed reactions from the Samsung website. Some of the customers had trouble as the screen was faulty, which might only be an issue of not plugging it well.
A reviewer cited its several great features like its 3:2 aspect ratio, metal design, and useful stylus, but he didn't like the keys that sunk lightly with no backlight and the relatively small backspace.
However, Me77 gave it a perfect score and writes:
"I've had this Chromebook for 2 years and use it daily for schoolwork, research, and streaming services. I have zero complaints and recommend it to everyone! I haven't experienced any restrictions of use compared to a Windows system. In fact, I much prefer a Chromebook over Windows. No software, hardware, or durability issues. It looks brand new after 2 years of heavy use. It's incredibly lightweight and I love being able to bring it to class without adding a lot of weight to my backpack. Overall, I couldn't be happier with this device. If I had paid twice as much I would still be satisfied. Totally worth it."
Also, jpember comments:
"I have owned many chromebook devices over the past 3 years. I sold my last windows device the surface pro so I could purchase this device. BEST decision I have made. Screen quality is the best I have seen on any laptop. Keyboard is full sized grate key trave, glass trackpad is great. Touch screen is amazing. Pen is useful. Android apps are going to make chrome os a force in mobile computing, That is what this chromebook is so successful at, mobile computing! The 3:2 aspect ratio is great, I am use to 16:9 and I prefer this. The arm processor is really fast and efficient. Samsung Chromebook Plus= Home Run."
 5. Acer Chromebook Spin 13
Best for Artists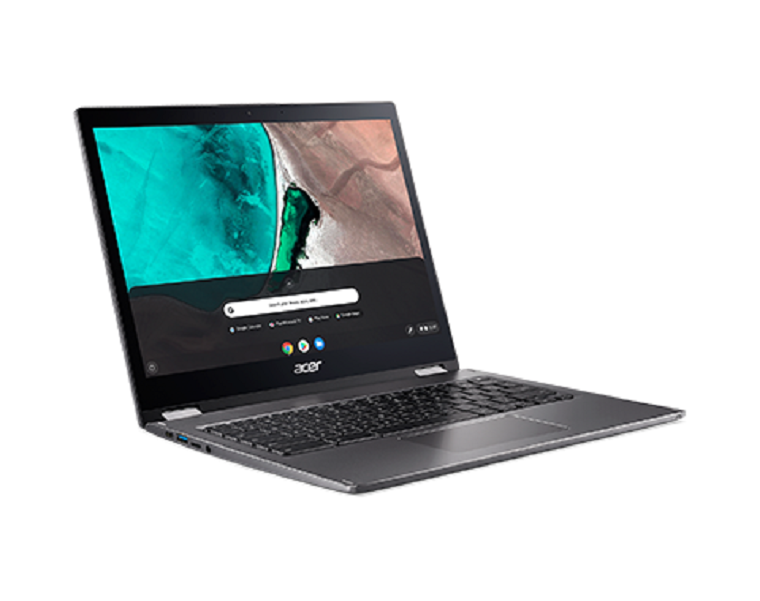 Price: NZ$1,117
Processor – Intel Core i3 | Screen Resolution – 2256 x 1504, 13.5 inches | Storage Size – 4GB Memory | Solid State Drive: 32 GB Memory | Ports: 2 USB 3.1 Type-C
Every detail of the Acer Chromebook Spin 13 is for artists and designers. It can fold into many display modes, has a QHD colour-accurate screen, and a built-in stylus for drawing.
The i3 Intel Core handles your data better, faster, and more efficiently than others. You can run multiple Chrome tabs at the same time, or do your spreadsheet while listening to music.
Various modes increase your productivity by letting you use the Chromebook in tent, presentation, laptop, and tablet modes.
he keyboard and trackpad are complete and light for the fingers too. It has an aluminium form factor, anodised to regulate the heat and to prevent rusting and damage.
The screen is of a 3:2 display that is taller than your average 16:9. That means you have more content displayed on the screen — less scrolling and effort as a result of the wide viewing angle.
You want fast data transfer? Versatile USB Type-C ports are waiting for you on both sides. It's great if you need to transfer your files or charge your accessories with them.
Highlights
Powered by Intel Core i3
QHD seamless resolution
Tablet mode with stylus lets you define your creative possibilities
Stylish dark aluminium finish
3:2 display
Type C USB ports on either side
6. Google Pixelbook Go
Best Overall Winner

Price: NZ$1107
Processor – Intel Core 8th Gen (m3-8100Y) | Screen Resolution – 1920 x 1080, 13.3 inches | Storage Size – 8GB Memory | Solid State Drive: 128GB Memory
If you're on the move lots of times during the week, you might like the Google Pixelbook Go. With a 13mm Chromebook thickness and a unique lined backside, carrying it is no sweat!
Picture quality is a champion with Full HD graphics to replay your favourite movies or help you design eye-catching, accurate images, not to mention that it also works through touchscreen.
It's ahead compared to rivals with security features and automatic updates. The latter finishes in a few seconds juxtaposed with minutes and hours for Windows laptops — although, to be fair, its updates are also smaller than the ones for Windows.
A worthwhile feature to note would be the Hush Keys, so typing will be a silent endeavour. You can put it on your lap too without burning your thighs, as it stays cool throughout the day.
Time is on your side as turning on this Pixelbook Go is sped up by Intel Core's 8th Gen processors. Expect no lag or slowdown.
Highlights
Made to be on the go
Intuitive, fast M3 processor
Easy to grip and only 13mm thick
Silent Hush Keys keyboard
Chrome auto updates
Anti-virus and malware
Customer Reviews
Check the Web and you'll see that this Chromebook has received critical acclaim from many people. B. Young, Pixelbook Go owner shares:
"Coming from a Pixelbook, even after just 1 day of using the Pixelbook Go, I am finding that I prefer so many things about it, particularly the excellent keyboard, speakers, and battery life. The trackpad is also very good. The screen seems very good to me with plenty of brightness and good resolution for internet browsing, documents, photos, spreadsheets, and the like. I like that the Go is a bit smaller and lighter than the Pixelbook. It feels very solid to me, more so than the Pixelbook. It's a keeper for me. I have the cheapest version with the M3 processor and it seems perfectly fine for general use. I haven't run into any slowdowns yet, but I also don't do any gaming or video editing, just general internet use."
Owners also say its dual stereo speakers also pack a punch, great for your entertainment when relaxing after work. Here's another review by Justin that justifies it as one of THE best Chromebooks in New Zealand:
"Brilliant laptop! The build quality is top notch and everything from the keyboard and track pad to the full HD screen is a very pleasant and premium experience.
I got the base model and I think for most people that's all you need unless you need more storage. Chrome OS is lightweight already, so the laptop has absolutely zero performance issues with it's configuration.
The battery is stellar, I'm getting nearly 12 hours before having to charge, and it has fast-charging capabilities when you do have to. . . ."
7. Acer C732 Chromebook
Best in Design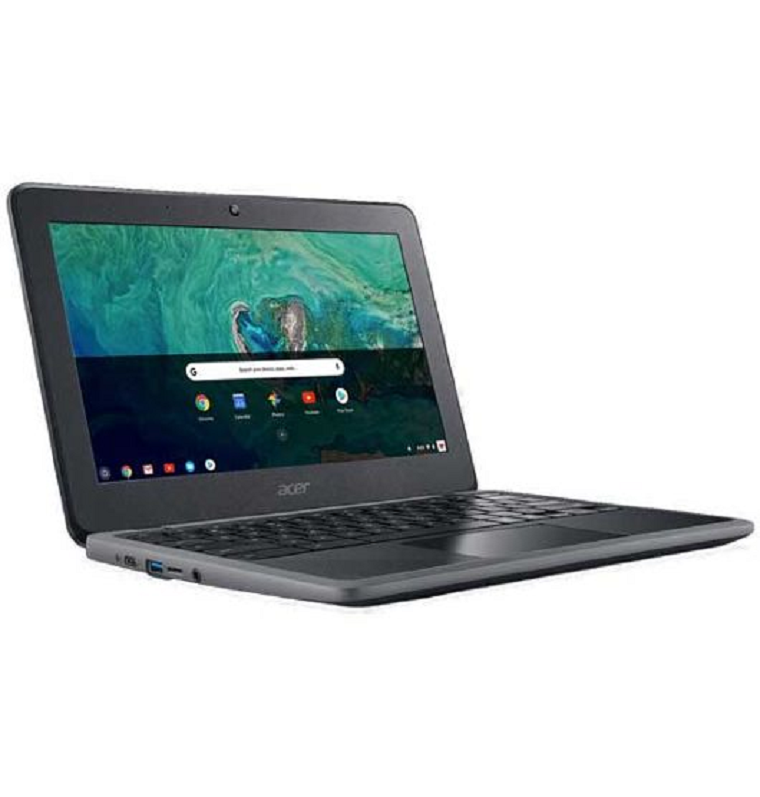 Price: NZ$419
Processor – Intel Celeron N3450 | Screen Resolution – 1366 x 768, 11.6 inches | Storage Size – 4GB Memory | eMMc Drive: 16GB Memory | Ports: 2 USB 3.1 Type-C, 2 USB 3.0, and 1 HDMI output
When you need a Chromebook that is not too bulky and gets the job done, the Acer Chromebook C732 is a great choice! Your programs will never have a delay or sudden freezing thanks to the Intel Celeron processor.
Along with that, it is supported by 4GB RAM and 16GB of storage memory for keeping your files, photos, music, and videos.
It doesn't stop there, however, since it has nice dual stereo speakers and an Intel HD graphics card. It will play your movies and show your pictures with clarity and brightness.
You can also protect your eyes from harmful blue light through the ComfyView technology. Even for long hours, you can depend on this Chromebook as it won't strain your eyes when you do your work, whether at home or the office.
For the design, it has a compact shape with rounded edges that is aesthetically pleasing and easy to grip. By the way, the keyboard is spill-resistant.
So when you're having a long day in the office or relaxing at home—think Acer Chromebook C732!
Highlights
Best for office, home, and travel use
Powered by Intel Celeron N3450
Keep 16GB of photos, music, and files
ComfyView technology to protect your eyes
Nice, compact design
And that's all for the best Chromebooks in New Zealand. By now, you should have one that you really like for its features or its processor.
Do you have any questions about our picks? If so, feel free to tell us your comments, opinions, thoughts, or criticisms, and we'd be happy to improve or help you if we can.
Because Chromebooks deliver only the basics, you might be interested in the higher-end Windows laptops too for more heavy-duty processing. If so, just read our list of the best laptops in New Zealand.
Or, if you're more of a gamer, you can check out our list of the best gaming desktops in New Zealand. Either way, you should be able to find a machine that fits your computing needs!