Our homes are where we stay and recharge in but a lot of times due to our busy schedules we don't get the time to clean every area of it. Don't worry though as we have the best cleaning services in Auckland to handle your home and office cleaning without stress.
Any aspect of your home or office cleaning, leave it to them! That means cleaning the greasy surfaces on the pantry, grime on your windowsill and they can even help you when you're moving to a new house too.
Each cleaning company is different based on its specialty as well as its rates. But what's important is that the cleaners can be trusted and you can leave your house with peace of mind and come back to find it spotless.
Having said that, we now bring you the best cleaning services in Auckland so you know whom to call when you need a hand!
1)  Jet Cleaning Services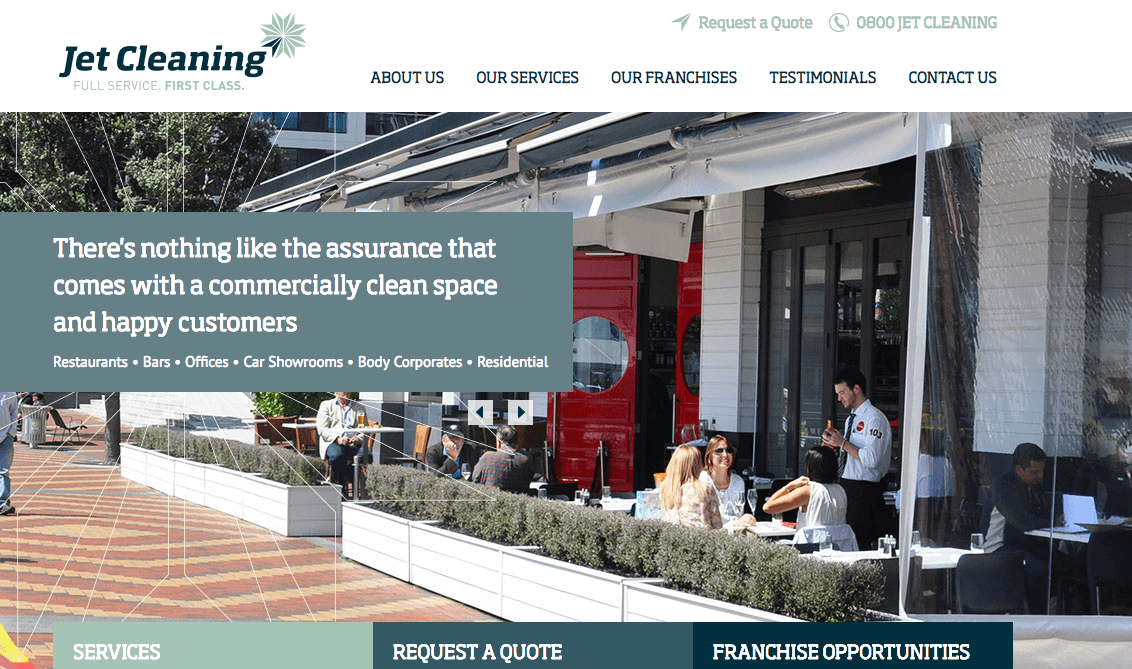 | | |
| --- | --- |
| Best for | First Class Office Cleanup |
| Scope of Services | Commercial Cleaning, Carpet and Upholstery, Supply Consumables for Bathroom or Kitchen, Window Cleaning, Floor Cleaning, Water Blasting, Pest Management, Domestic Cleaning |
| Address | 74 France Street South, Eden Terrace, Auckland |
| Contact | 0800 JET CLEANING (538 253) or 09 302 1536 |
| Website | https://www.jetcleaning.co.nz/ |
| Pricing | Free quotation thru their website |
An office has to look and feel inviting, presentable and immaculate. If you need some professional cleaners to make your office look like that, look no further than Jet Cleaning Services.
It has a solid range of services carried out by its first-class crew. The services include commercial cleaning, window and floor cleaning, water blasting, and pest management.
They've been in this business for more than 20 years and are known for being fast, complete, and precise in their approach. They work mostly in commercial settings but they also get calls for domestic packages like cleaning for homes or residences.
On Google Reviews, the company scores 4.7 from 27 reviewers. They have good words for Jet Cleaning as they clean to a high standard, are timely, and for one client, helped him move into his new house by cleaning and water blasting it.
2)  CleaningPro Auckland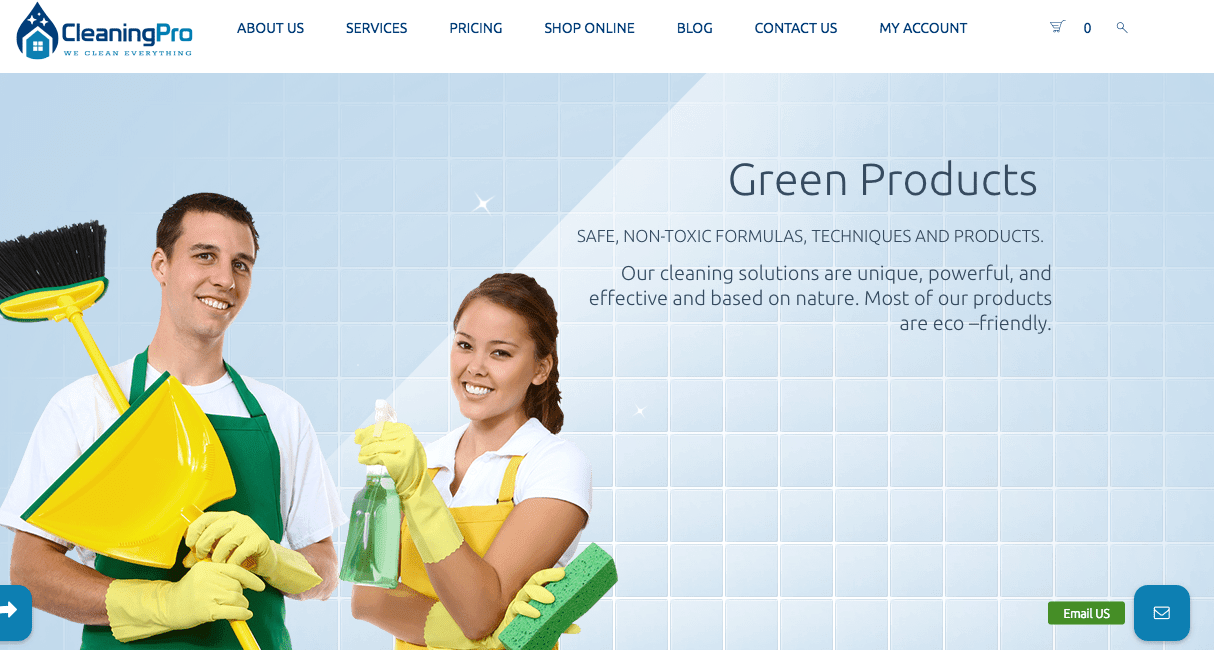 Best for
Office Cleaning in Auckland with Eco Materials
Scope of Services
Commercial and Residential Cleaning — Curtain Cleaning, Blind Cleaning, Tile and Grout Cleaning, Building Cleaning, End of Tenancy Cleaning, Carpet Cleaning, Flood Restoration, and Painting
Address
8/251 Lincoln Road, Henderson, Auckland 0610
Contact
0800 405 670
Website
https://cleaningpro.co.nz/
Pricing
Weekly/Fortnightly House Cleaning – from NZ$99

Water Blasting – from NZ$195

Spring and Deep Cleaning – from NZ$149

Curtain Cleaning – from NZ$40

Commercial Carpet – from NZ$150

*prices listed above exclude GST
Currently, CleaningPro Auckland is one of the household names when you are searching for the best cleaning services in Auckland.
The reason it has been so successful is that they keep an open mind to learn and apply modern techniques and solutions that meet your office standards and norms.
Also, they go green by using cleaning agents that are safe for the environment as much as possible. Their staff are not only trained and knowledgeable, but also trustworthy, which is an important attribute for a cleaner.
How do you know they are trained and knowledgeable? Well, just have a look at their comprehensive service, which even extends to building cleaning, painting, and flood restoration, apart from just office or commercial cleaning.
And last, they provide service throughout Auckland for offices, schools, hospitals, factories, and of course homes. They are truly your team and are available for duty from Mondays to Saturdays.
3)  Wisdom Cleaning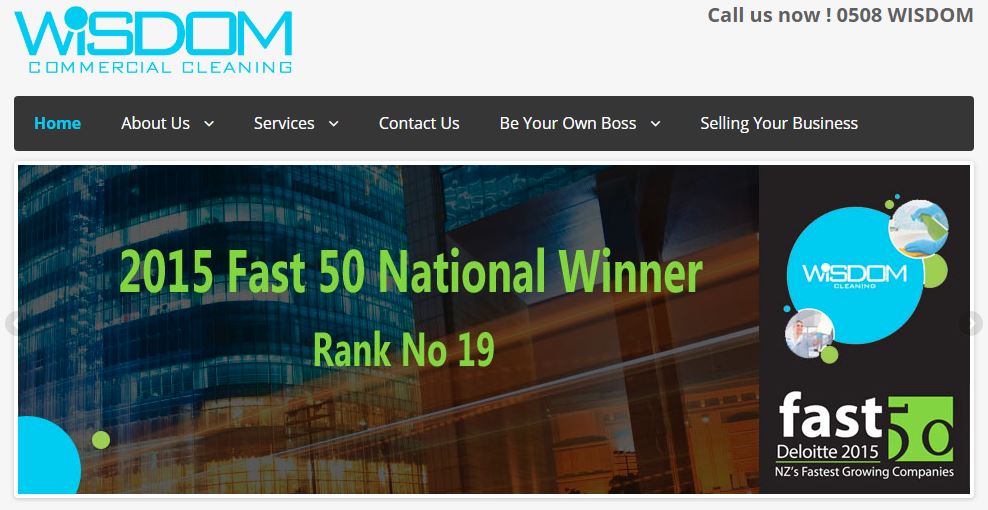 Best for
Trusted Associate member of the Master Builder's Association & member of Site Safe
Scope of Services
Commercial Cleaning, Builders Cleaning, Rental Properties Cleaning, Floor Care, Pre-sale cleaning
Address
15 Jack Conway Ave, Manukau, Auckland 2241
PO Box 76113, Manukau, Auckland 2241
Contact
P: 09 974 3088
Toll Free: 0508 WISDOM
Email: [email protected]
Website
http://www.wisdomcleaning.co.nz/site/
Pricing
Contact for details
Wisdom Commercial Cleaning® offers professional cleaning services for small to medium businesses including retailers, offices, builders and Constructions in both the Canterbury, Auckland, Queenstown, and Wanaka regions.
They have unsurpassed green cleaning procedures for a safe and healthy building. (Asure Quality, Environmental Choice & NZ Food Safety Authority C32 Certified). Affordable and convenient, their cleaning services are maintenance program can be designed with your needs in mind.
Trust Wisdom Commercial Cleaning® to be your full-service partner for all your cleaning needs (General Cleaning, Carpet Cleaning, Hard floor care, Window Washing).
4)  Hire A Maid Franchise Group Ltd.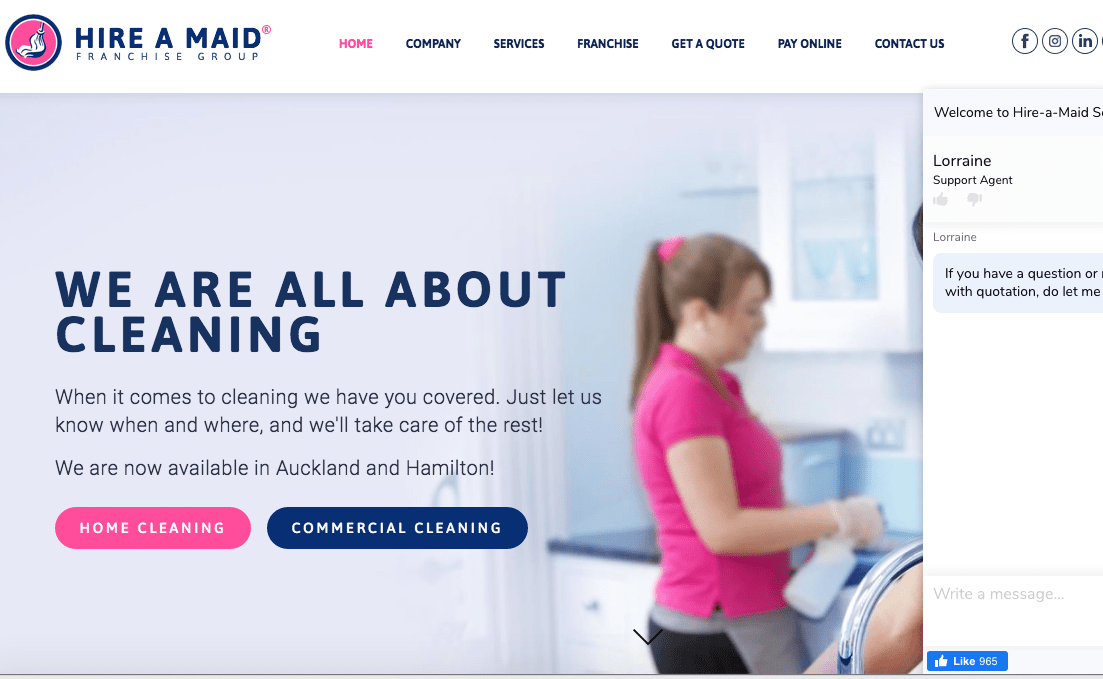 Best for
Versatile Home Cleaning
Scope of Services
Home and Commercial Cleaning, Spring Cleaning, End of Tenancy, Ironing and Laundry, Regular Cleaning, Emergency Cleaning, One-Off Cleaning and Waterblasting, Carpet Cleaning, AirBnB Cleaning
Address
Suite 2/218 Lake Road, Northcote

Auckland 0627

Contact
0800 110 095
Website
https://hire-a-maid.co.nz/
Pricing
Free quotation thru their website
Hire a Maid has a unique market model for professional cleaners. They are trained and can use advanced cleaning equipment like the backpack filtration vacuum.
Attention to detail and overall cleaning is their thing, leaving you free to relax as they get your surroundings clean and orderly.
The company has received lots of admiration and recommendations saying that the people in it are polite, friendly, and trustworthy. They are more geared toward home cleaning rather than office cleaning, though.
Like maids, they can do things other cleaners might overlook. They can do laundry, ironing, and even spring cleaning where you have the basic broom and dustpan.
They are available for call in Auckland and Hamilton 24 hours and 7 days of the week. Because of their high standard of cleaning with the latest equipment and nice staff, we included them in the list of the best cleaning services in Auckland.
5)  Maxwells Dry Cleaning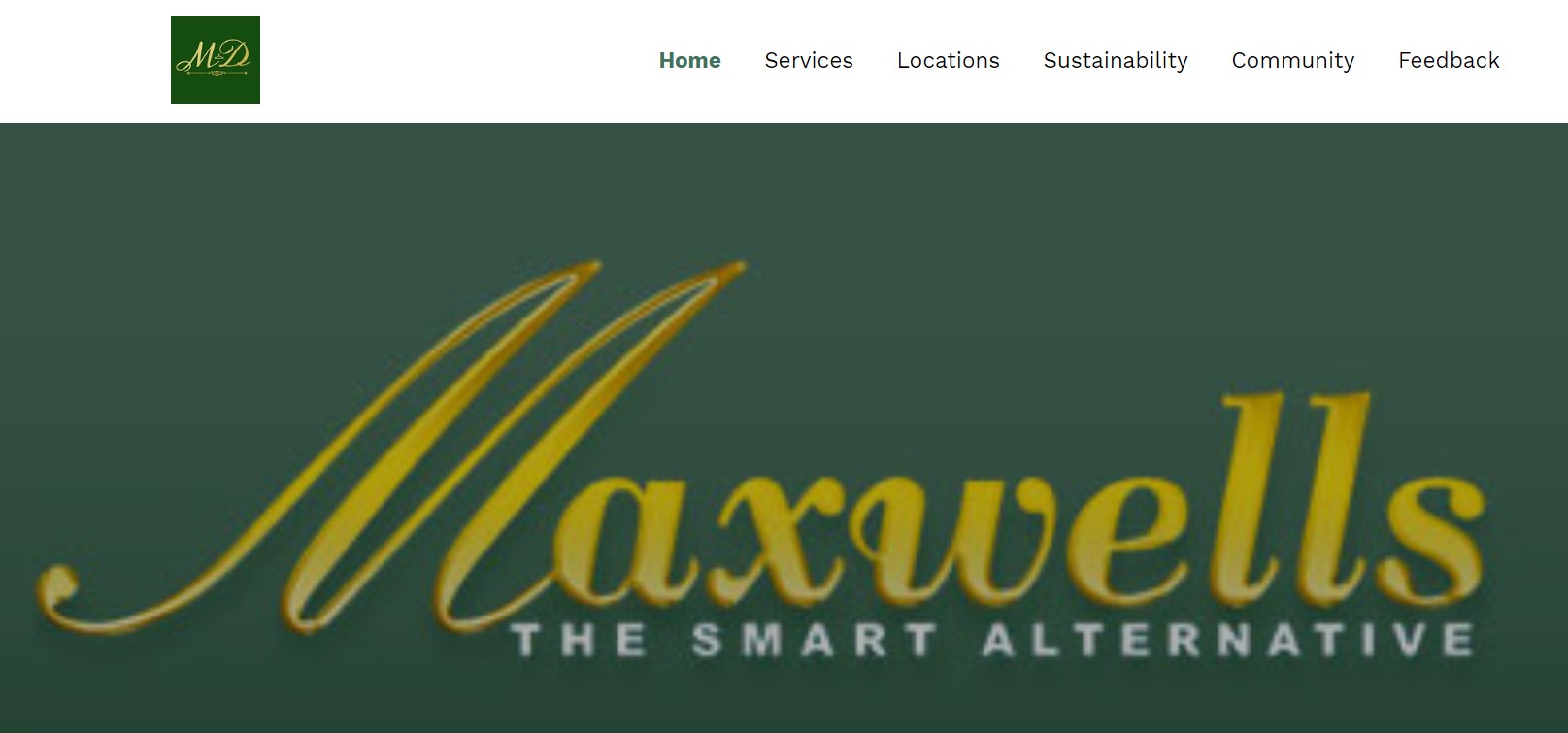 Best for
Professional cleaning service for all garments, from a one-off designer piece to everyday garments
Scope of Services
Professional Drycleaning
Business Shirt Service
Business Suit Service
Same Day Service
Delicate Dress Service
Home Furnishings Service
Linen & Bedding
Wedding Gown
Repair and Alteration
Address
5 convenient locations Auckland-Widel; for more information about locations and services please visit their website
Contact
Phone: 09 838 7805
Email: [email protected]
Website
https://www.maxwellsdrycleaningakl.co.nz/
Pricing
Contact for details
Since 1987, Maxwells Dry Cleaning has been highly favored by their valued clientele and industry peers for an unparalleled dedication to industry innovation, quality and service that far surpasses cleaning standards. They provide state of the art dry cleaning performed by specialists who have an infinite understanding of fabric and textiles as well as the methods most effective to clean them.
6)  AA Cleaning Ltd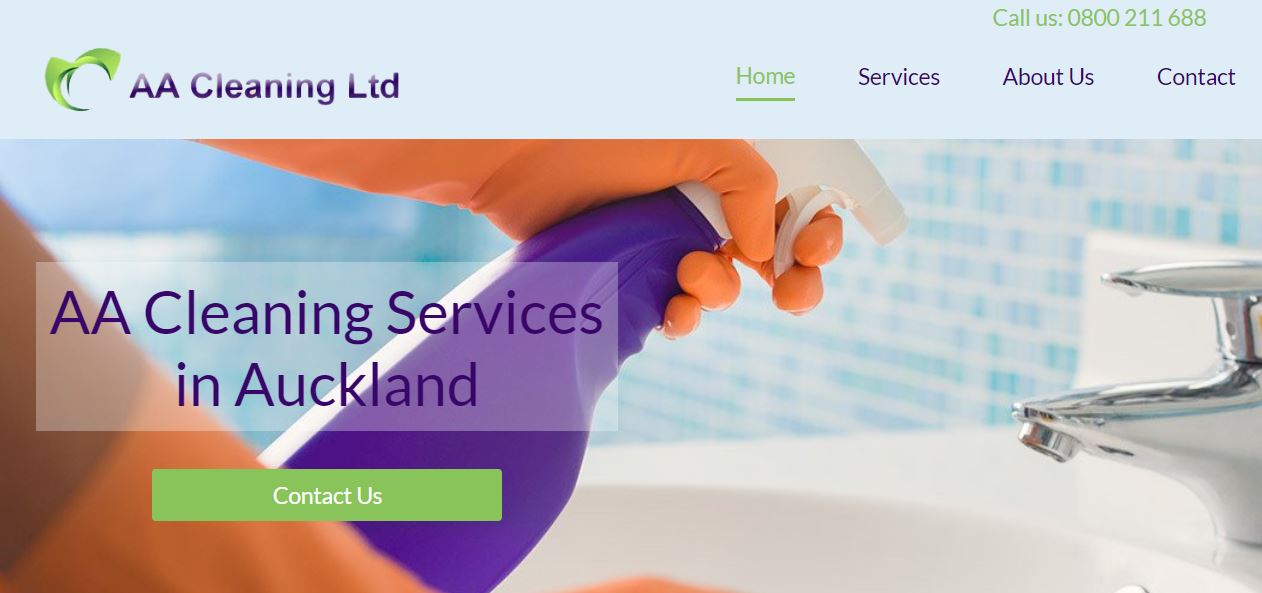 Best for
Competitive prices, cleaning guarantee, dedicated cleaning stuff
Scope of Services
Commercial Cleaning
Domestic Cleaning
Carpet Cleaning
Window Cleaning
Yard and Garden Care
Address
Albany, Newmarket, Glenfield, Flat Bush
Contact
0800 211 688 | [email protected]
Website
https://www.aacleaning.co.nz/
Pricing
Free quotation thru their website
Whether you need cleaning services for your home, office, or commercial facility, you can trust the experience of a trusted Auckland cleaning company like AA Cleaning Ltd. They have been providing quality commercial cleaning, domestic cleaning, carpet cleaning, window cleaning, and yard and garden care for the last 15 years, helping families and businesses in many communities in Auckland and the surrounding areas.
7)  Wow Cleaning Service Ltd.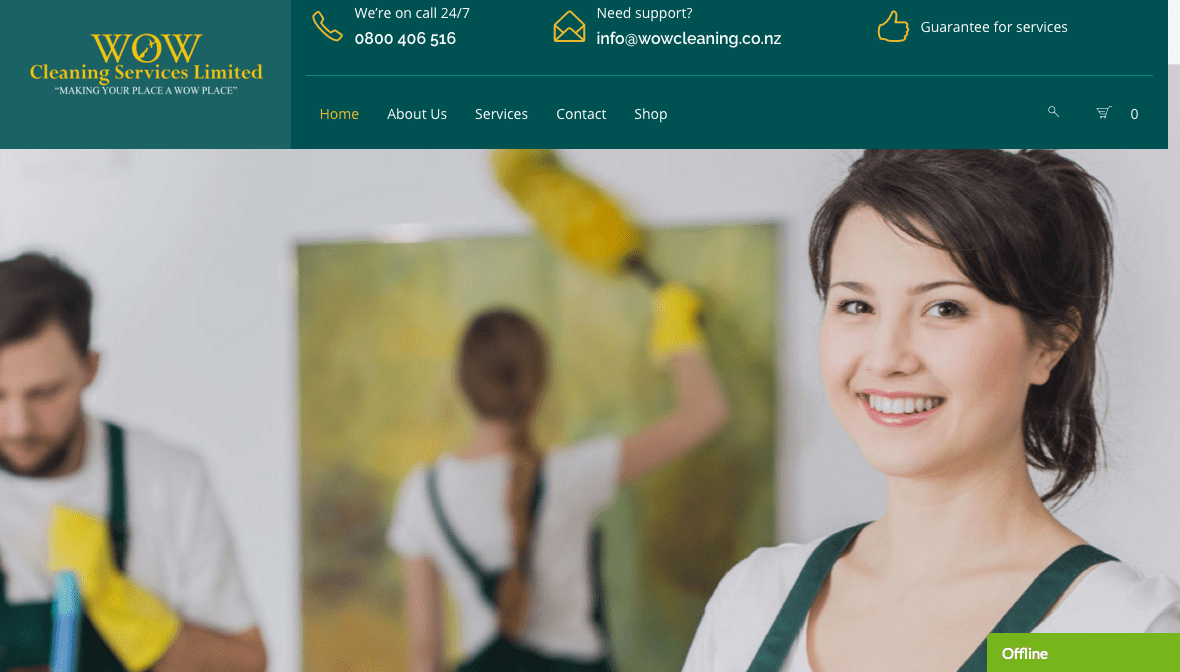 | | |
| --- | --- |
| Best for | Top Notch Home and Office Cleaning Service with Insurance Protection |
| Scope of Services | Home Cleaning, Commercial Cleaning, Carpet Cleaning, Upholstery Cleaning, Curtain Cleaning, Repairs or Pest Control, Move Out Cleaning |
| Address | 5 Amandale Avenue, Mount Albert, Auckland 1025, New Zealand |
| Contact | 0800 406 516 |
| Website | http://www.wowcleaning.co.nz/ |
| Pricing | Free no-obligation quote thru their website |
'Customer satisfaction is our profit' is the motto of Wow Cleaning Services. And it holds true as they provide superb attention to detail and cleaning, competitive rates, and insurance covering your belongings and property.
Whether it's a disturbing stain on your carpet or blackened curtains, problem solved. They will clean it for you and save you time to do other things instead.
Wow Cleaning Services has a decade of experience in this industry. They have a professional attitude and will handle your furniture and belongings with utmost care.
Furthermore, their staff are all certified with clean record just to give you an assurance. Customers have also mentioned how nice they are and that the staff always wish you a good day when they finish.
With them, you have total cleanliness, and can expect the toughest stains and scum in your space removed… all thanks to one of the best cleaning services in Auckland.
8)  Love to Clean

Love to Clean is an independently owned and operated company that provides cleaning services to homes, small offices and schools across Auckland.
Your satisfaction is guaranteed is with Love to Clean. If the cleaning does not meet your approval, then simply inform them within 24 hours and they will correct the problem at no charge!
9)  Urgent Cleaning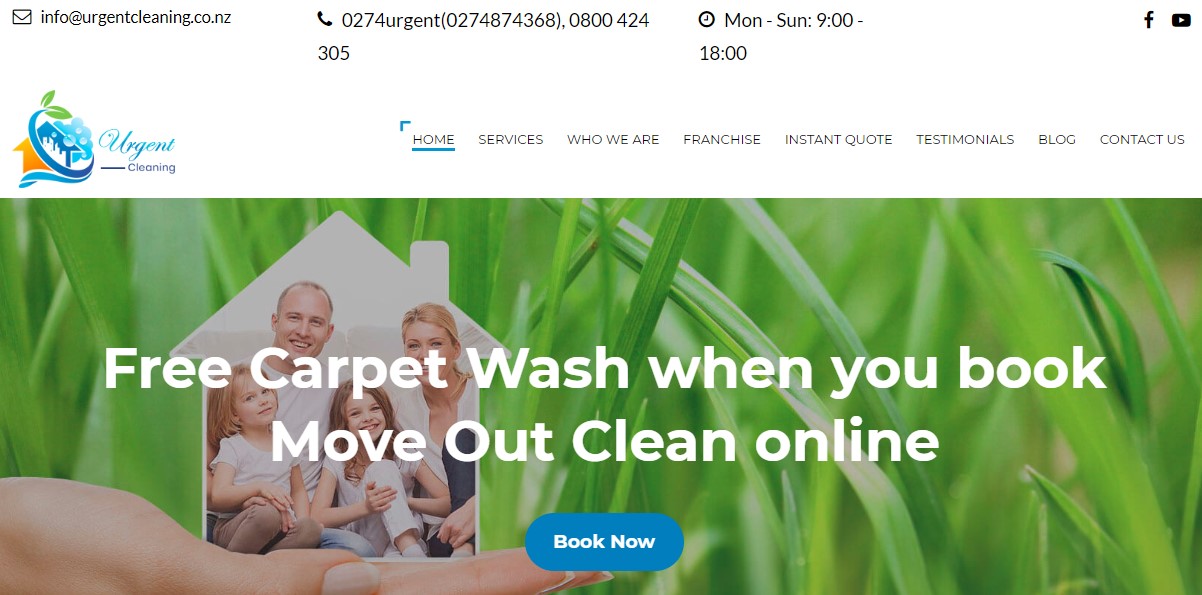 UrgentCleaning is a cleaning business offering diverse services ranging from domestic to commercial and industrial cleaning.
Under the supervision of Ms. Anjum Chaturvedi, UrgentCleaning aims to be one of the best cleaning specialists in the area, whether it's window cleaning, end-of-tenancy or carpet & upholstery cleaning.
UrgentCleaning also sues environmentally-friendly materials for cleaning houses, offices, malls, schools, restaurants, and other buildings.
10)  Bond Cleaning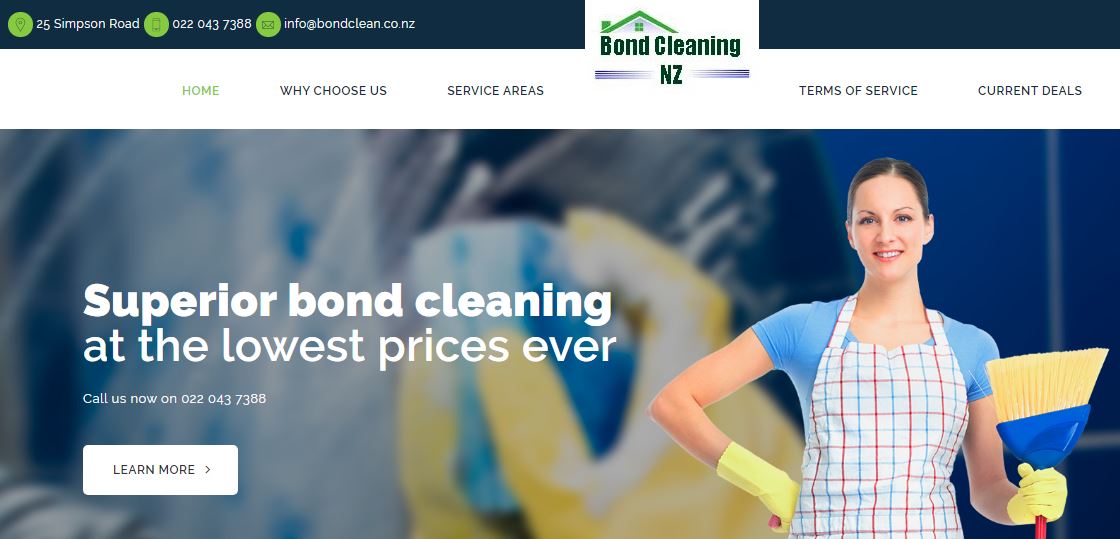 Bond Cleaning NZ offers the best rates and the most superior bond cleaning service around. They offer total confidence with their team of experts in move in & move out cleaning, boasting a 100% success rate in getting bonds returned.
Having experience in Bond Cleaning ( Move- In and Move – Out ), Blond Cleaning's teams work closely to a checklist in order to satisfy the property owners requirements, paying close attention to every corner of the property.
Don't make the mistake of trying to get the rock bottom cheapest price for a bond clean and then hope that you get your bond back. Like everything in life, you get what you pay for, the prices they charge are very reasonable, affordable and competitive.
11)  No1 Cleaning Solutions
Best for
Risk-free 100% satisfaction guarantee on cleaning services
Scope of Services
Residential, Industrial, and Commercial Cleaning
Address
P.O. Box 4413, Shortland Street, Auckland 1140
Contact
Phone: (09) 579 8990

Mobile:027 933 9886

Email: [email protected]

Website
https://www.no1cleaningsolutions.co.nz/
Pricing
Contact for details
No1 Cleaning Solutions' services are carried out by dedicated mobile teams of cleaning professionals who specializes in properties in need of a thorough deep clean. Their cleaners are fully equipped & trained with all the necessary cleaning products, tools, and equipment to undertake your clean in the fastest possible time frame with an eye for detail that is unrivaled by our competition.
No1 Cleaning Solutions service ALL AUCKLAND SUBURBS & Surrounding areas. They have carried out thousands of cleaning services in Auckland and know how to satisfy clients. They have created an extensive checklist outlining all of the standard requirements to assist their cleaning crews and to show you what our cleans entail.
If you are not fully satisfied with the service/s they've provided then they'll simply return FREE OF CHARGE and rectify any areas of concern for you within our 24 hrs guaranteed period.
12)  Total Plan Cleaning Services Ltd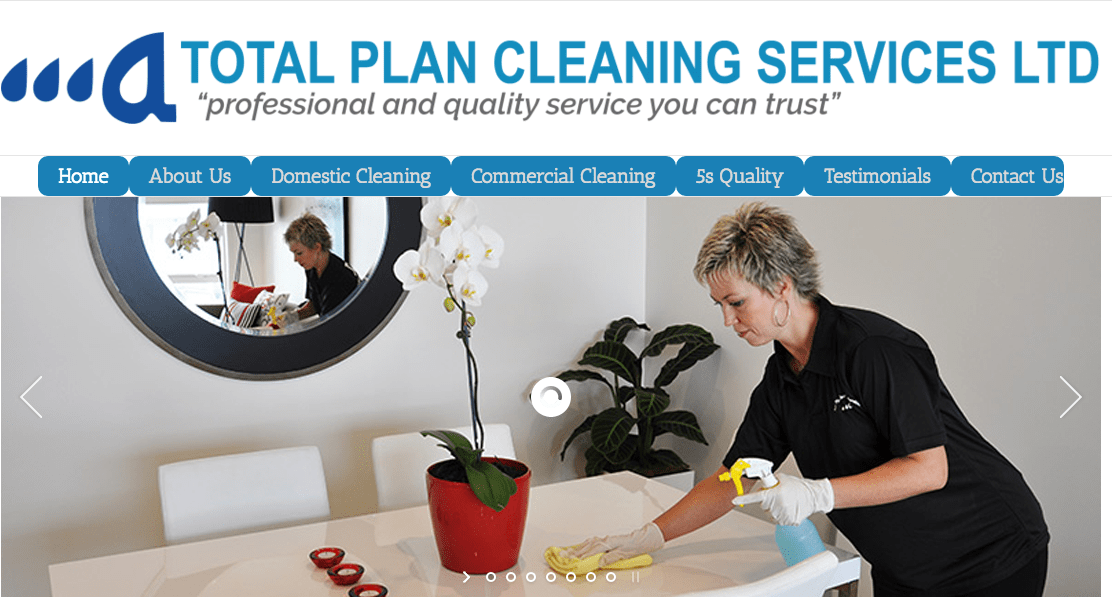 | | |
| --- | --- |
| Best for | Amiable, Trustworthy, and Cleaning to the Highest Level |
| Scope of Services | Residential and Commercial Cleaning, Move In or Move Out, Carpet Cleaning, Window Cleaning, Carpark Cleaning |
| Address | 104A, Balmoral Road, Mount Eden, Auckland 1024 |
| Contact | 0800 777 234 |
| Website | https://www.totalplancleaning.co.nz/ |
| Pricing | Free quotation thru their website |
For an effective cleaning, you need professionals with special equipment like Total Plan Cleaning Services.
Cleaning since 2004 across the big cities, they offer residential and commercial, move-in or move-out, end-of-tenancy, carpet, window, and exterior cleaning (such as for driveways, house walls, and flooring).
To accomplish this, they have modern truck-mounted equipment, water blasters, and safe and non-toxic solutions, along with a highly trained staff.
The staff are kind and listen to what you require in your office or home premises. They do their job fast and without any hitches to make your home clean and comfortable.
13) Alex Cleaning Solutions

Best for
Carpet Cleaning
Scope of Services
Residential Carpet Cleaning
Commercial Carpet Cleaning
Upholstery Cleaning
Stain Removal
Pest Control
Mattress Cleaning
Interior Boat Cleaning
Shower Glass Cleaning
Address
Contact
Telephone: 0800-88­0-885
Mobile: 021-022-47­899
Website
https://www.cleaningsolutions.co.nz/
Pricing
Available upon request
Dubbed as Auckland's number one best carpet cleaner, Alex Cleaning Solutions prides themselves in generating solutions that include the overall look and cleanliness of carpets.
Don't worry about harmful chemicals that can affect you, your kids or your pets, as the company only uses environmental friendly materials that still ensures great quality, aside from the safety of their clients.
Aside from carpets, they also offer services for general needs in residential and commercial places such as mattress cleaning, interior boat cleaning, and the likes.
14) Sensational Services

With over ten years of experience in the cleaning industry, Sensational Services has proven the truth to their name, which is providing only sensational assistance to their clients.
They offer two main services, Commercial Cleaning and Car Valet. Both are really excellent, using only safe and eco-friendly equipment, with their professionalism and expertise are unparalleled.
The Car Valet service uses a waterless solution that still ensure the cleanliness of the vehicle. Commercial Cleaning, on the other hand, promises only the best service that results in the customer's satisfaction with the hygienically clean environment.
If your needs are in their field of expertise, then make sure to check them out and book their service!
15) Little Mermaid Cleaning Services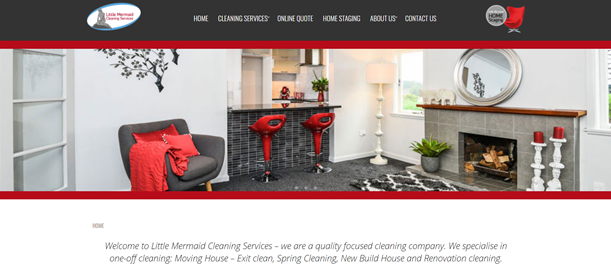 Best for
Home Cleaning Service
Scope of Services
SPRING CLEANING
MOVING HOUSE / EMPTY HOUSE CLEANING
NEW BUILT HOUSE / RENOVATION CLEANING
Address
​Little Mermaid Cleaning & Home Staging Services
​PO Box 35 421
​Browns Bay 0630
​Auckland
Contact
​Phone: 09 473 9632
​Mobile: 021 236 2284
Website
http://littlemermaid.co.nz/
Pricing
Online Quote
As a quality-based cleaning company, you can rest easy knowing that Little Mermaid is always doing their best to make sure that their services are top-notch and will leave any and all clients satisfied.
No matter if you're moving in to a new house, or just want to have a yearly spring cleaning in your home, Little Mermaid Cleaning Services can help you in making your property spotless. They also have damage insurance in case there are any casualties in the process of cleaning, so you don't have to worry about monitoring their staff every second.
Only trust those who have been already trusted by many. A reliable service created for your happiness and satisfaction, Little Mermaid is your best choice in all of Auckland.
16) Rams Cleaning Services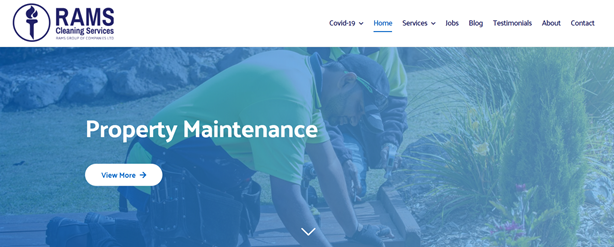 Best for
Domestic and Commercial Cleaning Services
Scope of Services
Lawn Care Services
Water Blasting & Carparks
Pest Control
Waste Management & Recycling
Hygiene & Sanitary Services
Property Maintenance
Meth Testing & Decontamination
Address

​13A, 9-11 Laidlaw Way, East Tamaki, Auckland

Contact

​ +64 9 263 0646

Website
http://www.ramscleaning.co.nz/
Pricing
Contact Rams Cleaning Services for more information
Rams Cleaning Services is a service company that guarantees 100% satisfaction as they deliver the best quality cleaning services from start to finish. As a family-owned business that started over 20 years ago, they have since then risen up the rankings and proven to be professional and trustworthy by their clients.
They cater to any business, no matter their size, providing the highest standards of cleaning and sanitizing, all for your satisfaction. No matter what, they will commit to serving their customers the utmost of effort, diligence, and commitment.
Some of their services include: Pest Control, Property Maintenance, Lawn Care Services, and the likes.
17) Sterico NZ

Best for

Surface Hygiene Management & Decontamination

Scope of Services
 Deep Cleaning
Biohazard Decontamination
Antimicrobial Preventative Treatments
Reactive Emergency Response
Outbreak Response
Preventative Maintenance Programmes
Address

139 Cryers Road, East Tamaki, 2013

Contact
Phone: 0800 119 687
Email: [email protected]
Website
https://www.sterico.co.nz/
Pricing
https://www.sterico.co.nz/contact
Sterico was first started in 2016 as a biohazard remediation division. Since then, it has become well known in New Zealand, getting established as a decontaminator and antimicrobial treatment provider.
The materials and technology used by the company are not only the latest, but also of premium quality. They make sure to provide only the best service in order to maintain high customer satisfaction. You can rely on Sterico for prompt deployment and efficient work– no matter what you need cleaned, they'll make sure to make spotless.
Aside from home and workplace cleaning, they also offer vehicle decontamination to prevent diseases and maintain safety.
---
Anyhow, that's it for your best cleaning services in Auckland! Your house and room will be spick and span in no time and you'll even have a pleasant experience with their kindness and politeness.
Do you have any questions about these amazing Auckland cleaning services? If you have one, kindly send it our way and we'll get back to you in a jiffy.
While large-scale cleaning is easier with the help of these specialists, a vacuum cleaner would usually do the work for smaller tasks. If you need a good one, you can read our roundup of the best vacuum cleaners in New Zealand.