The 15 Best Cleaning Services in Christchurch
Too busy to clear away the black dust and dirt that's coated over your stuff? Not a problem, as with the best cleaning services in Christchurch, you will save your time so you can enjoy clean surroundings and chill!
Cleaning services help out in many ways to clean your house or office. They have the latest equipment and organic solutions that are safe for you, your kids, pets, and the environment.
First, you should look for one that covers what you need for them to clean… such as curtain and upholstery cleaning, building cleaning, pest management, or others.
Then, go for a well-trained and professional team. That ensures that they turn up when say they will, finish the job on time, and with a smile on their face, are happy to do their work.
Shall we begin? We now give you the rundown of the best cleaning services in Christchurch!
1) Puro Cleaning Service
Promoting health and hygiene, Puro cleaning services go beyond the call of duty expanding their assistance to include professional cleaning services within Christchurch areas. Their specially trained cleaners take detailed methods ensuring no job is too tough and no place is too dirty for the cleaning experts.
They offer several in-home services such as mattress, tile, upholstery, and carpet cleaning. The move-in and out cleaning is especially well-liked for their thorough cleaning of the house which covers the bathroom, kitchen, living areas, and bedrooms.
Aside from in-home services, Puro Cleaning service also handles commercial cleaning and disinfecting services in public areas such as offices, gyms, healthcare, schools, studios, and retirement villages.
Overall, we highly recommend their carpet cleaning service. With seven years of experience, they have obtained a highly detailed method of cleaning carpet stains along with their specialized cleaning tools designed specifically for different types of carpets.
Highlights
Great attention to detail

Affordable price

Varied options in cleaning services and methods
2) Wisdom Commercial Cleaning
Wisdom Cleaning® has built a solid reputation for its comprehensive support systems. They are New Zealand owned and operate across the cities of Auckland, Christchurch, Queenstown and Wanaka regions.
As one of the leading choices for commercial cleaning, Wisdom Cleaning® offers an array of services across a range of industries and sectors. They provide a quality, cost-effective service and are never satisfied until every surface we clean is gleaming.
Highlights
New Zealand owned and operated
Offers an array of services across a range of industries and sectors
Quality, cost-effective service
Customer Reviews
Infinity Ocean left a comment on Google Business:
"Last minutes called Wisdom Cleaning to get a cleaning job done and they always make it happened for us and always positive attitude to deal with them.Outstanding."
3) Hallmark Services
Same as Clean Care Solutions, Hallmark Services has an experience of 15 years and going. They specialise in commercial scale settings although they are as skilled with cleaning smaller spaces.
Along with the right people, they bring in the right equipment to do the job. Stubborn stains on the carpet or upholstery are easily repaired and cleaned to get the furnishings back to being pristine and fresh.
Most of their clients are multinational companies and they're used to keeping the office in a clean and organised state, which is a big deal in productivity.
Another thing is that the prices you get are of good value and this keeps customers coming back. Further proof of why they're among the best cleaning services in Christchurch.
Also, clients have said that its staff (namely, John) is very punctual and asks the customer if it's fine to come in before the appointed date. He's approachable and friendly and goes to work professionally.
Highlights
15 years' and above experience
Specialises in commercial cleaning
Utilises modern equipment
Great value price
Customer Reviews
Amy Prangell, one client, said on Google Business:
"Great job cleaning our couch and dining table chairs, good pricing and clear communication. Thanks for doing a great job! Now to keep the kids off them so they stay clean."
4) CanTab Commercial Cleaning
Next up for our best cleaning services in Christchurch is none other than the dedicated and professional CanTab Commercial Cleaning.
Forged on the values of work ethic, honesty, reliability, and dedication, they always come with a goal in mind. That goal is to provide quality work and clean to a standard that satisfies the customers.
A business owned by husband and wife Mike and Anna, they are able to respond promptly when the client calls. They have good customer service too!
With a wide range of offerings, their main service is for commercial duties. But they also have builders clean options, domestic cleaning, and floor, carpet and window cleaning as well.
Some of their clients are The Theatre Royal and The Cardboard Cathedral besides offices and residential areas.
Highlights
Dedicated and professional service
Prompt response
Offers a wide range of cleaning services
Customer Reviews
Let's take a look at Bruna Aguiar's review on Google:
"A very trustworthy company with the most friendly staff. Definitely the best one, and I would thoughtfully recommend."
5) A+ Services
A+ Services has the latest imported machine that cleans gutters from the ground up to 3 storeys high, can even reach over conservatories. No water needed. Powerful twin motor system. No need for you the customer to be home as it is run from its own power source from their van. Quality assured.
Solar panel cleaning is also available and they will carefully clean them with purified water and a soft brush specially made for this job.
Highlights
Latest imported machine that reaches up to 3 storeys high
Solar panel is also available
Customer Reviews
Check out Graeme Walcott's review:
"Les and Janet did a great job .. arrived when then said they would – and I'm now going to get them to clean the gutters , and spray the roof for Moss !!"
6) Triple Star Commercial Cleaning Service
Cleaning services can be an extra expense in your pocket. But Triple Star makes sure you get the best rates through free repairs and 10% discounts.
Triple Star Commercial Cleaning Service specialises in office and commercial works. So, they will handle and clean up your store's tables and chairs as well as the carpets and windows.
They also offer end-of-tenancy cleaning for property managers or the owner of a house. You might like to avail of their regular schedules of weekly, fortnightly, monthly, or everyday.
A family-owned business, they are a company serving all the Christchurch areas, including schools, which they work diligently after hours.
The staff are also very friendly and accommodating and finish their work fast and with quality. Most customers like the value that they get from Triple Star Commercial Cleaning Services.
Highlights
Free repairs and 10% discounts
Specialises in office and commercial works
Serves all Christchurch areas
Friendly and accommodating staff
Customer Reviews
X-Fang WANG, one customer, writes on Google Business:
"Exceptional experience! Very professional, clear, detailed, and considerate cleaning service. Thank you very much again Jim and your team for your fast reactions and excellent service, It has been really helpful! Cheers."
7) GW Cleaning Services
GW Cleaning Services is a family owned business that aims to provide quality assistance to their clients in need of tidying up in their establishments, no matter how small or messy it is.
With the team having over 20 years of combined experience, even before they established their company, you can best believe that they know how to efficiently clean and fix whatever you need them to.
Offering services like carpet cleaning and hardwood care, do check out their website to see more of how they do and what they can do for you!
Highlights
Provides quality tidying assistance
Over 20 years of combined experience
Offers services like carpet cleaning and hardwood care
Customer Reviews
Belinda Edwards, one customer, said on Google Business:
"Glenn did a fantastic job of my very grubby lounge suite, came up like new!
Would definitely recommend, fantastic value."
8) Master Cleaning Service
Do you want a great clean every time? Look for Master Cleaning, a professional cleaning service with a hardworking team that uses environmentally responsible products for clients in Christchurch.
They have been serving the business and industrial sectors in the city ever since '87. With that amount of experience, they know what to do regarding your window cleaning, vinyl or parquet cleaning, or machinery cleaning.
Master Cleaning Service listens to your needs no matter how big or small the job. And it's from there that they are able to succeed and work creatively and passionately toward the goal.
Over the years, their client base has expanded. Now, it includes clinics, supermarkets, engineering, schools, hospitals, and factories.
Clearly, for the diverse range of service and very hardworking staff, it's Master Cleaning Service you want. They don't cut corners but clean them (their tagline).
Highlights
Utilises environmentally responsible products
Diverse range of services
Hardworking team
Have been serving the business and industrial sectors since '87
Customer Reviews
Kartik Pathania shared on Google Business:
"I have received services from this out standing company, they really focused and listened to my concerns with my top priorities in my office. They shine out all the other cleaning services I have received in the past. Thank you Mr. Brent and Master Cleaning Services for perfection!
100% recommendation!!"
9) Just Property Services
Just property services (JPS) offers an end of tenancy cleaning service to property managers, landlords and tenants. Having 15 years of experience in the industry, they know what is expected by landlords and property managers and making use of their services could help speed up the release of your Bond.
JPS have trained experienced end of tenancy cleaners to assist, whether you require a deep clean, light cleaning, regular cleaning, cleaning after the contractors have been or carpet cleaning, and if they don't get it right they go back and fix it!
Highlights
Offers an end of tenancy cleaning service
15 years of industry experience
trained and experienced end of tenancy cleaners
Customer Reviews
Bob Huntley, one of their clients, said on Google Business:
"I was living in a flat for 18 years and had collected lots of stuff that collected lots of dust, these people came in and cleaned the flat that was old and dated but still looked incredible after they finished.
Thanks so much, recommend them highly and would use them again anytime."
10) Complete Cleaning Solutions
Complete Cleaning Solutions is a family business that you can trust. It gives friendly and professional service that will work around your schedule and requirements. With over 25 years of experience in the industry, they will ensure your home or workplace is thoroughly cleaned.
Everything in your place, from the carpet to the windows will remain spotless after you've tried them out. They offer a spider proofing service to keep out spiders and other insects from pestering your safe space.
Highlights
Gives friendly and professional service
Over 25 years of experience
Superb, spotless clean
Customer Reviews
Patrick G shared on Google Business:
"Nigel at Complete Cleaning Solutions is a great Window Cleaner and new at Carpet Cleaning that i am amazed on how fast this guy is picking it up. I would be very happy to recommend his service being such a profesional he is. Thanks heaps for fitting me in Nigel on that urgent Window Clean i couldn't do. Customer was very happy and blown away… :)"
11) Quality Clean
Quality Clean, as the company's name suggests, is all about providing excellent cleaning services to all of their clients, no exceptions.
They specialise in pest control, utilising treatments that are non-toxic but still as efficient as other methods. They may be the best in pest control, but their services don't stop there. They can also do general cleaning at a reasonable price.
Highlights
Specialises in pest control
Utilises non-toxic treatments
Reasonable prices
Customer Reviews
Let's see what Amy Stewart has to say on Google Business:
"Shaun at quality clean was fantastic and very reliable. He always replied promptly and the services were good quality at great prices. I was stuck in Australia so all correspondence was via email and phone and still the services were exceptional. Would recommend! Thank you."
12) Premium Clean
Premium Clean stays true to its name by providing top-notch cleaning services, making them one of the most trusted cleaning services in New Zealand. Once you schedule your cleaning service, they guarantee you 100% customer satisfaction.
This company's goal is to relieve you of the weekly chores so that you can focus on your career advancement and free your schedule so you can spend more quality time with your family and friends. In the end, they only want you to have more time for yourself and the things that matter to you the most.
They are made up of a team of top-vetted cleaners who have gone through an extensive screening process. They are easy to contact and you can book a schedule within 60-seconds. The best part is that you don't have to pay in cash since they accept credit card payments for all services.
Highlights
Cash-free Payment
Top-vetted Cleaners
Easy to contact
Customer Reviews
Previous clients left their review on the quality of their service on google:
"I had my carpets cleaned, I have had 3 different companies and this was by far the best clean. I have kids and dogs. Carpets smells amazing and just feels really clean. Lady that did the job was amazing and I would highly recommend her. Will be definitely booking in again. Thanks again."
"Stayed at New Zealand for about 9 months and by the time I needed move back to Dubai, I needed a moved-out cleaning company. Premium Clean was recommended by one of my friends, so I decided to hire them. The experience was absolutely fantastic. I booked the service from their website, it was easy and fast, and saved me a lot of time. Their moved-out cleaners were friendly and efficient, and arrived at my place on time. By the time the landlord arrived at the place, he was pleased because everything is spotless and super clean. To those looking for professional cleaning service in New Zealand, I highly recommend Premium Clean."
13) Your Cleaners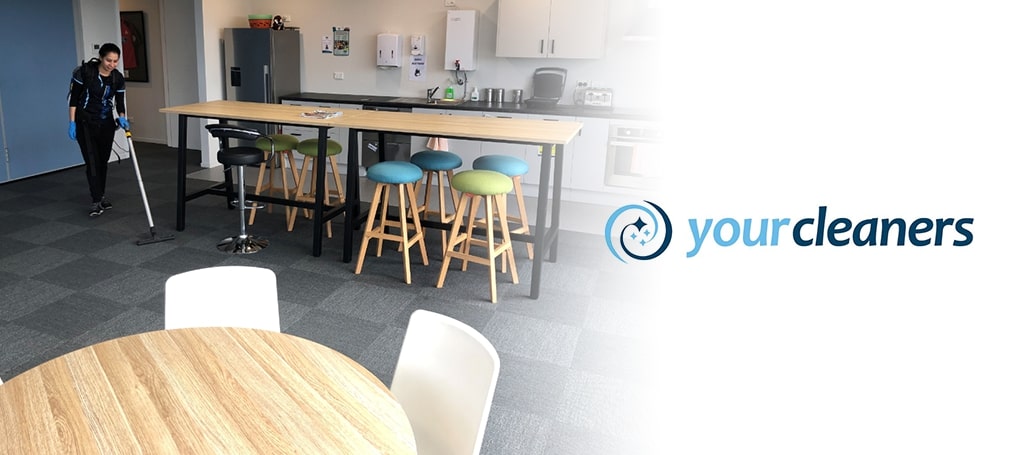 For over 12 years, Your Cleaners has been keeping Christchurch businesses and commercial spaces clean and tidy. It offers both routine office cleaning and complete commercial cleaning.
Your Cleaners can clean everything, from carpeted surfaces to high glass windows. To deliver the best results for these cleaning services, Your Cleaners uses quality micro-fibre cleaning fabrics, the latest cleaning equipment, and the best sanitising and disinfecting chemicals.
This cleaning company also goes beyond with its customer services by supplying soaps, tissue paper, and other hygienic products that offices and commercial spaces need.
Another way that Your Cleaners makes things easy for its clients is that it has a convenient mobile app. With this new technology, Your Cleaners' customers can easily book and pay for cleaning sessions.
All in all, Your Cleaners' offerings and flexible schedule make it an excellent choice for cleaning services in Christchurch.
Highlights
Mobile app for convenient transactions

Flexible scheduling

Available for routine and deep cleaning services

Provides hygienic supplies
Customer Reviews
Here are some customer reviews to tell you more about Your Cleaners' quality of services:
"Overall the work done is very good. All staff and management are professional and respond to our needs and requests in a timely manner. We are very happy to recommend Your Cleaners."—Jane Hadley
"We have been using "Your Cleaners" here since mid 2019. After switching from our previous cleaners. And wow. They do a fantastic job. I would recommend to any Business looking for professional Cleaners."—Cadie Sicon
14) My Maid
My Maid is a company that is founded on the demands of the customers toward reliable and convenient cleaning services in the area. Both locally founded and insured, they are set on improving the home cleaning industry one job at a time.
We find their services to be adequately secured since their cleaners are all fully insured and bonded wherein, they are covered with public liability insurance for the client's peace of mind.
Another thing we find highly convenient with their services is that they are able to provide their own cleaning supplies to that homeowners don't need to fret and stress buying the cleaning necessities they will be using.
Though there aren't prices readily available on their website, clients get to have a free quote and book their cleaning schedule easily online at any time at flexible times according to their availability as well.
Overall, with their timely discounts for both first-time and recurring cleaning packages and hassle-free procedures, we highly recommend them and find them ideal for clients in the area that are in need of customized cleaning.
Highlights
Qualified cleaners
Free quote and booking online available
Cleaning supplies are provided
Customer Reviews
Here are some reviews from their clients:
"We have used private cleaners recommended by friends and online services in the past. We always be left a little disappointed. Of everything we've tried, My Maid is definitely the best. The whole process just works and is easy. They instruct their cleaners to be far more thorough while also working quickly. The rating system is a great way to provide feedback on each clean." – Johnny
"To begin with we signed up for a one time clean not thinking we would need a cleaner long term. After the first clean we knew we had to keep the good times rolling 🙂 Coming to home to a clean and fresh home is worth every dollar. The frequency discount we get for a regular clean is a big bonus too." – Jennifer
15) ReeceClean
ReeceClean was founded in 2021 with the purpose of delivering specialized cleaning services to several sites throughout New Zealand's South Island.
They use tried and proven techniques that only years of experience can provide. At ReeceClean, they provide the finest levels of cleaning while also doing their part for the environment by using non-caustic chemicals that do not emit poisonous odors.
ReeceClean provides all of the necessary equipment and know-how for a complete service. They carefully disassemble your appliances to ensure that no nook or cranny is overlooked, and all individual parts are given a thorough steam bath inside their fully-equipped service vans.
Their services are always done by hand, allowing their professionals to maintain a close check on their work and the surroundings of your home. They remove their shoes at the entrance and cover all adjacent surfaces, ensuring a thorough clean while minimizing the chance of harm.
Highlights
Experienced cleaners

Well-maintained quality equipment

Competitive rates
Customer Reviews
Punctual, professional, conscientious attention to detail, respectful of my kitchen surfaces and floor
"Reece was recommended to me by a friend. He did an absolutely amazing job!! He was punctual, professional, conscientious attention to detail, respectful of my kitchen surfaces and floor. Will be extolling his oven cleaning abilities to everyone that hates cleaning ovens!!!" – Elwyn Pope-Wright
100% recommend Reececlean
"We have had our oven cleaned a few times with Reece clean so far and absolutely love the job he does ! Very punctual and professional, not to mention my oven looks brand new every time ! 100% recommend reececlean ." – Gems Parker
---
That concludes our list of the best cleaning services in Christchurch. A cleaning job, to be honest, can be difficult — so it's a good idea to ask these cleaning services to do it for you instead of trying to do it all yourself.
Are you familiar with any of the Christchurch cleaning services we mentioned? Tell us your opinions, comments, questions, or anything else. We'd hear you out and help you if we can.
Anyway, now that you know about the best cleaning services in Christchurch, you might be interested in the best carpet cleaners in Christchurch for a standalone carpet cleaning service.
Or to shift gears from cleaning services, how about locksmiths? They can make sure your locks are working well to keep you safe all the time, thus you can read the best locksmiths in Christchurch.