Scrubbing off the residues from your flooring or doing a cleaning on your ceilings and walls with no corners cut might take hours or even days. If that's your situation, it might be time to call on the best cleaning services in Wellington, which we've put together for you here.
These professional cleaning services cover all of that and more for your residential and commercial needs. And you can expect your place to not only be orderly afterwards but also immaculate!
To handle those big tasks, they have the latest equipment plus nature-friendly, biodegradable chemicals that are harmless to the environment and safe for every dweller in the house, including your pets.
With awesome reviews from Google Reviews, the staff will be well-trained and certified too. You can entrust your property's sanitation to them without issues.
Anyway, you'll see that for yourself as we go through our picks. So now, let's take a look at the best cleaning services in Wellington!
1)  Premium Cleaning Services

Best for
Professional and Affordable House Cleaning Services
Scope of Services
House Cleaning
Move Out Clean
Commercial Cleaning
Airbnb Cleaning
Address
2/2 Kingsland Terrace, Kingsland, Auckland
Contact
Telephone: 0800 786 780 (NZ)
Telephone: (+64) 21 113 3501
E-mail: [email protected]
Website
https://www.premiumclean.co.nz/house-cleaning-wellington/
Pricing
Contact for details
Premium Cleaning Services is the Number #1 rated home cleaning company in Wellington. They are tech-enabled company that provides customers with booking automation and online payment to make your life easy and to keep the communication smooth by giving you an ability to track your cleaner or can chat them through our app platform.
They don't work with outside parties; when you book with them you get their own dedicated team of 5 Star Experienced Cleaners.
2)  Chemwash Wellington
| | |
| --- | --- |
| Best for | Soft Exterior Washing for Residential Properties |
| Scope of Services | Soft House Washing, Domestic and Commercial Cleaning, Deck Cleaning, Concrete Cleaning, Roof Cleaning, Gutter Cleaning, Paver Cleaning, Tennis Court Cleaning |
| Address | 83 Kenepuru Drive, Tawa, Wellington 5028, New Zealand |
| Contact | 0800 CHEM WASH or 04 474 2255 |
| Website | https://wellington.chemwash.co.nz/ |
| Pricing | Please call them for a free no-obligation quoting |
Cleaning services are mostly zeroed in on the inside of the house but the outside is just as important. If you want to impress your neighbours or passersby with a glistening house, then call Chemwash Wellington.
To keep from damaging your walls, floors, and even trees, they only use a low-pressure spray. This takes away dirt, grease, and buildup as well as mould, moss, and lichen by using a patented natural and safe chemical solution.
Chemwash has been serving Wellington for 30 years and a lot of people have come to depend on them. It's a small family-owned business with a team of professionals who are efficient and punctual.
3)  CrestClean Commercial Cleaning
| | |
| --- | --- |
| Best for | Contract Cleaning Services |
| Scope of Services | Contract Commercial Cleaning, Consumables, Carpet Cleaning, Hard Floor Care, Window Cleaning, School Property Caretaking |
| Address | Hutt Valley or Wellington, New Zealand |
| Contact | 0800 273 780 |
| Website | https://crestclean.co.nz/ |
| Pricing | You can request a no-obligation quote thru their website |
CrestClean is a contractual cleaner with offices all over New Zealand since 1996. In the Wellington Region, it has offices in both Hutt Valley and Wellington City.
If you need some cleaning with a schedule, then CrestClean can do that for you. In fact, that's their specialty with daily, weekly, or after-hour cleaning for a clean and hygienic environment, especially for schools.
What makes them one of the best cleaning services in Wellington is their people. These people are aware of the safety standards, are security-cleared, and come equipped with equipment and necessary tools to achieve great cleaning.
They are great at cleaning hard floors in particular, by the way. Plus, using Alsco products, they can resupply your needs in the bathroom, home, or kitchen.
4)  Kleenrite Wellington
| | |
| --- | --- |
| Best for | One-Stop Commercial Cleaning Services |
| Scope of Services | General Cleaning (Commercial, End of Tenancy, Contract, Carpet, Window, On-Call Emergency), Additional Cleaning (Building Exterior Wash Downs, Waste Management, Pest Management), Event Cleaning, On-Off Cleaning, Handyman Services |
| Address | Level 1 16 Armidale Street Petone, Lower Hutt, New Zealand |
| Contact | 0800 382 8858 |
| Website | https://www.kleenrite.co.nz/ |
| Pricing | You may either contact them thru their hotline or fill out the form on their website |
 Specialising in commercial and office cleaning, Kleenrite is a BSC-accredited cleaning company that provides above-par cleaning for buildings to give the employees, residents, or property owners a more hygienic, safer, and cleaner place to work or live.
With a useful and extensive range of quality services, they even assist you in your waste and pest management, and garden services. That's in addition to the building cleaning, pressure spray wash downs, and window and carpet cleaning.
Kleenrite also practises environmental sustainability in their business structure — with the materials they used, the way they provide the service. and as individuals too.
Because of the attention to detail, complete cleaning, and dedicated customer staff, they have built long-standing relationships with their clients… some of whom have been with them for about 10 years or more.
5)  Heaven Sent Cleaning
| | |
| --- | --- |
| Best for | Small-Medium Sized Cleaning |
| Scope of Services | Domestic and Commercial Cleaning, Regular Cleaning, Spring/Moving Cleaning, Carpet Cleaning, Window Cleaning, Oven/Fridge Cleaning, Add-On Cleaning |
| Address | Wellington, New Zealand |
| Contact | 0800 734 932 |
| Website | http://heavensentcleaning.co.nz/ |
| Pricing | Kindly get a quote from their website |
 If you can find a cleaning service that not only seeks to clean your home but also to go the extra mile and organise your things, then consider it Heaven Sent.
Heaven Sent Cleaning understands their clients. The company has that extra attention to detail that's the signature of all the best cleaning services in Wellington.
Their angel cleaners are also approachable, fast, and efficient in their cleaning while using eco-friendly chemicals for the good of our planet and its people.
They offer regular cleans, deep cleans, move-in and move-out cleans (perfect for landlords or owners), and provide add-on services that make your life at home utterly comfortable and convenient. You can ask them to declutter your room or even replace a light bulb.
6)  Property Friend
Best for
Professional cleaning
Scope of Services
Office Cleaning | Common Area Cleaning | Builders Cleans | Rental Property Cleans | Carpet Cleaning and more
Address
Wellington, NZ
Contact
+64274877770
0274 877 770
[email protected]
Website
https://www.propertyfriend.co.nz/
Pricing
Kindly call their hotline for a quote
Property Friend provides specialist cleaning and services for Wellington Property Owners and Managers. Their residential and commercial customers include property Managers, Builders, Office Managers, Project Managers, Tenants, commercial industrial and residential property owners and more.
7)  Absolute House Wash
| | |
| --- | --- |
| Best for | Fast and efficient cleaning services |
| Scope of Services | Residential and Commercial Cleaning Service, Soft Chemical House Wash, Soft House Wash, Moss, Mould & Lichen Roof Treatments, Roof Washing, Gutter Cleaning, Chemical Gutter Cleaning, Deck Cleaning, Cleaning of Pavers, Surface Clean of Pathways, Cleaning of Concrete, Cleaning of any surface. |
| Address | —- |
| Contact | 027-572-0091 | [email protected] |
| Website | https://www.absolutehousewash.com/ |
| Pricing | Kindly call their hotline for a quote |
Absolute House Wash is a leading residential, commercial and industrial cleaning company servicing the greater Wellington Region. Their services are outstanding because of the highly skilled and experienced team of cleaners in their company who never compromise the quality of equipment, materials and safety used during any cleaning project.
Absolute House Wash also provides free quotes and their prices are based on the following: Square meters, height, access, amount of dirt and organic growth and time involved in cleaning.
8) Home Heroes Cleaning Services
Best for
Superior cleaning services for Raumati | Paraparaumu | Waikanae
Scope of Services
One-Off Cleaning
End of Tenancy Cleaning
Regular Cleaning
Ovens and Windows
Carpet Cleaning​
Address
—
Contact
[email protected] | 027-3644-000
Website
https://www.homeheroes.co.nz
Pricing
Contact for details
Home Heroes Cleaning Services' goal is to provide trustworthy reliable cleaning services with a friendly smile and an eye for detail. Each and every team member is trained to have a solid knowledge of all cleaning procedures and hygiene smarts. Each cleaner is monitored regularly to ensure your cleaning standard is up to scratch.
If you would you like a break from your regular house cleaning, let Home Heroes Cleaning do those regular weekly jobs you dread.
9)  Remington Commercial
Best for
Customer Satisfaction Cleaning Service
Scope of Services
Private or Commercial Cleaning, One-Off Cleaning, Regular Cleaning, Carpet Steam Cleaning, Dusting, Antiviral Treatment
Address
Level 1, 28 Bond Street

Te Aro, Wellington 6011, New Zealand

Contact
+64 4 213 8990
Website
http://www.remingtoncommercial.co.nz/
Pricing
Free quote is available thru their website
A cleaning service that takes into account the needs of customers is a big deal. And here Remington Commercial shines as one of the best cleaning services in Wellington.
Although their team usually cleans for small-midscale homes or offices, they also do fine for larger jobs or premises. They have reliable customer service that can give you an update on cleaning status and answer any questions you may have in mind.
They clean using environmentally safe materials for your belongings, furniture, and carpets, amongst others. Cleaning with attention to detail and to a high standard, they even apply an antiviral treatment for a hygienic workplace.
However, should it happen that after the service, you are not satisfied, they will come back with a kind and helpful attitude to fix it until you are satisfied.
10)  Perfect Clean
Best for
100% cleaning satisfaction guaranteed.
They manage their work, No hidden fees.
Affordable, healthy, secure and perfect.
They are offering 10% off of your current cleaning provider.
Scope of Services
Commercial Cleaning, Home Cleaning
Address
—
Contact
[email protected] | 022 039 5096
Website
http://www.perfectclean.co.nz/
Pricing
Kindly call their hotline for a quote
Perfect Clean is a small dedicated, 100% locally owned & operated team servicing in Wellington. They are passionate about running a business that offers personalized service. They are highly experienced within the commercial cleaning industry, no long term contracts, fair & competitive pricing. Their team has been operating and flowing in a very effective cost-efficient system to give competitive pricing and open contracts to satisfy customers with best services.
11)  CMOS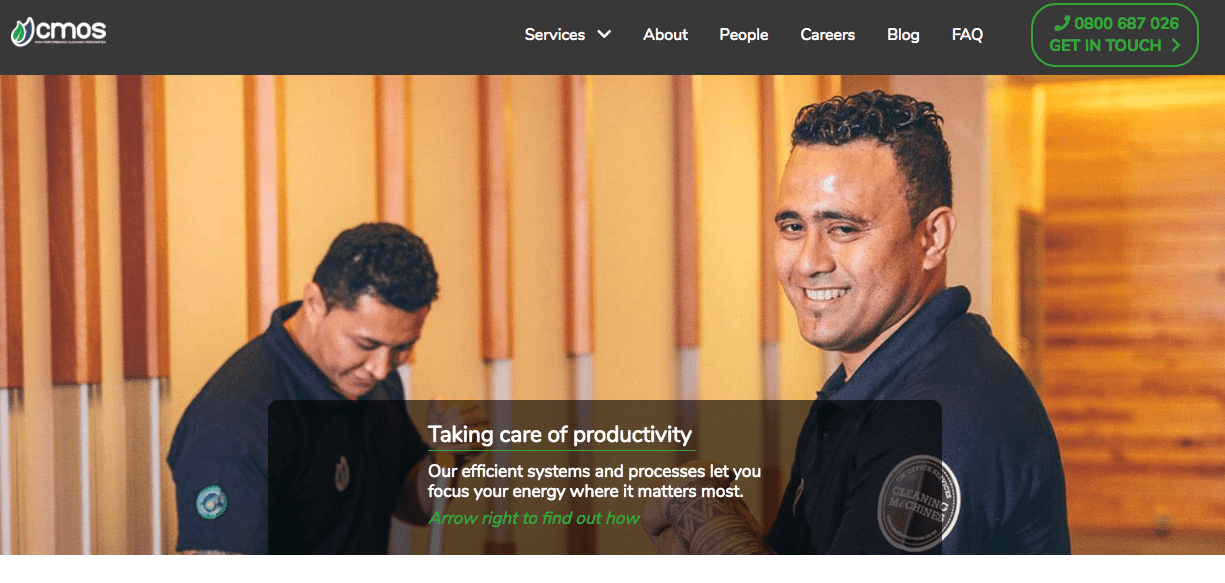 | | |
| --- | --- |
| Best for | 24/7 Dependable Customer Support |
| Scope of Services | Commercial Cleaning, Office Cleaning (Carpet Cleaning, Consumables, Hard Floor Scrubbing and Cleaning, Recycling Maintenance, One-Off Spring Cleaning) Common Area Building Cleaning (Lobbies, Elevators, Door Handles, Windows, Stairwells, Rubbish and Recycling) |
| Address | 16 Kaiwharawhara Road, Kaiwharawhaura, Wellington 6035 |
| Contact | 0800 687 026 |
| Website | https://www.cmos.co.nz/ |
| Pricing | Kindly call their hotline for a quote |
CMOS has stellar customer service. That means you can get correct information or resolve an issue easily when working with them.
It's what gets CMOS a spot in this list of the best cleaning services in Wellington. It is very important because it fosters a situation where you can be really satisfied and happy with their services.
CMOS has two main lines to offer: Commercial Cleaning and Common Areas Cleaning. They clean in a meticulous, complete, and consistent manner for a fresh and presentable office.
Moreover, the staff try to lessen fuel and energy use as much as possible — they take this seriously. They provide an example by car pooling, planting trees (for a charity), and using recyclable pods for different materials such as plastic, glass, or food items.
For a cleaning service for commercial and office needs with solid customer support, we'd recommend CMOS.
---
And that's all  for the best cleaning services in Wellington. If you need someone to give your premises a good cleaning or washing, these ones will be great and affordable choices.
Do you have any questions or suggestions about the services we featured? You can let us know by simply writing them down in the comment section.
In the meantime, while you are letting them clean your house, you might like to make yourself some delicious, hot coffee to relax and unwind. You can try our list of the best coffee machines in New Zealand.
Or to feel cool indoors in the midst of the summer weather, you can read our best cooling fans in New Zealand with a sleek design. These can make you feel fresh and cool even on the hottest days!