12 Best Coffee Grinders in New Zealand for 2020
Usually, the best coffee is made from even and consistent ground beans. To help you get such beans, we have listed the best coffee grinders in New Zealand!
A premium coffee maker won't make things any better if the coffee is poorly ground. Every cup will taste either too bitter or too bland.
Coffee grinders will solve that problem for you and give you a cafe-quality drink. You will then relish that coffee cup after cup and time after time.
There are a lot of coffee grinders you can find in New Zealand. They differ in prices, sturdiness, features, burr type (which tells what type of coffee you're going to get), and ergonomics.
But, before we present the best coffee grinders in New Zealand, though, you need to know some things in order to pick the right one and get value for your money. Let's start.
Buying a Coffee Grinder 101
Here are the important things you need to consider before purchasing a coffee grinder:
1)   Grinds Consistently
Like we mentioned, great coffee depends on the quality of the grind. If the grinding is poor or uneven, it follows that the taste after brewing would be overdone and result in bitterness.
You should then look for a coffee grinder with smooth, even, and consistent grinding. This will result in a fuller taste with completeness & texture — just delicious!
Coffee grinders have a basic component that is directly related to the taste quality you will get. That is the burr type, which dictates the precision in making French Press, Espresso, and cold brew.
2)   Durability
The sturdier the coffee grinder, the longer you will be able to use it — which means more coffee goodness to enjoy. Also, a durable coffee grinder does not easily stop working or drop in grinding performance.
3)   Price
A buying decision is more often than not influenced by the pricing. Do you look for an espresso grinder that has a lot of features but is pricier or something that's cheaper though not that good?
Usually, cheap grinders won't do much good. This is because the grinder quality and the burr used can't keep up with the same quality for every brewing.
4)   Easy to Clean
It is extra convenient if you have a grinder that will involve minimal to no cleaning. This lets you enjoy your coffee more and keep your kitchen free of smudges or mess.
5)   Easy to Use
Some coffee grinders come with a single button, such as to start or stop grind. It's a no-brainer where you can start making coffee without even perusing the instruction manual.
It also means it's simple to open the lid of the bean hopper and pour the beans onto it. Or adjust the grind size settings effortlessly.
Some grinders also come with a cord storage hiding the cord underneath for neatness and function alike.
The Best Coffee Grinders in New Zealand
Now that you know exactly what to look for in getting a coffee grinder, we now present the best coffee grinders in New Zealand!
1)   Westmark Coffee Grinder Brasilia Negro
Most User-Friendly Manual Coffee Grinder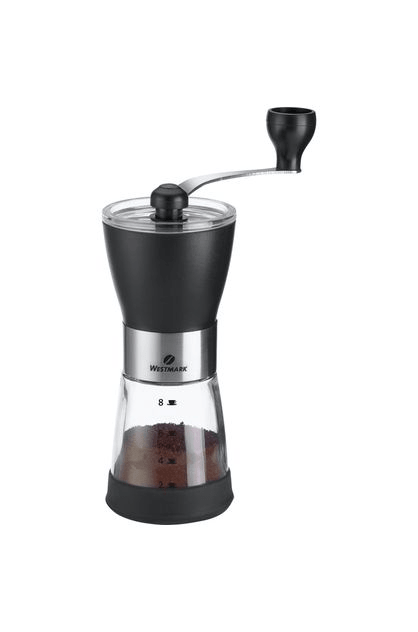 Price: $100
Perhaps you're travelling and want to make yourself an espresso, filter coffee, or even French Press coffee. For this, the Westmark manual coffee grinder is what you need!
It's very simple to use, as you just pour your coffee beans into the ceramic grinder, crank away at the handle, remove the grinder container and presto! You now have freshly ground beans!
To know precisely how many beans you need, the glass on the grinder indicates amounts of 2 to 8 cups. In effect, you will be able to grind just enough and won't have any surplus or shortage of beans.
Also, this coffee grinder sports a slip-proof rubber base to keep it from distractingly moving about during use.
With that, the Westmark Coffee Grinder makes it to our list of the best coffee grinders in New Zealand!
Highlights
Lets you make espresso, French Press, filter coffee and stove top
Cup quantity indicator
Simple to use
Slip-proof rubber base
Dishwasher-safe
2)   KitchenAid KCG111 Coffee Grinder
Excellent Ground Coffee Quality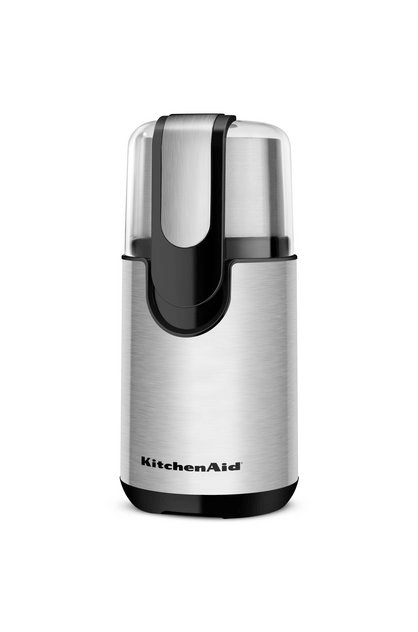 Price: $99
Keep grinding! Beans and spices are no match for the KitchenAid Coffee Grinder (KCG111). With it, you will unlock the purest flavour for your coffee or tasty recipes.
Clear top cover and push-down activation enable you to grind with maximum ease and convenience. Simply press down on the top of the grinder to pulverise the ingredients.
You won't get lost in how many beans to put in thanks to the etched quantity markings of 4, 8, 10 and 12 coffee cups. After grinding, the removable bowl lets you easily pour the coffee grounds onto your coffee maker.
Brushed stainless steel design and a stainless blade provide this product with great quality. This is proven by its 2-year replacement warranty.
Plus, it doesn't take up too much space in your kitchen, making it handy whenever you want a cup of joe or beverage throughout the day!
Highlights
Brings out the best flavour and taste from your coffee and recipes
Clear top cover
Easy to use
Well-made product
Etched quantity markings
2-year replacement warranty
Takes up only a small space
Customer Reviews
2,590 customers gave this coffee grinder 5/5 stars and that says it all right there. Furthermore, Curtmoss commented:
"I got this to replace a Cuisinart grinder that I had for years. At first I didn't care for the KitchenAid's round shape, but after using it for a month now, it's very well built and quieter than the Cuisinart.
It creates a nice uniform grinds and I'm very happy with it."
Also, A. Wheeler said:
"I grew up in San Francisco and lived in Seattle for a long time. In other words, I like good coffee! I know that there are coffee purists who will pooh pooh anything but a burr grinder, but frankly I can't tell the difference between a burr grinder and this one. I had a Cuisinart DCG-12BC that died after a year. Bought another one. Died. Enough of the Cuisinart brand. So I replaced it with this. And I'm super happy with it. It looks nice, but more importantly it does an excellent job of grinding coffee and doesn't spill everywhere when you dump out the grounds, which the Krups F203 does every single time. I've had mine a year, and it seems to be going strong. I'm buying another one for our other house."
3)   Zelkova Milco Solo Hand Coffee Grinder
Best Hand Coffee Grinder for Aromatic Coffee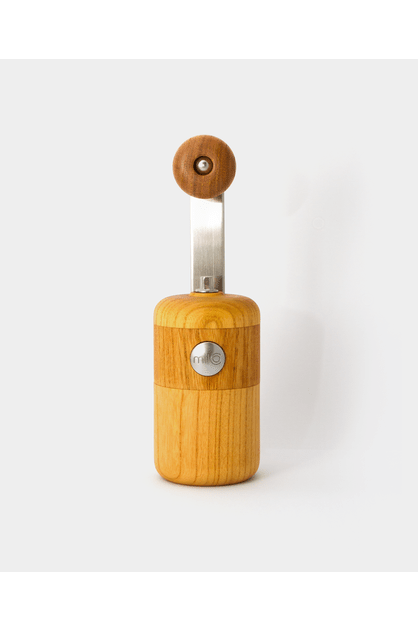 Price: $171
For an elegant ceramic burr grinder, try out the Zelkova Milco Hand Coffee Grinder. Handmade from Japanese Zelkova wood, it is aesthetically pleasing and very portable.
But looks don't affect the bean quality of the grinder… and fortunately for you, this thing works as well as it presents. In fact, its ceramic burr is built to last and works remarkably, helping you to get an aromatic, flavourful coffee!
The handle can be removed and placed into the ceramic grinder too. This makes it easy to pack and carry, great for camping trips or going overseas.
What's more, the grinder is designed to precisely make a solo cup of coffee, so you don't have to think about anything else.
Elegant, premium and portable, this is a superb grinder. Your coffee will never have been better from manual grinding!
Highlights
Classy and portable hand coffee grinder
Makes aromatic, excellent coffee
Removable handle
Grinds for a solo cup of coffee
4)   Crushgrind Columbia Acrylic Ceramic Coffee Grinder
Best Manual Coffee Grinder for Value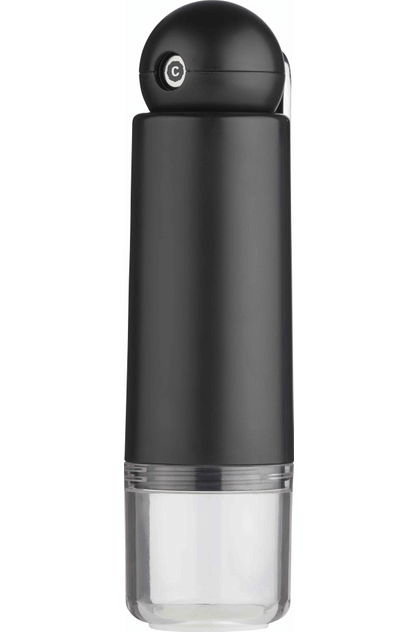 Price: $85.40
Check out this unique ceramic grinder with turn-and-grind design. Offering a quick and consistent grind, the Crushgrind Columbia is a great product for its price!
This grinder is made from plastic and acrylic. Not what you'd expect for something that looks classy, but its looks are pretty good and it feels sturdy too.
Fresh coffee beans are totally achievable with this unit. That's owing to Its stable burrs, which will mill or crush beans evenly.
Absolutely no metallic or bad tastes will go into your coffee during grinding. In fact, this grinder will give you a coffee drink that will please your palate or even go beyond your expectations.
Also, this grinder is very simple to clean: just wipe off the top part, while you can do normal washing for its base.
Highlights
Offers a quick and consistent grind
Value for price
Well-made
Stable burrs
Portable and space-efficient
Very simple to clean
Customer Reviews
One Amazon customer, Parametr, gave an in-depth review of this product:
"Really well built, good materials and classy. It's clearly going to last a very long time.
Something you can't tell from the description nor reviews is that the body of the grinder has a small magnet in it to hold the handle in place.
It's the same size of an AeroPress."
He also said that it has stable burrs that produce a consistent grind each and every time. That said, he also elaborated on the cons of the grinder, saying:
"The only downside is that there is no indication to let you know what the burr fineness-setting is… you just have to try and fail. Not a problem for me, as I always grind the same fineness, but worth noting for those using multiple brewing systems."
5) Rhinowares Hand Coffee Grinder
Best Manual Grinder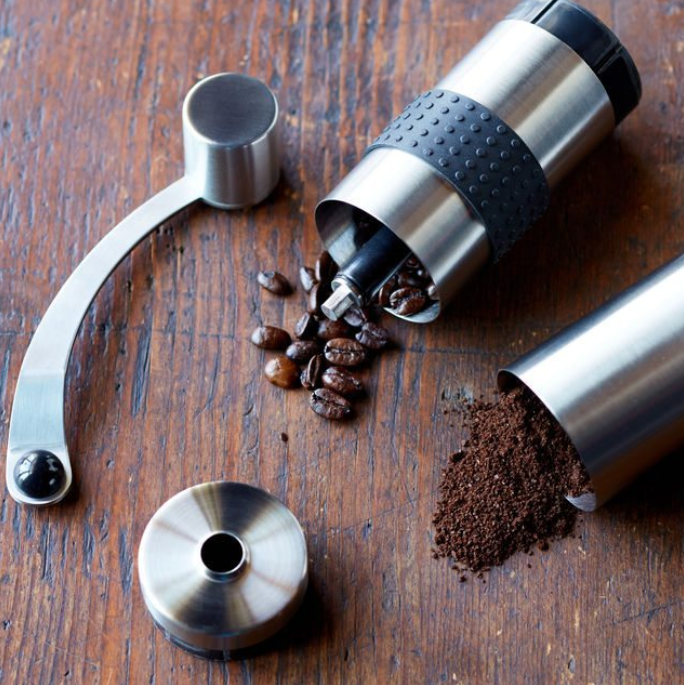 Price: NZ$80
Buy It Now On The Market
Want a manual coffee grinder? You could do far worse than this one, which is one of the best you can get if you want something you can easily stow in your bag.
This grinder is a measly 17cm tall and is made of food-safe stainless steel. It uses ceramic burrs for the grinding and also sports an easy-to-use grind setting nut at the base: it can grind coffee for the Aeropress, the Hario V60, and the French press.
The grinder arm is detachable for easy storage and measures 15cm in length. Like the main grinder, it's made of stainless steel, so you won't have to worry about corrosion or poor durability.
Highlights
Consistent grinding
42g capacity, 500g weight
Can grind 20g at a time
Multiple grind settings
Customer Reviews
The Rhinowares Hand Coffee Grinder may not have as many grind settings as more expensive automated versions, but it does beat most of the competition in terms of portability and practicality. Most users praised the easy operation of the model, as well as the nice build quality.
Here's a review from one owner:
"Whilst a cheaper option, this Rhinowares Hand Grinder has consistently produced the grind I need for my Aeropress. I haven't tried an espresso grind with it, I doubt it could go that fine, but for those aero or french pressing – this is a great coffee companion."
And another one:
"As I make coffee for one and I often travel, this grinder has been the perfect solution to being able to grind fresh coffee no matter where I am. Great for camping as well."
6)   Baratza Encore
Best Overall Coffee Grinder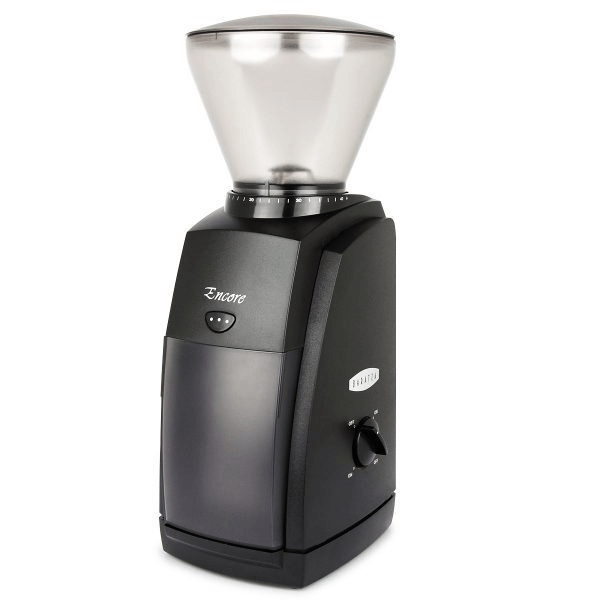 Price: NZ$199
Buy It Now On Dipacci
The Baratza Encore is a champion of a coffee grinder. It grinds your fresh beans in a consistent and even manner that lets you make a variety of coffee from espresso to drip coffee to French Press.
To do this, you can adjust the grind settings by turning the bean hopper to the left or right sides. There are 40 unique settings to choose from to satisfy you on your brunch and coffee breaks.
It takes up only a small space in your kitchen with its slim and compact shape. That lets you place it beside your espresso machine so that you are ready to brew your coffee anytime.
Moreover, it is designed to maintain a 550 RPM grind speed for less noise and heat. At the same time, it includes a safety thermal cutout that resets the grinder in case it gets too hot.
For just NZD199, you will enjoy your coffee with its precise warm and delicious taste every single time. And as such, it is one of the best coffee grinders in New Zealand.
Highlights
Super-consistent grinding
8 oz bean hopper
40 grind settings to choose from
Safety thermal cutout
Affordable price
Customer Reviews
It received a score of 4.2 out of 5 stars on Amazon. Customers were delighted and satisfied with the fast grind, lower noise, and great-tasting coffee the Baratza Encore makes.
Here is a review by Andrew Schwartz who is glad with the purchase:
"Grinds beans pretty fast. Coffee has been tasting fantastic since buying this; I'm coming from a blade grinder and had been using a manual burr grinder but have found the effort a little much for a daily coffee for two."
Also, Rohloffer mentions the user-friendly part:
"One of my favourite buys. I have had this for over a year and use it several times a day. The action is very predictable for each variety of bean. wide range of settings. easy to use, clean or maintain. Love it."
7)   Rancilio Rocky Doserless
Most Complete Coffee Grinder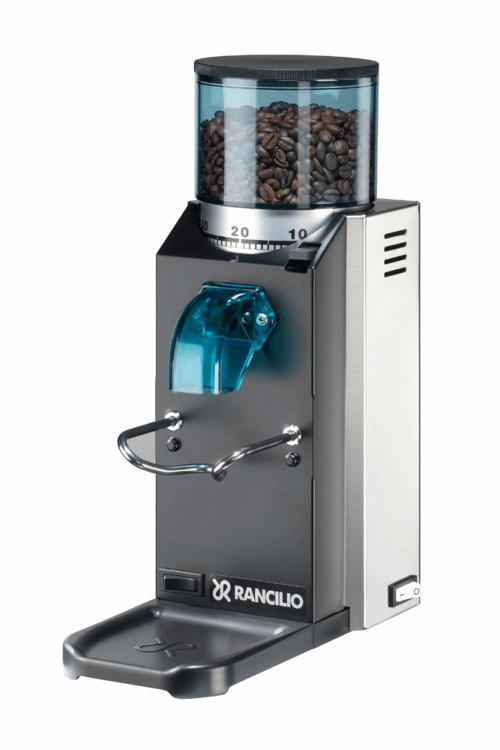 Price: NZ$559
Purchase Now On Espresso Ninja
Although the price is surprisingly steep, Rocky Doserless is definitely worth it. It uses rugged 50mm flat burrs that crush the beans into granules with low heat buildup.
You can make coffee in varying textures or tastes with 55 grind settings. Whether it's an espresso in the evening or a pour-over with your vegan meals, you can do it with this grinder!
It is also easy to clean with the simple pull-and-remove blue bean hopper. It's blue as it is UV protected, so you can leave the remaining coffee beans under the kitchen lights.
It's also designed with safety in mind since it shuts down if it reaches a certain heat threshold.
The Rocky Doserless is a great grinder if you like more control over your cup of coffee. Like the Baratza Encore, you will get consistent and even results no matter how you grind it.
Highlights
Tempered steel burrs for an amazing ground coffee
Operates with less heat and noise
55 texture levels to make your coffee
Overheat protection
UV protected bean hopper
8)   OXO Brew
Best Buy Coffee Grinder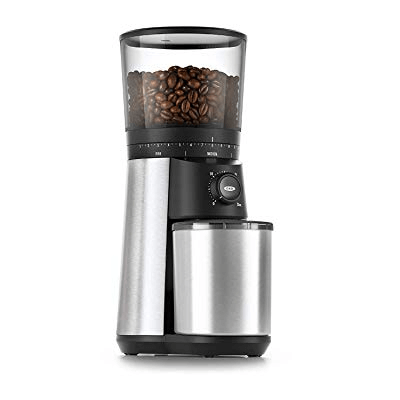 Price: NZ$179
Shop Now On Ubuy
Satisfy your taste buds with hot brewed coffee using the OXO Brew coffee grinder. For just NZD179, it is more affordable than other grinders and is packed with nifty features.
With a stainless steel conical burr, you will get equally ground coffee beans. There are only 15 coffee texture settings to pick from but that is good enough for this price.
But still you can make your favourite espresso, siphon, drip, and French Press. It's also quite slim and takes up only a little space yet can hold 12 ounces of beans on its hopper.
You have a rotatable dial right on the centre for the grind control. That makes it simple and effortless to use as opposed to other grinders.
Another feature is that OXO Brew grinder is built to have less static. In effect, you won't have to thump the metal collection bin in order to release the leftovers.
Highlights
Stainless steel conical burr
15 grind size options
Has a 12 oz bean hopper
Static reduction
Customer Reviews
You get the best of both worlds for both price and quality. The OXO Brew received mostly positive feedback on Amazon garnering a 4.4 out of 5 stars.
A former barista weighed in on this grinder and said that the grinding on the medium setting was impeccable. Maradon said:
"High quality, consistent grind. The brewing methods I use most all hover around the medium grind range, so I haven't really tested the extremes of coarse and fine. Can't speak to those. But as far as the medium ranges, it grinds beautifully and consistently. That's what matters in the end, right?"
And about the noise, he/she elaborated:
"It isn't super noisy. All grinders are gonna make noise, to be sure, but as far as grinders go, this one has a pretty gentle sound. I've definitely used my fair share of grinders that made me feel like my brain was going to vibrate out of my skull, and this one has a polite hum by comparison."
9)   Breville the Smart Grinder Pro
Best in Dose Coffee Grinder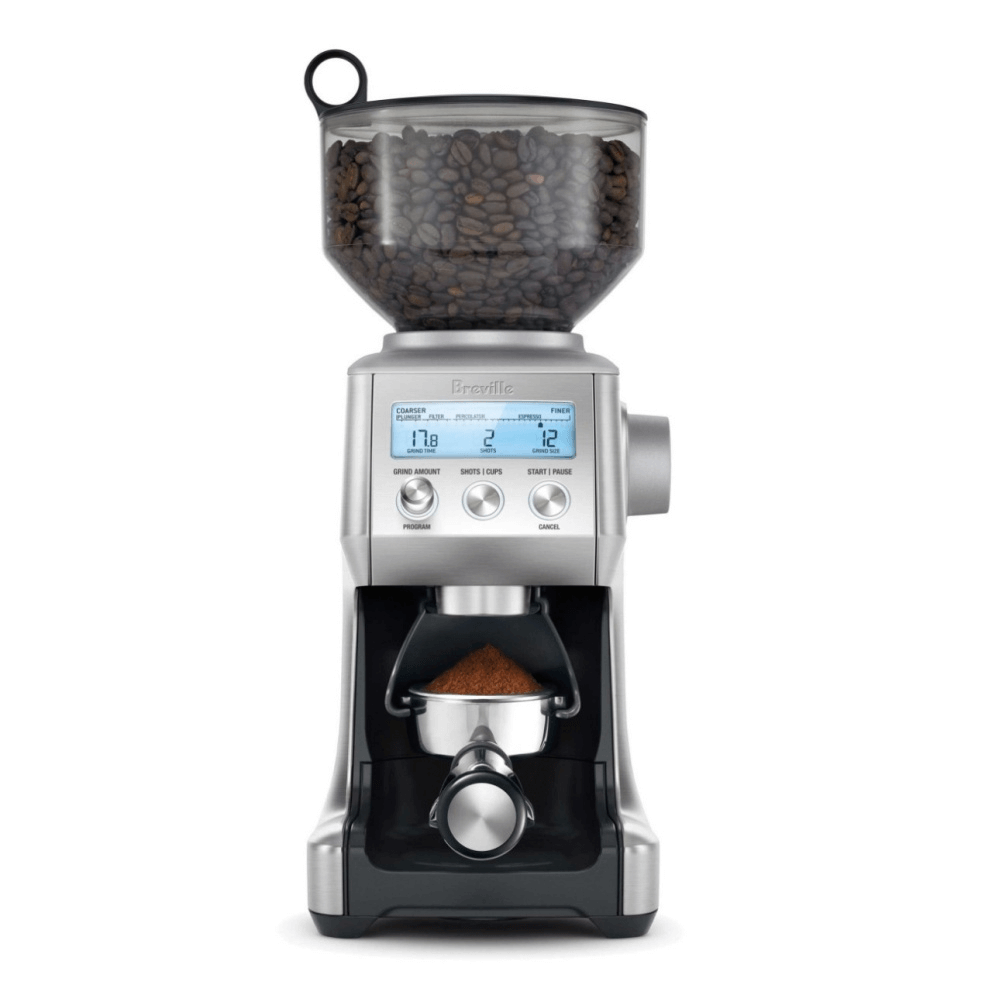 Price: NZ$226
See It On Harvey Norman
On Harvey Norman, the price is halved for this smart coffee grinder. Breville the Smart Grinder Pro prepares coffee for you in style and flexibility with a stainless steel conical burr.
Dosing IQ technology adjusts the right dose and amount of ground coffee in your container or portafilter. This is so you can get the perfect taste and creaminess for your coffee.
You can select the grind size, grind time, and how many shots or cups through the buttons and dial. It takes away all the manual turning and adjustments, to be convenient.
Also, you can expect a really delightful coffee with 60 settings, be it filter coffee, French Press or espresso. Included are 2 cradles for 50/54mm and 58mm as well as an airtight container.
The design comes in two great choices: brushed stainless steel or black truffle.
Highlights
Smart Dosing IQ Technology
Sleek and stylish appearance
60 grind settings
Stainless steel conical burr for consistent grinding
Less mess to clean up
Customer Reviews
This state-of-the-art grinder is one of the best coffee grinders in New Zealand. Let's see what customers have to say:
dbAlexandra wrote a review on Harvey Norman:
"Purchased this on special to replace a Breville Conical Burr Grinder that had finally failed after 12 years use. I use this with a Breville "The Infuser" and it's brilliant as the portafilter fits into the grinder and you grind the beans straight in then transfer to the espresso machine after tamping. Took a while to get all the settings sorted but now it's magic and I wouldn't be without it. Perfect fresh espresso every time !!!!"
Dave also detailed about the quietness of this Breville grinder, he commented on Amazon:
"My Breville grinder is very quiet, and now I can grind my coffee beans as required for my morning coffee. Fresh ground coffee provides a superior flavor and my Breville grinder provides the perfect amount of fresh grind for my morning coffee."
10)   Porlex Mini Coffee Mill
Best for Travelling Coffee Grinder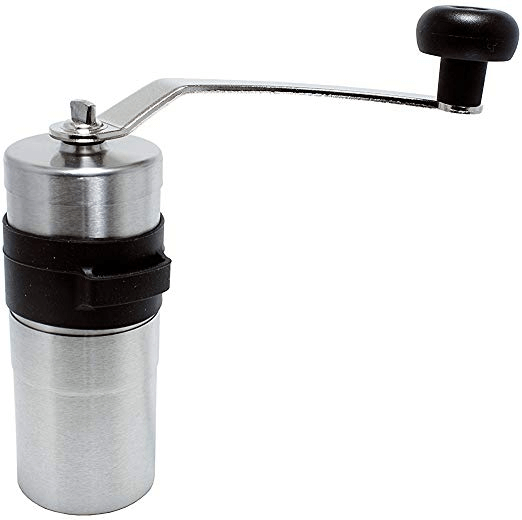 Price: NZ$84.99
Buy It On Ozone Coffee
If you are travelling but you still want the taste and feel of roasted coffee, then this Porlex Mini Mill is for you. You crank it around and around rather than press a button to grind the coffee.
With ceramic conical burrs, it produces a uniform and even grind. The top part can be opened to place the beans into it while the bottom is where the ground beans collect.
Grind size can be altered by turning the wheel from underneath the upper part. You can try something new and explore with different packaged roasts.
You will also have less cleaning to do thanks to the spring-loaded mechanism inside. That keeps the granules intact without making a mess of your table.
And although the price is a little high, this little trusty grinder will be the perfect companion for coffee lovers, campers, and adventurers on the go.
Highlights
Mini grinder holds 20g beans
Excellent on the go
Uses ceramic conical burrs
Manual cranking and grind adjustments
Couples with an Aeropress to brew your coffee
Customer Reviews
Despite the manual labour with this grinder, the resulting brewed coffee is better than you may expect. Alex shares his experience with the Porlex Mini:
"Overall, this is a very high quality grinder (ceramic burrs, all metal, nothing plastic to wear out). I am very satisfied with the grind size consistency. The grind size is set by feeling the "clicks" as you back out the bottom screw."
He also indicated that he could fill the grinder as much as 23g and that it takes about 1-2 minutes to grind it manually until it is done.
11)   Mythos 2 Grinder
Best for Consistent Quality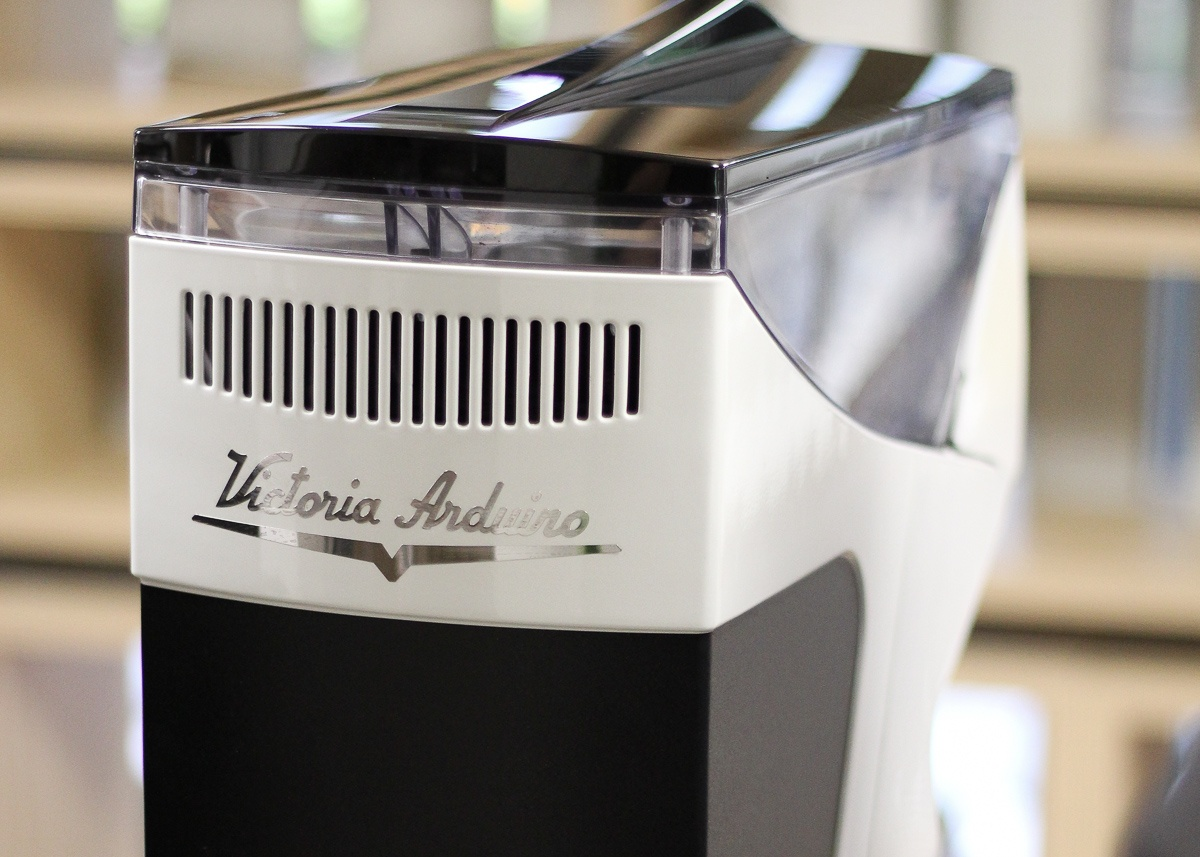 Price: Enquire for more information
Buy It On Meebz
The Mythos 2 Grinder is perfect for consistently good coffee during every brew. It can achieve that task easily thanks to its accurate, built-in scales.
It's easy to operate, even for beginner coffee-makers. The modifiable burr speed allows you to experiment with flavors on the fly.
The price is admittedly higher compared to the other ones on this list, but it's well worth it. You won't need to manually weigh grinds as you get your coffee fix throughout the day.
Highlights
Modifiable burr speed
Built-in scales
Easy to service
Consistent operation
12)   Breville The Dynamic Duo
Best for Dual Boiler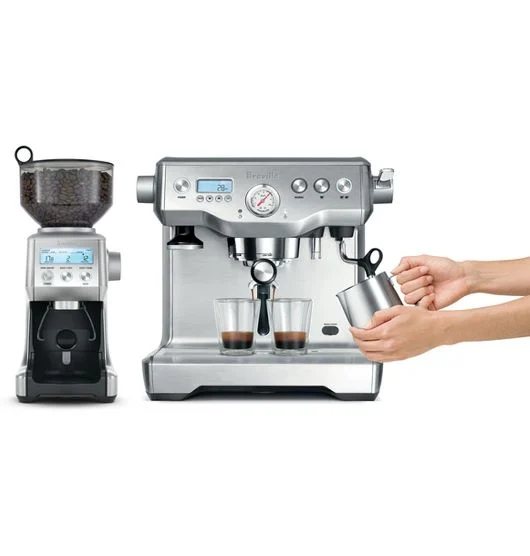 Price: $2,499.00
Buy It On Noel Leeming
Breville The Dynamic Duo lives up to its name by providing its user with excellent coffee each and every time. It boasts a grinder and coffee machine that can be operated manually or automatically.
It automatically doses the same amount accurately during every grind. Meanwhile, it's conical burr using advanced technology to adjust the dose if you ever change the grind.
You can easily tweak its settings depending on your taste. This coffee machine is well worth its price.
Highlights
Precise espresso extraction
Micro-foam milk
Consistently accurate grind amount
24 months manufacturer warranty
And with that, we are done with the best coffee grinders in New Zealand! If you like a cafe-calibre espresso, you won't go wrong with the products we featured.
What did you think of the coffee grinders we included — pretty cool huh? Tell us about it by sending us a quick message and we'll get back to you in a bit.
Coffee grinders are just one half of the whole without an espresso or coffee machine. And if you don't have one as of now, you can check out the best coffee machines in New Zealand!
Additionally, you might like to make yourself a crunchy and syruped waffle along with your coffee. For that, you can read the best waffle makers in New Zealand!