11 Best Coffee Grinders in NZ New Zealand Reviewed
The best cup of coffee begins with a uniform and consistent grind. However, not all grinders are created equal, which is why we've rounded up the best coffee grinders in NZ New Zealand for you today!
For our list of top options, we considered both electric and manual coffee grinders in NZ, giving you options for each one to consider.
We also factored in their prices, durability, ease-of-use and of course, the quality and consistency of the resulting grind.
If you're ready to improve your cup of morning brew, then let's take a look at our picks for the best coffee grinders in the country!
The Best Coffee Grinders in NZ (New Zealand) Reviewed:
1. Westmark Coffee Grinder Brasilia Negro
Best Glass Manual Coffee Grinder in NZ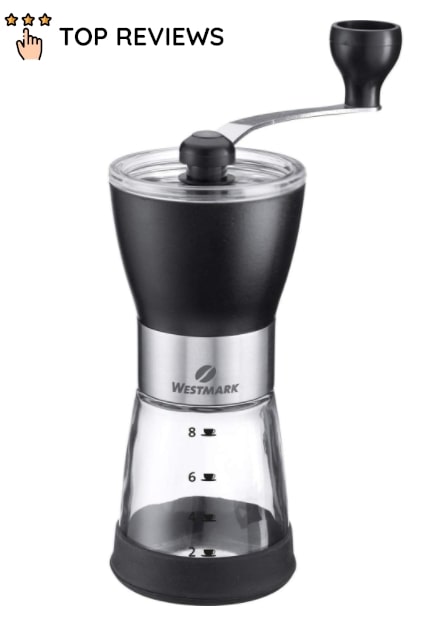 | | |
| --- | --- |
| PRICE | NZ $100.00 |
| MODEL | 24922260 |
| DIMENSIONS | 215 x 150 x 75 mm (8.5" x 5.9" x 2.9") |
| WEIGHT | 340g (12oz) |
| GRINDER TYPE | Manual Glass Type with Ceramic Burr |
| CAPACITY | 2 – 8 cups of coffee |
If you're after a brand that has been around for decades and trusted by generations of coffee lovers, Westmark could easily be the best coffee grinder in NZ for you.
Westmark has been making kitchen equipment since 1956, specializing in tools that make tasks easier. In fact, their motto sums it up perfectly, which is "Do It Simply!"
Their coffee grinder is no different – it's an easy-to-use tool that can easily match a variety of kitchen styles. It has a minimalist, black, nondescript design that will blend nicely into any setting.
This is a glass-style hand grinder, and one of its benefits is that you can instantly see the results of your grind. Since the catch container is transparent, you can see both the quantity and quality of what you've ground.
This makes it photo and video-genic if you want to flex your coffee grinding skills!
You can process two to eight cups with the Westmark Coffee Grinder with handy indicators on the glass container serving as your guide.
So, whether you're grinding for classic filter coffee, espresso, or French Press, the Westmark is a simple tool that gets the job done.
We like the slip-proof rubber base, which keeps it nice and sturdy as you rotate the handle when grinding. Moreover, we're fans of the ceramic blades because they last longer than steel and are better for espresso roasts.
Although it may not grind as smoothly as more premium options, the Westmark is still a good deal for its price. You can adjust the grind quality from fine to medium and even coarse.
Since it's manually operated, you can use it even if you don't have any electricity. Although it's light enough to be portable, we don't recommend bringing it out of your home because of its fragile glass design.
The glass container can be put in the dishwasher, which makes it convenient to clean. The rest of the apparatus, however, must be washed by hand.
In our opinion, the Westmark Coffee Grinder one of the best manual coffee bean grinders in nz if you're looking for a no-frills, easy-to-use, and affordable grinder for your home. It may not have any bells and whistles, but it gets the job done.
Simple to use
Slip-proof rubber base
Affordable
Only glass container is dishwasher-safe
A bit rougher-grinding than some others on this list
2. KitchenAid KCG111 Coffee Grinder
Best User-Friendly Coffee Grinder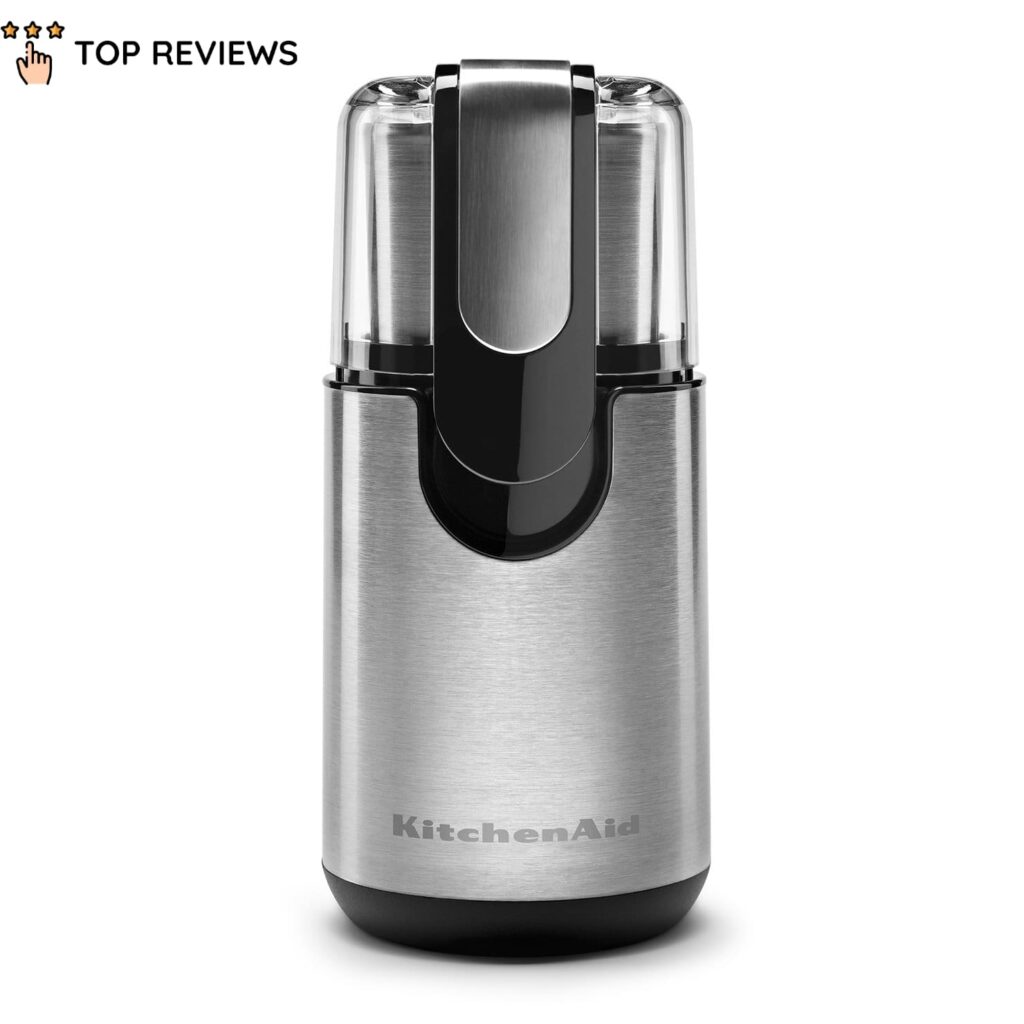 | | |
| --- | --- |
| PRICE | NZ $99.00 |
| MODEL | KCG111 |
| DIMENSIONS | 221 x 99 x 107 mm (8.7" x 3.9" x 4.2") |
| WEIGHT | 1kg (2.2lbs) |
| GRINDER TYPE | Electric Stainless Steel |
| CAPACITY | 4 – 12 cups (125ml steel bowl) |
| WARRANTY | Full 2-Year Replacement |
KitchenAid has been making home appliances since 1919. Although primarily known for their tabletop mixers, they have a wide range of products that include coffee grinders in NZ.
The KitchenAid KCG111 is designed to grind up both dry spices and coffee beans with its high-quality steel blades. It's also very easy to use with its simple one-touch button operation.
You simply open the lid, turn on the machine and push down on the cover to grind. The bowl easily comes off so you can transfer your coffee quickly to your brewing machine of choice.
This simple operation and the low price does come at a cost. There's only one grind setting on the KCG111, which means you can't adjust how fine your ground coffee will be.
So if you're just grinding for a traditional drip coffee and aren't too particular about fineness, then this is an a coffee grinder worth considering. However, for the coffee connoisseur who wants control over every step of the process, they may want to look elsewhere.
Nevertheless, we like the KCG111's clear cover, which lets you visually check the consistency of your grinding. However, some people might find it awkward peering over the top to see the results.
And since it has a sleek stainless steel body, it means you can't see through it. However, the 125ml brushed stainless steel bowl has markings on the inside that provide measurements of 4, 8, 10, or 12 cups of coffee.
Moreover, if you purchase directly at KitchenAid, you can split up the payments into four installments via Afterpay. Even though the KCG111 is already affordable enough for a one-off payment, having financing options certainly makes this product even more appealing.
With a reputed brand name and flexible payment schemes, what's not to love about the KCG111? Definitely one of the best coffee bean grinders in NZ!
One-touch operation
2-year full replacement warranty
Small footprint
Need to peer through cover to see grind results
Only one grind setting available
Customer Reviews
Very well built
"I got this to replace a Cuisinart grinder that I had for years. At first I didn't care for the KitchenAid's round shape, but after using it for a month now, it's very well built and quieter than the Cuisinart. It creates a nice uniform grinds and I'm very happy with it." – Curtmoss
Does an excellent job
"I'm super happy with it. It looks nice, but more importantly it does an excellent job of grinding coffee and doesn't spill everywhere when you dump out the grounds, which the Krups F203 does every single time. I've had mine a year, and it seems to be going strong. I'm buying another one for our other house." – A. Wheeler
3. Zelkova Milco Solo Hand Coffee Grinder
Best Manual Wooden Coffee Grinder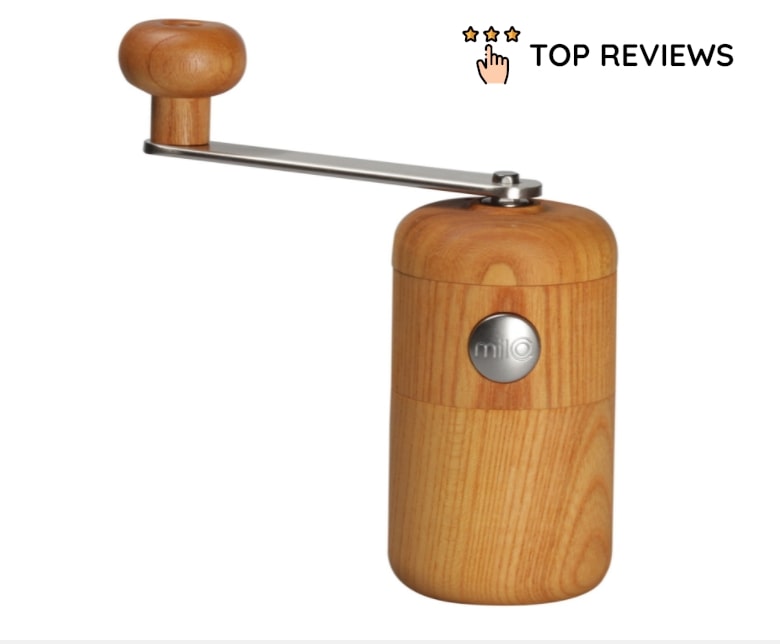 | | |
| --- | --- |
| PRICE | NZ $300.00 |
| DIMENSIONS | 55 × 93 mm (2.2" x 3.7") |
| GRINDER TYPE | Manual Wooden Hand Grinder with Conical Ceramic Burr |
| CAPACITY | Hopper can hold just over 20g (0.7oz) of beans |
| WARRANTY | 1-Year Warranty |
If you're in the market for a natural-looking coffee grinder, this product from Milco is an option worth considering. This small, elegantly crafted product has been delicately handmade from Japanese Zelkova wood.
Also known as Keyaki, this wood is often prized for its beautiful grain, which makes it ideal for woodworking. It's a dense and hard wood that has a unique character once it's been polished.
This Milco Coffee Grinder features a conical ceramic burr powered by a handle and manual force, turning your precious beans into a fine ground for your brewing machine. The Zelkova wood can likewise provide a nice added aroma to your coffee as it's housed inside.
Since this grinder is powered solely by your own force, it's extremely portable as well, measuring a mere 55 by 93 mm (2.2" x 3.7"). It can easily be tucked into a bag and brought with you wherever you go, especially since the handle can be detached and placed inside the grinder!
The Milco Coffee Grinder is designed to hold enough beans for a single cup of coffee, which is convenient because there are no measurement etchings to guide you. However, you may need to adjust if you prefer a stronger or weaker blend.
So if you're looking for a portable, handcrafted grinder that veers away from the usual stainless steel or glass variants, then the Milco Solo Hand Grinder is worth looking into. It's not the most affordable but has great aesthetic value, which makes it one of our top picks of coffee grinders in New Zealand.
Made from Zelkova wood
Makes aromatic coffee
Removable handle
Portable
Grinds for a single cup of coffee only
Expensive
4. Crushgrind Colombia Acrylic Ceramic Coffee Grinder
Best Stylish Portable Coffee Grinder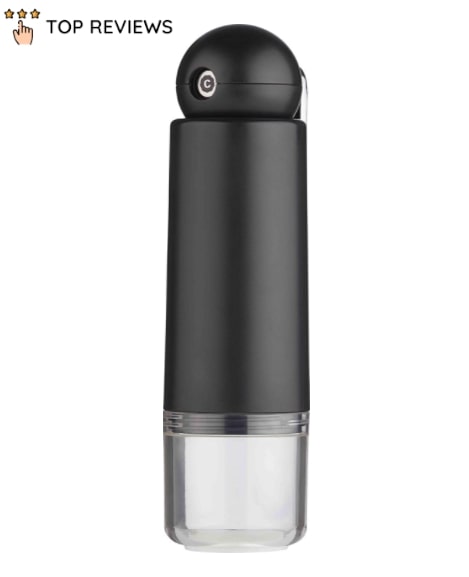 | | |
| --- | --- |
| PRICE | NZ $60.00 |
| MODEL | 080201-0099 |
| DIMENSIONS | 55 x 200 mm (2.1" x 7.9") |
| WEIGHT | 198g (7oz) |
| GRINDER TYPE | Plastic-Acrylic Manual Grinder with Ceramic Burrs |
The Crushgrind Colombia's sleek, black, and modern Scandinavian design will easily catch your eye. Yes, it's made out of plastic and acrylic, but it's also well-constructed with lightweight materials that make it easy to bring around with you.
This manual coffee grinder is ideal for taking around if you fancy having freshly ground coffee wherever you might be. It's a great option to consider if you need a grinder to take on vacation, camping, or hiking.
The CrushGrind Colombia has a slim profile that fits easily into a backpack. In fact, it can easily fit into your bag's tumbler compartment for an even more convenient way to travel with it.
The handle knob that attaches to the top can also act as a lid. The Colombia has a magnetized tip for the handle to clasp on, which keeps it secure and also gives it its unique look.
Aside from being well-built, its solid burrs can produce a satisfyingly consistent grind each time. The ceramic grinder won't transfer any metal aftertaste to your beans nor will it "burn" it while grinding.
However, since there is no setting to change how fine the grind is, a trial and error system is needed to get the fineness that you want. Once you've figured out your preference, it shouldn't pose a problem if you only have a single coffee machine or brewing system.
Now, while the Colombia can also be used for grinding herbs, spices, salt, and pepper, we don't recommend doing so because it might taint the taste of your beans. However, if you're looking for a simple multi-functional tool, then this grinder is an option worth considering.
The best part is that this grinder is very simple to clean. You can just wipe off the top part and handwash the base like you would a normal glass or tumbler.
Overall, if you want a sleek, minimalist coffee grinder in nz that also looks sexy in the kitchen, you should get your hands on the CrushGrind Colombia.
Affordable
Easy to clean
Extremely portable 
Can be used for herbs and spices
Grinding process can be fatiguing
No grind settings
Customer Reviews
You will not be disappointed
"I'm genuinely impressed by the grind quality this little manual grinder offers for its price point. As other said, grinding will require some elbow grease, and 1 or 2 beans may pop out while grinding if the unit is not held stable. To be honest, for me, it's not an issue at all. Grind output is not perfect by any means, you will get powder, but for the cost of the unit, is completely acceptable….Without hesitate I will recommend the the Colombia for home/work/travel. Overall, amazing product. Get it, you will not be disappointed." – Alejandro Grande
5. Rhino Coffee Gear Hand Coffee Grinder
Best Manual Stainless Steel Grinder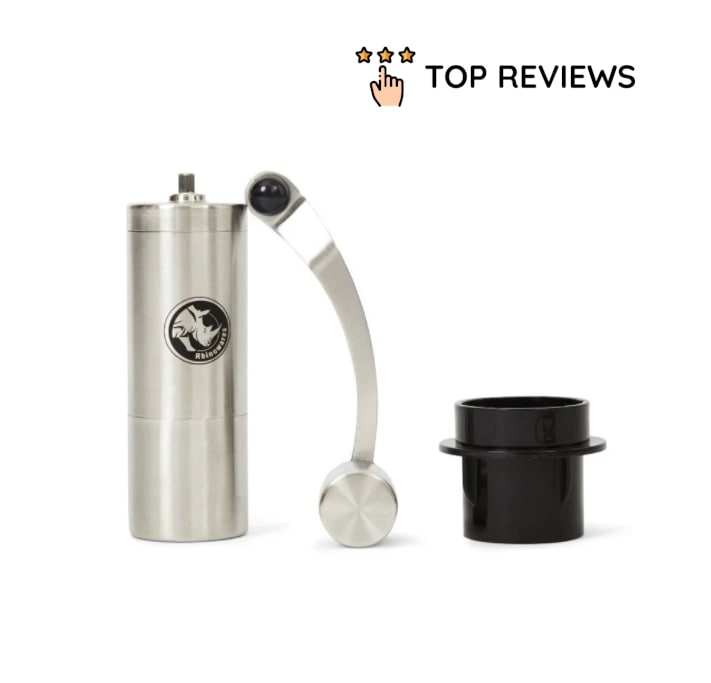 | | |
| --- | --- |
| PRICE | NZ $70.00 |
| MODEL | RWHANDGRINDER |
| DIMENSIONS | 55 x 210 x 65 mm (2.17" x 8.27" x 2.56") |
| WEIGHT | 317g (11oz) |
| CAPACITY | 42g (1.5oz) |
| GRINDER TYPE | Stainless Steel Manual Grinder with Conical Ceramic Burrs |
The Rhino Coffee Gear Hand Grinder is extremely compact, measuring only 17cm tall. It's made from food-safe stainless steel but has conical ceramic burrs for the grinding that won't leave an aftertaste.
It's a great option to bring on the go since it comes with a protective carry bag. So whether it's for travel, work, or for use at home, this grinder from Rhino Coffee Gear can easily find a place in your lifestyle.
So if you're always on the go, and would rather have your own coffee anywhere you may be, the Rhino Hand Grinder is one of the best coffee griners in NZ for you.
It has a capacity of around 21 to 23 grams (0.7 – 0.8oz), which should be enough for most brewing methods. It has various settings for grinding too that you can modify via the easy-to-use grind setting nut at the base.
The adjustment isn't an exact science though since the fineness is modified based on the number of "turns" on the nut.
For example, a French Press would need loosening the nut by one and a half turns while the grind for an Aeropress is just half a turn.
Moreover, you may need to further adjust the turns based on the type of beans used to bring out the best flavor and fineness.
So, suffice it to say some experimentation is needed to get your preferred grind.
Anyway, the grinder arm is detachable for easy storage, which measures only 15cm in length. Like the main grinder, it's made of stainless steel, so you won't have to worry about corrosion or poor durability.
Moreover, we like that you don't need to clean the grinder after every use – Rhino Coffee Gear suggests cleaning once a month is enough. Do take note that you may need to clean more frequently if you're using darker beans.
Regardless of the complicated method of adjustment, this does give the user a feeling of being more "connected" to the grinding process when compared to one-touch automated versions.
While there may not be too many settings, this Rhino Coffee Gear grinder is portable, affordable, and is one of our top picks for coffee bean grinders in NZ New Zealand.
Can hold up to 42g (1.5oz) of beans
Extremely compact
Awkward adjustment system
Undetermined number of settings for fineness
6. Baratza Encore
Best Entry-Level Coffee Grinder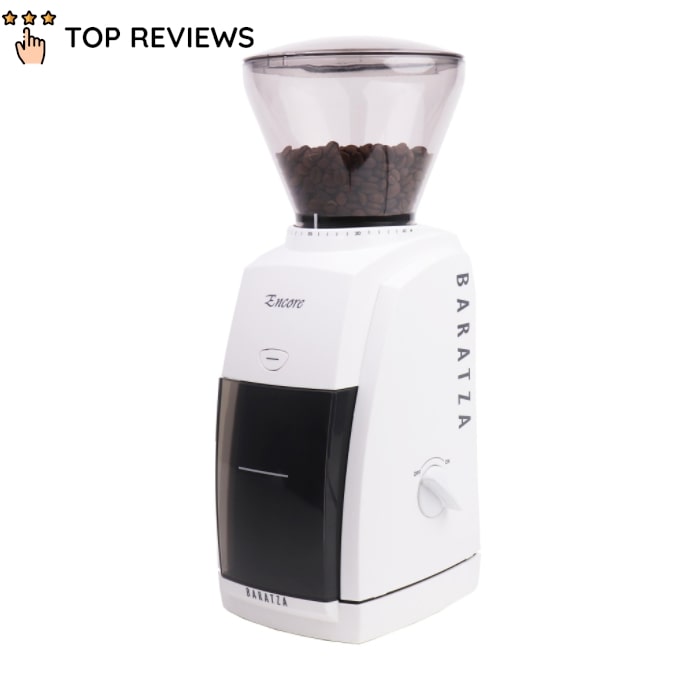 | | |
| --- | --- |
| PRICE | NZ $260.00 |
| MODEL | Encore |
| DIMENSIONS | 120 x 350 x 160 mm (4.7" x 13.8" x 6.3") |
| WEIGHT | 3.1kg (6.8lbs) |
| VOLUME | 227g (8oz) Bean Hopper; 142g (5oz) Grounds Bin |
If you're just starting out on your journey as a coffee enthusiast, we may have found the best coffee grinder in NZ for you.
The Baratza Encore is marketed as an entry-level grinder providing ease of use and consistent grinding. It offers to grind for a variety of brewing methods ranging from espresso to French Press.
With 40 different grind settings that can grind your beans with a range of 250 to 1200 microns, you'll have more than enough options to choose from with the Encore. What's more, the bean hopper can hold up to 227g (8oz) with a fill line in its clear bin to guide you on how much to grind.
Using this is easy – you simply load it up with beans, turn the hopper to your preferred grind setting and turn it on. All you have to do is wait for the 40mm conical burrs to do their job and deliver consistent grounds.
You won't have to wait long for the Encore to do its job either since it can grind approximately 1.1g per second. That's around only 10 to 20 seconds per cup!
Moreover, it is designed to maintain a 550 RPM grind speed for less noise and heat. The Encore also has a thermal overload cutout to protect it from overheating.
Do take note that the Encore is not designed to grind in bulk, but is for personal use only. This means that you'll need to let it rest for a while between grinds if you're making several cups because the thermal overload mechanism might kick in.
Nevertheless, the Encore is an easy-to-use machine that can easily find its way into any home. It's economical, compact, and relatively affordable considering its grinding speed, making it one of our top picks for Kiwis.
40 grind settings
Safety thermal cutout
Fast grinding speed
Best only for beginners – more experienced coffee drinkers will want more
Needs a pressurised portafilter for espresso
Customer Reviews
Coffee has been tasting fantastic
"Grinds beans pretty fast. Coffee has been tasting fantastic since buying this; I'm coming from a blade grinder and had been using a manual burr grinder but have found the effort a little much for a daily coffee for two." – Andrew Schwartz
Love it
"One of my favourite buys. I have had this for over a year and use it several times a day. The action is very predictable for each variety of bean. wide range of settings. easy to use, clean or maintain. Love it." -Rohloffer
7. Rancilio Rocky Doserless
Best Commercial-Style Grinder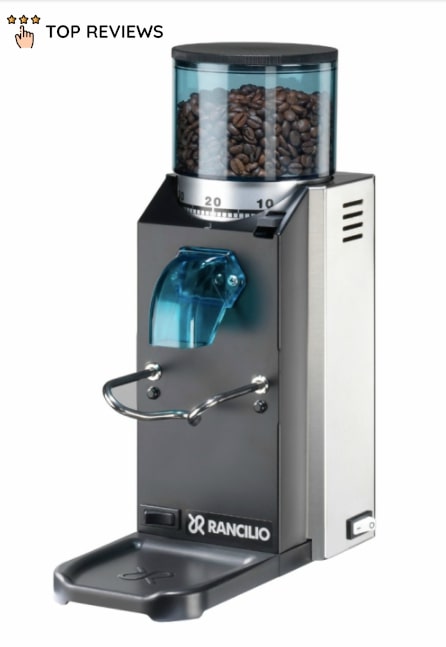 | | |
| --- | --- |
| PRICE | NZ $599.00 |
| MODEL | Rocky Doserless |
| DIMENSIONS | 119 x 249 x 350 mm (4.7" x 9.8" x 13.8") |
| WEIGHT | 6.8kg (15lbs) |
| CAPACITY | 283g (10oz) Bean Hopper |
| GRINDER TYPE | Electric Stainless Steel with Tempered Steel Burrs |
| WARRANTY | 1-Year Warranty |
For home use, the Rocky Doserless isn't exactly one of the most affordable machines. But with a sleek stainless steel body, you'll feel like you have a professional grinder right in the heart of your very own kitchen.
With 55 different grind settings, the Rocky Doserless uses its commercial-grade 50mm flat burrs to crush the beans into a fine grind, which goes straight into its portafilter. Whether it's an espresso or a pour-over you're making, this grinder has you covered.
The Doserless design grants you more control over how much coffee is dispensed via the grinder's toggle switch. However, it doesn't allow you to measure exactly how much beans are needed for specific amounts of ground coffee.
Rancilio claims this machine can grind up to 3.5kg (7.7lbs) of beans an hour with its 166w induction motor spinning at 1,725 RPMs. This makes it suitable to use in a small cafe or an office since it can handle continuous use.
Even if you're grinding at small commercial quantities, you don't have to be concerned about overheating. The Rocky Doserless features a thermal overload shutoff feature that stops the motor when it begins to overheat.
Don't be alarmed though when you see coffee residue when you first open up the packaging of this machine. This is because Rancillo tests each unit with real beans before shipping it out, which we love.
We also like that it's easy to clean with a simple pull of the 300g (10oz) UV-protected blue bean hopper. While this special film is supposed to protect your beans from degrading in flavor, we don't recommend storing them in the hopper though.
Do take note that if you're looking for a compact and easy-to-move grinder, you may want to consider another option. While Rocky Doserless is manageable, it weighs a whopping 6.8kg (15.4lbs) because it's made mostly out of brass and stainless steel.
Moreover, removing the hopper isn't as simple as other grinders since you'll need a screwdriver to remove it. Several screws will need to be removed, which means you'll need to put them back on.
Regardless, the Rocky Doserless is a great grinder if you like more control over your cup of coffee. Like the Baratza Encore, you will get consistent and even results no matter how you grind it, which makes it one of our top choices for coffee grinders in NZ.
Tempered steel burrs
55 grind settings
Overheat protection
UV protected bean hopper
Integrated portafilter support
Weighs 6.8kg (15.4lbs)
Hard to clean and needs a screwdriver
Customer Reviews
Amazing
"What an upgrade…This Rancilio is amazing!!! You can inspect every ground and they are the same. My coffee has been taken to the next level." – Chris Underwood
Grinds consistently and beautifully
"This is like having a coffee shop quality grind at home…This thing is small/compact—but solid, strong, and very heavy. It purrs—and grinds consistently and beautifully…It took me years to pull the trigger on an upgrade investment like this; it's one that I couldn't be happier I finally made." – Liam Moran
8. OXO Conical Burr Coffee Grinder
Best Buy Coffee Grinder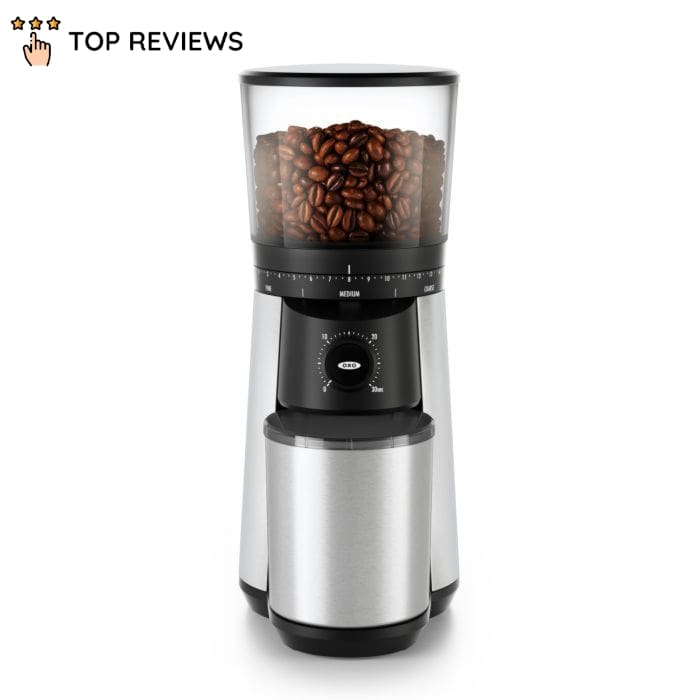 | | |
| --- | --- |
| PRICE | NZ $213.00 |
| MODEL | 8717000 |
| DIMENSIONS | 135 x 197 x 325 mm (5.3" x 7.8" x 12.8") |
| WEIGHT | 200g (7oz) |
| CAPACITY | 340g (12oz) Bean Hopper; 110g (3.8oz) Ground Coffee |
| GRINDER TYPE | Stainless Steel Conical Burrs |
The OXO Conical Burr is a mid-range coffee grinder that offers a balance between price and features. It's relatively affordable in its range because if it costs any less, you can expect to sacrifice some features along with it.
With a stainless steel body and 40mm stainless steel conical burrs, this grinder can provide you with uniform grounds. It has a slim and portable form factor and weighs in at a mere 200g (7oz).
The hopper can hold up to 340g (12oz) of your preferred beans while the grounds container can hold up to 110g (3.8oz) of ground coffee. This means you can make approximately up to 12 cups per cycle.
With a stainless steel conical burr, you will get 15 coffee texture settings to pick from. While we would have liked more preset settings, it's still a fair amount of options considering its price.
So whether it's for espresso, siphon, drip, or French Press, the most common brewing options are available which makes this OXO grinder suitable for most people. A rotating dial on the center controls the grind, making it simple to use as opposed to other grinders.
It also features a one-touch timer from zero to 30 seconds which automatically "saves" your last setting. This means you don't need to dial it in every single time, which is useful if you religiously grind the same amount of coffee for each serving.
The OXO Conical Burr is also built to generate less static, meaning residue is less likely to stick to the edges. While it may be a bit tedious to clean, since everything needs to be hand-washed, it's still less cumbersome than other models.
In short, if you feel like you've graduated from your entry-level grinder and want to explore a bit deeper, this OXO grinder is worth checking out. It's fairly priced and provides a fair amount of settings to level up your coffee game.
Stainless steel conical burr
15 grind size options
Static reduction
One-touch timer
Can be difficult to clean
Not a lot of grind settings
Customer Reviews
Grinds beautifully and consistently
"High quality, consistent grind. The brewing methods I use most all hover around the medium grind range, so I haven't really tested the extremes of coarse and fine. Can't speak to those. But as far as the medium ranges, it grinds beautifully and consistently. That's what matters in the end, right?" – Maradon
9. Breville The Smart Grinder Pro
Best in Dose Coffee Grinder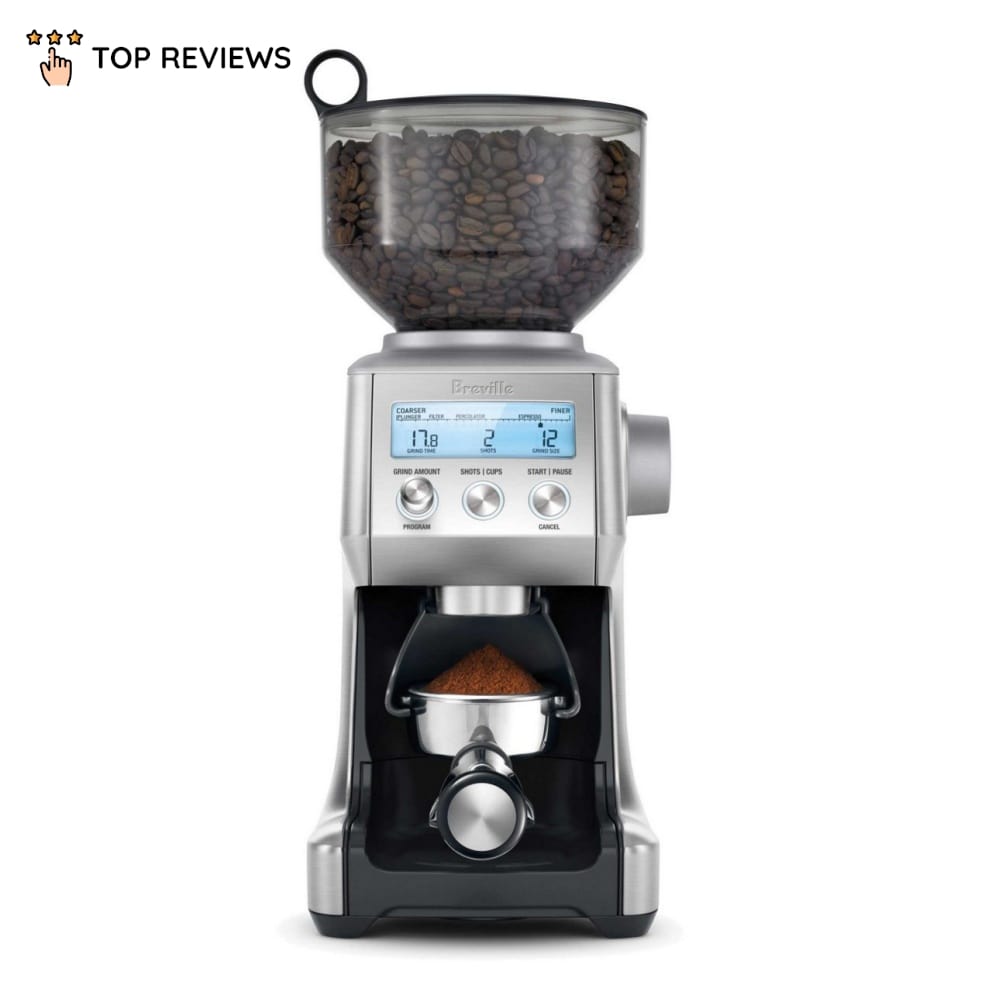 PRICE
NZ $255.00
MODEL
BCG820BSS
DIMENSIONS
214 x 160 x 389 mm (8.4" x 6.3" x 15.3")
CAPACITY
250g (8.8oz) Bean Hopper
GRINDER TYPE
Electric
WARRANTY
1 Year Repair Guarantee (Household Use)
3 Mos Repair Guarantee (Commercial Use)
The Breville Smart Grinder Pro certainly looks professional and may just look like it can fit in any commercial establishment. It has a stainless steel housing that makes it look modern yet durable.
However, the other parts of the grinder are made of plastic. This makes the unit feel heavy and stable, but its moving parts may be prone to damage if you're not careful.
With its handy pre-programmed settings, the Smart Grinder Pro's conical burrs can grind up your coffee quickly. All this is achieved with the ideal dose of coffee grounds as well.
With a grinding time of 0.2-second increments, the Smart Grinder Pro comes with 2 Porta-filter cradles which are compatible for 50 to 54mm filters and 58mm commercial filters.
Moreover, this machine allows you to grind directly into the catcher of your choice. So whether it's the portafilter, an airtight container, filter basket, or paper filter, just having the option to do so is a bonus.
You can control all the settings via its LCD screen, wherein you can choose the number of shots, cups, and grinding time. You'll have 60-grind settings to choose from, ranging from espresso to French press, which automatically measures the appropriate dose.
If you decide to make extra grounds, the Smart Grinder Pro comes with an airtight container that can preserve the aromatic freshness of your ground beans. However, it's best suited for making enough coffee for a single cup only.
Although touted as a mid-range grinder, the price is worth it if you consider it as an entry-level espresso grinder. However, if compared with other multi-setting grinders in its class, it isn't the most affordable.
Nevertheless, you get a good number of settings and a fantastic LCD display that makes this an option to consider for your home. With its automatic dosing technology, you'll have just the right amount of coffee for whatever brew you're making.
Overall, if you want a serious-looking machine that is not too expensive, then this is the best coffee grinder in nz for you.
Smart Dosing IQ Technology
60 grind settings
Stainless steel conical burr
Movable parts are made of plastic
Best suited for entry-level espresso grinds
Customer Reviews
It's magic
"Purchased this on special to replace a Breville Conical Burr Grinder that had finally failed after 12 years use. I use this with a Breville "The Infuser" and it's brilliant as the portafilter fits into the grinder and you grind the beans straight in then transfer to the espresso machine after tamping. Took a while to get all the settings sorted but now it's magic and I wouldn't be without it. Perfect fresh espresso every time !!!!" – dbAlexandra
Very quiet
"My Breville grinder is very quiet, and now I can grind my coffee beans as required for my morning coffee. Fresh ground coffee provides a superior flavor and my Breville grinder provides the perfect amount of fresh grind for my morning coffee." – Dave
10. Porlex Mini Coffee Mill
Best Coffee Grinder for Travelling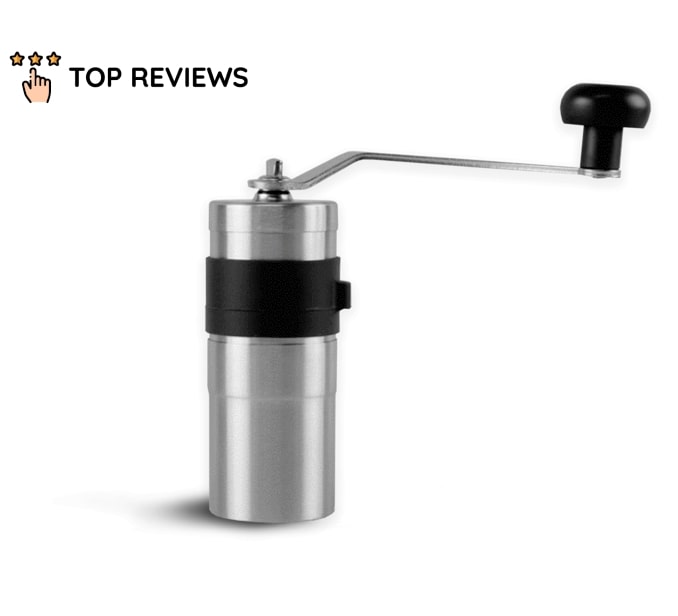 | | |
| --- | --- |
| PRICE | NZ$ 120.00 |
| MODEL | Mini |
| DIMENSIONS | 152 x 58.0 x 45.7 mm (6.0" x 2.3" x 1.8") |
| WEIGHT | 227g (8oz) |
| CAPACITY | 20 – 23g (0.7 – 0.8oz) |
| GRINDER TYPE | Stainless Steel Manual with Conical Ceramic Burrs |
Since 1978, Porlex is based in Japan and has been producing specialty coffee grinders since 1978. They have earned a reputation by producing one of the most precise ceramic burrs on the market today.
So, if you are traveling but you still want the taste and feel of roasted coffee, The Porlex Mini Mill should be on your list of options. It's also a great way to quickly and easily grind new roasts if you are sampling new flavors on the go.
With ceramic conical burrs, this coffee grinder produces uniform and even grinds by cranking around the lever. The top part can be opened to place up to 20g (0.7oz) of beans into it while the bottom is where the ground beans collect.
Grind size can be altered by turning the wheel from underneath the upper part. Each micro-adjustment alters the setting around 37 microns per click, providing you with surprising precision for an apparatus of this size.
Different roasts will have different settings too, so you can try new combinations to produce varying results. We like the customization you get with this small, but nifty grinder.
Thanks to its spring-loaded mechanism the granules stay more intact, meaning this Porlex grinder is easy to clean. And although the price is a little high, this little trusty coffee grinder in nz will be the perfect companion for coffee lovers, campers, and adventurers on the go.
Portable grinder
Uses patented ceramic conical burrs
Precise manual grind adjustments
Manually grinding takes effort
Takes several minutes to grind 
Customer Reviews
Very satisfied
"Overall, this is a very high quality grinder (ceramic burrs, all metal, nothing plastic to wear out). I am very satisfied with the grind size consistency. The grind size is set by feeling the "clicks" as you back out the bottom screw." – Alex
11. Mythos 2 Grinder BY Victoria Arduino
Best for Personal Luxury or Commercial Use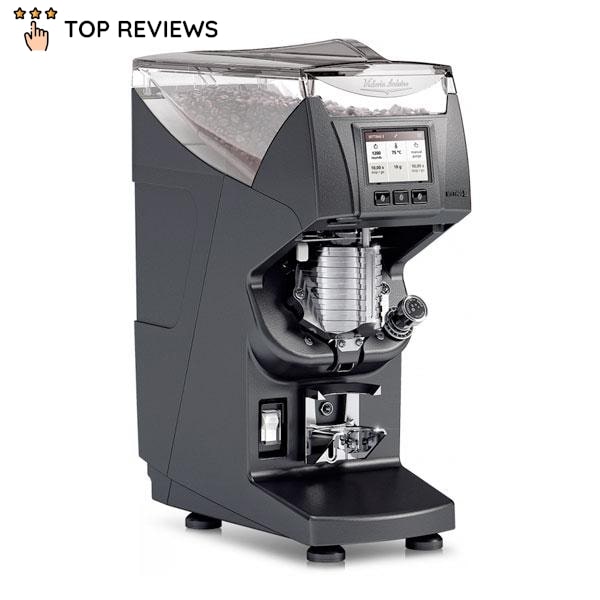 | | |
| --- | --- |
| PRICE | $5,744.25 |
| DIMENSIONS | 202 x 518 x 416 mm (8.0" x 20.4" x 16.4") |
| WEIGHT | 24.5kg (54lbs) |
| CAPACITY | 2kg (4.4lbs) Bean Hopper |
| GRINDER TYPE | Electric with Titanium Covered Burrs |
Are you serious about your coffee? Perhaps you even own a small cafe. Then this is the best coffee bean grinder in NZ for you.
The Mythos 2 Grinder is an option worth looking into for consistently ground beans. It's one of the easiest machines to operate in the market today, even for beginner coffee-makers.
Before we discuss Mythos 2, let's get one thing out of the way first – its price. It's outrageously expensive and is marketed towards businesses or the wealthy coffee enthusiast.
Victoria Arduino is a commercial brand known for its elegant coffee machines that are also easy to operate. They're commonplace in five-star hotels or fine dining restaurants, so don't be disappointed if you find you can't personally afford one.
Now, with Mythos 2, you surprisingly get a rather generically modern design that doesn't exactly beam the vintage elegance that Victoria Arduino is known for. For this price point, we certainly expected more flash, but when it comes to function, this machine doesn't disappoint.
Applying the company's patented Gravimetric technology, the portions of ground coffee are measured with laser-like precision to ensure the best density of coffee. The result, according to Victoria Arduino, is the perfect Espresso blend every time.
One of this grinder's trademark features is Clima Pro 2.0 which regulates the temperature of the grinding chamber. This technology heats up and cools down the beans as needed, keeping them fresh and at the optimal temperature for a barista to work with.
The Mythos 2 features high-grade 85mm titanium grinders which grant increased speed and higher production, making it ideal for commercial use. Moreover, it grinds with variable speeds throughout the entire process, which makes it an efficient and energy-saving product as well.
All of these feats are performed in a compact 20 cm machine which can even be daisy-chained together in a way to create one "super" Mythos 2 grinding unit.
The settings and controls are all adjusted on the machine's 2.8-inch touch screen. There are several pre-installed settings to choose from, allowing its user to "set it and forget it" with the touch of a button.
We especially like that you can even draw on the machine itself since it can also act as a chalkboard. You can write up the day's special blend to keep customers hooked.
With a hopper capacity of up to 2kg and a grinding speed of an impressive 2 grams per second, we get why this machine is expensive – it is built to be efficient. The Mythos 2 may be expensive, but you get your money's worth, making it one of our top choices of coffee grinders in New Zealand.
Modifiable burr speed
Built-in scales
Large titanium covered burrs
Can be linked with other Mythos 2 grinders
12. Rocket Macinatore Fausto Grinder by Arrosta Coffee
Best for Personal Luxury or Commercial Use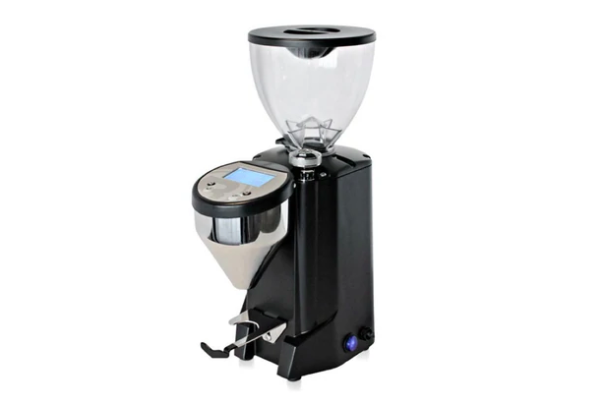 | | |
| --- | --- |
| PRICE | $1,644.00 |
| WEIGHT | 11.5kg (25.4lbs) |
| CAPACITY | 600g Bean Hopper |
| GRINDER TYPE | Stainless Steel Burrs |
Arrosta Coffee Roasting Co was founded in 2005 by Simon and Kirsty Fowler with humbl beginnings in a small warehouse facility in Palmerston North, New Zealand. Today, they produce and sell one of the country's top products that have earned them a solid international reputation.
One of their creations is the Rocket Macinatore Fausto Coffee Grinder, which offers the features of a professional machine in a compact form. Equipped with commercial quality 65mm flat burrs, this grinder is quick and easy to use.
It has a digital display with a shot counter and programmable dual control buttons that allows for adjustments and portion control. It also comes in either a sleek silver or matte black finish to perfectly compliment your kitchen decor.
Compact form factor
Digital shot counter
Portion control
Things to Consider Before Buying a Coffee Grinder in NZ
Now, before you take your hard earned money to invest in a freshly ground cup of coffee, there are a few things you need to consider first.
1) Durability
As with any other product, strength and durability is always a number one factor to consider. A coffee grinder made of sturdy materials means it will last longer to help produce aromatic cups of coffee for you.
For manual grinders, check that the lever secures properly and won't come loose as you rotate it. If you're looking automatic grinders, you'll want to read up on the motor's specifications or the manufacturer's reputation.
2) Consistent and even grounds
While you may be buying a grinder to, quite simply put, grind coffee, you'll also need to check the quality of the resulting grounds. Generally speaking, you'll want consistent and even grinding, with no lumps or uneven sized particles.
3) Price
Not all coffee grinders in NZ are priced equally and automated variants will cost more than manual ones. Some electric grinders contain a lot of features that the average person may not even need, which makes that fancy grinder a waste of money if you don't use them all.
However, grinders on the lower end of the pricing spectrum may not have quality blades or burrs. This can significantly impact the flavor of the coffee by producing inconsistent grounds.
4) Easy to clean and use
There are grinders out there that are difficult to clean so you'll want to search for one that is easy to take apart for cleaning. But aside from it being easy to clean, you'll also want a product that's easy to operate.
Manual grinders are a no-brainer because it involves your own elbow grease to work, but some can require quite a bit of effort and time. On the other hand, electric grinders are usually simpler, especially those that only require a single button to operate.
FAQs about Coffee Grinders in NZ
---
And that's our list of the best coffee grinders in NZ New Zealand! If you consider yourself a coffee connoisseur, then we hope these products helped you find your next new grinder.
Did you enjoy our list or are there grinders that we didn't include? If so, please tell us about it by sending us a quick message and we'll get back to you right away.
Coffee grinders are just one half of the equation though – having a quality grinder means that you'll need a quality coffee machine as well. If you're in the market for one, you can check out our list of the best coffee machines in New Zealand!