11 Best Compost Bins in NZ to Reduce Your Waste
Composting is a natural process of Mother Earth and it benefits everyone. If you want to nurture your plants in an eco-friendly way, here we've featured the best compost bins in NZ New Zealand to help you get started with your composting!
There are different kinds of available compost bins in NZ. They basically differ in the type, breakdown speed, space, price, and ease of use. We'll explain each one of those in a bit in case you're not sure what they mean.
This will help you in getting the right compost bin for you, but feel free to skip straight to the featured products if you like. Anyway, without any delay, let's start!
What to Consider in Buying a Compost Bin in NZ
It's worth taking a look at these factors before you buy a compost bin. These are:
1) Type
Compost bins come in 2 basic types that are determined by how many plants you have at home and what is best for you. The two types are worm trays and bins.
That said, there are also compost tumblers that stand on steel or wooden legs. These are less common, though, so we will focus on only two types:
This is composed of a set of trays, very much like a set of drawers at home. You place in them the browns or greens that will be eaten by worms to turn them into solid or liquid compost.
Bin types have aeration or airflow, which makes the process of decomposition faster. Your compost will usually be done within a month or two.
2) Speed
Speed refers to how fast your organic materials (like paper, wood chips, cardboard, egg shells) can decompose. It depends on a lot of factors including air and sunlight, and even whether or not you're stirring the compost frequently.
3) Space
Another thing to consider is the space that the bin consumes. There are compost bins that are bulky but can house a lot of scrap and others are lighter but accommodate less.
4) Price
You don't always have to get the most expensive compost bin in NZ.
Be practical about it. For instance, if you simply like to collect your scrap without the effort and time of decomposing it, an ordinary bin would do and is affordable.
However, if you're in it to get compost to scatter it on top of the flora, then you can get the worm or bin type compost bin instead.
5) Ease of Use
Lastly, ergonomics are vital since you're going to be maintaining and using your compost bin a lot. Something that is difficult to use to produce compost might not be really worth the buy.
The Best Compost Bins in NZ New Zealand For Waste Reduction
Now if you're up for finding the right compost bin to use in preparing compost for your plants, flowers, and trees, here are the best compost bins in NZ New Zealand!
1) Taurus Compost Bin 240 and 400 Ltr
Most Eco-friendly Compost Bin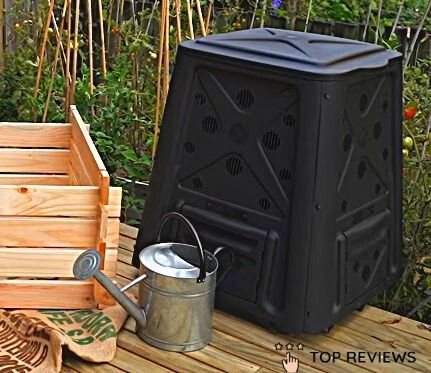 Price: $49
Taurus Garden's Compost Bin is one of the best compost bins in NZ you can have. This easy to assemble bin features a simple, stylish, and functional design.
Made with the latest manufacturing methods, this compost bin can withstand the wear and tear of the seasons if you place it in your garden. If you're concerned with sustainability, you'll be glad to know that they're manufactured with recycled materials.
It's available in colors Black and Forest Green so you won't need to worry about it standing out. Beginner composters are especially encouraged to buy this bin, since it comes with an easy to understand composting guide.
Highlights
Stylish and functional
Manufactured from recycled polypropylene
Available in two colors
Comes with a composting guide
2) Hungry Bin Worm Farm
Best Worm Compost Bin for Low Maintenance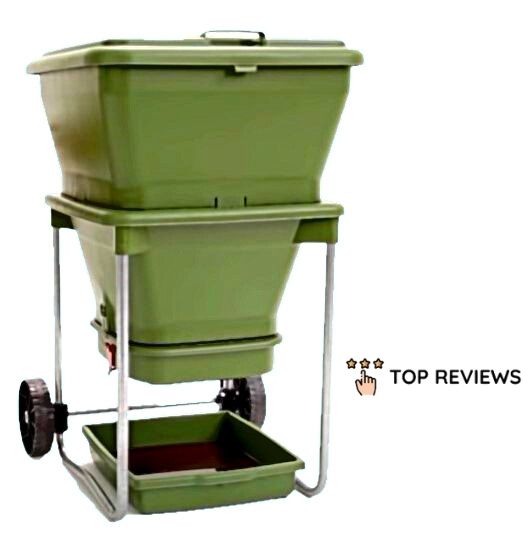 Price: $325
No need to wait long to have healthy fertiliser for your garden! Hungry Bin Worm Farm is a compost bin that lets you feed hungry worms with food waste in order to produce compost and liquid fertiliser.
This bin can produce about 2kg of organic matter a day if you have the ideal number of worms in it. That's an impressive amount of compost from such a compact bin.
Insect seals ensure that the worms won't escape from the bin and crawl elsewhere. At the bottom, it also has a drip tray to catch any mess or spills coming out of the tray.
And moving is simple work given its quality wheels and push handle. Galvanised steel legs keep rust from forming… and also add to the overall durability of this thing.
To use it, it's just like what's said in their description: 'just put the scraps in the top and collect the good stuff from the bottom'. That's it, no gimmicks and needless features!
If you want something that's straightforward and easy to use, this could be one of the best compost bins in NZ for you.
Highlights
Produces a maximum of 2kg of organic matter in one day
Also makes liquid fertiliser
Simple to use
Drip tray catches any spills or messes
Galvanised steel legs
Quality wheels and push handle
1-year warranty
Customer Reviews
In general, Hungry Bin's Worm Farm is a very well-made product, say customers. However, some complained that its price was a bit high and worms have tried to escape out of the bin.
That said, one user, Tim_B elaborated:
"Not only does the Hungry Bin not have the ongoing maintenance issues, but the worms seem to like it much more as well (perhaps due to the increased surface area and airflow). The wheels make it easy to move around depending on conditions and getting the vermicompost off the bottom is much easier and quicker than the worm factory.
Don't waste your time with other solutions – start with the Hungry Bin and save yourself a lot of time and frustration."
Also, Robert W. Beth wrote:
"The best part though is how easy and clean the process of getting rid of table scraps is. Each day, we dump a bowl full of scraps that accumulate in the kitchen into the Hungry Bin. The scraps haven't started stinking, the bowl gets washed nightly just like any other dishes, and every time I open the Hungry Bin lid, there is no unpleasant odor. It's just so cool how organic soil nutrients seemingly magically accumulate in the two trays. It's all so well designed and easy to use. Good on ya' folks at Hungry Bin."
3) Appetito 5L Compost Kitchen Veggie Canister
Best Compost Bin for Kitchen Tops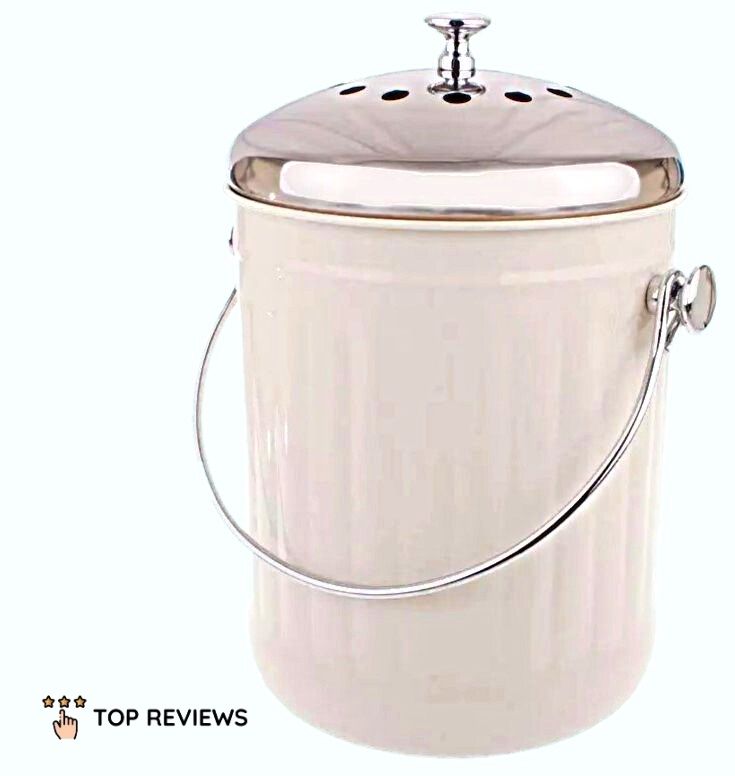 Price: $68.86
Perfect for your countertop, this compost bin is sturdy and portable. It is equipped with a carbon filter that can neutralise the odour of your food scraps or waste.
Its powder-coated body is covered by a stainless steel lid that you can trust when it comes to durability. The design won't tarnish your kitchen's appeal either, since it boasts a very nice modern style.
On top of the lid are vented holes that allow optimum airflow for faster decomposition. This pale green canister can hold an ample 5 litres — great for a few days of use.
Throw in some eggshells, fruit peels, vegetable scraps, teabags, coffee grounds, etc. The resulting nutrient-rich compost is fantastic for gardening.
This makes it absolutely one of the best kitchen compost bins in NZ.
Also, the Appetito Compost Bin can be cleaned inside and out without any fuss. You just wash the bin thoroughly using warm water and soap and you're done!
Highlights
Sturdy, modern and portable design
5-litre capacity
Vented holes on the lid
Equipped with a carbon filter
Produces nutrient-rich compost
Easy cleaning
Customer Reviews
Most of them said that it offset the unpleasant odour from the food and looked good on their kitchen countertops with its lovely green colour!
One customer commented on ebay:
"Love it. So easy to clean and it absorbs odours really well. Not to mention it looks awesome on the kitchen bench . Great colour. Keeping Green after all!"
And lildoyle also mentioned:
"Beautiful practical and really convenient, and it looks really nice on my bench ☺"
4) Chef'n Ecocrock Compost Bin
Best Compost Bin for Odour Removal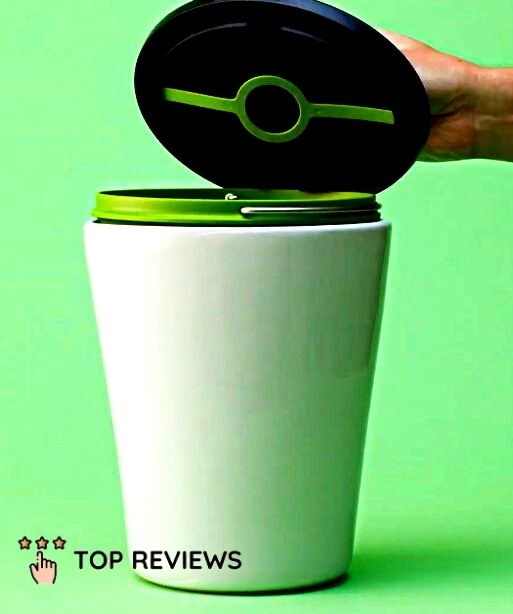 Price: $124.99
If you want a contemporary bin, the Chef'n Ecocrock Compost Bin is a a great choice for compost bin in NZ! It looks neat on your countertop and you can use it whenever you're doing kitchen work!
The sprout is more than a lovely design, as you can use it as a handle too. When you remove the lid, you'll find open holes that help with breaking down your food scraps.
A charcoal filter gets rid of the odour that comes from the food waste. You have 2 filters in the package, but you can buy more and replace them once you've used them up.
Within the outer bin, there's a tapered bucket that holds your browns and greens. This you can take out and add to your larger compost pile.
Finally, this is also easy-to-clean by rinsing with warm water and wiping dry. And then you're ready to use it again for the new week!
Highlights
Contemporary and neat design
Charcoal filter counters bad odour
Good breakdown process
Lovely sprout design
Has an inner bucket
Easy-to-clean by rinsing with warm water and wiping dry
Customer Reviews
The Chef'n Ecocrock holds a score of 4.7 out of 5 stars. Despite that high score, it still had its detractors. Some cited the moisture collecting from inside and the filter slipping out as cons.
However, one satisfied Amazon customer, MT, wrote:
"I recently signed up for a new composting service in my community. I purchased two of these countertop composters, one for home and one for work, so that I don't have to continually go out to my garage to the large compost pail. These are unobtrusive (actually kind of cute) and there is NO smell. I also purchased compostable bags so I don't have to clean these out. A couple of times a week, I simply remove the bags and place them in my large composter. They have a small footprint, but hold a lot. GREAT purchase!"
Also, Lopy felt that he got value from purchasing this:
"Love the look and functionality of this little kitchen compost bucket. The outside is a sturdy crock. The inside bucket has worn well and is easy to clean. I fill it nearly every day and did find the filters to be a hassle, always slipping out, but odor is not an issue for me, so I tossed them. Still a five star product in my opinion. The lid fits fine and is so cute! Love the little sprout. I forget to put it under the sink and it looks fine next to the coffee. I considered a few cheaper versions but glad I spent a few extra dollars for this one."
5) Utopia Kitchen Stainless Steel Compost Bin
Best for Budget Compost Bin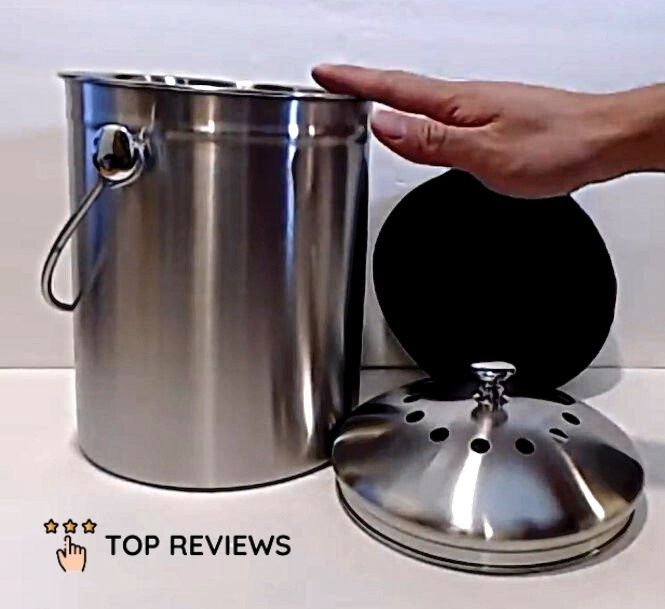 Price: NZ$82.44
Purchase Now On The Market
Keen to have a small container for your kitchen scraps and wastes? Utopia Kitchen's Stainless Steel Compost Bin is affordable, kitchen-convenient, light, and very durable.
When there are veggie scraps or leftovers, don't throw them in the garbage yet. Rather, you can put them in this container, which won't attract any critters or pests thanks to its charcoal filter.
It also kills off any odours from weeks of filling this up. And the entire thing is easy to wash through applying soap and rinsing it, while the charcoal filter can be soaked deep in the bin.
Needless to say, it won't break easily owing to the 201 stainless steel. And it looks neat in your kitchen without looking too out of place.
Definitely one of the most minimalist, unobtrusive kitchen compost bin in NZ.
Highlights
Made from 201 Stainless Steel
Cheap in price
Comes with a charcoal filter
Customer Reviews
Jaja rated the Utopia Kitchen Stainless Steel Compost Bin with a highest score of 5 stars on Google Reviews. She wrote:
"Was bought one of these as a gift and was so pleased with it that I bought one for my daughter. Well made, rust proof and a good size. (Handy hint! I put a rubber band round the rim to hold the compost bin liner in place so that it doesn't slip down.)"
6) Envirocycle Compost Tumbler Bin
Best Overall Compost Bin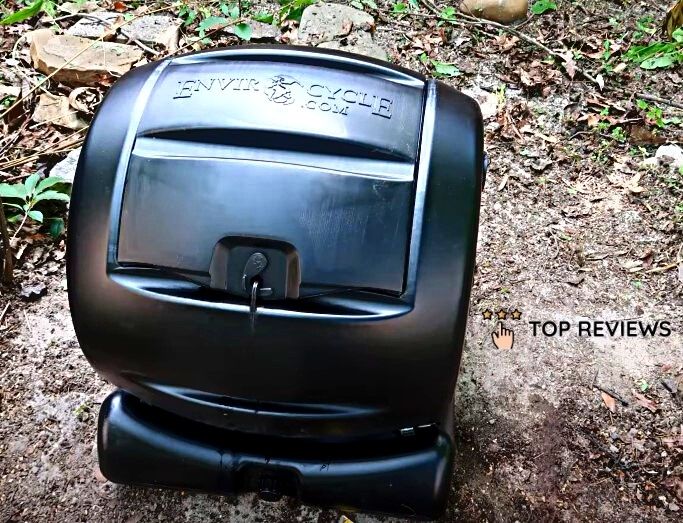 Price: NZ$577
Buy It Now On Ubuy
Envirocycle Compost Tumbler Bin is truly one of the best tumbler compost bins in NZ New Zealand! It has two functions in one in that it can produce compost material and compost tea.
It's made in the USA with UV protection as well as BPA and food-safe traits so as to keep your scrap as organic as possible without bonding it to artificial chemicals.
When the scrap or waste is inside, all it takes is for you to rotate it fully every three days. In about a month or two, you will get nutrient-rich compost ready to be placed on top of your soil.
It is 27.7 inches tall and can be stored easily in your terrace, patio, deck, or garden. Being UV safe, it can sit in the sun so that the fungi or bacteria can decompose the scrap faster.
If you want a rotating compost bin in NZ that can be placed outdoors, you should definitely consider the Envirocycle Compost Tumbler Bin.
Highlights
Creates solid and liquid compost
Durably made
Rotatable 360 degrees
Space-saving product
Customer Reviews
The Envirocycle Compost Tumbler Bin holds 4.5 stars out of 5 stars on Amazon. Most of the people who got it do not just like it, but are even very impressed because of the quality, ease of use, and longevity.
For the super easy assembly, G. Johnson used the subject line of 'magically turns your waste into black gold," and said:
"How easy, one carton which contained two pieces. Open box, put the base on the ground and place the drum on the base, done. Gotta love that.
Looks awesome and built to last."
7) Algreen Products Soil Saver Classic Compost Bin
Best in Durability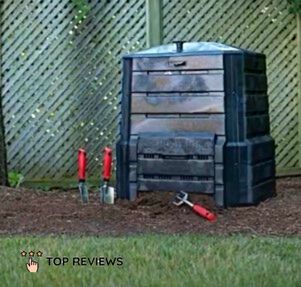 Price: NZ$184
Get It Now On Ubuy
The Soil Saver might look dusty, bulky, and unattractive but it's really not if you look at it in a different way — in fact it's one of the best compost bins in NZ.
Its crate and open look is actually pretty cool because it enables the material to be insulated and aerated. As a result, this compost bin can speed up the decomposition of the scrap matter.
It has two sliding doors for scraps or waste on the higher part, while getting healthy, dark organic compost when it's finished. It typically takes 4-8 weeks until it can be ready to use.
With this, you get to have less trash that goes to landfills — which reduces your impact on the environment. And your plants will love you for it!
Highlights
Robust design
Produces pure compost
Hastens breakdown process
Affordable price
Customer Reviews
Owners of the Algreen Products Soil Saver mentioned that this bin was excellent to use and incredibly durable.
Chris D only added a bubble wrap to prevent the rain from getting in and to keep the compost dry and wholesome… and gave it 5 stars on Amazon.
L'Etrange ex Libris also adored this product. He/She said:
"I've used this composter on a daily basis for 3 years. It even survived a move to new garden ten miles away over a year ago. I've never had a problem opening and shutting the top and bottom doors. Worms and other important critters get in here and do the work. I use a pitchfork about once a month to stir it up. As long as you place this on flat level ground, it works like a charm."
8) VermiHut Plus 5-Tray Worm Compost Bin
Fastest Decomposition for Compost Bins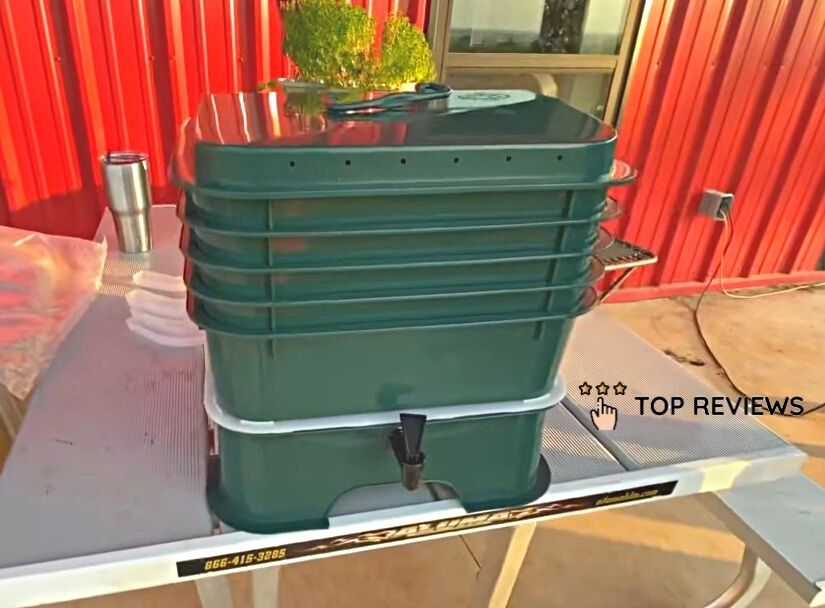 Price: NZ$241
Get It Now On Ubuy
If you don't mind your food waste being munched on by worms, then VermiHut Plus 5-Tray Worm Compost Bin is for you. This is a more interesting compost bin as compared to the others.
This is the ultimate worm tower to synthesise your kitchen scraps. It eliminates the odour that may form, assembles in no time, and welcomes airflow for a seamless decomposition process.
It is conducive for worms thanks to the coconut fibre that regulates the moisture level. This makes the compost bin just the perfect living environment for them.
Worms gradually go up to consume the food and bacteria to produce compost material in exchange. Note that you first need to make a cosy bedding for them (which is easy) before adding red worms.
Highlights
Swift decomposition process
Built for increased airflow
Simple to assemble
Nature at work with worms
Customer Reviews
What's also cool about the VermiHut Plus is the worm tea. This is like the liquid fertiliser you can pour over the soil to give it the necessary nutrients. Here's an Amazon review from Mary:
"…Also, the worm tea collects quickly in warm weather. So I raised the worm hut a little and put a bowl under the open spigot."
Furthermore, it is well received in Amazon with 4.8 out of 5 stars. And better yet, it is labelled as Amazon's Choice. John Walters shared his dissatisfaction with a previous compost bin before switching to this one:
" It worked pretty well but got too soggy, wasn't easy to separate the completed compost, required daily maintenance, and my worms did not seem happy as they kept trying to escape. All those problems are solved and my worms love their new home!"
9) GEOBIN Compost Bin
Simplest to Use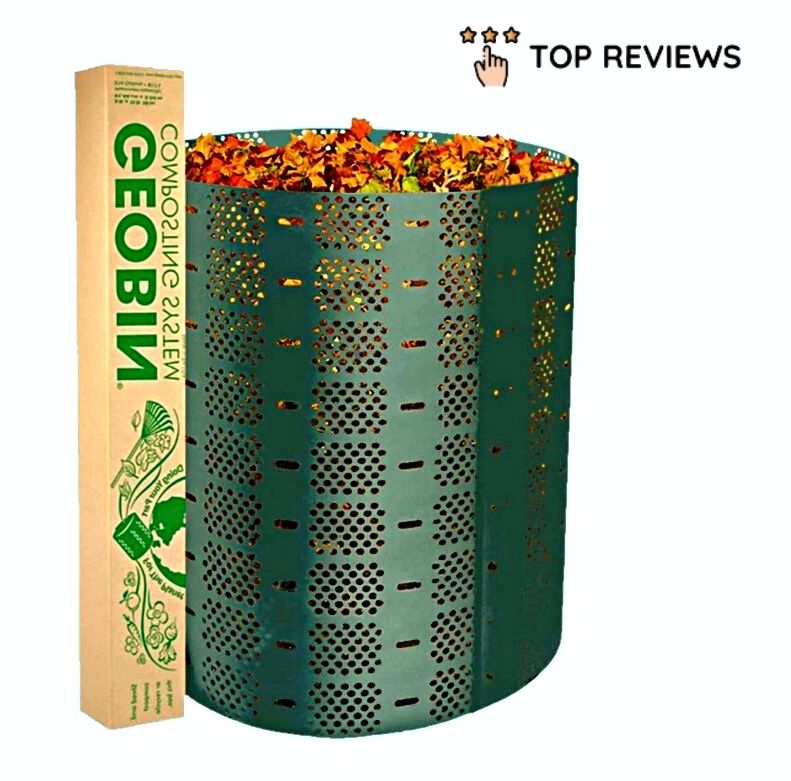 Price: NZ$86
Shop Now On Ubuy
It's all about being true stewards of the environment. We can do that through the Geobin compost bin made of 50% recycled plastic with 100% eco-friendly packaging.
With the perforated holes, airflow is maximised in addition to giving you a clear view of the entire process. You can use this in your backyard and scoop up decayed leaves and wood chips for some carbon.
To assemble, you only have to link them together by the closure keys. It is extremely light to carry as well as stylish, with its black design.
You can place this ideally by the garden or outside since it does not have any charcoal to ward off pests. However, you can use it in a kitchen just fine as long as you take it out after you're done.
This is absolutely one of the most simple yet cleverly designed outdoor compost bins in NZ.
Highlights
50% recycled product
Stylish black design
Optimises airflow
Very light to carry
Customer Reviews
People just loved the straightforwardness of this product. Plus the durability and ease of assembly.
Yve wrote a brief review for the Geobin compost bin, and this is her conclusion:
"This is a customizable, good quality bin. I think it is an appropriate price for something used to keep the earth in better shape… and in general, if you are afraid of ten minutes of work, I don't really know why you're bothering to compost anyway. This thing is awesome."
10) Italio Compost Bin 220L
Best for Easy Assembly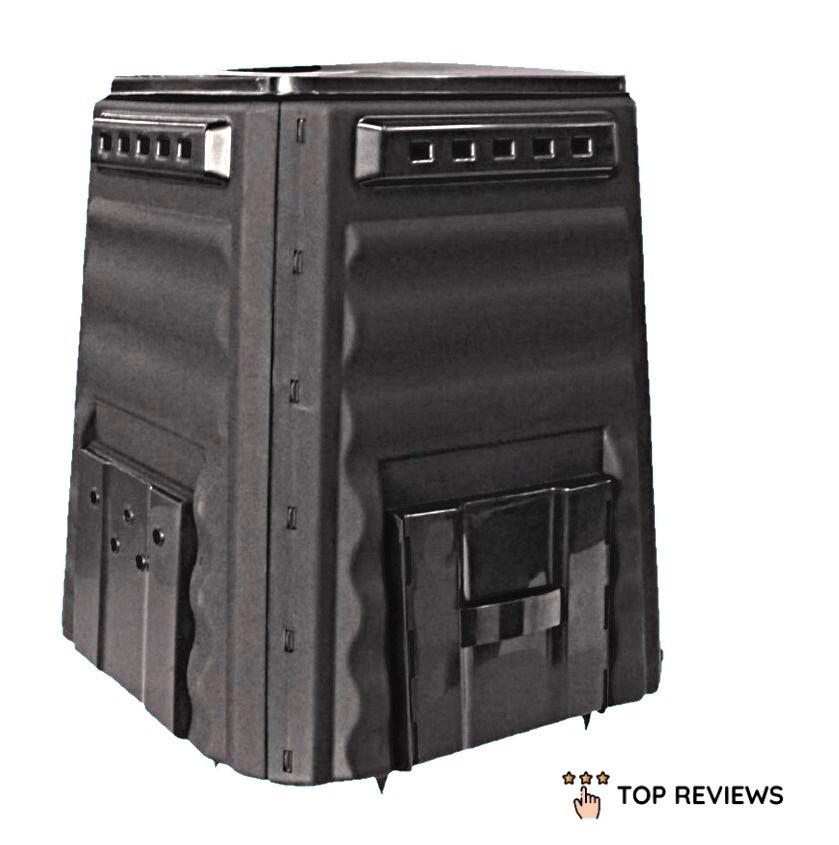 The Italio Compost Bin is made from 100% eco-friendly materials, including its packaging, so you'll be able to compost that too!
Assembly only involves a simple snap-and-lock system so that you can start putting in compostable items ASAP. The instructions will ensure that your assembly is correct: we didn't find them hard to follow.
At the base, you can open the doors to let you get the compost for your plants or garden. And these same doors can even be used as handy leaf grabbers!
Making for a great yard waste compost bin in NZ, it has a total capacity of 220L. And come rain or shine, this compost bin is weather-resistant and will hold up pretty well for many years!
To top it off, the Italio Compost Bin has a super-affordable price for its solid build quality. How cool is that?
Highlights
Made from 100% recyclable materials
Weather-resistant and durable
Easy to assemble
Doors can be used as leaf grabbers
Super-affordable price
Holds 220L of compost
Customer Reviews
Customers are saying that this bin is a breeze to assemble; however, to avoid any issues, you should refer to the instructions first before putting it together.
Here's what Penny P shared regarding this product:
"Perfectly happy with this bin.First bin I had help to assemble. Second one I did by myself [70 year old female] no problem.They are thinner than I've had previously however even thicker ones have a use by date.Usually 12 years or so before they start to crack due to UV. You do need to make sure they are square and level or the lid won't fit! My first bin is now full and lid still firmly fixed on."
11) WormsRUs

Not every one of us has a green thumb. Some people, even if they use the most expensive soil, fertilizer, their plants and still withers and die.
This is where WormRus comes in as they can save your withering plants through the use of composting solutions via worm farming and Bokashi.
As we all know, composting is a process that works to speed up the natural decay of organic material by providing the ideal conditions for eating organisms to thrive. Aside from that, the key to effective composting is to create an ideal environment for the microorganisms to progress.
Their team developed a guide on worm composting if you want to start on a small scale and given that their basic requirements are met.
With the guide provided, the team also introduced the Bokashi method that is suitable for apartment dwellers, people with limited outdoor space, offices, schools, restaurants, and anyone who wants to reuse their food scraps.
WormsRus supports this form of reducing waste by selling worms and worm farms. Also with the various efforts of the team, WormsRus have run successful education programs with schools as well with Councils.
Highlights
Supports home composting and waste minimisation
Customer Reviews
"We bought a 200 litre worm farm a while ago and liked it so much, we bought another one! Very easy to use and provides loads of castings and leachate to use on our 6.25 hectare property. Wonderful product!" – Roberta Kimmins
"Customer service was very helpful, checking on my order and making sure it was delivered when I was at home." – Francesca Marzatico
"Very quick service, no hassles and worms arrived well packaged and in under 3 days from order." – Liza Lacey-Brooker
"The team at WormsRus are experts and passionate about what they do, they are always happy to give advice or help out." – Karen Titulaer"Worm farm up & running! Great service" – Donna Maria Jujnovich
And that's it for the best compost bins in NZ. By using a compost bin, not all the trash will go to the wasteland and you keep your plants as fresh, healthy and beautiful as they can be.
Do you have any questions about compost bins or composting? If so, you can message us and we will get back to you as soon as we can.
If you're passionate about doing your bit to help the environment, why not check our list of best volunteer services in Wellington? There might be an organisation that needs your help!
Anyway, if you need to maintain your lawn to keep it healthy, you can read about the companies we've found to do the best lawn care in Christchurch too. They may even use your compost when they work on nourishing and manicuring your lawn.