The 9 Best Computer Monitors in New Zealand
Getting the right PC monitor is important since it affects your work and enjoyment. Whether you are a filmmaker or hardcore gamer, we can help you decide what you need with our best computer monitors in New Zealand!
When buying computer monitors, there's an array of product details you should consider. At first, you might be at a loss in the sea of jargon involved, though
What you can do first is to know what you need it for. There are so many bells and whistles possible on a high-end monitor, but it's better to figure out if you really need them than pay for them immediately.
For instance, if you're a professional video editor, you need a monitor that's wide and has native 4K resolution for your pictures to come out crystal-clear and sharp. That's the sort of thing you need to think about.
To give you a better grasp of it, we'll do a short rundown on the basic factors you have to look for before buying a monitor. After that, we'll move on to the very best computer monitors in NZ.
A Few Pointers Before Buying a Monitor
A monitor can be difficult to pick, taking into account the many kinds available. Therefore, considering these pointers will guide you toward making the right decision.
Purpose of Buying
You have to know what you need in terms of work or leisure.
If you are only using, say, Microsoft Office programs such as Word, Excel, and PowerPoint, you will usually do well with a standard monitor.
Most monitors nowadays have 1920 x 1080 pixels or Full HD. A standard one also lets you view your pictures or multimedia in very good detail already.
But as we said earlier, if your purpose for getting a monitor is something like a professional video editor's, you'll need something better.
Thus, knowing your purpose for buying narrows down your choices effectively. Ask yourself what you need the monitor for and you should get a better idea of your ideal specs.
Price
The price differs based on the screen size (how many inches/centimetres it is), resolution, and other features such as having an adjustable monitor stand, USB ports, and media card accessibility.
NZ$150-250 will already get you a monitor that is average. But of course higher than that about NZ$1500 is where there are more premium features and and clearer detail, better colour gamut, higher resolution, and other perks.
Colour Modes
The colour modes or gamut of monitors differ. It is extremely important to consider this as the picture it affects how a monitor expresses hues.
Wider-percentage colour gamuts like DCI-P3, Rec 709, or P3, mean more vibrant and beautiful colours. There are many colour modes and uniform options featured in higher-end monitors.
If you're a graphic designer or a Photoshop user, you should get those with a wide colour gamut so you can use "authentic" colours and are able to better adjust small details — or brighten the dark spots in a picture.
You also have monitors that are pre-calibrated at the factory to ensure that the colours are precise and true. To stand by their word, they provide certifications as proof of the monitor's colour performance.
In other words, the wider the colour gamut, the more beautiful the picture that it produces. This works hand-in-hand with the resolution you pick and, of course, the screen size.
Resolution
Most of the computers available today are on Full HD or 1920 x 1080 pixels. A step higher than that is Quad HD or 2,560 x 1,440 pixels, then comes the 4K or UHD at 3840 x 2160 pixels.
Note that those sizes have corresponding screen sizes. Higher-res displays mean better picture quality, but it also tends to show lower-quality sources (like low-quality video or images) for what they are.
Moreover, computer-wise, they tend to draw more processing power. That may be a problem if your desktop setup is a bit old or has low processing power, especially in terms of graphics.
Screen Size
Another important thing you should examine is the screen size.
Standard sizes usually measure from 22 to 23 inches — good for those standard tasks on the computer. But there are screens that do better than that with Quad HD and 4K capability from 27 to 38 inches.
Generally, though, our advice is to pick the size of your monitor based on your space. If you have enough space to fit a large monitor and sit far enough away from it to spare yourself eye-strain, then get it.
Otherwise, get yourself a smaller monitor. You don't want to have swivel your head from one side to the other just to check what's on the right and left sides of your screen.
I also suggest looking at what you can afford to get based on power and heating considerations. Larger monitors generally use more power, so you'll have to think of that.
Furthermore, bigger monitors are typically hotter than smaller ones. They radiate more heat for obvious reasons, so unless you have a setup where you can combat that, think carefully before you get a really big screen.
Finish
You should also check the screen's finish if it sits well with you. Finishes may be reflective or matte.
Generally, we suggest getting something that's matte. It's pretty annoying to have to deal with reflections on your screen getting in the way of the picture.
Additional Features
Some of these features can aid you in many ways. For example, if you share your computer with your family, having an adjustable monitor can let them set it according to what is comfortable for them.
There could be USB 3.0 slots on the side of the monitor, making it easy to watch copies of films and series without having to connect the monitor to a computer.
Moreover, some have built-in speakers so that you can hear the audio of your media files without setting up external speakers.
Best Computer Monitors in New Zealand
We just tackled the pointers that we think can help you out in your monitor-buying. Now, we're all set to look at the best computer monitors in New Zealand!
We have incorporated monitors for image and video editing, gaming, and office use. This is so that you'll find it easier to pick your poison, so to speak.
1. Dell 27-inch Alienware Monitor (AW2720HF)
Best for High-Specs Gamers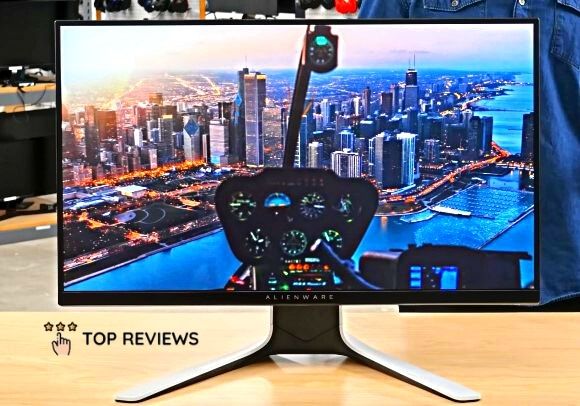 Price: NZ$999
We said we'd bring you the best computer monitors in New Zealand, so why not start with a spectacular one for the hardcore gamers?
If you're equipped with the latest multicore CPU and a brand-spanking turbo iteration of the swankiest GPUs on the market, you know you'll need something with the refresh rates to take advantage of your hardware. Look no further than Dell's 27-inch Alienware monitor, which boasts a ridiculous refresh rate of 240 Hz.
This monster of a monitor also comes with Overdrive for 1ms response rates. On top of that, it has AMD's FreeSync technology enabled and is compatible with Nvidia's GSYNC.
The IPS display offers 99% sRGB coverage, so you know your games will be displayed in the best colour spectrum possible. And if it matters to you, Alienware's Legend Industrial design offers aggressive, modern styling as well as custom colour lighting for your rig.
Highlights
99% sRGB coverage on an IPS display
Native FHD resolution
Unbelievably fast refresh rate of 240 Hz
1ms response rate
Compatible with AMD FreeSync and Nvidia GSYNC
Customer Reviews
This is a popular monitor among gamers, especially those looking for something capable of showing what their overclocked and turbo GPUs are capable of. Netting a score of 4.5 out of 5 from over 200 reviews on Dell's site, this is definitely a monitor that lives up to expectations.
Here are some reviews from owners:
"I have had this monitor for about a month. So far, the monitor performs as expected for a gaming monitor. Works great with my Alienware desktop. I upgraded to the 27″ from a 24″ display and love the wider screen. It replaced my ASUS gaming display. I would recommend this product."
Here's another:
"For the price, this is a whole lot of monitor. Assuming this is for a standard computer desk set-up, 27 inches is large and wide enough to accommodate most any game without hindrance. I paired this with a high-end graphics card and the results are astounding. This monitor has exceeded my expectations in every way, as cliché as that may sound. Thoroughly satisfied with this purchase and will consider Alienware first with future purchases."
2. BenQ DesignVue Designer 32 inch 4K Monitor (PD3220U)
Best for Photographers and Filmmakers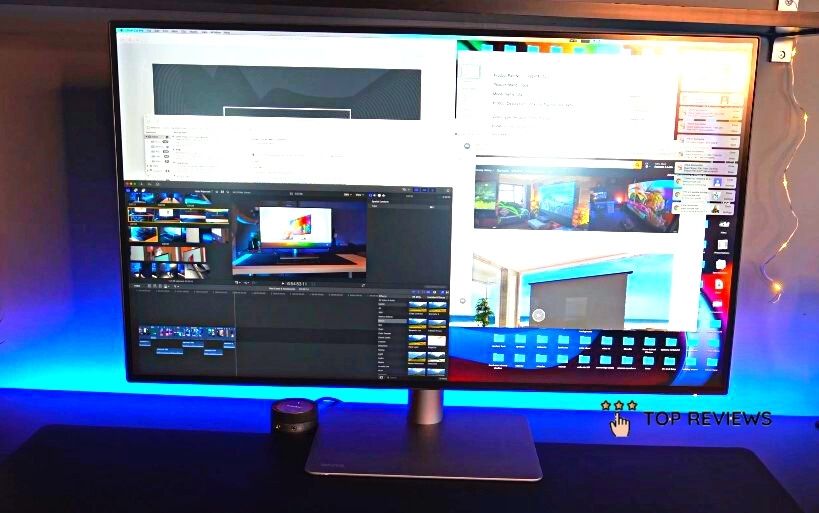 Price: NZ$2,499
BenQ monitors bring in a new world of authentic colours and convenience with a host of features. It's CalMAN verified and Pantone validated to ensure the colours are as true and accurate as can be.
Across different apps and devices, BenQ's PD3220U is formatted in DCI-P3, 95% P3, and 100% sRGB that keeps the colours the same for professional design or image editing.
Thunderbolt 3 connectivity lets you connect two 4K monitors together and transfer movies, music, and pictures in lightning speed. Connecting it also combines the two monitors for a single picture.
It also comes with the Hotkey Puck G2, something of a monitor controller shaped like an air hockey bumper. It has several buttons and a dial you can customise for your shortcuts on settings such as brightness, contrast, volume, etc.
With BenQ monitors, your eye health is taken care of too. This one emits a lower blue light acting as a filter to lessen fatigue and strain of your eyes over long periods.
Lastly, it breaks the barrier for design possibilities as you can utilise the darkroom, animation, and CAD/CAM mode, bringing clearer pictures even to shadows without affecting the bright area.
Highlights
CalMAN verified and Pantone validated for supreme colour authenticity
Thunderbolt 3 dual 4K monitor display
100% sRGB, 95% P3, DCI-P3 support
Hotkey Puck G2 to personalise your controls
Eye safe with Low Blue Light Technology
Customer Reviews
From 12 customer reviews, it managed to get 3.9 out of 5 stars. It received praise for its colour display and range, and one customer said it's great for professional work, videos, and editing with an acceptable KVM switch.
In addition, Greg wrote an in-depth review but the first paragraph is enough to summarise the gist about this product.
"The PD3220U is ideal for digital work, as BenQ is notably silent on its Adobe RGB performance but boasts its P3 performance. It's also an improved monitor over the PD3200U. It may lack variable refresh rates making it not gaming-focused. Outside that particular omission, it has just about everything else you'd want: puck adjuster for controls, USB3.1c, KVM switch, multiple inputs, ability to hot-swap color profiles, and even display two at once."
Negative talked about the bottom bezel that it is not quality-made but of gray plastic. Some also thought that the display could've been wider for this monitor.
3. ViewSonic 27 inch (VP2785-4K)
Best-in-Value 4K Monitor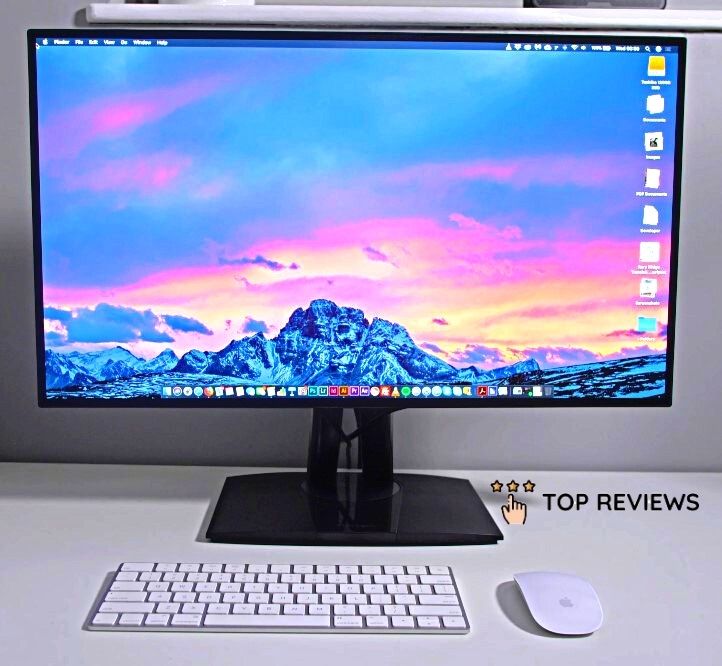 Price: NZ$1,597.04
For a more true-to-life and accurate palette of colours, the ViewSonic VP2785-4K UHD monitor outperforms its competitors and delivers all the goods.
It has 99% Adobe RGB and 95% DCI-P3 colour modes, uniform correction, picture-by-picture (PBP) angle display, and E<2 realistic hues.
You can have dual view with KVM (keyboard, video, mouse) switch via USB 3.1 Type C with your laptop or another 4K monitor. You can also compare pictures, having RGB and REC709 modes on a single computer — perfect for design professionals.
Apart from that you can tilt, pivot, swivel and adjust the height of the monitor. Ambient light sensors automatically set the right brightness for you while conserving energy use.
Behind the monitor are multiple inputs including HDCP2.2 Decryption (which secures your files, images, and videos).
Moreover, you have the option to purchase X-Rite with it. X-Rite lets you calibrate your picture and graphic settings for more colour options.
Highlights
Covers 99% Adobe RGB and 95% DCI-P3 for a wider range of authentic colours
Uniform correction
E<2 colour accuracy
KVM switch for single control for peripherals
Multiple inputs with HDCP2.2
Adjustable monitor position and height
Customer Reviews
One customer was impressed by the 'quality and feel' of the ViewSonic VP2785 monitor even though he had an initial problem of not being able to connect his boss's laptop with a USB Type C. He did a little later on.
Another customer wrote that the detail it reproduces is incredible and used CAD to compare on his other computer monitors. The only downside, he said, came from the fact that he worked in a low-lit environment — he said the monitor caused him some irritation in the eyes.
Here's an Amazon customer's review for the monitor:
"Liked the first one so much, I bought a second one. Excellent quality. Viewsonic has been around a long time and while I feel like they were a little more popular in the late 90's/early 00's, this model can compete with the best of what I've seen from other manufacturers in terms of image quality and color accuracy(without using dedicated color calibration hardware) for the price point. USB-C is icing on the cake especially if you use multiple computers that have TB3/USB-C port(s). Only used for design work so cannot speak for gaming performance."
4. Asus ProArt 32 inch (PA329Q)
Best Colour Display
Price: NZ$2,256.74
With the ProArt PA329Q UHD monitor, your colour designs are brilliantly displayed and optimised with a slew of features like Quantum Dot, IPS, UHD content playback, uniform compensation, a 10-bit colour render, and gamma. The result is a vivid, natural-looking picture.
It covers a wide colour gamut of 99.5% Adobe RGB, 100% sRGB, 100% Rec 709, 90% DCI-P3, and Rec 2020. This makes it the holy grail for videographers, visual artists, and film production teams.
A 4K resolution displays 138 pixels per inch so the movie or picture you are seeing is four times more detailed than full HD… thereby producing truly breathtaking and beautiful graphics.
And since it has higher pixel density than FHD or 720p, you are able to view it at a wider screen — which in this case is 32 inches. That allows you more room to have picture-by-picture (PbP) comparison.
Like the ViewSonic VP2785-4K, the monitor is adjustable in height, sides and rotatable for a 90° portrait orientation. And at the back you have HDMI 2.0, USB 3.0, Display Ports, and a 9-in-1 SD card reader.
It filters out the harmful rays from the monitor in 4 different settings, not to mention it's TÜV Rheinland certified. That means it passed global class standard tests for optical health design.
Highlights
Stunning and brilliant 4K colour display
Brings a range of 99.5% Adobe RGB, 100% sRGB, 100% Rec 709, 90% DCI-P3, Rec 2020
Suitable for graphic artists, illustrators, filmmakers and the like
Tilt, pivot, and swivel monitor
Provides eye care filters
Customer Reviews
The Asus ProArt PA329Q is commended by customers from Amazon for its outstanding colour gamut. David Waldrup even compared the screen picture side by side with the printed version saying, it was "a near perfect match".
Then he concluded:
"No dead pixels, uniform lighting, excellent color balance, ease of switching between sRGB and Adobe RGB. Very highly recommended. BTW – also great for the few games I enjoy."
Another comment is from Jason C.:
"I can't rave enough about this monitor. I primarily use it for photo editing (Lightroom/Photoshop). The 4K resolution and color are truly amazing. I also do some mild gaming and have no complaints either. This is connected to a single Nvidia 970 card through DisplayPort 1.2. Just remember, to get 60Hz refresh rate, you have to enable it on the monitor. The cost is high, but you really do get what you pay for."
5. Samsung QLED 49″ (CHG90)
Best Big Gaming Monitor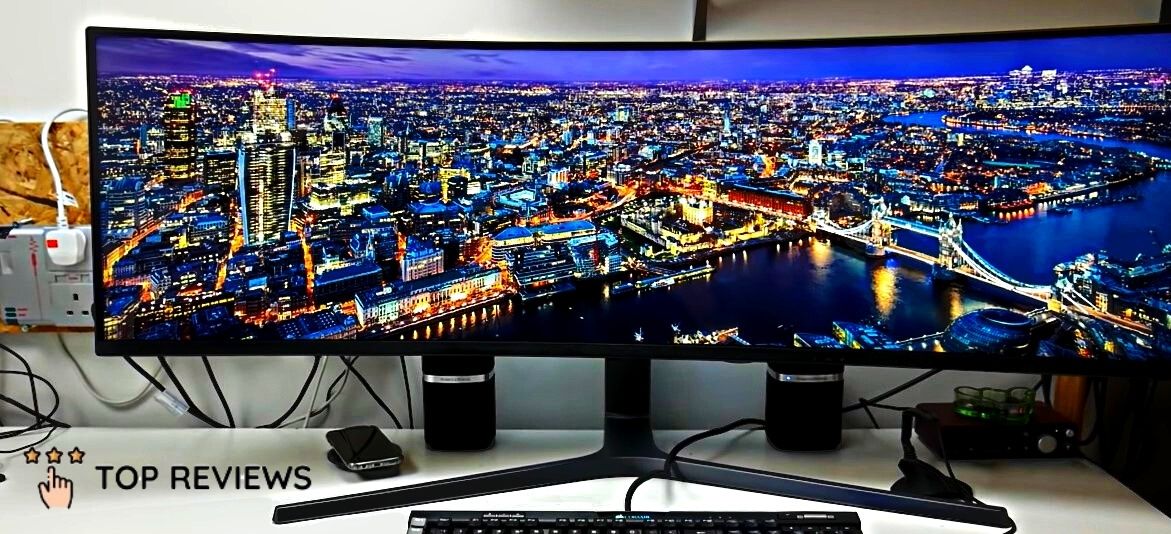 Price: NZ$1,798.99
Transport yourself to a stunning and ultra-real gaming world with the help of Samsung's curved QLED 49" monitor.
It features a Quantum Dot technology and HDR that delivers pictures exactly in the exact colours as designed by game developers.
This QLED monitor displays a 32:9 — double that of 16:9 which allows you to multitask, edit your images in Photoshop and watch Youtube without dropping in quality or colour missteps.
With a high refresh rate of 144Hz and paired with Radeon FreeSync 2, you get to enjoy the action scenes and intense moments in your games frame by frame. Everything displays smoothly with no blur and lag.
You can adjust the wide and large monitor by swivelling, tilting, and raising or lowering. Plus, the arena lighting at the monitor's back reacts to audio, getting brighter as the score crescendos in a crisis situation.
It has its own eye-saver technology, which reduces the glare of the blue light, allowing your gaming to continue with less strain to your eyes.
Highlights
Curved 32:9 monitor for immersive gameplay
Quantum Dot Technology
Stunning 4K graphics
AMD Radeon FreeSync 2
High refresh rate of 144Hz
Eye saver mode
Swivel, tilt, or pull up
Customer Reviews
One owner said that his old 49-51 inch 4K gaming took up too much real estate in his computer room and that he was missing the action because of the great distance. He found out it was the CHG90 he needed to give him the gaming experience he truly wanted.
Another user, Avariel, made it clear that this is one of the best computer monitors in New Zealand:
"OK all Bare with me, i am trying the best i can to write in English here. I got a new computer with 2 GeForce 1080 TI last month with this screen. And the screen itself makes me happier than the computer itself. its so very clear, fluent and the colors are just simply amazing. i read some of the remarks that people wrote here and for the better part of them they had issues that were not linked directly to the monitor, and were from my point of view "not informed and/or not objective with their critics" This screen is the best one on the market so far with its 1ms response time, 144 refresh rate, and image Quality, you will not be disappointed in this screen."
6. LG UltraGear 27 inch (27GL850-B)
Best for Clear and Smooth Gameplay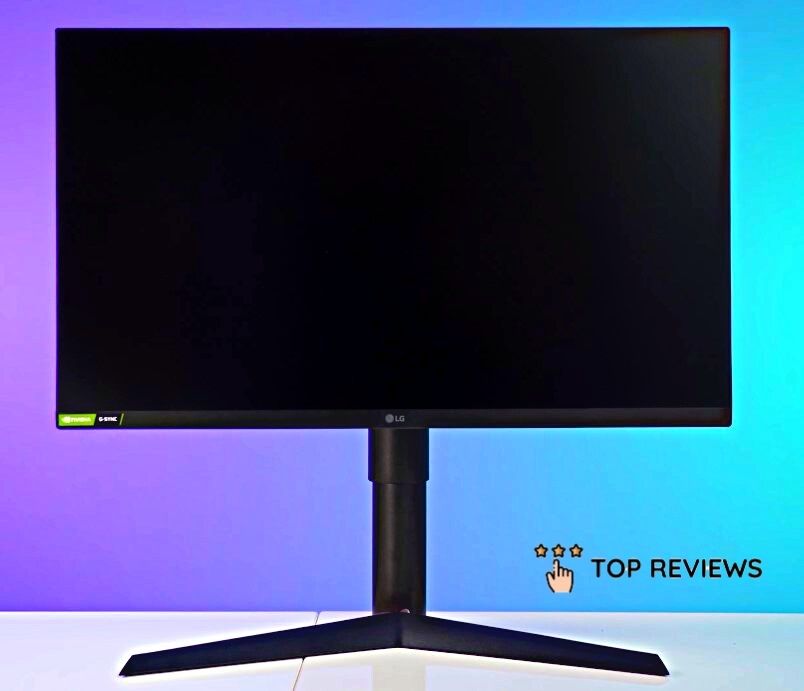 Price: NZ$898.99
LG UltraGear 27GL850-B is notable for offering the latest graphic enhancements in monitor technology. It's a must-have for esports competitors, casual but regular gamers, or movie maniacs.
It covers a close-to-perfection 98% for its DCI-P3, bringing you images in a full and vivid range of colours that's 35% better than sRGB. And with HDR 10, it gets even better than ever!
Boasting a refresh rate of 144Hz along with Nano IPS 1ms, it displays each series of frames in smooth succession without missing a beat.
Pair that with the G-Sync and you have have zero chances of a slow-going gaming session on this monitor. That means you won't have to worry too much about tears or stutter that can interrupt your gameplay.
A V-shaped stand gives it a modern look and lets you change the position of the monitor as well as its orientation (horizontal to vertical, for example).
You also have access to certain modes that may help you further, from Black Stabiliser to Crosshair Activation and Dynamic Action Sync.
Highlights
98% DCI-P3
27" QHD
HDR 10 picture quality
G-Sync compatible for brighter display
Swift refresh rate of 144Hz
Adjustable monitor position
Customer Reviews
From the LG website, Koby gave it a review that reads:
"Pre-ordered through Best Buy, and I am so glad I upgraded to this monitor from my 1080p 60Hz monitor I previously owned. There is no visible input lag, and the 144Hz helps to make the image super smooth."
Zeyn D. also states this on the PBTech website:
"This monitor is insane. Coming from a 1080 60hz monitor to this is like night and day. I had zero issues with dead pixels or bad backlight bleeding. This monitor just ticks all the boxes."
7. Dell Full HD IPS 24" (P2419H)
Best for Office Settings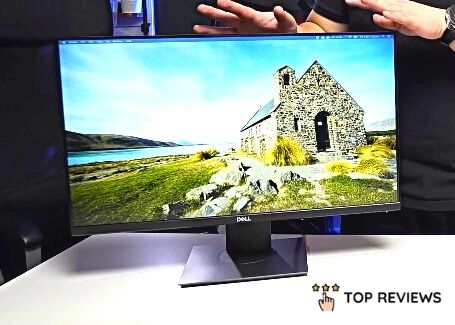 Price: NZ$297.85
There is a reason why you see most people using Dell in the office. It's credited to its minimalist style and efficient performance that lets you beat deadlines — just look at this Dell P2419H, for example.
It has a thin 24" screen extending close to the bezel, flat stand, plus cable management to organise your wirin. Featuring IPS or In-Plane Switching, the screen is visible from different sides and distances in its colour and brightness.
Additionally, an easy arrange option lets you view and organise your tasks across the screen, allowing you to multitask and accomplish more in less time.
Likewise, for variety and to show others your presentation, you can simply swivel, tilt, or rotate it at 90° for a taller profile used for reading articles or ebooks.
Dual panel exchange lets you view your pictures, ideas, or information side by side without any nuisance thanks to its super-thin bezel. Meanwhile, an array of ports is located at the back of the monitor.
You are also backed by a 36-month warranty if you buy this from PBTech, which you can access by clicking on the link above.
Highlights
Thinner frame and screen closer to the bezels
In-plane switching for flexibility on seeing the screen
Easy-arrange feature for multi-task assignments
36-month warranty period
Adjustable height, tilt and swivel angles
Customer Reviews
The Dell P2419H is a simple monitor that has all the basics most people need. It's eco-friendly too, by the way, as it passed green standards including ENERGY STAR, EPEAT, Korea e-Standby, and others.
Frank Leahy, a photographer, explains why he likes the P2419H monitor:
"Glad I spent my time researching monitors and don't regret this choice. I have two at my workstation, used for editing photos and social media. I see things hidden on my old monitor so I can clean up my photos to a very high caliber. The color is spot on just don't use the night setting which dims the blue. Love the profile, stand and ease of operation. They are just the right size for ease of vision and a front finger touch and they go to sleep while I leave the computer running. I'm a photographer, not a geek and look at thousands of photos so in that regard, I am an expert."
With regard to its usability and brightness level, Debra wrote:
"Love my two Dell 24 inch monitors (P2419H). I can raise them to different heights, and swivel and tilt as needed. The screens are equal in lighting and clarity, which my previous monitors weren't."
8. Acer Predator XB273KS 27″ 4K 144Hz G-Sync Monitor
Best for Maximum Resolution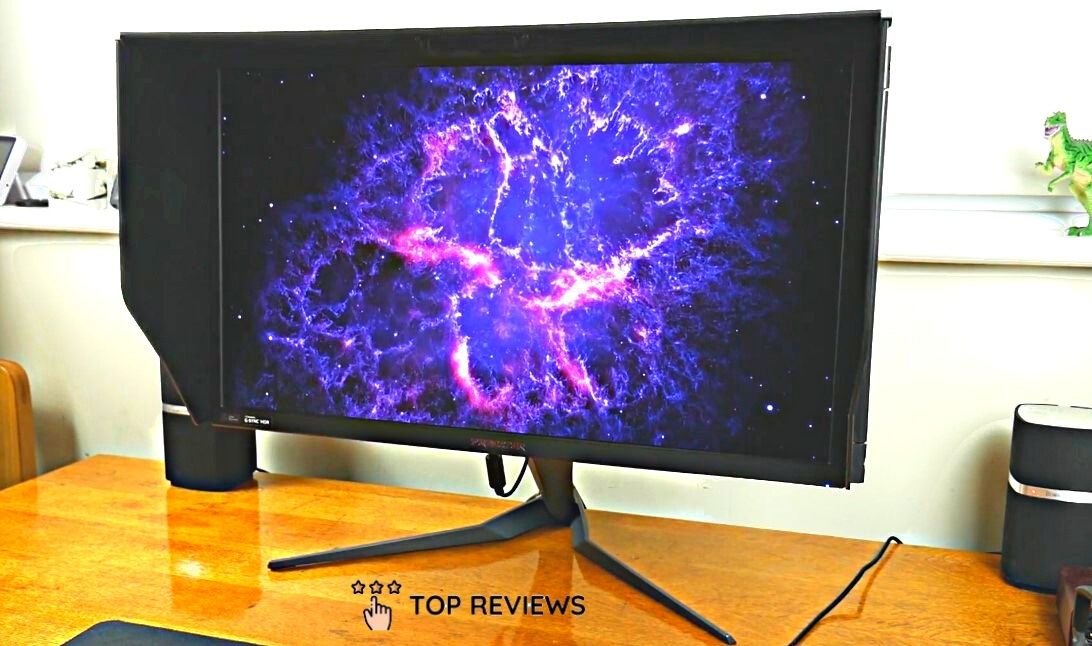 Price: $2299.00
Playing computer games using low resolution monitors is probably one way to piss yourself off. In choosing this kind of product, you should always take into consideration the kind of activity you will be needing them.
Just like this Acer Predator XB273KS 27″ 4K 144Hz G-Sync Monitor which is highly recommended to gamers or people who constantly require high resolution graphics.
It's 27″ panel size is just the perfect size to hype you up while playing games. You can also adjust its height, swivel or tilt it, as you desire.
It has a 4K Max Resolution and DisplayHDR™400 certified to provide 90% DCI-P3 colour gamut, perfect for your all day, all night gaming session. It also make visuals more life-like with its nano-sized dots that emit a specific colour based on their size.
Additionally, Using GameView, there are three game modes to choose from: action, racing and sports. Use the default profile or customise your own to fit your preferences.
Highlights
Maximum refresh rate of 144 Hz

Has Dark Boost for greater details in dimly lit environments.

Ergonomically designed for tilt, swivel and height adjustment.
9. Acer Aspire C24-320 23.8″ FHD A6-9220e 8GB 128SSD 2TB AIO W10Home
Best for All-in-One Desktop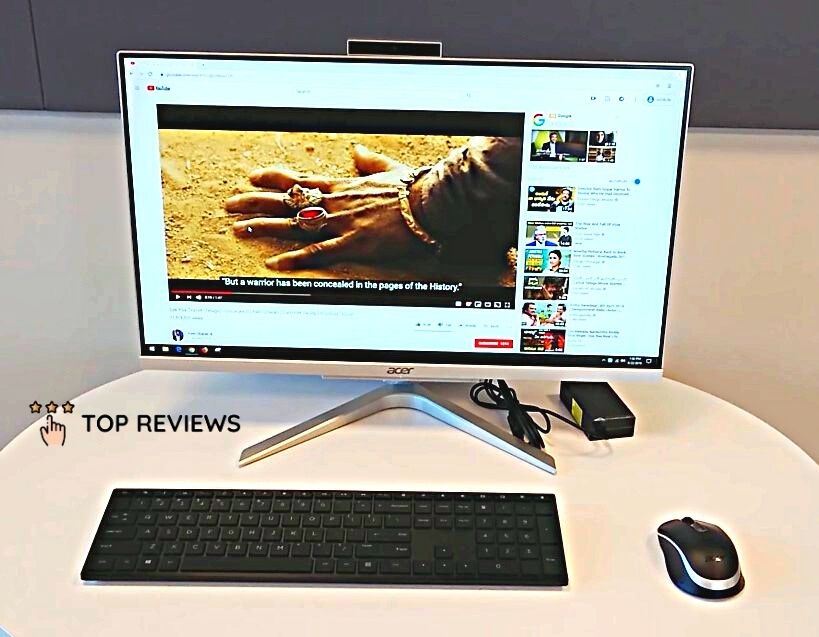 Price: $1,099
Does your old pc make your workload a lot harder because of lost files, slow programs and malfunctioning parts? Maybe it's the right time to change your PC.
With Acer Aspire C24-320 23.8″ FHD, you can enjoy smooth computing and work on a superbly thin device. With its new, innovative features, you can definitely see what you have missed all throughout the years of putting up with your old PC!
Highlights
23.8″ Full HD IPS Non-Touch Display

A6-9220e, 8GB DDR4 RAM

128GB SSD + 2TB HDD

Radeon R4 Graphics

2xUSB2.0, 2xUSB3.1 (Gen 1), 1xHDMI

Windows 10 Home 64-bit


12 Month Return to Base Warranty
In any case, that's a wrap for the best computer monitors in New Zealand! These monitors bring accurate and vibrant colours as well as high refresh rates to your computer setup, giving you the richest display for your enjoyment.
Of those featured here, which monitor did you like the most and why? Tell us… or if you have any other questions or suggestions, you may include them too!
Take note that you can also use any of these monitors to expand the display on your laptop, whether it's a MacBook Air or Dell XPS 13. We've actually written about the best laptops in New Zealand before, so if you want a new laptop to pair with your new monitor, check that out.
But if you really want a powerful PC to plug your monitor into, we'd suggest the best gaming desktops in New Zealand. Having a great desktop model with an astonishing monitor is the best way to make the most of your favourite titles!