The 9 Best Concrete Pavers in Auckland
Paving gives both a decorative and functional touch to your property. If you need someone to pave the way (literally), you're in luck, as we've brought you the best concrete pavers in Auckland in today's list!
For this list, we've restricted our choices to adept, punctual and hardworking pavers that deliver an amazing quality finish! Plus, we looked at ones with great prices and positive customer feedback.
And so without any delay, we now present to you the best concrete pavers in Auckland!
1)  Milford Paving, Concrete, Landscaping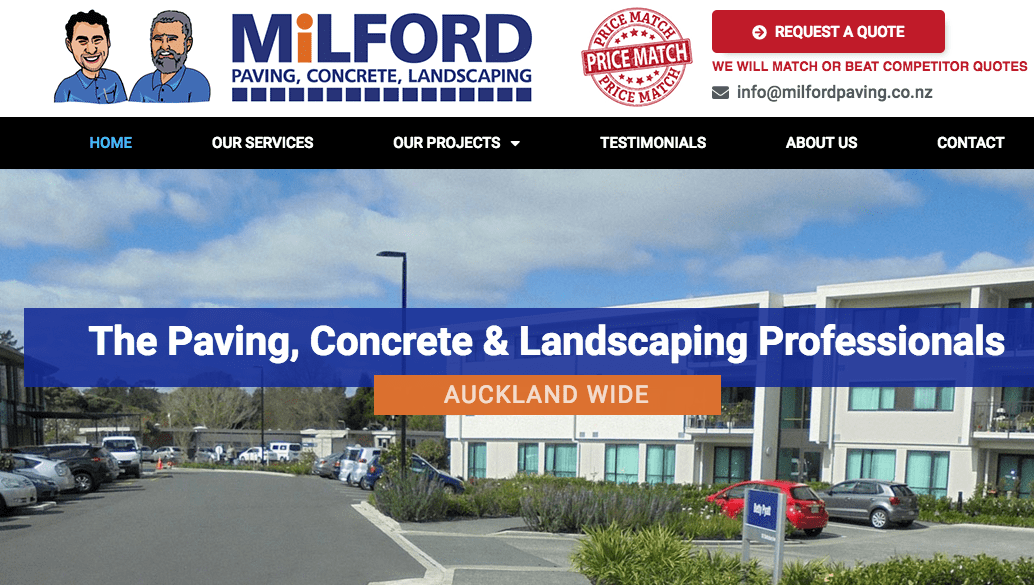 Best for
Amazing Finished Results
Services
Permeable Paving, Residential Pavements and Concrete, Commercial Pavements and Concrete, Streetscapes and Retaining Walls
Address
24 Oakleigh Avenue, Takanini, Auckland 2112, New Zealand
Contact no
09 268 0811

021 289 9030 (Craig Wilson)

Website
https://www.milfordpaving.co.nz/
Planning to do some paving on your patio, garden, or pool area? Call Milford Paving, Concrete, Landscaping! They have done impressive projects over the years for residential and commercial premises.
You can get your quote from them. In it, they will discuss everything you need — costs, design, materials, time frame, etc. They make it a point to always deliver on time and on budget too.
They have highly trained and industrious pavers who will make your place more inviting, and even heighten its value. As such, they are one of the best concrete pavers in Auckland.
Highlights
Gives you a finish that impresses!
Offers a complete range of concrete paving solutions
Decent prices
Adept and hardworking pavers
Customer Reviews 
Here's Jennifer's comment that's posted on their website:
"Thanks for the fantastic job, we are very happy with it. I've actually had bad experiences with tradesmen in the past, so I was very happy with your guys. They showed up every day, worked in the rain, worked hard and cleaned up after themselves…."
2)  Paving Slab Co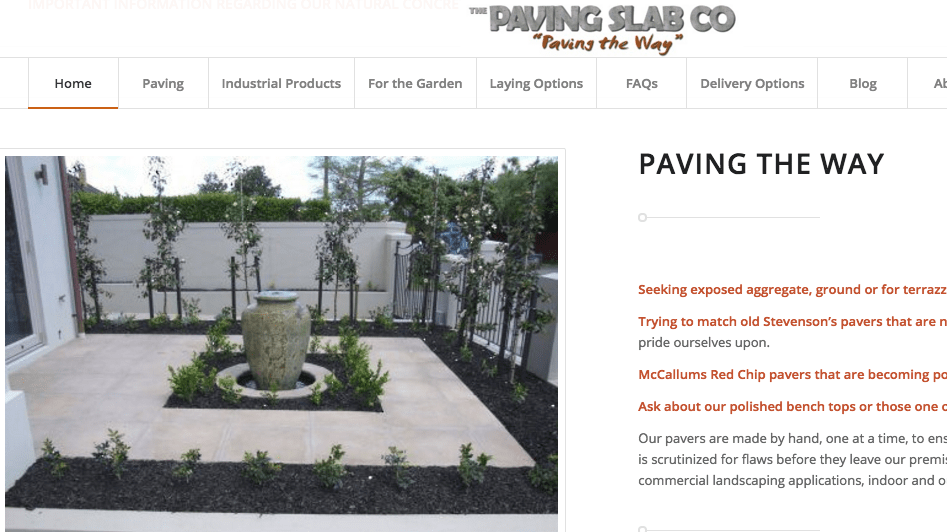 | | |
| --- | --- |
| Best for | Flawless Handmade Pavers |
| Services | Paving, Industrial Products, For the Garden, Made to Order |
| Address | 10 Neilpark Drive, East Tamaki, Auckland 2013, New Zealand |
| Contact no | (09) 2745496 |
| Website | https://pavingslab.co.nz/ |
For paving that makes your outdoor areas look sharp and wonderful, look no further than Paving Slab Co. Their ethos is to supply honesty and helpfulness in the treatment of customers.
Prior to carrying out their work, they inspect every bit of material to ensure they are free of scratches or marks. Paving materials here are all handmade to deliver top-notch quality and texture.
They offer a selection of pavement materials too, such as exposed aggregate, origin, diamond, Bowers, and grass pavers. And for your garden, they have stone feet, tree rings, and concrete spheres — perfect for adding a distinct style.
Highlights
Handmade and pre-inspected paving materials
Reliable and honest tradesmen
Offers a wide selection of pavement materials
3)  Flex Group
Best for

One stop shop – Concrete, Paving & Landscaping – Residential & Commercial

Services
Concrete, Paving, Landscaping, Excavations
Address
Based in Karaka servicing Auckland & Waikato
Contact no
0508 FLEXGROUP (0508 3539476)

09 292 7402

Website
https://flexgroup.nz
FLEX GROUP Ltd was established to provide quality concreting, paving & landscaping. With their strong understanding in construction, a background in consulting and their team of innovative staff, they make the perfect solution for your project. Their teams includes specialist experienced and trained contractors, completely dedicated to ensuring your project is totally secure from the effects of the elements.
They understand that any project can be a stressful undertaking for their clients. Each member of their team understands this and will work with you to ensure that the impact is kept to a minimum whilst ensuring the highest level of quality and attention to detail is maintained.  From the design stage, consent process and through to building, Flex Group can offer you a seamless result.
Highlights
Obligation Free quote
One stop shop
Customer Reviews
Here are some reviews left by previous clients:
"Honest, reliable, on-time & great communication.
The workmanship on the fencing and pavers we had done at our property cannot be faulted.
Thank you James & Josh and to the two fantastic carpenters you had on site doing all the hard yards. These two guys are courteous, hardworking men.
We definitely recommend your company and will refer to family & friends. Thanks on a great result." -Janine McDonald
"We had to get our paving done and got a few quotes but flex group was the most honest and quick turnaround with the initial details. They then continued their excellent service when they actually did the job at a very high standard. The staff were very approachable and polite! I would not hesitate to recommend them or to use them again!" -Priya Sivanesan
"Professional, competitive and work completed to a very high standard. Very happy and satisfied with recent concrete works and courtyard fence. Well done to the flex group team, I highly recommend this company and I'll be certainly utilising their services in the future again too." -Phillip Barca
4)  Stone Paving & Concrete Finishing Ltd.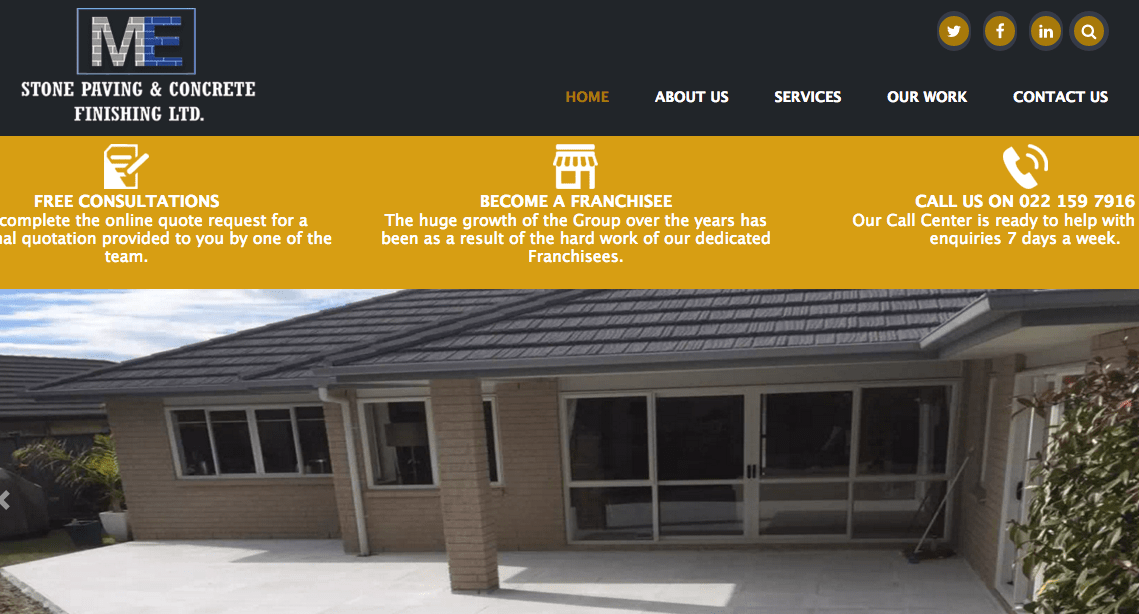 | | |
| --- | --- |
| Best for | Long-Lasting Pavement Quality |
| Services | Stone Paving, Concrete and Granite, Tiling, Plastering and Paint Works, Brick and Site Works |
| Address | 36 Pigeon Mountain Road, Halfmoon Bay, Auckland 2012, New Zealand |
| Contact no | 022 159 7916 |
| Website | https://www.stonepavingconcrete.co.nz/ |
Stone Paving & Concrete Finishing Ltd provides concrete paving, tiling, plastering, and painting services. They can turn your terrace, garden, driveway, pathway and pool area project into a masterpiece!
With a dedicated team and incredible customer support, they are one of the best concrete pavers in Auckland. They have solid experience, having been in the industry for many years.
Their paving materials have the most reliable quality and finishes, being imported from Australia. They also seal them thoroughly to keep them looking fantastic all year round!
Highlights
Materials imported from Australia
Have a team of passionate and experienced individuals
Outstanding customer service
Offers paving, painting, tiling, and plastering services
Customer Reviews
Bye ! left a perfect 5 star review on Google Reviews. He wrote:
"Fantastic, excellent workers and a very hard worker, easy to deal and very honest people, thank you for doing my tiles, and paving, plus concrete in my driveways… will definitely use this company again. Highly recommended!"
5)  By Design Concrete & Paving Ltd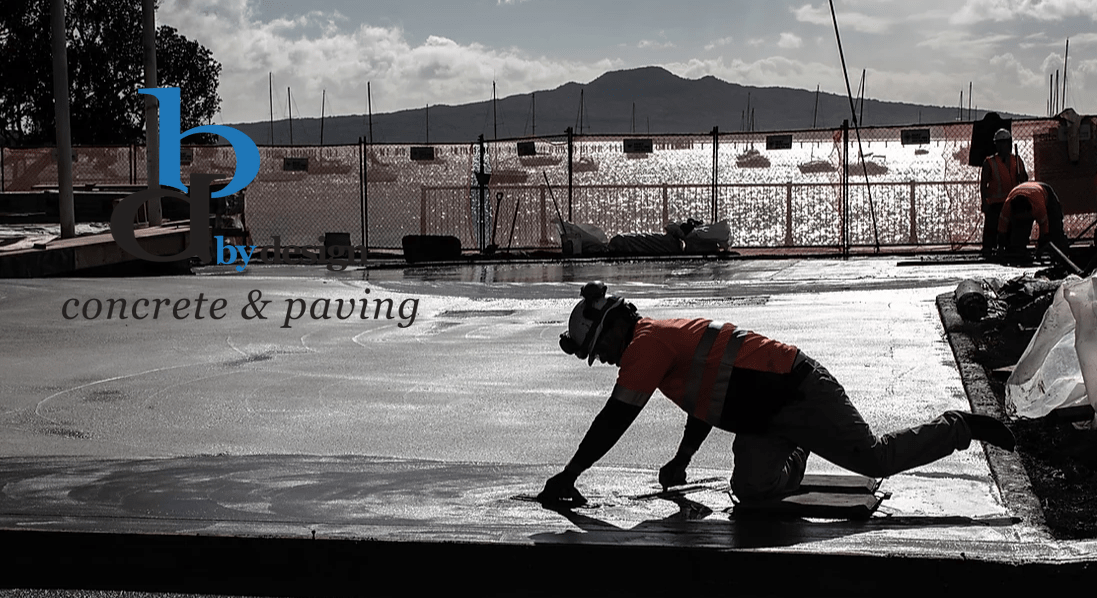 Best for
Commercial Concrete Paving
Services
Paving, Concrete, Retaining Walls, Commercial, Pool Coping, Streetscape and Site Management
Address
5 Vernon Street, Papakura North, Auckland 2110, New Zealand
Contact no
021 34 66 66

09 298 3269

Website
https://www.bydesignconcrete.co.nz/
If you have a commercial venture and need concrete paving assistance, just phone By Design Concrete & Paving.
By Design Concrete and Paving is a locally owned and operated business in Karaka, Auckland, which prides itself on having an exceptional team of professional craftsmen committed to delivering your project on time and within budget.
They can complete the paving for roads, curbs, shop fronts, parking lots, and a lot more. Along with this, they also do trenching to produce durable and beautiful pavement.
The By Design Concrete and Paving standard of work has been recognised this year in the Registered Master Landscapers Awards. In the Residential Projects $150,000+ By Design Concrete and Paving received a Gold Award for a Herne Bay project; a Silver Award for an Ardmore Pool Project, up to $50,000, and another Silver Award for a residential project in Pukekohe in the $50,000 – $150,000 category.
Highlights
Superb workmanship finished on time
Solid experience in commercial paving
Reasonable prices
Site Safe member
Site Wise GOLD member
Customer Reviews
Mark Sands writes a helpful Google Review:
"By Design Concrete and Paving are a great team to deal with very professional in their approach. I had contacted other concrete contractors who all made promises to quote etc but failed to follow through. I had an extension and extra parking bay to an existing driveway completed which looks great. Peter thanks to you and your team for your efforts, I will  certainly recommend your business to others."
6)  Pavemaster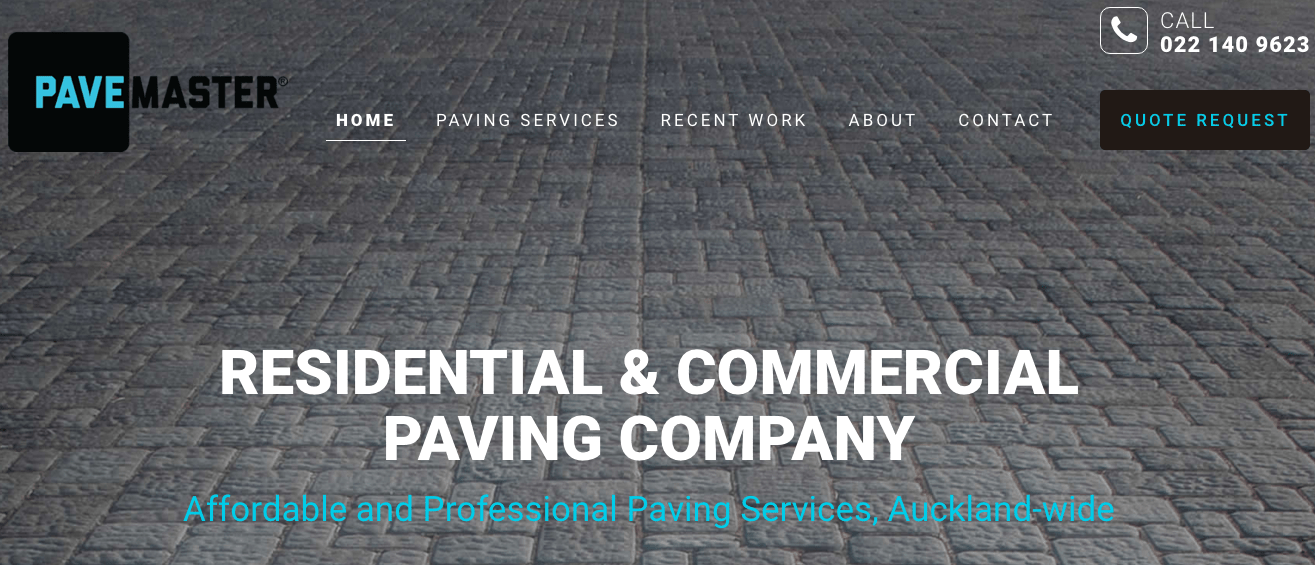 | | |
| --- | --- |
| Best for | Affordable Concrete Paving Services |
| Services | Parking Areas, Paving Relays, Footpaths and Patios, Entrance Ways, Permeable Paving Systems and Driveway Pavers |
| Address | 4a Purchas Road, Hauraki, Auckland 0622, New Zealand |
| Contact no | 022 140 9623 |
| Website | https://www.pavemaster.co.nz/ |
From footpath relays to permeable garden solutions, Pavemaster has you covered! Owner and paver Alistair Grayson can advise you about the best paving to use for your house or workplace.
Formed in 2014, their team is highly skilled and experienced — they always listen well to your needs and requirements. You are guaranteed to have a result you will love!
And more than that, their services are affordable. They have effortless communication and accurate quoting too.
Highlights
Satisfying and guaranteed workmanship
Seamless communication with clients
Highly skilled, reliable team
Affordable paving services
Customer Reviews 
Let's see Matthew Morgan's review on Google:
"Great work , reasonably priced, and a quick turnaround from quote to completion. Owner is a good bloke and friendly  "
7)  Greenroom Projects

Greenroom Projects is a landscaping company that is dedicated to getting the job right, down to the last detail. They specialise in cultivating a healthy garden in their client's location.
Their team is composed of skilled professionals passionate in landscaping. They make sure to give each job the attention it deserves.
In the rare occasion that they make a mistake, you won't need to worry about damages. They have ample security and commercial insurance covering their work.
Highlights
Quality projects
Vast expertise
Passionate and skilled team
Organic consumables only
8) ArmourTech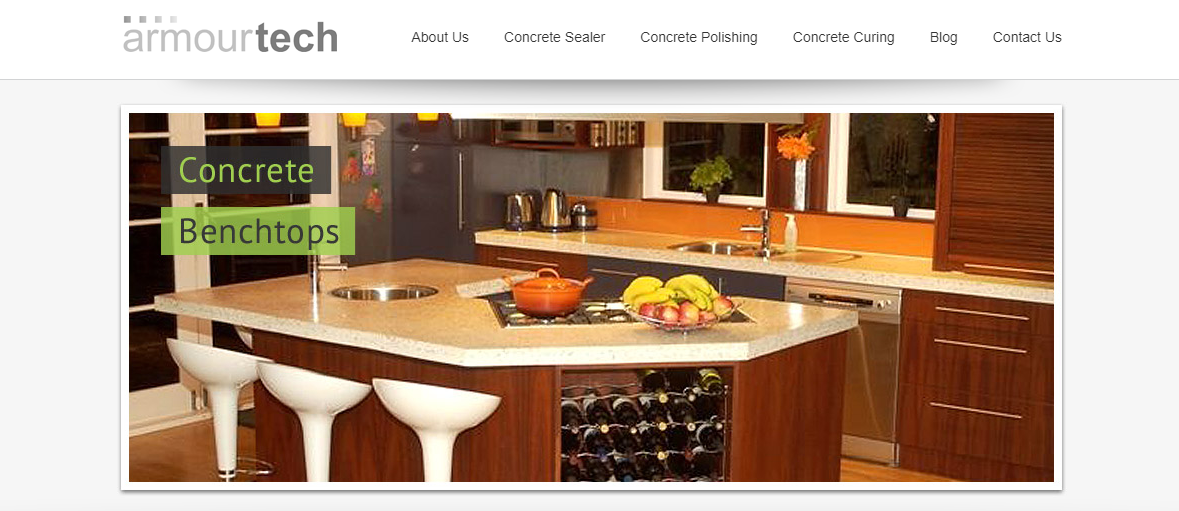 Next on our list is a concrete sealer provider that provides the best product and advise on products for placing sealing and polishing concrete.
Armourtech has been serving the people of New Zealand and South Pacific for over ten years. During that time, the company has been known to provide quality products and service including free advise to those involved in concrete industry, including advise on polishing, curing, and sealing of concrete.
The company has been in the market for over 10 years and their experience in the concrete market and their expertise allows Armourtech to confidently assist any concrete project.
This competence has resulted in many trusting the Armourtech name.
Highlights
Prompt and professional response to all and any queries
Provides free advice to designers, architects, homeowners, builders and tradespeople
The best and environmentally friendly products
9)  Concrete Direct Ltd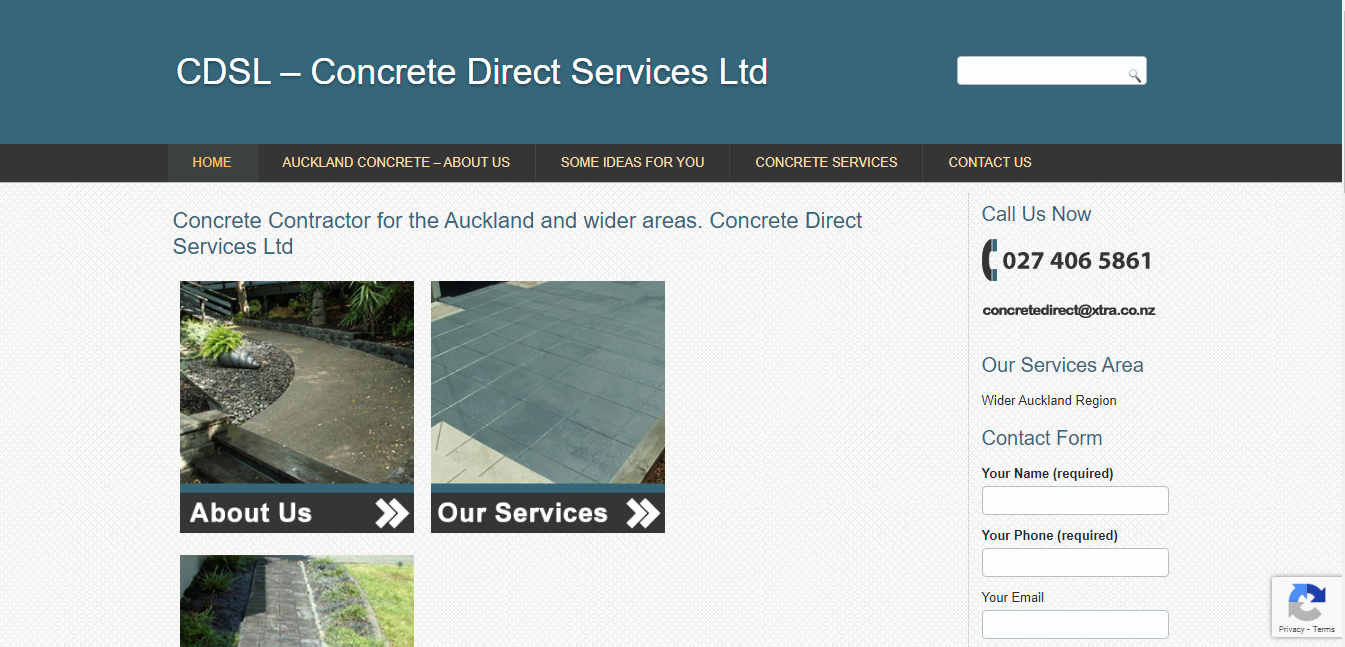 Concrete Direct Ltd is a team of concrete contractors that offers a variety of services just for any concrete necessity that a client need. With over 20 years in the industry, they do not only supply but also customize and even install it.
Clients are presented with several options when it comes to their individual services such as over 150 concrete colors and 20 different concrete mixers from well-known companies.
Only offering standardized services, they are both NZDC and DCNZ Concrete approved which comes to show that they employ only quality products.
Equipment such as concrete sealers are updated to stay on top of the industry and have better finishes for each project that they do.
Overall, their services are very much recommended for residential settings due to their clean finish and accommodating personnel that are family friendly.
Highlights
Recognized and standardized services
Wide variety of color choices
Serves the wider Auckland region
And that's all for the best concrete pavers in Auckland. If you need any sort of paving work done, just get in touch with these exceptional and personable pavers!
Do you like the ones we featured for this list? Tell us all about it, feel free to send us a message, and we will get right back to you in a bit.
At any rate, you may also want to read about the best concrete suppliers in Auckland. They're great resources for this sort of thing too!