The 8 Best Concrete Wellington Contractors
Whether you're just building front steps or a multi-storey rental property, you'll need concrete. For this, we've gathered the best concrete Wellington contractors here to help you out.
We chose the ones who have put together a great resume over the course of their service. Specifically, we picked those who are experienced, knowledgeable, and industrious as well as having the best equipment and fleets.
In addition, we looked at what their past customers had to say. This told us that we were actually right in having chosen the companies for this list.
You can go ahead and browse our selections to see what they can offer you. Without any delay, here are the best concrete Wellington contractors!
1)  Concrete Solutions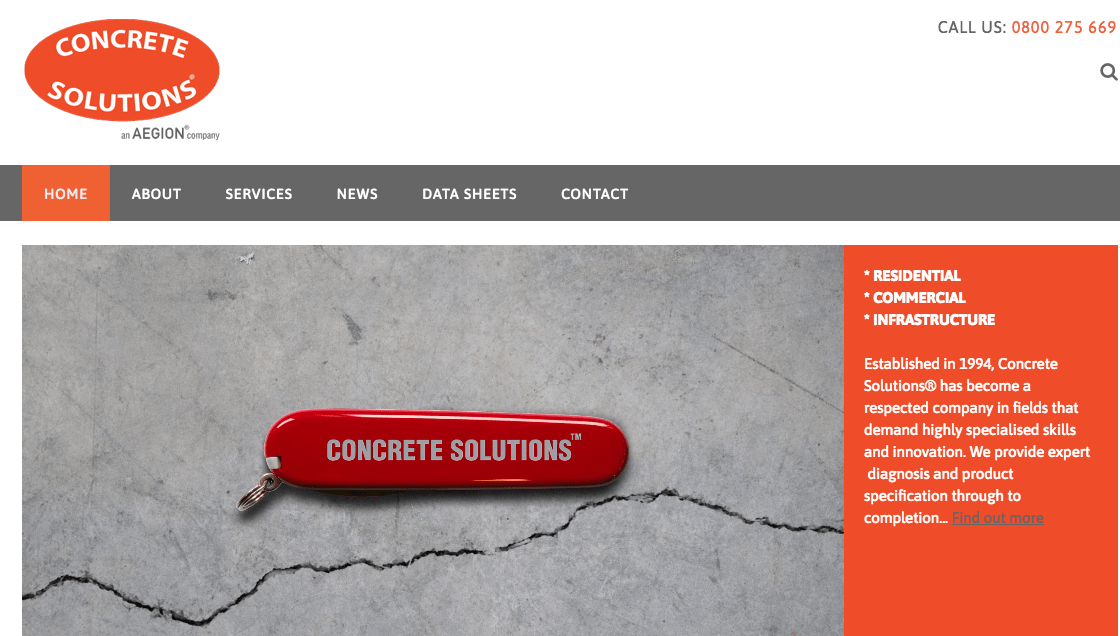 BEST FOR
High Standard Concrete Application
SERVICES
Residential Services

Commercial Services

Infrastructure

WEBSITE
https://concretesolutions.co.nz/
ADDRESS
6E/33 Kaiwharawhara Road, Kaiwharawhara, Wellington 6035, New Zealand
CONTACT DETAILS
0800 275 669
OPERATING HOURS
Monday to Friday: 8.30am – 5pm
To maintain stability and resilience, infrastructures like buildings and bridges need strengthening and maintenance in their concrete foundations after some time.
Concrete Solutions is the answer to that as they offer concrete repair, strengthening, and protection for the industrial, commercial, and residential markets.
Since 1994, they have built a solid reputation in taking on sophisticated and high-profile work. They use only premium concrete brands and products for the very best results.
Some projects that they've worked on are the water ingress in the Waterview Connection tunnel and concrete repair and injection for the Midland Line Railway Bridge.
Highlights
High-quality concrete application
Solid reputation in concrete repair, protection and strengthening
Use premium concrete brands and products
Established in 1994
Customer Reviews
One client, Jo-Ella Sarich, comments on Google Business:
"These guys saved us thousands when we thought our concrete perimeter rim needed replacing – good communication and reasonable costs!"
2)  Reeve Gunite Services (RGS)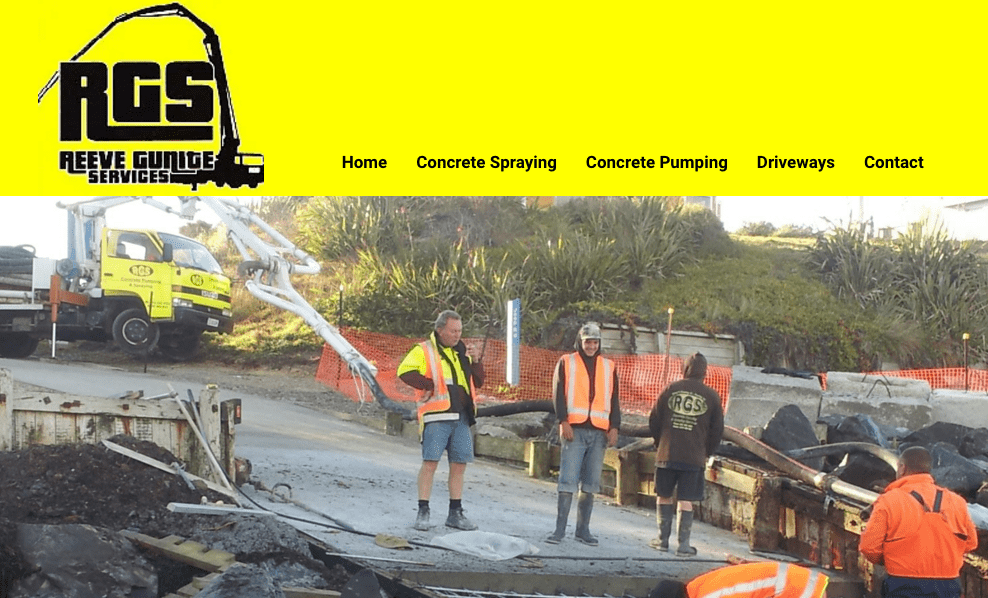 BEST FOR
Concrete Spraying and Pumping
SERVICES
●     Driveway Installation and Design

●     Applying Shotcrete

●     Shotcrete Stabilization to Crumbling Bank

●     Broom Finish Stepping Stones

●     Exposed Aggregate

WEBSITE
https://www.concreteserviceswellington.co.nz/
ADDRESS
41 Westhaven Drive, Tawa, Wellington 5028, New Zealand
CONTACT DETAILS
04 232 4522

0274-480-852

OPERATING HOURS
Available 24/7
For concrete spraying and pumping, you should call up RGS or Reeve Gunite Services. They are family-owned and experts in this field, with over 45 years' experience!
If you need to install a concrete driveway outside your dwelling or a custom-made concrete slab for a construction site, they can surely help.
They also offer other concreting services such as seismic strengthening and installing exposed aggregate and stepping stones for your property.
Their friendly and helpful team uses the latest equipment to be efficient and effective at the task at hand. And they can work throughout Wellington and New Zealand!
Highlights
Specialises in concrete spraying & pumping
Over 45 years' experience
Offers a wide range of services
Friendly and helpful team
Customer Reviews 
Here's the review from Scott Tiffenone, one client, on Google Business:
"These guys came and did a small pump and place job for me. Job was excellent and the crew on the job were competent and friendly guys. Would definitely give them a call again in the future."
3)  Precision Concrete Pumping & Spraying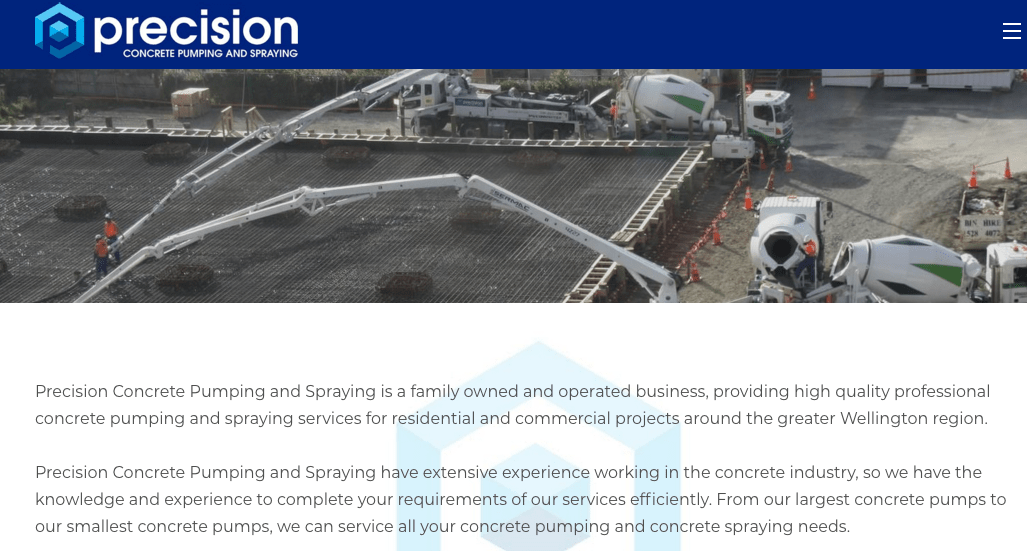 BEST FOR
Top-Notch Concreting Services
SERVICES
Residential

●            House slabs

●            Driveways

●            Footings

●            Foundations

●            Concrete spraying banks for retaining

●            Post holes

●            Footpaths

●            Patios

●            Retaining Walls

●            Garage Slabs

●            Block Filling

●            Exposed Concrete Aggregate

●            Concrete Cutting

Commercial

●            Multistory buildings

●            Roading and Infrastructure Works

●            Civil Engineering Projects

●            Industrial Buildings

●            Schools

●            Shopping Centres/Supermarkets

●            Warehouses

●            Retirement Complexes

Seismic Strengthening

WEBSITE
https://precisionconcrete.co.nz/
ADDRESS
Wellington, New Zealand
CONTACT DETAILS
+64 4-477 4773
OPERATING HOURS
Available 24/7
Precision Concrete Pumping & Spraying is dedicated to providing top-notch concrete placing, pumping, and spraying for commercial and domestic settings alike.
They offer an extensive range of services, from building house slabs to concrete cutting. Their fully trained, professional crew are there to ensure the work is done to an excellent standard.
Also, they have a modern fleet of concrete boom pumps and concrete line pumps to finish your concreting efficiently and within your timeframe.
Certainly, this is one of the best concrete Wellington contractors you can call!
Highlights
Top-notch workmanship & service
Modern fleet of concrete boom pumps and concrete line pumps
Professional and fully trained crew
Extensive range of services
4)  Pavecrete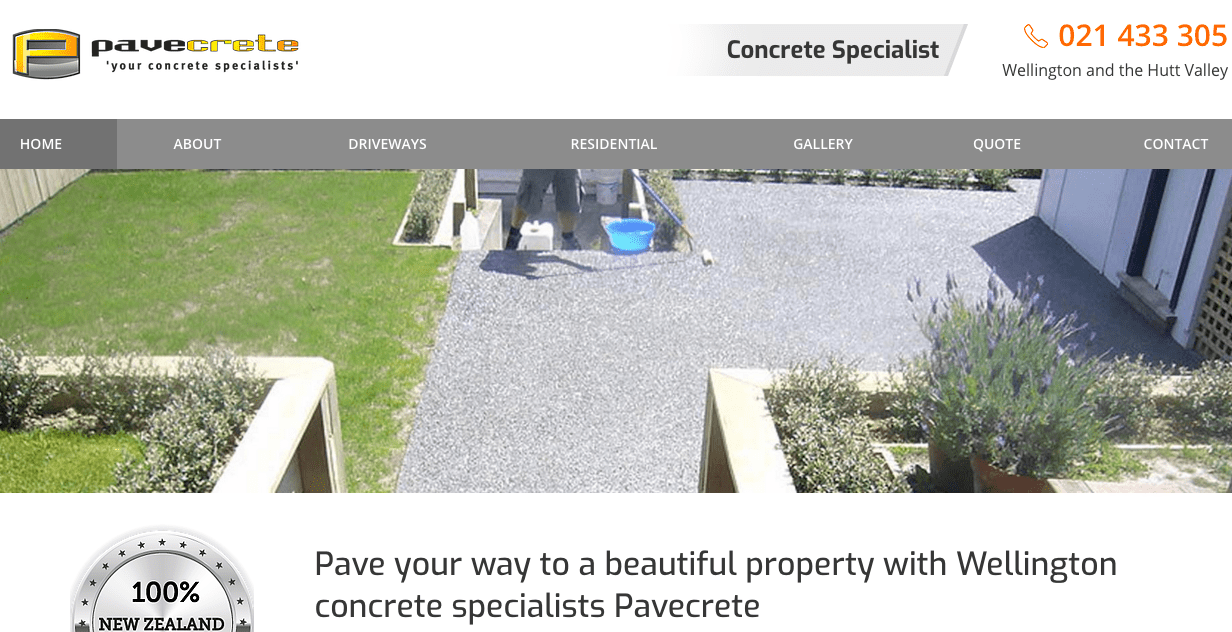 BEST FOR
Stylish Concrete Driveways
SERVICES
Driveways

Residential Paving

WEBSITE
https://www.pavecrete.co.nz/
ADDRESS
Wellington, New Zealand
CONTACT DETAILS
021 433 305
OPERATING HOURS
—
If you'd like to add a concrete driveway matching your home's colour or keep your garden tidy and pleasing, then you should get in touch with Pavecrete!
They are proudly NZ-owned and operated, and they also provide residential concreting of your patio, footpath, driveway, garden, pool, or even house slab.
They have a range of styles you can pick from, including plain, colour, aggregate, and stamped concrete.
More importantly, their team has more than 30 years of experience. And they always go over and beyond their service in order to ensure you are happy with your new paving!
And for that, you can say that they are one of the best concrete Wellington contractors! 
Highlights
NZ-owned and operated
Range of concrete paving styles to choose from
More than 30 years of experience
Go the extra mile to satisfy their clients
5)  Tidy Slabs Ltd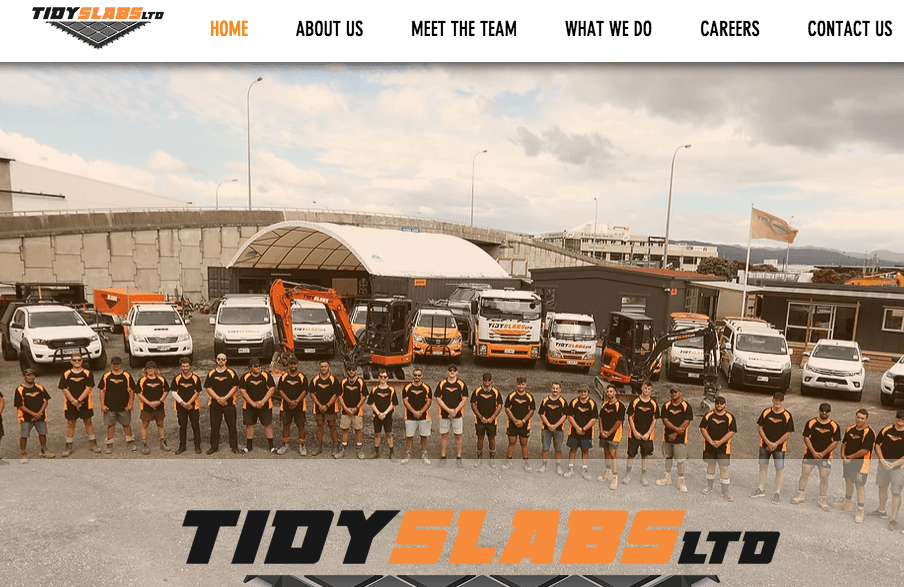 BEST FOR
High-Volume Concrete Foundation Work
SERVICES
Design Assessment and Tendering

Earthworks

Construction

WEBSITE
https://www.tidyslabs.co.nz/
ADDRESS
7 Pito One Road, Korokoro, Lower Hutt 5012, NZ
CONTACT DETAILS
0800 83 75 22
OPERATING HOURS
Monday to Friday: 7am – 4.30pm
Tidy Slabs specialises in building concrete slabs and can handle slab projects from initial planning to completion.
This means that they can handle council inspection and service installations, and everything else that may be involved, letting you focus on other important concerns.
Their experienced and well-equipped team will get you high-quality, consistent results, every time. They are driven by their values and aim to be the best concrete Wellington contractors.
So what you'll be getting is a full end-to-end service that has reliable and consistent quality.
Highlights
Specialises in building concrete slabs for houses or buildings
High-quality, consistent results
Experienced and well-equipped team
Full end-to-end service
Customer Reviews
Rachael & Andy from A1 Homes Wellington shares on the website:
"We have been using Tidy Slabs since starting our own building company 2 years ago. Andy and Tidy Slabs are first class to deal with and deliver a quality product on time – you can see they are at the top of the game and always looking for ways to improve. The guys out on site are great to deal with as well. I would highly recommend the Tidy Slabs crew for all your foundation needs."
6)  Apex Concrete Cutters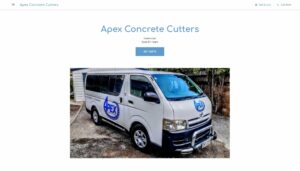 Apex Concrete Cutters is a company with over twenty years of combined experience in the industry. They offer concrete cutting, drilling, and sawing services.
They're also a level 3 certified master concrete cutter. You can rest assured that their services are top-notch– perfect for any home renovation projects.
Highlights
Over 20 years of experience
Level 3 certified master concrete cutter
7)  Suck & Seal

BEST FOR
Concrete Sealing
SERVICES
Concrete Sealing
Concrete Cutting
Sucker Truck
Water Blasting
WEBSITE
https://reviveconcrete.co.nz/
ADDRESS
Berhampore,
Wellington 6023
CONTACT DETAILS
021 153 4307
OPERATING HOURS
N/A
Suck & Seal provides the complete set of concrete solutions and cleanups. They are capable of serving clients in both commercial and industrial settings.
Their professional team of experts deliver only the best when it comes to their work. You can rest assured that any concrete work you have them do will be done according to how you want it.
Highlights
Over 10 years of experience
Free quote available
8) KCC Limited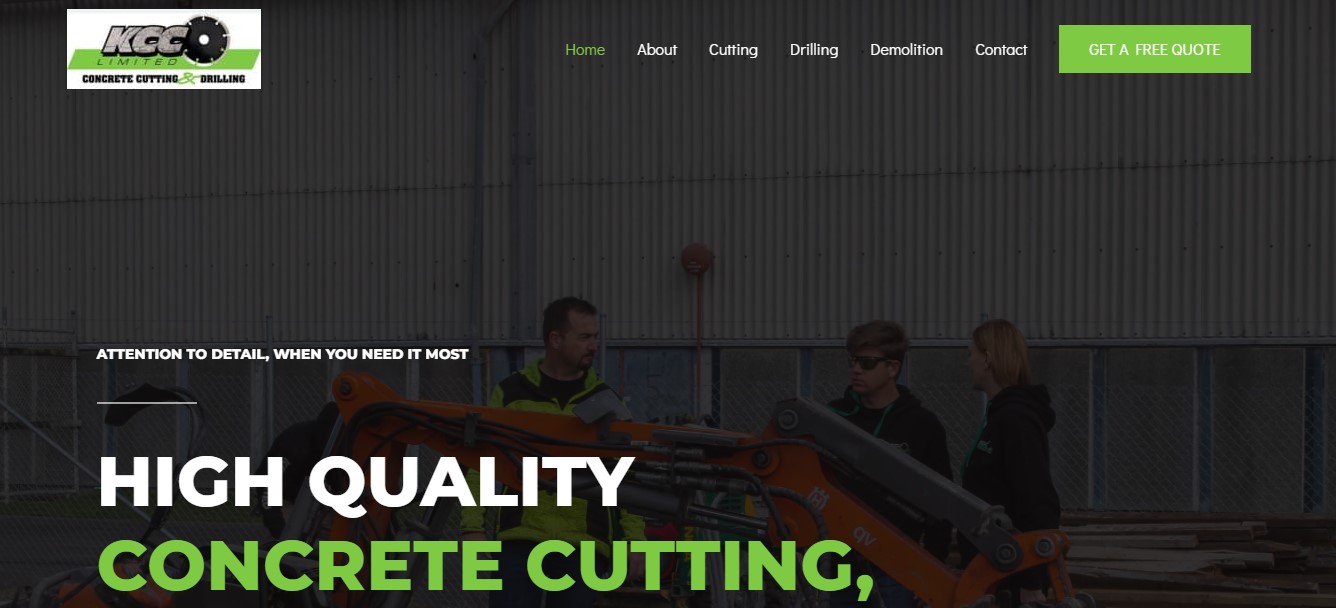 KCC Limited has only been in service since 2016. But you will be surprised when we tell you that they have at least 54 years of combined experience in the industry.
Since there is no tool that fits all jobs, they are one of the few companies that have a wide range of sawing styles for concrete cutting. Some of these are wire sawing, wall sawing, floor sawing, and different types of hand sawing.
Just by knowing this, we can tell that you are already in good hands as they will use what tool will fit the most for the project.
Similar to others, working with concrete will result in a mess. But with them, as much as possible, they try to clean the work site before they completely finish in order to keep both client and workers safe.
The only catch here is that their base rates are unavailable on their website so if you want to know how much you need to spend for your project, you may get a free and no-obligation quote from them.
Highlights
Free quote available
Certified SiteWise partner
And there you have it for the best concrete Wellington contractors! When you need remarkable concrete work done, you can contact the ones we've listed here.
Do you have any questions regarding our topic today? If you have one, just drop us a line and we'll get right back to you.
Other than that, check out our other building and design lists. For instance, you can try the best fencing Wellington contractors to get privacy and a safer and more secured home.