The 5 Best Contact Lenses in NZ
Planning to buy a pair of contact lenses? If so, we have you covered, as we've listed our top picks for the best contact lenses in NZ here for you.
But since buying the right contact lens can be difficult, we wrote a guide to help you pick from our chosen products later on. So without any further ado, let's proceed!
How to Buy Contact Lenses
Here are the things you need to consider when buying a contact lens:
1) Contact Lens Type
The following are the various types of contact lenses:
Daily – Also referred to as daily disposables or dailies. These are comfortable to wear and have less buildup of dirt, protein, and bacteria clinging to the lens.
Hence, this makes for an excellent choice for those with allergies and dry eyes.
Bifocal – These use two lens powers for each eye. These optics are useful if you've lost the ability to focus on different distances (presbyopia) due to age.
Multi-focal – This type of lens corrects your eyes to see at both near and far distances. Multi-focal lenses are a popular choice for people aged 40 and up.
Toric – Toric contact lenses are designed for astigmatism and short and long vision deficits. These use 2 optical powers that are perpendicular to each other.
Coloured – Coloured contacts add colour to your iris to change your look for a special event or party. These can either be vision-correcting or not.
Hard – Hard or RGP contacts (Rigid Gas Permeable) cater to people with most vision problems, including dry eyes. These are hard, durable, and more breathable than soft lenses.
2) Oxygen
When you buy a contact lens, you have to know its oxygen level. The more oxygen that gets through to your cornea, the more comfortable the lenses feel on your eyes.
Also, a higher oxygen level makes the lens more durable and healthier for your eyes as opposed to those with lower breathability, which cause dryness and discomfort.
3) Water Content
Contact lenses are partly made of water. Different lenses have different water content.
Thicker lenses have 50 per cent or more water in them, while thinner ones have 50 per cent or less. For comfort, you should opt for lenses with 40 per cent or less water.
If your eyes frequently become dry in the day—probably because you're in front of the computer for hours—thinner lenses are for you since these stay moist for a longer duration.
4) Fit
Before you seek contact lenses online, it's best to consult with an optometrist, as they can conduct eye exams and lens fitting, and give you your prescription.
Without a prescription, you might pick a contact lens that doesn't fit your eye or its condition. It'll be a hassle to return it to the online store you bought it from!
5) Change frequency
Compared to long-term lenses, a lot more people are using disposable lenses.
The reason for this? Since disposable lenses are used for just a day and discarded, they get fewer deposits, which can irritate your eyes.
Other than a daily disposable lens, you can find lenses you can use for 2 weeks, 1 month, or 3 months before you dispose of them.
The Best Contact Lenses in NZ
Now that you know how to buy a contact lens, here's our list of the best contact lenses in New Zealand!
1) Acuvue Oasys Contact Lenses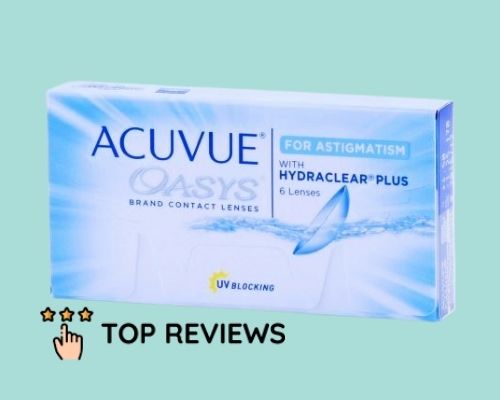 | | |
| --- | --- |
| Best for | People with astigmatism |
| Lens type | Toric |
| Water content | 38% water |
| Quantity | 6 lenses |
| Base price | $61 (inclusive of GST) |
Astigmatism causes a vision-doubling effect on objects both near and far. This problem is caused by an uneven curvature of a person's eye or cornea.
To deal with astigmatism, the Acuvue Oasys for Astigmatism lens is an excellent product!
It features Eyelid Stabilisation to keep your lenses from falling out and rotating as you blink and has UV protection to protect them from sunlight—making it great for an active lifestyle.
Also, it has 38% water content to make the lenses smooth and comfortable to wear. The pack comes with 6 lenses, which you can use for 2 weeks.
Designed for astigmatism
UV-light protection
Stable and comfortable to wear
Can tear easily if the lens gets dry
Customer Reviews
While some complained of the lens being fragile and quick-drying, most customers said that the lens was comfortable to wear and corrected their vision problems.
One user named Jackie wrote a comment on the toric lenses:
"I have tried several different brands of contacts in the past but none of them compare to the Acuvue Oasys for Astigmatism. I can wear my contacts for 12 or more hours and they never dry out."
Another customer shared how the lens had been for him:
"I've been wearing these lenses for years and have been really pleased with them – the only lenses that fit well, provide the needed correction without too much rotation and are comfortable. Grateful to have been able to order through lens.com and save a considerable amount!"
2) Bausch and Lomb Ultra for Presbyopia (6-Pack)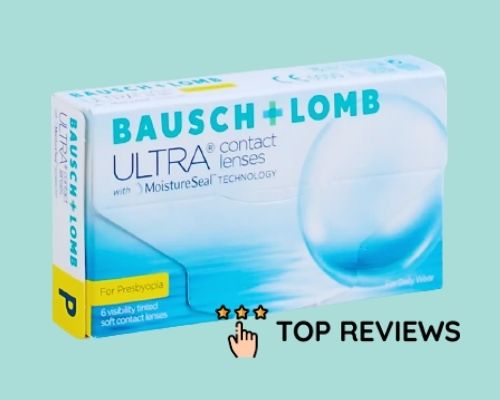 | | |
| --- | --- |
| Best for | Multifocal lenses |
| Lens type | Multifocal |
| Material/water content | 62% silicone hydrogel (samfilcon A), 38% water |
| Quantity | 6 lenses |
| Base price | $89 |
If you have presbyopia or close-distance vision loss due to age, the Bausch and Lomb ULTRA contact lenses might be for you.
The box has 6 multifocal lenses inside, which helps your eyesight to see near, middle, and far objects clearly. These are silicon hydrogel advanced soft contact lenses.
With MoistureSeal and 3-Zone Progressive technology, the contacts are breathable and comfortable to wear, even if you spend many hours in front of the computer every day.
Aside from that, you can choose from 2 powers that fit your eye health and condition. But you have to consult with a specialist first to know your prescription before you buy.
Clear near and far vision
Comfortable and breathable lenses
Available in a variety of options
3) Biofinity Energys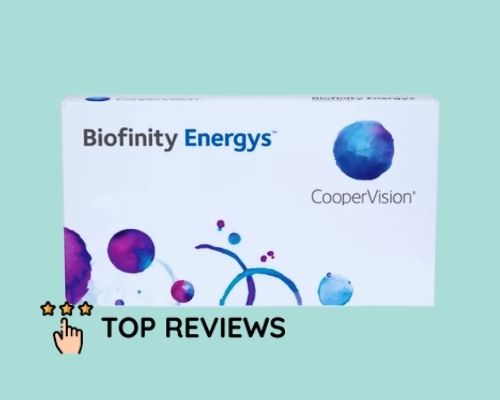 | | |
| --- | --- |
| Best for | Contact lenses for using digital devices |
| Lens type | Monthly |
| Material/water content | Comfilcon A, 48% water |
| Quantity | 3 lenses |
| Base price | $54 (inclusive of GST) |
Our eyes can get pretty dry when we type away at the computer for hours. For this, one of the best contact lenses in NZ you can get is Biofinity Energys.
Featuring Aquaform Technology, the contacts keep your eyes moist and comfortable, even when you aren't blinking as much because you're focused on the screen.
The lenses make it easy to shift between your online and offline activities without your eyes feeling heavy and fatigued, thanks to the Digital Zone Optics.
You can use each of the 3 contact lenses for a month before throwing it away. Also, the price is reasonable and you can order again before you've used all of them.
Great to use for your work
Monthly disposable lenses
Comfortable and breathable
Reasonable price
A bit harder to remove from the eyes
Customer Reviews
You can wear the Bioinfinity Energys lenses for up to 29 hours extended wear—and even as you sleep (however, you would need to have your optometrist's approval).
At any rate, most of the buyers have been impressed with it since they felt comfortable all day without their eyes getting dry and got value for their money.
Here's Annie's comment about the contacts:
"So far so good. My eyes don't get so dry and because of the nature of my work I prefer extended wear contacts. All good after a night's sleep – clear vision and not too dry. I am ordering these again."
Also, here's a review from another customer:
"I work with a computer all day for long hours. By 9pm, my eyes are dry but that's a good go considering the heavy demand."
4) Precision 1 Daily Contact Lenses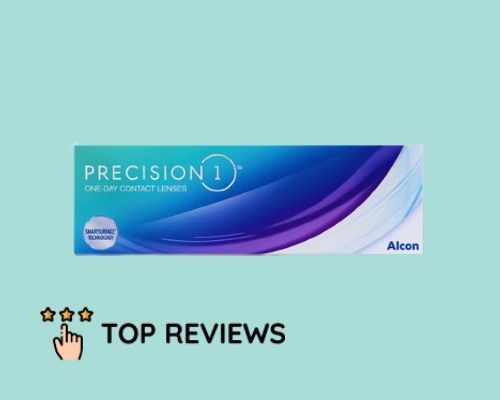 | | |
| --- | --- |
| Best for | Daily contact lenses |
| Lens type | Daily |
| Material/water content | Verofilcon A, 51% water |
| Quantity | 30 lenses |
| Base price | $41 (inclusive of GST) |
Alcon's Precision 1 offers pioneering water-gradient contact lenses. The lens has 51% water content at the core and steps up to over 80% at the outer surface.
How does this work? Well, the material of the lens allows more moisture to be pulled toward the surface of the lens to hydrate it.
Having more moisture means that the lens can be worn with exceptional comfort. It gets even better from there, delivering clear vision and easy-handling for the wearer.
Aside from that, the Precision 1 is great for those on a budget for a month's supply of daily contact lenses. Considering its excellent features, it's great value for money!
Great comfort
Moisture-retaining lens
Easy to handle
Affordable
Not available in multifocal or toric lenses
Hard to remove
Customer Reviews
Although some complained of the lens as being hard to remove, most of them were happy about it, saying it was comfortable and remained moist throughout the day.
Check out this feedback from a satisfied customer:
"Struggled with acuvue moist contacts falling out and moving around too much in my eyes. Precision 1 is a perfect fit; they don't move around in my eyes, don't fall out when I blink, stay moist all day, are very comfortable, and are easier to put in and take out than my old contacts. 110% happy with the decision to try Precision 1!"
Also, another customer named Tanny remarked:
"Super comfy lenses. wearing'em for 12 hours. no problems. Best lenses i tried so far."
5) Air Optix Colors Contact Lenses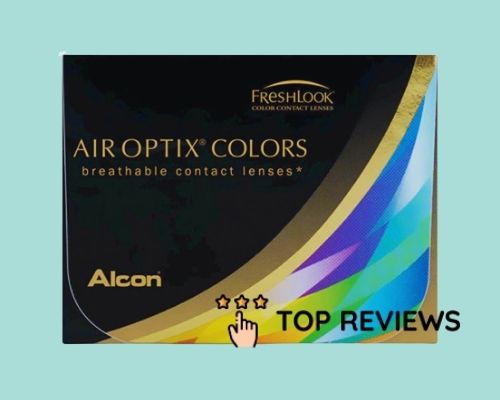 | | |
| --- | --- |
| Best for | Colour contact lenses |
| Lens type | Colour |
| Material/water content | Silicone hydrogel |
| Quantity | 2 lenses |
| Base price | $46.50 (inclusive of GST) |
With Air Optix Colors contact lenses, beauty is indeed in the eye of the beholder. It allows you to change how you look with 9 stunning lens colours to choose from.
These include blue, brilliant blue, brown, grey, sterling grey, green, gemstone green, honey, and pure hazel.
However, an eye-colour change isn't the only thing that this pack offers. It also has comfort and lens protection for the entire month.
To be more specific, the lens features the unique SmartShield Technology, which provides a barrier against deposit buildups on the lenses to prevent irritation to your eyes.
Breathable and comfortable
Lens buildup protection
9 colours to choose from
Expensive
Can feel uncomfortable after a few hours
Customer Reviews
Except for some complaints about the discomfort after hours of use, the Air Optix Colors lenses are fun to use, according to some customers.
Let's see what Charis has to say about the Air Optix Colors:
"Nice coloured contacts. Can be quite uncomfortable after a few hours, but I do have very sensitive, dry-prone eyes and I'm sure if you carry some drops around with you, you should be okay. I have very dark brown eyes (not black looking though), and the colours really pop on them whilst still looking natural. My favourites are "Sterling Silver", "Gemstone Green" and "Blue". These complement my medium brown skin-tone amazingly. I tried "Brilliant Blue" but it looks too fake on me; may suit someone with a White/Paler skin tone. Overall, I 100% recommend :)"
And here's another buyer's feedback:
"Air optix colors are comfortable to wear. Forgot to take them out once and it worked well, glad I had no issues. Great color, blends with my eyes. I chose the brilliant blue."
FAQS about the Top Contact Lenses in NZ
---
And there you have it for the top contact lenses in NZ. You will not only feel light and comfortable but will also improve your vision greatly while wearing them.
Has everything been clear so far about our list? If you have any questions, kindly drop us a line and we'll get back to you in a jiffy.
Also, you may want to check out the best optometrists in Auckland. They can measure your eyesight and provide you with the right corrective glasses or contacts.