Image credit: NZ Herald
By Tony Wang
Want to learn to cook a satisfying recipe or just explore your culinary interests? No problem! We've listed the top schools for the best cooking classes in Auckland here.
We rounded up the schools that have fantastic teachers as well as fun and enjoyable classes. Apart from this, we picked those that prepare the newest and freshest ingredients for you to cook.
If you're ready, here are the premier schools for the best cooking classes in Auckland!
1)  Sachie's Kitchen

BEST FOR
Asian cooking classes
SERVICES
Cooking Classes

Corporate and Group Events

Sachie's Meal Kits

WEBSITE
https://sachieskitchen.com/
ADDRESS
Suite 1.4, Axis Building, 91 St Georges Bay Road, Parnell, Auckland, New Zealand
CONTACT DETAILS
+64 9 302 7680
OPERATING HOURS
Monday – Sunday: 12.00 AM – 11.30 PM
Sachie's Kitchen is an award-winning, leading cooking school based in Parnell, Auckland. Sachie is committed to teaching the cooking styles of Asia and the Pacific.
This includes authentic Japanese, Malaysian, Chinese, Vietnamese, Indian, and Pacific dishes. You will learn exciting, fun and interesting lessons straight from Sachie herself!
You can choose one style and book with them by phone or online. Also, if you want to start your cooking, Sachie's easy-to-prepare meal kits are perfect.
Recognised by the NZ Herald, Sachie's Kitchen is certainly one of the top schools for the best cooking classes in Auckland.
Highlights
Award-winning cooking school
Teaches Asian culinary styles
Exciting and fun lessons
Also offers easy-to-prepare meal kits
Customer Reviews
Vivian Kassapakis wrote her feedback of Sachie's Kitchen below:
"Just has the best afternoon at Sachie's Kitchen as a team activity and what a terrific afternoon it was. Team building and cooking and simply having loads of fun. Easy instructions and support and building confidence in cooking!
Chef was incredible and made it look so easy!Loved our session and would totally recommend/ We were visiting from Australia and simply had a ball! They also sell ingredients and kits!! And great to see they take Amex!!!"
2)  AFM Seafood School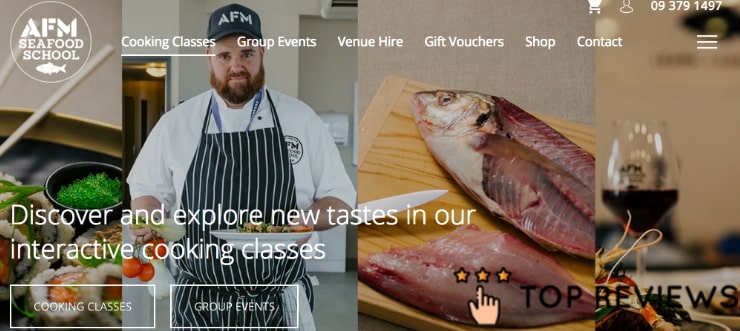 BEST FOR
Interactive seafood classes
SERVICES
Cooking Classes

Group Events

Venue Hire

Gift Vouchers

WEBSITE
https://aucklandseafoodschool.co.nz/
ADDRESS
Level 1, Auckland Fish Markets, 22 – 32 Jellicoe Street, Freemans Bay, Auckland 1010, New Zealand
CONTACT DETAILS
09 379 1497
OPERATING HOURS
Monday – Friday: 9.00 AM – 5.00 PM
If you want to learn to prepare a special seafood dinner for your wife or a gourmet Sunday lunch for your family, AFM Seafood School comes highly recommended.
Located at the Auckland Fish Market, they are in touching distance of the freshest and most seasonal seafood for you to use in your cooking classes.
You can take your pick from their range of classes such as Seafood Grill, Spanish Seafood Tapas, Italian Seafood Lunch, Caribbean Lunch, and many more.
The classes are all about carpe diem 一 you can learn, laugh, and cook with other food lovers or chefs-in-the-making. Gift vouchers are available as well.
Highlights
Entertaining, fun and worth-it classes
Remarkable teachers
Have fresh and seasonal ingredients
Gift vouchers are available
Customer Reviews
Here's what Vanessa Adams said about AFM Seafood School:
"Great night out at the Auckland Seafood School. What a fun way to learn from the best, cook up a storm and enjoy a delicious meal without having to do the prep or cleaning up! Highly recommend this experience!"
3)  Raffaela Delmonte Al Dente

BEST FOR
Group Italian cooking classes
SERVICES
Cooking Classes

Team Building Events

Wedding Villa Hire

WEBSITE
https://aldente.co.nz/
ADDRESS
20 Glenvar Ridge Road, Long Bay, Auckland 0630, New Zealand
CONTACT DETAILS
+64 21 213 9111
OPERATING HOURS
—
Always loved eating Italian food? Now you have the chance to learn to cook it for your friends and family with Al Dente.
Here, you get to explore Italian culture and cuisine with Raffaela Delmonte as your teacher. Classes are conducted by group at the rustic Villa Romantica with a scenic view of the Tiritiri Matangi island.
Most ingredients that she uses are certified organic from Ceres and the vegetables and herbs are freshly picked from her garden, making for a really delicious Italian meal.
After the class, you can enjoy the friendly atmosphere of the place and dine together either in the nice gazebo or living room depending on the weather.
Highlights
Talented chef
Wonderful location
Organic and fresh ingredients
Convivial atmosphere
Customer Reviews 
Brian Kent-Smith wrote a review about his student experience at Al Dente: 
"I arranged a cooking class for my wife's birthday. The hosts were lovely, taught us lots and the food was delicious. We all had lots of fun and would definitely do it again."
4)  Vaniyé Patisserie

BEST FOR
Dessert cooking classes
SERVICES
Demonstration Cooking Classes

Hands-On Cooking Classes

Privatised Baking Classes & Team Building

WEBSITE
https://www.vaniye.com/pages/cooking-classes
ADDRESS
1/7 Windsor St, Parnell, Auckland, New Zealand
CONTACT DETAILS
+64 (0) 204 179 1296
OPERATING HOURS
Tuesday – Saturday: 8.00 AM – 4.00PM

Monday – Friday: 9.00 AM – 5.00 PM (delivery)
Whether you want to make muffins, cakes, French macarons, or ice cream, Sonia Haumonté's masterclasses have you covered.
She will helm the classes, which are focused on skilfully using baking equipment and utensils to create modern irresistible French desserts.
Having trained in Le Cordon Bleu Paris, Sonia has crafted exquisite pastries and sweets for a number of Michelin-starred restaurants. That's why Vaniye is among the top schools for the best cooking classes in Auckland!
You can choose to have a demonstration or hands-on class held at different venues in Auckland. Her class is also a great activity for company team-building events.
Highlights
French desserts cooking class
Internationally experienced teacher
Offers a demonstration or hands-on class
Customer Reviews 
Here's a great review from Bea Marquette about Vaniyé Patisserie:
"A perfectly delightful class taught in a dream kitchen. The pastries made with Sonia's expert guidance were outstanding. What more could anyone ask?"
5)  Emily's Greek Kitchen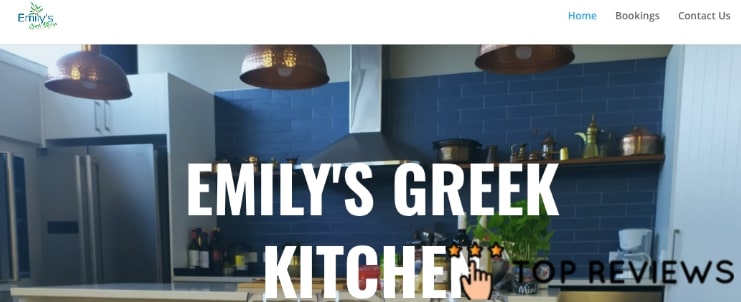 BEST FOR
Authentic Greek cooking classes
SERVICES
Cooking Classes

Events

Private Hire

WEBSITE
https://emilysgreekkitchen.co.nz/
ADDRESS
7/25 Anzac Road, Browns Bay, Auckland 0630, New Zealand
CONTACT DETAILS
0800 473323
OPERATING HOURS
Monday – Friday: 9.00 AM – 6.00 PM

Saturday: 9.00 AM – 5.00 PM

Sunday: 9.00 AM – 3.00 PM
Emily's Greek Kitchen offers cooking classes for authentic and delectable Greek cuisine. It's located just upstairs from the Greece Shop in Browns Bay, Auckland.
The classes are hands-on and will teach you the techniques and methods for cooking a particular dish using fresh, traditional ingredients.
However if you are more about enjoying the food rather than cooking, they have suitable options for diners as well, including takeaway.
There are also special Greek events here such as backgammon or tavli, Greek nibbles, and wine-tasting. You can just check the calendar on the website and book there.
Highlights
Teaches authentic Greek cuisine
Uses fresh, traditional ingredients
Offers Greek events and private hire
Customer Reviews 
Eileen Lavranos stated this about one of our top schools for the best cooking classes in Auckland, Emily's Greek Kitchen:
"Wonderful warm and friendly atmosphere at the classes. Great food to learn about and share with friends."
6) Good From Scratch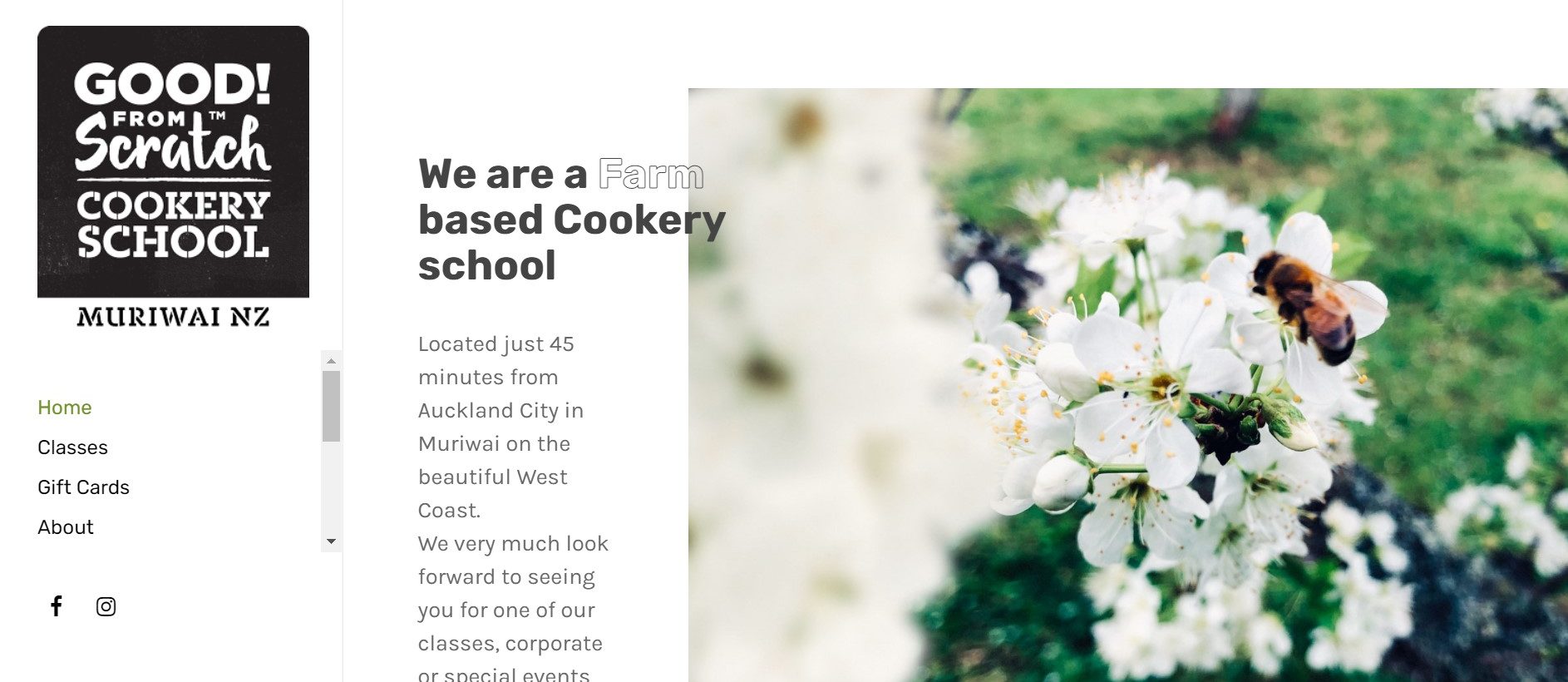 Good From Scratch is owned and managed by Michael and Belinda Van de Elzen. They offer very insightful lessons, using ingredients that are sourced locally, to help the farms situated in Auckland.
You're assured to get only the best and freshest ingredients to use for your class, so you can whip up meals that is guaranteed to be delicious!
They have half-day and full-day classes to choose from, so head on to Good From Scratch's website and book a lesson now.
Highlights
Farm-fresh ingredients
Over a decade of experience
Expert teachers
Customer Reviews 
Here's what Allan Hamilton, a student from one of their cooking classes, had to say about Good From Scratch's lessons:
"My sister and I attended Michael and Belinda's amazing new cooking school on Saturday 1st February. We both absolutely loved the experience and would give it a 10/10. Michael and Belinda were so very warm and welcoming. They encouraged us to partake in the various cooking activities provided – to produce a delicious starter, main and slice for lunch. All accompanied by a choice of wines,  juice, tea and coffee.
Their kitchen garden was a delight, and the cook school and outlook over the countryside wonderful. We definitely hope to return for the winter menu. Needless to say we'd highly recommend this course to those who love cooking and eating healthy. Well done Michael and Belinda!"
You'll learn to cook delightful recipes whilst making new friends and having fun at one of the top schools for the best cooking classes in Auckland.
Do you have any questions or suggestions for us? If you have any, do drop us a line and we will get back to you or update this post promptly.
Also if you're craving teriyaki chicken and miso soup right now but don't feel like making it yourself, feel free to read our list of the best Japanese restaurants in Auckland.