Top 5 Places for the Best Corporate Housing in NZ
Image Credit: Inhabitat
Need an apartment for your employee to stay in for a while? If so, we have your back, as we've gathered the top places for the best corporate housing in NZ here.
We carefully selected units that are fully furnished and comfortable. Apart from this, we chose those that are conveniently located in the city and have helpful service too.
Without any delay, here are the top places for the best corporate housing in NZ!
1) Metropolis Auckland Residences

Work, detox, and unwind in the towering Metropolis Auckland Residences. Fun fact: this tall residential building was notably climbed by the French Spiderman, Alain Robert.
It is fully furnished with a cosy, large bed, window-side table, washer and dryer, modern kitchen, and bathroom.
You get wifi internet access to write your business report or conduct a Zoom meeting. 24-hour reception and housekeeping service ensure that you have everything you need.
Above all, they have a large gym and sparkling indoor pool for you to get your fitness game up. Outside, you have the freedom and convenience to explore the vibrant city centre.
Highlights
Spectacular views
Fully furnished suite
Wifi internet access
Large gym and sparkling indoor pool
Centrally located
2) Viaduct Point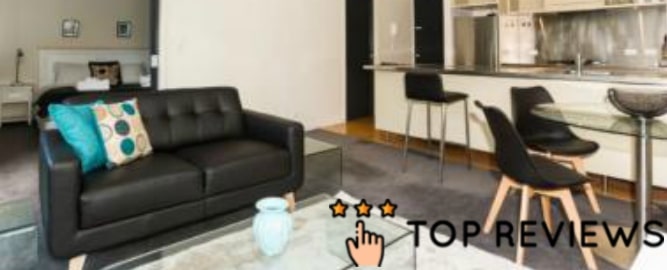 For a breezy and light unit with a stunning view of the Viaduct Harbour, Viaduct Point is one of the top places for the best corporate housing in NZ.
Completely furnished, this apartment is easily your home away from home. It's totally secured inside and out whilst having intercom and lift facilities for you to use.
You won't have to worry about piles of dirty laundry because you have access to convenient washing and drying facilities. Furthermore, you also have internet access and onsite parking, though may charges apply.
The best part about the location is that you're just within walking distance from the waterfront, Auckland CBD, and lots of cafes and restaurants.
Highlights
Breezy and light units
Completely furnished
Secured building with intercom and lift facilities
Walking distance from the CBD
3) Inner City Townhouse

For your short or long term corporate stay, you might want to consider Inner City Townhouse. This is located in the quiet neighbourhood of Lichfield Street, Christchurch.
The unit has well-proportioned living, dining, and kitchen amenities. The sliding door opens up into a private deck and a tranquil shared garden.
A separate room for the laundry is on the ground floor. Upstairs, you have two double bedrooms, one with an ensuite and the other with the main bathroom.
Also, there's an allocated parking slot located right across the street. Bedding and towels are already supplied for tenants.
Highlights
Quiet and cosy townhouse
Fully furnished
Internet is set up
Well-proportioned living, dining, and kitchen amenities
Shared garden
4) 205/194 Worcester Street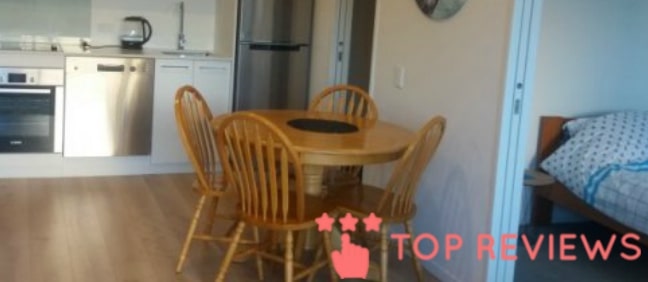 Only a 10-minute walk away from Christchurch CBD, this lovely and sunny apartment is available for short-term stays—a great option for your employee.
It is a 2-bedroom, 1-bathroom house situated on the 3rd floor at Preston's complex. It comes fully appointed with modern kitchen and laundry facilities.
Catch some sun as you open the Northwest-facing balcony with a nice view. You can sit there with your friend in the afternoon while having biscuits and a cup or two of tea.
More importantly, your apartment unit is extra safe and secure with electronic access, lockable bike racks, and safeguarded lockers on the ground level. The many features of this apartment make it one of the top places for the best corporate housing in NZ.
Highlights
Lovely and sunny apartment
Modern kitchen and laundry facilities
Secured electronic access for the units
Large shower
Close to the city centre
5) Terrace Villas Serviced Apartments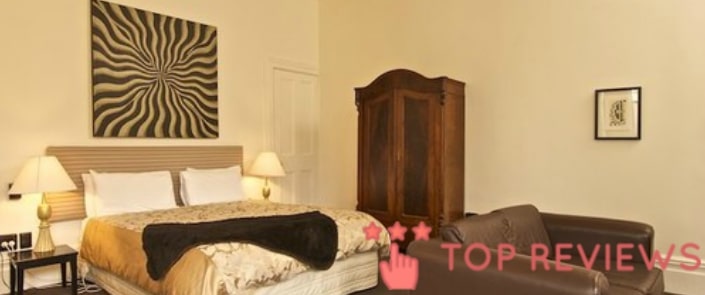 For a more decently priced studio unit, you should definitely book with Terrace Villas Serviced Apartments in Wellington.
It has charming decor consisting of period and modern furnishings. This brings a homely feel and comfort that not many corporate housing companies have.
For that reason, we consider Terrace Villas Serviced Apartments to be one of the top places for the best corporate housing in NZ.
The studio space is also fully equipped with kitchen and laundry appliances, smart televisions, and of course, wireless broadband if you need to get in touch with your superiors.
Tenants have an off-street car park space too, perfect for going to and fro the city for leisure or business.
Highlights
Charming decor
Great for long- or short-term stays
Decently priced
Fully equipped
Off-street parking space
And that concludes the top places for the best corporate housing in NZ list. These are great places to reserve for your business associates to work productively for you.
Know of other comfortable places to stay at other than the ones we listed here? If you do, share it with us by leaving a comment and we'll get back to you in a bit.
You can have your employee stay in a hotel for a few days too as an alternate option for staying in apartments. For this, you can try the best Christchurch hotels.