The 8 Best Cosmetic Dentists in Auckland
Whether your teeth are stained or have been damaged from an accident, there are ways to fix them! In fact, you can get started right here, as we've listed the best cosmetic dentists in Auckland.
We chose those who are highly qualified and experienced. Furthermore, we picked those who are friendly and informative… and who have a great reputation among their patients.
You can definitely get your perfect smile back with them. So, if you're ready, let's get started with the list of the best cosmetic dentists in Auckland!
1)  Dr. Michael P R Kan – Cosmetic Dental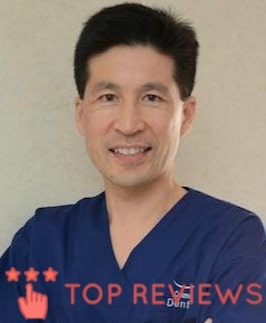 BEST FOR
Immaculate results
SERVICES
Bridges

CEREC

Crowns

Implants

Invisalign

Smile Makeover

Teeth Whitening

Veneers

WEBSITE
https://www.cosmeticdental.co.nz/team/dr-michael-kan/
ADDRESS
Level 1, 126B Remuera Road, Remuera 1050, Auckland, New Zealand
CONTACT DETAILS
09 524 2515
OPERATING HOURS
Monday to Thursday: 7.30am to 5pm

Friday: 7.30am to 1pm
Dr Michael Kan is a highly qualified dentist dedicated to giving you a beautiful and perfect smile. He is easily one of the best cosmetic dentists in Auckland.
He is a member of the NZ Academy of Cosmetic Dentistry, Australian Society of Implant Dentistry, as well as a fellow of the Royal Australasian College of Dental Surgeons and an Invisalign Platinum Provider.
Dr Kan is passionate and diligent in his craft and strives to listen to clients' needs and what they want to achieve, resulting in a fantastic outcome for your teeth!
Highlights
Immaculate and perfect results
Specialises in cosmetic dentistry
Listens to his clients' concerns
Fellow of the Royal Australasian College of Dental Surgeons (FRACDS)
Customer Reviews 
Basil Green, the dad of one patient, writes a review about Dr. Michael Kan: 
"Michael was fantastic. Needed some dentistry done on my son, as he had a noticeable white stain on his front tooth. After seeing our local dentist, she was  unable to fix the problem.  Michael was able to fix the tooth effected by a calcium deposit. Will and I are delighted with how William's tooth looks now.We feel so happy to use his services again and highly recommend his practice."
2)  Dr. Sara Stockham and Dr. Sheng Zhang – Dental Artistry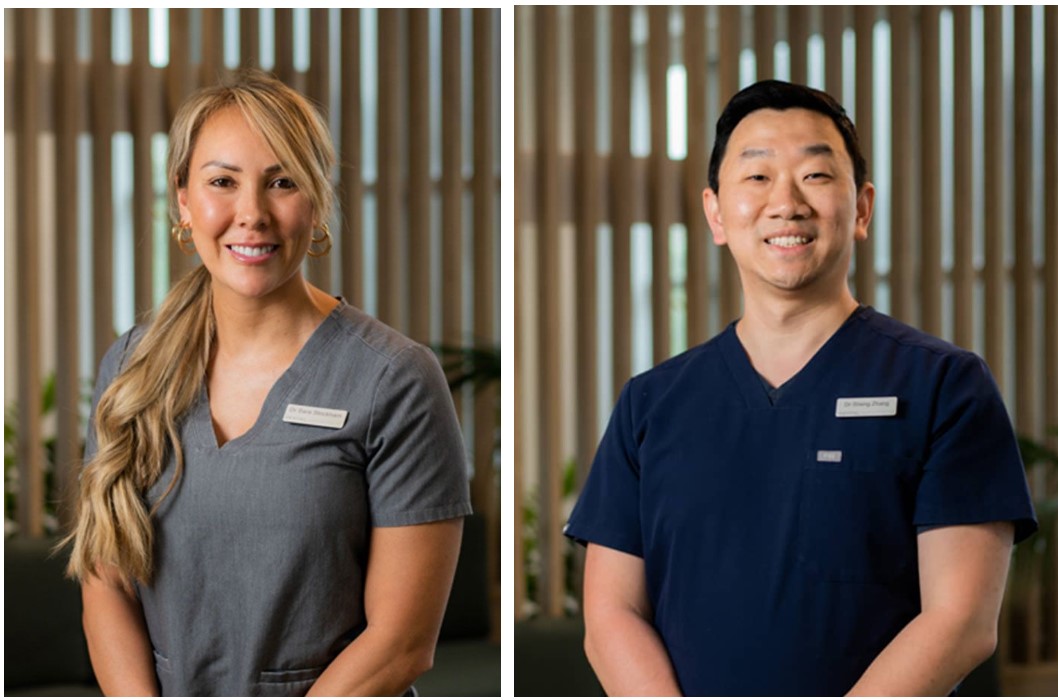 BEST FOR
Dental implants
SERVICES
Veneers & Crowns

Tooth Replacement

Full Mouth Rehabilitation

Teeth Whitening

Digital Smile Design

WEBSITE
https://dentalartistry.co.nz/
ADDRESS
Level 1/38 Broadway, Newmarket, Auckland 1023, New Zealand
CONTACT DETAILS
+64 9-524 4541
OPERATING HOURS
Monday to Thursday: 9am – 5pm

Friday: 9am – 4pm

Saturday: 9am – 3.30pm
Dr Sara Stockham and Dr Sheng Zhang are one of the principal dentists at Dental Artistry. They offer a wide range of dental services, including general dentistry, orthodontics, periodontics, and cosmetic dentistry.
What's great about them is that both Dr. Sara Stockham and Dr. Sheng Zhang have impressive qualifications, including multiple degrees and certifications in various dental specialties. Their commitment to continuous learning and professional development ensures that they stay up-to-date with the latest dental procedures and technologies.
Aside from this, we like that Dental Artistry offers a diverse range of dental services, including orthodontics, periodontics, implantology, and cosmetic dentistry. With the, patients get to receive comprehensive care under one roof, without the need for external referrals.
Unlilke others, the both of them are known for their caring, calm, and relaxed demeanor, which is particularly beneficial for patients experiencing dental anxiety. Their patient-centered health care philosophy puts the patient's comfort and well-being at the forefront.
Do take note that patients may need to contact Dental Artistry directly to obtain detailed pricing and determine affordability.
Highlights
Extensive Qualifications
Specialization in Multiple Areas
Patient-Centered Approach
Customer Reviews
Check out the feedback of Noeline Rogers about Dr Mark Worthington: 
"A big thank you to Mark Worthington and his Irish assistant Jo. I am not ashamed to smile now and I can chew and enjoy my food.. Mark is professional and very gentle and I highly recommend his services."
3)  Dr Matthew Sumner – Accent Your Dentists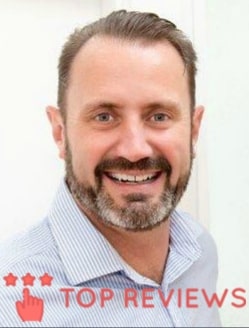 BEST FOR
Cosmetic dental treatments with a personal touch
SERVICES
Crowns

Dental Veneers

Bridges

Teeth Implants

Composite Fillings

Invisalign Go

Gum Recontouring

Teeth Whitening

WEBSITE
https://www.accentdentists.co.nz/team/principal-dentist.cfm
ADDRESS
332 Ponsonby Road, Ponsonby, Auckland 1011, New Zealand
CONTACT DETAILS
+64 9-376 4374
OPERATING HOURS
Monday to Thursday: 8am – 5.15pm
Want to have your confident smile back for your work or daily goings-on? You might like to consult with Dr Matthew Sumner from Accent Your Dentists.
Dr Matthew Sumner has over 20 years of experience in general and cosmetic dentistry. He performs minimally invasive treatments covering crowns to gum recontouring.
He won't treat you like another set of teeth but as a person — and patients say they feel that he really cares about the result. He will advise you on all your options before starting on the dental procedure.
One of the best cosmetic dentists in Auckland, Dr Sumner is a founding member of the NZ Academy of Cosmetic Dentistry and the Dental Implant Network Group.
Highlights
Minimally invasive treatments
Personal and friendly approach
Full spectrum of services
Over 20 years of experience
Member of NZ Academy of Cosmetic Dentistry
Customer Reviews 
Here's Serena's review of Dr Matt Sumner:
"I wanted a natural look and Dr. Matt worked meticulously to give me 2 new front teeth that look like they're mine and have always been there. I quite happily flash a big smile now."
4)  Dr Clarence Tam – Tam Dental Group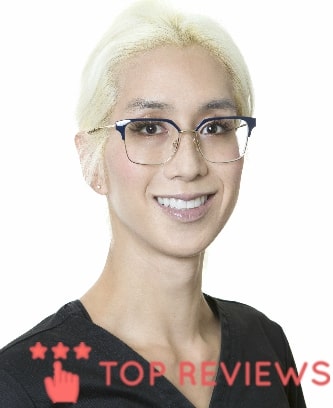 BEST FOR
Exceptional cosmetic dental care
SERVICES
Implants

Invisalign

Veneers

Dentures

Whitening

WEBSITE
https://www.clarencetam.co.nz/about-the-practice/clarence-tam-dds/
ADDRESS
Upstairs, 18 Morrow street, Newmarket, Auckland 1023, New Zealand

2A Fleet Street, Devonport, Auckland 0624, New Zealand

CONTACT DETAILS
+64-09-524-8399

+64-09-445-4574

OPERATING HOURS
Monday to Thursday: 8am – 4pm

Friday: 8am – 1pm
Hailing from Toronto, Canada, Dr Clarence Tam is a talented restorative and cosmetic dental practitioner. She formed her own practice, Tam Dental Group, now with two locations in Auckland: Newmarket and Devonport.
She is a passionate and approachable dentist who aims to provide her clients with exceptional dental care involving veneers, crowns, implants, teeth whitening and dentures.
Dr Clarence Tam is one of only two dentists to hold board-certified accredited member status with the American Academy of Cosmetic Dentistry in Australasia. Also, she's a member of the New Zealand Academy of Cosmetic Dentistry.
Highlights 
Provides exceptional dental care
Passionate and approachable dentist
Holds a board member status with AACD
Has clinics in Newmarket and Devonport
Customer Reviews 
One customer wrote this review about Dr Clarence Tam: 
"I love my new teeth! I hated smiling before as people always said I didn't clean them, and I did. Now they look just like my other ones and I love smiling now.Thank you so much Clarence!"
5)  Dr Sue Cheah – The Dentists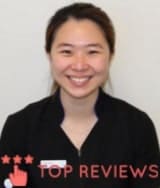 BEST FOR
Amiable and caring cosmetic dentist
SERVICES
Crowns

Bridges

Fillings

Dentures

Implants

Full Mouth Reconstruction

WEBSITE
https://www.td.co.nz/expertise/meet-the-team/
ADDRESS
150 Hillsborough Road, Hillsborough, Auckland 1042, New Zealand
CONTACT DETAILS
+64 9-625 1411
OPERATING HOURS
Monday to Friday: 8am – 5pm
If you shudder at the thought of going to a dentist, you won't with Dr Sue Cheah. She cares about your teeth as though they were her own and is known for her kind and patient nature.
Dr Sue Cheah earned her dentistry degree from the University of Otago in 2015. Of interest is that she was born in Malaysia and can speak fluent English, Malay, Cantonese and Mandarin.
Her passion and specialty lies in the area of oral surgery and cosmetic dentistry. She offers procedures for crowns, veneers, bridges, fillings, dentures and implants.
Highlights 
Graduated from the University of Otago
Friendly and caring personality
Fluent in English, Mandarin, Cantonese and Malay
6) Dr. Linda Hwang – Glow Dental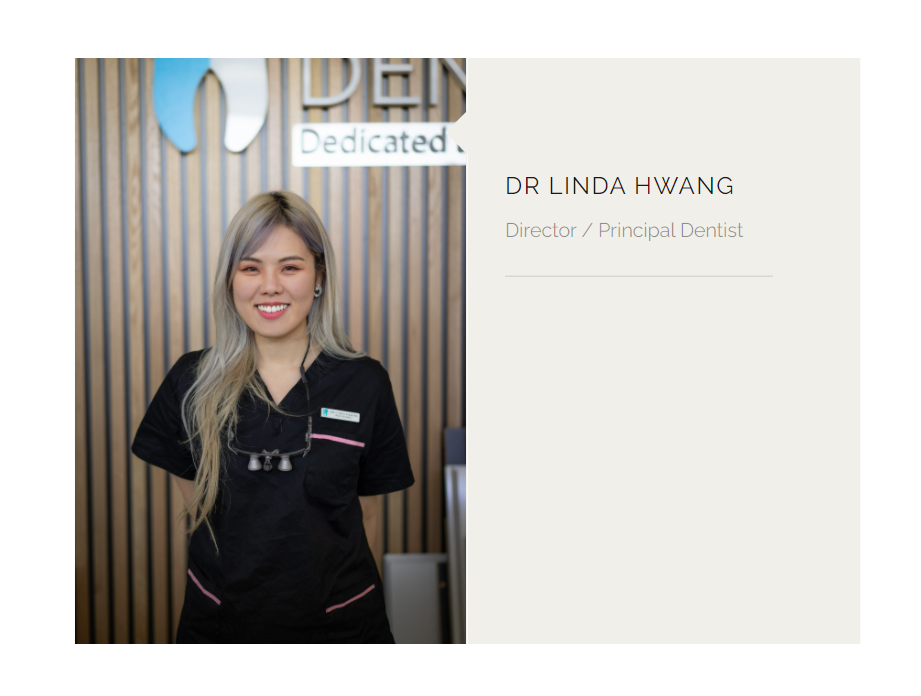 BEST FOR
Expert dental care
SERVICES
Amalgam Removals
Braces
Dental Bridges
Dental Cleaning
Dental Crowns
Dental Implants
Invisalign
Root Canal Treatments
Tooth Fillings
Wisdom Tooth Extraction
Tooth Extraction
Teeth Whitening
Cosmetic Dentistry
Veneers
Emergency Dentists
WEBSITE
https://www.glowdental.co.nz/
ADDRESS
Shop 11, 101 Lunn Ave,
Stonefields, Auckland
CONTACT DETAILS
(09) 600 2774 | [email protected]
OPERATING HOURS
Mon – Wed: 9 am to 5.30 pm
Thu: 9 am to 7.30 pm
Fri – Sat: 9 am to 5.30 pm
Sun: Closed
Dr. Linda Hwang is a dentist that a lot of people recommend going to, especially if you're in Auckland. She's the principal dentist at Glow Dental and has experience of more than half a decade in the field. Not only that, but she also continues to pursue studying more about dentistry, learning more and more about the vast field. In her hands, you're sure to get the best results at the utmost of comfortability.
To add on to it, they, at Glow Dental, offers a wide range of services. So it doesn't matter what kind of dental care you're in need of, they're sure to be able to provide assistance.
Contact the clinic to book an appointment.
Highlights 
Fast communication
Transparent fees
Amazing dental care
Less painful procedures
Customer Reviews 
Here's what Hank Menefee, a client of Dr. Linda Hwang, had to say about her and Glow Dental's overall dental care:
"I have had a huge phobia of dentists for most of my life due to a bad experience as a young child. This has caused me to greatly neglect my teeth. After years of struggling, I finally made the decision to tackle the fear and phobia, and a good friend of mine highly recommended Dr. Linda and staff at Glow Dental. I'm extremely happy to say that I've been so pleased with the experience after six visits. She will immediately put you at ease, and takes a great deal of care in her treatment and in her approach to those with a bit of fear of dentists. In addition, her office is immaculate and clean, and she uses the latest modern technology, which helps to make the treatment more efficient and heaps more comfortable. I've a lot of work yet to do, and I still get nervous at the onset of each visit, but each visit is getting easier and easier. I attribute this to Dr. Linda and her friendly team and the great work that they do. I highly recommend her to anyone, but especially to those that need a bit of extra care to get past the discomfort and fear/phobia of dental work."
7) Glenfield Family Dental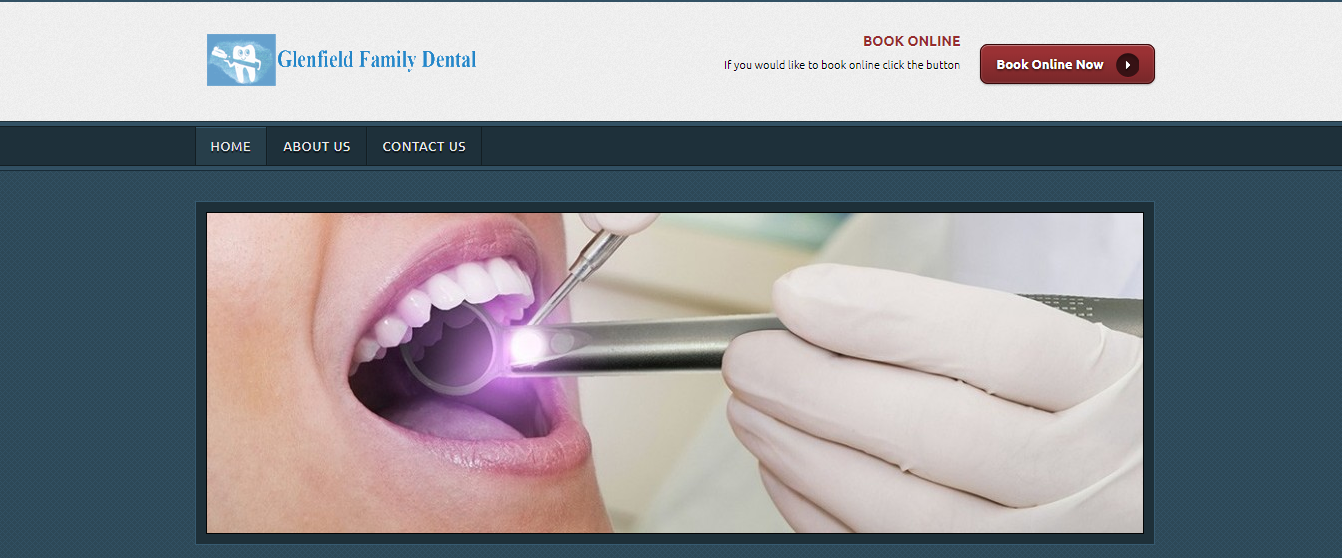 BEST FOR
Excellent Customer Care
SERVICES
Tooth Coloured Fillings, Crowns, Bridges or Implants Root Canal Treatments, Treatment for Sore Gums, Extractions, X-Rays and Tooth Whitening
WEBSITE
http://www.dentistglenfield.co.nz/
ADDRESS
109 Bentley Avenue, Glenfield, Auckland 0629, New Zealand
CONTACT DETAILS
09-444 0415
OPERATING HOURS
Monday, Tuesday, Thursday & Friday: 9.30am – 5pmWednesday: 1pm – 7pm

Saturday: 9.30am – 2pm
When talking about quality dental care, there is no forgetting the next entry on our list.
See, Glenfield Family Dental is a dental clinic that provides comprehensive dental services at affordable rates. The clinic is known for using the latest techniques and technology, all of which work to help ensure the success of every dental service the clinic has to offer.
Aside from the clinic equipment, Glenfield Family Dental is also notable because of its service list, which is one of the most extensive on this list. It includes general dentistry, cosmetic dentistry, and even root canal treatments and treatments for sore gums.
To top things off, Glenfield Family Dental strives to deliver treatment plans that combine knowledge, skills, and experience. The clinic works to keep your mouth healthy, giving you the smile that you deserve.
Highlights
Comprehensive and affordable dental services
Wide range of dental services
Excellent customer care
8) A+ Dentist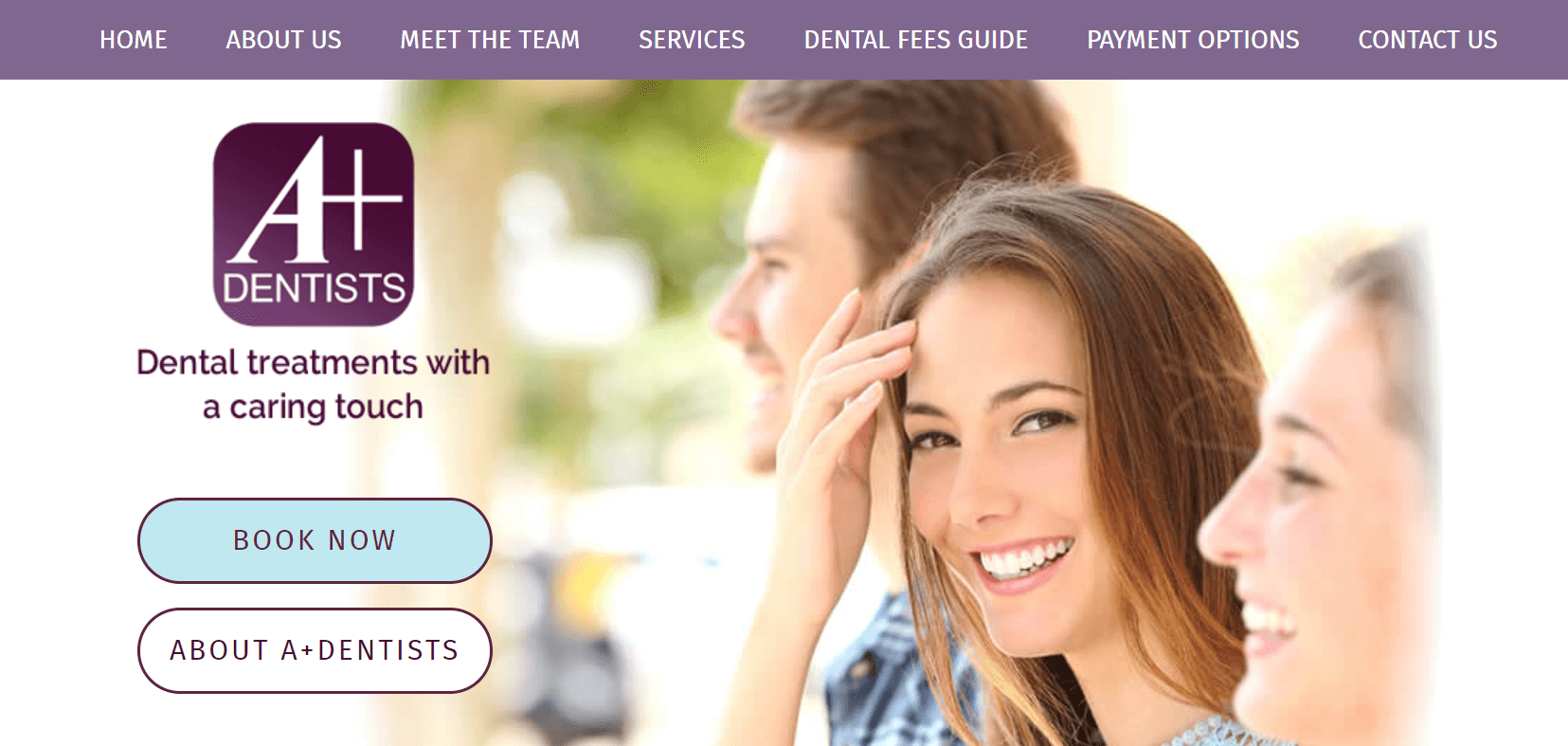 A+ Dentists was established with the goal of providing quality dental care, optimal comfort, and relaxation in mind.
The clinic's list of service offerings is quite long, ranging from comprehensive checks, to restorations and fillings, to emergency dental services. 
It's also worth mentioning that A+ Dentists specialises in preventive measures — rooting out any problems before it worsens.
At A+ Dentist, you can expect the best care possible, what with the combo of expert dental professionals and their technologically advanced care.
Highlights
Provides quality dental care, optimal comfort, and relaxation
Specialises in preventive measures
State-of-the-art equipment
And there you have it for the best cosmetic dentists in Auckland. They can work on the appearance of your teeth so that you can smile with confidence wherever you go.
Do you have any questions, comments or reactions thus far? If you have one, feel free to send us a message and we'll get back to you in a jiffy.
Other than that, you may also want to read about the best orthodontists in Auckland. They can correct the mispositioning of your teeth by using braces or Invisalign.