5 Best Data Recovery Professionals in Auckland
Feeling frustrated after all your files on your desktop were suddenly corrupted out of the blue? Take it easy, as we have listed the very best data recovery professionals in Auckland to get them back for you.
There are other data recovery teams that you can go to, but it isn't worth the risk if they aren't any good. Because if they mess up, then all your data could be deleted forever!
However, our featured companies have tremendous success rates and they are well-trained and experienced. So if you're ready, here are the best data recovery professionals in Auckland!
1)  Smashed It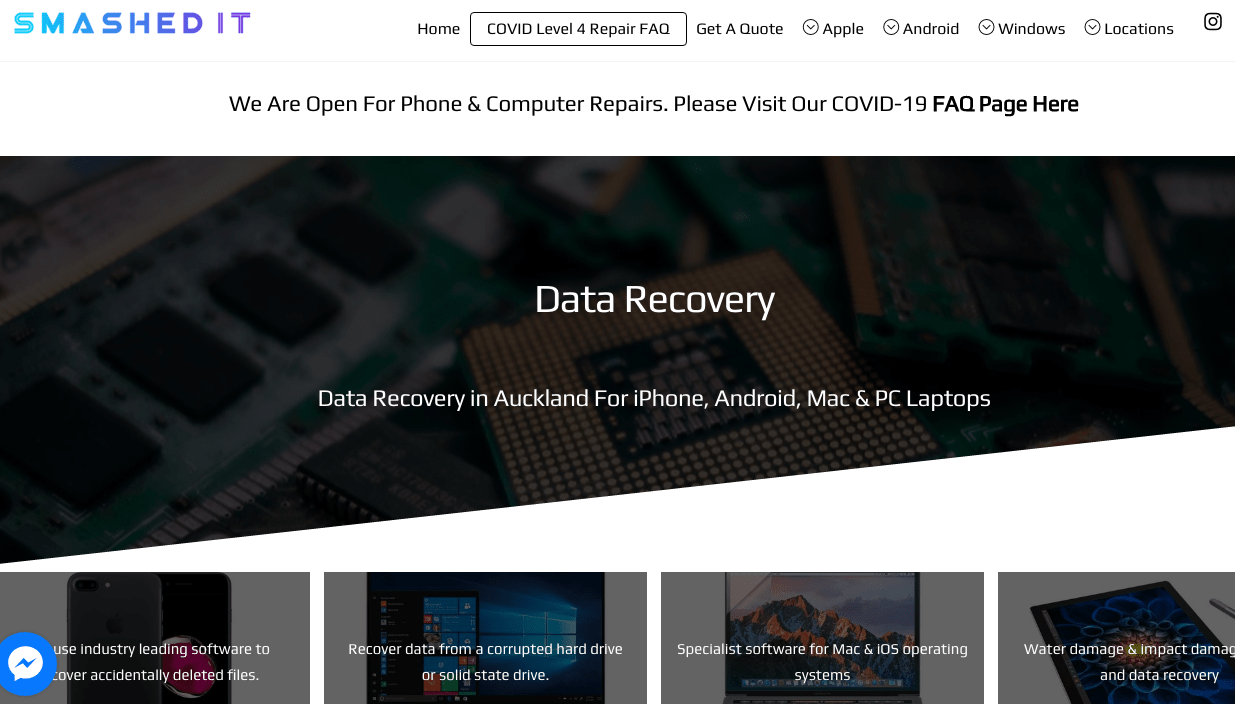 | | |
| --- | --- |
| Best for | Mac and iPhone Data Recovery |
| Services | iOS, Android, Mac, and PC Data Recovery |
| Address | 137 Parnell Road, Parnell, Auckland 1052, New Zealand |
| Contact no | +64 800 876 274 |
| Website | https://smashedit.co.nz/ |
Losing your data on your device due to corruption or damage can be a hassle. But no need to worry — Smashed It can recover everything for you in just a few hours or less.
They can recover your files for Android and iPhones as well as Mac and Windows laptops and computers using state-of-the-art software. Even when you're starting to think all your hard work was for nothing, they'll help so that you think otherwise.
Since their rate of success for file recovery is 70-80% for phones and PCs, they are some of the best data recovery professionals in Auckland.
Highlights
Recovers data for computers and phones
70-80% success rate
Only takes a short time
2)  Computer Forensics NZ Ltd.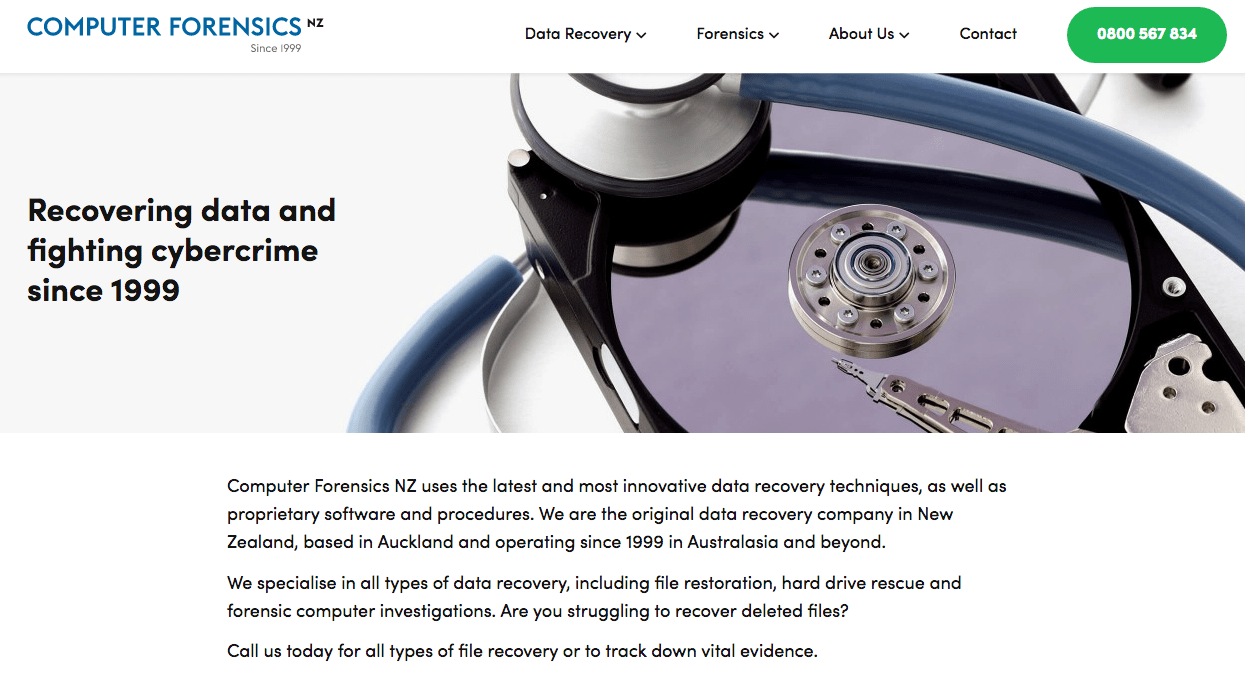 | | |
| --- | --- |
| Best for | Comprehensive Services |
| Services | Hard Drive, Mobiles and Tablets, Laptops, Desktop, Audio and Videos, Flash Drive Data Recovery |
| Address | Unit 9/65 Paul Matthews Road, Rosedale, Auckland 0632, New Zealand |
| Contact no | 0800 567 834 |
| Website | https://www.datarecovery.co.nz/ |
Computer Forensics NZ is a specialised data recovery expert that takes on cybercrime. They have been serving individuals and multinational firms in New Zealand and Australia since 1999.
Using advanced software, they specialise in hard drive, flash drive, laptop, phone, tablet, audio-visual, and camera data recovery. They work pretty well under strict deadlines too.
No matter if your phone or laptop went through fire, flood or a fall, the team at Computer Forensics are more than capable of restoring your important files for you.
Highlights
Exceptional data recovery specialists
20 years in the industry
Can restore data from a wide array of sources
Can work in the given timeframe
Customer Reviews 
Fortunately, Alexis Brackebush came to Computer Forensics, one of the best data recovery professionals in Auckland:
"Nicholas and the team at Computer Forensics NZ Ltd are absolute lifesavers! My laptop got water damaged and another company in Newmarket had a look and said that there was nothing they could do. I got a second opinion from Computer Forensics and they managed to get ALL the data off my laptop! Thanks so much guys and I just wish I had come to you first. Highly recommend!"
3)  dataLAB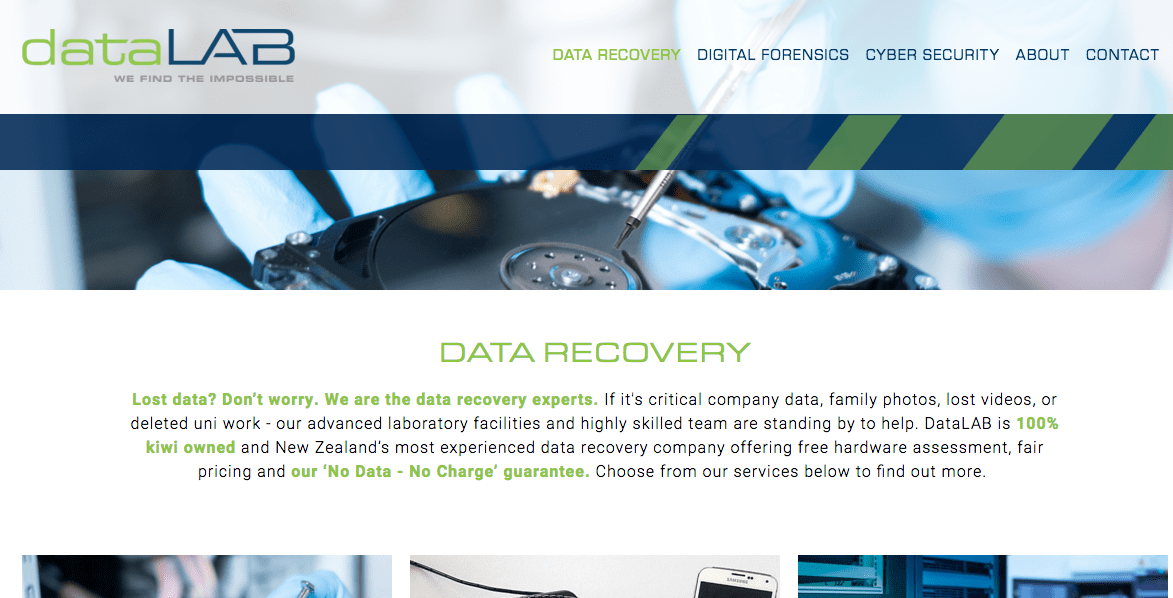 | | |
| --- | --- |
| Best for | Value for Money |
| Services | Hard Drive, Mobile Phone, Server, Solid State Drive, Camera Card Data Recovery |
| Address | Level 1, 399 Khyber Pass Rd, Newmarket, Auckland 1023, New Zealand |
| Contact no | 0800 328 2522 |
| Website | https://www.datalab.co.nz/ |
If you're looking for a data recovery company that gives you a great price, then get in touch with dataLAB. They can extract inaccessible data from everything, from phones through to server computers.
The team can get these issues solved in a jiffy. They also have their own laboratory with industry-leading technology to retrieve data from storage devices including but not limited to solid state drives, hard drives, and memory cards.
If the team fails to get your data back, no payment is required. That's how simple and competent they are — as expected of some of the best data recovery professionals in Auckland.
Highlights
Excellent value for money
Quick turnaround
No data, no payment
Customer Reviews
As found on the data recovery page, F Evitt remarks:
"Fast, efficient and effective work on retrieving data from my corrupted hard drive. Thanks guys, you really have saved the day for me."
4)  GBC Computer Solutions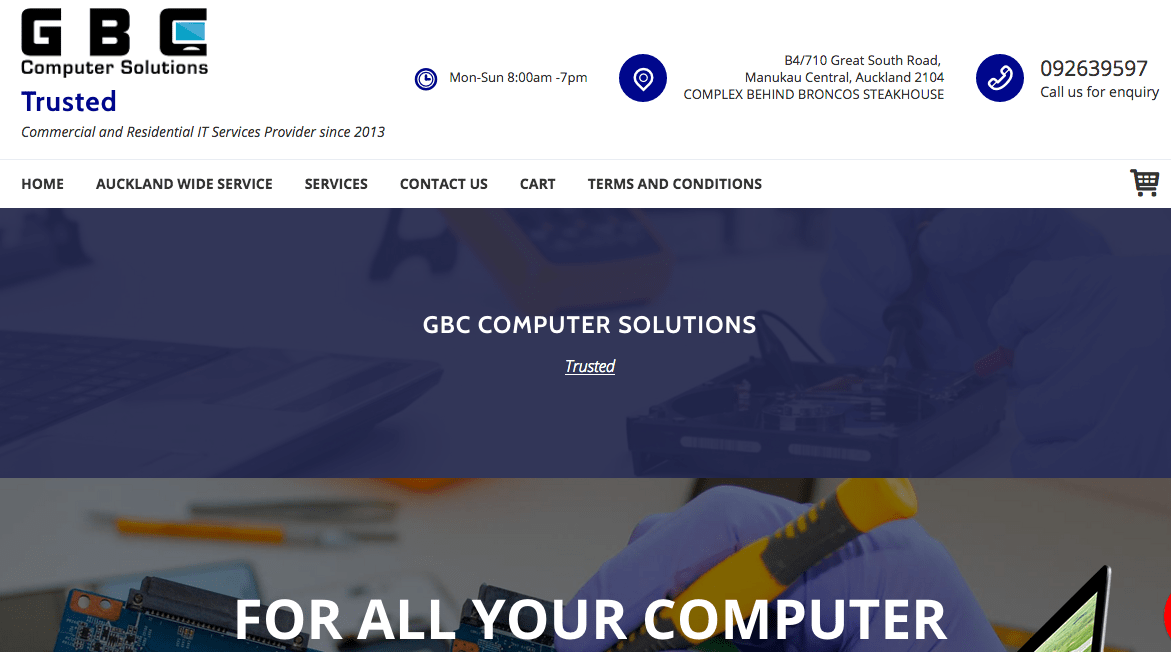 | | |
| --- | --- |
| Best for | Hard Disk Data Extraction |
| Services | Hard Disk Data Recovery |
| Address | B4/710 Great South Road, Manukau Central, Auckland 2104, New Zealand |
| Contact no | 09 263 9597 |
| Website | https://www.repairlink.co.nz/ |
For computer hard disk data recovery, contact GBC Computer Solutions. With them, your special pictures, music, movies, Excel, and Word files will be restored as though nothing wrong had happened.
GBC Computer Solutions is an Auckland-based company that repairs computers, specializes in Apple devices and specialize in data recovery. Quoting is free and upfront, and you won't be charged with any extra expenses.
Their service also has affordable prices. That's a bonus for those who need more than one data recovery task performed.
Highlights
Data Recovery Specialists
Free inspection of Disk Health
Services Auckland-Wide
Fixed quote for all jobs
Customer Reviews
Previous clients of GBC Computer Solutions sang plenty of praises about the company's services. Gardenia Fifita wrote:
"GBC is professional and can be trusted with your tech needs. They went above and beyond to resolve the problem with my laptop when there was a mix-up with the supplier and I was given the wrong laptop part. Fariz sorted this out, picked up the correct part personally, and installed it staying later than his usual business hours to do so. Getting your tech gear fixed can be terrifying as you worry about being scammed etc but Fariz communicates effectively and ensures that you receive excellent customer service and exactly what you paid for. I'll be coming here again and will recommend GBC to anyone I know for tech repairs. Thanks again Fariz!"
5)  Mobile PC Doctor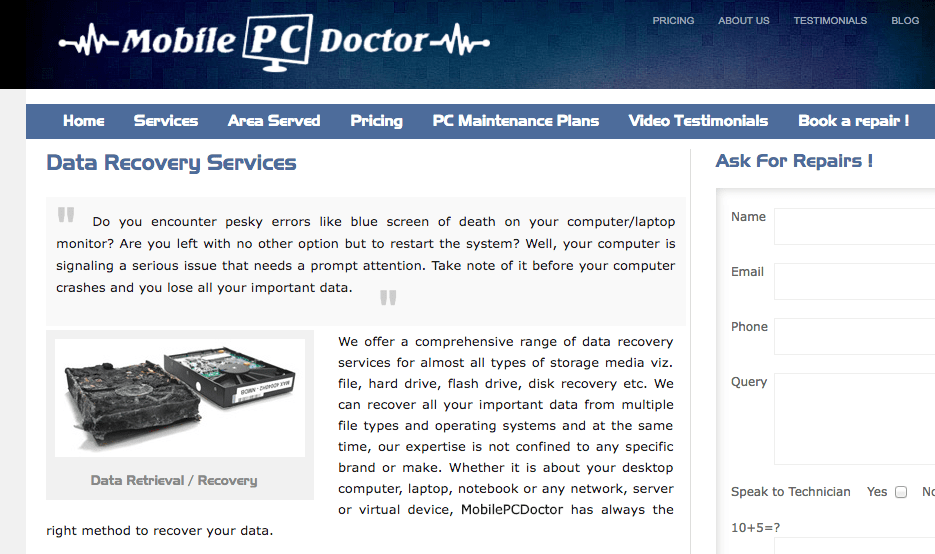 Best for
Going the Extra Mile for Customers
Services
Desktop, Laptop, Notebook, Mobile Phones, Server, Flash Drive, Hard Drive, and Rewritable Discs
Address
49A Blockhouse Bay Road,

Avondale, Auckland – 1026, New Zealand

Contact no
+64 800 002 007
Website
http://www.mobilepcdoctor.co.nz/
Save time and effort retrieving your data with the help of Mobile PC Doctor. They can repair any device, model, and files under any format in a quick, complete, and efficient fashion.
What sets them apart from other companies is their willingness and customer service. Not only will they bring back all your files, but they will also do away with the virus, malware, slowdowns, and damage, enabling you to use your PC or phone again.
Highlights
Phenomenal customer service
Fast and efficient service
Can recover your data from most makes and models
Affordable rates
Customer Reviews
Kay Johnson writes from Google Reviews: 
"Raj has been extremely helpful when my home PC stopped working. He recovered my photos and documents plus set up a new lap top and transfered all of my documents and photos. He also showed me how to back up my laptop. I have no hesitation in recomending his services to anyone needing a repair or just help in understanding their computer/laptop.  Thank you  Raj"
And those were the best data recovery professionals in Auckland. They are extremely skilled at retrieving all your important media and documents in a wide range of brands and models.
Do you have any questions regarding this topic? If you have one, drop us a line and we'll get back to you in a bit.
Anyway, if you need a temporary or lightweight replacement for your laptop while the data recovery guys are working with it, you could consider getting a Chromebook. For that, you can read about the best Chromebooks in New Zealand.